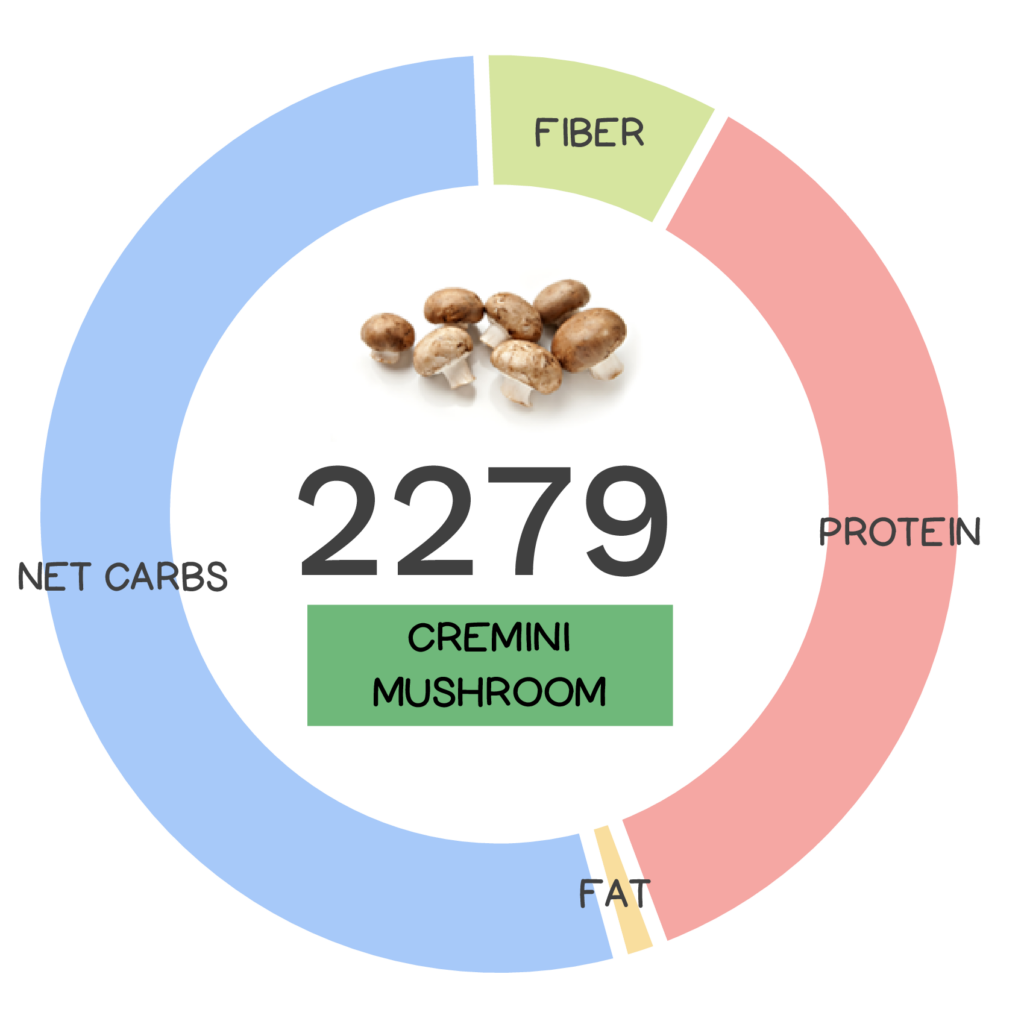 Cremini mushrooms, with their savory, earthy flavor, firm, meaty texture, stubby stem, and tan to dark brown smooth rounded caps are similar in size and shape to the popular white button variety. These mushrooms also go by the name Italian brown, Swiss brown, Roman brown, and perhaps surprisingly "baby bella," though in actuality this name is totally fitting – more on that later!
now available for pre-order!
Ditch diet culture and get the most nutrients from your food with the no-guilt, personalized, and exciting new science that will change how you think about food and nourishment, from New York Times bestselling author Dr. Sarah Ballantyne.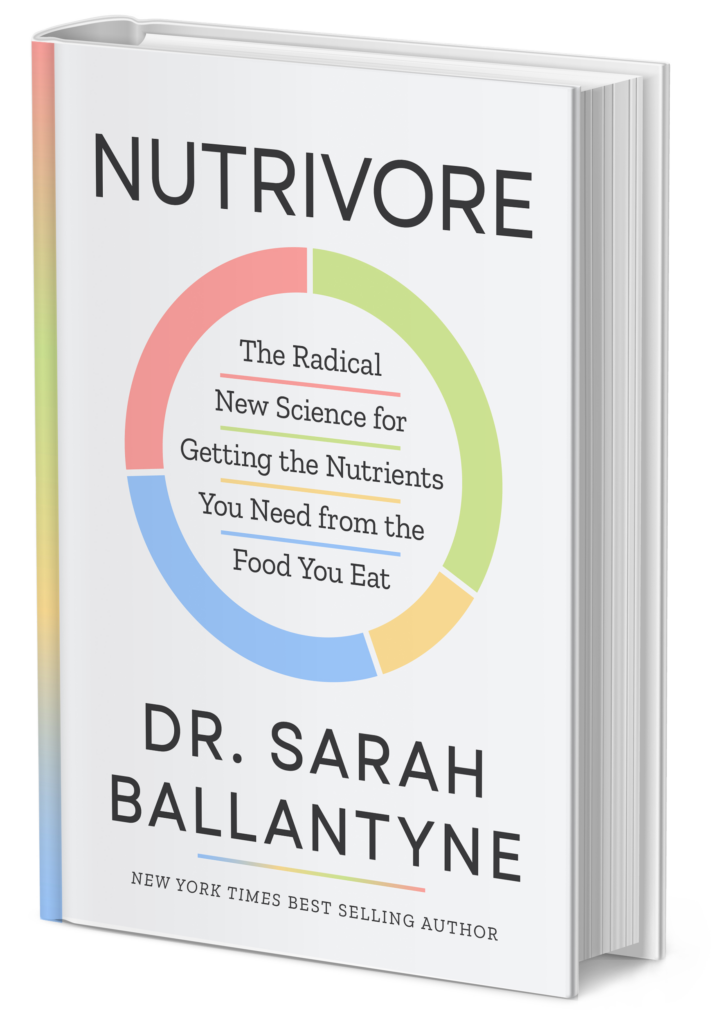 As a group, mushrooms are one of the most unusual and beneficial foods on the planet, and include any spore-bearing, fruiting body of a fungus – worldwide there are approximately 14,000 species! Fungi are a unique class of organism (technically their own kingdom!) that play an important role in all ecosystems, especially as contributors to the decay and recycling of plant and animal matter. Mushrooms aren't technically a vegetable, or plant for that matter, since they don't require sunlight to produce energy, but they have been consumed by humans for thousands of years, dating back to earliest recorded history. Ancient Egyptians thought so highly of mushrooms that they were reserved for royalty, while commoners were prohibited from eating (or even touching!) them. Currently, over 200 edible mushroom species are cultivated, though only a small fraction of them are widely available; however, wild mushrooms can be foraged from nature and are even higher in nutrient density! Along with being remarkably versatile in the kitchen, mushrooms have a long history of use in cultures across the globe for their medicinal properties.
It may surprise you to learn that cremini mushrooms, along with white button and portabella mushrooms are in fact all the same variety of mushroom – Agaricus bisporus! The difference between the three is essentially age. Immature mushrooms, which are white, are known as white button mushrooms, while mushrooms that are still immature and brown are known as cremini mushrooms. When full-grown and mature, they are known as portabella mushrooms, which is why cremini are often called 'baby bellas' – technically, that's exactly what they are, a baby portabella mushroom (mind blown!). Collectively, they are one of the, if not the, most widely consumed mushrooms, grown in more than seventy countries around the world. These mushrooms are native to grasslands in Europe and North America and have grown wild since prehistoric times. They have been commercially cultivated since at least the 1700s and in France were at one time cultivated in the catacombs beneath Paris! If foraging for these in the wild, caution is required as there are many poisonous look-alikes.
Everything You Need to Know about Mushrooms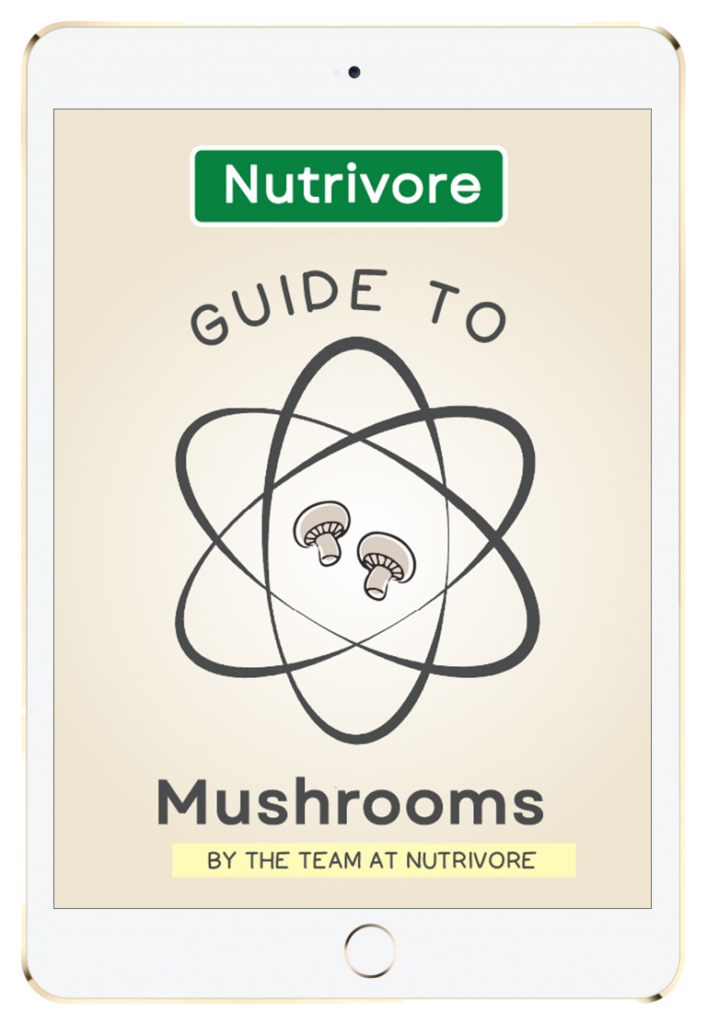 Nutrivore Guide to Mushrooms
The Nutrivore Guide to Mushrooms is a practical-focused e-book that explains everything you need to know about mushrooms so you can reap all the benefits of this foundational food family!
Plus, you'll 12 tasty recipes featuring mushrooms to help you incorporate more of these awesome veggies into your weekly meal plans!
Buy now for instant digital access.
Nutrivore Score for Cremini Mushrooms – 2279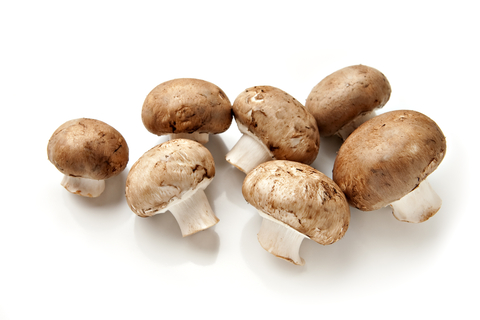 Cremini mushrooms have an impressive Nutrivore Score of 2279, which makes them a super nutrient-dense food! Plus, they are a low-carb and low-calorie-density food; the calorie count of cremini mushrooms is just 19 calories per cup!
Per serving, cremini mushrooms are a best source (>50% daily value) of ergothioneine; an excellent source (20-50% daily value) of copper, selenium, vitamin B2 (riboflavin), vitamin B3 (niacin), vitamin B5 (pantothenic acid), and vitamin B7 (biotin); and a good source (10-20% daily value) of polyphenols.
Want to Know the Top 100 Nutrivore Score Foods?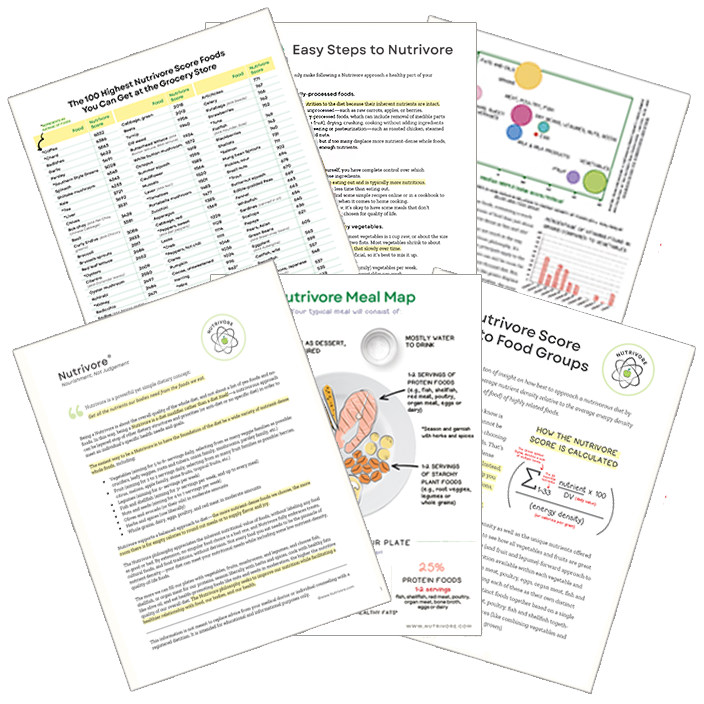 Get it Directly in Your Inbox!
The Nutrivore Newsletter is a weekly email that delivers bite-size fun facts, practical tips, recipes and resources. Sign up now and get 5 free guides directly to your inbox:
Easy Steps to Nutrivore 4-page guide
Nutrivore Foundational Foods 6-page guide
Nutrivore Score Guide to Food Groups 3-page guide
Nutrivore Meal Map
Top 100 Nutrivore Score Foods
Cremini Mushroom Nutrition Facts
One serving of cremini mushrooms is standardized to 1 cup of mushrooms, whole or about 87 grams (3.1 ounces). Like white button mushrooms, when you cook cremini mushrooms, they reduce in volume: 1 cup raw cremini mushrooms is equivalent to a little less than 1/2 cup boiled cremini mushrooms or 2/3 cup stir-fried cremini mushrooms.
Cremini Mushroom Nutrition Facts Per Serving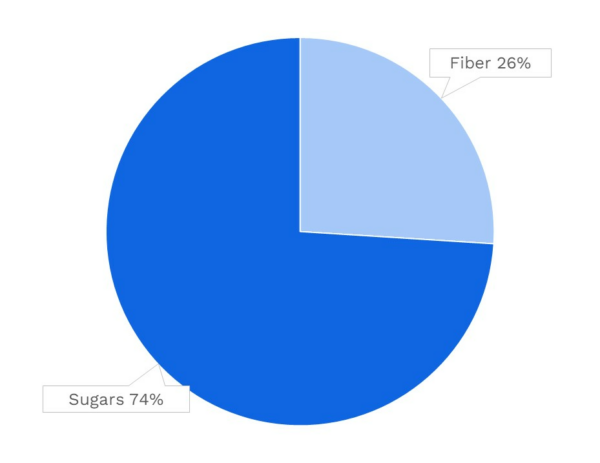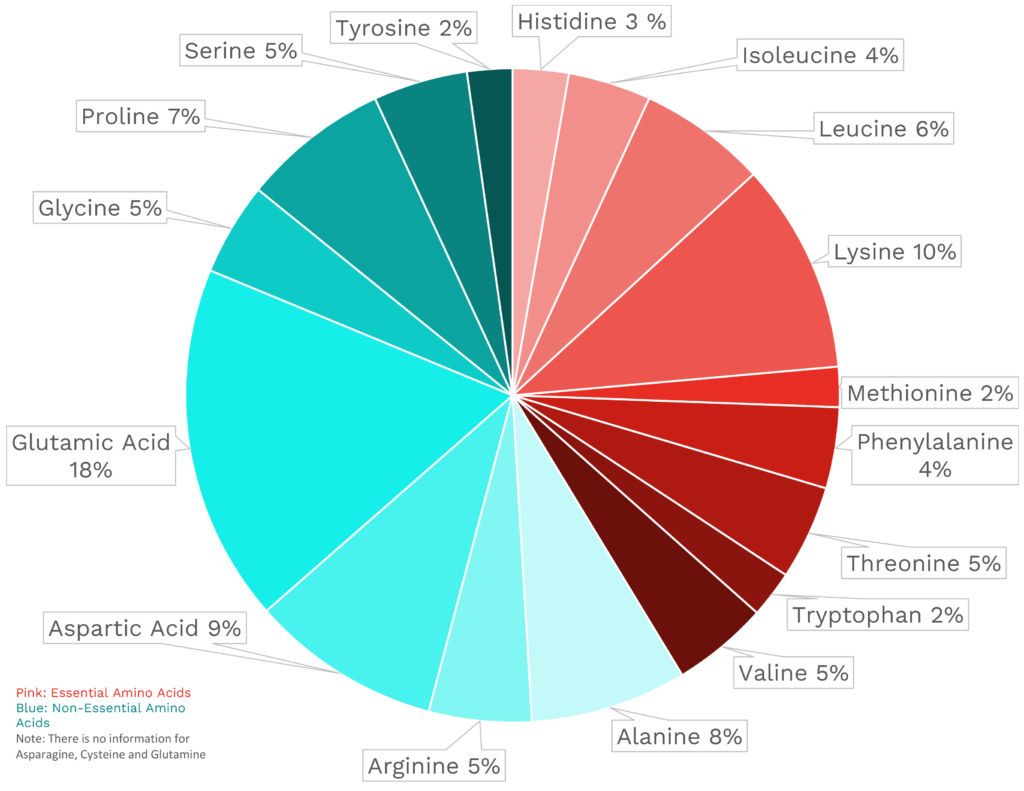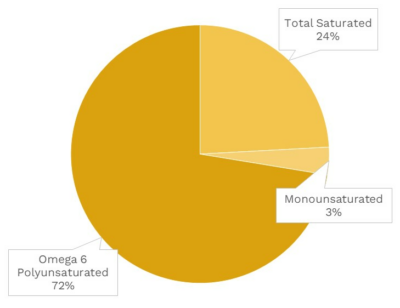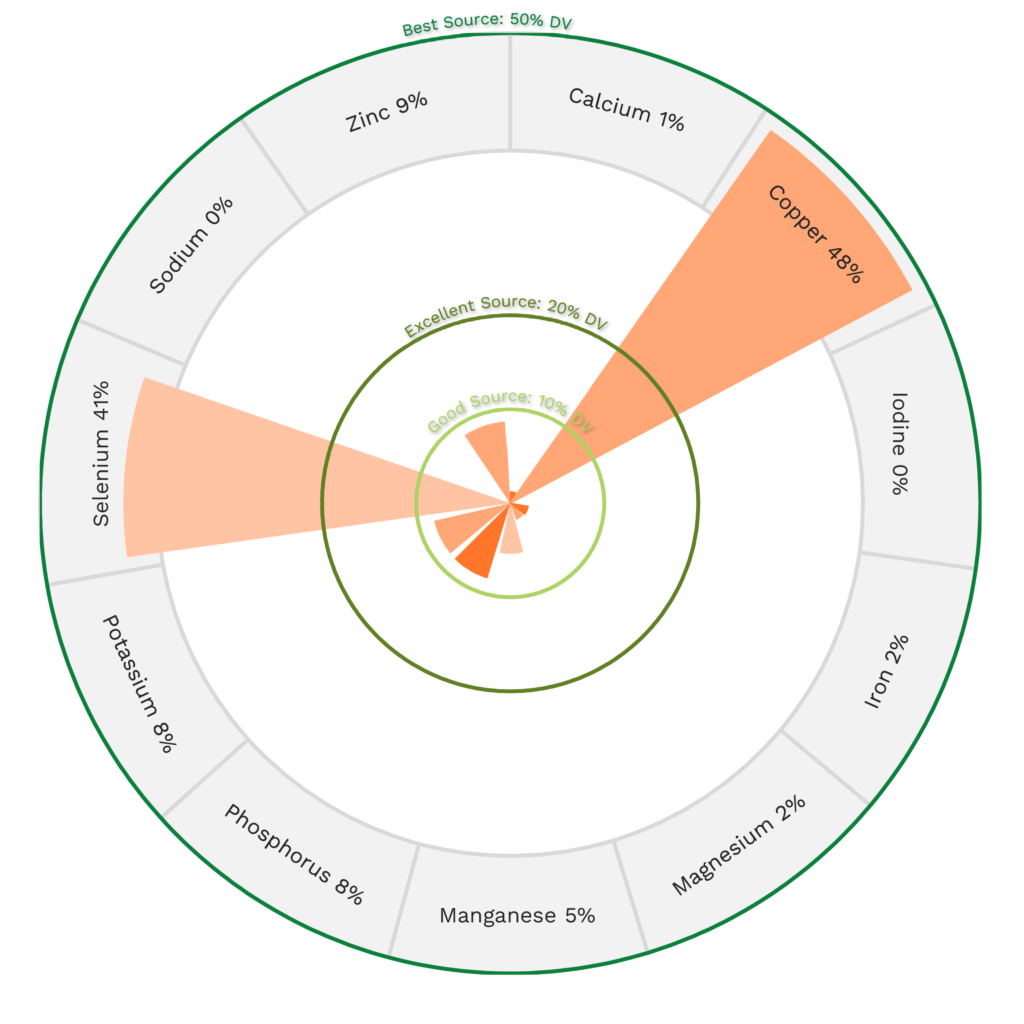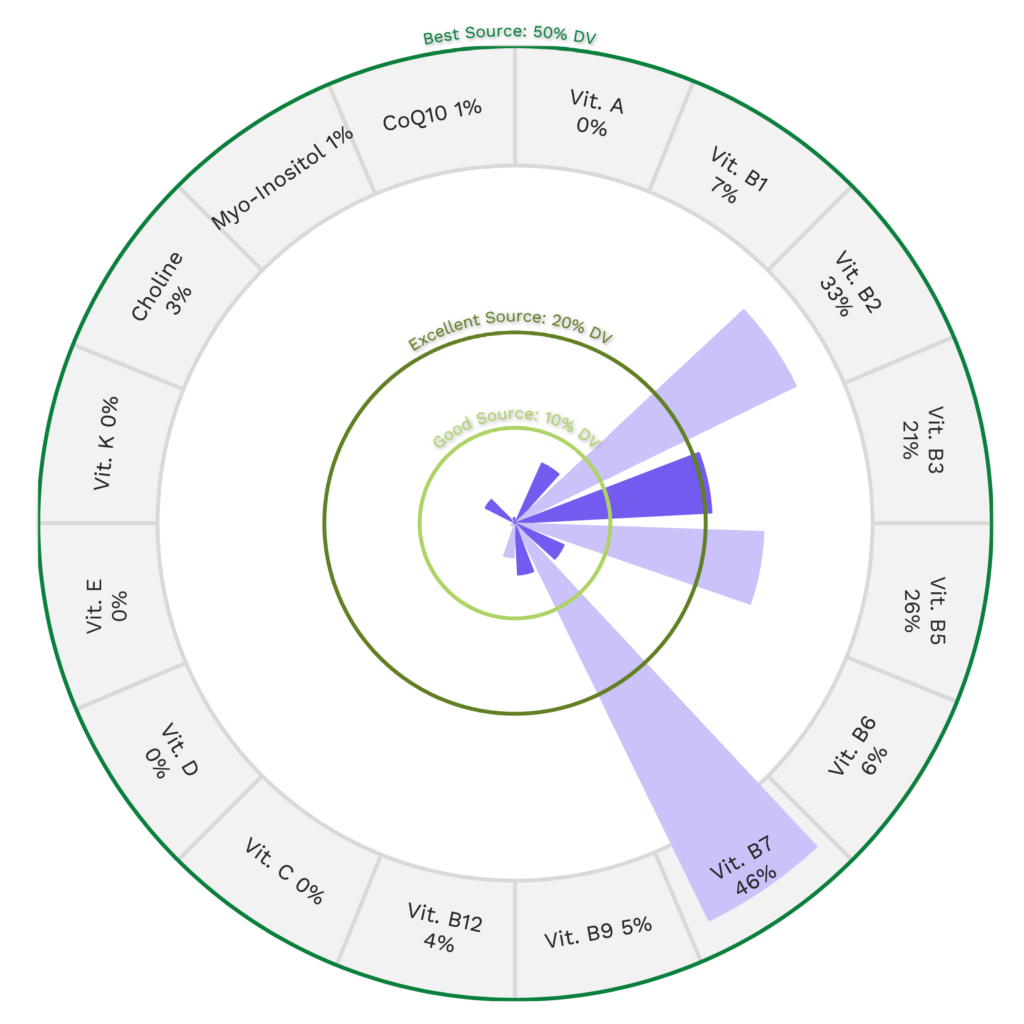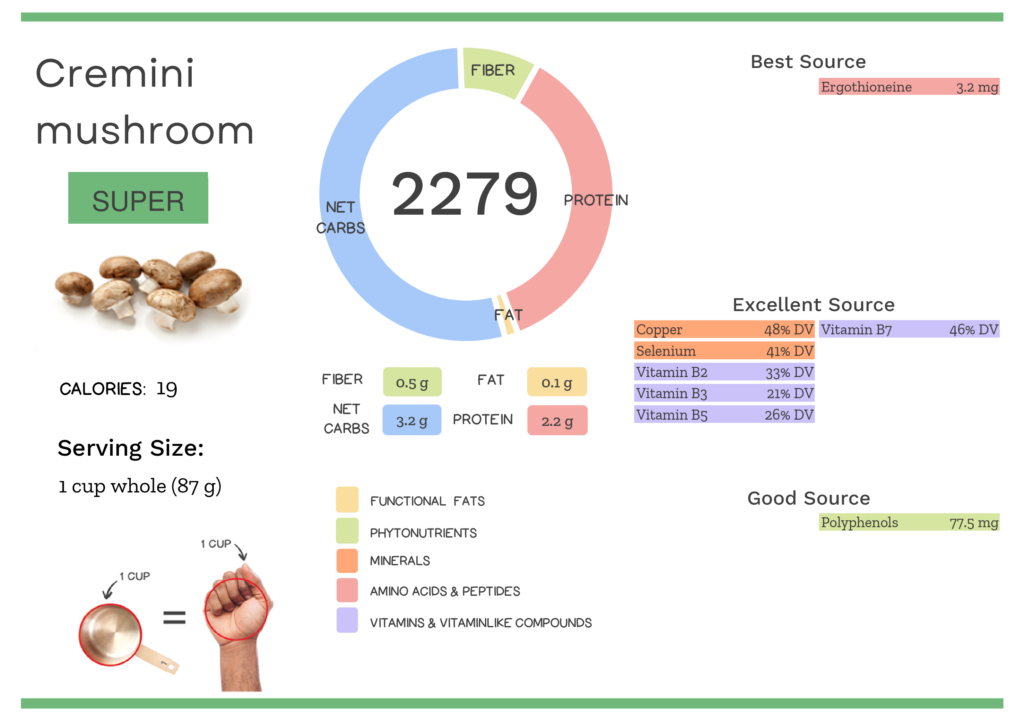 Mushroom Nutrition Varies with Variety
There are many varieties of mushrooms, all with different nutrient profiles, which means their Nutrivore Scores vary too! Overall, mushrooms are powerhouses of nutrition, containing an extremely impressive amount of essential vitamins and minerals per calorie!
If you give a shiitake about mushrooms, maybe your friends will too!
Health Benefits of Cremini Mushroom Nutrients
Let's take a closer look at all of the best and excellent source of nutrients found in a 1-cup serving of cremini mushrooms and see how they benefit our health.
Cremini Mushrooms Provide 3.2 mg of Ergothioneine
Cremini mushrooms are an amazing source of ergothioneine, providing 3.2 mg of ergothioneine per 1-cup serving!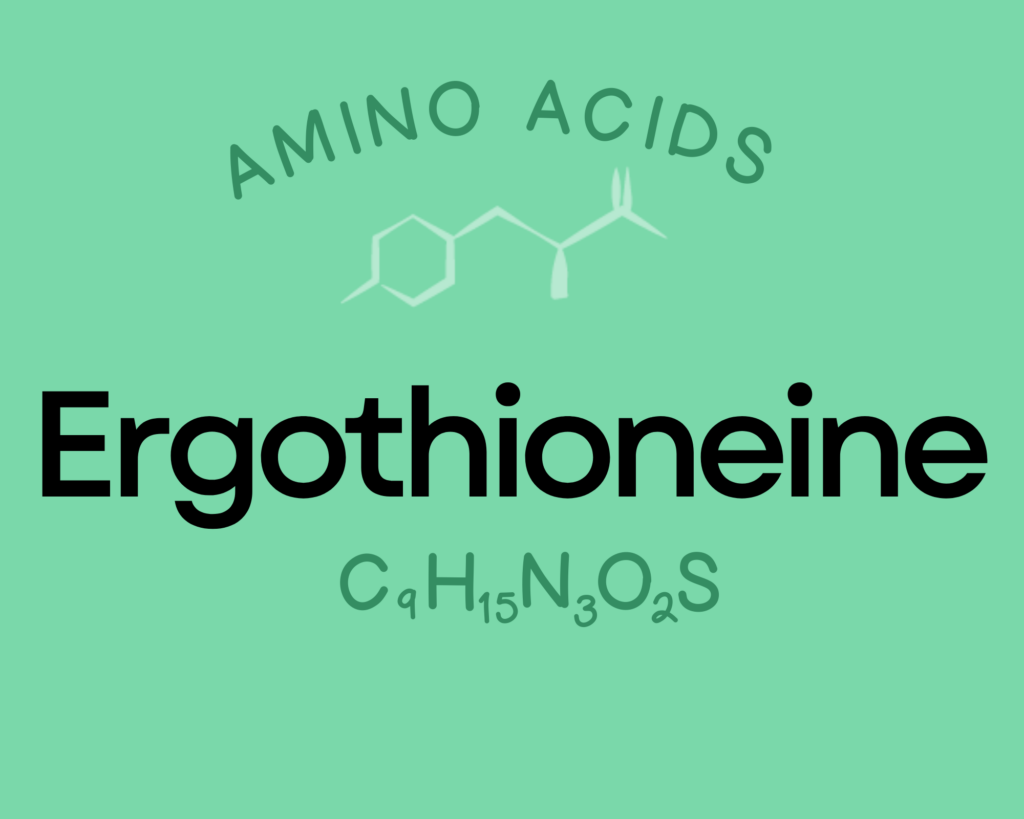 Ergothioneine is a non-proteinogenic amino acid with powerful antioxidant and anti-inflammatory properties shown to mitigate diseases associated with aging, including cardiovascular disease, cancer, liver disease, cataracts, and Alzheimer's disease. It has been shown to enhance memory, reduce risk of depression, reduce neuroinflammation, and improve sleep. There's evidence for a role in fetal development, female fertility, and it reduces risk of preeclampsia. Ergothioneine has even been called the "longevity vitamin" since studies show that it reduces all-cause mortality and is associated with longer lifespan.
Cremini Mushrooms Provide 48% DV Copper
Cremini mushrooms are an excellent source of copper, providing 48% of the daily value per 1-cup serving!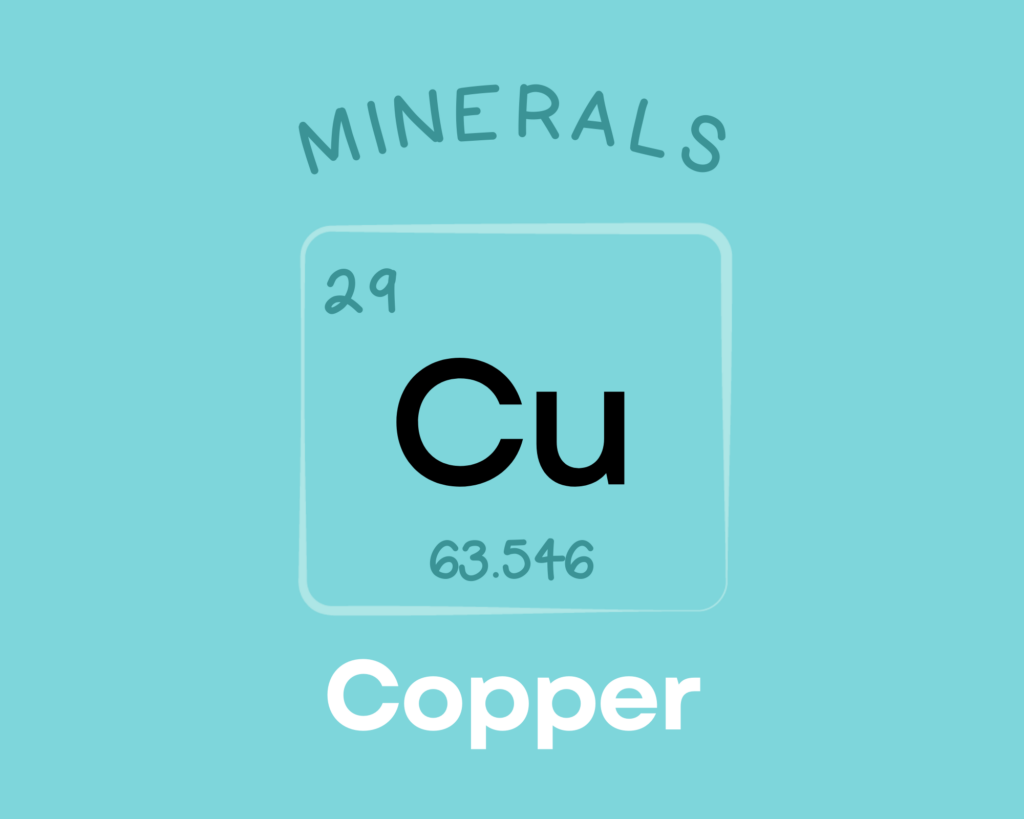 Copper is a trace mineral that's essential for all living organisms. Copper serves as a component of numerous enzymes and proteins in the body, giving it diverse roles in the growth, development, and maintenance of various organs (including the heart and brain), bone, and connective tissue. Copper is also involved in glucose and cholesterol metabolism, helps regulate gene expression, can scavenge free radicals, and is needed for the production of red blood cells. Learn more about copper here.
Cremini Mushrooms Provide 46% DV Vitamin B7 (Biotin)
These mushrooms are also an excellent source of vitamin B7 (biotin), providing 46% of the daily value per 1-cup serving!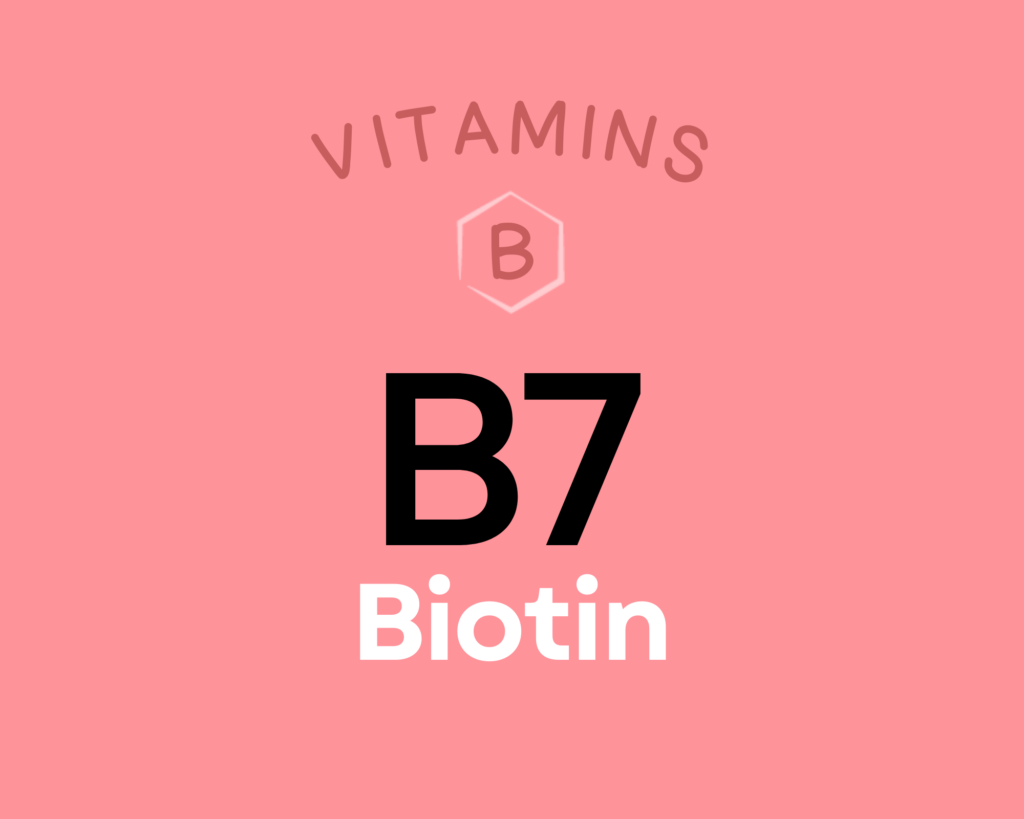 Biotin is a water-soluble B vitamin, also known as vitamin B7. Like other B vitamins, it plays an important role in energy metabolism (serving as a coenzyme for five carboxylase enzymes), neurotransmitter production, cellular function, and the function of various organs. Getting enough biotin can help support healthy nail and hair growth. It's also particularly important during pregnancy, with low intakes increasing the risk of premature delivery and birth defects. There's even some evidence biotin can benefit diabetics and reduce functional disabilities in people with multiple sclerosis. Learn more about biotin here.
Cremini Mushrooms Provide 41% DV Selenium
Cremini mushrooms are an excellent source of selenium, providing 41% of the daily value per 1-cup serving!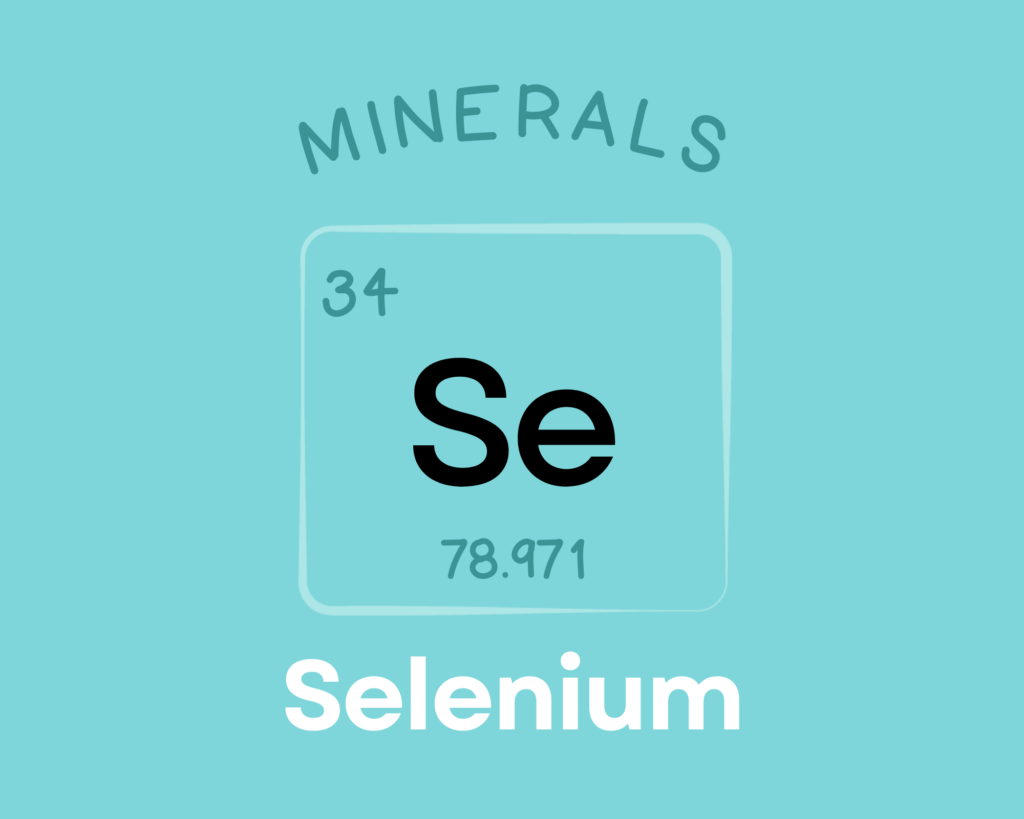 Selenium is a trace mineral needed by all mammals to sustain life. It serves as a component of the non-proteinogenic amino acids selenocysteine and selenomethionine, and also helps form over two dozen selenoproteins involved in reproduction, thyroid hormone metabolism, antioxidant defense, DNA synthesis, and immunity. Observational research suggests selenium could play a protective role against cancer, heart disease, asthma, and inflammatory bowel disease, although human trials have generally been lacking or contradictory. There's also evidence that selenium can play a preventative role in asthma and inflammatory bowel disease, while also reducing mortality in patients with sepsis. Learn more about selenium here.
Cremini Mushrooms Provide 33% DV Vitamin B2 (Riboflavin)
In addition, these mushrooms are a great source of vitamin B2 (riboflavin), providing 33% of the daily value per 1-cup serving!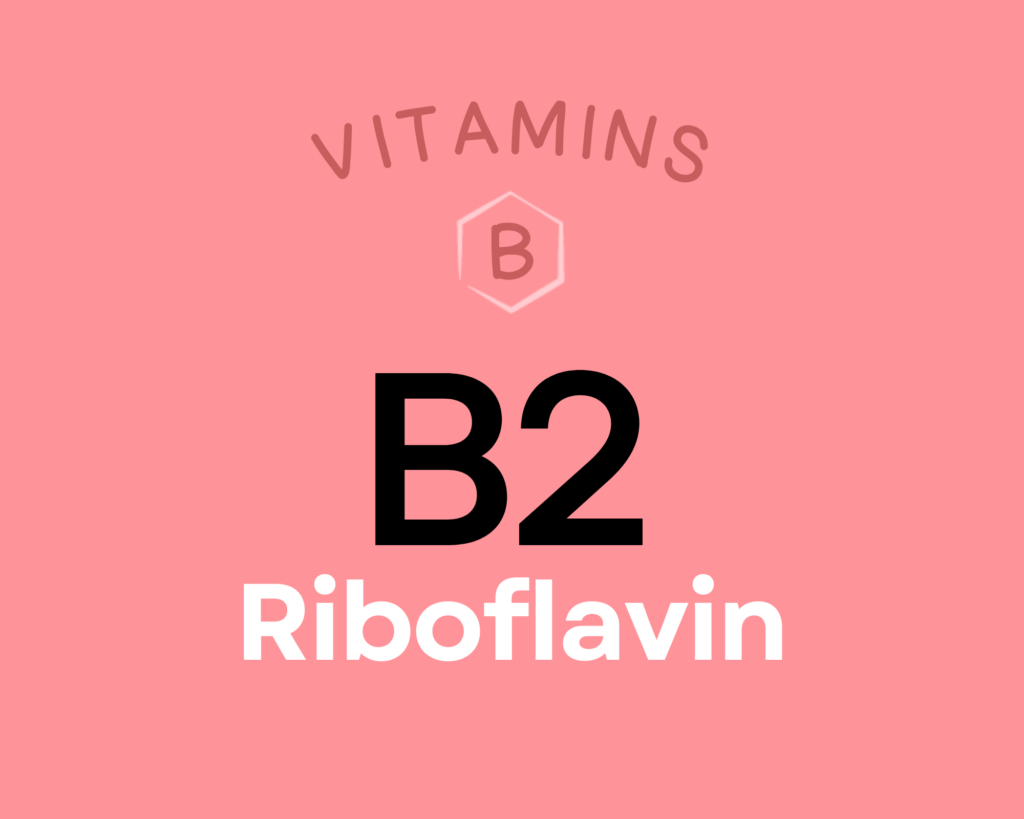 Riboflavin (or vitamin B2) is a vitamin that helps form two important coenzymes involved in oxidation-reduction reactions: flavin mononucleotide (FMN), and flavin adenine dinucleotide (FAD). Collectively, these coenzymes are involved in antibody production, energy production, growth and development, skin and hair health, and the metabolism of several other nutrients (vitamin B6, niacin, folate, and iron). Research suggests a role for riboflavin in preventing or treating migraine headaches, cardiovascular disease, cataracts, and preeclampsia during pregnancy. It also possesses some anti-cancer properties due to its involvement in folate metabolism and MTHFR activity. Learn more about vitamin B2 here.
Cremini Mushrooms Provide 26% DV Vitamin B5 (Pantothenic Acid)
Cremini mushrooms are an excellent source of vitamin B5 (pantothenic acid), providing 26% of the daily value per 1-cup serving!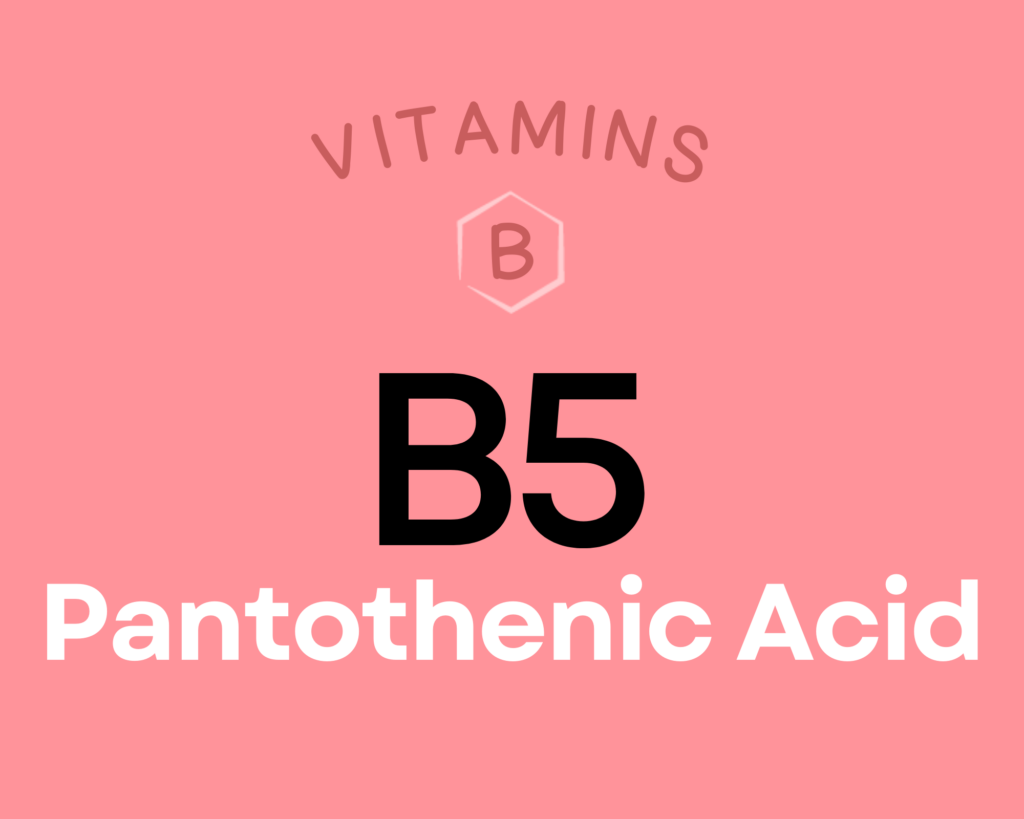 Pantothenic acid (or vitamin B5) is a water-soluble vitamin that serves as a cofactor for coenzyme A—which itself is critical for metabolizing many drugs and toxins, as well as forming derivatives (acetyl-CoA and succinyl-CoA) that participate in the synthesis of cholesterol, fatty acids, melatonin, the neurotransmitter acetylcholine, steroid hormones, heme, and vitamins A and D. Coenzyme A is also needed in the Krebs cycle, giving pantothenic acid a role in energy metabolism. Research suggests that a pantothenic acid derivative (pantethine) can help improve blood lipid profiles and reduce fatty streak formation and lipid deposition in the arteries, giving it a cardio-protective role. Additional research shows that panthothenic acid can accelerate wound healing, boost cellular production of the important antioxidant glutathione, and possibly help improve symptoms of rheumatoid arthritis. Learn more about vitamin B5 here.
Cremini Mushrooms Provide 21% DV Vitamin B3 (Niacin)
Cremini mushrooms are also an excellent source of vitamin B3 (niacin), providing 21% of the daily value per 1-cup serving!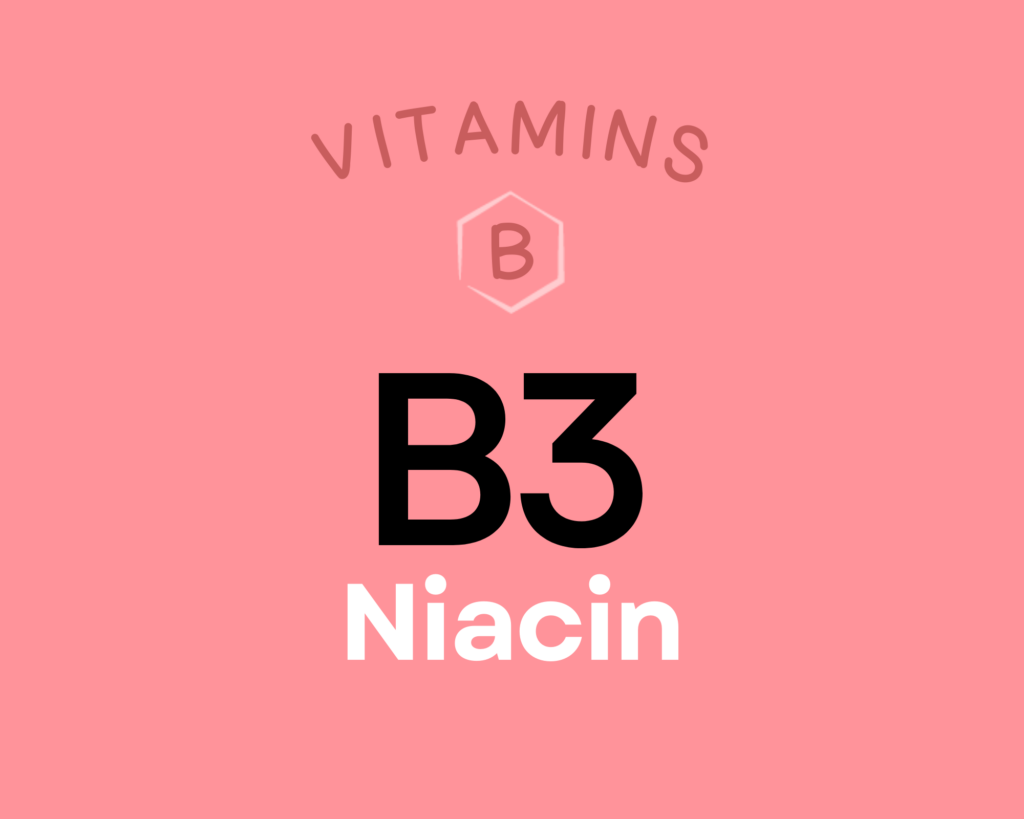 Niacin is a water-soluble B complex vitamin (vitamin B3) that's needed to produce two very important coenzymes: nicotinamide adenine dinucleotide (NAD) and nicotinamide adenine dinucleotide phosphate (NADP). NAD and NADP are needed for over 400 enzymes involved in DNA repair, fatty acid synthesis, antioxidant systems, detoxification, and hormone synthesis, as well as the breakdown of fat, carbohydrate, protein, and alcohol. Niacin has therapeutic potential for cardiovascular disease and hyperlipidemia, and may also be protective against cancer and type 1 diabetes. Some research suggests it could benefit health outcomes for patients with HIV or schizophrenia as well. Learn more about niacin here.
Want to know the top 500 most nutrient-dense foods?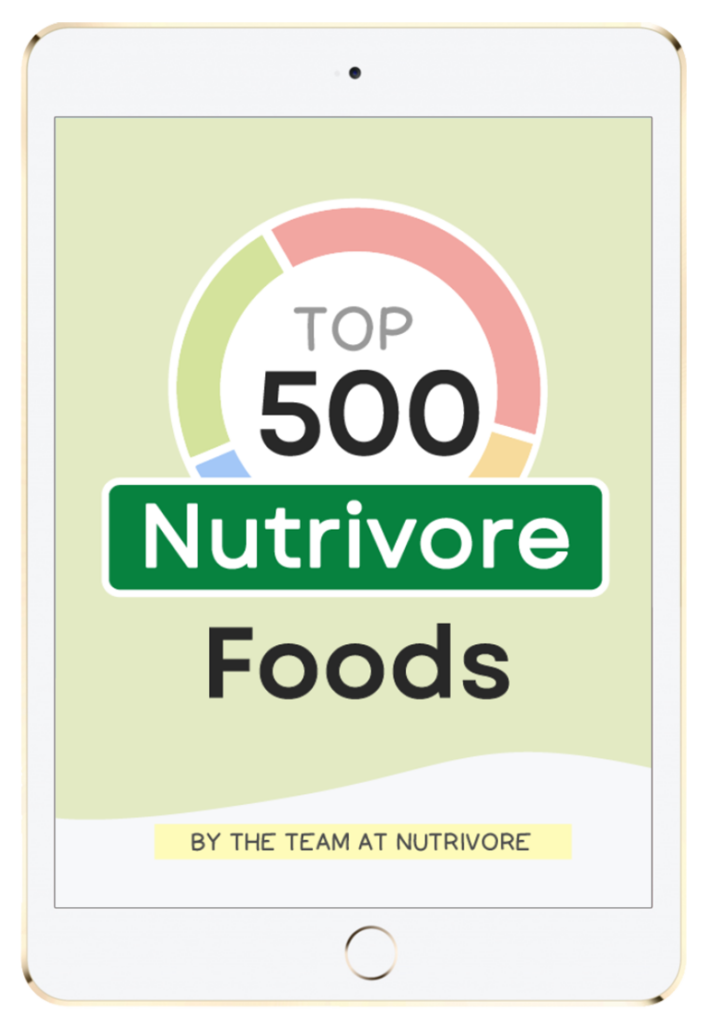 Top 500 Nutrivore Foods
The Top 500 Nutrivore Foods e-book is an amazing reference deck of the top 500 most nutrient-dense foods according to their Nutrivore Score. Think of it as the go-to resource for a super-nerd, to learn more and better understand which foods stand out, and why!
If you are looking for a quick-reference guide to help enhance your diet with nutrients, and dive into the details of your favorite foods, this book is your one-stop-shop!
Buy now for instant digital access.
How Much Cremini Mushrooms Should we Eat Per Day?
Whether you like them grilled, roasted, sauteed, stuffed, or in salads, soups, stews, or stir-fries, mushrooms are a phenomenal nutrient-dense addition to our plates.
Every serving of fresh, whole vegetables or fruit we eat daily reduces the risk of all-cause mortality by 5% to 8%, with the greatest risk reduction seen when we consume eight or more servings per day. In fact, consuming 800 grams of vegetables and fruits daily reduces all-cause mortality by 31% compared to eating less than 40 grams daily. A 2017 meta-analysis showed that 2.24 million deaths from cardiovascular disease, 660,000 deaths from cancer, and 7.8 million deaths from all causes could be avoided globally each year if everyone consumed 800 grams of veggies and fruits every day.
Eating vegetables and fruit in abundance lowers risk of cancer, cardiovascular disease, type 2 diabetes, obesity, chronic kidney disease, osteoporosis and bone fragility fractures (including hip fracture), cognitive impairment and dementia (including Alzheimer's disease), neurodegenerative diseases, asthma, allergies, chronic obstructive pulmonary disease, age-related macular degeneration, cataracts, glaucoma, depression, ulcerative colitis and Crohn's disease, rheumatoid arthritis, inflammatory polyarthritis, non-alcoholic fatty liver disease, acne, seborrheic dermatitis, and lowers markers of inflammation. Learn more in Importance of Vegetables and Fruit.
Covering half of your plate with a variety of vegetables (and three quarters of your plate if your starchy food is a root vegetable or winter squash) at each meal is a simple way to easily achieve the goal of 800 grams daily (about 5 to 8 servings depending on the vegetable).
Studies show that edible mushrooms have numerous health benefits which can include: antioxidant, cholesterol-lowering, antihypertensive, anti-inflammatory, immunomodulatory (meaning they affect the immune system), liver-protective, antidiabetic, antiobesity, anticancer, antiviral, and antimicrobial effects, as well as being great for gut health. Wow!
Amazingly, a 2019 study showed that eating 100-grams of of mushrooms daily reduces all-cause mortality risk by a whopping 26%, while a 2021 study showed that eating any amount of mushrooms reduces all-cause mortality risk by 16% compared to eating no mushrooms at all! All this is to say, eating three or more servings of mushrooms per week is a great target!
But remember, it's always best to mix up the veggies you eat day to day (aiming for a wide variety of different vegetables and fruits throughout the week), and cremini mushrooms definitely have a place at the table.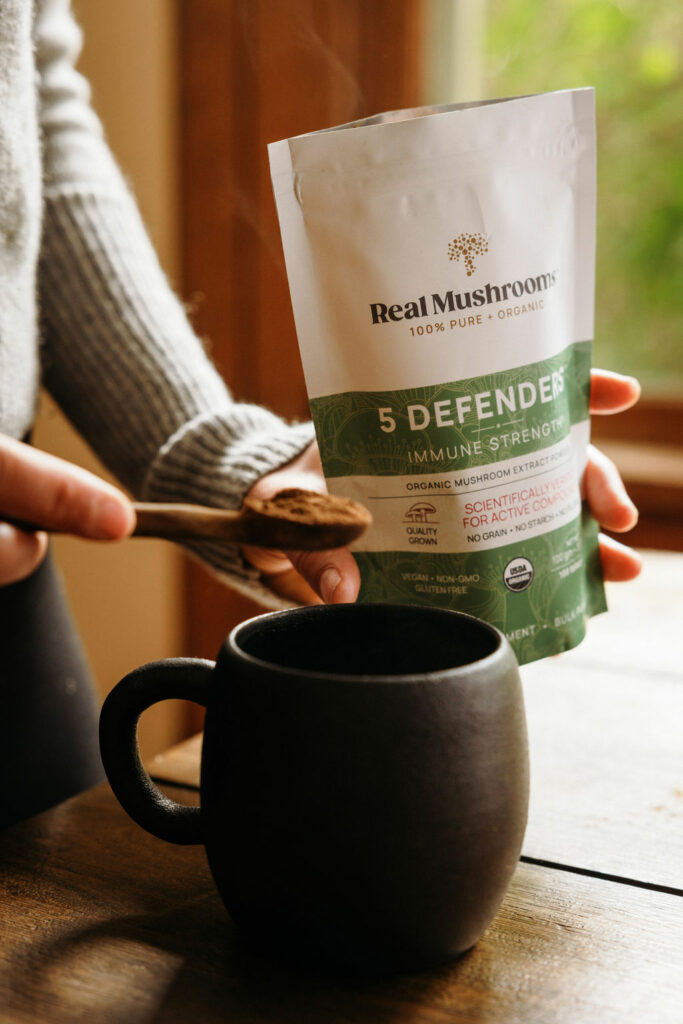 The Best Mushroom Extracts
Wild-harvested, organic and sustainably-sourced mushroom extracts
No starch, grain, fillers or mycelium
Gluten-free, non-GMO and Vegan
Verified for quality at accredited 3rd party labs
Save 25% off, no code required
Citations
Expand to see all scientific references for this article.