Plant organosulfur compounds are bioactive sulfur-based molecules; and while there are many classes and subclasses of organosulfur compounds, the two most important classes from a health perspective are
Glucosinolates Are Unique to Cruciferous Vegetables
Glucosinolates are sulfur-containing compounds that break down into bioactive isothiocyanates when damaged (such as when a glucosinolate-containing vegetable is chewed, cut, or otherwise processed), and are most famously found in cruciferous vegetables. These phytonutrients contribute to the pungent taste of plants such as mustard, horseradish, and cabbage because of the mustard oils produced when glucosinolates are damaged. In fact, cruciferous veggies have a defense system called the "mustard oil bomb" that gets activated when herbivores bite into the plant and break the cells in its tissue, causing the glucosinolates to mix with the enzyme myrosinase, which the plants store in separate compartments. When these two substances interact, the myrosinase removes the the β-glucose from the glucosinolates, forming mustard oils that deter herbivorous predators and certain pathogens from feasting on the plant.
On the whole, glucosinolate intake has been associated with lower risk of cancer and reduced cancer progression, as well as protection from cardiovascular disease, antioxidant activity, and anti-inflammatory properties. Both cell studies and animal studies have shown that glucosinolates (and in particular, the isothiocyanates they break down into) protect cells from redox imbalances (which contribute to the development of some chronic inflammatory diseases) and interfere with processes that drive metastasis and carcinogenesis. Glucosinolates also have significant microbial activity and can aid in treating biofilms produced by Pseudomonas aeruginosa and Staphylococcus aureus.
Glucosinolates are unique to vegetables of the cruciferous family, including broccoli, cabbage, Brussels sprouts, cauliflower, daikon radish, garden cress, kale, rapeseed, wasabi, mustard, bok choi, collard greens, arugula (rocket), horseradish, kohlrabi, radish, rutabaga, turnip, watercress, and mustard greens.
The cruciferous veggie family, also known as brassicas or the cabbage family, are high in fiber and rich in vitamins and minerals, but even more impressive is the array of phytonutrients crucifers are famous for (especially sulfur-containing glucosinolates). Cruciferous veggies have an average Nutrivore Score of 3740.
Want to know the top 25 foods for this awesome nutrient?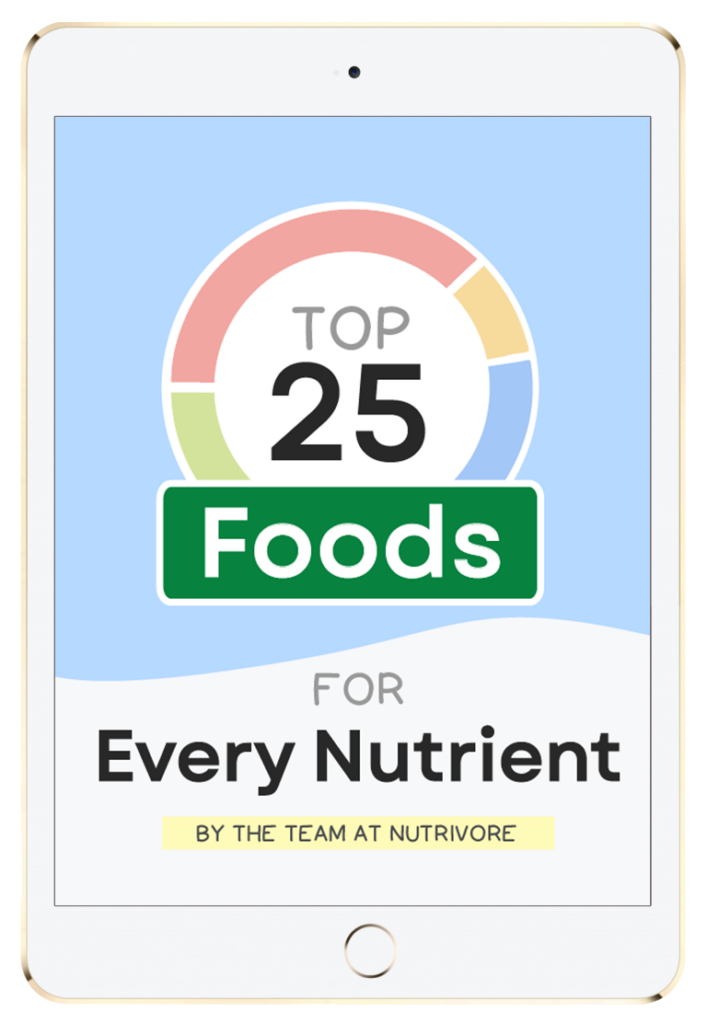 The Top 25 Foods for Every Nutrient
The Top 25 Foods for Every Nutrient e-book is a well-organized, easy-to-use guide to help you choose foods that fit your needs of 42 important nutrients while creating a balanced nutrient-dense diet.
Get two "Top 25" food lists for each nutrient, plus you'll find RDA charts for everyone, informative visuals, fun facts, serving sizes and the 43 foods that are Nutrient Super Stars!
Isothiocyanates and Their Precursors
Isothiocyanates are formed when the vegetable is damaged (for example, sliced, crushed or chewed), and the glucosinolates are able to mix with the vacuolar hydrolase enzyme myrosinase, which hydrolyses the glucosinolates into isothiocyanates. Each type of glucosinolate breaks down into a different isothiocyanate, all with different impacts on our health.
Myrosinase is not heat-stable, so cooking cruciferous vegetables deactivates this beneficial enzyme. However, certain members of the human gut microbiota also have myrosinase-like activity and can also metabolize glucosinolates into isothiocyanates (which is a huge boon for us, because plant-derived myrosinases can be deactivated by cooking so we can't always rely on the veggies themselves to facilitate this conversion!). As a result, our microbiota help us obtain the benefits specifically of cooked glucosinolate-containing vegetables. In fact, studies have shown that urinary excretion of isothiocyanates decreases significantly when participants are first given antibiotics and bowel cleansing, supporting the idea that our microbiota are hard at work degrading glucosinolates into their active hydrolysis products. Several Lactobacillus species, several Enterococcus species, multiple Escherichia coli strains, Bacillus cereus, Bacteroides thetaiotaonicron, Bacillus subtilis, Staphylococcus aureus, and multiple Salmonella strains have all been shown to degrade glucosinolates into isothiocyanates.
Research spanning human epidemiology, animal models, and in vitro experiments show that dietary isothiocyanates are inversely associated with bladder cancer, lung cancer, colon cancer, breast cancer, and pancreatic cancer; some evidence also suggests they may be able to improve ventricular function following heart attacks. They've been shown to modulate the expression and activity of enzymes involved in metabolizing and eliminating carcinogens, and many isothiocyanates induce the expression of antioxidant enzymes by activating the Nrf2-dependent pathway.
Isothiocyanates express antimicrobial activity against a number of bacterial and fungal pathogens, including Bacillus subtilis, E. coli, Helicobacter pylori, Enterococcus faecalis, Klebsiella pneumoniae, Salmonella enteritidits, Salmonella typhimurium, Shigella species, Staphylococcus aureus, Streptococcus pyogenes, Listeria monocytogenes, and Candida albicans.
Sinigrin and Allyl Isothiocyanate:
Sinigrin is hydrolized into allyl isothiocyanate, which potentially reduces the risk of atherosclerosis and exhibits anticancer, anti-inflammatory, antibacterial, antifungal, antioxidant, and wound healing effects. More specifically, it acts as an anti-cancer agent by inducing phase II antioxidant enzymes, which are responsible for inactivating carcinogens, and influencing various stages of cancer initiation and progression. Across studies, singrin has been shown to inhibit the growth of bladder cancer cells, induce the death of liver cancer cells (by upregulating the p53 and downregulating the Bcl-2 family members and caspases), and induce leukemia cell death. It's also been shown to be as potent as Vancomycin in treating a number of pathogenic bacterial infections. Singrin also has antioxidant activity through suppressing nitric oxide production and inducing nitric oxide synthase within LPS-activated macrophages.
Found in Brussels sprouts, horseradish, broccoli, kohlrabi, radish, broccoli, and black mustard seeds (by contrast, white mustard seeds are rich in a different glucosinolate, sinalbin).
Glucotropaeolin and Benzyl Isothiocyanate:
Although glucotropaeolin doesn't possess much biological activity, when transformed into benzyl isothiocyanate (BITC) via the enzyme myrosinase, it exhibits anti-tumor activity and anti-inflammatory effects, inducing cell cycle arrest in prostate cancer and inhibiting tumor growth and lung metastasis of breast cancer cells. Additionally, in mouse models of diet-induced obesity, BITC has been shown to protect against obesity, insulin resistance, and diabetes.
Found in papaya, garden cress, cabbage, and Indian cress.
Gluconasturtiin and Phenethyl Isothiocyanate:
When broken down, gluconasturtiin produces phenethyl isothiocyanate (also known as PEITC or nasturtiin), which has shown a chemo-protective effect for some cancers. Along with exhibiting anti-inflammatory activity, PEITC can modulate the activity of phase I and phase II enzymes responsible for the bio-activation and detoxification of carcinogens.
For example, a 2016 clinical trial evaluated the anti-cancer activity of 2-phenethyl isothiocyanate (PEITC/nasturtiin) in 82 cigarette smokers in order to determine if PEITC was able to inhibit the metabolic activation of the tobacco carcinogen NNK [4-(methylnitrosamino)-1-(3-pyridyl)-1-butanone]. NNK is considered one of the most important carcinogens in tobacco smoke and has been shown to selectively induce lung tumors in rodents. Cigarette smokers were asked to smoke deuterium-labelled cigarettes for a week, averaging approximately 21 cigarettes per day. Then the smokers were randomly divided into two groups: PEITC followed by placebo or placebo followed by PEITC, with a one-week washout period between. During the treatment period each subject took PEITC for 5 days (10 mg in 1 mL of olive oil, 4 times per day, once every 4 hours). Analysis showed that treatment with 2-phenethyl isothiocyanate reduced the metabolic activation ratio of the carcinogen NNT by 7.7%. The study showed that 2-phenethyl isothiocyanate was an inhibitor of lung carcinogenesis by decreasing the carcinogenicity of NNK through inhibition of its metabolic activation. This is consistent with similar studies that have been conducted in rodents and shows that PEITC shows promise as an inhibitor of carcinogen metabolism in smokers.
In addition, PEITC (along with other isothiocyanates) are able to induce apoptosis and cell cycle arrest, and inhibit proliferation of cancer cells both in vitro and in vivo. Furthermore, PEITC has been shown to decrease lipopolysaccharide-induced nitrate and prostaglandin E2 synthesis in a dose-dependent manner. This is important as their over-production has been associated with cancer development.
Found in watercress.
Glucoraphanin and Sulforaphane:
Glucoraphanin is converted to sulforaphane through interaction with the enzyme myrosinase. Sulforaphane is one of the most widely studied glucosinolates, potentially helping protect against and treat a number of chronic diseases. In vitro and in vivo studies have shown that sulforaphane affects different stages of cancer development, impacting the initiation of cancer, arresting the growth of cancer cells, and inducing cancer cell apoptosis. It reduces the effects of carcinogens through inhibition of phase I enzymes while upregulating a number of phase II detoxification enzymes, protecting cells by converting carcinogens into inactive metabolites easily excreted by the body. Induction of phase II enzymes raises levels of the powerful antioxidant glutathione, which is why sulfur-containing foods like cruciferous veggies help combat diseases related to oxidative damage. Additionally, sulforaphane exhibits powerful anti-inflammatory properties, delays the progression of osteoarthritis, and exhibits cardioprotective effects.
Sulforaphane has also been shown to improve glycemic control in patients with obesity and poorly controlled type 2 diabetes, as well as reduce gluconeogenesis in the liver. In mice and rats fed a high-fat or high-fructose diet to induce glucose intolerance, sulforaphane was able to suppress liver glucose production and improve glucose tolerance by a similar magnitude as metformin (currently used as first line therapy), as well as reverse markers of disease in the livers of these diabetic animals.
Both in vitro and in vivo, sulforaphane has also shown efficacy for neurodegenerative diseases, including Alzheimer's, Parkinson's, and multiple sclerosis, by activating genes and molecules with antioxidant, anti-inflammatory, and anti-apoptotic properties. Sulforaphane has therapeutic potential in kidney disease by stimulating the NRF2 pathway (important in protecting cells from oxidative injury). In addition, it exhibits antimicrobial activity against both Gram-positive and Gram-negative bacteria and prevents the growth of a range of food-borne pathogens and enteropathogenic microbes. In fact, sulforaphane has been shown to prevent the growth of H. pylori, a pathogen associated with gastric ulcers and enhanced risk of gastric cancer.
Although research in living humans is limited, sulforaphane is particularly promising due to its relatively high bioavailability (80% absolute bioavailability, compared to 1 – 8% for many other polyphenols), enhancing the likelihood that the results of in vitro research could pan out in humans.
Found in broccoli, cauliflower, kale, cabbage, Brussels sprouts, and broccoli sprouts (which contain up to 100 times more glucoraphanin than mature broccoli plants).
Glucobrassicin, Indole-3-Carbinol, and 3,3′-Diindolylmethane:
Glucobrassicin produces indole-3-carbinol, which has anticancer, antioxidant, and anti-atherogenic properties. In the stomach, indole-3-carbinol undergoes acid-catalyzed condensation that generates a number of biologically active molecules, most notably 3,3′-diindolylmethane (DIM), which in addition to its anticancer, anti-inflammatory and immune modulating properties, has a direct and beneficial effect on estrogen metabolism.
The endogenous estrogen 17β-estradiol can be converted to either 16α-hydroxyestrone (16αOHE1) or 2-hydroxyestrone (2OHE1). These are sometimes viewed as 'bad' and 'good' estrogen metabolites, respectively, since 16αOHE1 acts as a breast tumor promoter while 2OHE1 does not and further inhibits angiogenesis and suppresses tumor growth. Higher urinary values for the 2OHE1 to 16αOHE1 ratio (called the 2:16 ratio) reduces risk of breast cancer. Several studies have shown that DIM positively impacts the 2:16 ratio, increasing urinary 2OHE1 levels, and this positive shift in estrogen metabolism could decrease the risk of estrogen-sensitive cancers such as breast cancer and potentially treat postmenopausal osteoporosis.
DIM has also been shown to induce cancer cell death and cell cycle arrest, possibly due to its activity as a histone deacetylase inhibitor. In vitro, it's demonstrated anti-cancer effects against colon cancer cells and shown a synergistic effect with genistein to trigger MCF-7 breast cancer cell death. In humans, some clinical trials have suggested that DIM may benefit patients with castration-resistant prostate cancer or abnormal cervical cancer cells, although more research is needed. It's also been shown to help protect tissue against ionizing radiation, which could make DIM useful for reducing damage from radiation therapy in cancer patients; intriguingly, the mechanism of action is unique compared to other radioprotective compounds, with DIM activating the ataxia-telangiectasia mutated nuclear kinase that regulates responses to oxidative stress and DNA damage, stimulating the DNA damage response and activating cell survival signaling via the transcription factor NF-κB.
Lastly, DIM possesses anti-inflammatory properties and multiple immune-stimulating effects, while also affecting estrogen metabolism and bone metabolism. In mice, treatment with DIM has been shown to significantly increase bone mass by reducing bone resorption (removal of old or damaged bone), giving it potential utility in the treatment or prevention of osteoporosis.
Found in broccoli, cabbage, collard greens, Brussels sprouts, cauliflower, and kale.
Oxazolidine-2-thiones (Progoitrin and Goitrin)
Progoitrin is converted to goitrin after digestion. This phytonutrient is most famous for suppressing iodine uptake by the thyroid and decreasing the production of thyroid hormone, leading to rumors that eating cruciferous veggies could cause hypothyroidism; however, studies show that eating realistic amounts of progoitrin-containing foods doesn't alter thyroid function in humans unless iodine deficiency is also present.
Found in cabbage, Brussels sprouts, peanuts, mustard, kale, rutabaga, kohlrabi, spinach, horseradish, and cauliflower.
Everything You Need to Jump into Nutrivore TODAY!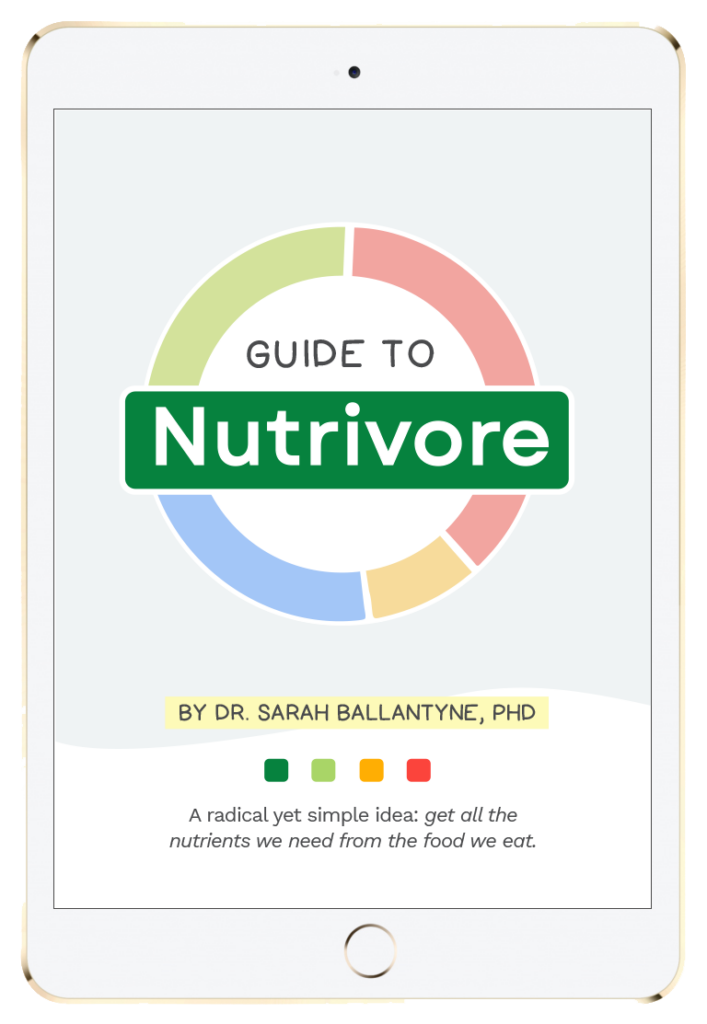 Guide to Nutrivore
The Guide to Nutrivore e-book explains why and how to eat a Nutrivore diet, introduces the Nutrivore Score, gives a comprehensive tour of the full range of essential and important nutrients!
Plus, you'll find the Top 100 Nutrivore Score Foods, analysis of food groups, practical tips to increase the nutrient density of your diet, and look-up tables for the Nutrivore Score of over 700 foods.
Other Glucosinolate Metabolites
There are some other classes of glucosinolate metabolites that also have important roles in health, although not as extensively studied as isothiocyanates.
Indoles
Indoles are tryptophan-based molecules also produced by myrosinase hydrolysis of glucosinolates. In fact, glucosinolates can be grouped into three chemical classes: aliphatic, indole and aromatic, according to whether their amino acid precursor is methionine, tryptophan, and phenylalanine, respectively. Myrosinase metabolizes these glucosinolates into a variety of compounds, including the already discussed isothiocyanates, as well as thiocyanates, nitriles and indoles. Indoles have powerful anticancer properties through multiple mechanisms that include modulation of phases I and II detoxification enzymes, regulation of cell cycle arrest, control of cell growth, induction of apoptosis, antioxidant activity, anti-angiogenic effects, and epigenetic regulation.
Thiocyanates
Thiocyanates are one of the breakdown products of glucosinolates. Along with possessing antioxidant and blood-pressure-lowering effects, studies have shown that thiocyanates can induce changes in cell signaling that lead to anti-inflammatory and anti-cancer activity, although much more research is needed to establish their protective effect in humans. Thiocyanate derivatives have antimicrobial activity against the bacteria E. coli, Pseudomonas fluorescens, and Staphylococcus aureus as well as the fungi Gaeummannomyces graminis and Plasmodphora brassicae. Found in cruciferous vegetables such as caulilflower, broccoli, kale, cabbage, and Brussels sprouts.
Best Food Sources of Glucosinolates
The following foods have high concentrations of glucosinolates, containing at least 30 mg per serving, making them our best food sources of this incredibly important class of phytonutrients!
Everything You Need to Know about Cruciferous Veggies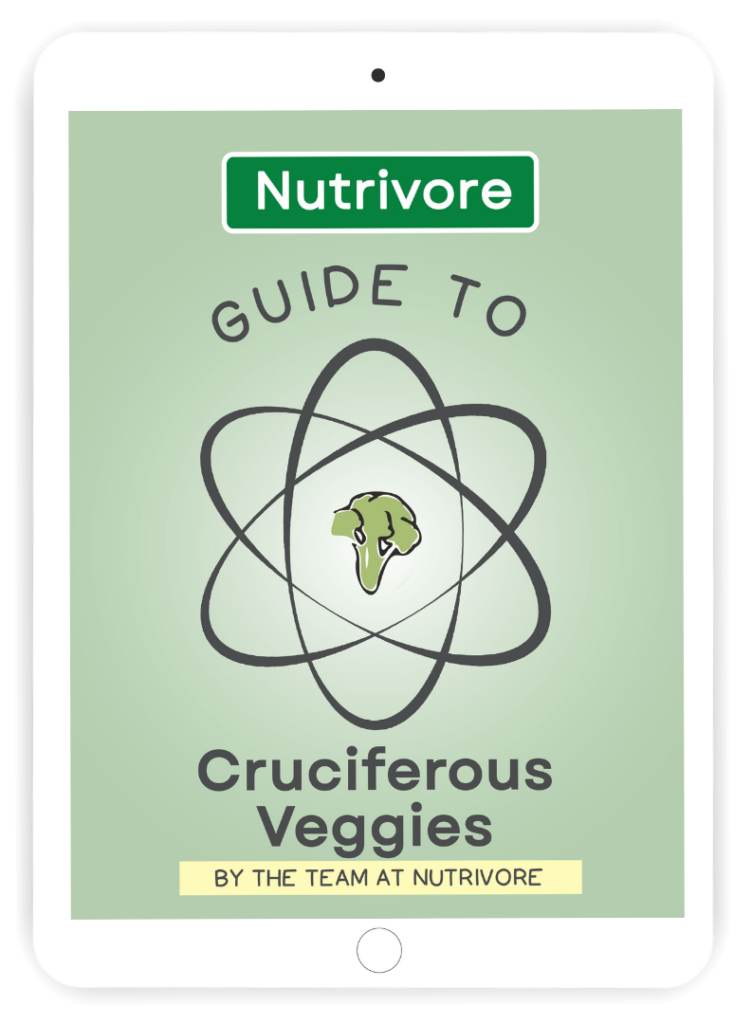 Nutrivore Guide to Cruciferous Veggies
The Nutrivore Guide to Cruciferous Veggies is a practical-focused e-book that explains everything you need to know about cruciferous vegetables so you can reap all the benefits of this foundational food family!
Plus, you'll 12 tasty recipes featuring cruciferous vegetables to help you incorporate more of these awesome veggies into your weekly meal plans!
Good Food Sources of Glucosinilates
The following foods are also excellent or good sources of glucosinolates, containing at least 6 mg (and up to 30 mg) per serving.
Citations
Expand to see all scientific references for this article.
Want to Know ALL the Easy Steps to Nutrivore?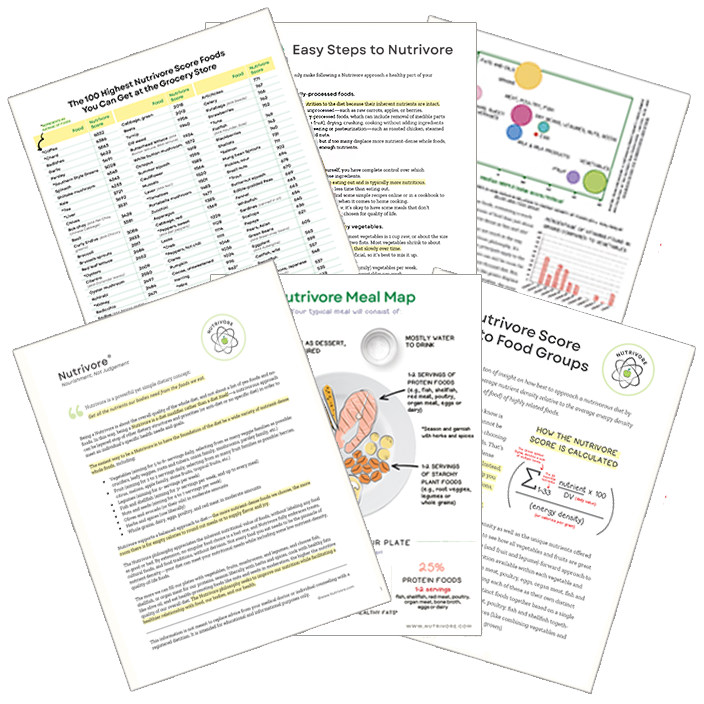 Get it Directly in Your Inbox!
The Nutrivore Newsletter is a weekly email that delivers bite-size fun facts, practical tips, recipes and resources. Sign up now and get 5 free guides directly to your inbox:
Easy Steps to Nutrivore 4-page guide
Nutrivore Foundational Foods 6-page guide
Nutrivore Score Guide to Food Groups 3-page guide
Nutrivore Meal Map
Top 100 Nutrivore Score Foods