Proteins are made from long chains of amino acids, anywhere from twenty to more than two thousand amino acids long. Amino acids have the general molecular formula of R-CH(NH2)-COOH. NH2 is the basic amino group, COOH is an acidic carboxyl group, and R represents a molecular unit called a side chain that is unique for each amino acid. The chemical properties of the side chain create classes of amino acids: nonpolar and aliphatic; aromatic (generally nonpolar); polar but uncharged; negatively charged (acidic); and positively charged (basic).
While approximately five hundred different amino acids have been identified in various life forms, only twenty are used to build every single type of protein in the human body.
Essential Amino Acids
Of the twenty amino acids encoded in our genetics and used to build the proteins in our bodies, only nine of those are considered nutritionally indispensable, meaning that we absolutely have to get them from food—our bodies can't make them. A complete protein is a food that contains good amounts of all nine of these essential amino acids.
Histidine: An indispensable amino acid involved in growth, tissue repair, and the manufacture of red blood cells. It helps defend against tissue damage from radiation and heavy metals and plays a role in maintaining the myelin sheaths that protect nerve cells. Histidine is also metabolized into the neurotransmitter histamine, which is involved in immune function, sexual functions, and gastric secretion.
Isoleucine: An indispensable amino acid that plays an important role in hemoglobin synthesis, blood sugar regulation, and maintenance of energy levels.
Leucine: An indispensable amino acid used for a number of metabolic functions, including the formation of sterols in fat and muscle tissue, mTOR activation (which regulates cell metabolism, growth, proliferation and survival), and direct stimulation of muscle protein synthesis.
Lysine: An indispensable amino acid that is required for growth and tissue repair and that appears to be active against herpes simplex viruses (due to its ability to compete with arginine, an amino acid needed by viruses, for entrance into cells).
Methionine: An indispensable amino acid used for angiogenesis (the growth of new blood vessels), the synthesis of cysteine, and the creation of cartilage. It also helps the body produce S-Adenosyl-L-methionine (SAMe), which may benefit psychiatric illnesses and musculoskeletal conditions.
Phenylalanine: An indispensable amino acid that supports the structure and function of different proteins and enzymes within the body. It's involved in synthesizing the neurotransmitters dopamine and norepinephrine and can also be converted into the amino acid tyrosine.
Threonine: An indispensable amino acid that promotes normal growth, supports cardiovascular health, keeps bones and tooth enamel strong, and is involved in liver, central nervous system, and immune system function. Threonine is important for connective tissue and muscle strength and elasticity and may also improve wound healing and recovery from injury.
Tryptophan: An indispensable amino acid needed for normal growth, nitrogen balance, niacin synthesis, and making the neurotransmitter serotonin.
Valine: An indispensable amino acid that works in conjunction with other amino acids (namely isoleucine and leucine) to repair tissues, maintain energy levels, regulate blood sugar, and promote normal growth.
Check out the detailed articles on all nine essential amino acids below!
Everything You Need to Jump into Nutrivore TODAY!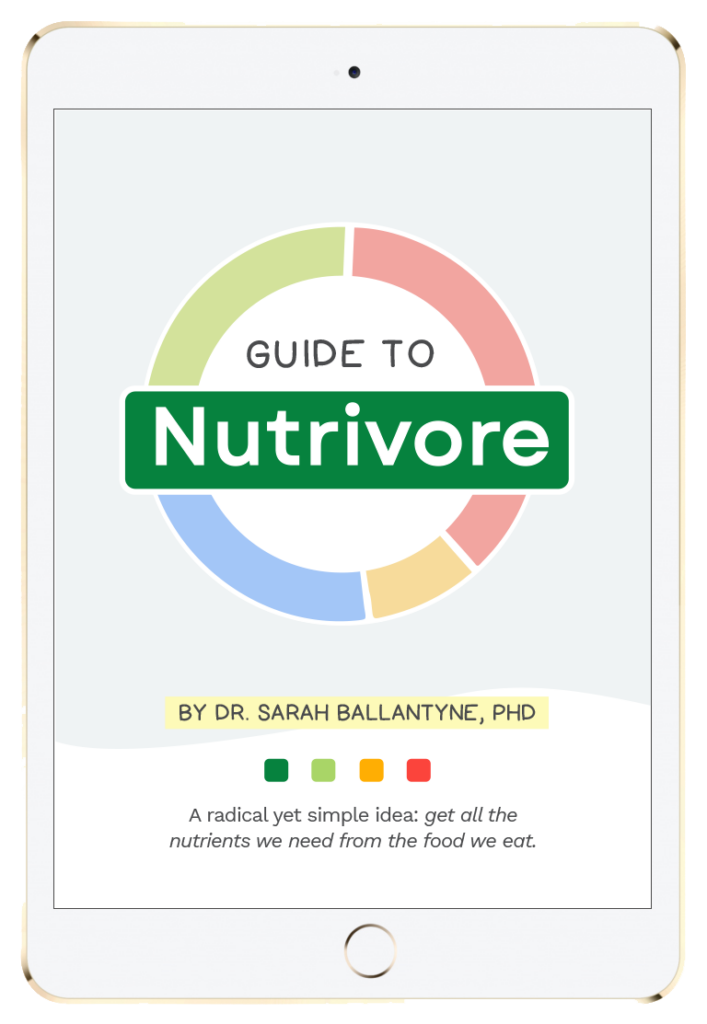 Guide to Nutrivore
The Guide to Nutrivore e-book explains why and how to eat a Nutrivore diet, introduces the Nutrivore Score, gives a comprehensive tour of the full range of essential and important nutrients!
Plus, you'll find the Top 100 Nutrivore Score Foods, analysis of food groups, practical tips to increase the nutrient density of your diet, and look-up tables for the Nutrivore Score of over 700 foods.
Conditionally Essential Amino Acids
Six additional amino acids are considered conditionally indispensable, meaning that while other amino acids can be converted into these amino acids, the process is so inefficient that most of the time we still need to get them from food.
Arginine: A conditionally indispensable amino acid that plays a vital role in cell division, wound healing, hormone release, and immune function.
Cysteine: A conditionally indispensable amino acid that helps form the powerful antioxidant glutathione, as well as supports respiratory health and the removal of metal ions and harmful chemicals from the body.
Glutamine: A conditionally indispensable amino acid that can help improve intestinal barrier function and reduce intestinal permeability (which may be associated with many chronic diseases), treat mood disorders, prevent disease-related weight loss, and reduce infection risk.
Glycine: A conditionally indispensable amino acid that plays a number of beneficial roles in the body and may help improve sleep quality, enhance memory, regulate bile acids, and assist in the synthesis of several extremely important proteins. It may also help reverse age-related damage to fibroblasts, a type of cell in connective tissues that produces collagen, and as a result may have antiaging effects.
Proline: A conditionally indispensable amino acid that's used in collagen production and helps maintain healthy skin, joints, tendons, and cardiac muscle.
Tyrosine: A conditionally indispensable amino acid used to produce the neurotransmitters epinephrine, norepinephrine, and dopamine. It also supports adrenal, thyroid, and pituitary gland function and the creation and regulation of hormones.
Non-Essential Amino Acids
The remaining five amino acids are considered nutritionally dispensable, meaning that our bodies can make them in sufficient quantities provided that there's enough protein in our diets. While technically we need to get only the nine essential amino acids through diet—our bodies can create the remaining eleven—it is far preferable from a health standpoint to get all of the amino acids from foods. That way, we don't have to rely on often inefficient conversion processes for the amino acids our bodies need to make all the various proteins in our cells and tissues.
Alanine: A nutritionally dispensable amino acid involved in sugar and acid metabolism. It can potentially increase exercise capacity, help build lean muscle mass, and improve immunity.
Asparagine: A nutritionally dispensable amino acid involved in cell functions in nerve and brain tissue.
Aspartic acid: A nutritionally dispensable amino acid that serves as a neurotransmitter and plays an important role in synthesizing other amino acids (asparagine, arginine, lysine, methionine, and isoleucine). It's also involved in the citric acid and urea cycles in the body and plays a role in gluconeogenesis.
Glutamic acid: A nutritionally dispensable amino acid that serves as the central nervous system's most abundant excitatory neurotransmitter. It's also a key compound in cellular metabolism.
Serine: A nutritionally dispensable amino acid involved in metabolism, particularly the biosynthesis of purines and pyrimidines. Serine-based molecules are required for the function of many enzymes, fatty acid metabolism, cell membrane structures, muscle growth, and immune function.
Want to Know ALL the Easy Steps to Nutrivore?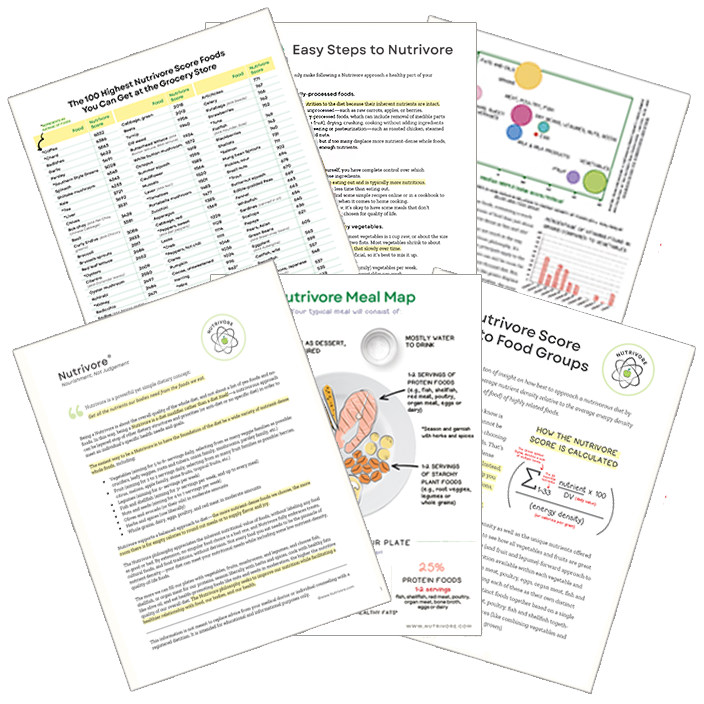 Get it Directly in Your Inbox!
The Nutrivore Newsletter is a weekly email that delivers bite-size fun facts, practical tips, recipes and resources. Sign up now and get 5 free guides directly to your inbox:
Easy Steps to Nutrivore 4-page guide
Nutrivore Foundational Foods 6-page guide
Nutrivore Score Guide to Food Groups 3-page guide
Nutrivore Meal Map
Top 100 Nutrivore Score Foods
Non-Proteinogenic Amino Acids and Peptides
In addition, a variety of non-proteinogenic amino acids, that is amino acids that are not encoded into our DNA nor incorporated into proteins, have biological roles in the human body. For example, GABA is an important neurotransmitter, levodopa is an important neurotransmitter precursor that also mediates neurotropic factor release in the central nervous system, and ornithine is essential for the urea cycle.
Anserine: A dipeptide with antioxidant capacity that can effectively relieve stress and fatigue, ameliorate anxiety, promote post-partum lactation, improve physical capacity and exercise performance, reduce hyperglycemia and hypertension, enhance immunity, prevent ageing-associated neurological (e.g., cognitive and memory) dysfunction and inflammation, and accelerate wound healing. Foods highest in anserine include meat, poultry and some fish (salmon, tuna and trout).
Carnosine: A dipeptide that helps slow aging in cells, particularly by protecting against oxidation and DNA damage and slowing the rate of advanced glycation end-product (AGE) formation. It appears to protect against the buildup of atherosclerotic plaque. Foods highest in carnosine include meat, poultry and fish.
Creatine: A non-proteinogenic amino acid that helps supply energy to cells, especially muscle cells. It may help increase muscle strength, boost functional performance, and reduce DNA mutation. Foods high in creatine include animal products like meat, dairy, eggs, poultry, and seafood.
Ergothioneine: A non-proteinogenic amino acid with powerful antioxidant and anti-inflammatory properties shown to mitigate diseases associated with aging, including cardiovascular disease, cancer, liver disease, cataracts, and Alzheimer's disease. Ergothioneine has even been called the "longevity vitamin" since studies show that it reduces all-cause mortality and is associated with longer lifespan. The main dietary source of ergothioneine is mushrooms, which is particularly high in medicinal mushrooms and some culinary varieties like shiitake, maitake and oyster. For example, oyster mushrooms contain double the ergothioneine per kilogram of button mushrooms. There are minute amounts in some other foods, like tempeh, kidney beans and chicken liver.
4-Hydroxyproline: An antioxidant amino acid that is a key component of collagen, the dominant structural protein and main building block of connective and interstitial tissues, bone, cartilage, ligaments, tendons, and skin, and which is also abundant in muscles, blood vessels, corneas, and teeth. Foods highest in 4-hydroxyproline include collage-rich cuts of meat like offal, skin, joints (trotters, duck feet, chicken wings, etc.) as well as fish and bone broth.
Taurine: A non-proteinogenic amino sulfonic acid that supports neurological development, serves as a major component of bile, and plays a role in water and mineral regulation within the blood (including through membrane stabilization and calcium signaling). It also plays a role in cardiovascular function and the development of skeletal muscle. Taurine is found most abundantly in seafood, dairy products, eggs, seaweed, and certain meats (including beef, lamb, and dark chicken meat).
Theanine has antioxidant, anti-inflammatory, neuroprotective, anticancer, metabolic regulatory, cardiovascular protective, liver and kidney protective, immune regulatory, and anti-obesity effects. It has also been shown to have a calming effect, reducing anxiety.
How Much Protein Do We Need?
Protein deficiency is detrimental to all of the body's organs and systems, including impacting function of the brain (especially in infants and young children), immune system, gut barrier, and kidneys. Physical signs of protein deficiency include edema (swelling), poor musculature, dull skin, thin and fragile hair, and failure to thrive in infants and children.
The Accepted Macronutrient Distribution Ranges (AMDR) were established by the Food and Nutrition Board of the Institute of Medicine using evidence from interventional trials with support of epidemiological evidence that suggest a role in the prevention or increased risk of chronic diseases, and based on ensuring sufficient intake of essential nutrients. The AMDR for protein is 10% to 35% calories from protein.
The recommended daily allowance of protein is 0.36 grams per pound body weight (0.8 grams per kilogram of body weight). That amounts to 56 grams for a 150-pound person. However, it's important to emphasize that this number is considered a minimum daily allotment, and there is no established upper limit. In fact, many studies have evaluated diets containing three to four times more protein than this minimum and proven benefits to weight management, body composition, hormone regulation, and cardiovascular health. These studies suggest that an optimal protein intake for most people is probably in the range of 1.2 to 1.8 grams per kilogram bodyweight (82 to 122 grams for that same 150-pound person), and that people who are very active may see the best results at even higher intake.
Nutrition requirements and recommended nutrient intake for infants, children, adolescents, adults, mature adults, and pregnant and lactating individuals.
Good Food Sources of Protein
The following foods are also good sources of protein, containing at least 10 grams of protein per serving.
Want to know the top 25 foods for this awesome nutrient?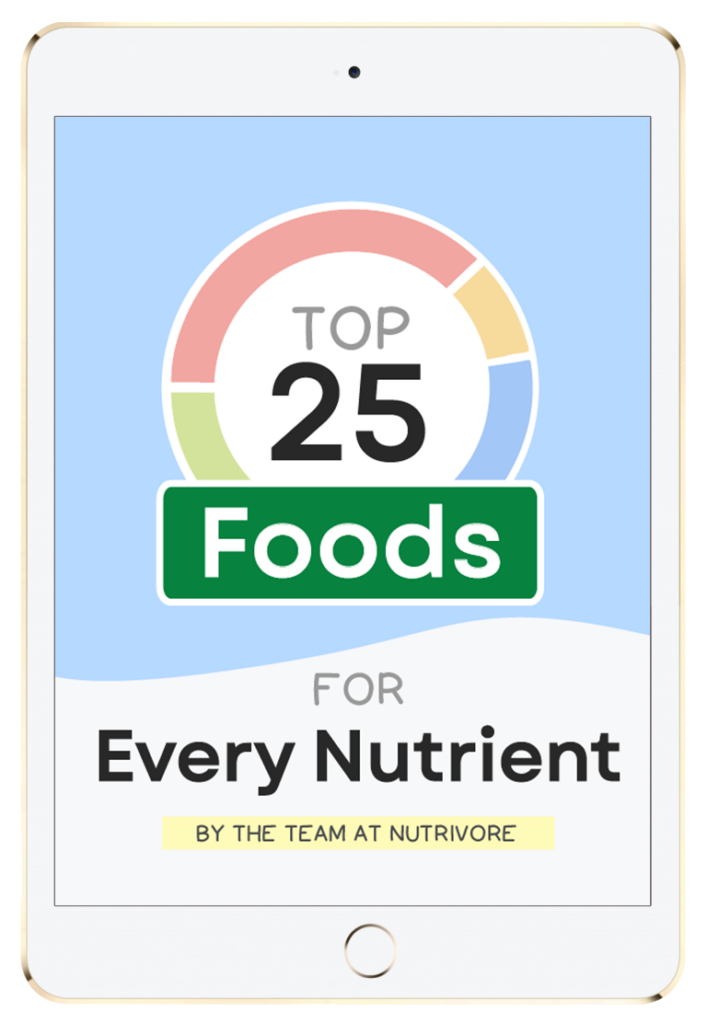 The Top 25 Foods for Every Nutrient
The Top 25 Foods for Every Nutrient e-book is a well-organized, easy-to-use guide to help you choose foods that fit your needs of 42 important nutrients while creating a balanced nutrient-dense diet.
Get two "Top 25" food lists for each nutrient, plus you'll find RDA charts for everyone, informative visuals, fun facts, serving sizes and the 43 foods that are Nutrient Super Stars!
Help me to keep building Nutrivore.com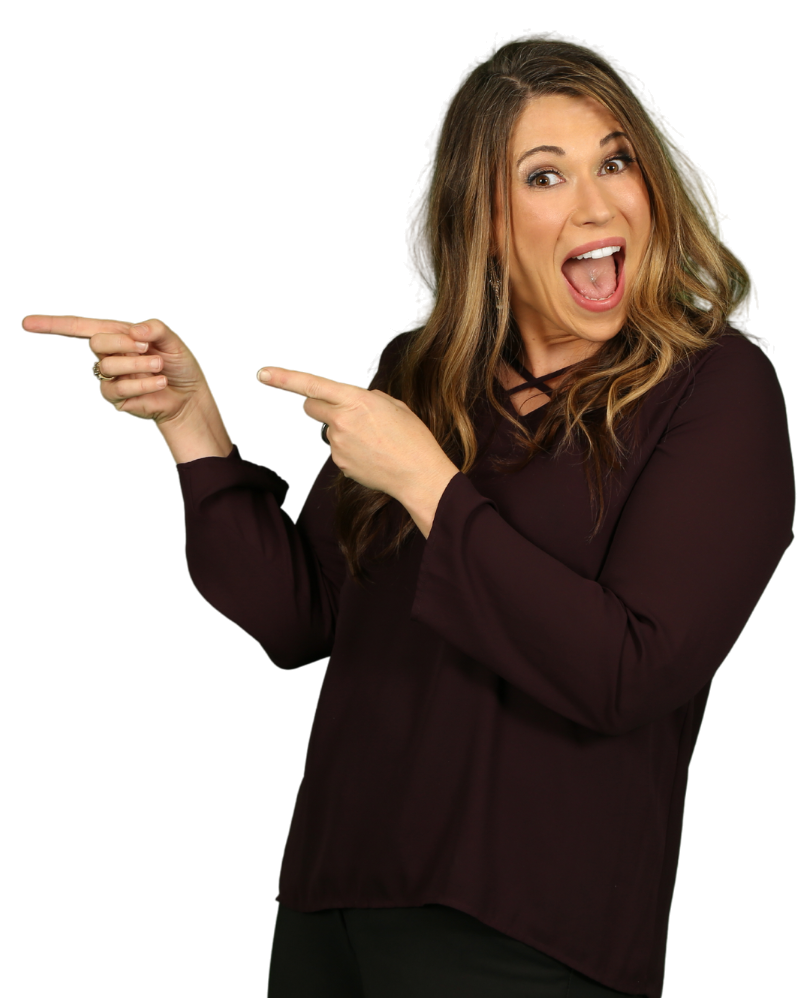 I'm working on writing more awesome articles on this topic to be featured right here on this webpage. If you're enjoying the content my team and I have created thus far and would like to see more, you can support our efforts to keep building out this site by joining the Nutrivore community on Patreon!
Plus, you'll gain exclusive access to the monthly Nutrivore Podcast, a NEW e-book every single month on a Nutrivore foundational food group, including 12 recipes, plus the entire, browsable Nutrivore Score database, and you can ask me all your Nutrivore questions directly! Sign up now and also get 5 free Nutrivore guides as a welcome gift! Win-win!