Key Takeaways (expand)

Medium-chain triglycerides, or MCTs, are a type of saturated fat composed of two more medium-chain fatty acids (6 to 10 carbon atoms in their acyl chain).
The medium-chain fats that make up MCTs include caproic acid, caprylic acid, capric acid, and sometimes lauric acid (which also displays some properties of long-chain fatty acids, and thus not universally considered a "true" medium-chain fat!).
MCTs follow a unique digestive pathway compared to other fats: rather than being broken down by bile and enzymes and entering systemic circulation, MCTs get absorbed straight from the GI tract and shuttled directly to the liver.
This digestive process gives MCTs an extreme fast absorption rate (similar to that of glucose) and allows them to be quickly oxidized for energy.
MCTs can increase serum ketone levels, even in the absence of carbohydrate restriction; this is particularly true of MCTs containing caprylic acid (the most ketogenic of the medium-chain fats).
MCTs can help induce a ketogenic state at relatively higher levels of carbohydrate and protein intake than normally required for ketosis.
Research suggests that MCT supplementation can spontaneously reduce energy intake (that is, cause people to consume less food without any deliberate calorie restriction).
A number of controlled trials show that MCT supplementation leads to modest reductions in body weight, as well as general improvements in body composition.
These weight loss effects of MCTs appear due to their ability to increase fat oxidation, boost thermogenesis (heat generation), and even increase the oxidation of other dietary fats.
MCTs also have a slightly lower energy content than long-chain fats (8.4 calories per gram, instead of 9.2 calories per gram).
The effects of MCTs on weight loss and body composition may be greatest in people with higher initial body weight.
Some research suggests the effects of MCTs on appetite and weight loss are short lived, with an initial boost in resting energy expenditure eventually returning to baseline levels.
Studies of diabetics show that MCTs could improve insulin sensitivity and increase serum C-peptide concentrations (a marker for insulin production).
Unlike some other saturated fatty acids, MCTs don't appear to increase LDL cholesterol levels, and may actually help reduce it (by increasing its excretion).
Some evidence, albeit inconsistent, suggests that MCTs can help boost exercise performance by reducing lactic acid buildup and extending the exercise duration.
MCTs were initially used as a treatment for epilepsy, and research continues to affirm their beneficial role in neurological health—including augmenting the effects of anticonvulsants for epilepsy, improving markers of cognition and memory in patients with Alzheimer's disease, and increasing glutamine supply and GABA synthesis in the brain.
Due to their rapid and direct absorption, MCTs are useful for people with impaired digestion; they may also benefit gut health as a whole by protecting against endotoxemia, improving intestinal permeability, altering the composition of the gut microbiome, and preventing intestinal atrophy.
Good sources of MCTs are coconut and its oil, palm kernel oil, and fatty dairy products.
Medium-chain triglycerides, more often referred to as MCTs, are a type of saturated fat composed of two more medium-chain fatty acids (that is, fatty acids with a 6 to 10 carbon atoms in their acyl chain). These medium-chain fats consist of caproic acid, caprylic acid, and capric acid—AKA the "capra fatty acids." Lauric acid is often grouped in as well, but because it displays some properties of long-chain fatty acids, it's not universally considered a "true" medium-chain fat!
MCTs were first used in the mid-1900s to help treat epilepsy, but they resurged in popularity in the 1980s among athletes. There's compelling evidence that they can support weight loss and increase energy expenditure relative to other fats, and they may also play a role in neurological health. Their easy absorption and digestion makes them valuable for treating malnutrition and intestinal malabsorption disorders. Natural sources of MCTs are coconut (and coconut oil), palm kernel oil, and fatty dairy products from cows, sheep, horses, and goats. In fact, the names caproic, caprylic, and capric all come from the Latin word capra, which means "goat"—the milk of which is particularly high in these fats!
The Biological Roles of Medium-Chain Triglycerides
Triglycerides, in general, are a type of fat composed of one glycerol molecule and three fatty acids; their purpose is to either get used for energy or stored as fat. MCTs are a unique type of triglyceride in terms of their metabolism and health effects!
One of the most noteworthy features of MCTs is the way they're absorbed within the body. While longer-chain fats undergo a complex digestion process involving bile, enzymatic breakdown, passage through the lymphatic system, and entry into circulation before finally reaching the liver, MCTs get absorbed directly from the GI tract into the portal vein, where the liver is their first (and usually final) stop. In fact, MCTs are so readily absorbed in the liver that almost none of them reach systemic circulation!
As a result of this digestion process, MCTs have an extremely fast absorption rate (similar to that of glucose!) and are more quickly oxidized for energy than other fatty acids (although as with all fats, MCTs can still be stored as body fat if consumed in excess). Only at very high intakes (40% of total calories for multiple consecutive days) do MCTs begin undergoing the same digestive process as long-chain fats and become incorporated into chylomicrons.
Compared to other fats, MCTs are also highly ketogenic—meaning they increase serum ketone levels, even in the absence of the carbohydrate restriction that's normally needed to produce ketosis. This is particularly true for MCTs containing caprylic acid, which induces the highest level of plasma ketones out of all the medium-chain fats, due to the rapid breakdown from its 8-carbon fatty acid structure into ketone bodies (thus earning it the title of "most ketogenic fat!"). The ketogenic properties of MCTs are due to a combination of their direct transport to the liver (where ketogenesis takes place), and their ability to get oxidized without the presence of carnitine (longer-chain fats require carnitine-dependent enzyme activation before they can reach the mitochondria and be used for energy). This also means that for diets aiming to produce a ketogenic state, MCTs can help induce ketosis at relatively higher levels of carbohydrate and protein intake than would normally be required.
Want to Know ALL the Easy Steps to Nutrivore?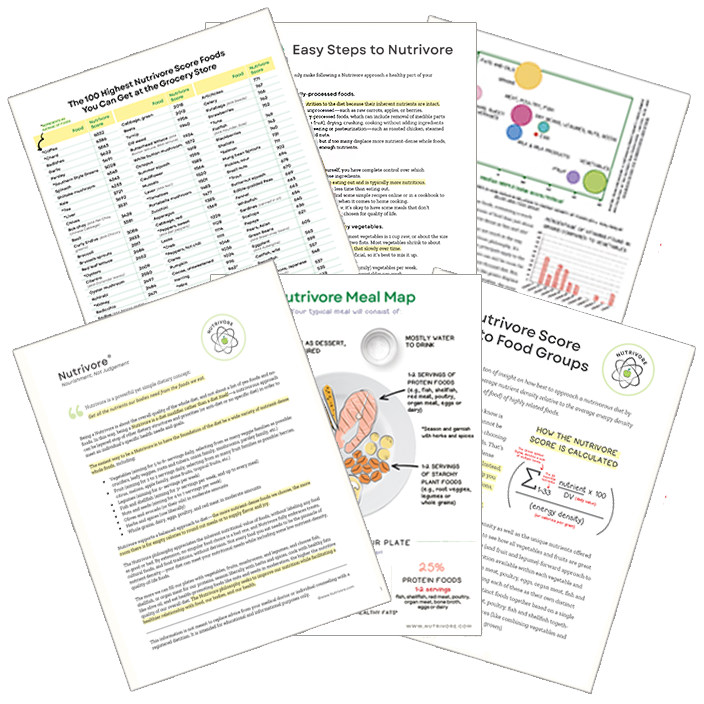 Get it Directly in Your Inbox!
The Nutrivore Newsletter is a weekly email that delivers bite-size fun facts, practical tips, recipes and resources. Sign up now and get 5 free guides directly to your inbox:
Easy Steps to Nutrivore 4-page guide
Nutrivore Foundational Foods 6-page guide
Nutrivore Score Guide to Food Groups 3-page guide
Nutrivore Meal Map
Top 100 Nutrivore Score Foods
Medium-Chain Triglycerides in Health and Disease
The earliest use of MCTs was to help treat epilepsy, but they also possess benefits for weight loss and body composition—including by spontaneously reducing appetite and food intake, and by increasing resting energy expenditure via thermogenesis (heat production). MCTs may also help increase insulin sensitivity among diabetics, improve memory and cognition in Alzheimer's patients, improve exercise performance, and boost gut health.
MCTs and Weight Loss
One of the biggest research focuses of MCTs has been on energy expenditure, appetite, and fat loss. And while not all of the evidence has been consistent, the research does suggest that among the fats, MCTs may have unique health benefits here!
For example, a large 2021 systematic review and meta-analysis of MCT studies concluded that compared to longer-chain fats, MCT supplementation significantly reduces energy intake—leading to spontaneous reductions in food consumption without any deliberate calorie restriction. Another meta-analysis of controlled trials found that MCT supplementation, at doses of 1 to 54 g daily for at least four weeks, was associated with modest reductions in body weight and an overall improvement in body composition.
Controlled feeding trials have shown that MCT supplementation promotes weight loss by increasing fat oxidation and energy expenditure, especially relative to longer-chain fats (such as those found in olive oil, avocado, or nuts). This includes substantially boosting thermogenesis (heat generation) in a way that results in less weight gain during overfeeding. Importantly, these effects might be stronger in people with a higher body weight: one double-blind study found that MCT supplementation led to more substantial weight loss, body fat loss, and subcutaneous fat loss than long-chain triglyceride supplementation, but these effects were much stronger among people with a BMI greater or equal to 23 kg/m(2) than those with lower baseline BMIs. This could be due to an impairment of long-chain fatty acid oxidation that's often seen with obesity, which replacement with MCTs would remedy due to their unique metabolism in the body.
What's more, there's evidence that MCTs can increase the oxidation (AKA burning) of other dietary fats, effectively enhancing the body's ability to use fat for fuel rather than storing it. One randomized controlled trial found that in overweight adults, ingestion of MCTs (2 g daily) was able to enhance the degradation of other fats after eating; another trial found that compared to beef tallow, MCT supplementation improved the body's oxidation of long-chain saturated fats. So, not only are MCTs themselves relatively resistant to fat-storage; they may also make it more likely for other fats to be burned, too!
Lastly, MCTs have a slightly lower energy content than long-chain fats—delivering 8.4 calories per gram versus 9.2 calories per gram, respectively. This may slightly contribute to some of their weight-loss effects in studies that compare them to other types of fat, although the effects would be minimal.
All that being said, the verdict on MCTs, appetite, and weight loss still isn't totally clear! While some studies have reported an initial boost in metabolic rate with MCT supplementation, the effect seems to be short-lived—calling into question whether the results of shorter MCT trials can be assumed to continue longer-term. For example, one trial of healthy young women found that MCTs (versus long-chain triglycerides) increased the participants' basal metabolic rate, as measured on the 7th day of the intervention. But, by the 14th day, the effect had disappeared. The same phenomenon was seen in premenopausal women, who experienced a boost in their resting energy expenditure on the 7th day of an MCT feeding trial but a return to baseline on the 14th day.
Apart from issues of duration, many MCT trials have suffered from commercial bias, a lack of complete information to assess their quality, and other factors that could influence how trustworthy their findings are. For now, there does appear to be plenty of mechanistic evidence and a decent number of human studies to suggest that MCTs could support healthy body weight maintenance, but more research is still needed.
MCTs and Type 2 Diabetes
MCTs may also impact insulin sensitivity. One 2007 study of type 2 diabetics found that 90 days of MCT supplementation (versus a control supplement containing corn oil) led to significant reductions in insulin resistance (as measured by HOMA-IR) and an increase in serum C-peptide concentrations (a marker for insulin production), while also decreasing body weight, waist circumference, and cholesterol levels. Although more research is needed in humans, a benefit of MCTs for diabetes could be possible, especially compared to other fat types.
MCTs and Cardiovascular Disease
Although some saturated fatty acids are known to increase cholesterol levels, this doesn't seem to be the case with MCTs. In mice fed a high-cholesterol diet, supplementation with 2% caprylic acid or capric acid (vs. 2% palmitic acid or stearic acid, which are also saturated fats) led to significant reductions in LDL cholesterol levels and a higher excretion of bile acids—suggesting that medium-chain fats could help decrease cholesterol by increasing its excretion.
However, most trials in humans have shown that reasonable MCT intakes have only a minor effect on LDL, HDL, or total cholesterol; only at very high intakes (40% of calories) do they begin to increase fasting triglycerides.
MCTs and Exercise Performance
MCTs have sometimes been promoted for helping boost exercise performance, due their role as an alternative fuel source and potential ability to spare muscle glycogen. In mice, MCTs have been shown to enhance exercise performance by increasing mitochondrial biogenesis and metabolism, as well as improve swimming capacity relative to long-chain triglycerides. Some human research also found that consuming MCTs before an athletic event (such as cycling) helped reduce lactic acid buildup and extend exercise duration. And, trials have found that MCT supplementation can increase the amount of fat burned during exercise, particularly among normally sedentary people.
However, the evidence here is inconsistent at best: only a few of the human studies conducted on this topic show a beneficial effect of MCTs on exercise performance directly, while a number show no significant impact. For now, the science suggests some benefit is possible but not compelling!
MCTs and Epilepsy
MCTs have also been extensively studied in relation to neurological health. Among their very first medical uses was as a treatment for epilepsy, and controlled trials have confirmed they can be extremely helpful here—especially when used in conjunction with anticonvulsants. For example, in trials of children with drug-resistant epilepsy, MCT supplementation led to complete seizure control in 16% of participants, while significantly reducing the frequency of seizures on the whole. Other research suggests MCTs may be even more effective for controlling seizures than the established anticonvulsant drug Valproate, without the side effects this medication brings (such as liver damage and birth defects in developing fetuses).
Although the science isn't fully understood, MCTs are believed to induce anti-seizure effects through mechanisms similar to those of ketogenic diets, with rodent studies showing an inhibiting effect on excitatory neurotransmitters through blocking certain seizure-related receptors in the brain. In fact, MCT supplementation has been shown equally effective as the classic ketogenic diet (4 grams of fat to every 1 gram of carbohydrate plus protein) when it comes to seizure control!
MCTs and Alzheimer's disease
Additionally, the use of MCTs may be potentially useful in degenerative brain diseases like Alzheimer's. Because Alzheimer's disease is associated with a reduced ability to metabolize glucose in the brain (and a subsequent glucose deficit there), MCTs can provide an alternative energy source, in turn allowing brain cells to better survive. Experiments have shown that MCTs are metabolized by astrocytes (specialized cells in the central nervous system) in ways that elevate glutamine supply and promote GABA synthesis, giving another mechanism by which MCTs could have a protective effect on neurological health. And while there's not yet a huge body of human research on the topic, some small trials have shown that MCT supplementation can improve cognition, word recall, word recognition, overall memory, and processing speed in patients with Alzheimer's disease.
Intriguingly, these effects of MCTs may be partly mediated by genetics—particularly the presence or absence of the APOE4 allele, a genetic variant associated with altered lipid transport and a significantly increased risk of Alzheimer's disease. In one study, a single dose of MCTs was able to improve short-term cognition in Alzheimer's patients who weren't APOE4 carriers, but not in those who were (in fact, MCT-supplemented APOE4 carriers performed significantly worse on the cognitive assessment scale used in the study). A follow-up trial echoed these findings, showing that longer-term MCT supplementation (20 g of MCT oil for 90 days) led to significant improvements in cognition only among patients who were APOE4-negative.
Although these initial findings suggest a promising role of MCTs for Alzheimer's disease, the studies so far have generally been short-term and with few participants, or conducted in animal models of the disease rather than in humans. So, more research—especially longer human studies that take genetic variations into account—are needed!
MCTs and Gut Health
Given their extremely rapid and direct absorption, MCTs have been used as an energy source for people with impaired digestion or transport of long-chain fats. This includes people with short bowel syndrome, biliary cirrhosis, and pancreatic insufficiency. And, they may be beneficial for gut health as a whole: studies have shown that MCT supplementation can protect against endotoxemia (the presence of gut-bacteria-derived lipopolysaccharides in the blood, and which can cause liver injury), improve intestinal permeability, prevent intestinal atrophy, reduce bacterial fecal content, and alter the populations of certain microbes (including promoting the growth of the Clostridia genus and Escherichia/Hafnia/Shigella bacteria). This is another area where existing research is sparse but promising.
Due to their ketogenic properties, it's been hypothesized that MCTs might help reduce unpleasant symptoms associated with the induction period of ketogenic diets (AKA the "keto flu"), by speeding up the transition from a glucose-dominant fuel system to one where ketones are a dominant energy source. A small clinical trial tested this idea, and found that giving participants MCT oil for 20 days (versus sunflower oil as a control) at the beginning of a ketogenic diet indeed reduced the occurrence of induction symptoms—including headache, diarrhea, constipation, bloating, intestinal pain, bad breath, muscle weakness, cramps, difficulty concentrating, and skin rash. However, this trial suffered from some limitations, such as potential differences in compliance, lack of adjustment for exercise and activity, and difficulties among participants self-administering their ketometers/glucometers to get accurate ketone and blood sugar readings. So, more studies are needed to confirm these findings!
The THREE Best Probiotics
Bacillus/Spore-based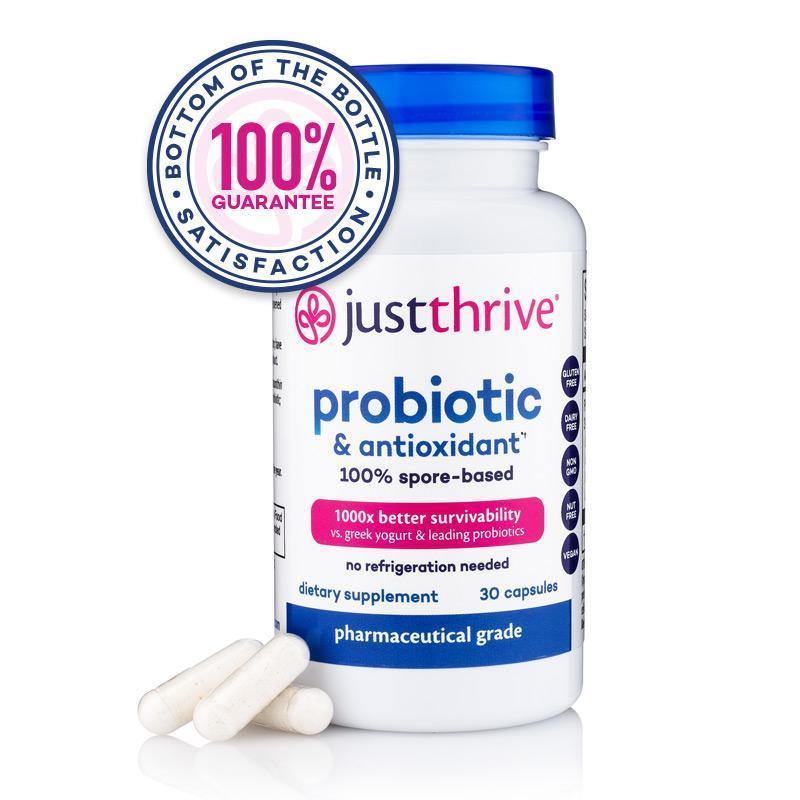 Best for a general probiotic, if you were recently on antibiotics, or for digestion issues (especially abdominal pain, bloating, flatulence, diarrhea, and gas after meals).
Lactobacillus & Bifidobacterium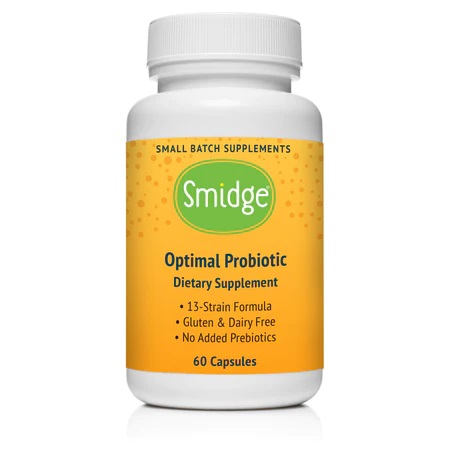 Best for if you don't eat fermented foods, if you were recently on antibiotics, or if you have issues with constipation or gas.
Saccharomyces boulardii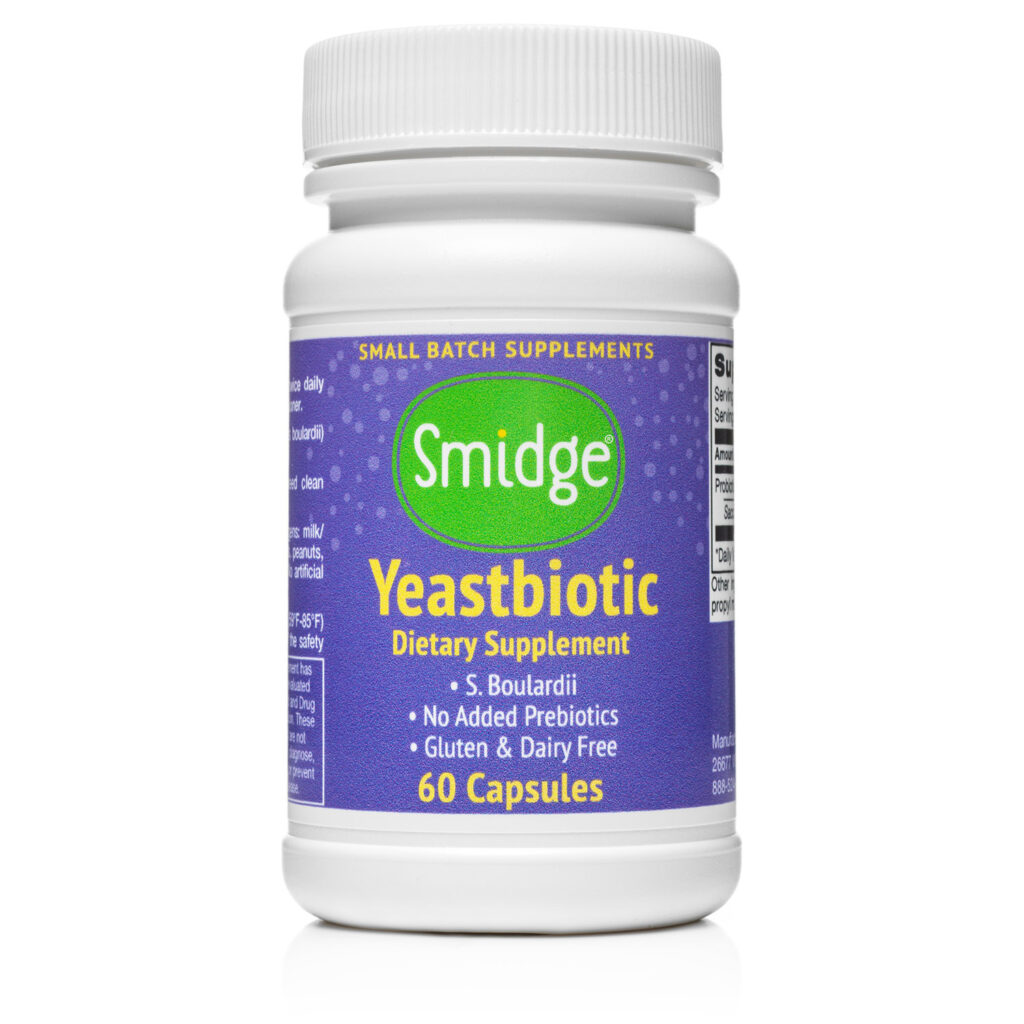 Best for if you have Candida issues, were recently on antibiotics, or have diarrhea.
Health Effects of MCT Deficiency
Because MCTs aren't essential, there are no deficiency diseases or symptoms associated with a low intake.
Didn't know that MCTs were this complex? Maybe your friends will enjoy this too!
How Much Medium-Chain Triglycerides Do We Need?
There are no recommended daily intakes for MCTs specifically. That being said, the benefits obtained in studies have generally occurred at doses above 2 g of these fats daily. When consuming pure MCT oil as a dietary supplement, it's recommended to start with a low dose (5 g daily) and gradually increase intake up to 15 to 20 g in order to avoid inducing gastrointestinal side effects.
The safety of MCTs has been extensively tested, and doses of up to 1 g per kg of body weight daily are considered safe for all species (humans included!). In instances of chronic excess, MCT supplements can produce symptoms such as gastrointestinal distress, diarrhea, and gastric reflux. Additionally, a mouse study reported that a 12-week diet containing extremely high levels of MCTs (25% of total energy intake) led to liver fat accumulation, despite also reducing body fat and improving insulin resistance. Of course, we can't say for sure the same thing would happen humans, but it does suggest there may be risks with very high long-term intakes of MCT supplements.
Want to know the top 25 foods for this awesome nutrient?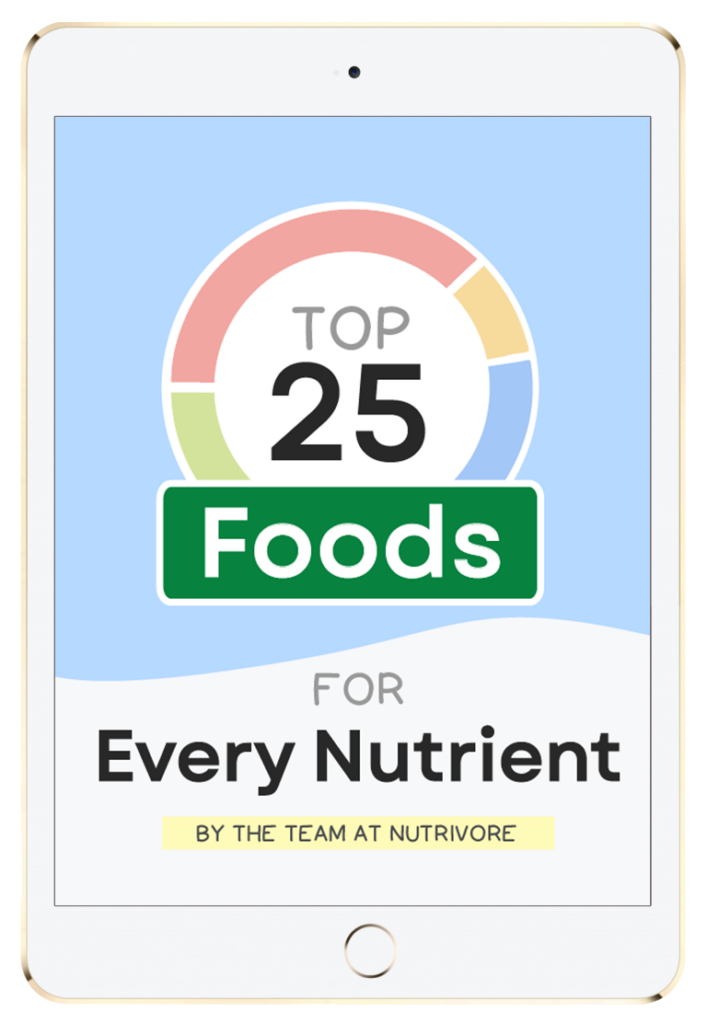 The Top 25 Foods for Every Nutrient
The Top 25 Foods for Every Nutrient e-book is a well-organized, easy-to-use guide to help you choose foods that fit your needs of 42 important nutrients while creating a balanced nutrient-dense diet.
Get two "Top 25" food lists for each nutrient, plus you'll find RDA charts for everyone, informative visuals, fun facts, serving sizes and the 43 foods that are Nutrient Super Stars!
Good Food Sources of Medium-Chain Triglycerides
Importantly, the effects of pure MCT oil can differ from those of MCT-containing foods—making some caution warranted when extrapolating the findings of MCT oil studies to foods like coconut oil, palm oil, and dairy products. For example, compared to pure MCT oil, coconut oil (which contains a mixture of both MCTs and longer-chain fats) is significantly less effective for reducing appetite and food intake, indicating it lacks the same satiating effects as MCT oil. Other research shows that while isolated MCTs can increase blood ketone levels, coconut oil fails to do so in any appreciable way compared to control oils (such as sunflower oil). And, coconut oil appears to have more LDL cholesterol-raising potential than MCTs, likely due to its lauric, myristic, and plamitic acids (all of which have been shown to independently raise LDL). So, it's important to take all components of food into consideration when we evaluate their health effects.
The following foods are good sources of medium-chain triglycerides, containing at least 0.6 grams per serving.
Everything You Need to Jump into Nutrivore TODAY!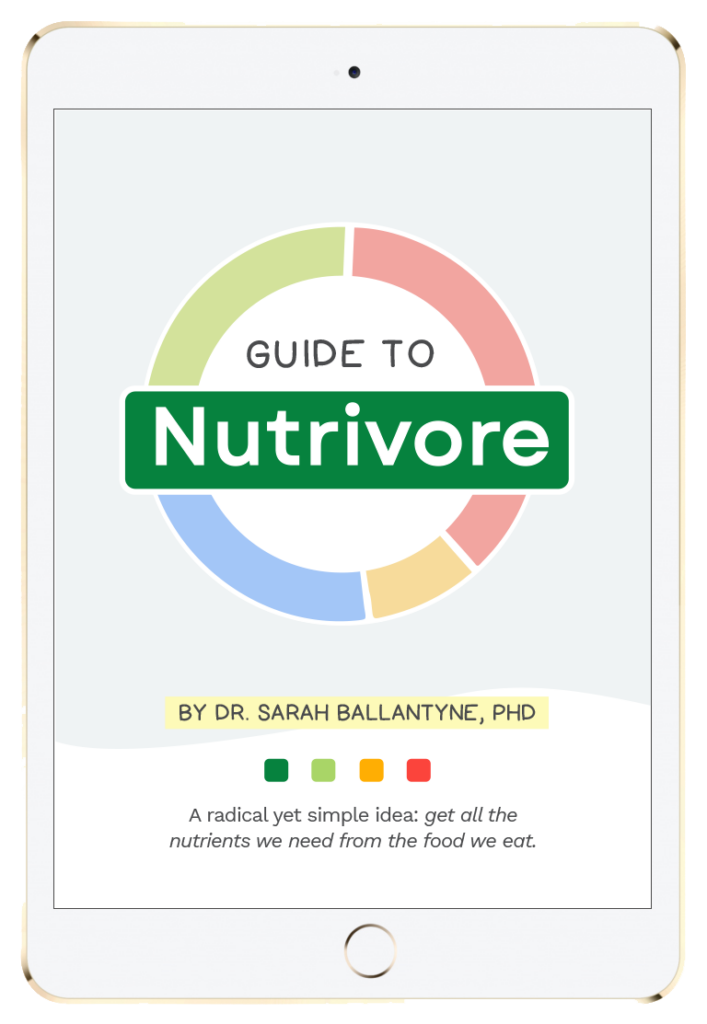 Guide to Nutrivore
The Guide to Nutrivore e-book explains why and how to eat a Nutrivore diet, introduces the Nutrivore Score, gives a comprehensive tour of the full range of essential and important nutrients!
Plus, you'll find the Top 100 Nutrivore Score Foods, analysis of food groups, practical tips to increase the nutrient density of your diet, and look-up tables for the Nutrivore Score of over 700 foods.
Citations
Expand to see all scientific references for this article.