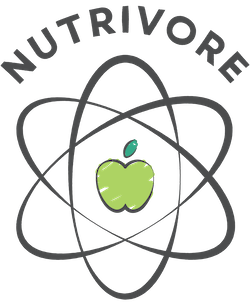 Coming SOON! NUTRIVORE!
Get early access to Nutrivore content and resources on Patreon!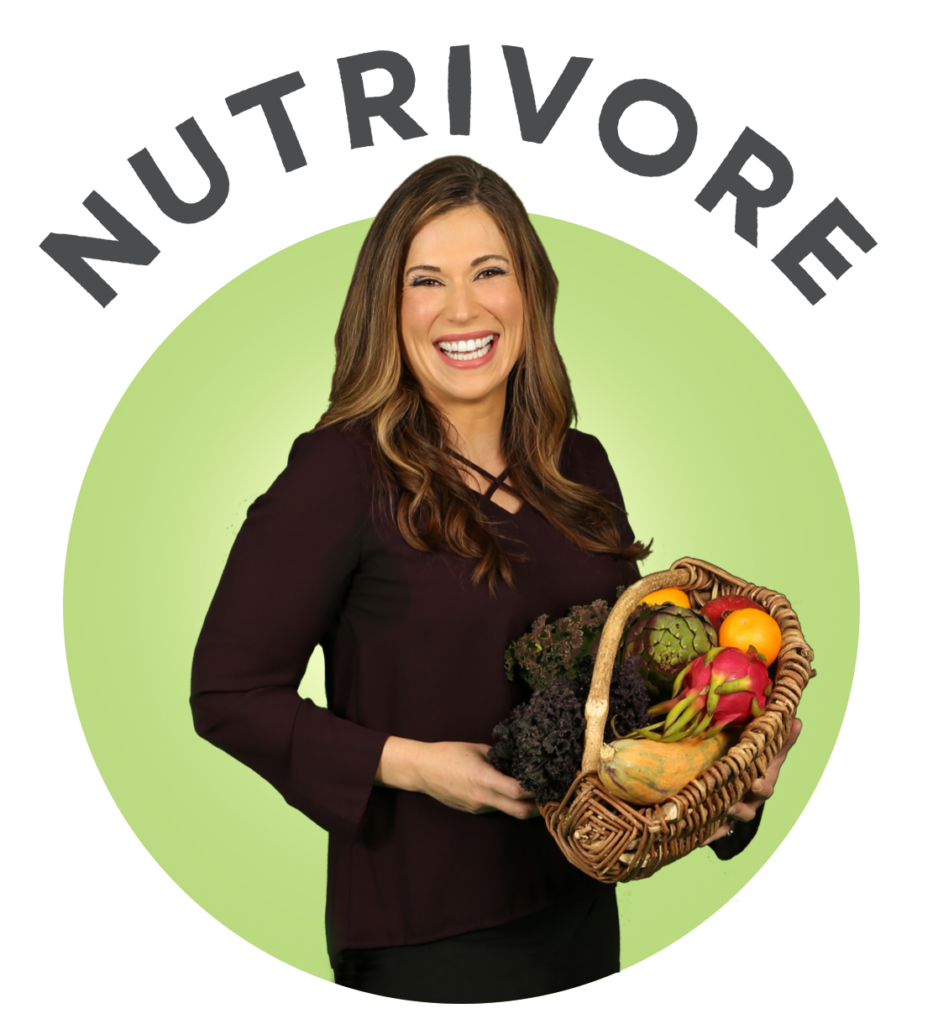 It's the simple yet revolutionary concept: Choose foods to meet the body's nutritional needs!

—Dr. Sarah Ballantyne, PhD
Nutrivore
no͝ o-trĭ-vôr'
noun
A person who chooses foods to supply all the nutrients their body needs to thrive.
A diet predominantly comprised of nutrient-dense whole foods.
A radical yet simple idea: Get all the nutrients we need from the food we eat.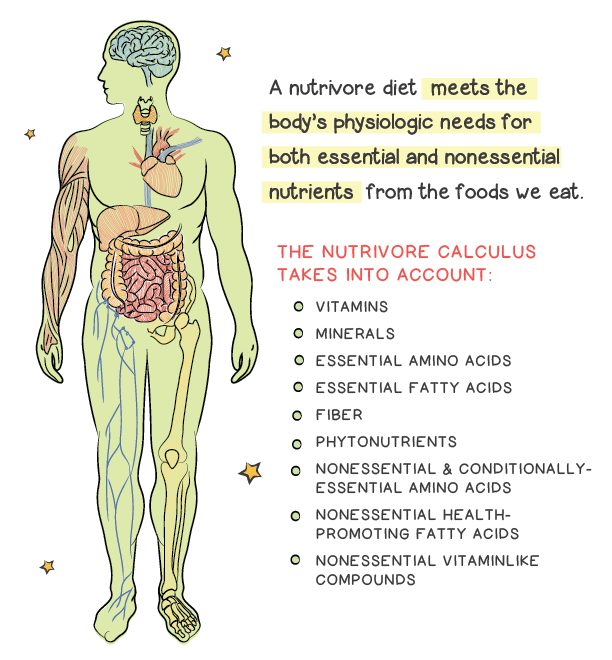 What Is a Nutrivore?
The goal of a Nutrivore diet is to fully meet the body's physiologic needs for both essential and nonessential nutrients from the foods we eat, also called nutrient sufficiency, but without consuming excess energy (i.e., staying within daily caloric requirements).
The Nutrivore calculus takes into account the full cadre of nutrients, including essential nutrients—vitamins, minerals, essential amino acids, and essential fatty acids—in addition to fiber, phytonutrients, nonessential and conditionally-essential amino acids, nonessential health-promoting fatty acids, and nonessential vitaminlike compounds. This ensures both nutrient synergy as well as prioritizing the full complement of nutrients our bodies need to thrive.
Being a Nutrivore is about the overall quality of the whole diet, and not about a list of yes-foods and no-foods. Even though eliminating empty calorie foods helps to achieve nutrient sufficiency without overeating, no food is strictly off-limits. In this way, Nutrivore is a diet modifier rather than a diet itself—a nutrivorous approach can be layered atop of other dietary structures and priorities in order to meet an individual's specific health needs and goals.
The Nutrivore Guide to Food Groups
The Nutrivore Score is the most comprehensive, and least biased, method for representing the inherent nutrient content of foods. We can glean a ton of insight on how best to approach a Nutrivore diet by examining the average nutrient density relative to the average energy density (calories per gram of food) of highly related foods.
And, that's what you'll find in the Nutrivore Score Guide to Food Groups, delivered straight to your inbox with an e-mail explaining how the score is calculated and which food groups to prioritize! You'll also receive updates on Nutrivore.com and other awesome information from Dr. Sarah!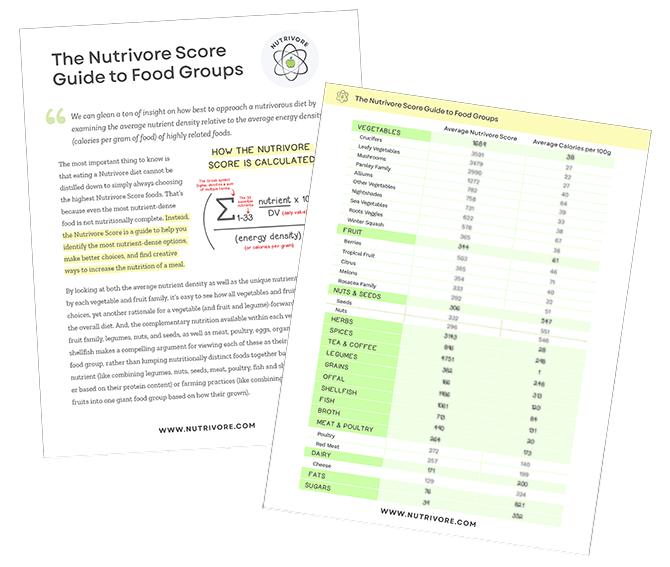 About Dr. Sarah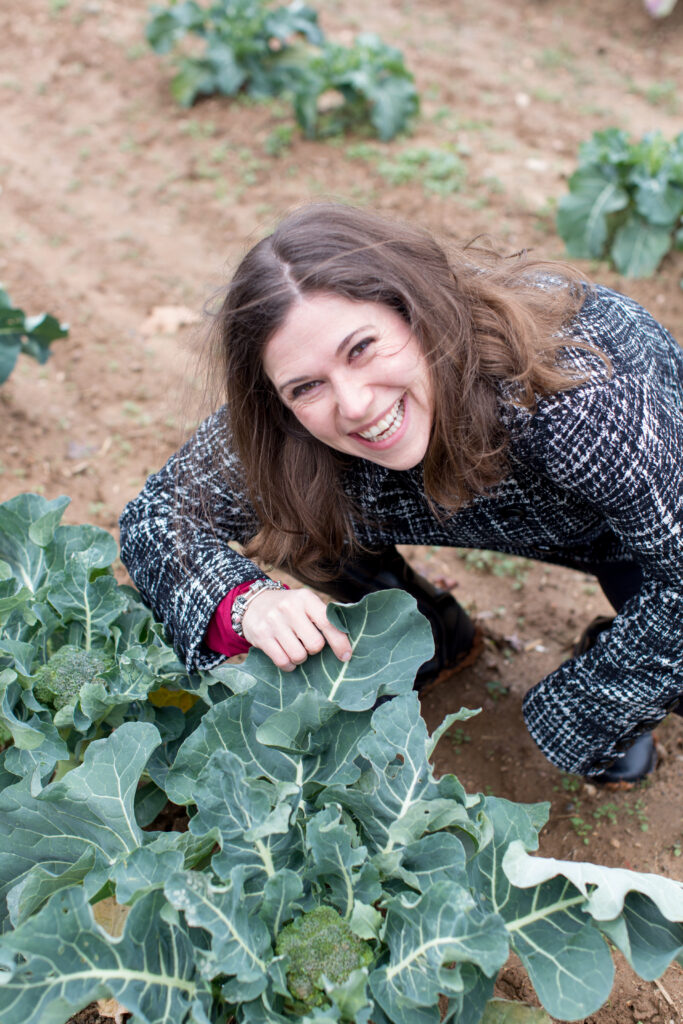 Award-winning public speaker, New York Times bestselling author and world-renowned health expert, Dr. Sarah Ballantyne, PhD believes the key to improving public health is scientific literacy. She creates educational resources to help people improve their day-to-day diet and lifestyle choices, empowered and informed by the most current evidenced-based scientific research.
Dr. Sarah began her career as a science communicator and health educator when she launched her original website, ThePaleoMom.com, in 2011. Since then, Dr. Sarah has continued to follow the science—diving deep into immune health, metabolic health, gut microbiome health, nutritional sciences, and the compelling evidence for health at any size—while also observing the harm of diet culture, dogmatic misinformation and predatory marketing. And, following the science has brought Dr. Sarah to Nutrivore, a positive and inclusive approach to dietary guidance using nutrient density and sufficiency as its basic principles:
nourishment, not judgement.
You can find Dr. Sarah on Facebook, Instagram, Pinterest, YouTube and TikTok.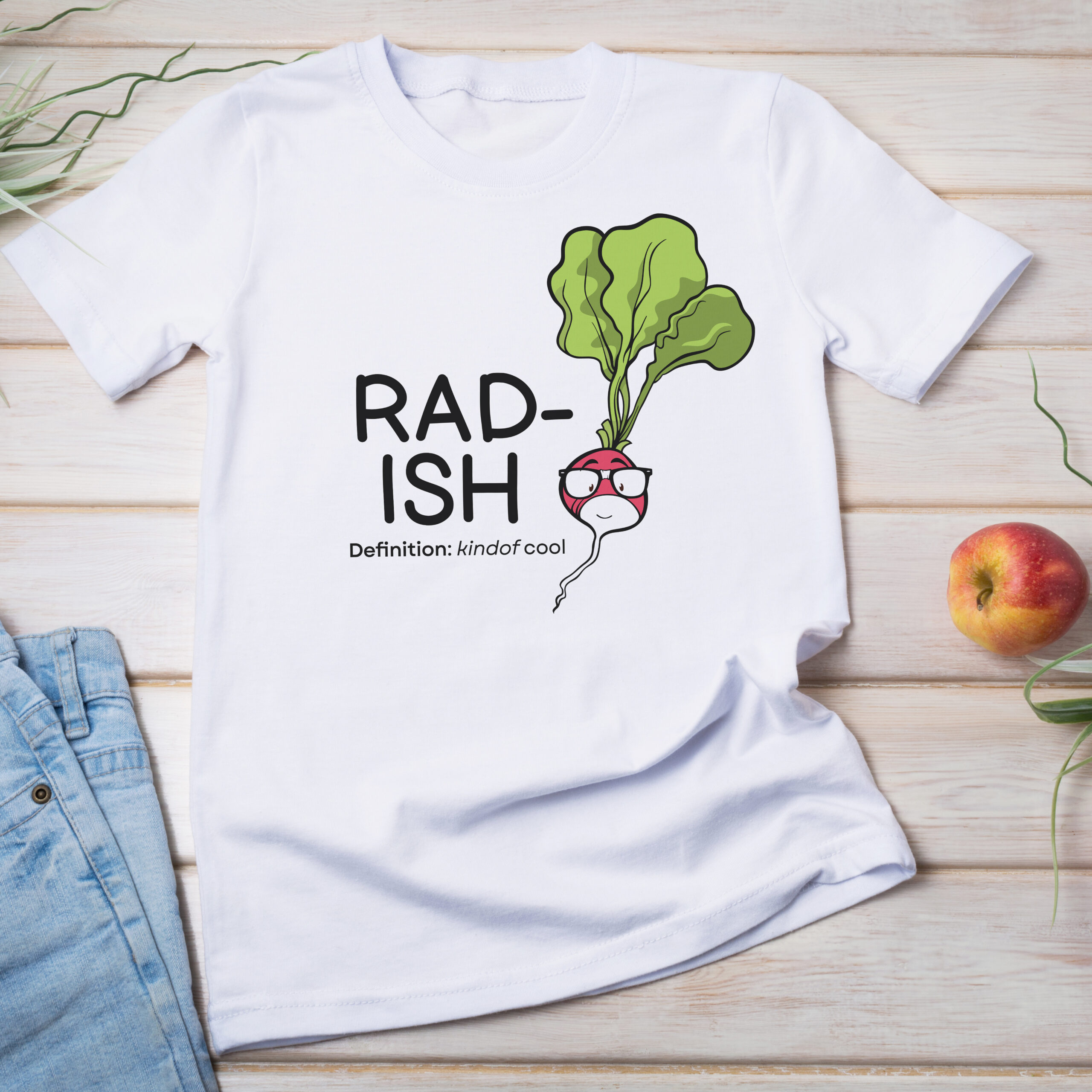 Get Nutrivore Merch!
You can help support the building of Nutrivore.com and celebrate your love of science and puns with these limited drop nerdtastic T-shirts!
Looking for More Nutrivore Resources?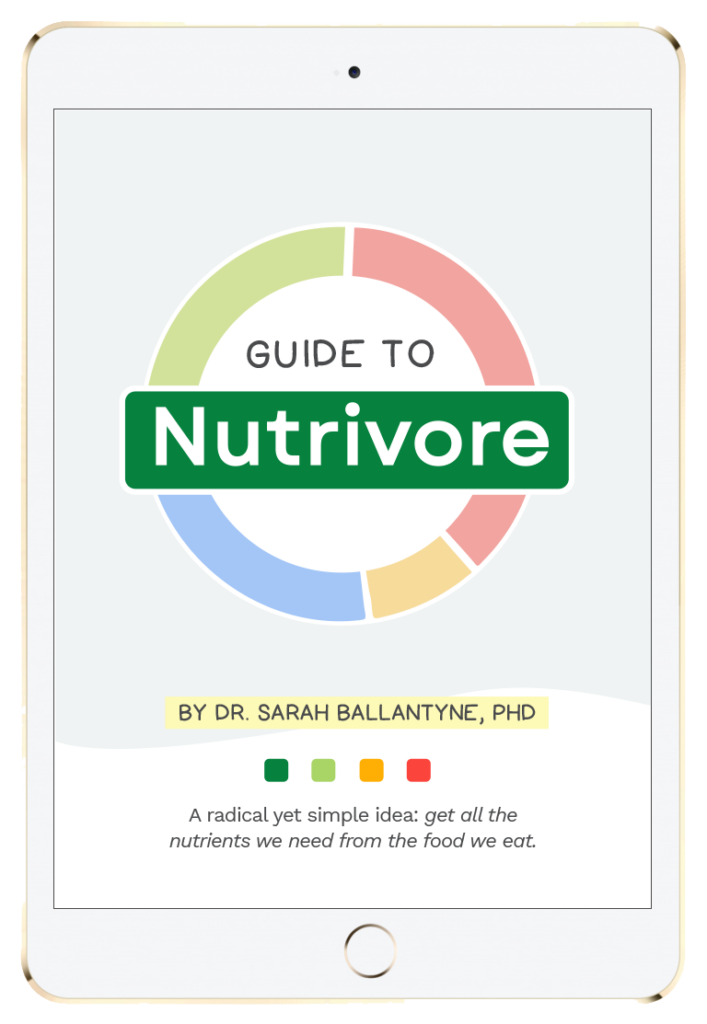 If you're looking for more Nutrivore information and resources while you wait for Nutrivore.com to launch, check out Dr. Sarah's e-books currently available as instant digital downloads on ThePaleoMom.com!
Guide to Nutrivore lays the foundation for Nutrivore as a general health approach. This e-book explains why and how to eat a Nutrivore diet, with details on the Top 100 Nutrivore Score foods and the Nutrivore Score Look-Up tables of >700 foods.
The Nutrivore Weekly Serving Matrix is an easy-to-use and flexible weekly checklist designed to help you maximize nutrient-density. Includes interactive guides and a 1-hour video tutorial!
Looking for Gut Health Resources?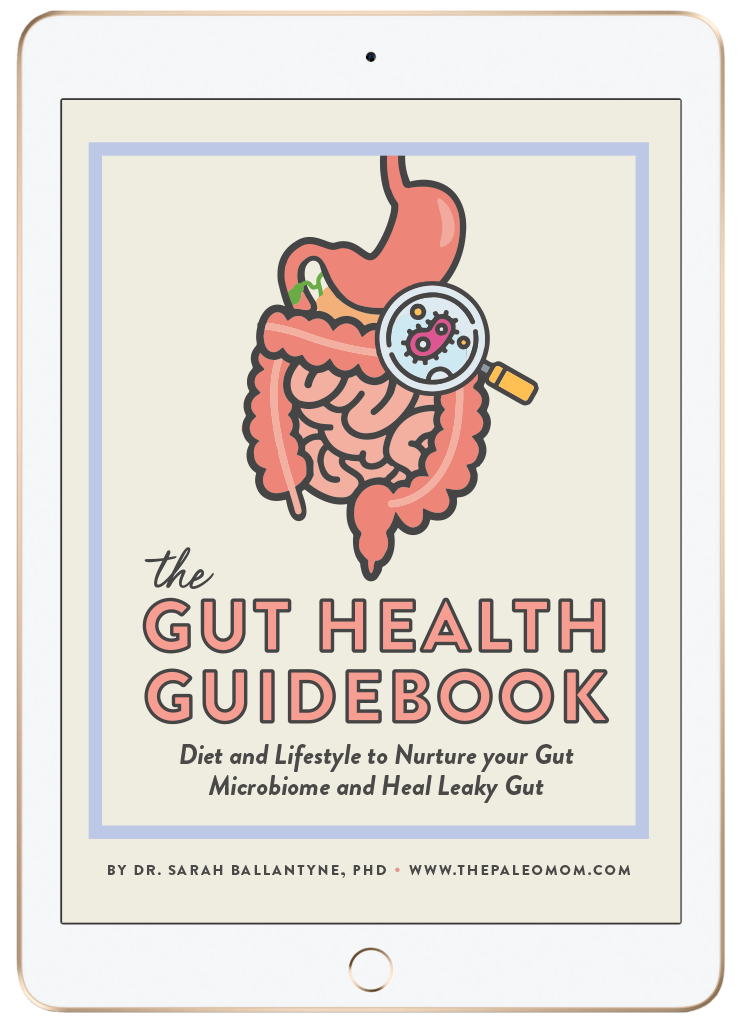 If you're looking for more Nutrivore information and resources specific to improving gut health, check out Dr. Sarah's e-books specific to gut health, currently available as instant digital downloads on ThePaleoMom.com!
The Gut Health Guidebook delivers a comprehensive deep dive into gut health, building a new diet for optimal health from the ground up, based on the gut microbiome, that merges everything the science currently tells us is healthful into one comprehensive approach, and culminating in 20 keys to gut health.
The Gut Health Cookbook puts theory into practice with 180+ delicious recipes that each center on at least one of 61 gut health superfood ingredients.