Key Takeaways (expand)

Rather than being a true vitamin, vitamin D is actually a group of fat-soluble steroid hormones—the most important for human health being vitamin D3, or cholecalciferol, and vitamin D2, or ergocalciferol.
The liver and kidney are needed to turn vitamin D3 and vitamin D2 into the active form, 1α,25-dihydroxyvitamin D (usually shortened to 1,25(OH)2D).
Vitamin D can be synthesized from sun exposure, with the help of a special sterol in the skin that reacts with the sun's UVB radiation.
The vitamin D receptor is found on nearly every cell in the body, allowing vitamin D to control the expression of over 200 genes (as well as the proteins regulated by those genes)!
Vitamin D helps facilitate the absorption of several other minerals—namely calcium, magnesium, and phosphorus. This contributes to its role in maintaining healthy bones.
Vitamin D is also extremely important for immunity, since most immune cells express the vitamin D receptor.
Vitamin D plays a major role in gut health: it reduces intestinal inflammation, regulates gut barrier function, reduces the risk of inflammatory bowel diseases, and even improves the gut microbiome (reducing levels of opportunistic pathogens and increasing bacterial richness).
Vitamin D may influence cancer risk and progression, both through its role in cellular differentiation and through direct action on cancer cells that express the vitamin D receptor. In fact, many studies have linked vitamin D with a lower risk of breast cancer and colorectal cancer!
There's a complex relationship between vitamin D and skin cancer, due to sun exposure increasing both vitamin D levels (which lowers cancer risk) and DNA damage in the skin (which raises cancer risk).
Due to its effects on inflammation and immune responses, vitamin D is linked with lower risk of many autoimmune diseases—including rheumatoid arthritis, lupus, type 1 diabetes, and multiple sclerosis.
Vitamin D contributes to cardiometabolic health through its beneficial effects on blood pressure, endothelial function, insulin sensitivity, glucose tolerance, lipid storage, fat cell formation, and hormone regulation—giving it a protective role against diabetes, cardiovascular disease, and obesity.
Vitamin D may even boost neurological health, reducing cognitive degeneration and protecting against some neurodegenerative diseases (like Alzheimer's and Parkinson's disease).
Vitamin D deficiency and insufficiency is widespread, and can lead to impaired immune function, increased risk of fractures, pregnancy complications (such as preeclampsia and gestational diabetes), rickets in children, and higher total mortality. It can also increase the risk of numerous chronic diseases.
Along with (responsible!) sunlight exposure, great sources of vitamin D include fatty fish (like salmon, sardines, herring, and mackerel), fish eggs (AKA fish roe), red meat, liver, egg yolks, and mushrooms grown under UV light.
Despite its name, vitamin D is actually a group of fat-soluble steroid hormones rather than a true vitamin (since vitamins are defined as nutrients that must be obtained from food and can't be synthesized by the body, which isn't the case for vitamin D!). In humans, the most important forms are vitamin D3 (also called cholecalciferol) and vitamin D2 (also called ergocalciferol).
Fascinatingly, vitamin D is believed to be the oldest hormone on earth—having existed for at least 750 million years, when phytoplankton in the ocean began producing it in reaction to sunlight exposure. Although we don't know exactly why it first developed, it's likely that vitamin D helped in the evolutionary transition from water to land by allowing organisms to utilize calcium and develop skeletons.
now available for pre-order!
Ditch diet culture and get the most nutrients from your food with the no-guilt, personalized, and exciting new science that will change how you think about food and nourishment, from New York Times bestselling author Dr. Sarah Ballantyne.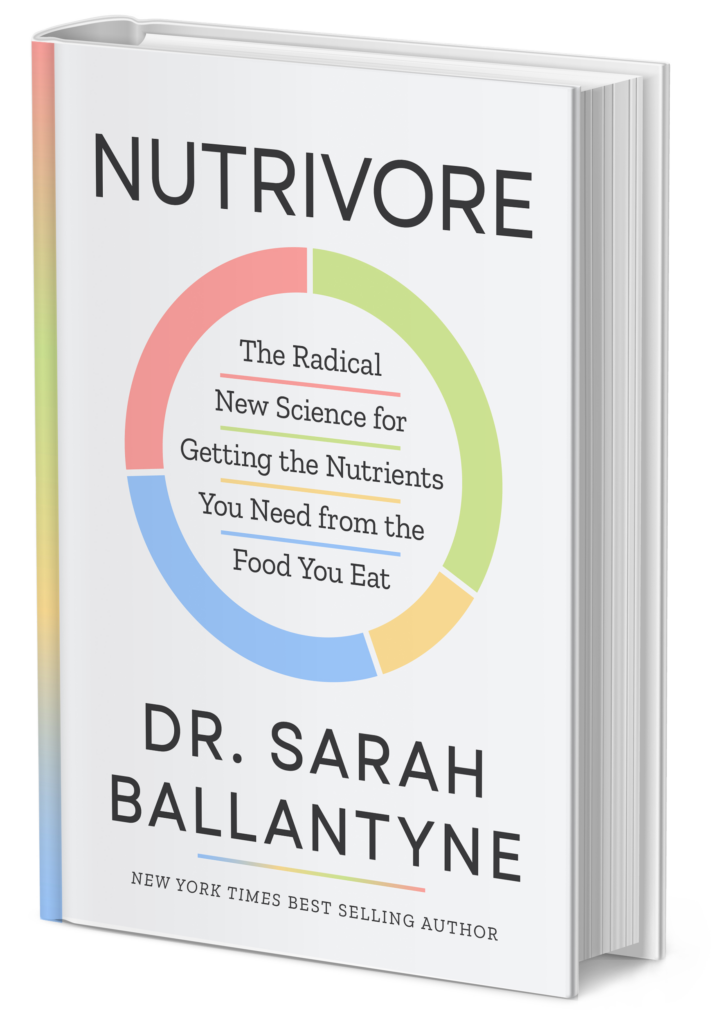 As with some other vitamins (like vitamin A, vitamin B1, and vitamin C), the discovery of vitamin D ultimately came about from trying to cure its deficiency disease! Medical writings from the early Romans and Greeks describe the bone condition we now call rickets (caused by vitamin D deficiency), and when the Industrial Revolution arrived, rickets became more and more widespread due to dietary changes and people spending increasingly less time outdoors. For centuries, physicians tried to find a cure for this mysterious disease, with attempts ranging from painful failures (such as cauterizing veins) to successes (prescribing cod liver oil). Vitamin D was finally identified as the "fourth vitamin" in 1919, and named vitamin D a few years later (owing to the custom of naming vitamins in alphabetical order, with vitamin D following C). It took many more decades before scientists began understanding its metabolism and role in maintaining calcium and phosphate levels.
Vitamin D is important for the intestinal uptake of several other nutrients (including calcium, magnesium, and phosphorus); it's also essential for cellular differentiation, bone density, immune function, endocrine health, and cardiovascular health.
Food sources of vitamin D include fatty fish (like salmon, mackerel, sardines, and herring), fish eggs (roe), liver, red meat, and egg yolks. Mushrooms grown under UV exposure are the only substantial non-animal-food source of naturally occurring vitamin D (mostly in the form of vitamin D2); grown under the same conditions, baker's yeast can also produce vitamin D2. And, in some countries (including the US), a number of foods that don't naturally contain vitamin D are fortified with it, such as store-bought orange juice, cereals, some dairy products, and plant-based milks.
Everything You Need to Jump into Nutrivore TODAY!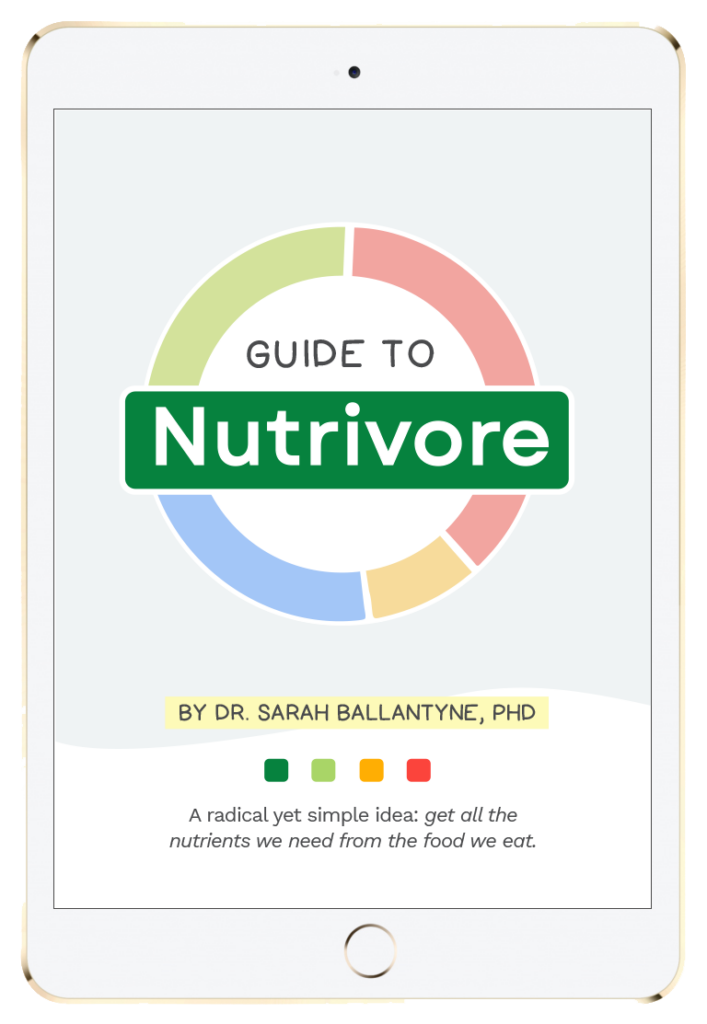 Guide to Nutrivore
The Guide to Nutrivore e-book explains why and how to eat a Nutrivore diet, introduces the Nutrivore Score, gives a comprehensive tour of the full range of essential and important nutrients!
Plus, you'll find the Top 100 Nutrivore Score Foods, analysis of food groups, practical tips to increase the nutrient density of your diet, and look-up tables for the Nutrivore Score of over 700 foods.
Buy now for instant digital access.
The Biological Roles of Vitamin D
One of the most unique features of vitamin D—and the reason it isn't a true vitamin—is that our bodies can synthesize it in reaction to sun exposure. (For this reason, vitamin D is sometimes nicknamed "the sunshine vitamin"!) The skin contains a special sterol (7-dehydrocholesterol) that reacts with ultraviolet B (UVB) radiation from the sun, in turn forming vitamin D3 (cholecalciferol). Cholecalciferol then travels to the liver via the vitamin D-binding protein, where it's further modified (into 25-hydroxyvitamin D), and then to the kidneys, where it's activated into 1α,25-dihydroxyvitamin D (usually shortened to 1,25(OH)2D). From there, 1,25(OH)2D can bind to the vitamin D receptor (found on nearly every cell in the body), controlling the expression of more than 200 genes and the proteins that those genes regulate! After reaching circulation, dietary vitamin D3 and D2 undergo the same processes as vitamin D produced from sunlight.
Vitamin D is also crucial for regulating several key components of the immune system. For example, it modulates immunity by acting through the vitamin D receptor, which is expressed by most immune cells (including dendritic cells, macrophages, and regulatory T cells). Under some circumstances, immune cells can also express an enzyme to produce 1,25(OH)2D themselves, which then acts to regulate the local immune response.
Research has shown that vitamin D helps regulate gastrointestinal inflammation and enhances gut barrier function. Vitamin D also activates proteins important for detoxifying lithocholic acid (a secondary bile acid that's toxic for intestinal cells). One way vitamin D helps maintain the integrity of the gut mucosal barrier is by enhancing the intercellular junctions that control gut permeability, as well as reducing inflammatory cytokines like interleukin-8.
Additional roles of vitamin D include the biosynthesis of neurotrophic factors, regulating the release of important hormones like serotonin and insulin. For example, insulin-secreting cells in the pancreas express the vitamin D receptor, and vitamin D plays a role in insulin secretion during conditions where insulin demands are higher. And, vitamin D is involved in blood pressure regulation (through its influence on the renin-angiotensin system), as well as wound healing (through its role in cell growth).
Interactions with Other Nutrients
Vitamin D is also famously important for mineral metabolism: it regulates the absorption and transport of calcium, phosphorous, and magnesium.
Calcium balance is particularly important to maintain, because any alterations outside a very narrow range in the blood can negatively impact nervous system functioning and bone health. Here, vitamin D works with the parathyroid gland to determine how much calcium will be deposited or removed from bones, as well as by modifying the amount of calcium that's excreted by the kidneys and how much is absorbed in the gut during digestion. When the parathyroid gland detects that blood calcium levels are dropping too low, it secretes parathyroid hormone, which in turn stimulates the activity of an enzyme in the kidney (called 25-hydroxyvitamin D3-1α-hydroxylase) that increases the production of the active form of vitamin D (1,25(OH)2D). This active vitamin D is then released into circulation, travels to target tissues, and induces the activation of the vitamin D receptor—in turn altering the expression of genes that normalize calcium levels through various mechanisms. As a result of this process, calcium levels can be kept within the range needed for the body's vital functions, all with the help of vitamin D!
Phosphorus balance, too, is dependent on vitamin D; in fact, phosphorus metabolism operates in parallel to calcium metabolism. Both parathyroid hormone and 1,25(OH)2D help control blood levels of phosphorus, such as by increasing phosphorus absorption in the small intestine and by directing the kidneys to reduce how much phosphorus is resorbed (leading to increased urinary excretion).
Want to know the top 25 foods for this awesome nutrient?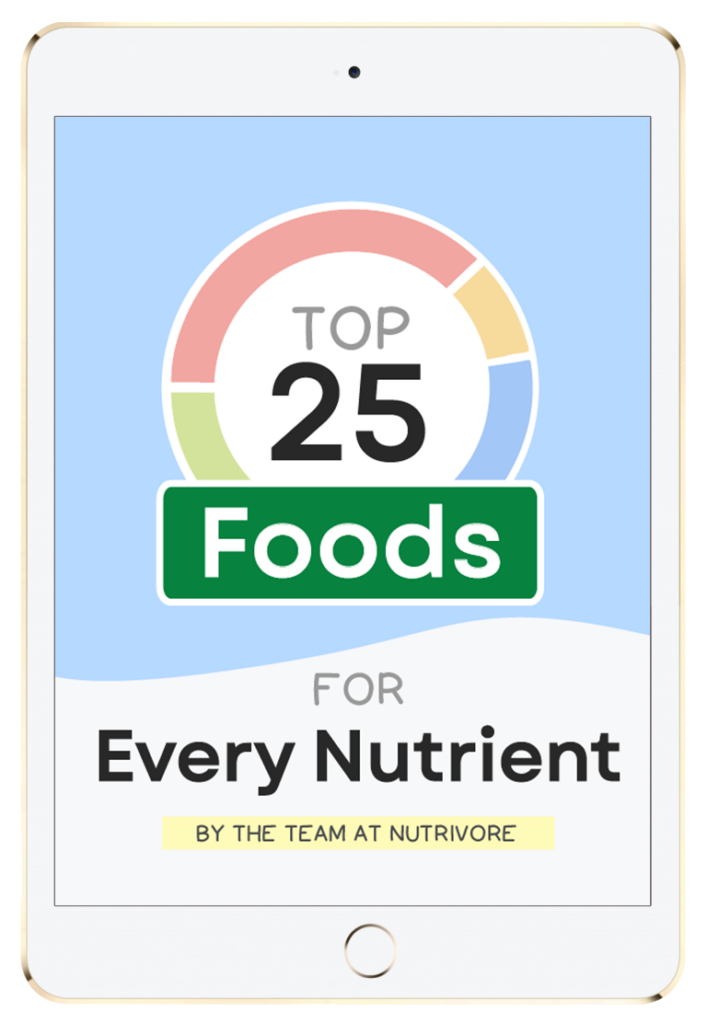 The Top 25 Foods for Every Nutrient
The Top 25 Foods for Every Nutrient e-book is a well-organized, easy-to-use guide to help you choose foods that fit your needs of 42 important nutrients while creating a balanced nutrient-dense diet.
Get two "Top 25" food lists for each nutrient, plus you'll find RDA charts for everyone, informative visuals, fun facts, serving sizes and the 43 foods that are Nutrient Super Stars!
Buy now for instant digital access.
Vitamin D in Health and Disease
Vitamin D is important for the intestinal uptake of several other nutrients (including calcium, magnesium, and phosphorus); it's also essential for cellular differentiation, bone density, immune function, endocrine health, and cardiovascular health.
Vitamin D and Bone Health
Because of its role in regulating calcium and phosphorus levels (two key components of bone), vitamin D is essential for healthy bones. In elderly adults with osteoporosis, low vitamin D status is disproportionately common, and clinical trials have shown that supplementing with 800 international units (IU) daily of vitamin D can reduce the risk of bone fractures and falls. Prospective cohort studies have also shown that people consuming at least 600 IU of vitamin D daily have over a third lower risk of developing osteoporotic hip fractures compared to people consuming under 140 IU per day. And, multiple meta-analyses have shown that vitamin D supplementation (with or without calcium) leads to a significantly lower risk of fractures, including both hip fractures and any non-spine fractures. On the whole, vitamin D is truly vital for strong bones!
Vitamin D and Cancer
Vitamin D also has some compelling links with cancer risk, due in part to its role in regulating cell differentiation (where cells become specialized for specific functions) and to its effects on cancer cells that express the vitamin D receptor (mechanistic studies show that when active vitamin D binds to the vitamin D receptor, it can control the fate of cancer cells by inhibiting their proliferation or inducing their death!). Observational research shows fairly consistent associations between low sunlight exposure, low vitamin D levels, and greater risk of breast cancer and colorectal cancer (in fact, the geographical distribution of rickets and modern colon cancer mortality are very similar). And, for each 20 ng/mL increase in circulating vitamin D levels, prospective studies have found that cancer incidence drops by 11% and cancer death drops by 17%. Interestingly, some studies have found that the protective effect of vitamin D on cancer is stronger in women than in men.
Studies of specific cancer types show that there's up to a 38% lower risk of developing colon cancer among people with the highest versus lowest circulating vitamin D levels, and for patients who already have colorectal cancer, an estimated 10% lower risk of dying from it for every 8 ng/mL increase in serum vitamin D. (However, we need more controlled studies to examine the effects of vitamin D interventions on colorectal risk and outcomes.)
Some prospective research also shows that women who get adequate vitamin D intake and sun exposure have a significantly lower risk of developing breast cancer over the course of the next two decades, and that patients with early-stage breast cancer have a better prognosis when their vitamin D status is adequate. But, meta-analyses have turned up inconsistent results when multiple observational studies are pooled together, with some showing a protective effect of vitamin D, some showing no relationship, and some showing significance only among certain subgroups (such as postmenopausal but not premenopausal women).
Some emerging (but still limited!) evidence also shows a potential relationship between vitamin D and reduced risk of lung cancer and bladder cancer.
When it comes to skin cancer, the role of vitamin D is complex. On one hand, some observational research has linked higher vitamin D status to an increased risk of certain skin cancers, including squamous cell carcinoma and basal cell carcinoma—likely due to vitamin D status correlating with sun exposure, which is known to increase skin cancer risk (due to damaging the DNA in skin cells). However, vitamin D appears to boost survival for people already diagnosed with skin cancer, especially malignant melanoma. Studies show that higher vitamin D status at the time of diagnosis is associated with a better prognosis for melanoma patients, whereas vitamin D deficiency at the time of diagnosis is associated with lower survival and more aggressive progression of the disease. So, staying vitamin D-replete without excessive levels of sun exposure appears important for harnessing the anti-cancer effects of vitamin D without inadvertently increasing skin cancer risk.
Vitamin D and Autoimmune Disease
Another health benefit of vitamin D is its potential for protecting against a number of autoimmune diseases—including type 1 diabetes, rheumatoid arthritis, multiple sclerosis, and lupus. This is due to vitamin D's ability to decrease inflammation and mediate the activity of T cells, which in turn modulate autoimmune responses; genetic variations that affect vitamin D metabolism may also mediate its protective effects.
In some cases, vitamin D status very early in life or even in utero could influence the risk of developing autoimmune conditions later on; for example, one study found that children given vitamin D supplements during their first year of life had an 88% lower risk of developing type 1 diabetes over the course of the next 30 years, and another study found a significant relationship between rickets during infancy and the subsequent development of type 1 diabetes. And, when mothers have low vitamin D levels during pregnancy (especially the third trimester), the risk of their offspring developing type 1 diabetes appears to be over twice as high compared to when maternal vitamin D status is adequate. Similarly, maternal sun exposure (as a potential proxy for vitamin D) has shown an inverse relationship with multiple sclerosis incidence among their offspring, while sunscreen use and infrequent outdoor activities in early childhood leads to an increased risk later in life.
In adults, too, higher vitamin D status and use of vitamin D supplements (at least 400 IU daily) have both been associated with reduced incidence of multiple sclerosis, and among patients who do have the disease, vitamin D status appears predictive of its severity and progression over time. Rheumatoid arthritis also has a potential link to vitamin D, with variations in the gene coding for the vitamin D receptor apparently influencing rheumatoid arthritis risk, and some observational research showing that people with the highest (versus lowest) vitamin D intakes have a 33% lower risk of developing rheumatoid arthritis. And while the results of clinical trials have been mixed, some evidence suggests that supplementing with vitamin D can improve the symptom severity, disease activity, and inflammatory markers of another autoimmune condition, systemic lupus erythematosus. (Lupus patients may be particularly susceptible to vitamin D insufficiency because sunlight is known to aggravate symptoms!)
Vitamin D and Cardiovascular Disease
Some components of cardiovascular health are also linked to vitamin D status. For example, due to its role in inhibiting renin synthesis (as part of the renin-angiotensis system), vitamin D can help lower blood pressure; some studies suggest a 12% lower risk of hypertension for every 10 ng/mL increase in serum vitamin D levels. And endothelial function, another contributor to cardiovascular health, is responsive to vitamin D—with research showing a positive correlation between serum vitamin D and flow-mediated dilation (a marker of vascular health), and trials demonstrating that high-dose vitamin D supplementation can reduce endothelial dysfunction markers.
Prospective studies have also shown that low vitamin D status is associated with a higher incidence of stroke, heart failure, and coronary artery disease. However, clinical trials haven't shown a clear benefit of vitamin D supplementation on actual cardiac events, so more research here is needed!
Vitamin D and Type 2 Diabetes
Vitamin D is also important for protecting against type 2 diabetes. In patients with metabolic syndrome, low levels of vitamin D (under 30 ng/mL) are linked to a higher risk of becoming fully diabetic, and vitamin D supplementation has been shown to improve insulin sensitivity in diabetics. Even in healthy individuals, vitamin D is positively associated with pancreatic beta-cell function, insulin sensitivity, glucose homeostasis, glucose tolerance, and insulin sensitivity. And, across a spectrum of prospective studies, people with the highest (versus lowest) circulating vitamin D levels and/or vitamin D intakes have shown a consistently reduced risk of developing type 2 diabetes over the span of many years. For people already at high risk of the disease, every 4 ng/mL increase of serum vitamin D is estimated to reduce progression to diabetes by 23%!
Vitamin D and Neurodegenerative Disease
Some evidence suggests that vitamin D could help reduce cognitive deterioration in some neurodegenerative diseases. Experimental studies show that insufficient vitamin D may play a role in neuron degeneration and the loss of cognitive function, due to vitamin D's role in regulating calcium channels, neuroprotection, and immunomodulation within the central nervous system.
Some (though not all) observational studies have shown a protective link between vitamin D status and/or dietary vitamin D and mild cognitive impairment, the development of Alzheimer's disease, and specific cognitive deficits involving semantic memory, retrograde episodic memory, and orientation in time.
In patients with Parkinson's disease, vitamin D supplementation has been shown to limit the progression of the disease (compared to a placebo group), and low vitamin D in general has been associated with a greater likelihood of developing Parkinson's among people who are initially healthy.
Vitamin D and Pregnancy
During pregnancy, getting enough vitamin D is particularly important for preventing adverse outcomes. Low vitamin D is associated with a greater risk of preeclampsia, bacterial vaginosis, and gestational diabetes, as well as higher odds of delivering low-birth-weight infants. But, there isn't enough evidence yet to show how vitamin D supplementation affects these outcomes.
Vitamin D and Gut Health
Vitamin D is also important for maintaining gut health. Observational studies have shown that people with higher levels of vitamin D are less likely to develop inflammatory bowel diseases, especially Crohn's disease and ulcerative colitis; higher vitamin D status is also associated with less severe disease among people who already have these conditions. Vitamin D supplementation has likewise been shown to reduce the relapse rate in Crohn's disease patients in remission. Vitamin D's benefit here may be due to its ability to reduce intestinal inflammation.
Meanwhile, the composition of the gut microbiome is sensitive to our vitamin D status. Several studies have found that vitamin D supplementation significantly reduces levels of some most common opportunistic pathogens, while also increasing the bacterial richness of the gut microbiome (a signature feature of gut health!). And, people with higher levels of vitamin D have been shown to have lower levels of harmful endotoxin in the blood, possibly due to vitamin D's ability to improve gut barrier integrity.
The THREE Best Probiotics
Bacillus/Spore-based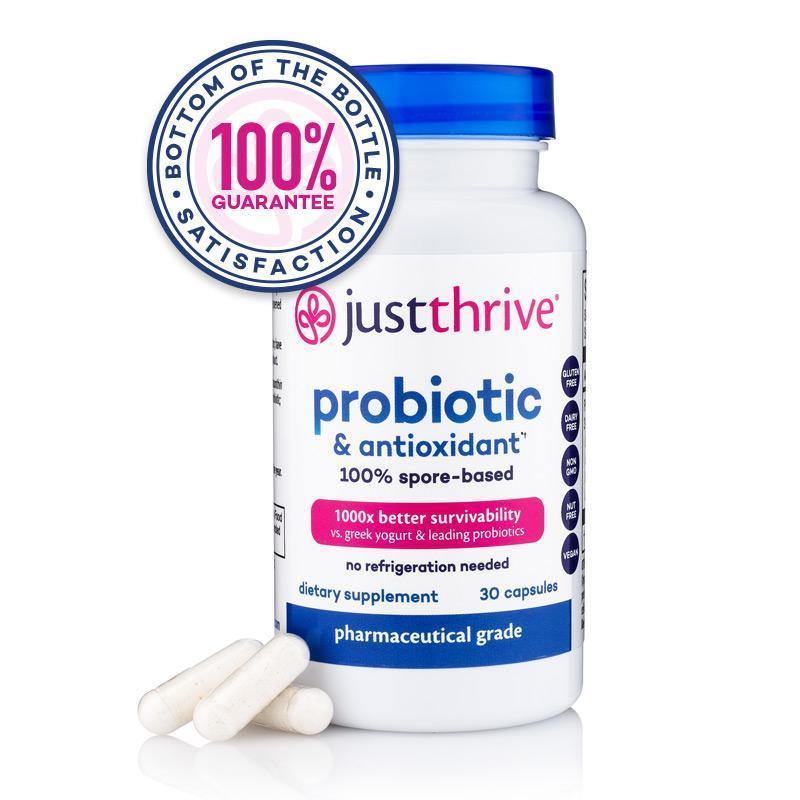 Best for a general probiotic, if you were recently on antibiotics, or for digestion issues (especially abdominal pain, bloating, flatulence, diarrhea, and gas after meals).
Lactobacillus & Bifidobacterium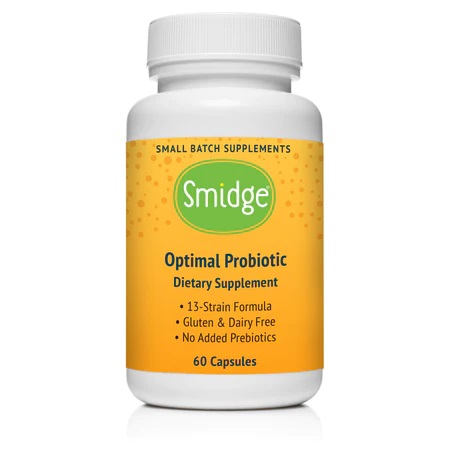 Best for if you don't eat fermented foods, if you were recently on antibiotics, or if you have issues with constipation or gas.
Saccharomyces boulardii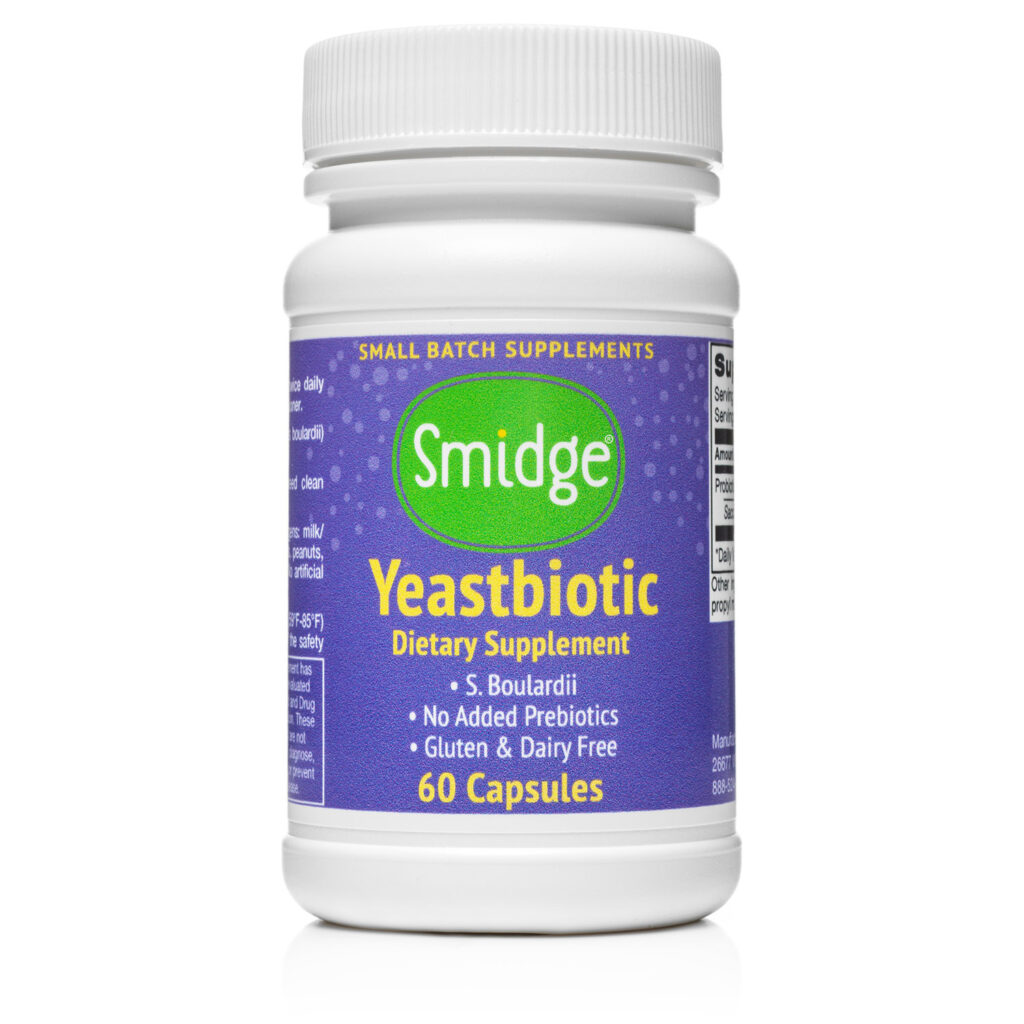 Best for if you have Candida issues, were recently on antibiotics, or have diarrhea.
Vitamin D and Skin Health
Additionally, vitamin D may help with eczema, also known as atopic dermatitis. In multiple controlled studies, daily vitamin D supplementation was able to significantly reduce the intensity and extent of patients' eczema—possibly through stimulating microbial activities in the skin, or through regulating local inflammatory reactions.
Vitamin D and Obesity
There's also some evidence linking vitamin D with body weight and obesity. Several double-blind clinical trials found that supplementing with vitamin D for six to 12 weeks led to significant decreases in body weight, waist circumference, body mass index, and fat mass. And, observational research has linked higher vitamin D levels to less weight gain over time.
Although the possible mechanisms behind this relationship require more study, some evidence suggests that vitamin D could help reduce the formation of fat cells, as well as decrease lipid storage within fat cells.
Vitamin D and All-Cause Mortality
Vitamin D has also been linked with total mortality. Across a variety of observational studies, the risk of all-cause mortality has been shown to increase as vitamin D levels decline (particularly when serum levels are under 16 ng/mL), or when people with the lowest serum vitamin D concentrations are compared to people with the highest.
Didn't know vitamin D was this amazing? Maybe your friends will enjoy this too!
Health Effects of Vitamin D Deficiency
Vitamin D is one of the most common nutrient deficiencies, particularly in industrialized countries where people spend more time indoors (and therefore get limited sun exposure). In fact, about 75% of Westerners are deficient in vitamin D.
A number of factors can increase the risk of vitamin D deficiency, including:
environmental conditions (living in cloudy climates or at high latitudes),
reduced skin exposure to the sun (such as from a concealed clothing style for religious or cultural reasons, or always wearing sunscreen and protective clothing to avoid sun damage),
skin pigmentation (people with dark skin produce less vitamin D from sun exposure),
genetic variations (certain common gene variations involved in cholesterol synthesis, vitamin D transport, and hydroxylation have been shown to influence vitamin D status),
inflammatory bowel diseases or fat malabsorption syndromes (which reduce dietary vitamin D uptake or hinder its conversion into the active form),
having cystic fibrosis (which impairs the absorption and metabolism of fat-soluble vitamins),
older age (elderly individuals have a lower capacity to synthesize vitamin D,
obesity (due to vitamin D being sequestered in body fat stores and reducing its bioavailability), or
magnesium deficiency (due to magnesium regulating the activity of some enzymes involved in vitamin D metabolism).
Due to the importance of the liver and kidney in converting inactive vitamin D into its active form, people with liver or kidney disease are also more likely to experience low vitamin D levels.
In children, severe vitamin D causes rickets—a condition where rapidly-growing bones don't properly mineralize, leading to a bowed shape in the arms and legs, rib cage deformities, delayed closure of the soft spots in infant skulls, and in some cases (when a lack of vitamin D prevents calcium levels from properly regulating), seizures. In adults, vitamin D deficiency leads to osteomalacia—a progressive loss of bone mineral that leads to a softening of the bone tissue, bone pain, and a greater risk of developing osteoporosis.
Other symptoms of vitamin D deficiency include muscle weakness and pain, fatigue, mood changes like depression, and secondary hyperparathyroidism, which increases the breakdown of bone and ultimately lead to osteoporosis. Over time, vitamin D deficiency may contribute to a wide range of chronic diseases.
Want to Know ALL the Easy Steps to Nutrivore?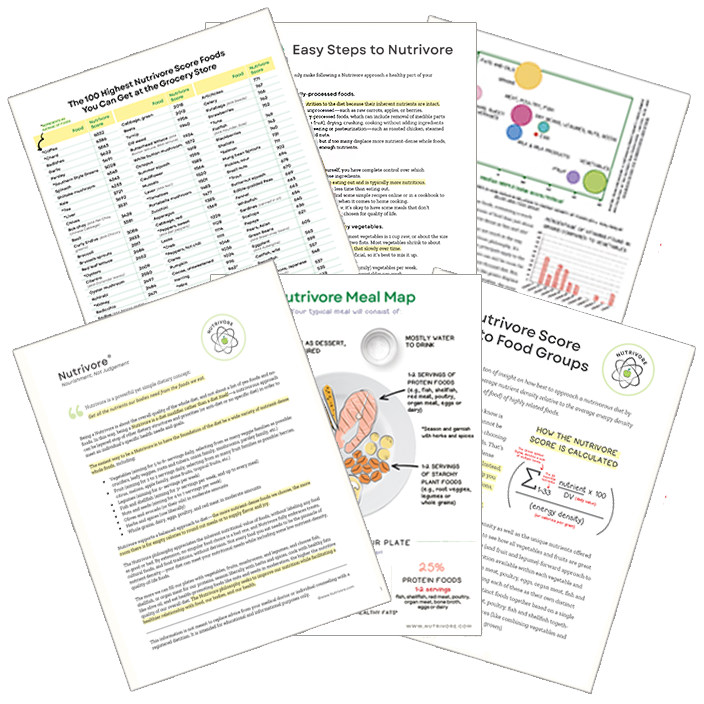 Get it Directly in Your Inbox!
The Nutrivore Newsletter is a weekly email that delivers bite-size fun facts, practical tips, recipes and resources. Sign up now and get 5 free guides directly to your inbox:
Easy Steps to Nutrivore 4-page guide
Nutrivore Foundational Foods 6-page guide
Nutrivore Score Guide to Food Groups 3-page guide
Nutrivore Meal Map
Top 100 Nutrivore Score Foods
Problems from Too Much Vitamin D
With vitamin D, as with many nutrients, it's possible to get too much of a good thing. While vitamin D toxicity hasn't been demonstrated from sun exposure alone, and is very unlikely to happen even at intakes of up to 10,000 IU per day, it can potentially occur from extremely high-dose dietary supplements (especially upwards of 50,000 IU daily), leading to hypercalcemia (elevated calcium levels in the blood). This can then result in kidney stones, bone loss, and heart or kidney calcification, along with symptoms such as fatigue, constipation, muscle weakness, vomiting, diarrhea, irritability, and dehydration. Some people may be at higher risk of vitamin D-induced hypercalcemia, particularly people with sarcoidosis, tuberculosis, lymphoma, and hyperparathyroidism.
So, if you're considering supplementing with high doses of vitamin D, be sure to seek medical advice from a health care professional to avoid potential harm!
How Much Vitamin D Do We Need?
Because vitamin D can come from both food and our body's own synthesis, it's been difficult to establish a guidelines for the amount of vitamin D each individual needs. The current recommended dietary allowance (RDA) is 600 IU per day for adults (800 IU per day after the age of 70), with a tolerable upper limit set at 4000 IU daily (meaning beyond this level, the risk of harm begins to increase).
However, some research suggests that higher vitamin D intakes may be necessary while breastfeeding in order to produce milk with high enough vitamin D content to meet the infants' needs. In these cases, breastfeeding individuals may need to supplement with additional vitamin D—possibly as much as 4000 to 4600 IU daily, or a monthly dose of 150,000 IU. Alternatively, the American Academy of Pediatrics recommends that breastfed infants receive 400 IU of supplemental vitamin D each day in addition to breast milk.
It's important to note that we can store vitamin D in the liver (during the winter months, for example), so intakes can fluctuate without immediately causing a deficiency. However, these recommended intakes don't account for the many factors that influence vitamin D status as a whole, particularly sun exposure, having darker skin, . What's important is that blood levels remain in the optimal range—whether that's achieved through diet, supplementation, or time in the sunshine!
Scientists generally agree that the best indicator of vitamin D status is the serum 25-hydroxyvitamin D concentration, with optimum levels being between 50 and 70 ng/mL (deficiency is considered 20 ng/mL and below, and insufficiency is considered below 30 ng/mL).
Nutrition requirements and recommended nutrient intake for infants, children, adolescents, adults, mature adults, and pregnant and lactating individuals.
Best Food Sources of Vitamin D
The following foods have high concentrations of vitamin D, containing at least 50% of the recommended dietary allowance per serving, making them our best food sources of this valuable vitamin steroid hormone!
Want to know the top 500 most nutrient-dense foods?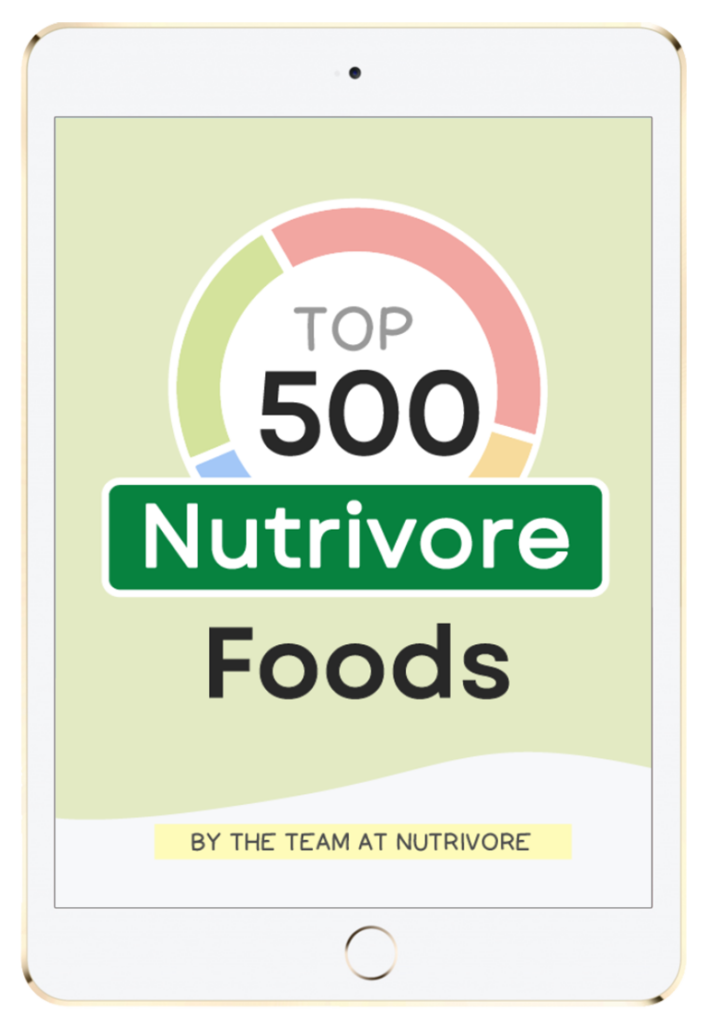 Top 500 Nutrivore Foods
The Top 500 Nutrivore Foods e-book is an amazing reference deck of the top 500 most nutrient-dense foods according to their Nutrivore Score. Think of it as the go-to resource for a super-nerd, to learn more and better understand which foods stand out, and why!
If you are looking for a quick-reference guide to help enhance your diet with nutrients, and dive into the details of your favorite foods, this book is your one-stop-shop!
Buy now for instant digital access.
Good Food Sources of Vitamin D
The following foods are also excellent or good sources of vitamin D, containing at least 10% (and up to 50%) of the daily value per serving.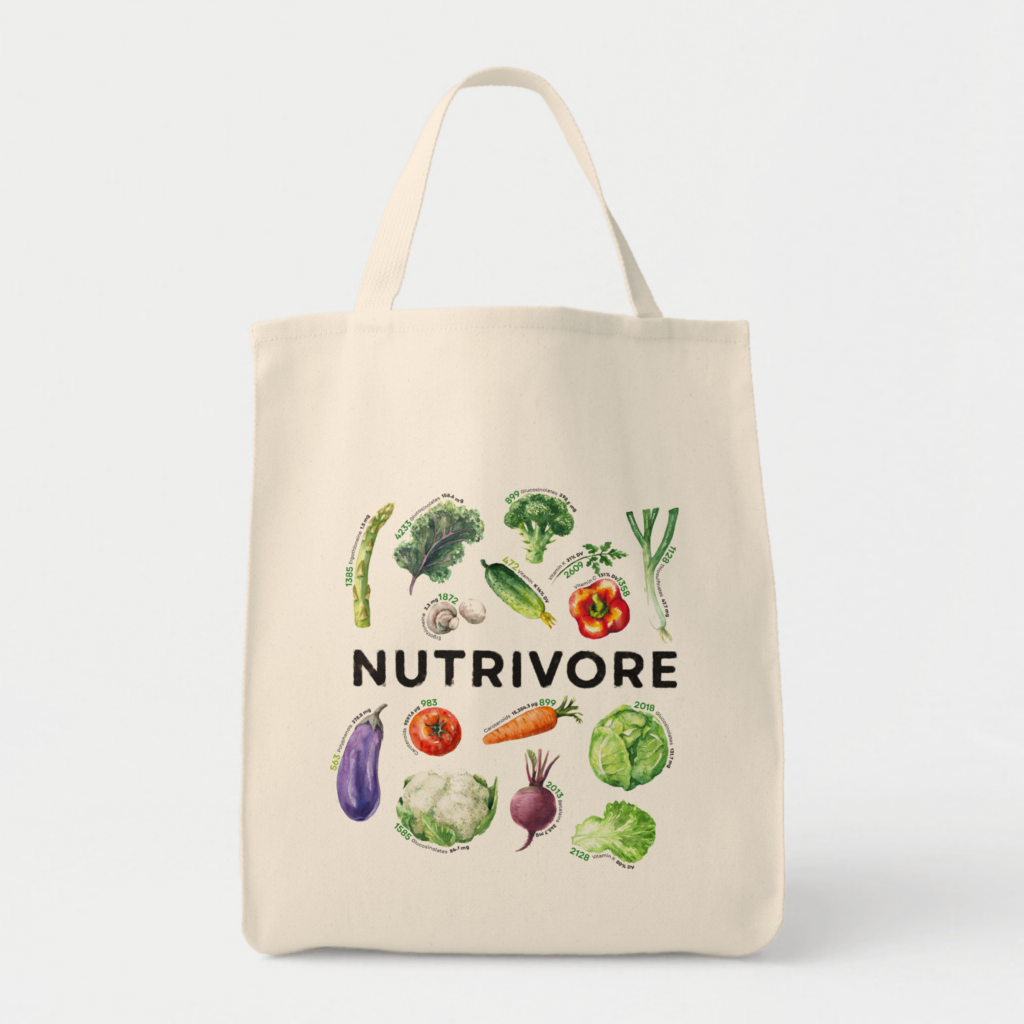 Merch and Household Goods
Check out our collection of practical and nerdtastic T-shirts, totes, and more!
Citations
Expand to see all scientific references for this article.