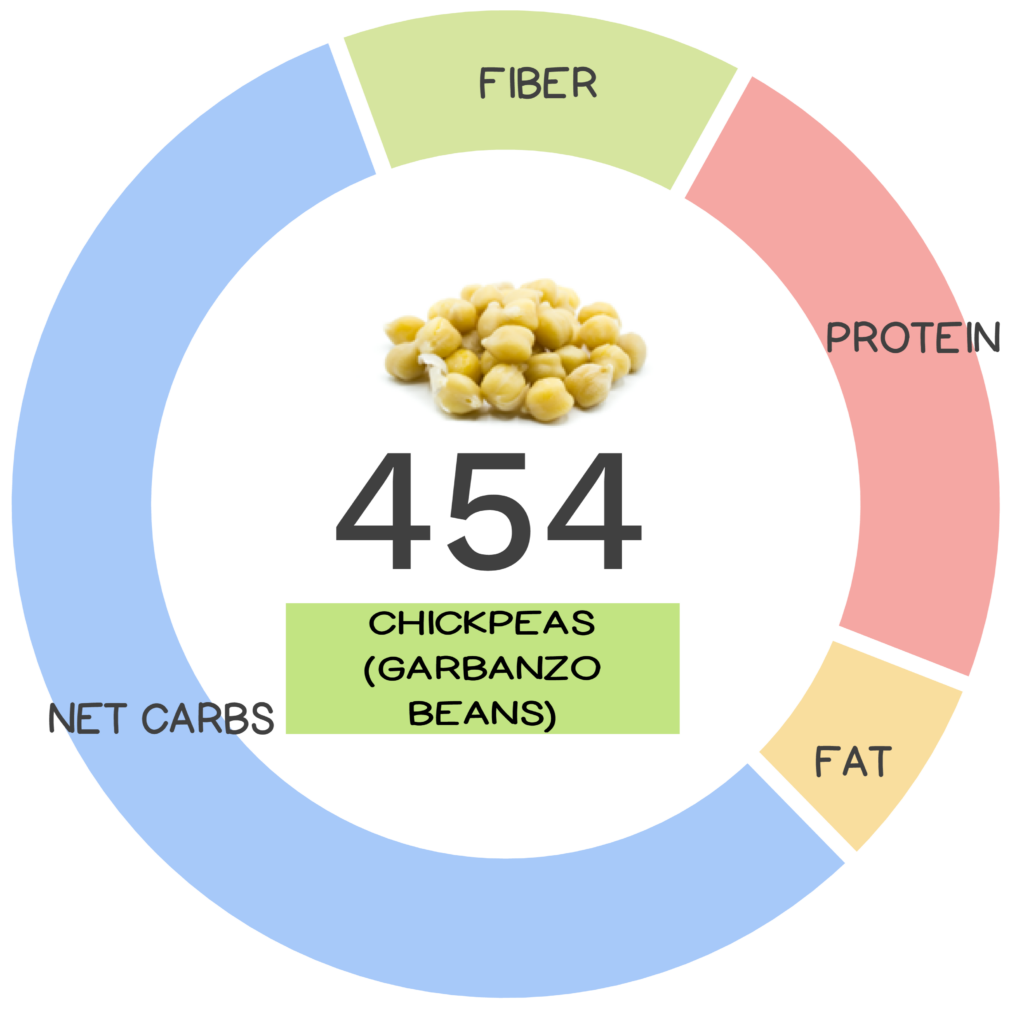 A staple of vegetarian and vegan dishes, and a key ingredient in Indian, Mediterranean, Middle Eastern, and North African cuisine, chickpeas are versatile, budget-friendly, and most importantly, packed with flavor! Conveniently available canned or dried, this is one popular legume worth incorporating into our diet!
Legumes are the fruit or seed of plants from the Fabaceae (also called Leguminosae) family, which includes members such as beans, lentils, peas, and peanuts. (As a sidenote, when legumes are harvested for their dry seed, they are often referred to as 'pulses.') Chickpeas (Cicer arietinum) are an annual legume, produced in seedpods, each containing two or three chickpeas. There are dozens of varieties, ranging in color from black, brown, green, and red, but the ones you are likely to be most familiar with in North America are beige. Overall, there are 2 main types – desi and kabuli. Kabuli are the well-known beige variety with a smooth coat, while desi are darker and smaller with a rough coat and are popular in India and the Middle East.
Chickpeas are one of the oldest cultivated legumes. They are believed to have been domesticated in Turkey, where 9,500 year-old remains have been discovered. From there, chickpeas spread to the Mediterranean region circa 6,000 BC, and to India around 3,000 BC, which is today the global leader in chickpea production.
This legume and its different types are known by many different names including Bengal gram, ceci beans, chana, Egyptian peas, and more commonly, garbanzo beans. They are enjoyed in various ways in numerous cuisines around the world. They can be eaten on their own, in curry (chana masala), salads, or soups, and are often consumed roasted and spiced, but one of their claims to fame is being the key component of hummus, which is a popular dip prepared from cooked, pureed chickpeas combined with tahini sesame paste and lemon juice. Chickpeas are also ground into flour (known as besan or gram), which can be used in numerous ways, such as in batter for deep-frying foods. This legume is also consumed in the popular Middle Eastern Street food – falafels. They are even used to prepare desserts such as brownies, cake, cookies, and ice cream! It seems like there is nothing this legume can't do! In fact, when roasted and ground, chickpeas are even used as a caffeine-free coffee substitute. Not only can we eat them, but we can drink them too!
Everything You Need to Know about Legumes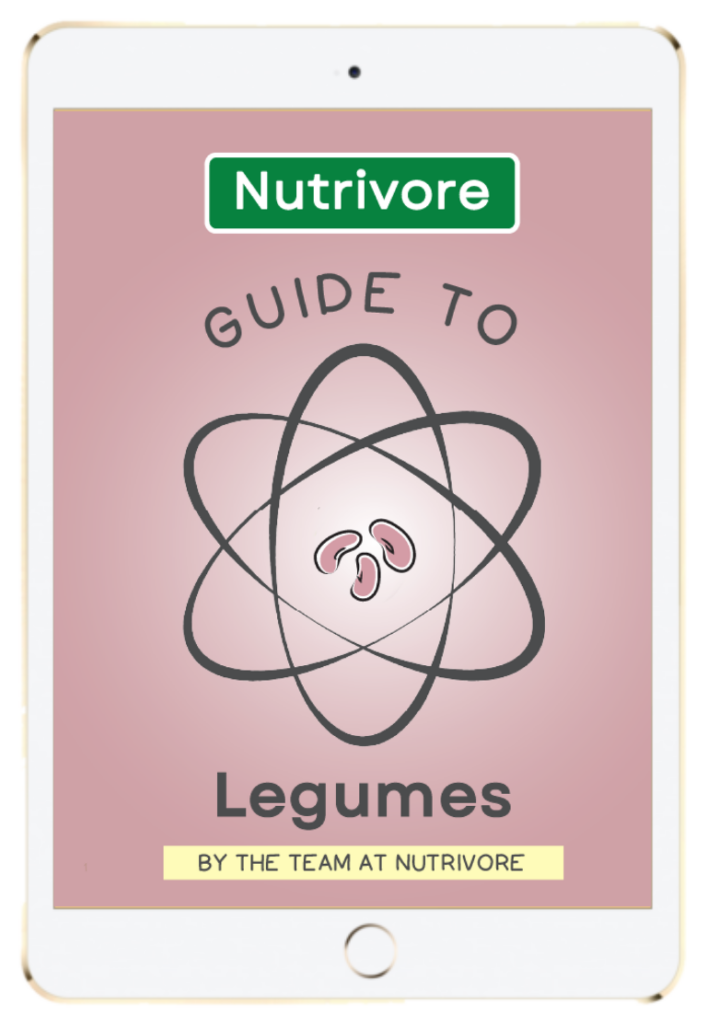 Nutrivore Guide to Legumes
The Nutrivore Guide to Legumes e-book explains everything you need to know about pulse legumes and gives you a dozen awesome recipes to reap all the benefits of this foundational food family!
For October 2023, this e-book is exclusive to Patreon! Plus, you'll gain exclusive access to the monthly Nutrivore Podcast, the entire, browsable Nutrivore Score database, and you can ask me all your Nutrivore questions directly! Sign up now and also get 5 free Nutrivore guides as a welcome gift! Win-win!
Nutrivore Score for Chickpeas – 454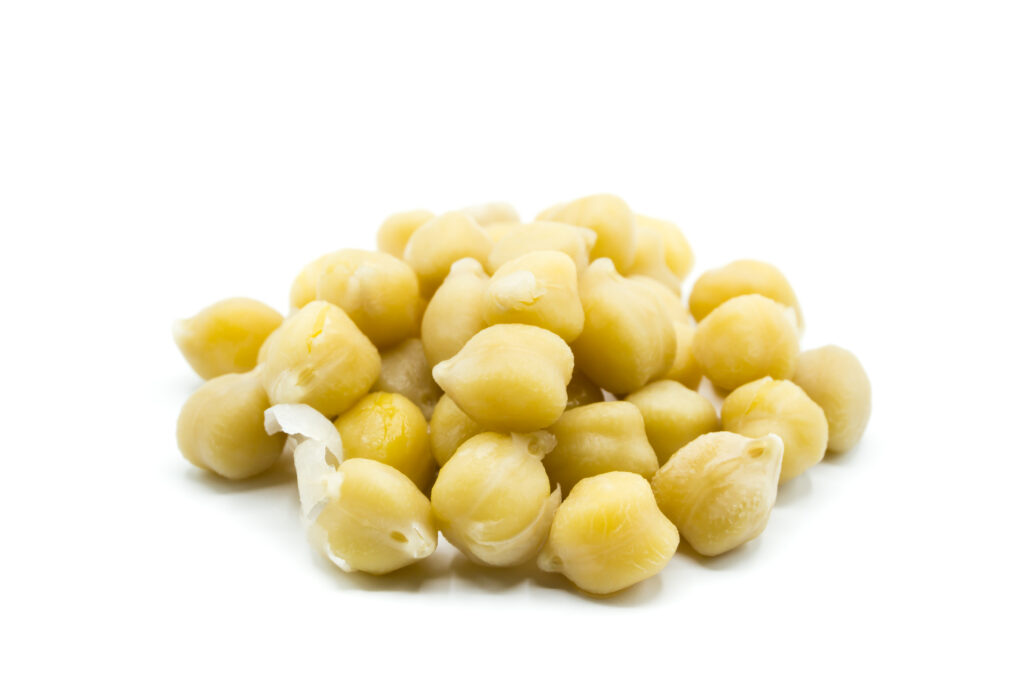 Chickpeas have a Nutrivore Score of 454, making them a high nutrient-dense food! Plus, they are a low-fat food; chickpeas contain 2.4 grams total fat per serving!
Per serving, chickpeas are a best source (>50% daily value) of manganese and vitamin B9 (folate); an excellent source (20-50% daily value) of copper, polyphenols, and vitamin B7 (biotin); and a good source (10-20% daily value) of dietary fiber, iron, protein, vitamin B1 (thiamin), vitamin B5 (pantothenic acid), vitamin B6 (pyridoxine), and zinc.
Want to Know the Top 100 Nutrivore Score Foods?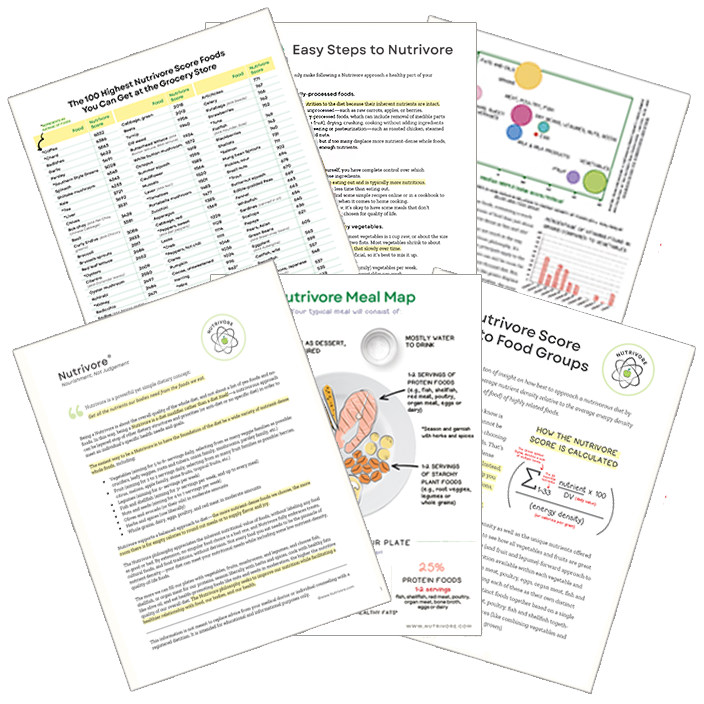 Get it Directly in Your Inbox!
The Nutrivore Newsletter is a weekly email that delivers bite-size fun facts, practical tips, recipes and resources. Sign up now and get 5 free guides directly to your inbox:
Easy Steps to Nutrivore 4-page guide
Nutrivore Foundational Foods 6-page guide
Nutrivore Score Guide to Food Groups 3-page guide
Nutrivore Meal Map
Top 100 Nutrivore Score Foods
Chickpea Nutrition Facts
One serving of chickpeas is standardized to 1/5 cup raw or about 40 grams (1.4 ounces). When you cook chickpeas, they increase in volume: 1 cup raw chickpeas is roughly equivalent to 2 1/2 cups cooked chickpeas.
Chickpea Nutrition Facts Per Serving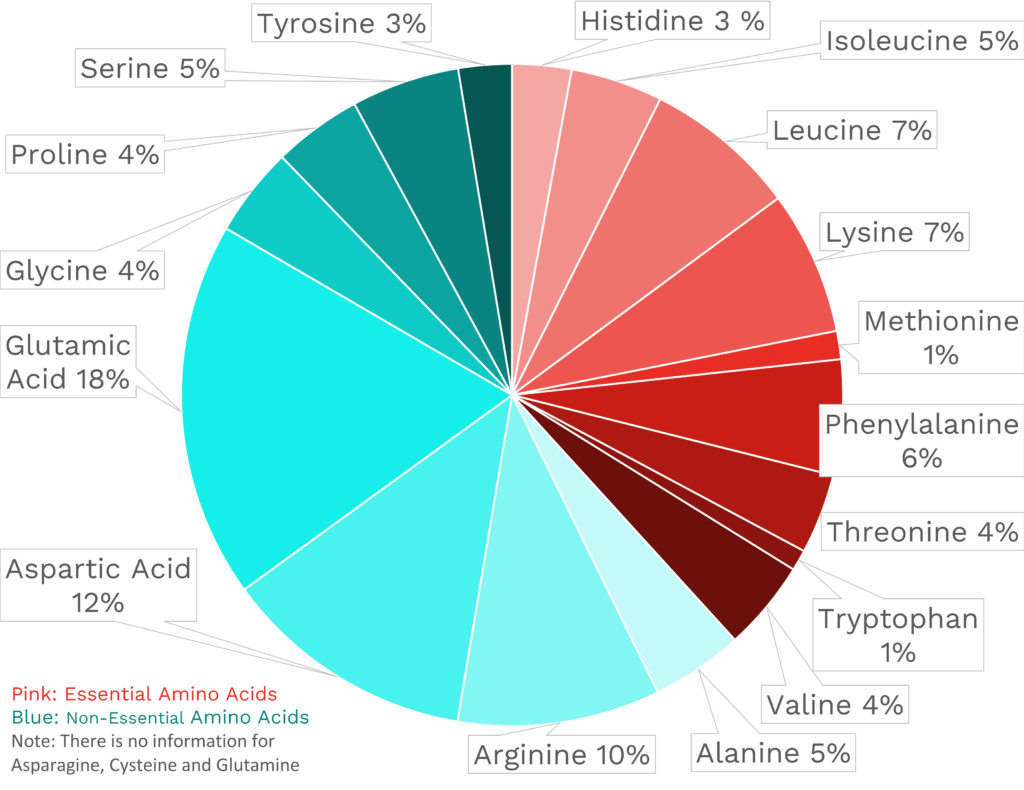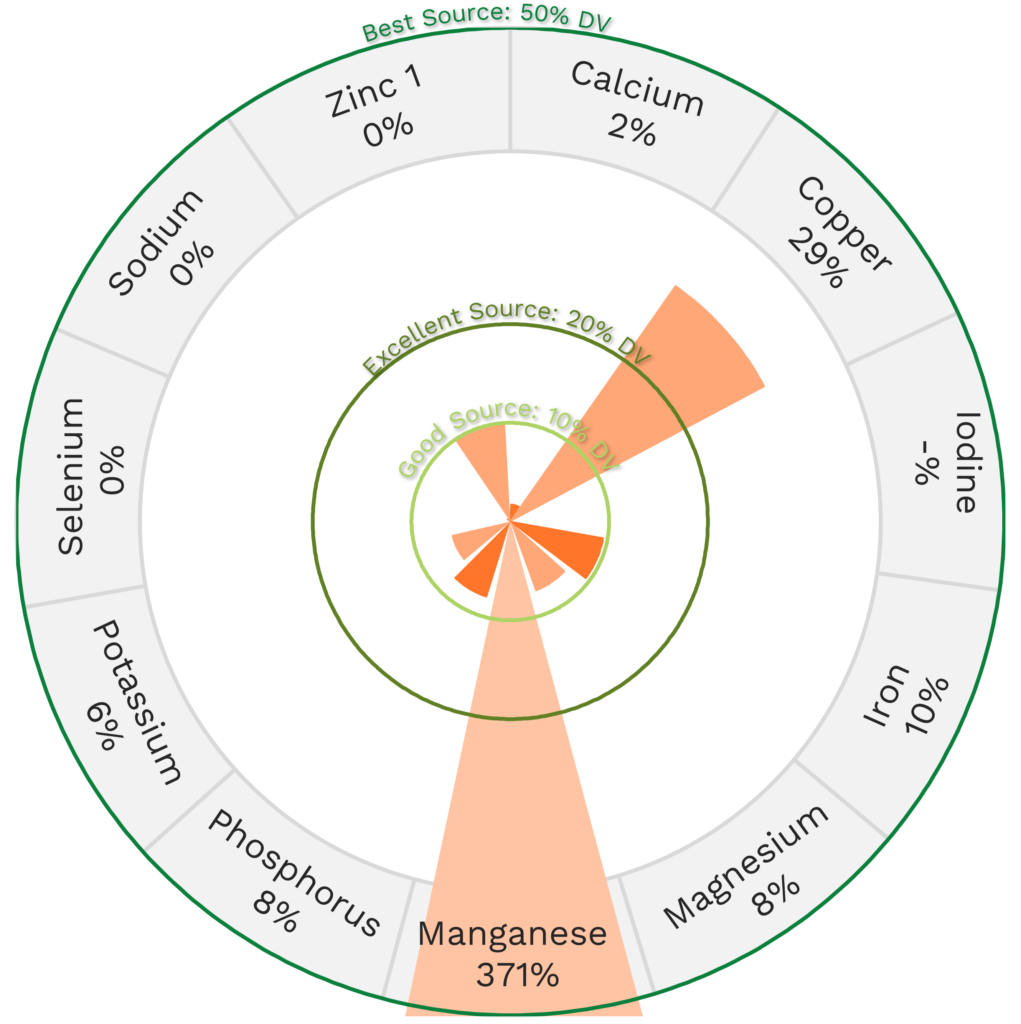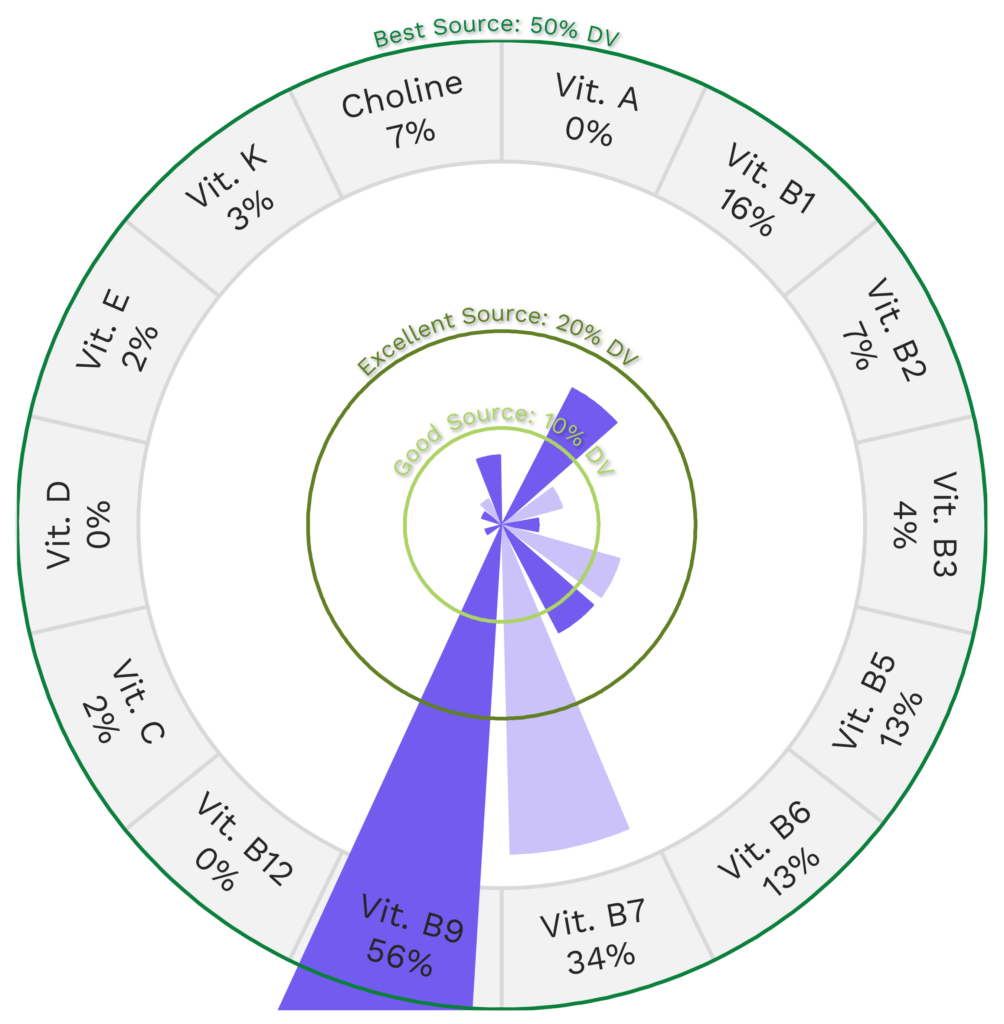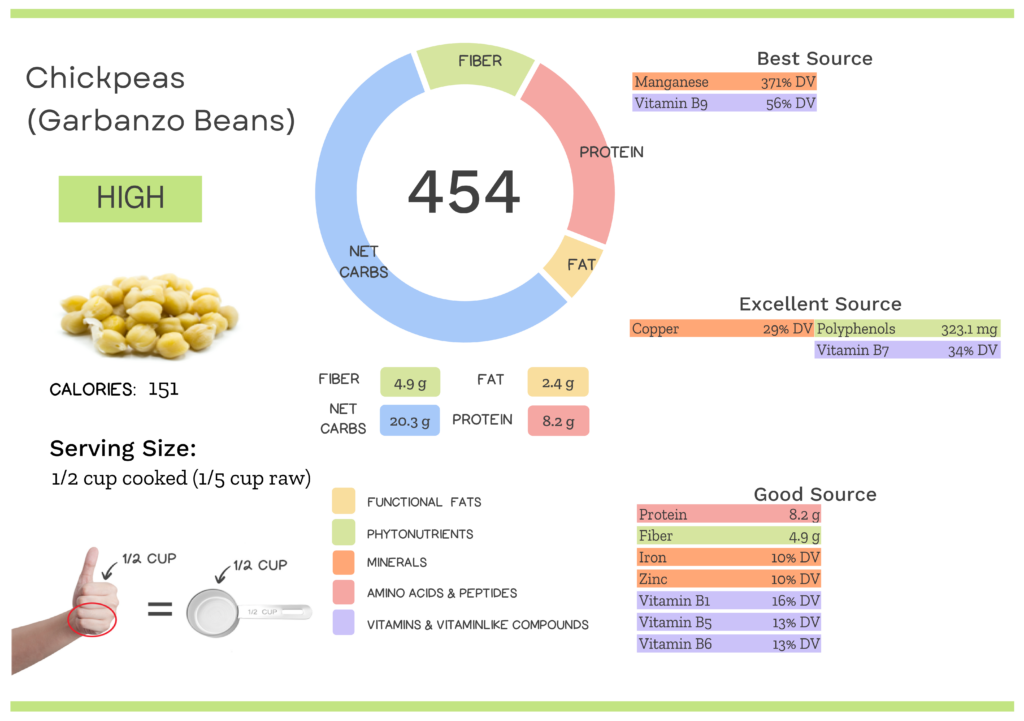 Chickpea Nutrition Varies With Cooking and Processing
The Nutrivore Score of chickpeas varies based on method of preparation and processing. Conveniently canned chickpeas are available at most grocery stores and chickpea flour is popular in Middle Eastern and Indian cooking and baking.
| | NUTRIVORE SCORE |
| --- | --- |
| Chickpea flour (besan) | 1711 |
| Chickpeas, mature seeds, canned, drained solids | 191 |
| Chickpeas, mature seeds, canned, drained, rinsed in tap water | 187 |
| Chickpeas, mature seeds, canned, solids and liquids | 251 |
| Chickpeas, mature seeds, cooked, boiled, with salt | 235 |
| Chickpeas, mature seeds, cooked, boiled, without salt | 235 |
| Chickpeas, mature seeds, raw | 454 |
1Nutrivore Score may be higher since 10 to 25% of data is missing.
Surprised that chickpeas are THAT nutritious? Maybe your friends will be too!
Health Benefits of Chickpea Nutrients
Let's take a closer look at all of the best and excellent source of nutrients found in a 1/2-cup serving of chickpeas and see how they benefit our health.
Chickpeas Provide 371% DV Manganese
Chickpeas are a best source of manganese, providing a whopping 371% of the daily value per 1/2-cup serving!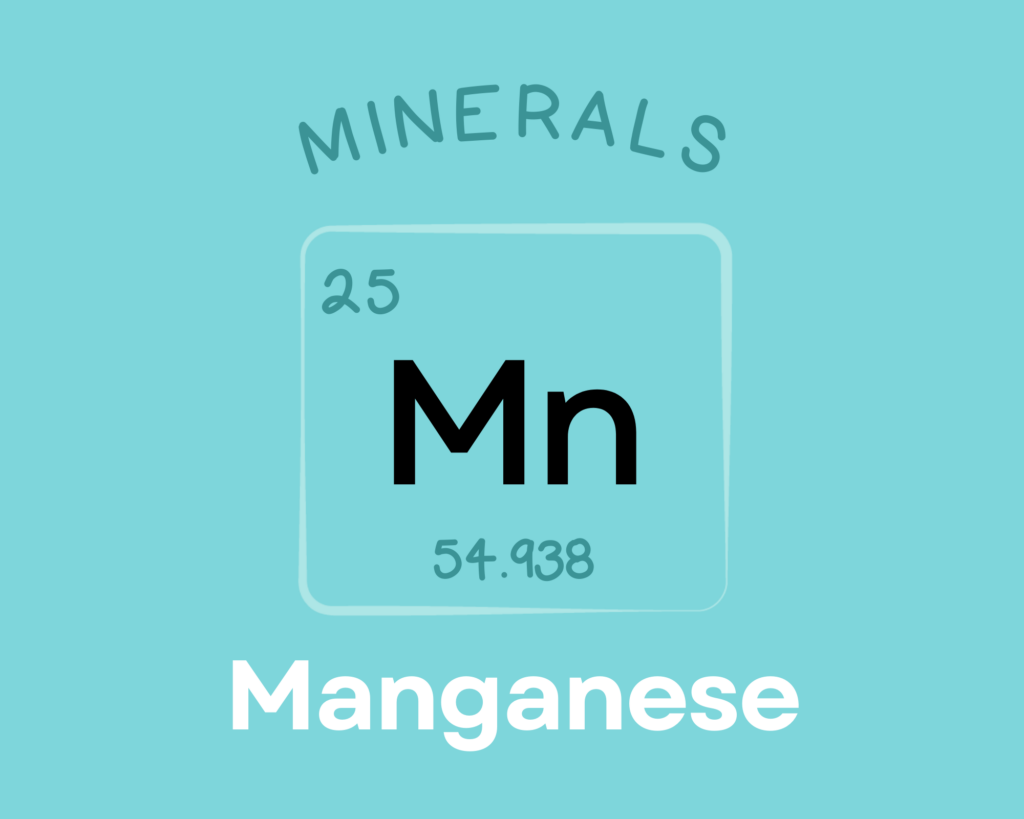 Manganese is an essential mineral that serves as a cofactor and component of numerous enzymes. Through these roles, it's involved in carbohydrate metabolism, amino acid synthesis, gluconeogenesis, detoxification, lipid processing, free radical defense, bone and collagen formation, and wound healing. Although the research so far is limited, some evidence suggests that manganese can protect against osteoporosis and diabetes, and may even be involved in seizure disorders. Learn more about manganese here.
Chickpeas Provide 56% DV Vitamin B9 (Folate)
Chickpeas are also a best source of vitamin B9 (folate), providing 56% of the daily value per 1/2-cup serving!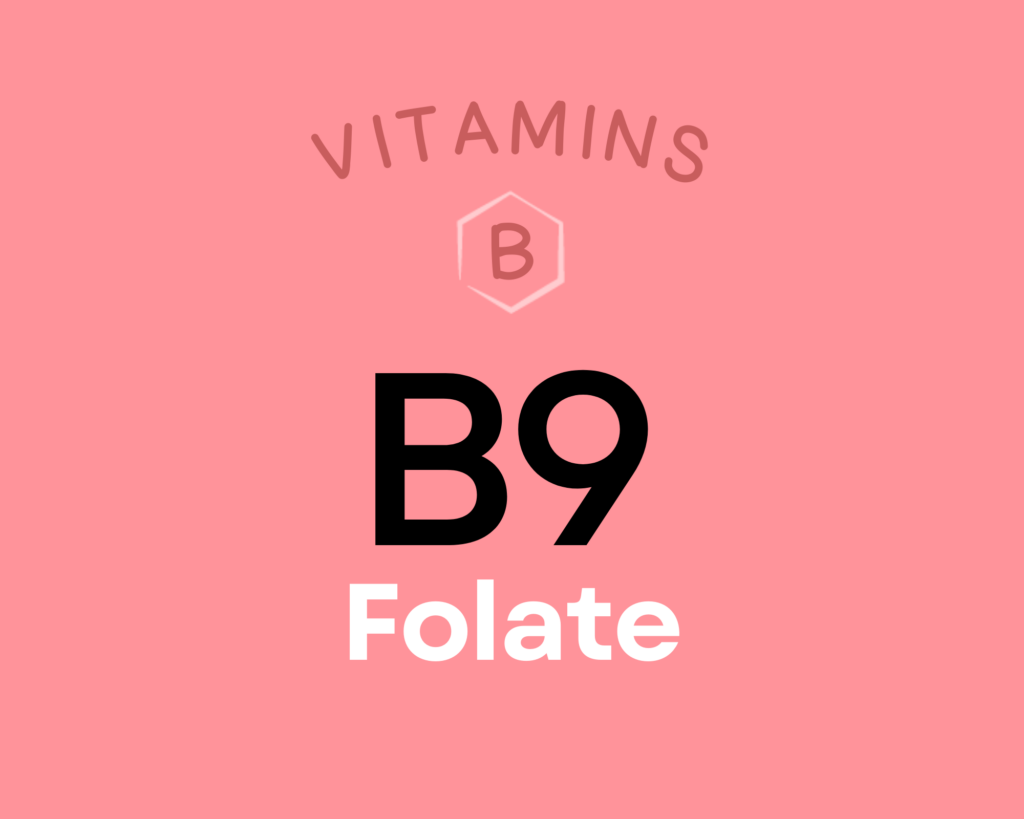 Vitamin B9 (folate) is an essential B vitamin that plays roles in blood cell production, the formation of genetic material (including DNA), and cell growth and function. It's particularly important during pregnancy, when folate demands increase due to the rapid creation of new cells and DNA. Along with helping protect against fetal development problems, folate can support cardiovascular health, potentially protect against certain cancers, and reduce the risk of cognitive and neurological disorders later in life. Learn more about vitamin B9 here.
Chickpeas Provide 323.1 mg of Polyphenols
Chickpeas are an excellent source of polyphenols, providing 323.1 mg of polyphenols per 1/2-cup serving!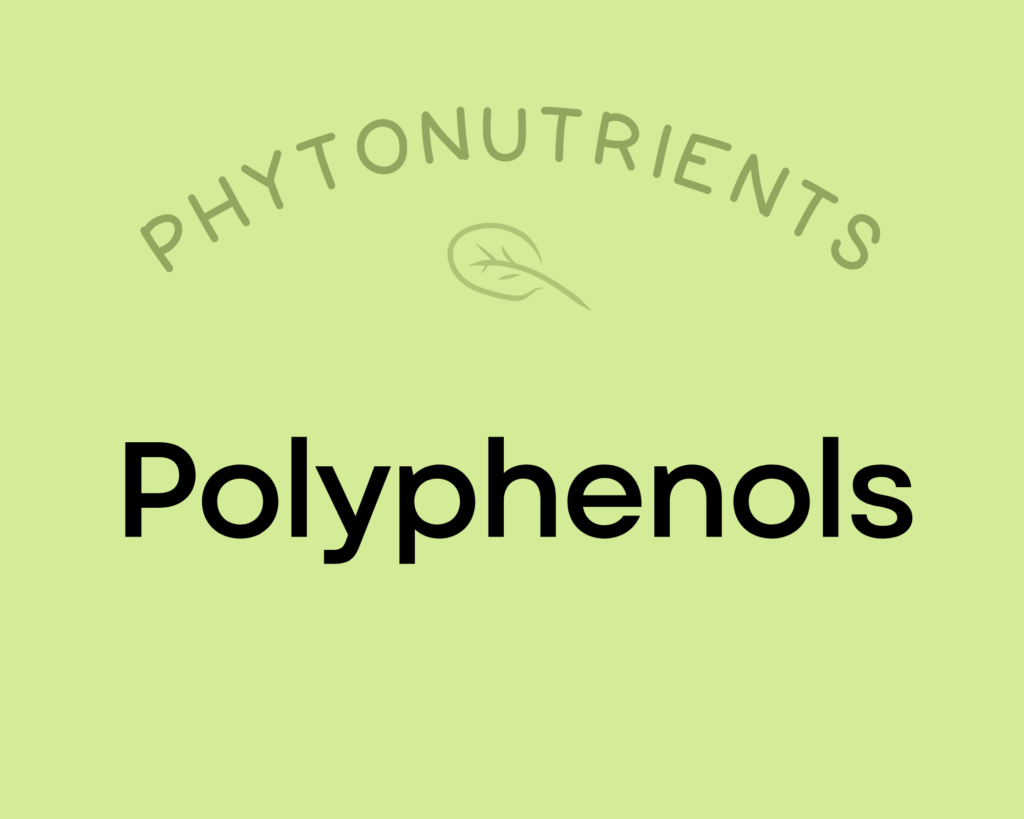 Polyphenols play a huge role in protecting against cancer, heart disease, diabetes, asthma, osteoporosis, neurodegenerative diseases, and other conditions associated with oxidative stress. In fact, a major reason foods like red wine and olive oil (as well as diets rich in both, such as the Mediterranean diet) show up as so beneficial may be due to their high polyphenol content! Along with chronic diseases, supplementing with polyphenols has been shown to protect against infections and reduce the signs of aging. Polyphenols exert their most potent effects by acting as antioxidants—preventing cellular damage by neutralizing hazardous oxygen radicals and improving cellular health as a result (which, in turn, benefits virtually every system in the body). As a result of their antioxidant properties, polyphenols also boost the immune system and protect against both chronic and acute diseases. In addition, polyphenols can help regulate enzyme function, stimulate cell receptors, modulate the functions of inflammatory cells (including T and B lymphocytes, macrophages, platelets, and natural killer cells), alter adhesion molecule expression, affect nerve cells and cardiac muscle cells, and exert antiviral effects. Learn more about polyphenols here.
Chickpeas Provide 34% DV Vitamin B7 (Biotin)
Chickpeas are a also an excellent source of vitamin B7 (biotin), providing 34% of the daily value per 1/2-cup serving!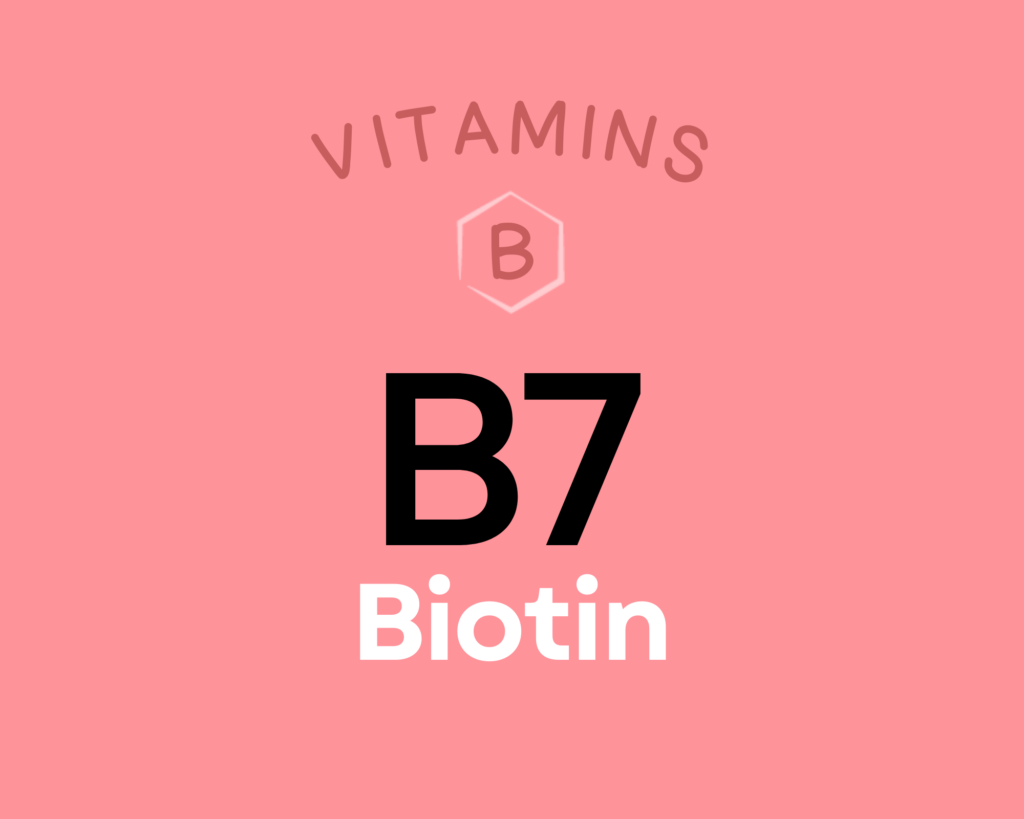 Biotin is a water-soluble B vitamin, also known as vitamin B7. Like other B vitamins, it plays an important role in energy metabolism (serving as a coenzyme for five carboxylase enzymes), neurotransmitter production, cellular function, and the function of various organs. Getting enough biotin can help support healthy nail and hair growth. It's also particularly important during pregnancy, with low intakes increasing the risk of premature delivery and birth defects. There's even some evidence biotin can benefit diabetics and reduce functional disabilities in people with multiple sclerosis. Learn more about biotin here.
Chickpeas Provide 29% DV Copper
Chickpeas are an excellent source of copper, providing 29% of the daily value per 1/2-cup serving!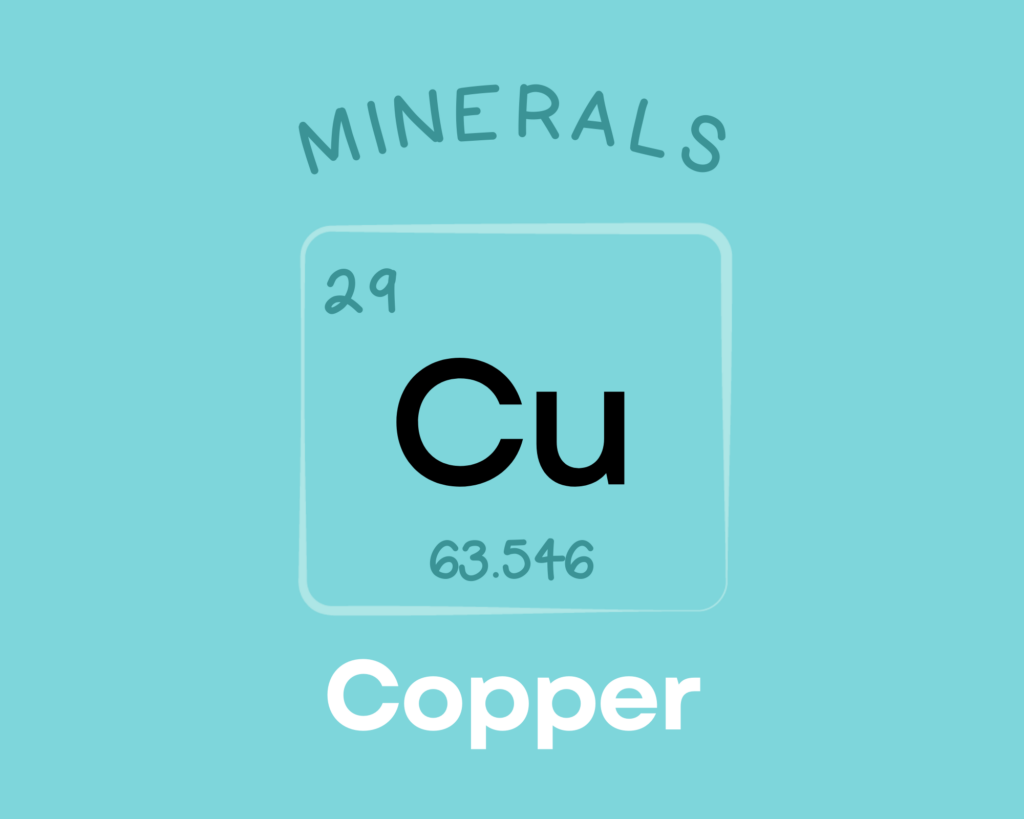 Copper is a trace mineral that's essential for all living organisms. Copper serves as a component of numerous enzymes and proteins in the body, giving it diverse roles in the growth, development, and maintenance of various organs (including the heart and brain), bone, and connective tissue. Copper is also involved in glucose and cholesterol metabolism, helps regulate gene expression, can scavenge free radicals, and is needed for the production of red blood cells. Learn more about copper here.
Learn What Foods Are the Best Sources of Every Nutrient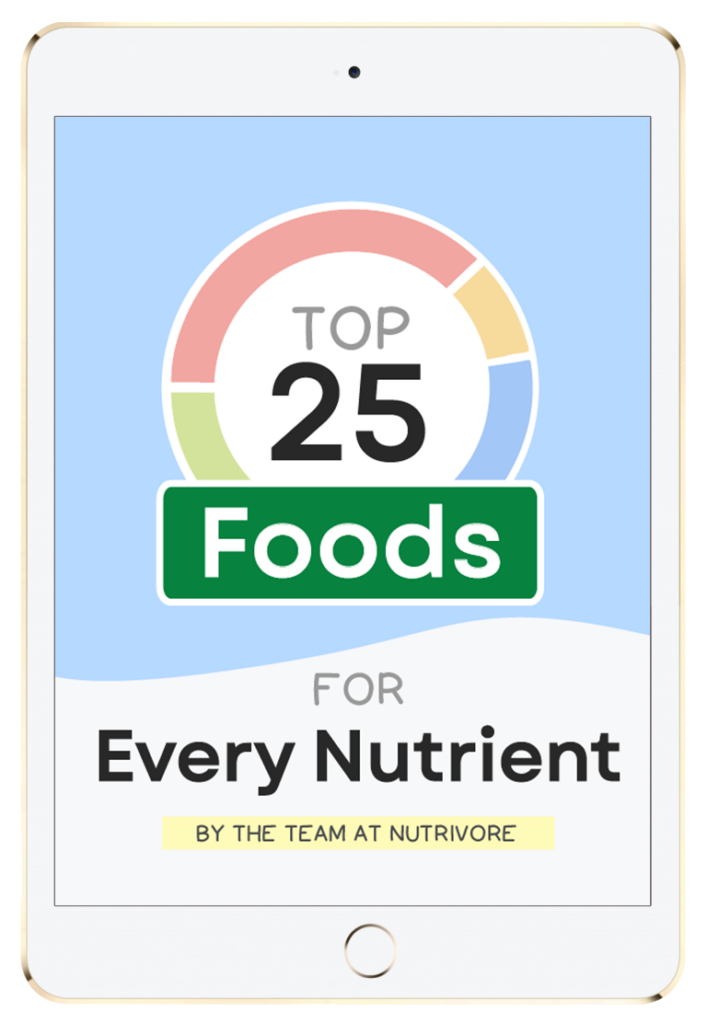 The Top 25 Foods for Every Nutrient
The Top 25 Foods for Every Nutrient e-book is a well-organized, easy-to-use guide to help you choose foods that fit your needs of 42 important nutrients while creating a balanced nutrient-dense diet.
Get two "Top 25" food lists for each nutrient, plus you'll find RDA charts for everyone, informative visuals, fun facts, serving sizes and the 43 foods that are Nutrient Super Stars!
How Much Chickpeas Should We Eat Per Day?
On average, legumes are the most nutrient-dense starchy plant foods we can choose to eat, thanks to their high fiber content and phytonutrients, all of which result in diverse health benefits!
In epidemiological studies, consumption of legumes is frequently associated with better health and greater longevity. This is attributable to their amazing nutrient-density (especially fiber, vitamins and minerals) and the fact that they're particularly great for increasing growth of probiotic bacteria in our guts. Across studies, beans have demonstrated a great number of health benefits, likely due to their combination of fiber and phytonutrients. A high consumption of beans is associated with reduced waist size, lower risk of obesity, and lower systolic blood pressure.
A large 2017 meta-analysis showed that all-cause mortality (a general indicator of health and longevity) decreased by 16% with increasing intake of legumes up to 150 grams (3 servings) per day. And, in a 2021 study, eating 3+ servings of legumes per week reduces all-cause mortality by 17% compared to 2 servings per month. Learn more about legumes here.
Chickpeas are known to improve gut microbiome composition and metabolic activity.
Easily track your servings of Nutrivore Foundational Foods!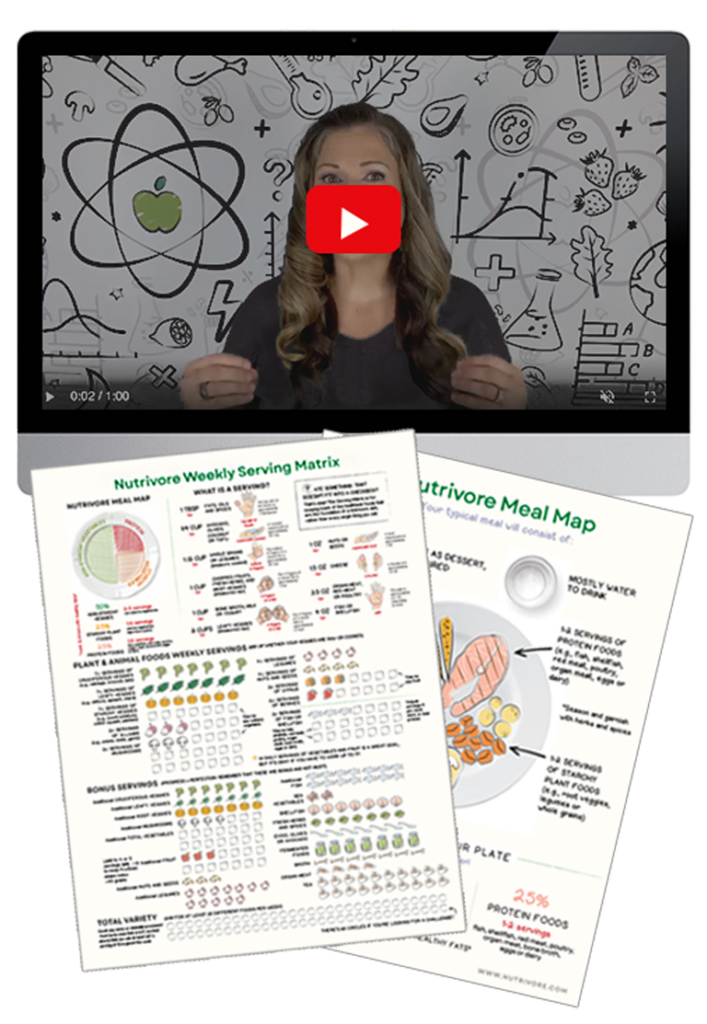 The Nutrivore Weekly Serving Matrix
The Nutrivore Weekly Serving Matrix digital resource is an easy-to-use and flexible weekly checklist designed to help you maximize nutrient-density and meet serving suggestions of Nutrivore foundational foods, all without having to weigh or measure your foods!
Includes a 1-hour video tutorial and downloadable interactive guides.
cITATIONS
Expand to see all scientific references for this article.