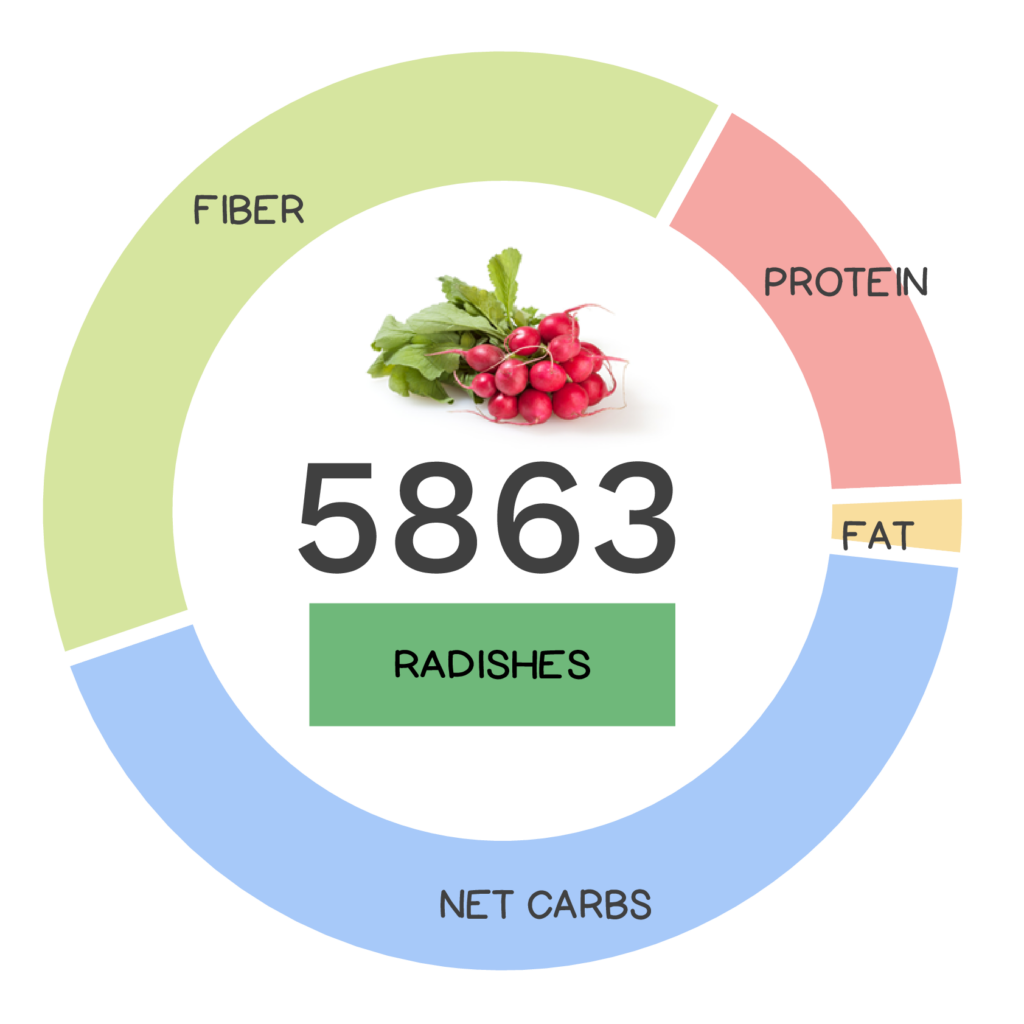 now available for pre-order!
Ditch diet culture and get the most nutrients from your food with the no-guilt, personalized, and exciting new science that will change how you think about food and nourishment, from New York Times bestselling author Dr. Sarah Ballantyne.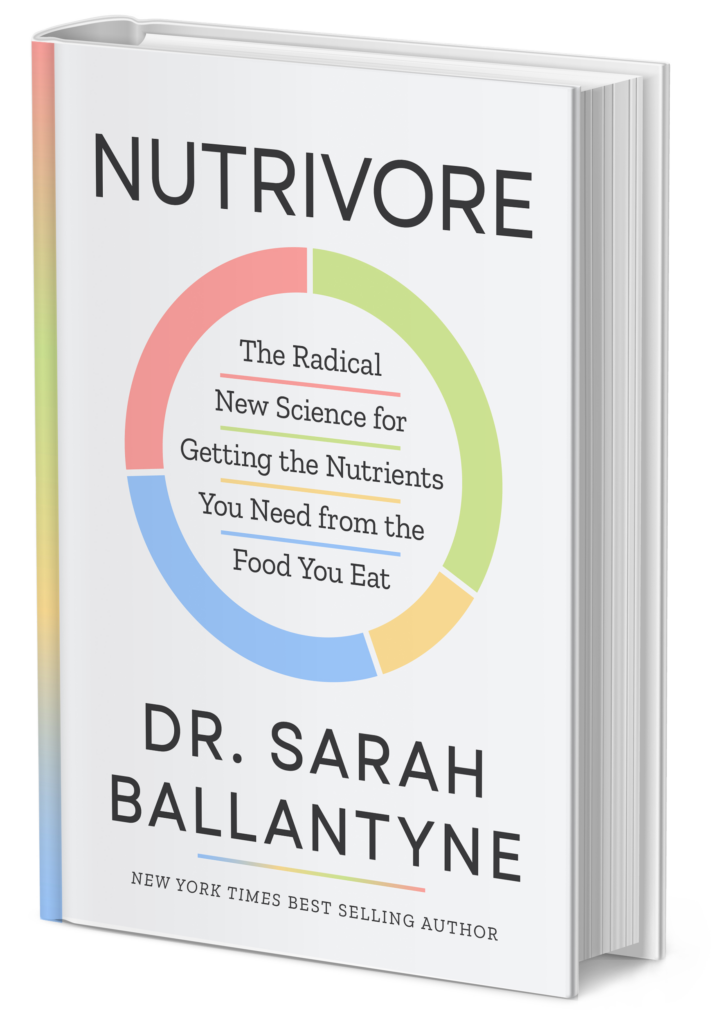 When it comes to adding crunch to salads, radishes with their uniquely sharp, pungent, peppery, flavor are a go-to. With a taste similar to horseradish, mustard, and wasabi, these colorful root veggies are sure to liven up any dish. Despite their popularity, radishes only represent 2% of global vegetable production. What gives? This highly nutritious veggie is not only kind of cool ("rad-ish"), it's totally "rad" and deserves a better seat "at the table."
Radishes (Raphanus sativus) are members of the Brassicaceae (aka cruciferous) vegetable family, which includes other members such as broccoli, Brussels sprouts, cabbage, cauliflower, collard greens, kale, and rutabaga to name a few. Though few archaeological records exist, scientists believe radishes originated in Southeast Asia and have been cultivated in Europe since before the Roman times featuring in the historical records of Egyptian, Greek and Roman civilizations. Radishes were one of the first European crops introduced to the Americas, probably because they are extremely hardy and one of the easiest vegetables to grow and are quick to harvest (in fact the scientific name of their genus, Raphanus, means 'quickly appearing' in Greek). Today they are grown all over the world by young and old alike. There are hundreds of varieties of radishes grown for their swollen, white-fleshed, tap roots. These eye-catching veggies vary greatly in size, skin color (black, green, pink, purple, red, white, and yellow), flavor, and shape (round or elongated). One notable example is the daikon radish, which is long, white, mild-flavored and is popular in Asia. While known for their edible roots, the whole plant is edible, including root, seeds, sprouts and leafy greens. Some varieties are specifically grown for oil production, while others are grown for seeds used as crunchy, flavorful additions to salads. Not only are they enjoyed as food, in Oaxaca, Mexico, the "Night of the Radishes" or "Noche de los Rabanos" is a festival celebrated annually on December 23rd, where Mexican sculptors carve intricate nativity scenes from large radishes weighing up to 7 lbs (or 3 kg). Now that's what I call "rad"!
Everything You Need to Know about Cruciferous Veggies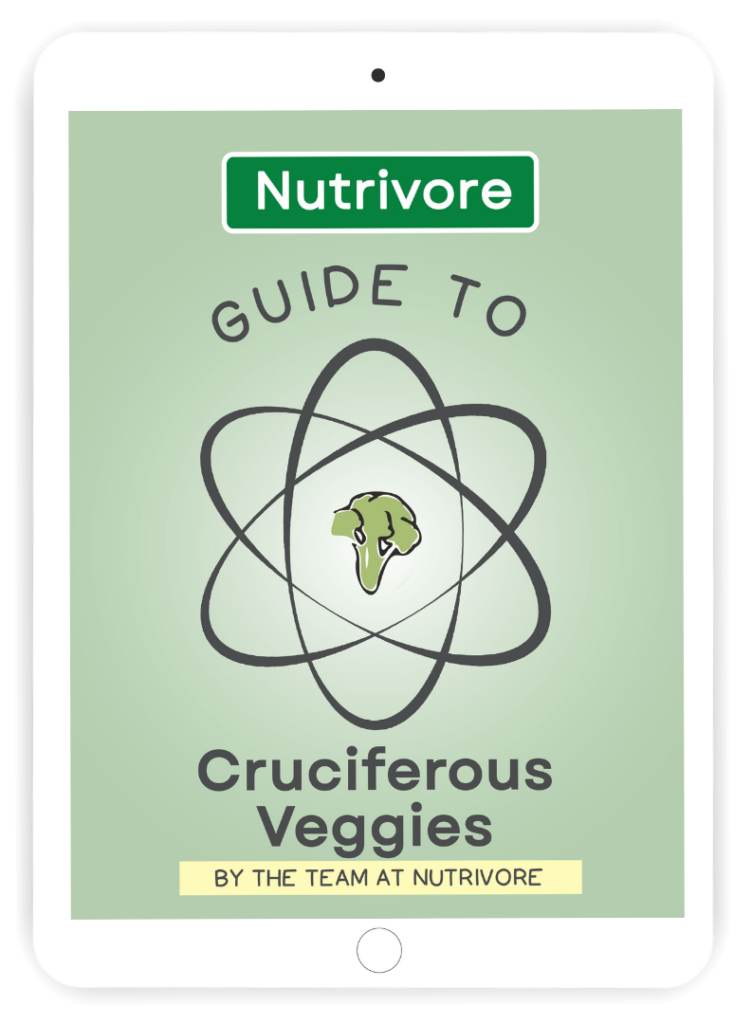 Nutrivore Guide to Cruciferous Veggies
The Nutrivore Guide to Cruciferous Veggies is a practical-focused e-book that explains everything you need to know about cruciferous vegetables so you can reap all the benefits of this foundational food family!
Plus, you'll 12 tasty recipes featuring cruciferous vegetables to help you incorporate more of these awesome veggies into your weekly meal plans!
Buy now for instant digital access.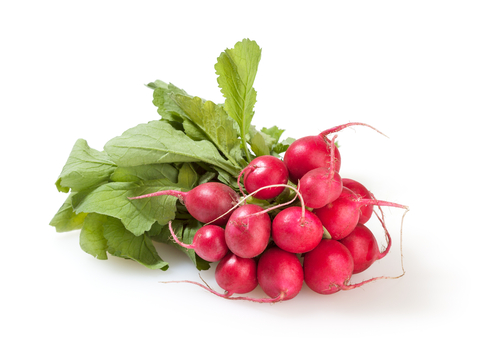 Nutrivore Score for Radishes – 5863
Radishes have a Nutrivore Score of 5863, making them one of the most nutrient-dense foods on the planet! Plus, they are a low-carb and low-calorie-density food; the calorie count of radishes is just 19 calories per cup!
Per serving, radishes are a best source (>50% daily value) of glucosinolates; and are a good source (10-20% daily value) of polyphenols, vitamin B7 (biotin), and vitamin C.
Want to Know the Top 100 Nutrivore Score Foods?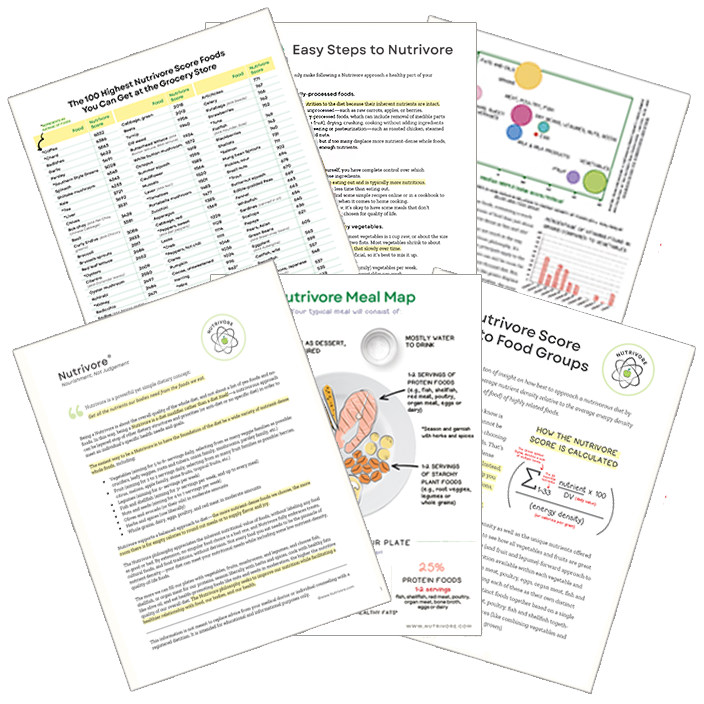 Get it Directly in Your Inbox!
The Nutrivore Newsletter is a weekly email that delivers bite-size fun facts, practical tips, recipes and resources. Sign up now and get 5 free guides directly to your inbox:
Easy Steps to Nutrivore 4-page guide
Nutrivore Foundational Foods 6-page guide
Nutrivore Score Guide to Food Groups 3-page guide
Nutrivore Meal Map
Top 100 Nutrivore Score Foods
Radish Nutrition Facts
One serving of radishes is standardized to 1 cup of radishes, or about 116 grams (4.1 ounces). A typical medium-sized radish (3/4″ to 1″ diameter) weighs 4.5 grams, which means: one serving of radishes contains roughly 26 medium-sized radishes. When you cook radishes, they lose some volume: one cup raw radishes is equivalent to a little over 3/4 cup boiled radishes.
Radish Nutrition Facts per Serving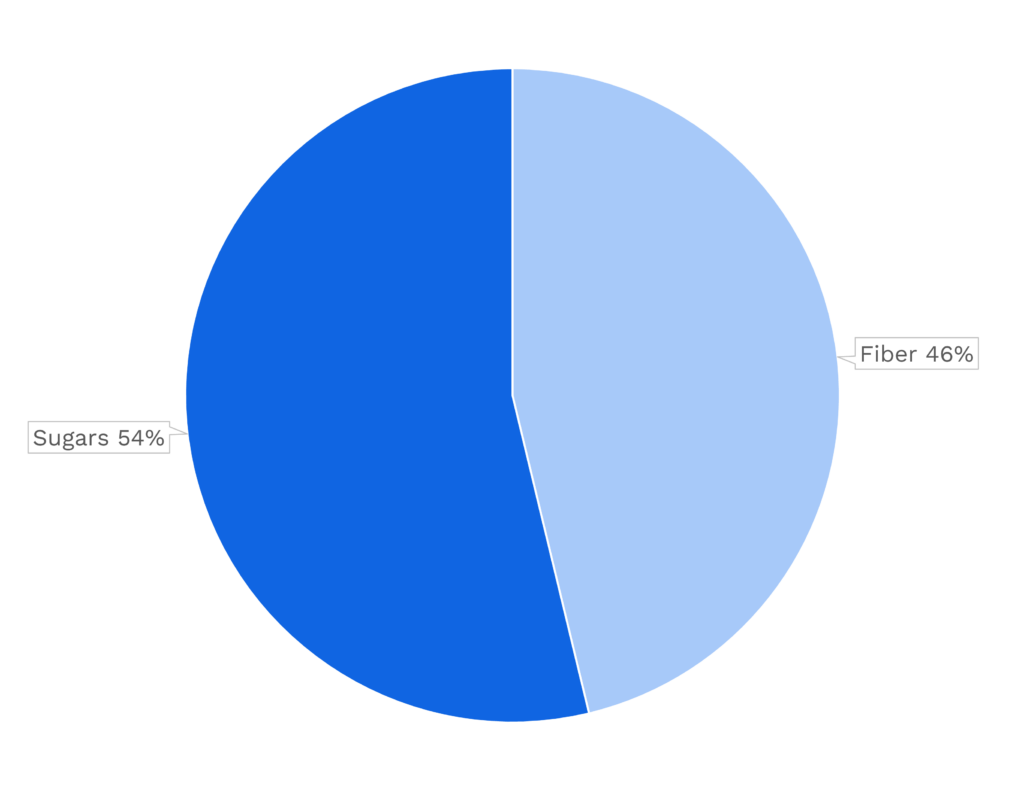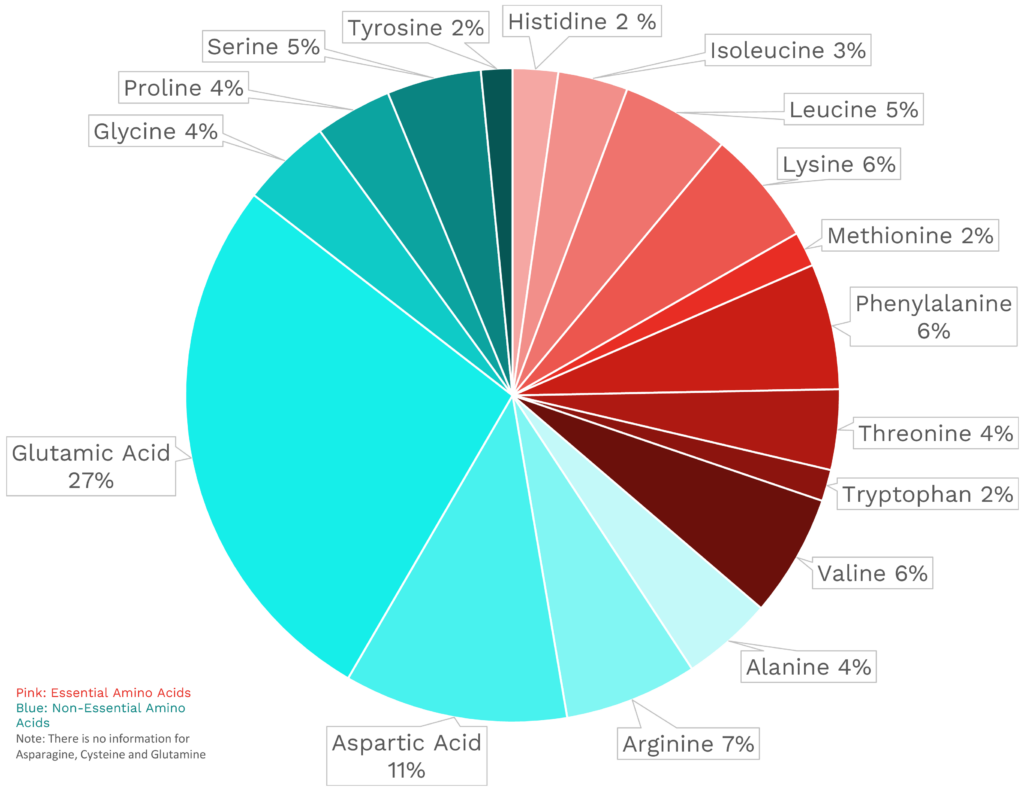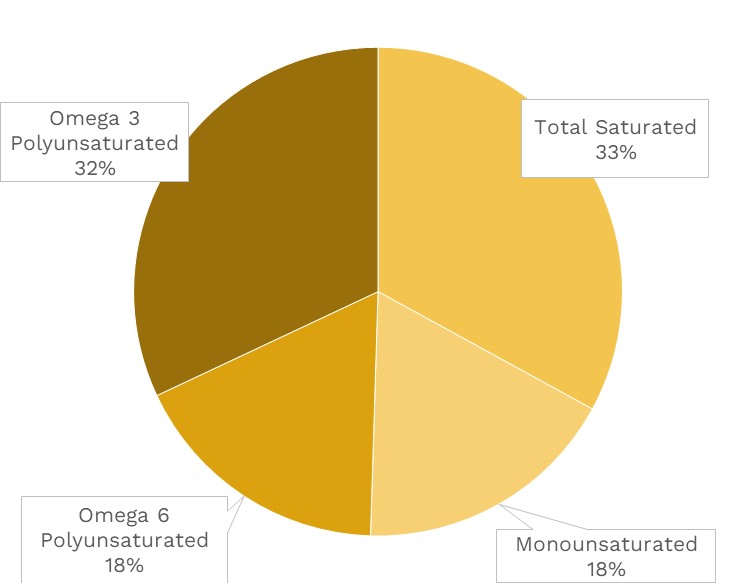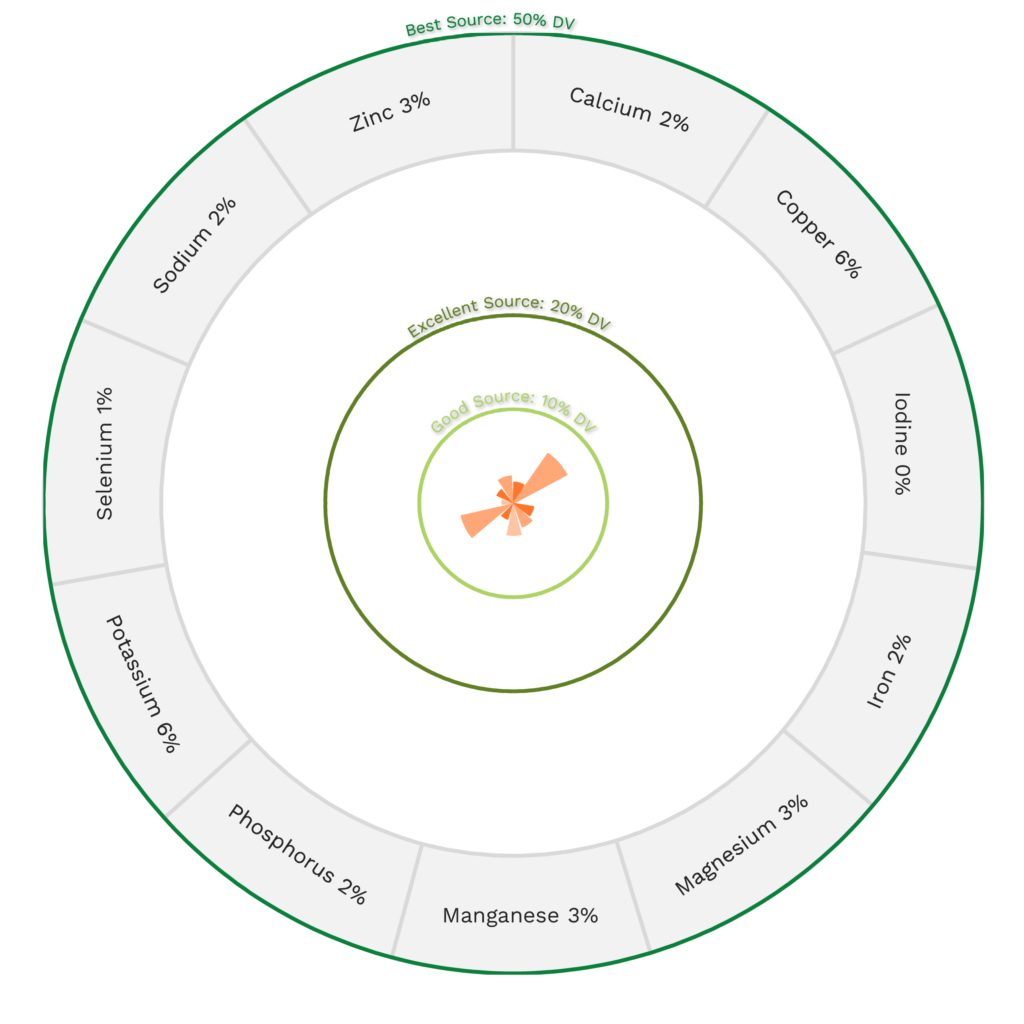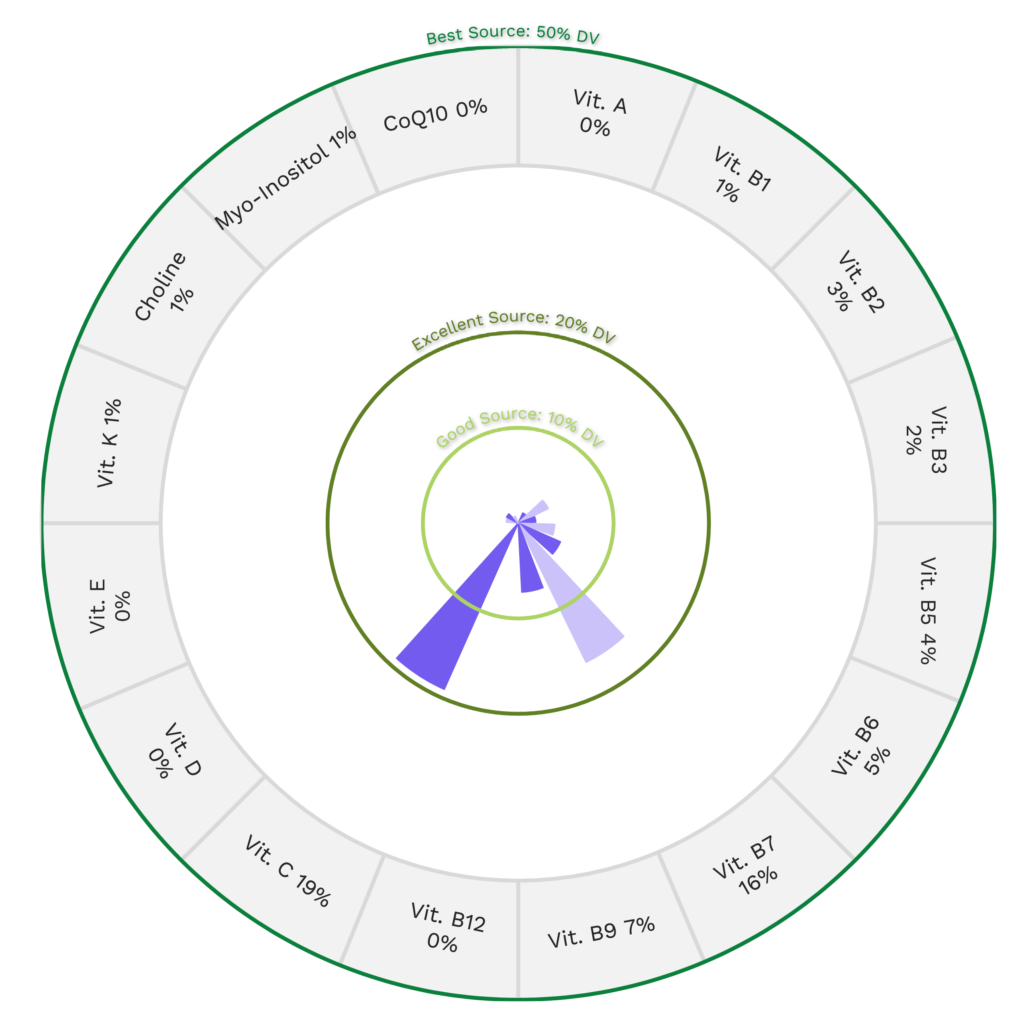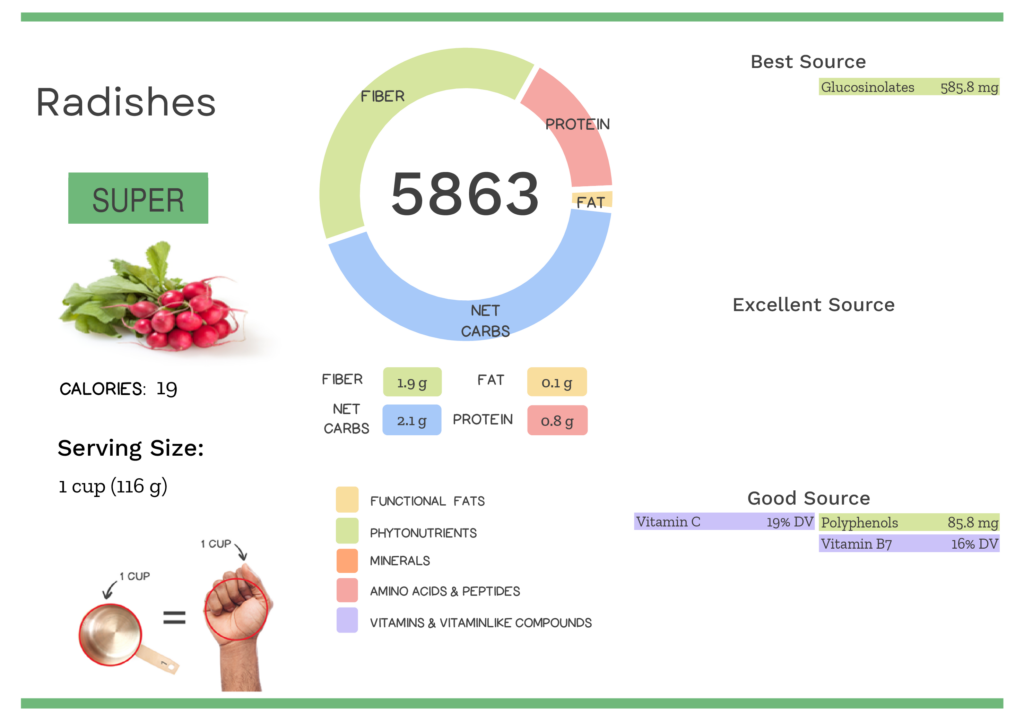 Radish Nutrition Varies With Cooking and Variety
The Nutrivore Score for radishes varies depending on the variety, form and method of preparation.
| | NUTRIVORE SCORE |
| --- | --- |
| Radish seeds, sprouted, raw | 34291 |
| Radishes, oriental, cooked, boiled, drained, with salt | 5089 |
| Radishes, oriental, cooked, boiled, drained, without salt | 5089 |
| Radishes, oriental, dried | 4988 |
| Radishes, oriental, raw | 5149 |
| Radishes, raw | 5863 |
| Radishes, white icicle, raw | 66601 |
1Nutrivore Score may be higher since 10 to 25% of data is missing.
Impressed by this RAD radish nutrition? Maybe your friends will be too!
Health Benefits of Radish Nutrients
Let's take a closer look at all of the best and excellent source of nutrients found in a 1-cup serving of radishes and see how they benefit our health.
Radishes Provide 585.8 mg of Glucosinolates
Radishes are a phenomenal source of glucosinolates, providing an astounding 585.8 mg of glucosinolates per 1-cup serving!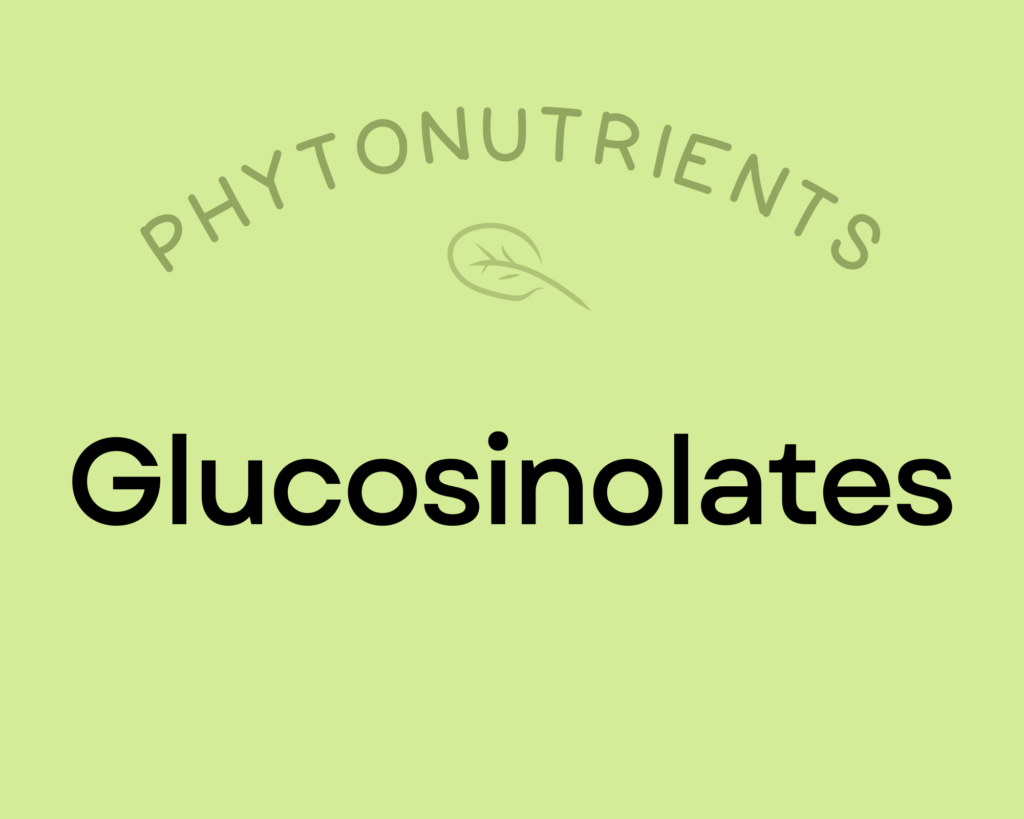 Glucosinolates are well-studied sulfur-containing compounds which break down into bioactive isothiocyanates and indoles when vegetables are damaged (via chewing, cutting, or other processing).
Isothiocyanates (like sulforaphane) are absolute rock stars as far as human health is concerned! Research spanning human epidemiology, animal models, and in vitro experiments show that dietary isothiocyanates are inversely associated with bladder cancer, lung cancer, colon cancer, breast cancer, and pancreatic cancer; some evidence also suggests they may be able to improve ventricular function following heart attacks.
Indoles also have powerful cancer prevention benefits through multiple mechanisms that include modulation of phases I and II detoxification enzymes, regulation of cell cycle arrest, control of cell growth, induction of apoptosis, antioxidant activity, anti-angiogenic effects, and epigenetic regulation. Indole-3-carbinol breaks down into 3,3′-Diindolylmethane (DIM), which is known for its anti-inflammatory, immune system modulating, cancer prevention and estrogen metabolism benefits.
Learn more about glucosinolates here.
Want to know the top 500 most nutrient-dense foods?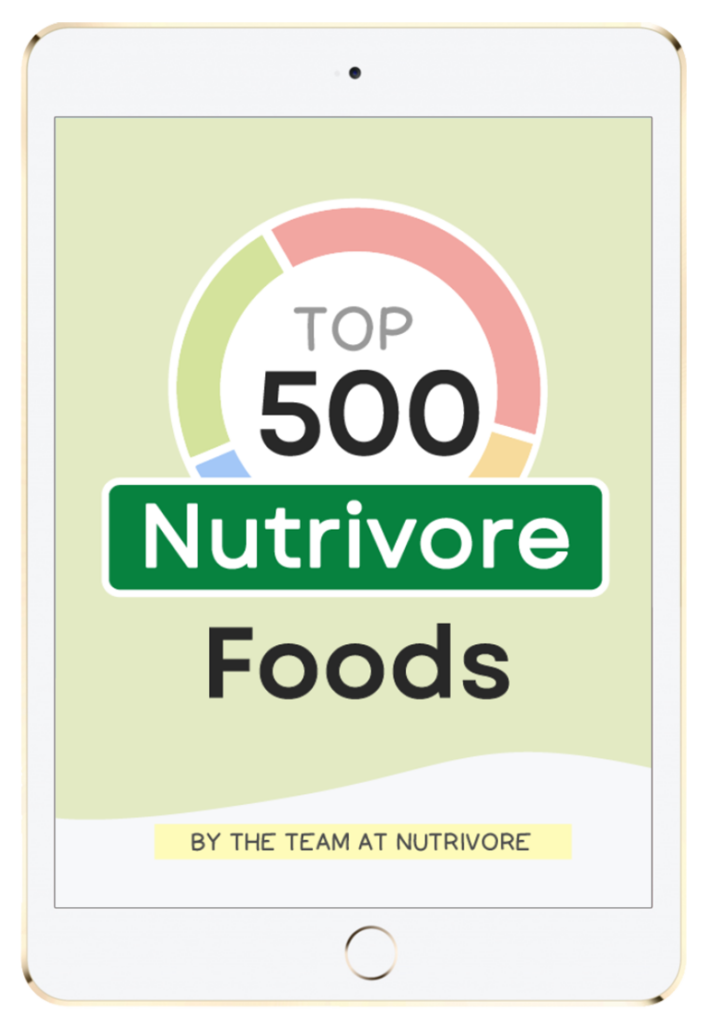 Top 500 Nutrivore Foods
The Top 500 Nutrivore Foods e-book is an amazing reference deck of the top 500 most nutrient-dense foods according to their Nutrivore Score. Think of it as the go-to resource for a super-nerd, to learn more and better understand which foods stand out, and why!
If you are looking for a quick-reference guide to help enhance your diet with nutrients, and dive into the details of your favorite foods, this book is your one-stop-shop!
Buy now for instant digital access.
How Much Radish Should We Eat per Day?
You know the old aphorism, a Brassica vegetable a day keeps the doctor away! Wait, that's not how it goes? It should be!
Every serving of fresh, whole vegetables or fruit we eat daily reduces the risk of all-cause mortality by 5% to 8%, with the greatest risk reduction seen when we consume eight or more servings per day. In fact, consuming 800 grams of vegetables and fruits daily reduces all-cause mortality by 31% compared to eating less than 40 grams daily. A 2017 meta-analysis showed that 2.24 million deaths from cardiovascular disease, 660,000 deaths from cancer, and 7.8 million deaths from all causes could be avoided globally each year if everyone consumed 800 grams of veggies and fruits every day.
Eating vegetables and fruit in abundance lowers risk of cancer, cardiovascular disease, type 2 diabetes, obesity, chronic kidney disease, osteoporosis and bone fragility fractures (including hip fracture), cognitive impairment and dementia (including Alzheimer's disease), neurodegenerative diseases, asthma, allergies, chronic obstructive pulmonary disease, age-related macular degeneration, cataracts, glaucoma, depression, ulcerative colitis and Crohn's disease, rheumatoid arthritis, inflammatory polyarthritis, non-alcoholic fatty liver disease, acne, seborrheic dermatitis, and lowers markers of inflammation. Learn more in Importance of Vegetables and Fruit.
Covering half of your plate with a variety of vegetables (and three quarters of your plate if your starchy food is a root vegetable or winter squash) at each meal is a simple way to easily achieve the goal of 800 grams daily (about 5 to 8 servings depending on the vegetable).
Studies show that, for every 100 grams of cruciferous veggies (like radishes), we eat daily, all-cause mortality decreases by 24%! It's always best to mix up the veggies you eat day to day (aiming for a wide variety of different vegetables and fruits throughout the week), and radishes definitely have a place at the table.
Easily track your servings of Nutrivore Foundational Foods!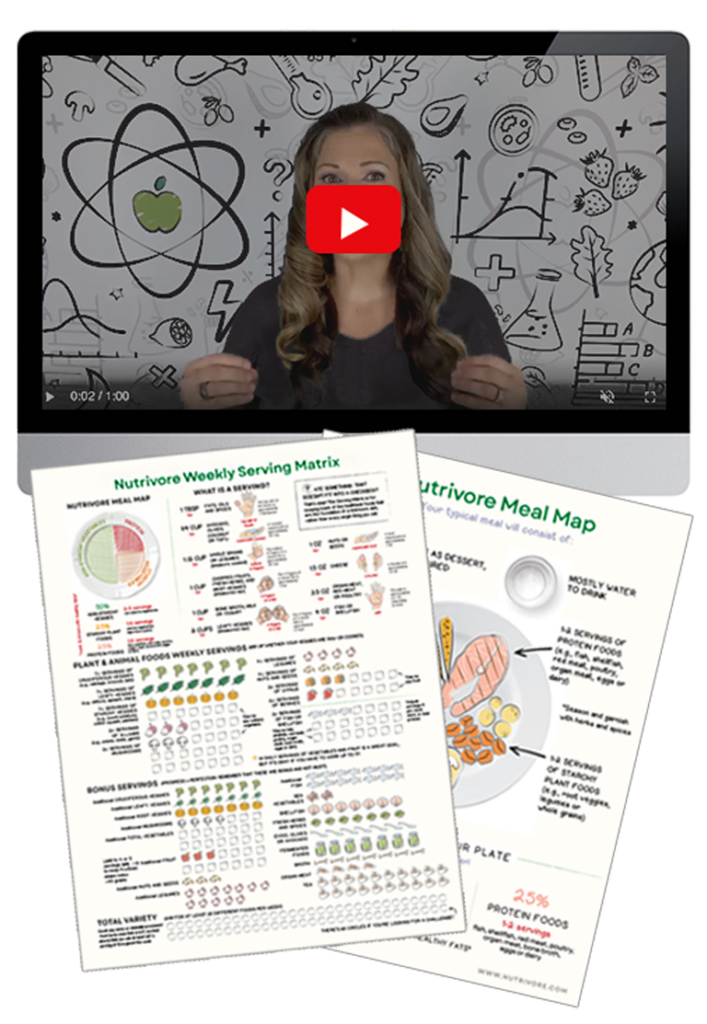 The Nutrivore Weekly Serving Matrix
The Nutrivore Weekly Serving Matrix digital resource is an easy-to-use and flexible weekly checklist designed to help you maximize nutrient-density and meet serving suggestions of Nutrivore foundational foods, all without having to weigh or measure your foods!
Includes a 1-hour video tutorial and downloadable interactive guides.
Buy now for instant digital access.
Citations
Expand to see all scientific references for this article.

Clements RS Jr, Darnell B. Myo-inositol content of common foods: development of a high-myo-inositol diet. Am J Clin Nutr. 1980 Sep;33(9):1954-67. doi: 10.1093/ajcn/33.9.1954. PMID: 7416064.

Fineli Finnish Food Composition Database: Radish

Possenti, M, Baima S, Raffo A, Durazzo A, Giusti AM, Natella F. Glucosinolates in Food. Glucosinolates. 2016. 1-46. doi: 10.1007/978-3-319-26479-0_4-1.

USDA Food Central Database: Radishes, raw

Watanabe T, Kioka M, Fukushima A, Morimoto M, Sawamura H. Biotin content table of select foods and biotin intake in Japanese. Int J Anal Bio-Sci. 2014. Vol 2(4):109-125.

Zujko ME, Witkowska AM. Antioxidant Potential and Polyphenol Content of Selected Food. International Journal of Food Properties. 2011 14(2):300-308. doi: 0.1080/10942910903176584