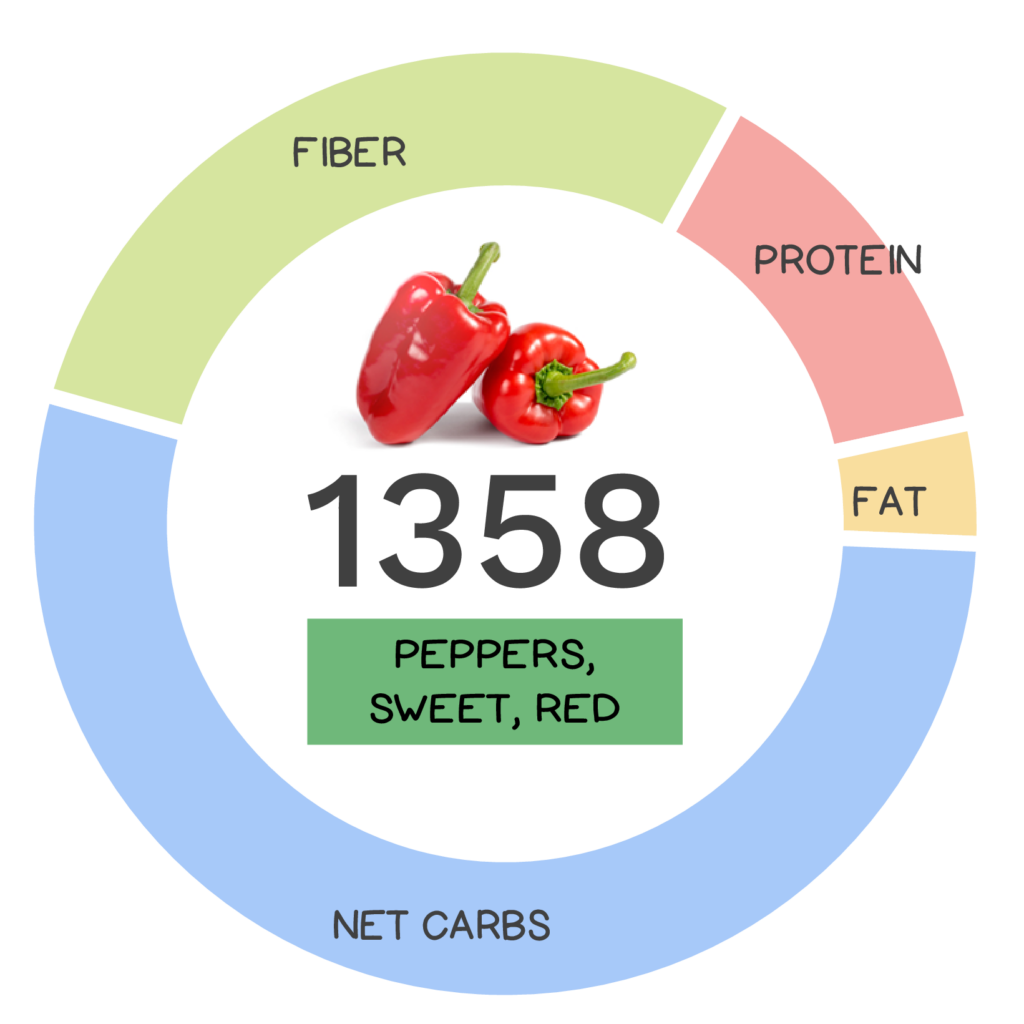 "I'm a pepper, he's a pepper, she's a pepper, wouldn't you like to be a pepper too?" While this jingle may not refer to the culinary vegetable, it should – Americans consume an average of 11 pounds of fresh peppers each year, ranking them as one of this country's favorite "veggies"!
now available for pre-order!
Ditch diet culture and get the most nutrients from your food with the no-guilt, personalized, and exciting new science that will change how you think about food and nourishment, from New York Times bestselling author Dr. Sarah Ballantyne.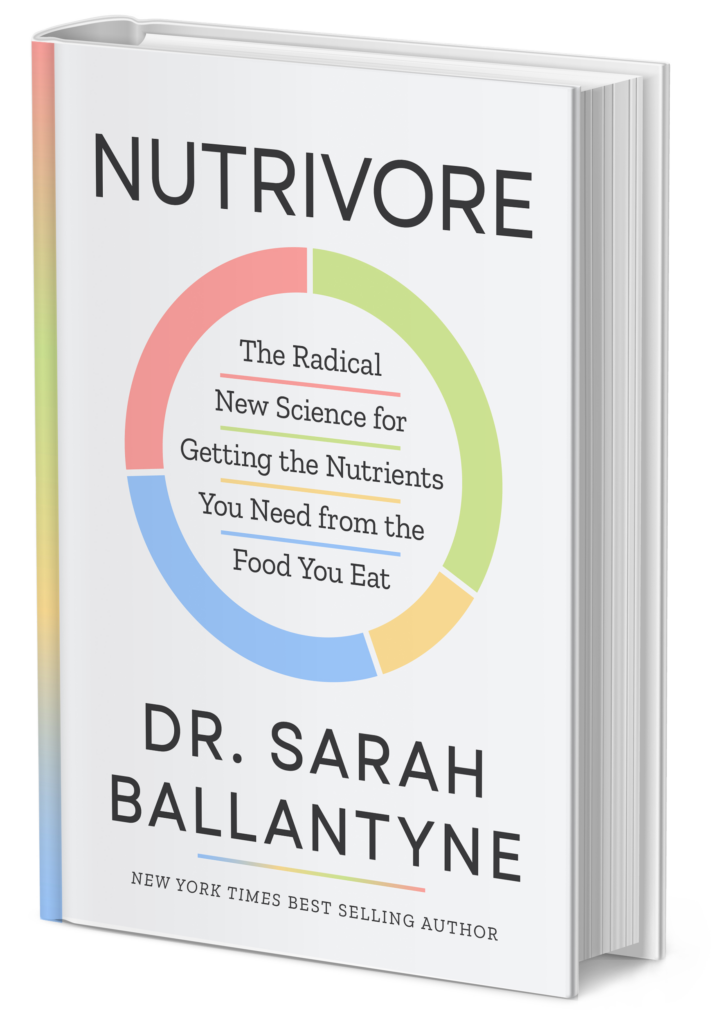 Peppers (also known as bell peppers, capsicum or sweet peppers) are technically fruits (berries), although they are perceived, prepared and partaken as vegetables in the culinary world, similar to tomatoes, cucumbers and zucchini. Peppers are produced by the Capsicum annuum plant in the Solanaceae family. Members of this family are known as 'nightshades,' and there are more than 2,000 species, the vast majority of which are inedible and many of which are highly poisonous (like deadly nightshade, aka belladonna, and jimsom weed). Other edible members in the family include potatoes (but not sweet potatoes), tomatoes, eggplants, and tobacco. These plants have certain characteristics in common, like the shape of the flower and how the seeds are arranged within the fruit. Members of this family don't always get the best reputation because of their association with inflammatory compounds, but for those who can tolerate them, they are definitely a worthy dietary addition!
Peppers are native to Mexico, Central America and the northern part of South America, though the modern mild bell pepper cultivar wasn't developed until the 1920s in Hungary. The bell pepper is the only member of its genus (Capsicum) that doesn't produce the chemical capsaicin, which gives "hot" pepper its characteristic burning sensation (the absence of capsaicin is due to a recessive form of a gene). This "veggie" comes in a rainbow of colors including red, orange, yellow, green, purple, lavender, brown and white – making it the "bell" of the ball! Interestingly, green and red peppers are actually the same pepper – the red peppers have just been allowed to mature on the plant longer, which changes their color, making them sweeter and lets them develop a higher Vitamin C content. In fact, red peppers have twice the vitamin C content and 8 times the vitamin A content of a green pepper! Yet another reason to eat the rainbow.
Nutrivore Score for Sweet Red Pepper – 1358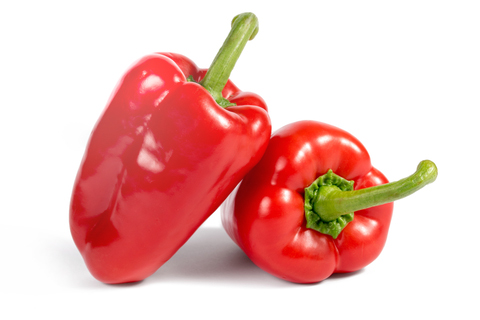 Sweet red peppers have a Nutrivore Score of 1358, making them a super nutrient-dense food! Plus, they are a low-carb and low-calorie-density food; the calorie count of sweet red pepper is just 24 calories per cup!
Per serving, sweet red pepper is a best source (>50% daily value) of vitamin C; an excellent source (20-50% daily value) of carotenoids and polyphenols; and a good source (10-20% daily value) of vitamin A, vitamin B6 (pyridoxine), vitamin B9 (folate), and vitamin E.
Want to Know the Top 100 Nutrivore Score Foods?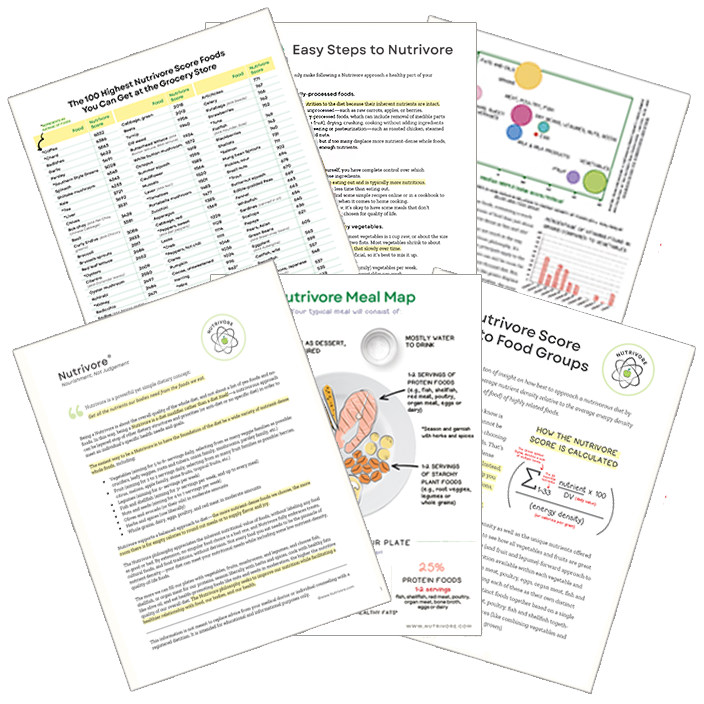 Get it Directly in Your Inbox!
The Nutrivore Newsletter is a weekly email that delivers bite-size fun facts, practical tips, recipes and resources. Sign up now and get 5 free guides directly to your inbox:
Easy Steps to Nutrivore 4-page guide
Nutrivore Foundational Foods 6-page guide
Nutrivore Score Guide to Food Groups 3-page guide
Nutrivore Meal Map
Top 100 Nutrivore Score Foods
Sweet Red Pepper Nutrition Facts
One serving of sweet red pepper is standardized to 1 cup, sliced or about 92 grams (3.2 ounces), which is roughly equivalent to 1 medium sweet red pepper. When you cook sweet red pepper, the volume remains relatively consistent: 1 cup raw sweet red pepper is roughly equivalent to 1 cup cup boiled sweet red pepper.
Sweet Red Pepper Nutrition Facts Per Serving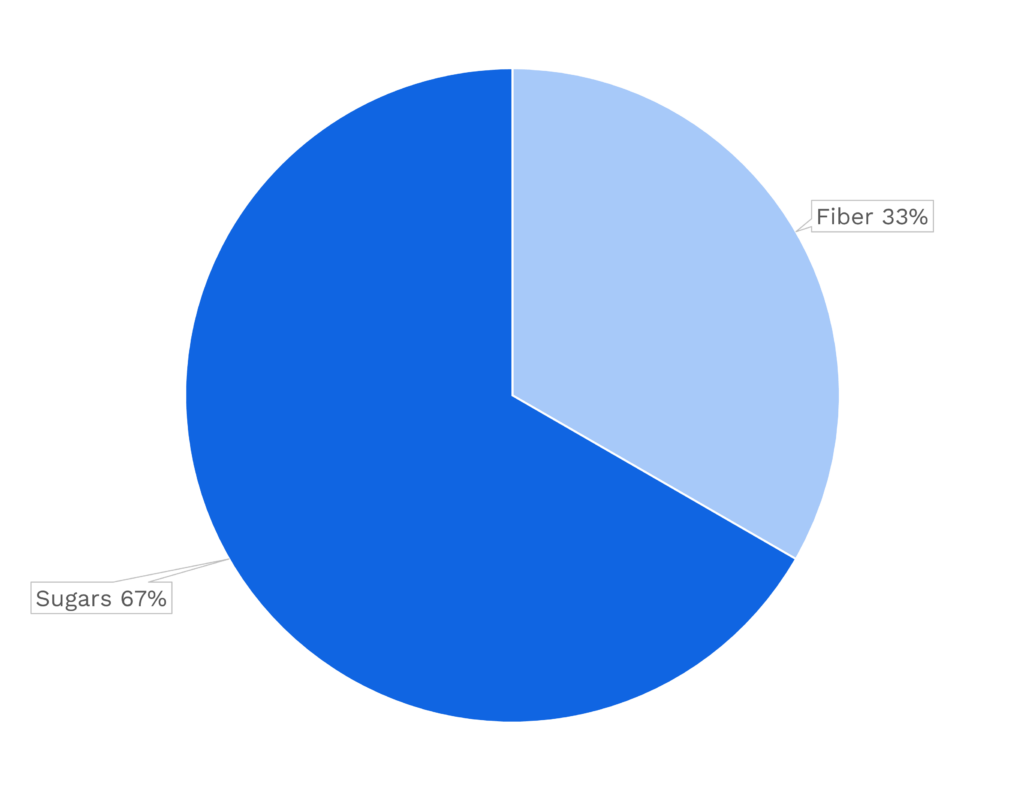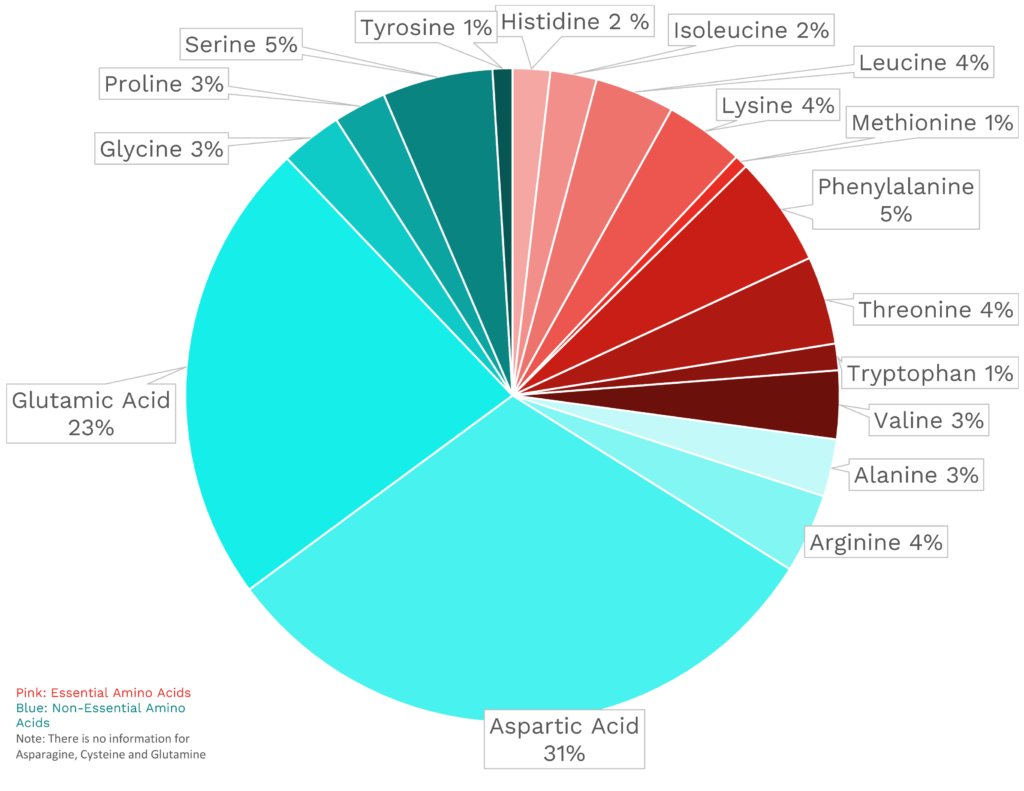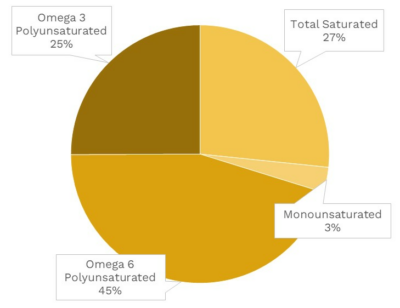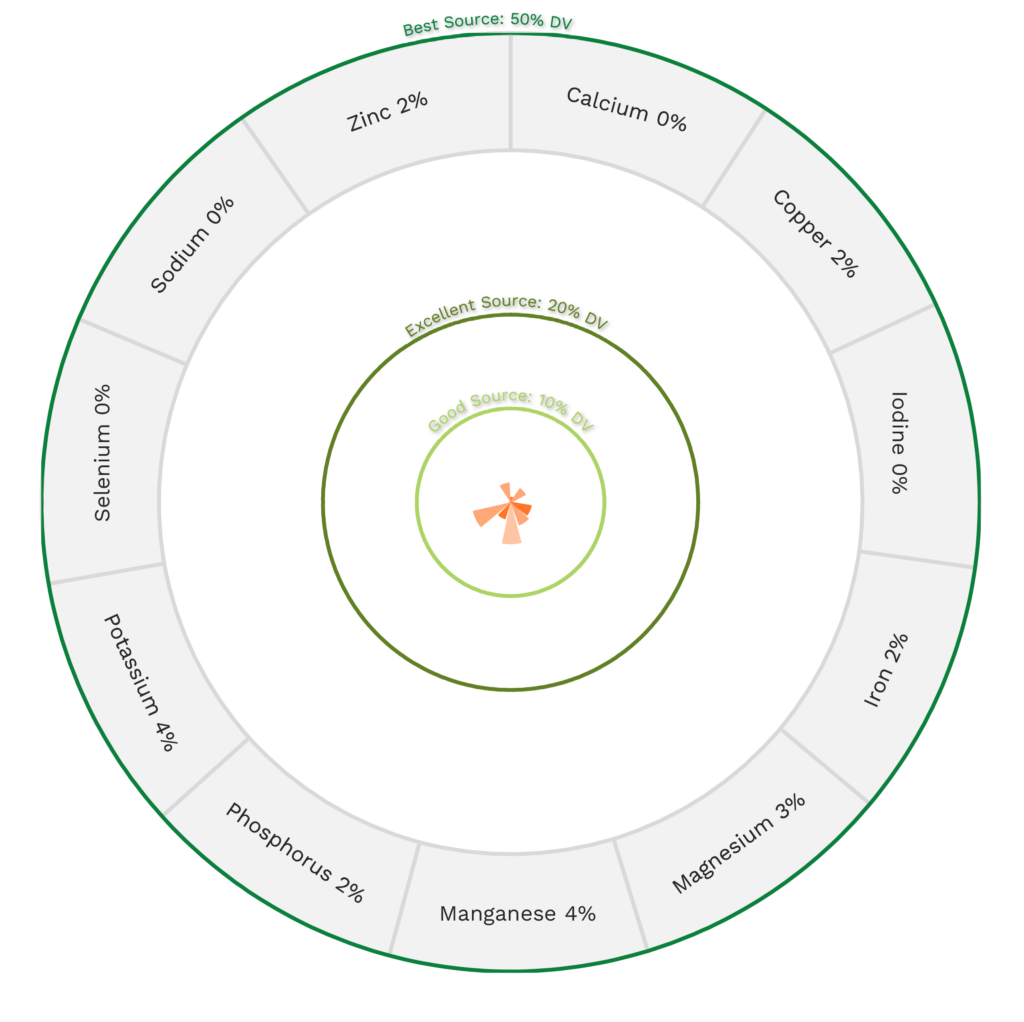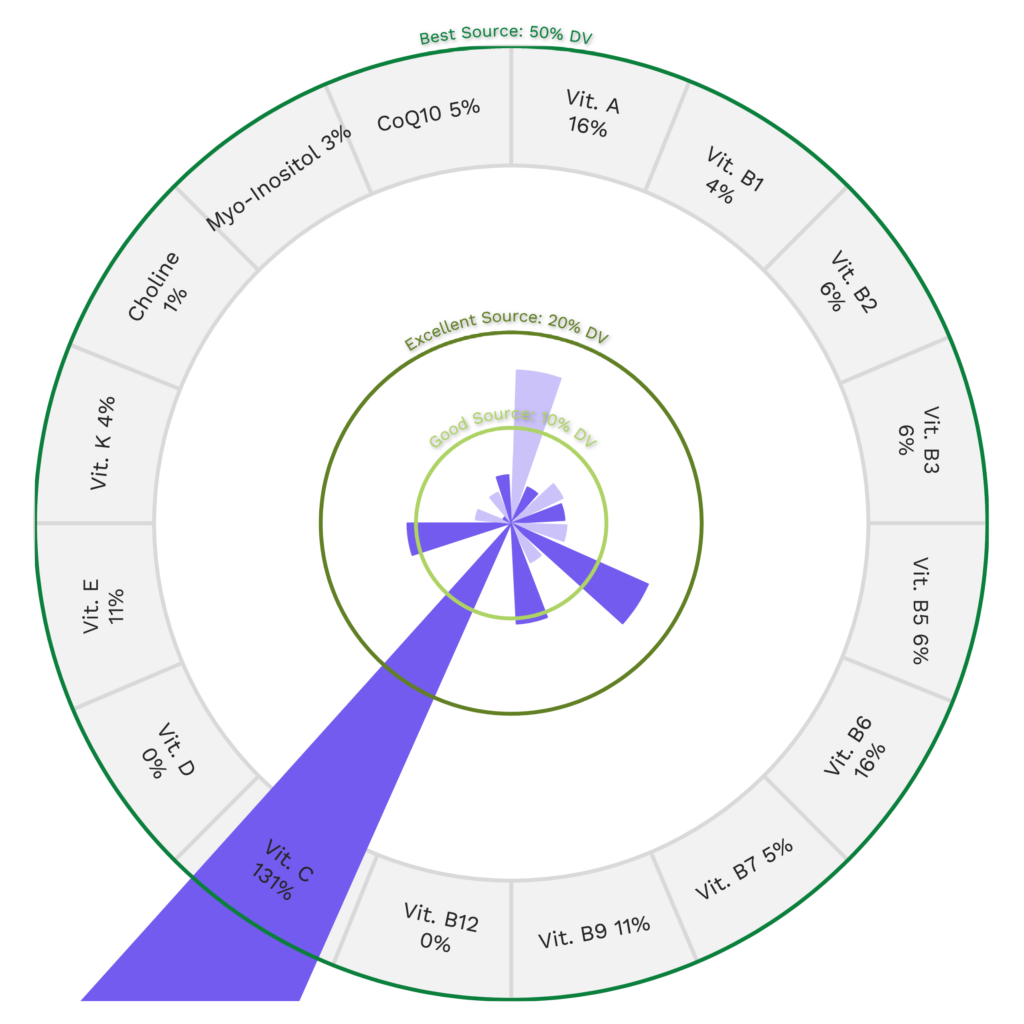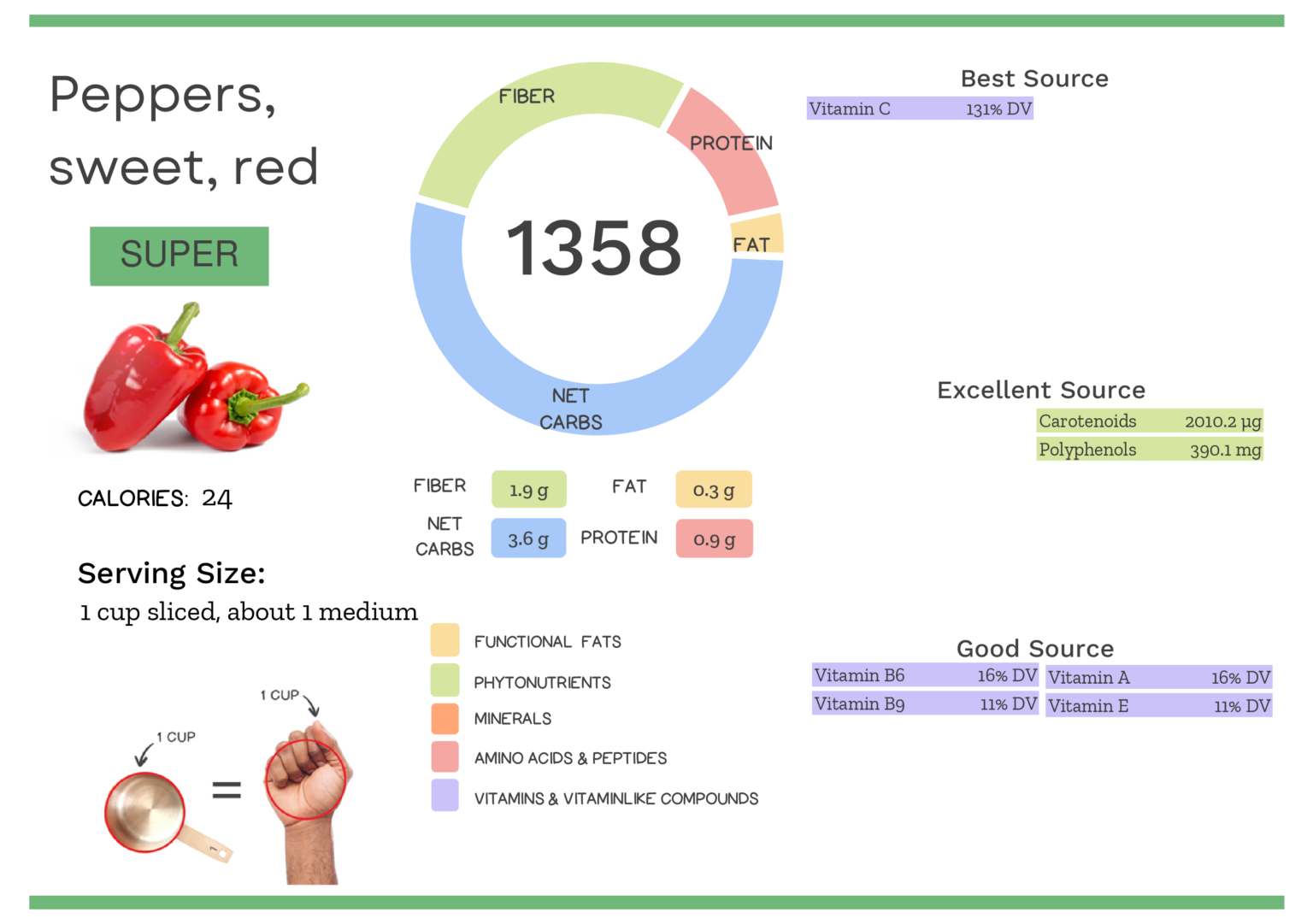 Sweet Red Pepper Nutrition Varies With Cooking and Processing
The Nutrivore Score of sweet red pepper varies depending on processing and the method of preparation. For instance, frozen and canned red peppers are conveniently available year-round from the grocery store.
| | NUTRIVORE SCORE |
| --- | --- |
| Sweet red pepper, canned, solids and liquids | 1098 |
| Sweet red pepper, cooked, boiled, drained, with salt | 1431 |
| Sweet red pepper, cooked, boiled, drained, without salt | 1346 |
| Sweet red pepper, freeze-dried | 1630 |
| Sweet red pepper, frozen, chopped, boiled, drained, with salt | 1053 |
| Sweet red pepper, frozen, chopped, boiled, drained, without salt | 1053 |
| Sweet red pepper, frozen, chopped, unprepared | 1098 |
| Sweet red pepper, raw | 1358 |
Sweet Pepper Nutrition Varies With Variety
Sweet peppers come in a rainbow of colors including red, orange, yellow, green, purple, lavender, brown and white – each with its own flavor and nutrient profile, which means their Nutrivore Scores vary as well. Try incorporating different types into your diet to maximize all the benefits bell peppers have to offer!
2Nutrivore Score is likely higher since 25 to 50% of data is missing.
Did you find the nutrition in bell peppers "sweet"? Maybe your friends will too!
Health Benefits of Sweet Red Pepper Nutrients
Let's take a closer look at all of the best and excellent source of nutrients found in a 1-cup serving of sweet red pepper and see how they benefit our health.
Sweet Red Pepper Provides 131% DV Vitamin C
Sweet red pepper is a fantastic source of vitamin C, providing 131% of the daily value per 1-cup serving!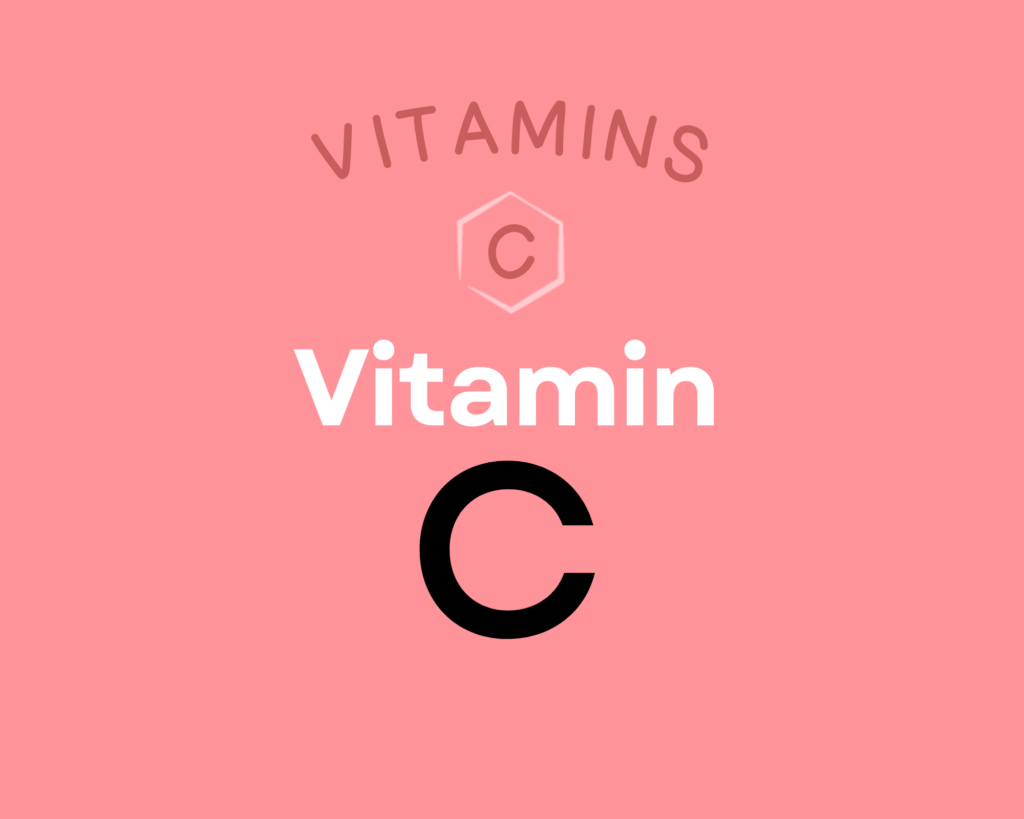 Vitamin C is a water-soluble vitamin that has powerful antioxidant properties (meaning it can help combat oxidative damage from free radicals and reactive oxygen species) and that serves as an enzyme cofactor (meaning it's needed for enzymes to do their job, for example vitamin C is necessary for collagen synthesis, which is essential for bones, joints, teeth, blood vessels, skin and eyes) and playing important roles in immune system and skin health. Higher intakes of vitamin C are linked to reduced risk of heart disease, some forms of cancer, type 2 diabetes, cataracts, age-related macular degeneration, and gout. Vitamin C can also help regulate the stress response and reduce anxiety, and there's preliminary evidence that it may also help prevent Alzheimer's disease. Learn more about vitamin C here.
Sweet Red Pepper Provides 390.1 mg of Polyphenols
Sweet red pepper is an excellent source of polyphenols, providing 390.1 mg of polyphenols per 1-cup serving!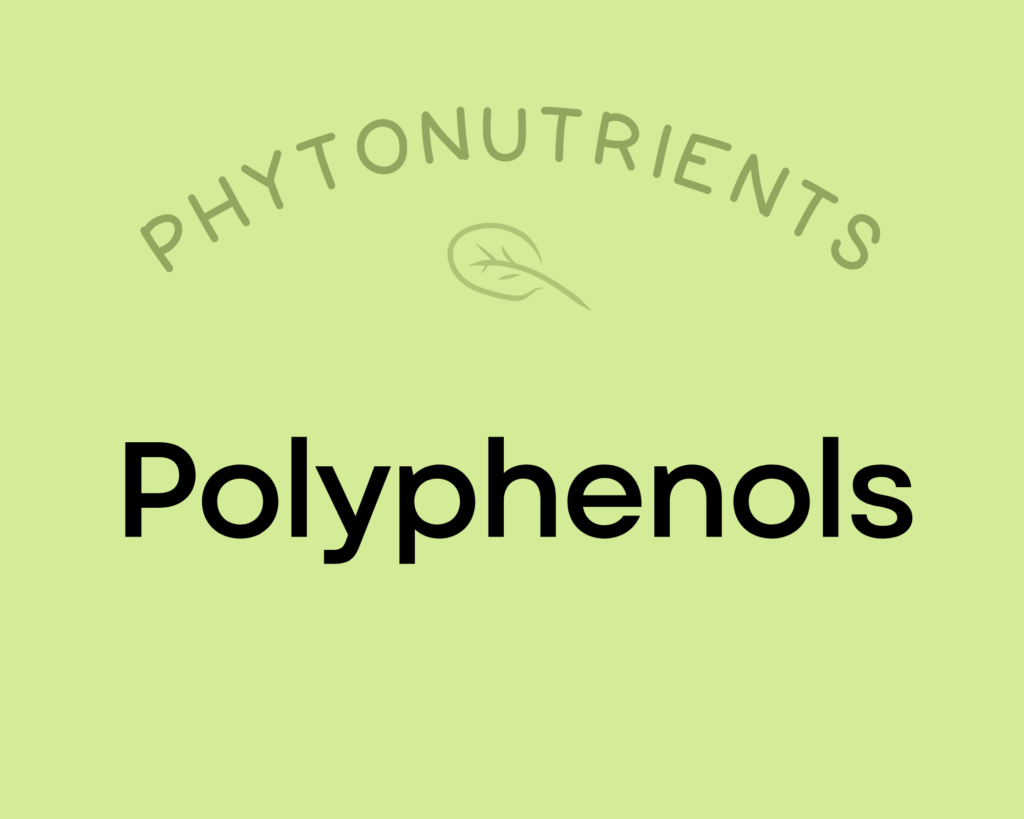 Polyphenols play a huge role in protecting against cancer, heart disease, diabetes, asthma, osteoporosis, neurodegenerative diseases, and other conditions associated with oxidative stress. In fact, a major reason foods like red wine and olive oil (as well as diets rich in both, such as the Mediterranean diet) show up as so beneficial may be due to their high polyphenol content! Along with chronic diseases, supplementing with polyphenols has been shown to protect against infections and reduce the signs of aging. Polyphenols exert their most potent effects by acting as antioxidants—preventing cellular damage by neutralizing hazardous oxygen radicals and improving cellular health as a result (which, in turn, benefits virtually every system in the body). As a result of their antioxidant properties, polyphenols also boost the immune system and protect against both chronic and acute diseases. In addition, polyphenols can help regulate enzyme function, stimulate cell receptors, modulate the functions of inflammatory cells (including T and B lymphocytes, macrophages, platelets, and natural killer cells), alter adhesion molecule expression, affect nerve cells and cardiac muscle cells, and exert antiviral effects. Learn more about polyphenols here.
Sweet Red Pepper Provides 2010.2 μg of Carotenoids
Sweet red pepper is an excellent source of carotenoids, providing 2010.2 μg of carotenoids per 1-cup serving!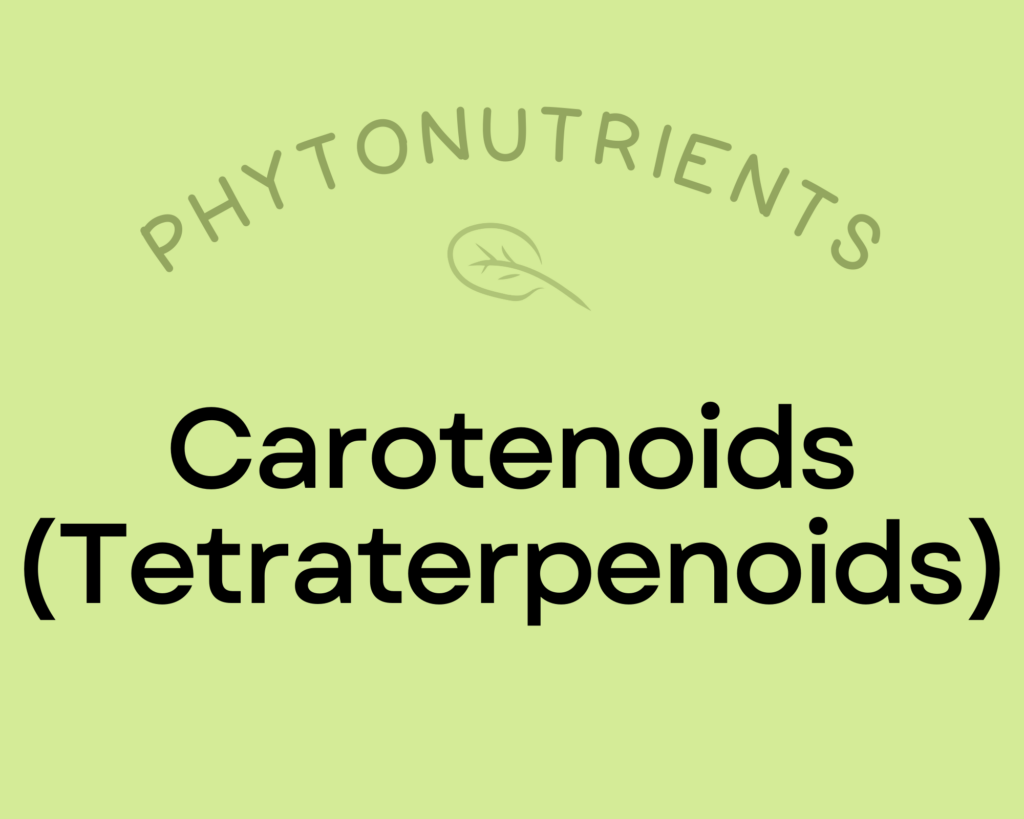 Carotenoids are a diverse group of phytonutrients that are responsible for giving fruits and vegetables vibrant red, orange, and yellow pigmentation. They were one of the earliest phytonutrients ever investigated by scientists (with research dating back to the 1800s!). Across studies, eating foods high in carotenoids appears to reduce the risk of head and neck cancers, supports vision health (particularly age-related eye diseases), may protect against metabolic syndrome and diabetes, and can reduce inflammation. Carotenoids have strong antioxidant properties, and help facilitate communication between cells by promoting the synthesis of connexin proteins, which create gap junctions in cell membranes that allow small molecules to be exchanged (which is part of how cells "talk" to each other!). Consuming carotenoids with fat significantly increases their absorption. Learn more about carotenoids here.
Learn What Foods Are the Best Sources of Every Nutrient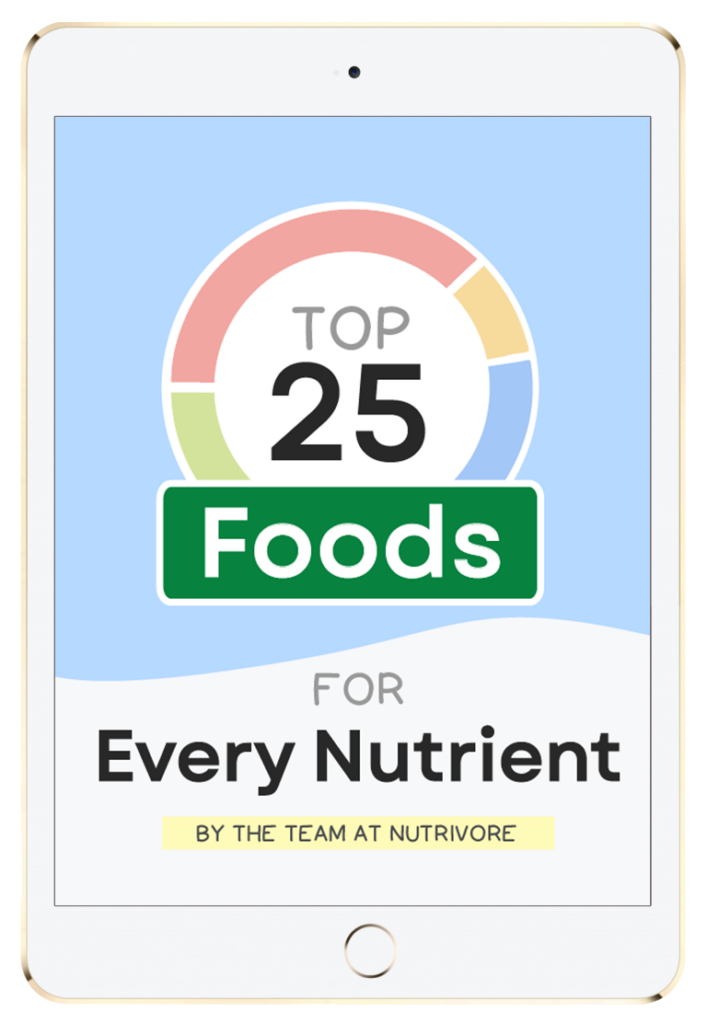 The Top 25 Foods for Every Nutrient
The Top 25 Foods for Every Nutrient e-book is a well-organized, easy-to-use guide to help you choose foods that fit your needs of 42 important nutrients while creating a balanced nutrient-dense diet.
Get two "Top 25" food lists for each nutrient, plus you'll find RDA charts for everyone, informative visuals, fun facts, serving sizes and the 43 foods that are Nutrient Super Stars!
Buy now for instant digital access.
How Much Sweet Red Pepper Should We Eat Per Day?
Members of the nightshade family are packed with vitamins, minerals, fiber, and phytonutrients but may be problematic to some due to the presence of inflammatory compounds.
Every serving of fresh, whole vegetables or fruit we eat daily reduces the risk of all-cause mortality by 5% to 8%, with the greatest risk reduction seen when we consume eight or more servings per day. In fact, consuming 800 grams of vegetables and fruits daily reduces all-cause mortality by 31% compared to eating less than 40 grams daily. A 2017 meta-analysis showed that 2.24 million deaths from cardiovascular disease, 660,000 deaths from cancer, and 7.8 million deaths from all causes could be avoided globally each year if everyone consumed 800 grams of veggies and fruits every day.
Eating vegetables and fruit in abundance lowers risk of cancer, cardiovascular disease, type 2 diabetes, obesity, chronic kidney disease, osteoporosis and bone fragility fractures (including hip fracture), cognitive impairment and dementia (including Alzheimer's disease), neurodegenerative diseases, asthma, allergies, chronic obstructive pulmonary disease, age-related macular degeneration, cataracts, glaucoma, depression, ulcerative colitis and Crohn's disease, rheumatoid arthritis, inflammatory polyarthritis, non-alcoholic fatty liver disease, acne, seborrheic dermatitis, and lowers markers of inflammation. Learn more in Importance of Vegetables and Fruit.
Covering half of your plate with a variety of vegetables (and three quarters of your plate if your starchy food is a root vegetable or winter squash) at each meal is a simple way to easily achieve the goal of 800 grams daily (about 5 to 8 servings depending on the vegetable).
Just remember, it's always best to mix up the foods you eat day to day (aiming for a wide variety of different vegetables and fruits throughout the week), and sweet peppers definitely have a place at the table.
Easily track your servings of Nutrivore Foundational Foods!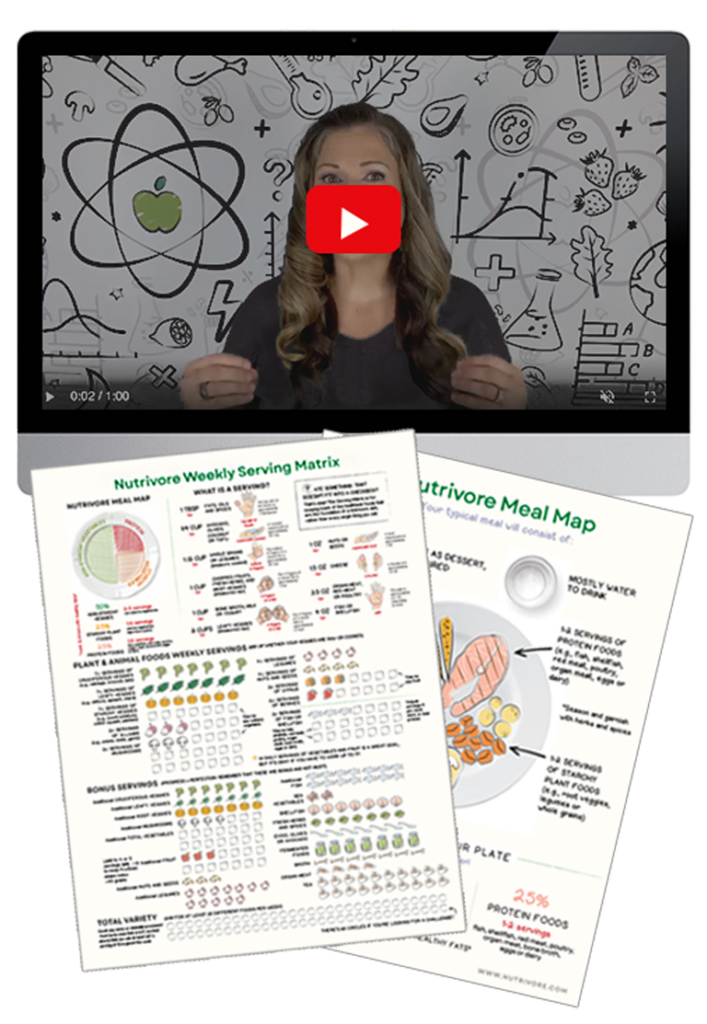 The Nutrivore Weekly Serving Matrix
The Nutrivore Weekly Serving Matrix digital resource is an easy-to-use and flexible weekly checklist designed to help you maximize nutrient-density and meet serving suggestions of Nutrivore foundational foods, all without having to weigh or measure your foods!
Includes a 1-hour video tutorial and downloadable interactive guides.
Buy now for instant digital access.
cITATIONS
Expand to see all scientific references for this article.