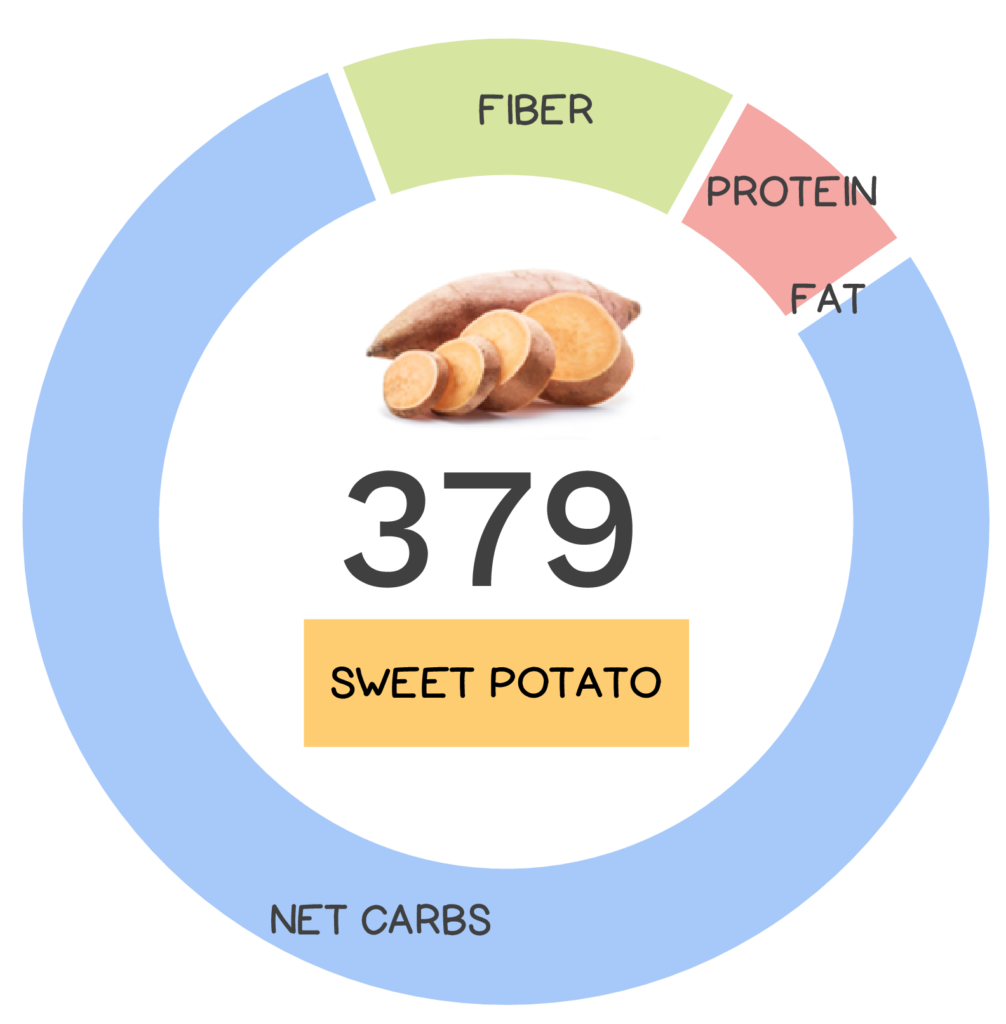 Sweet potatoes are well-loved for both their delicious taste and nutrient density! Despite their name, these root veggies are not actually potatoes—nor are they yams, even though the terms often get used interchangeably. Yams belong to an entirely different plant family, and are distinguished by their rough, bark-like skin.
Root vegetables are any underground plant part consumed as vegetables, though not all of them are "true" roots. (Botanically, bulbs like onions, corms like taro, rhizomes like ginger, and tubers like potatoes aren't actually roots, but in the culinary world, they all count!) Root vegetables originate from all around the globe and were one of the earliest foods consumed by humans: Archaeologists discovered evidence of cooked starchy roots dating back 170,000 years in a cave in South Africa! Even today, in many parts of the world, root vegetables are more important as a staple food than grains, especially in West and Central Africa and Oceana. In fact, sweet potatoes are ranked in the top ten most important food crops in the world! This is due not only to their nutrient content, but because of their versatility and their ability to store without spoiling for long periods after being harvested.
Domesticated sweet potatoes existed at least 5,000 years ago in Central America. These large, starchy sweet tubers belong to the Convolvulaceae family (morning glory), which consists of more than 1000 species and 50 genera of plants! In fact, many of the plants in this family are poisonous (don't worry, we only eat the edible kinds). Yep, out of all those varieties, the one that you'll see in the grocery store most is called Ipomoea batatas and is native to the tropics in South and Central America. There are over 400 different varieties of sweet potato grown around the world, ranging in color from bright orange, to white, yellow and deep purple. It's no wonder this versatile root veggie is a favorite starchy staple!
Everything You Need to Know about Root Veggies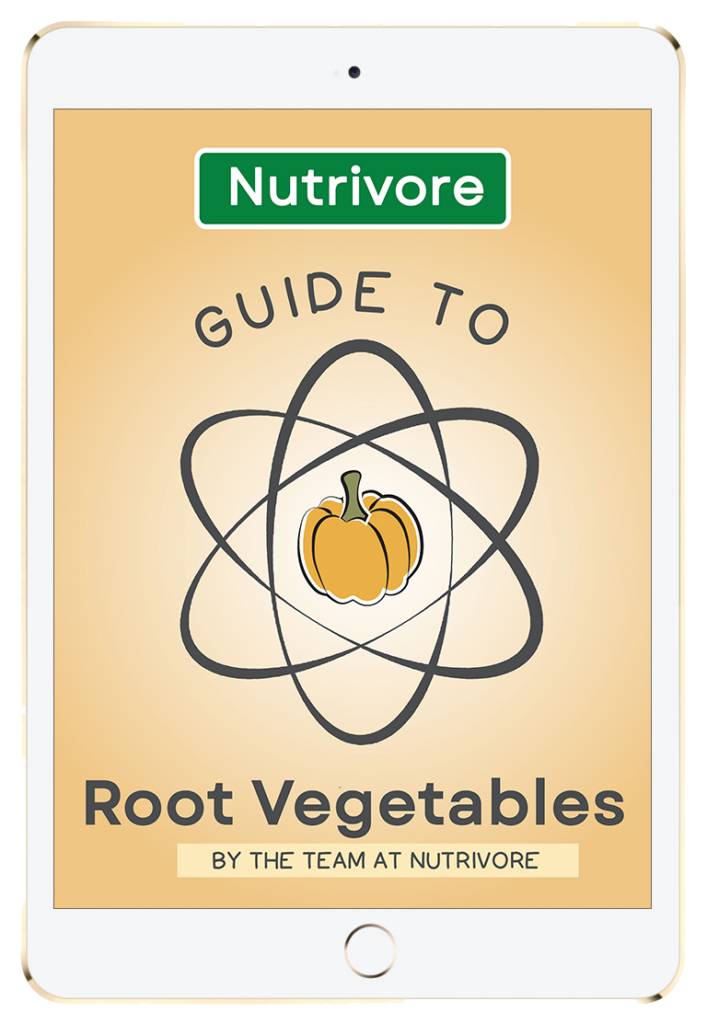 Nutrivore Guide to Root Vegetables
The Nutrivore Guide to Root Vegetables is a practical-focused e-book that explains everything you need to know about root veggies so you can reap all the benefits of this foundational food family!
Plus, you'll 12 tasty recipes featuring root vegetables to help you incorporate more of these awesome veggies into your weekly meal plans!
Nutrivore Score for Sweet Potato – 379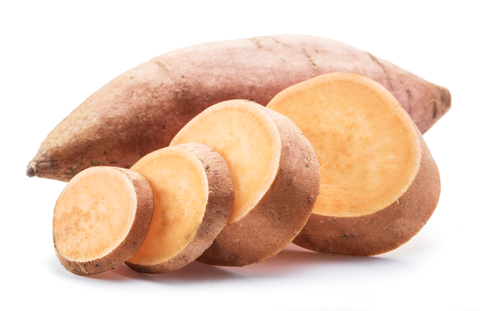 Sweet potato has a Nutrivore Score of 379, making it a medium nutrient-dense food! Plus, they are a low-fat food: sweet potatoes have 0.1 grams total fat per 1-cup serving.
Per serving, sweet potato is a best source (>50% daily value) of carotenoids and vitamin A; an excellent source (20-50% daily value) of copper and vitamin B5 (pantothenic acid); and a good source (10-20% daily value) of dietary fiber, manganese, polyphenols, potassium, vitamin B6 (pyridoxine) and vitamin B7 (biotin).
Want to Know the Top 100 Nutrivore Score Foods?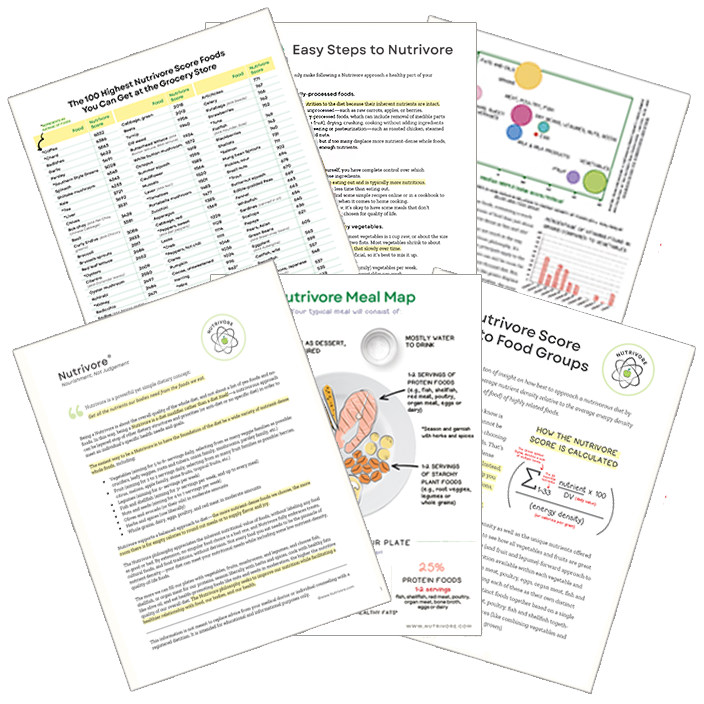 Get it Directly in Your Inbox!
The Nutrivore Newsletter is a weekly email that delivers bite-size fun facts, practical tips, recipes and resources. Sign up now and get 5 free guides directly to your inbox:
Easy Steps to Nutrivore 4-page guide
Nutrivore Foundational Foods 6-page guide
Nutrivore Score Guide to Food Groups 3-page guide
Nutrivore Meal Map
Top 100 Nutrivore Score Foods
Sweet Potato Nutrition Facts
One serving of sweet potato is standardized to 1 cup, cubed or about 133 grams (4.7 ounces). A typical medium sweet potato (5 inches long) weighs approximately 130 grams which means: one medium sweet potato (5 inches long) is roughly equivalent to 1 serving of sweet potato. When you cook sweet potato, it loses some volume: one cup raw sweet potato is equivalent to just a bit less than 3/4 cups cooked sweet potato.
Sweet Potato Nutrition Facts Per Serving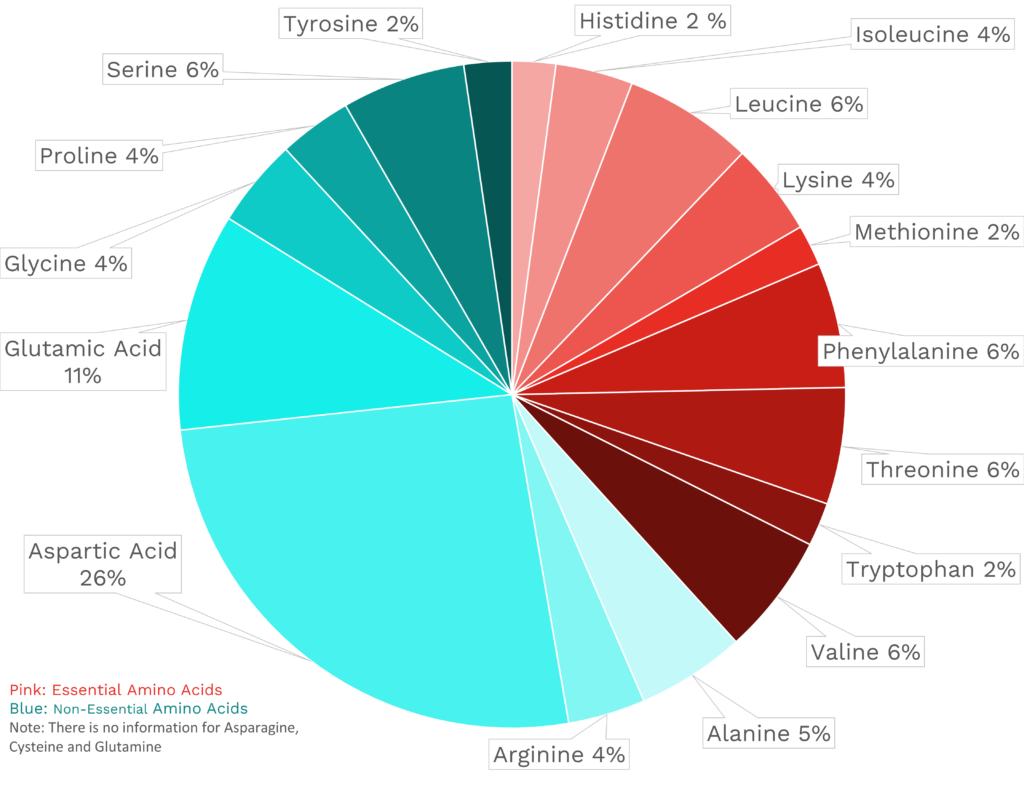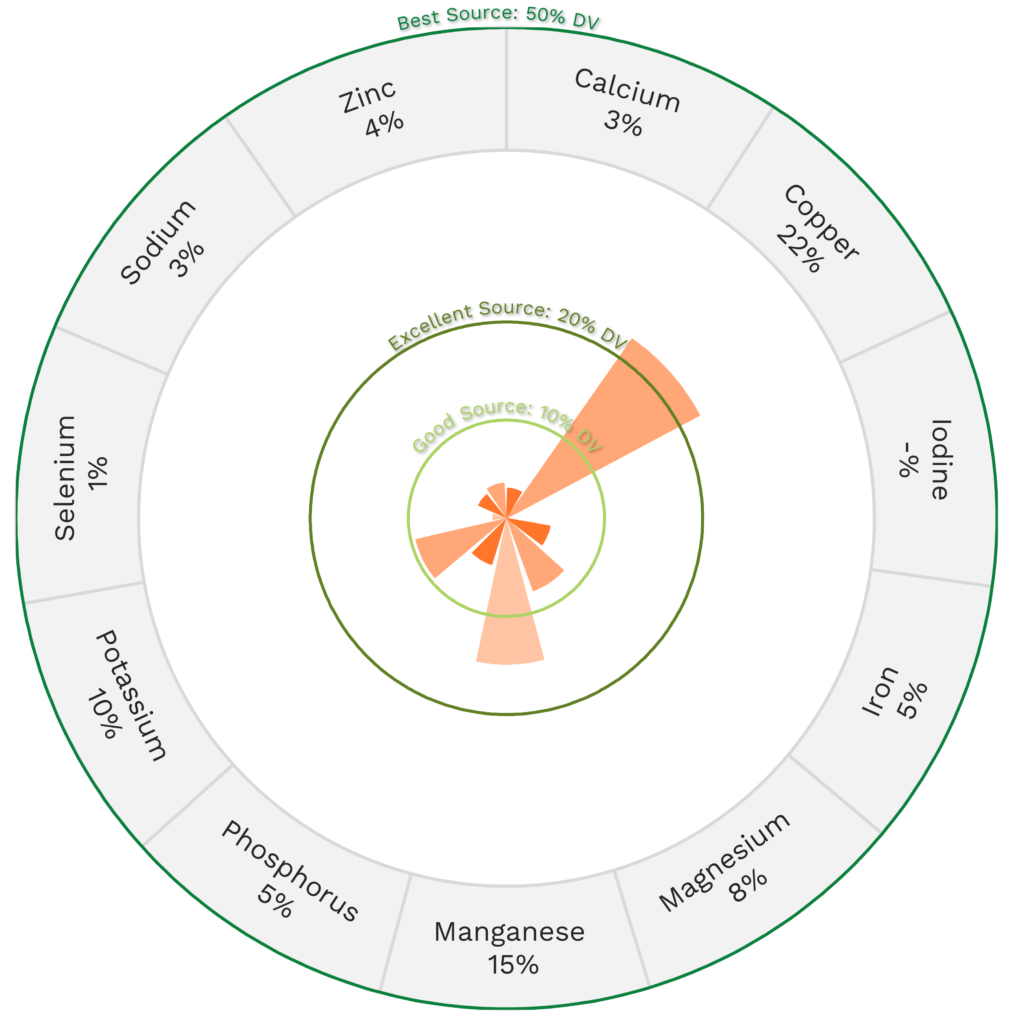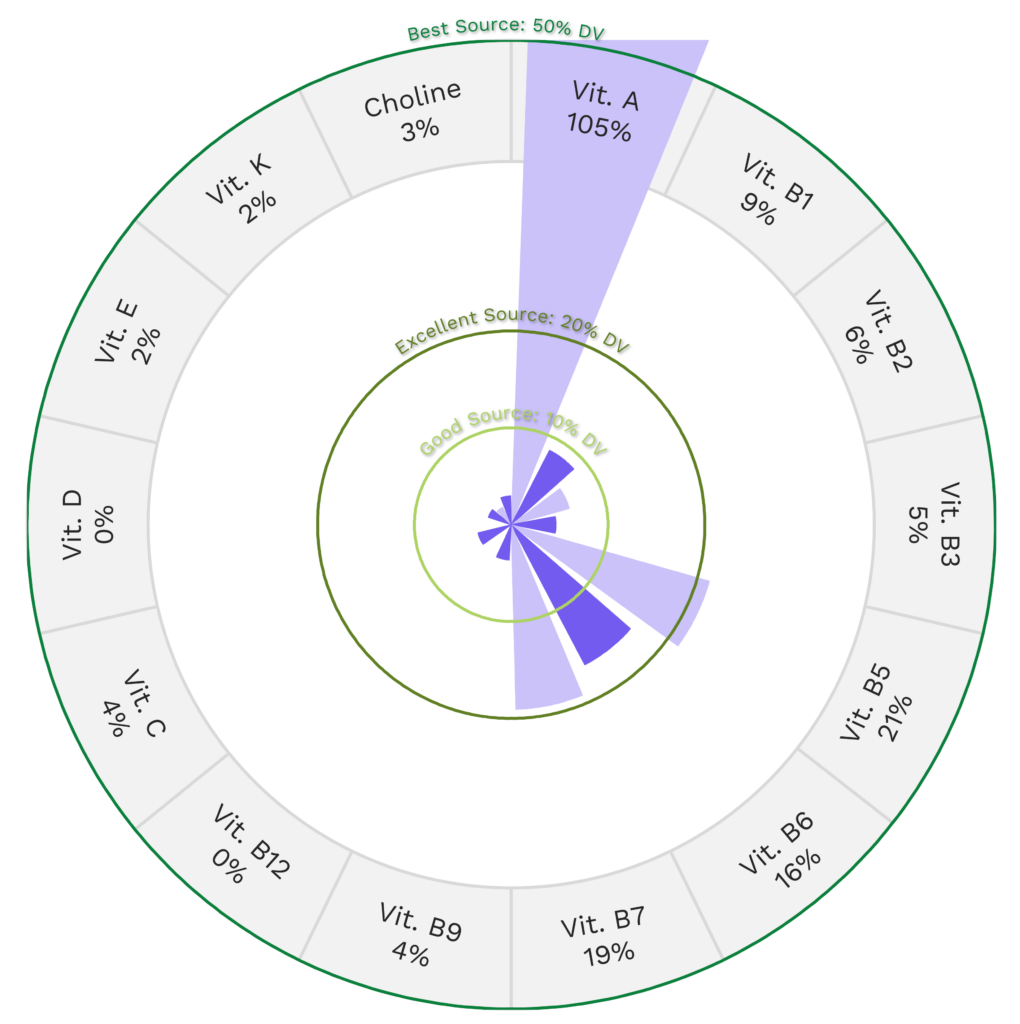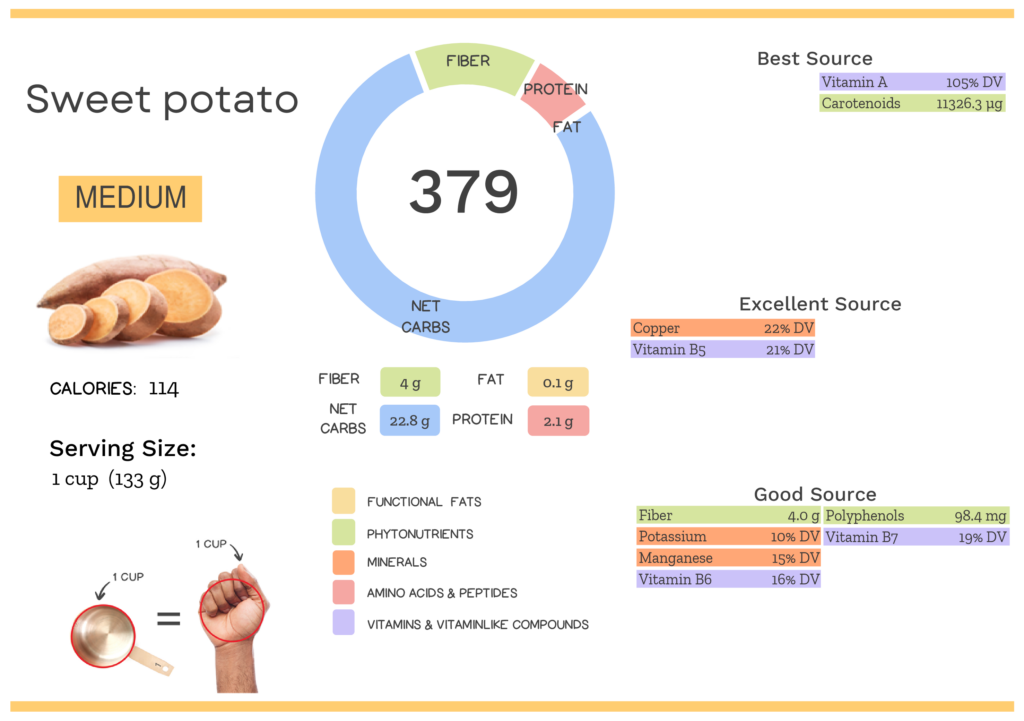 Sweet Potato Nutrition Varies With Cooking and Processing
The Nutrivore Score of sweet potato varies depending on processing, method of preparation, and the portion of the potato being consumed. For instance, cooking methods impact the taste and nutrient profile of sweet potato and the nutrition with and without skin will also vary. In addition to fresh sweet potatoes, frozen and canned sweet potatoes are conveniently available at the grocery store.
| | NUTRIVORE SCORE |
| --- | --- |
| Sweet potato, canned, mashed | 311 |
| Sweet potato, canned, vacuum pack | 307 |
| Sweet potato, cooked, baked in skin, flesh, with salt | 438 |
| Sweet potato, cooked, baked in skin, flesh, without salt | 497 |
| Sweet potato, cooked, boiled, without skin, with salt | 437 |
| Sweet potato, cooked, boiled, without skin, without salt | 437 |
| Sweet potato, frozen | 319 |
| Sweet potato, frozen, cooked, baked, with salt | 380 |
| Sweet potato, frozen, cooked, baked, without salt | 437 |
| Sweet potato, raw | 379 |
Sweet Potato Nutrition Varies With Plant Component
The Nutrivore Score of sweet potato varies depending on which part of the plant is being consumed. Most of us are familiar with the large, starchy sweet tubers but in actuality the entire sweet potato plant is edible (including the leaves, stems, and shoots!) Overall, different parts of the sweet potato plant vary in their nutrient profiles, which means we should be taking advantage of the whole plant. Not only will use of the whole plant help in maximizing the health potential of sweet potatoes, but this will also lead to a reduction in food waste and provide overall benefits to the environment! Sweet (pun intended)! Can we say win-win-win?
| | NUTRIVORE SCORE |
| --- | --- |
| Sweet potato, raw | 379 |
| Sweet potato leaves, raw | 1775 |
Does all this nutrition have you "rooting" for sweet potatoes? Maybe your friends will want to "dig" in too!
Health Benefits of Sweet Potato Nutrients
Let's take a closer look at all of the best and excellent source of nutrients found in a 1-cup serving of sweet potato and see how they benefit our health.
Sweet Potato Provides 11,326.3 μg of Carotenoids
Sweet potato is a best source of carotenoids, providing 11,326.3 μg of carotenoids per 1-cup serving!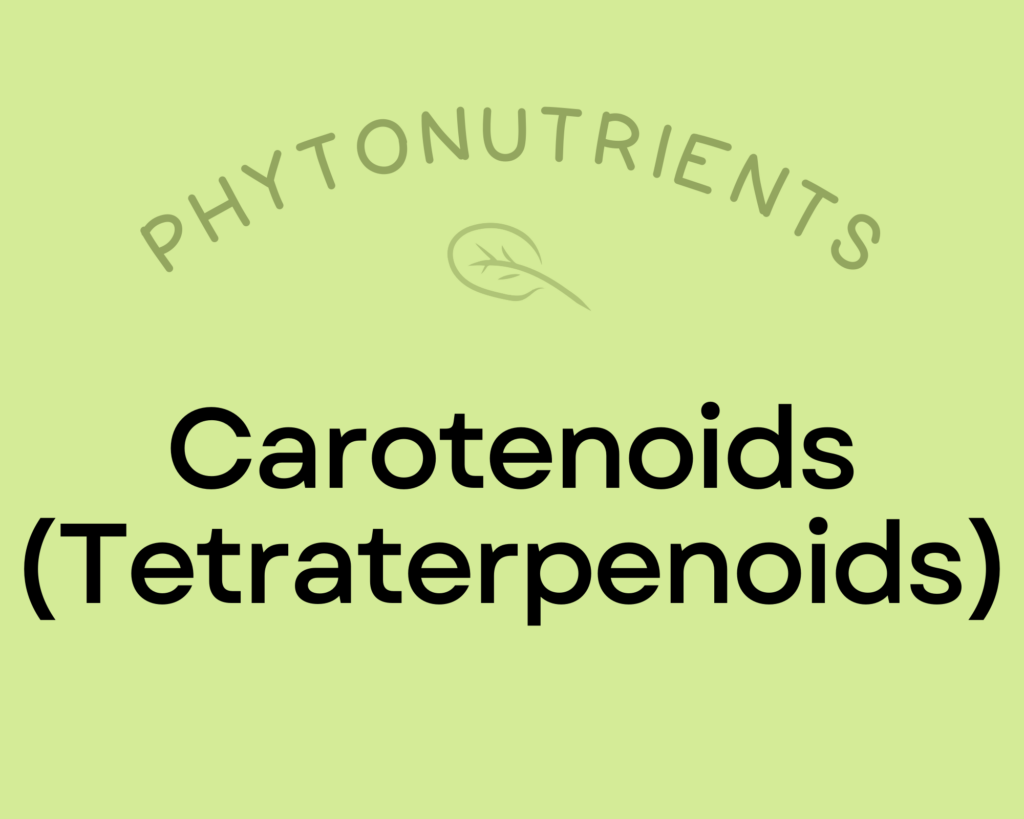 Carotenoids are a diverse group of phytonutrients that are responsible for giving fruits and vegetables vibrant red, orange, and yellow pigmentation. They were one of the earliest phytonutrients ever investigated by scientists (with research dating back to the 1800s!). Across studies, eating foods high in carotenoids appears to reduce the risk of head and neck cancers, supports vision health (particularly age-related eye diseases), may protect against metabolic syndrome and diabetes, and can reduce inflammation. Carotenoids have strong antioxidant properties, and help facilitate communication between cells by promoting the synthesis of connexin proteins, which create gap junctions in cell membranes that allow small molecules to be exchanged (which is part of how cells "talk" to each other!). Consuming carotenoids with fat significantly increases their absorption. Learn more about carotenoids here.
Sweet Potato Provides 105% DV Vitamin A
Sweet potato is also a best source of vitamin A, providing 105% of the daily value per 1-cup serving!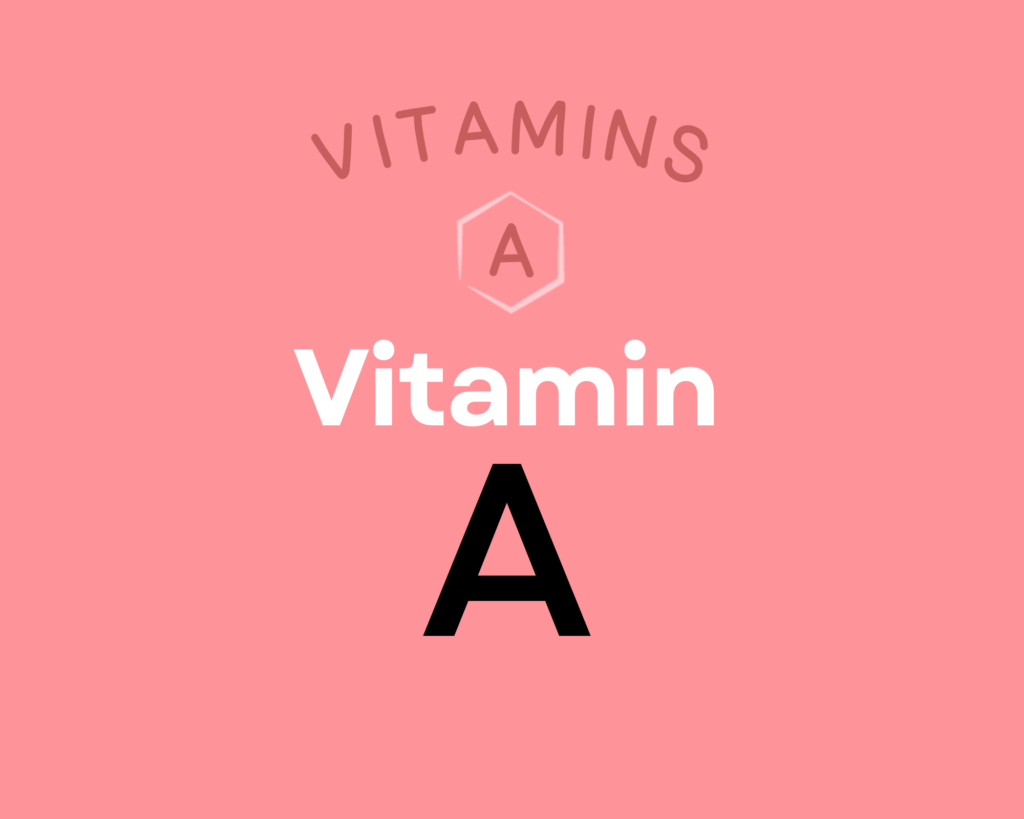 Vitamin A is actually a group of fat-soluble retinoids with vitamin A activity in the body. This nutrient is essential for a number of physiological functions—particularly vision, reproduction, thyroid health, immunity, and cellular communication. Getting enough vitamin A helps protect against some vision disorders (like night blindness and macular degeneration), supports a healthy menstrual cycle and sperm production, reduces infection risk, and allows for proper growth and development from the fetal years through childhood. Learn more about vitamin A here.
Sweet Potato Provides 22% DV Copper
Sweet potato is an excellent source of copper, providing 22% of the daily value per 1-cup serving!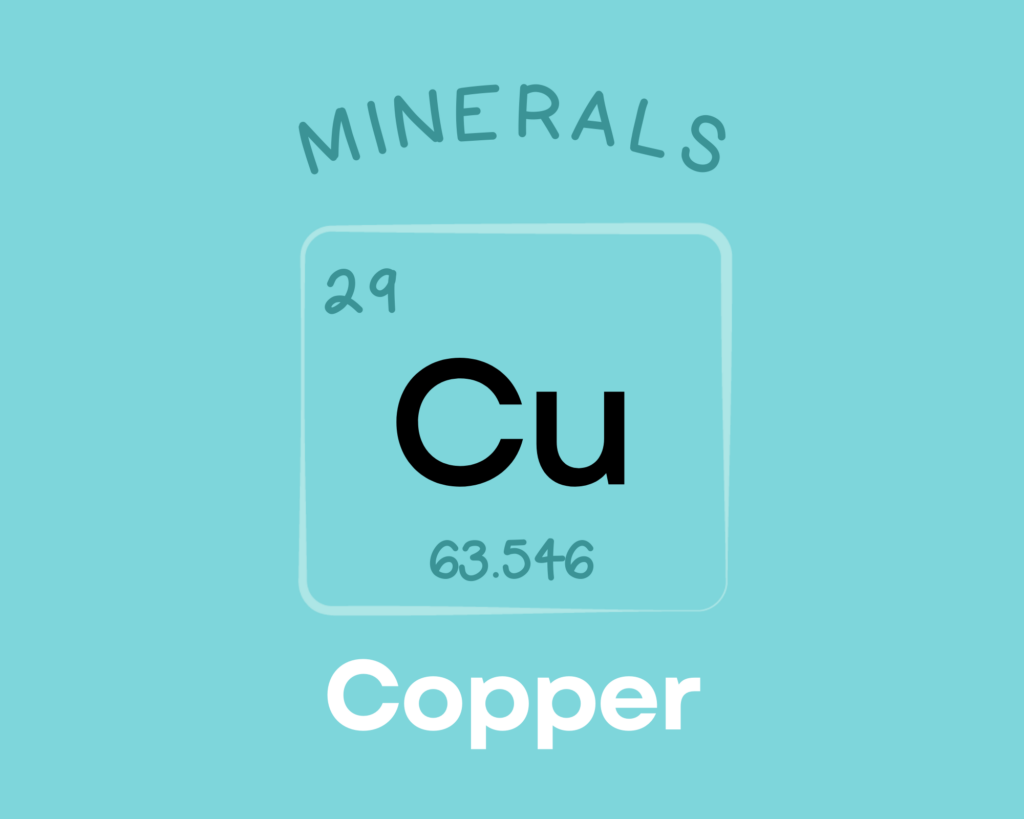 Copper is a trace mineral that's essential for all living organisms. Copper serves as a component of numerous enzymes and proteins in the body, giving it diverse roles in the growth, development, and maintenance of various organs (including the heart and brain), bone, and connective tissue. Copper is also involved in glucose and cholesterol metabolism, helps regulate gene expression, can scavenge free radicals, and is needed for the production of red blood cells. Learn more about copper here.
Sweet Potato Provides 21% DV Vitamin B5 (Pantothenic Acid)
Sweet potato is also an excellent source of vitamin B5 (pantothenic acid), providing 21% of the daily value per 1-cup serving!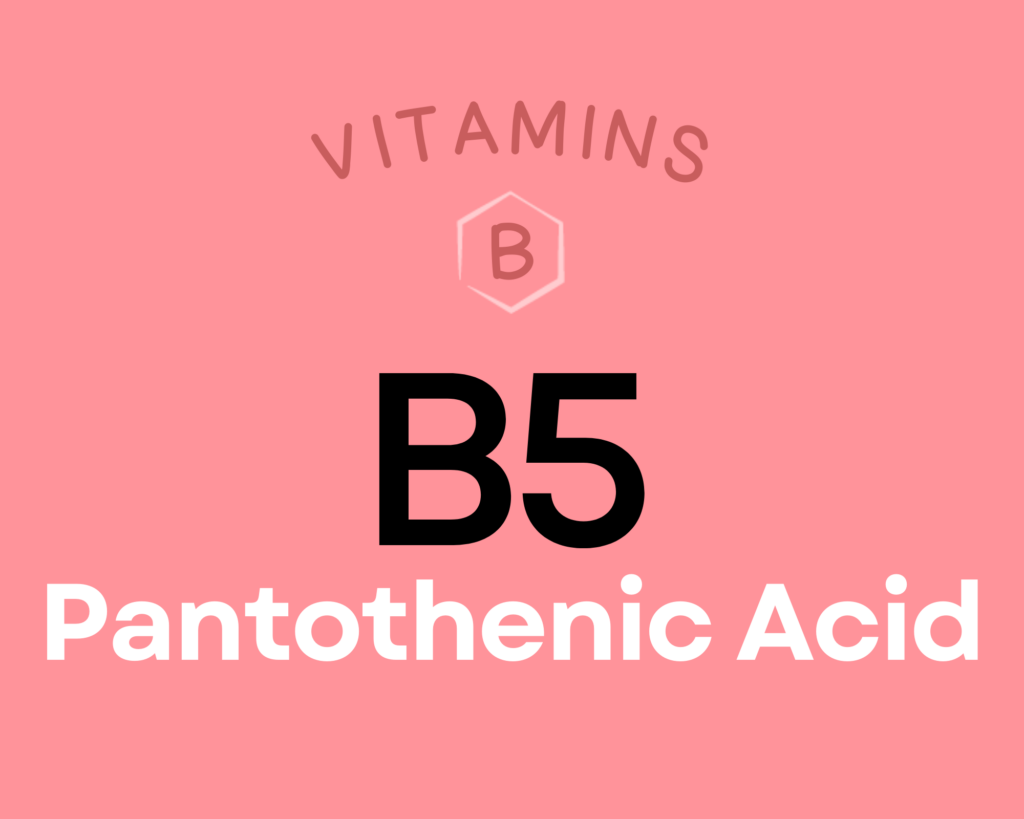 Pantothenic acid (or vitamin B5) is a water-soluble vitamin that serves as a cofactor for coenzyme A—which itself is critical for metabolizing many drugs and toxins, as well as forming derivatives (acetyl-CoA and succinyl-CoA) that participate in the synthesis of cholesterol, fatty acids, melatonin, the neurotransmitter acetylcholine, steroid hormones, heme, and vitamins A and D. Coenzyme A is also needed in the Krebs cycle, giving pantothenic acid a role in energy metabolism. Research suggests that a pantothenic acid derivative (pantethine) can help improve blood lipid profiles and reduce fatty streak formation and lipid deposition in the arteries, giving it a cardio-protective role. Additional research shows that panthothenic acid can accelerate wound healing, boost cellular production of the important antioxidant glutathione, and possibly help improve symptoms of rheumatoid arthritis. Learn more about vitamin B5 here.
Learn What Foods Are the Best Sources of Every Nutrient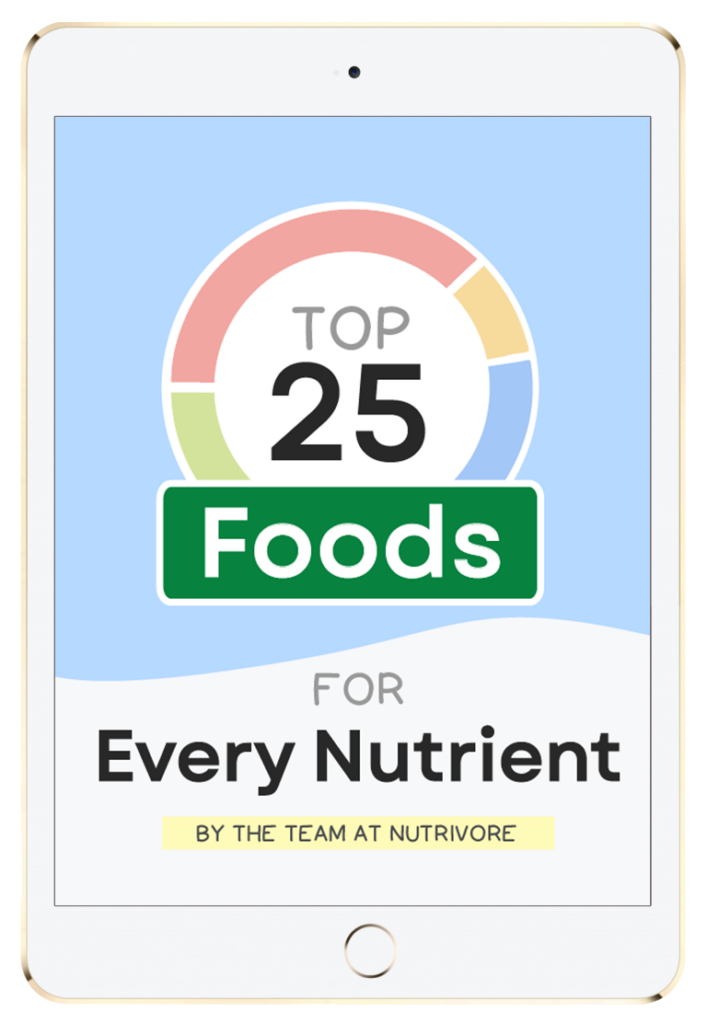 The Top 25 Foods for Every Nutrient
The Top 25 Foods for Every Nutrient e-book is a well-organized, easy-to-use guide to help you choose foods that fit your needs of 42 important nutrients while creating a balanced nutrient-dense diet.
Get two "Top 25" food lists for each nutrient, plus you'll find RDA charts for everyone, informative visuals, fun facts, serving sizes and the 43 foods that are Nutrient Super Stars!
How Much Sweet Potato Should We Eat Per Day?
When it comes to nutrient-dense carbs, root veggies are hard to beat!
Every serving of fresh, whole vegetables or fruit we eat daily reduces the risk of all-cause mortality by 5% to 8%, with the greatest risk reduction seen when we consume eight or more servings per day. In fact, consuming 800 grams of vegetables and fruits daily reduces all-cause mortality by 31% compared to eating less than 40 grams daily. A 2017 meta-analysis showed that 2.24 million deaths from cardiovascular disease, 660,000 deaths from cancer, and 7.8 million deaths from all causes could be avoided globally each year if everyone consumed 800 grams of veggies and fruits every day.
Eating vegetables and fruit in abundance lowers risk of cancer, cardiovascular disease, type 2 diabetes, obesity, chronic kidney disease, osteoporosis and bone fragility fractures (including hip fracture), cognitive impairment and dementia (including Alzheimer's disease), neurodegenerative diseases, asthma, allergies, chronic obstructive pulmonary disease, age-related macular degeneration, cataracts, glaucoma, depression, ulcerative colitis and Crohn's disease, rheumatoid arthritis, inflammatory polyarthritis, non-alcoholic fatty liver disease, acne, seborrheic dermatitis, and lowers markers of inflammation. Learn more in Importance of Vegetables and Fruit.
Covering half of your plate with a variety of vegetables (and three quarters of your plate if your starchy food is a root vegetable or winter squash) at each meal is a simple way to easily achieve the goal of 800 grams daily (about 5 to 8 servings depending on the vegetable).
Studies show that, for every 100 grams per day increase in root vegetable intake, there was a 24% reduced risk of all-cause mortality! And as far as health benefits go, sweet potatoes really steal the show! Across numerous studies looking at different cultivars and components of sweet potato, this amazing tuber has been shown to exhibit antioxidative, anti-inflammatory, anti-obesity, liver-protective, anti-aging, blood-sugar-lowering, and immunomodulatory properties, plus more!
Just remember, it's always best to mix up the veggies you eat day to day (aiming for a wide variety of different vegetables and fruits throughout the week), and sweet potato definitely has a place at the table.
Easily track your servings of Nutrivore Foundational Foods!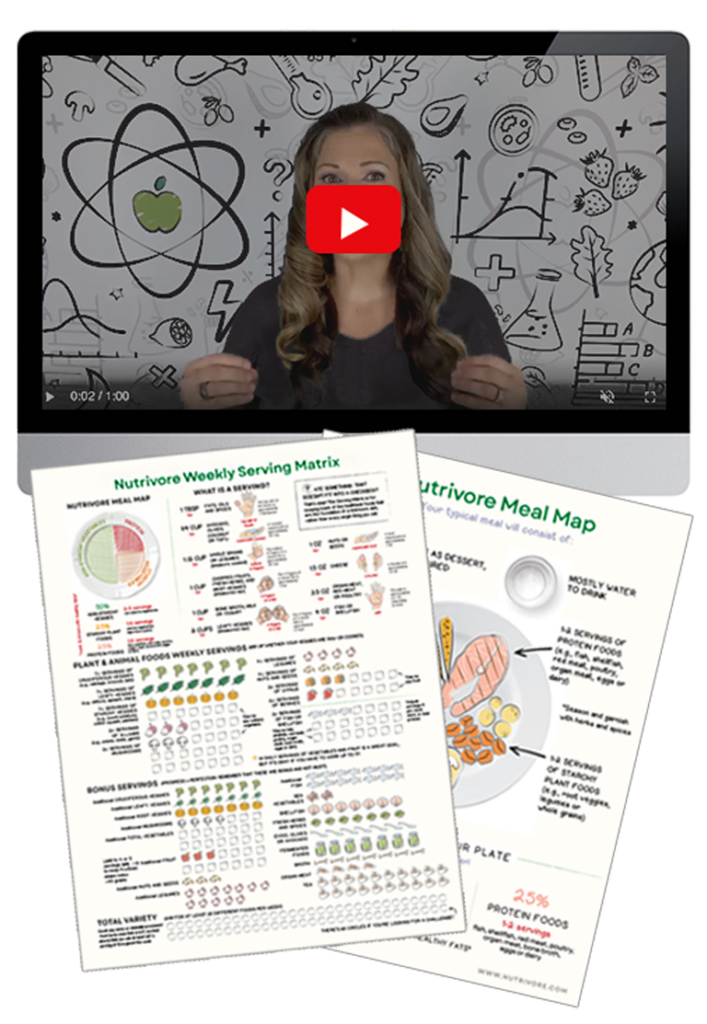 The Nutrivore Weekly Serving Matrix
The Nutrivore Weekly Serving Matrix digital resource is an easy-to-use and flexible weekly checklist designed to help you maximize nutrient-density and meet serving suggestions of Nutrivore foundational foods, all without having to weigh or measure your foods!
Includes a 1-hour video tutorial and downloadable interactive guides.
cITATIONS
Expand to see all scientific references for this article.