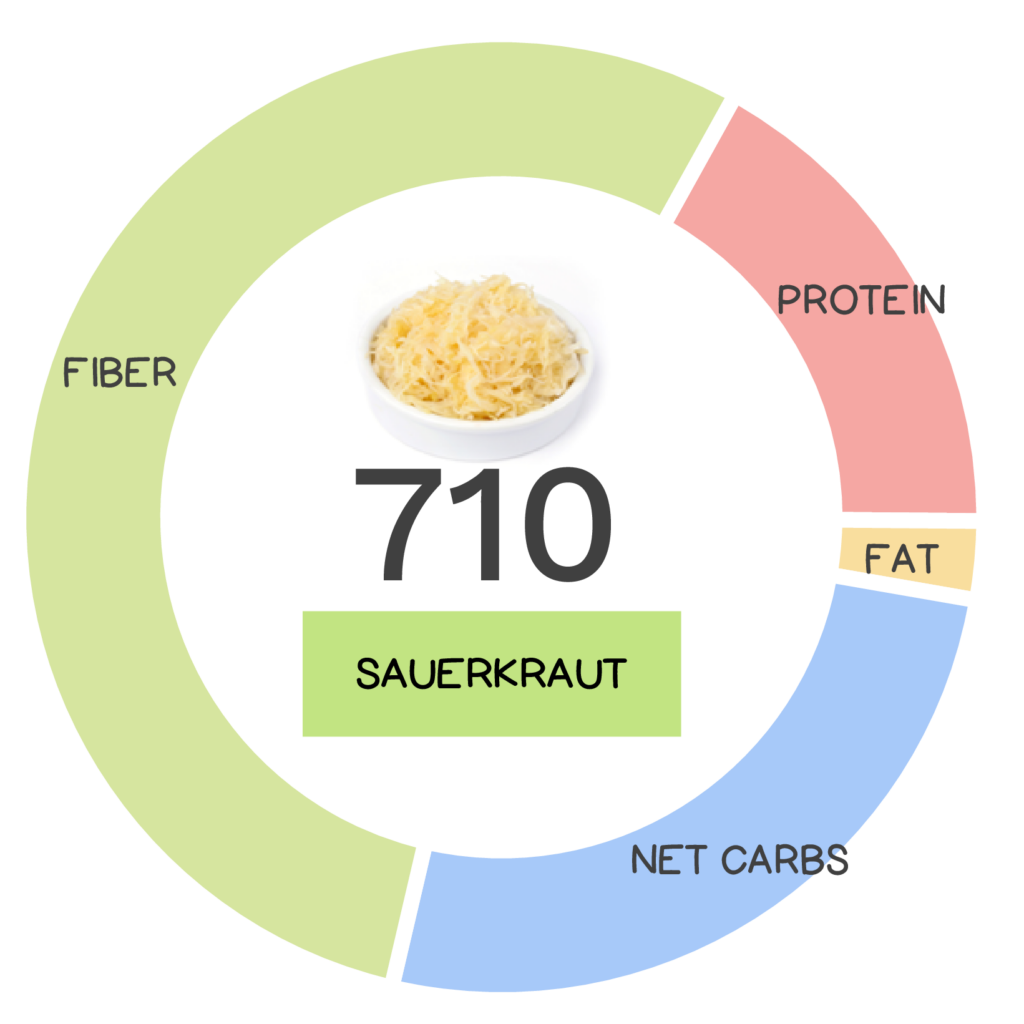 Though synonymous with Germany, sauerkraut actually originated over 2,000 years ago in China when workers who were building the Great Wall of China preserved cabbage in rice wine to help sustain themselves in harsh times. One of the easiest fermented foods to make, this distinctively sour probiotic superfood is now popular around the world for being delicious and nutritious!
now available for pre-order!
Ditch diet culture and get the most nutrients from your food with the no-guilt, personalized, and exciting new science that will change how you think about food and nourishment, from New York Times bestselling author Dr. Sarah Ballantyne.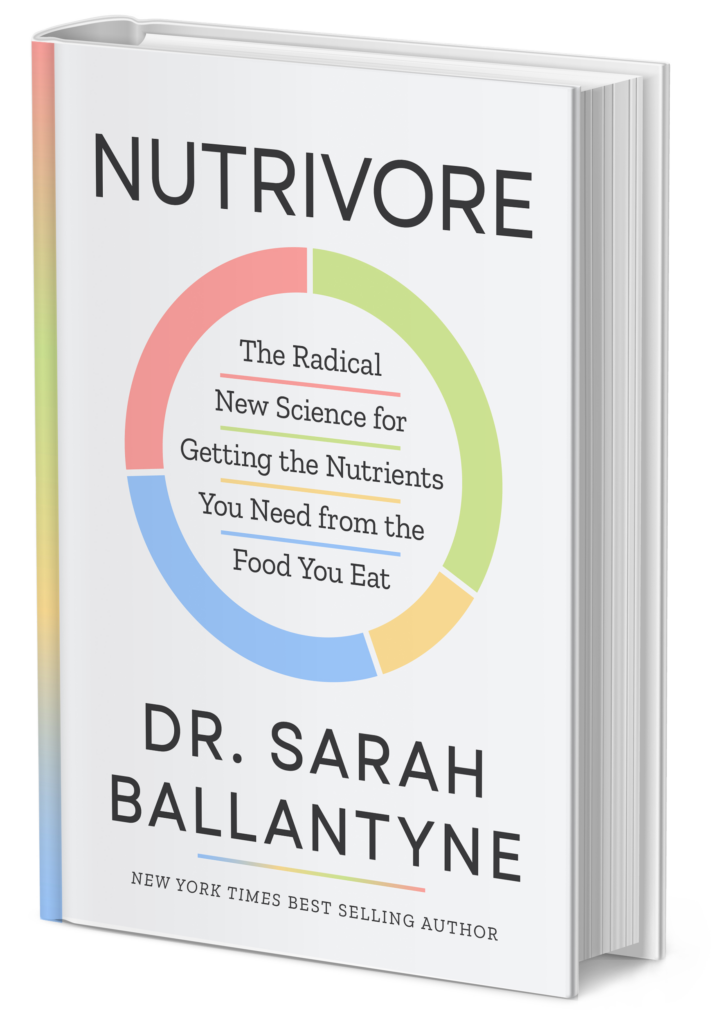 Fermented foods have been important throughout human history, with evidence of fermentation dating back 9,000 years, where fish was fermented in Sweden and alcoholic beverages were fermented in China (out of fruit, rice, and honey). Fermentation was one of the earliest ways humans learned to preserve food and extend its shelf life by inhibiting the growth of bacteria that causes spoilage (a major benefit pre-refrigeration!). Just about anything can be (and is) fermented! In fact, over 5,000 types of fermented foods have been documented across the globe, and include nearly every edible thing you can think of – meats, fish, cereal products, legumes, vegetables, fruits, beverages, nuts, and seeds. The list of fermented foods from cultures around the globe encompasses thousands of items, but some of the most common are beer, kefir, kimchi, kombucha, kvass, lacto-fermented pickles, miso, natto, wine, yogurt, and sauerkraut – but that's just scratching the surface! Not only are these foods delicious but they have the added benefit of offering amazing health benefits that can't be obtained from other nutrient-dense foods, since they are teeming with beneficial probiotics and enhance the bioavailability of nutrients in the food.
Sauerkraut (which literally means 'sour cabbage' in German) is finely shredded raw cabbage, layered with salt, that has been naturally fermented by lactic acid bacteria present on the vegetable. That means in its simplest form all that is required to make this amazing food is cabbage and salt (though other items are included in a region dependent manner, such as apples, beets, caraway seeds, cranberry, peppers, shredded carrots, and even watermelon). Historically, sauerkraut was an important source of nutrients when fresh food wasn't available such as during winter months or during long voyages at sea. It was common for families to get ready for winter by preparing several barrels of sauerkraut to nourish them during harsh times (a time-consuming task made easier by peddlers who went door to door offering to shred cabbage for a fee!).
Today, sauerkraut is popular in cultures around the world especially in Central and Eastern European cuisine though it is symbolic of Germany (so much so that during WWI American manufacturers relabeled sauerkraut as "liberty cabbage" to prevent consumers from boycotting it). In the US, sauerkraut is a popular condiment topping sandwiches and hot dogs, while eating pork and sauerkraut on New Year's Day is tradition in Germany and Pennsylvania to "ensure as much goodness and wealth in the new year as the number of shreds of cabbage in the pot of sauerkraut."
Everything You Need to Know about Cruciferous Veggies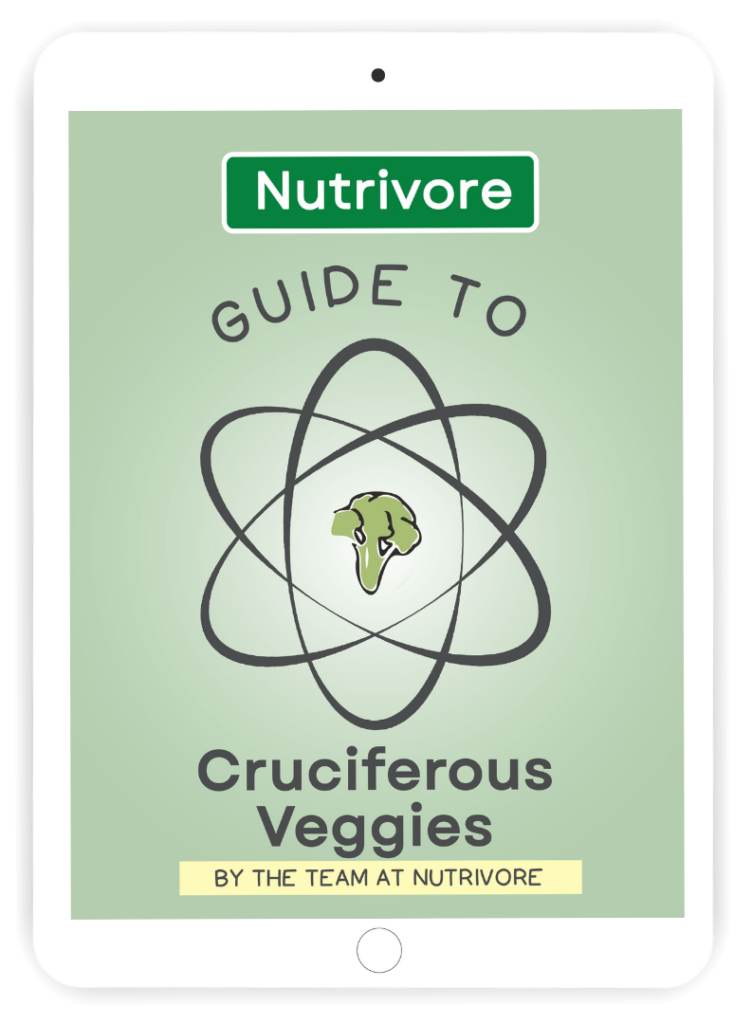 Nutrivore Guide to Cruciferous Veggies
The Nutrivore Guide to Cruciferous Veggies is a practical-focused e-book that explains everything you need to know about cruciferous vegetables so you can reap all the benefits of this foundational food family!
Plus, you'll 12 tasty recipes featuring cruciferous vegetables to help you incorporate more of these awesome veggies into your weekly meal plans!
Buy now for instant digital access.
Nutrivore Score for Sauerkraut – 710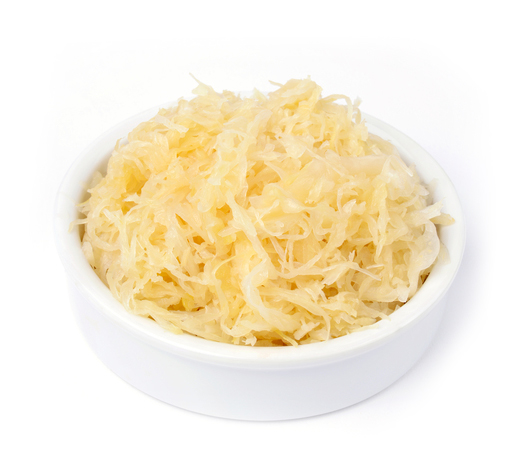 Sauerkraut has a Nutrivore Score of 710, making it a high nutrient-dense food! Plus, it is a low-carb and low-calorie-density food; the calorie count of sauerkraut is just 27 calories per cup!
Per serving, sauerkraut is an excellent source (20-50% daily value) of glucosinolates and vitamin C; and is a good source (10-20% daily value) of copper, dietary fiber, iron, polyphenols, vitamin B6 (pyridoxine), and vitamin K.
Want to Know the Top 100 Nutrivore Score Foods?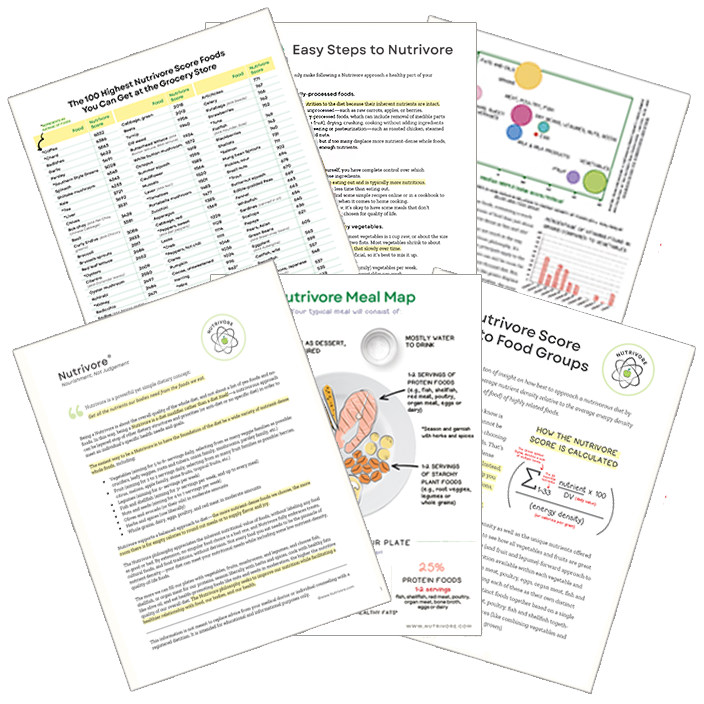 Get it Directly in Your Inbox!
The Nutrivore Newsletter is a weekly email that delivers bite-size fun facts, practical tips, recipes and resources. Sign up now and get 5 free guides directly to your inbox:
Easy Steps to Nutrivore 4-page guide
Nutrivore Foundational Foods 6-page guide
Nutrivore Score Guide to Food Groups 3-page guide
Nutrivore Meal Map
Top 100 Nutrivore Score Foods
Sauerkraut Nutrition Facts
One serving of sauerkraut is standardized to 1 cup or about 142 grams (5 ounces).
Sauerkraut Nutrition Facts Per Serving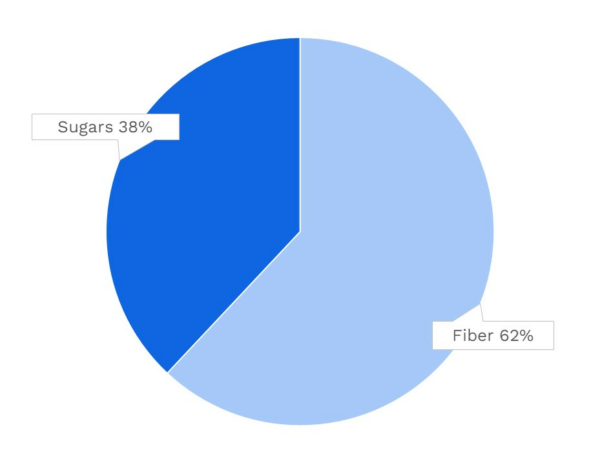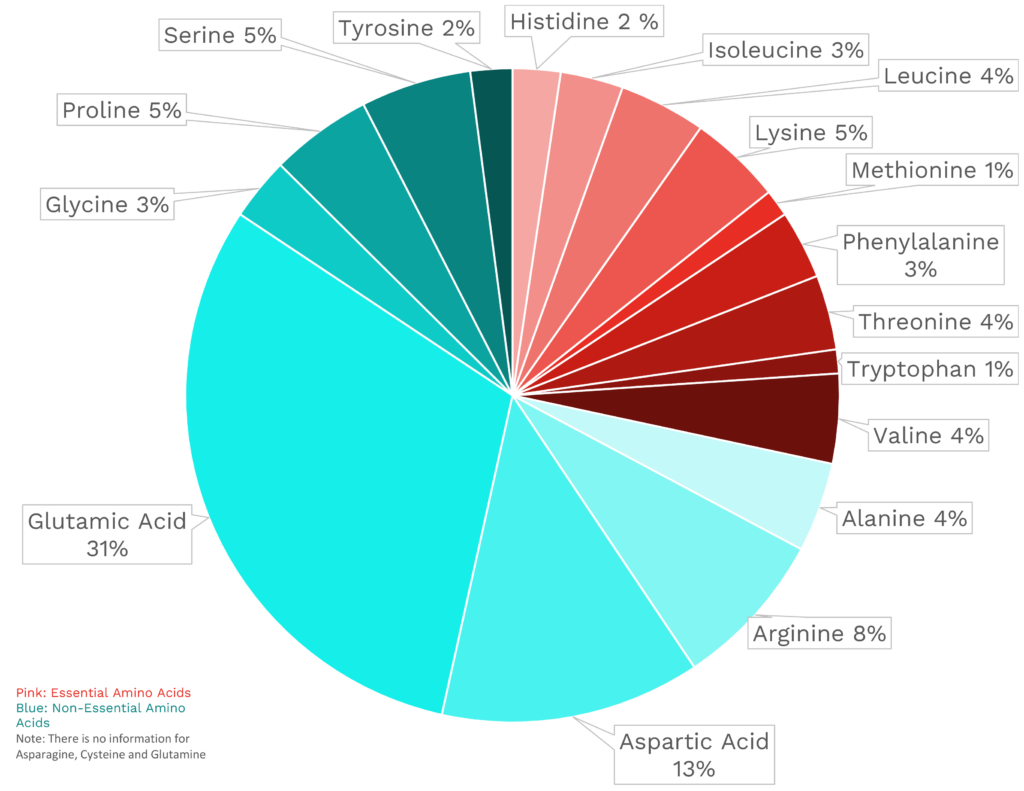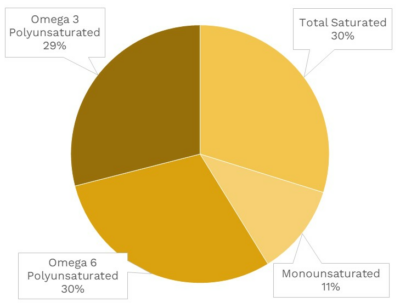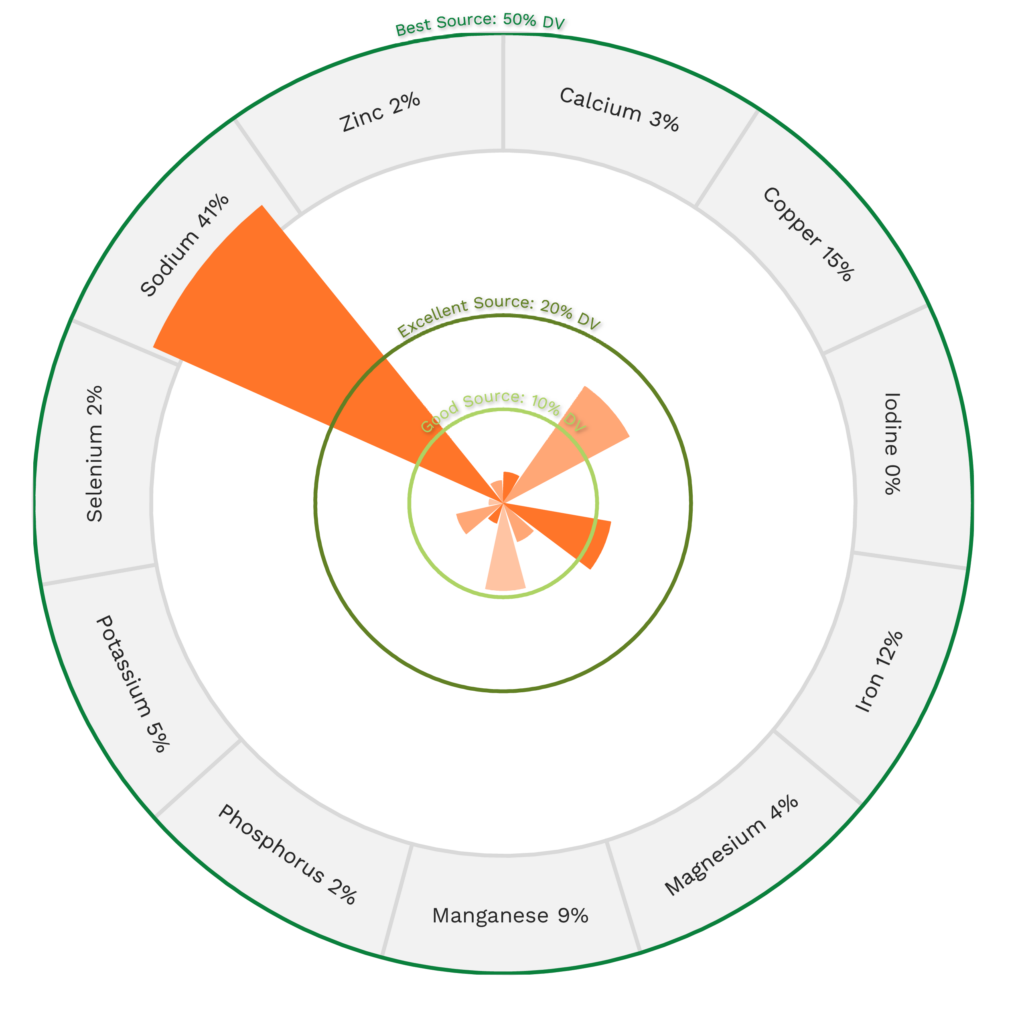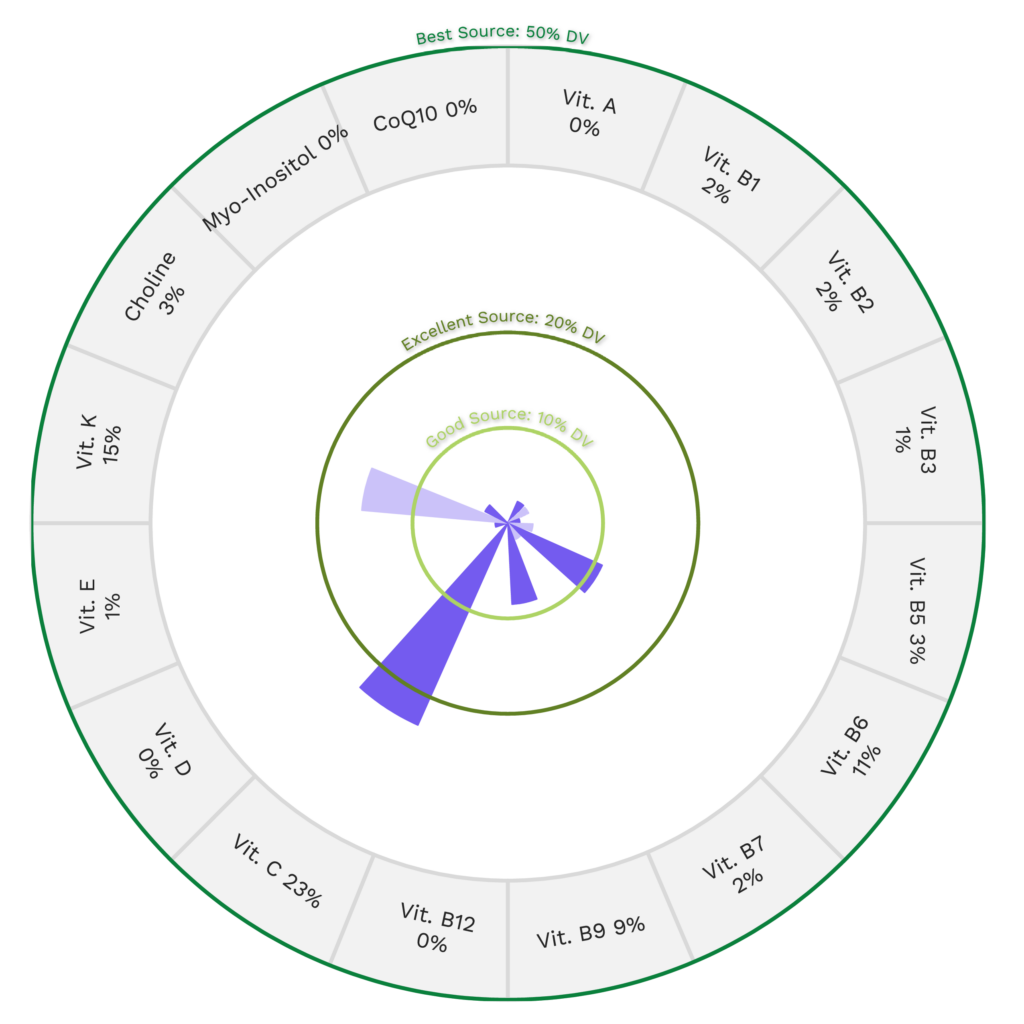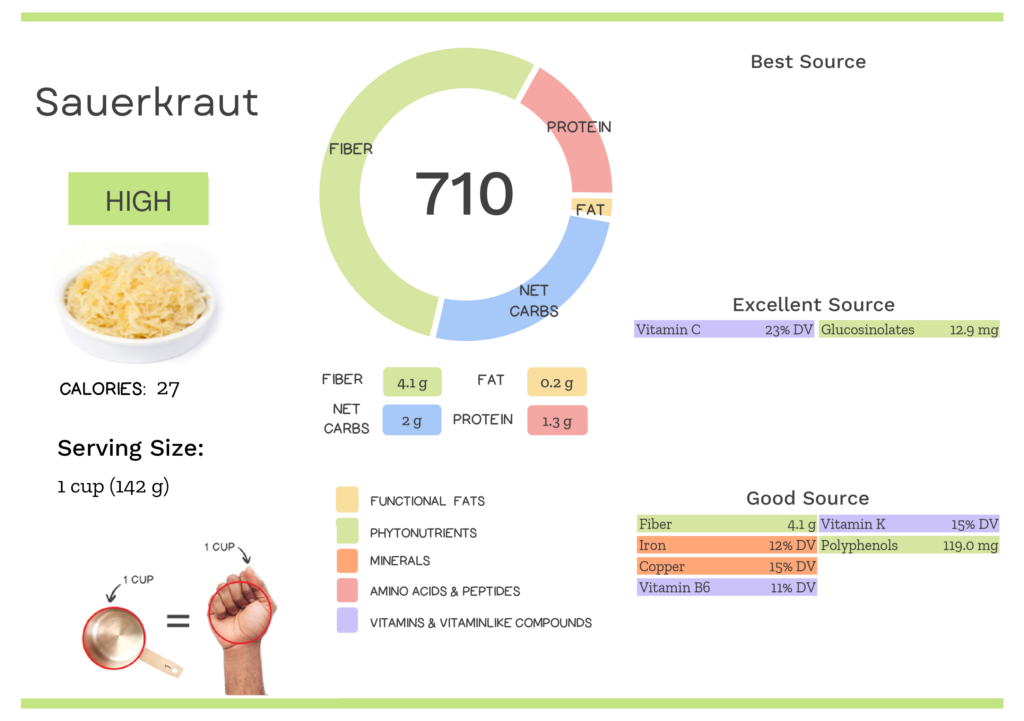 Impressed by the nutrition in sauerkraut? Maybe your friends will be too!
Health Benefits of Sauerkraut Nutrients
Let's take a closer look at all of the best and excellent source of nutrients found in a 1-cup serving of sauerkraut and see how they benefit our health.
Sauerkraut Provides 23% DV Vitamin C
Sauerkraut is an excellent source of vitamin C, providing 23% of the daily value per 1-cup serving!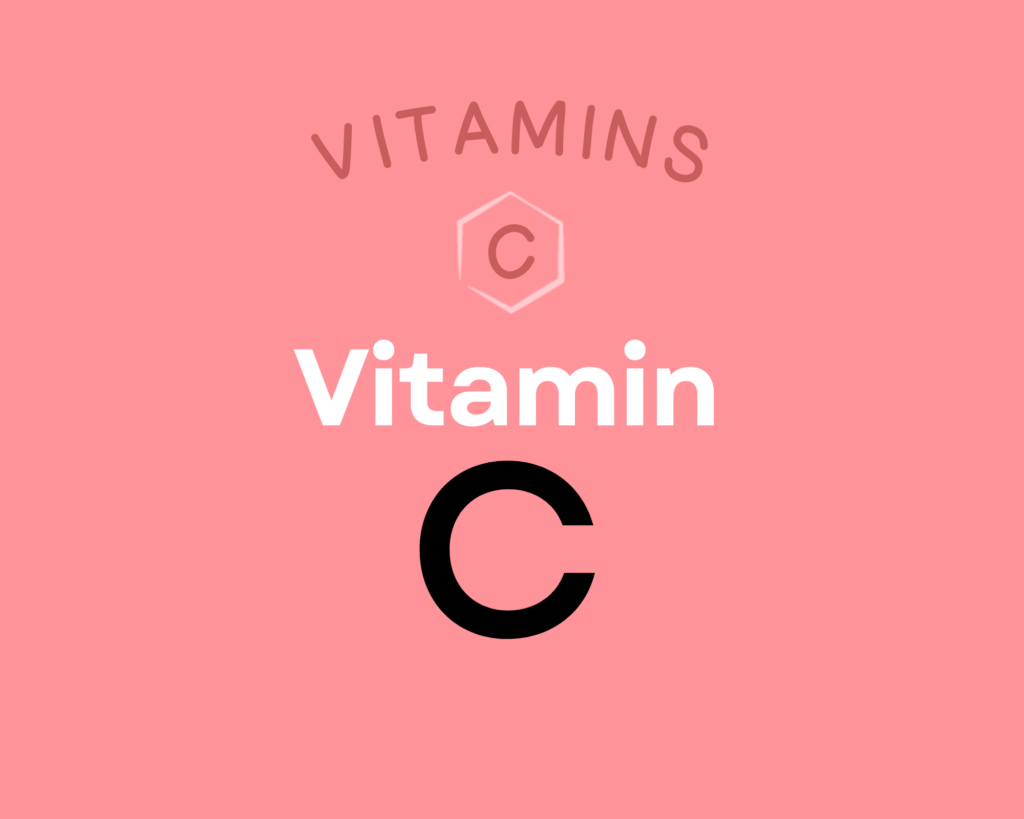 Vitamin C is a water-soluble vitamin that has powerful antioxidant properties (meaning it can help combat oxidative damage from free radicals and reactive oxygen species) and that serves as an enzyme cofactor (meaning it's needed for enzymes to do their job, for example vitamin C is necessary for collagen synthesis, which is essential for bones, joints, teeth, blood vessels, skin and eyes) and playing important roles in immune system and skin health. Higher intakes of vitamin C are linked to reduced risk of heart disease, some forms of cancer, type 2 diabetes, cataracts, age-related macular degeneration, and gout. Vitamin C can also help regulate the stress response and reduce anxiety, and there's preliminary evidence that it may also help prevent Alzheimer's disease. Learn more about vitamin C here.
Sauerkraut Provides 12.9 mg of Glucosinolates
Sauerkraut is also an excellent source of glucosinolates, containing 12.9 mg of glucosinolates per 1-cup serving.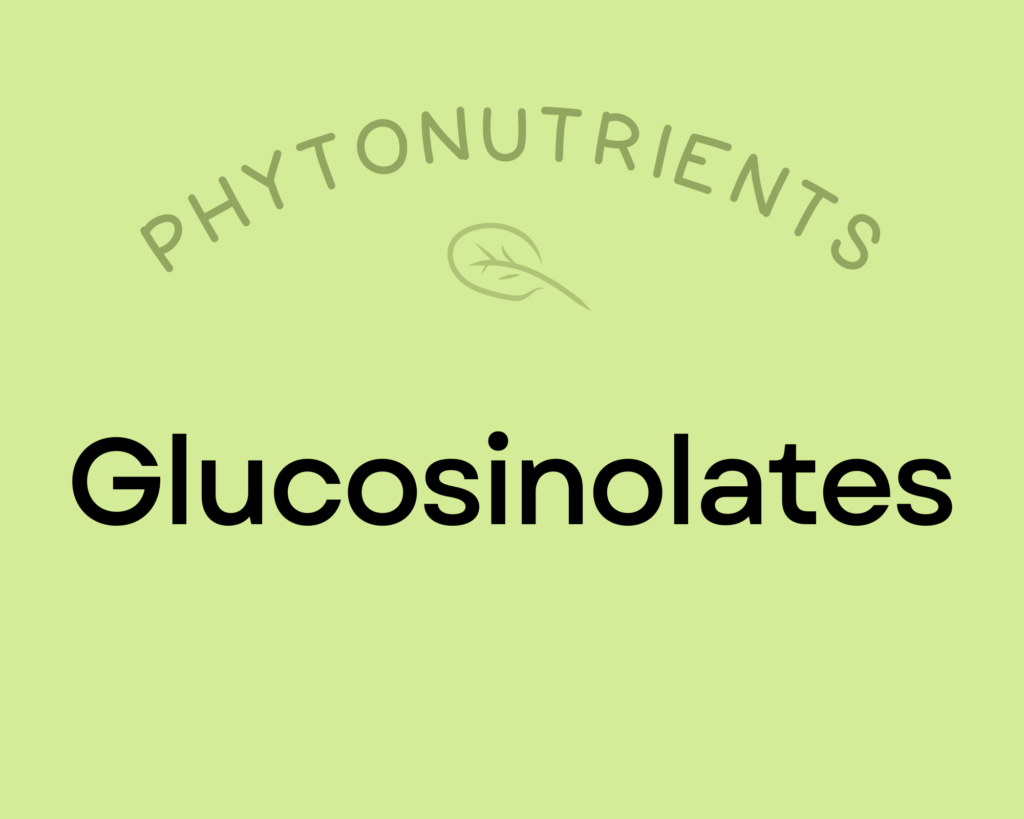 Glucosinolates are well-studied sulfur-containing compounds which break down into bioactive isothiocyanates and indoles when vegetables are damaged (via chewing, cutting, or other processing).
Isothiocyanates (like sulforaphane) are absolute rock stars as far as human health is concerned! Research spanning human epidemiology, animal models, and in vitro experiments show that dietary isothiocyanates are inversely associated with bladder cancer, lung cancer, colon cancer, breast cancer, and pancreatic cancer; some evidence also suggests they may be able to improve ventricular function following heart attacks.
Indoles also have powerful cancer prevention benefits through multiple mechanisms that include modulation of phases I and II detoxification enzymes, regulation of cell cycle arrest, control of cell growth, induction of apoptosis, antioxidant activity, anti-angiogenic effects, and epigenetic regulation. Indole-3-carbinol breaks down into 3,3′-Diindolylmethane (DIM), which is known for its anti-inflammatory, immune system modulating, cancer prevention and estrogen metabolism benefits.
Learn more about glucosinolates here.
Want to know the top 500 most nutrient-dense foods?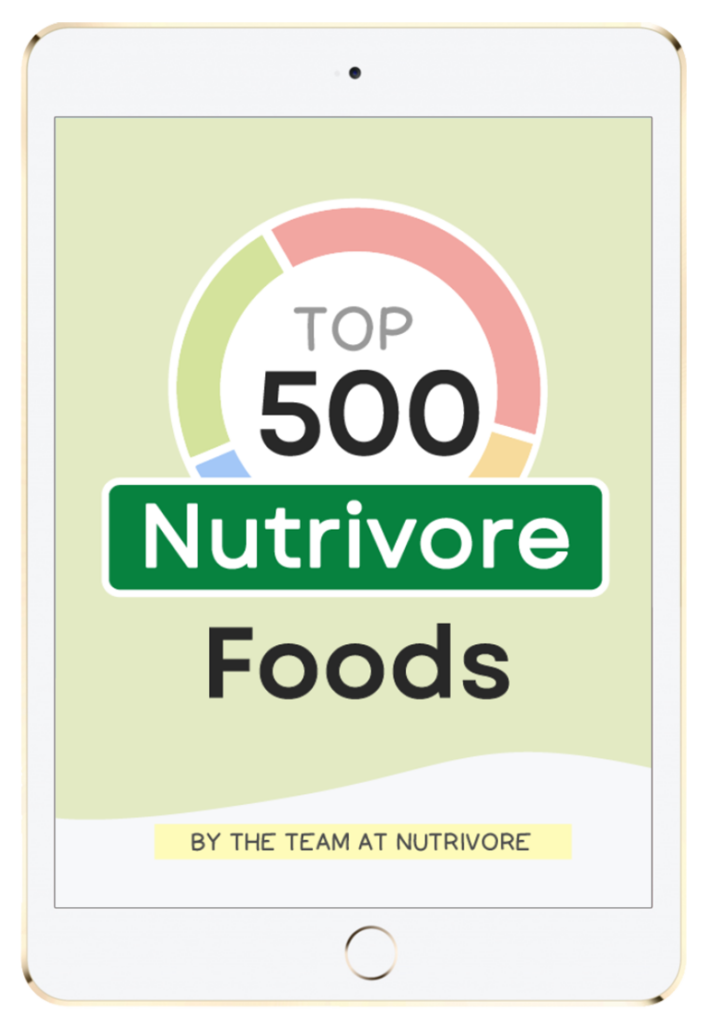 Top 500 Nutrivore Foods
The Top 500 Nutrivore Foods e-book is an amazing reference deck of the top 500 most nutrient-dense foods according to their Nutrivore Score. Think of it as the go-to resource for a super-nerd, to learn more and better understand which foods stand out, and why!
If you are looking for a quick-reference guide to help enhance your diet with nutrients, and dive into the details of your favorite foods, this book is your one-stop-shop!
Buy now for instant digital access.
How Much Sauerkraut Should We Eat Per Day?
Just because we have refrigerators now doesn't mean fermentation isn't a valuable practice! Not only are these foods delicious, but fermented foods also offer amazing health benefits that can't be obtained from other nutrient-dense foods!
When we consume fermented foods (raw, unpasteurized, and still teeming with friendly microbes), we get the benefits of these probiotics, the bioactive compounds created as a result of the fermentation (postbiotics), along with the additional micronutrients and helpful compounds found in whole foods. So, it's no surprise that fermented foods have repeatedly turned up as protective in the scientific literature. On a long term basis, large studies have shown that eating fermented foods (especially fermented dairy) appears protective against weight gain, with yogurt also showing significant reduction in risk of cardiovascular disease, type 2 diabetes, and death from all causes. Kefir consumption also has shown benefit for increasing bone mineral density among patients with osteoporosis. Shorter term, fermented dairy appears to approve glucose metabolism and even reduce muscle soreness following resistance exercise. Kimchi and sauerkraut have demonstrated anti-diabetic and anti-obesity effects, and some evidence even links fermented foods with protection against arthritis, sclerosis, and inflammatory bowel disease. Fermented soy products may improve total and LDL cholesterol levels.
The list of fermented foods from cultures around the globe encompasses thousands of items, but some of the most common are sauerkraut, kimchi, miso, kombucha, kefir, natto, lactofermented pickles, injera, kvass, and yogurt—and that's just scratching the surface! A great goal is one serving or more of fermented foods daily. A serving is defined based on the food group of the fermented ingredients, for example 1 cup for yogurt (as a dairy product) and 1/2 cup for sauerkraut (equivalent to 1 cup fresh cabbage).
Fermented foods are teeming with probiotics, which can have a profound effect on the immune system, can decrease the populations of less favorable bacteria in your gut (helping improve gut dysbiosis), and may directly and indirectly impact a number of health conditions—ranging from autoimmune diseases to obesity to diabetes! Fermentation also enhances the bioavailability of nutrients and can convert some micronutrients into new forms that weren't there originally.
Easily track your servings of Nutrivore Foundational Foods!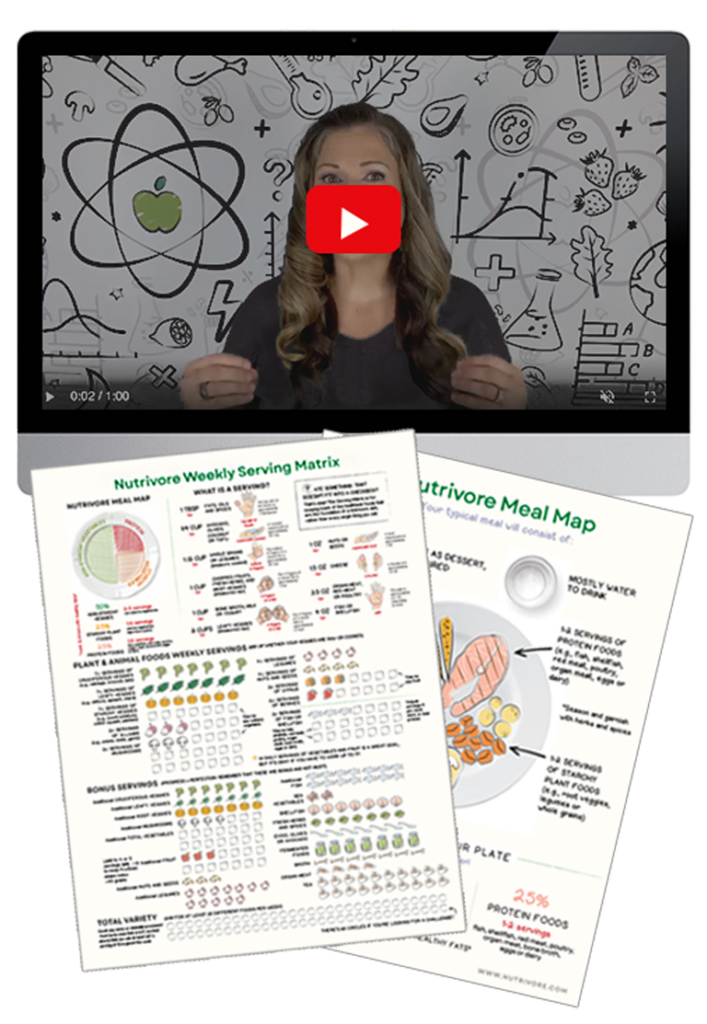 The Nutrivore Weekly Serving Matrix
The Nutrivore Weekly Serving Matrix digital resource is an easy-to-use and flexible weekly checklist designed to help you maximize nutrient-density and meet serving suggestions of Nutrivore foundational foods, all without having to weigh or measure your foods!
Includes a 1-hour video tutorial and downloadable interactive guides.
Buy now for instant digital access.
Citations
Expand to see all scientific references for this article.