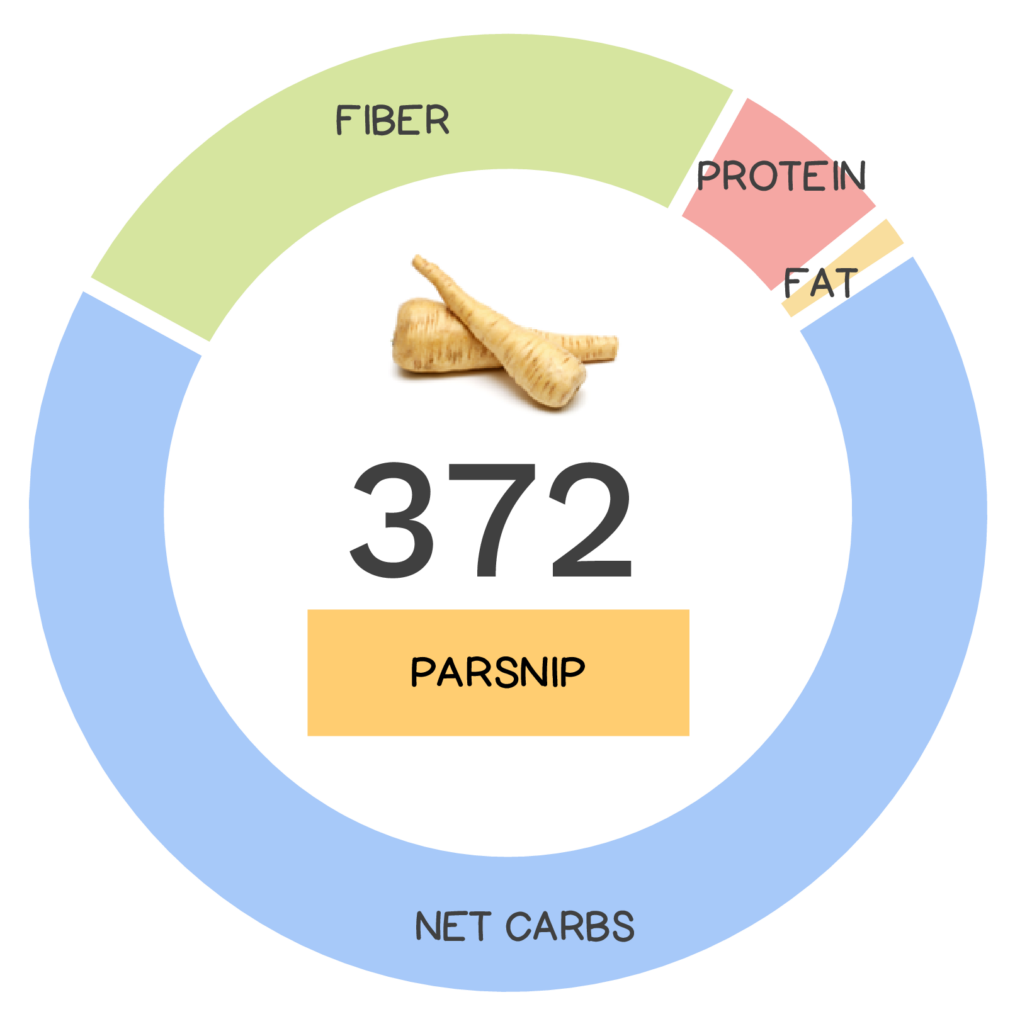 now available for pre-order!
Ditch diet culture and get the most nutrients from your food with the no-guilt, personalized, and exciting new science that will change how you think about food and nourishment, from New York Times bestselling author Dr. Sarah Ballantyne.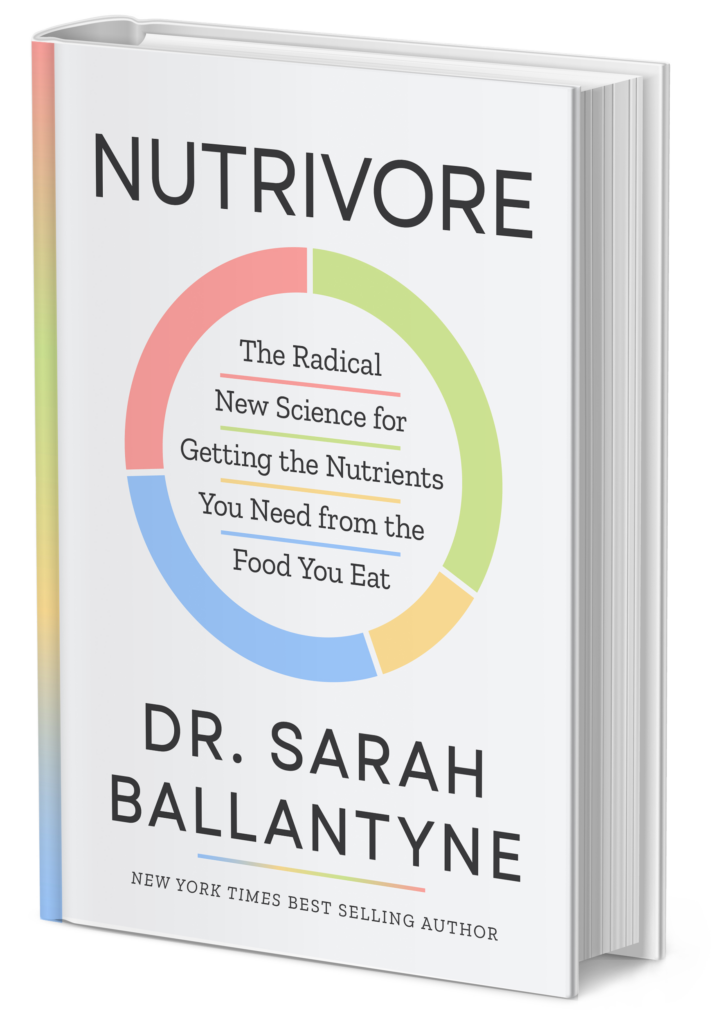 Parsnip – the less popular 'cousin' to the carrot! While this root veggie belongs to the same family and looks like a cream-colored version of a carrot, parsnips taste completely different and deserve their own place in the spot-light. In North America this vegetable is definitely underrated, relegated to holiday meals if people are aware of its existence at all. If you haven't had the pleasure of trying this sweet veggie, you're missing out, but lucky for you, you've come to the right place. I'm "rooting" for parsnips and once you try them, I think you will too!
The parsnip, Pastinaca sativa, is a member of the parsley family, also known as the Apiaceae family, or umbellifers, due to forming umbrella-like stem structures called umbels. It is a huge plant group with over 3,700 species, including carrots, celery, parsley, anise, caraway, dill, fennel, cilantro (aka coriander), and cumin. The early history of parsnips is a little fuzzy because parsnips bore such strong resemblance to carrots (which were pale-colored at the time!) that it's not always clear which vegetable was being referred to in some older literature; in fact, parsnips and carrots were even called by the same name in some languages, such as Old English, which collectively referred to the two vegetables as "moru" (meaning edible root). What we do know is they have been used as a vegetable since antiquity, originating in Eurasia and that they were cultivated by the Romans (who believed them to be an aphrodisiac). In Europe, parsnips were even used as a sweetener before cane and beet sugars were available. In fact, parsnips are an unusual vegetable in that they become sweeter after the first frost! This vegetable was brought to the Americas with the first colonists and briefly served as a main form of starch before the mid-19th century when potatoes became more popular, unfortunately relegating parsnips to obscurity.
Everything You Need to Know about Root Veggies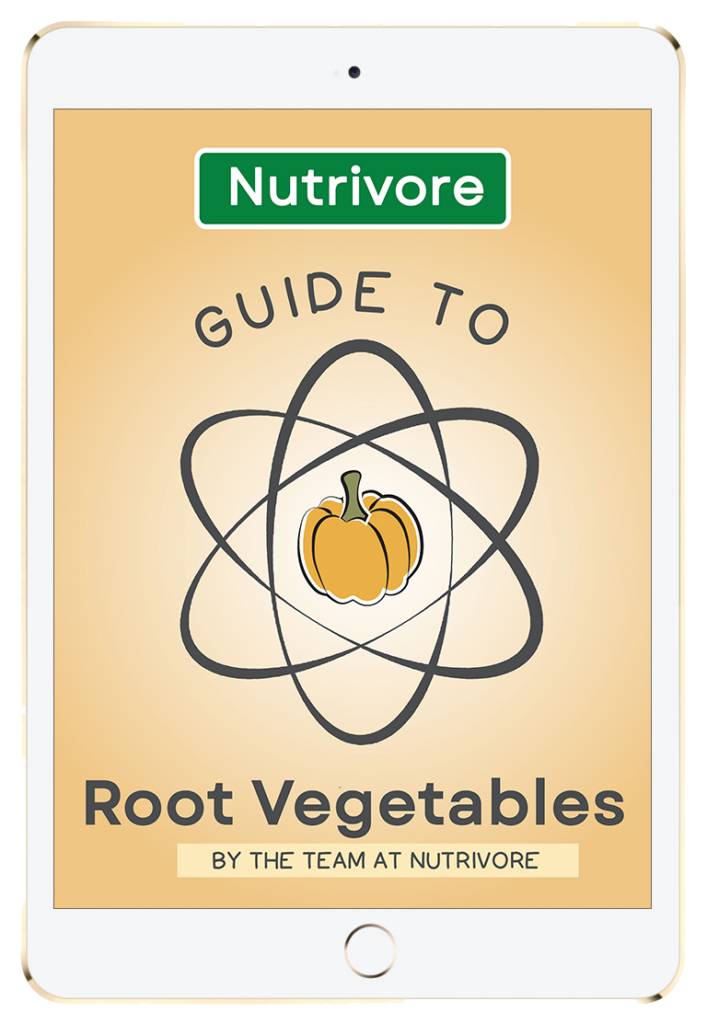 Nutrivore Guide to Root Vegetables
The Nutrivore Guide to Root Vegetables is a practical-focused e-book that explains everything you need to know about root veggies so you can reap all the benefits of this foundational food family!
Plus, you'll 12 tasty recipes featuring root vegetables to help you incorporate more of these awesome veggies into your weekly meal plans!
Buy now for instant digital access.
Nutrivore Score for Parsnip – 372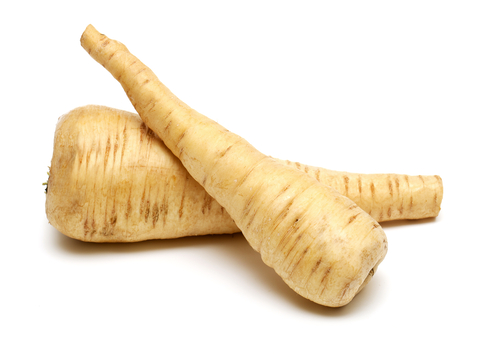 Parsnip has a Nutrivore Score of 372, making it a medium nutrient-dense food!
Per serving, parsnip is a best source (>50% daily value) of polyphenols; an excellent source (20-50% daily value) of dietary fiber, manganese, vitamin B9 (folate), Vitamin C, and vitamin K; and a good source (10-20% daily value) of copper, potassium, vitamin B1 (thiamin), vitamin B5 (pantothenic acid), and vitamin E.
Want to Know the Top 100 Nutrivore Score Foods?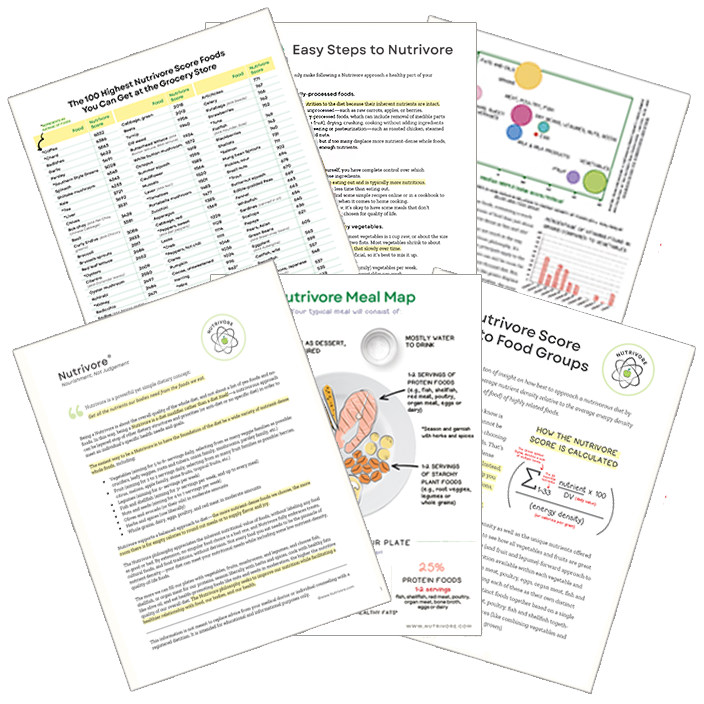 Get it Directly in Your Inbox!
The Nutrivore Newsletter is a weekly email that delivers bite-size fun facts, practical tips, recipes and resources. Sign up now and get 5 free guides directly to your inbox:
Easy Steps to Nutrivore 4-page guide
Nutrivore Foundational Foods 6-page guide
Nutrivore Score Guide to Food Groups 3-page guide
Nutrivore Meal Map
Top 100 Nutrivore Score Foods
Parsnip Nutrition Facts
One serving of parsnip is standardized to 1 cup, sliced or about 133 grams (4.7 ounces). When you cook parsnip, it reduces in volume: 1 cup raw parsnip is equivalent to a little more than 3/4 cup boiled parsnip.
Parsnip Nutrition Facts Per Serving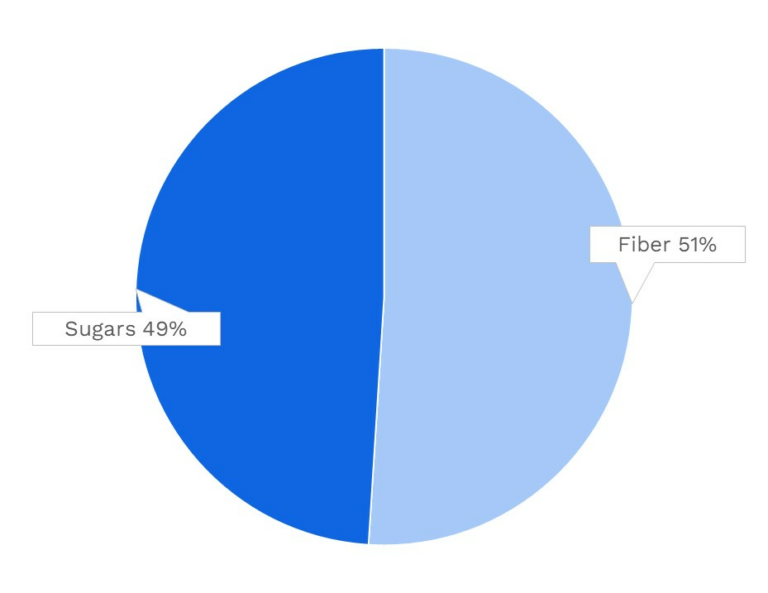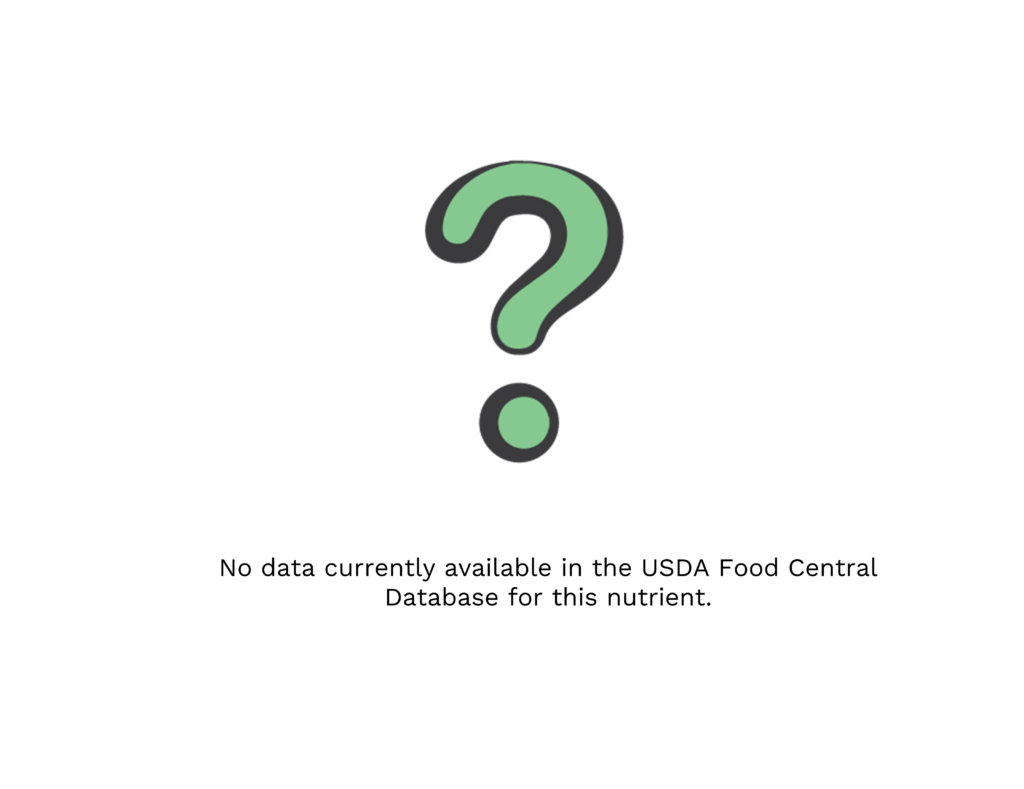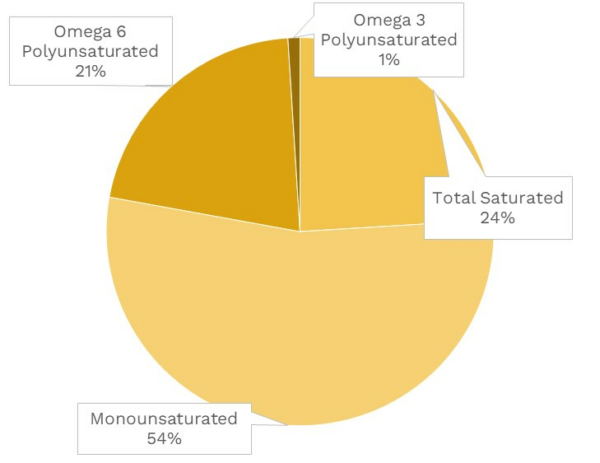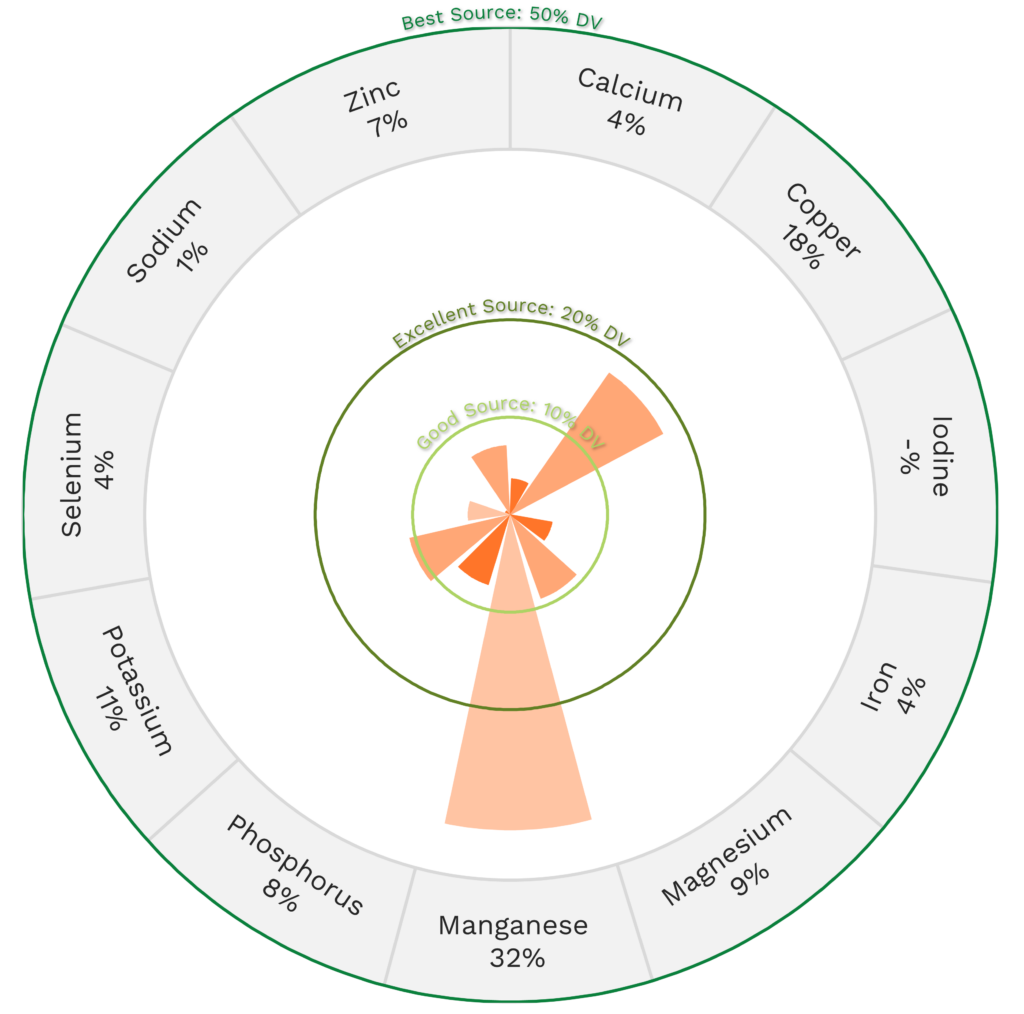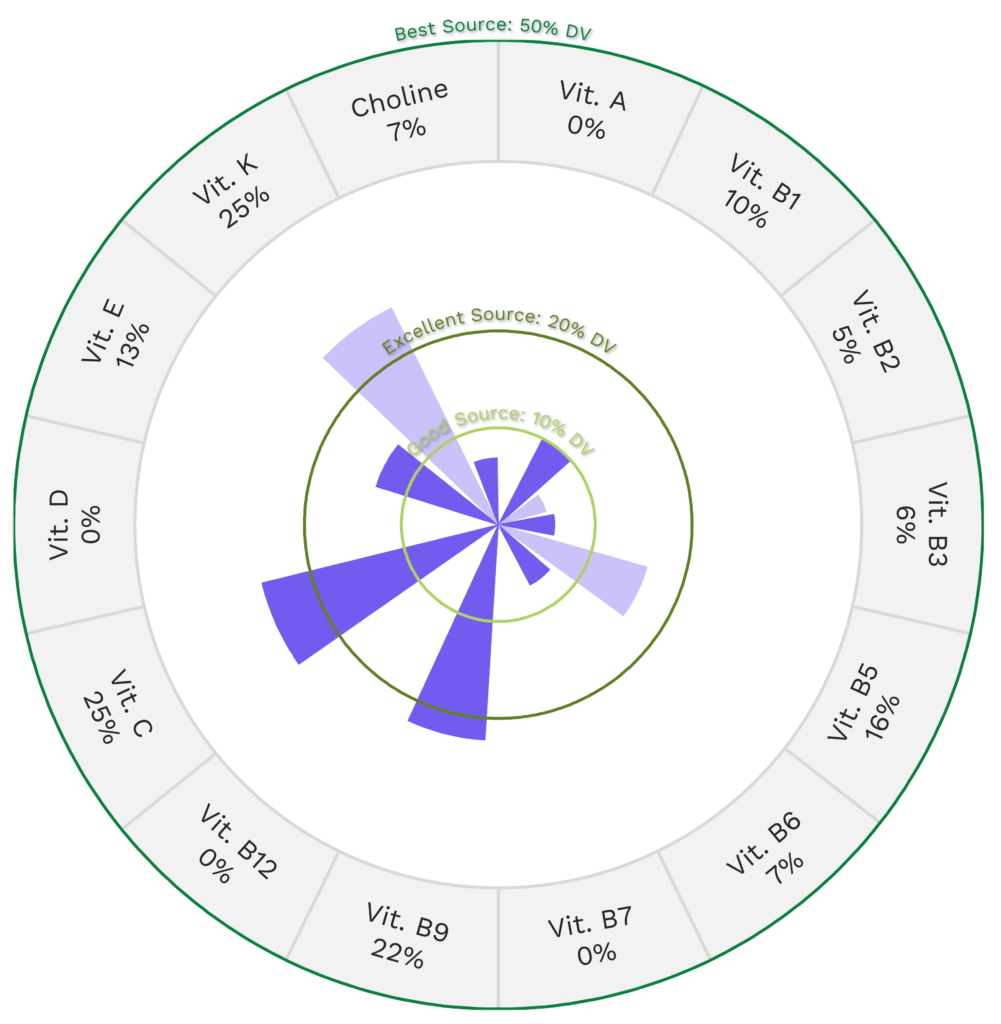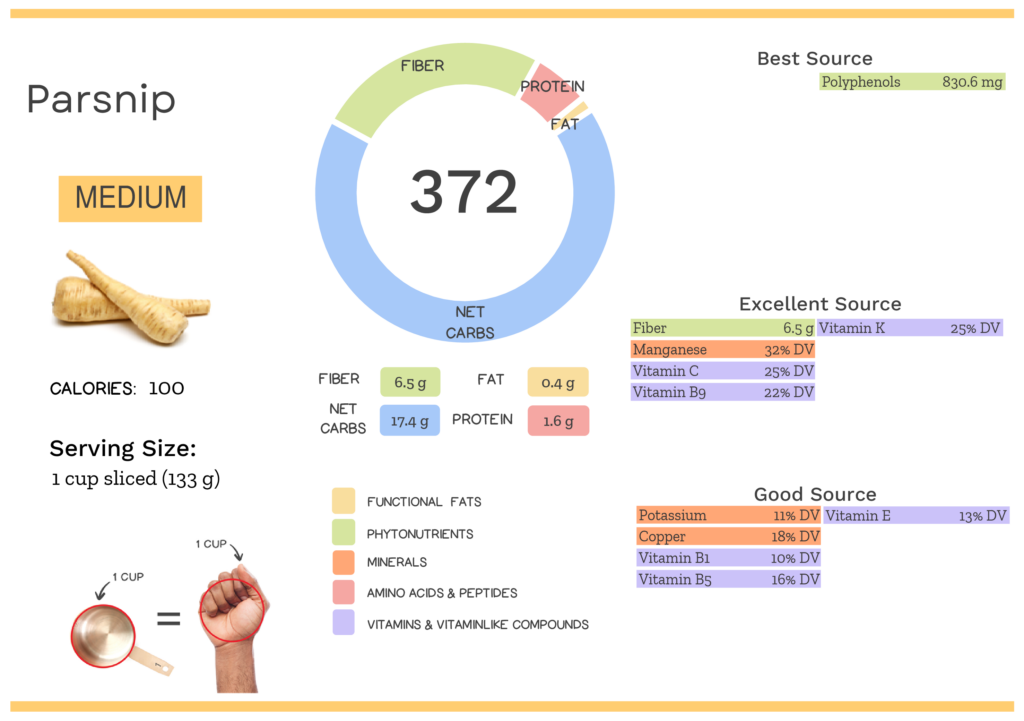 Parsnip Nutrition Varies With Cooking
The Nutrivore Score of parsnip varies based on method of preparation.
| | NUTRIVORE SCORE |
| --- | --- |
| Parsnips, cooked, boiled, drained, with salt | 324 |
| Parsnips, cooked, boiled, drained, without salt | 322 |
| Parsnips, raw | 372 |
Does all this nutrition have you "rooting" for parsnips? Maybe your friends will want to "dig" in too!
Health Benefits of Parsnip Nutrients
Let's take a closer look at all of the best and excellent source of nutrients found in a 1-cup serving of parsnip and see how they benefit our health.
Parsnip Provides 830.6 mg of Polyphenols
Parsnip is a best source of polyphenols, providing 830.6 mg of polyphenols per 1-cup serving!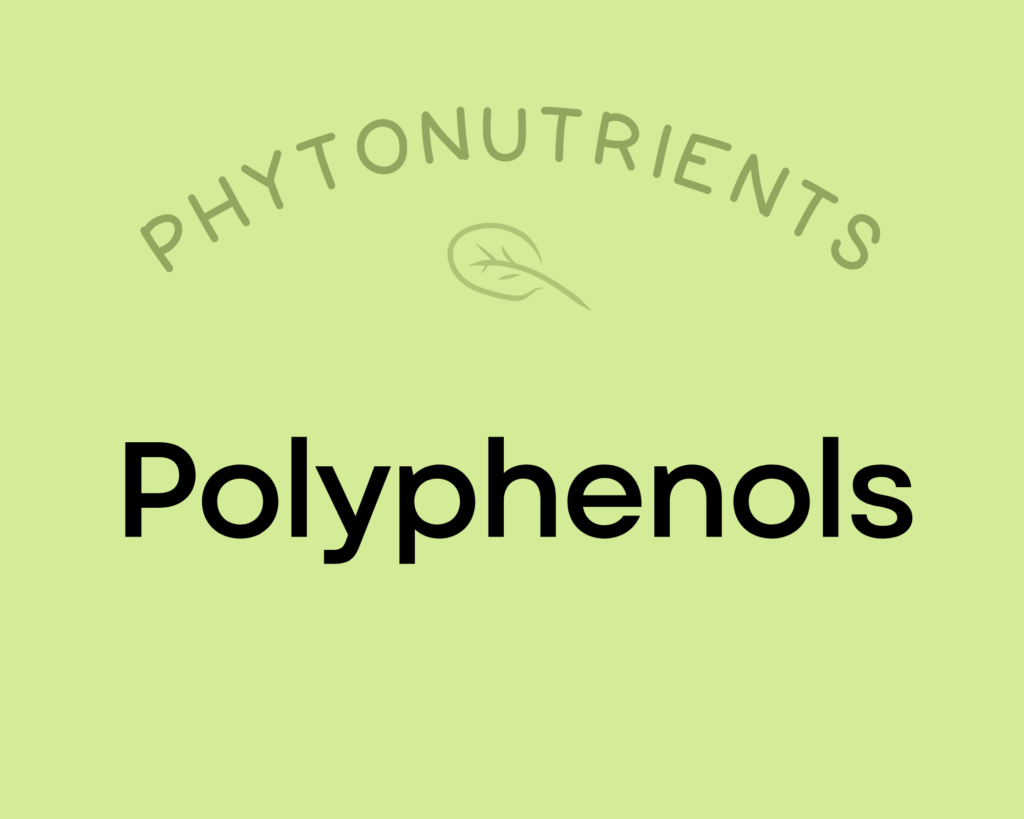 Polyphenols play a huge role in protecting against cancer, heart disease, diabetes, asthma, osteoporosis, neurodegenerative diseases, and other conditions associated with oxidative stress. In fact, a major reason foods like red wine and olive oil (as well as diets rich in both, such as the Mediterranean diet) show up as so beneficial may be due to their high polyphenol content! Along with chronic diseases, supplementing with polyphenols has been shown to protect against infections and reduce the signs of aging. Polyphenols exert their most potent effects by acting as antioxidants—preventing cellular damage by neutralizing hazardous oxygen radicals and improving cellular health as a result (which, in turn, benefits virtually every system in the body). As a result of their antioxidant properties, polyphenols also boost the immune system and protect against both chronic and acute diseases. In addition, polyphenols can help regulate enzyme function, stimulate cell receptors, modulate the functions of inflammatory cells (including T and B lymphocytes, macrophages, platelets, and natural killer cells), alter adhesion molecule expression, affect nerve cells and cardiac muscle cells, and exert antiviral effects. Learn more about polyphenols here.
Parsnip Provides 32% DV Manganese
Parsnip is an excellent source of manganese, providing 32% of the daily value per 1-cup serving!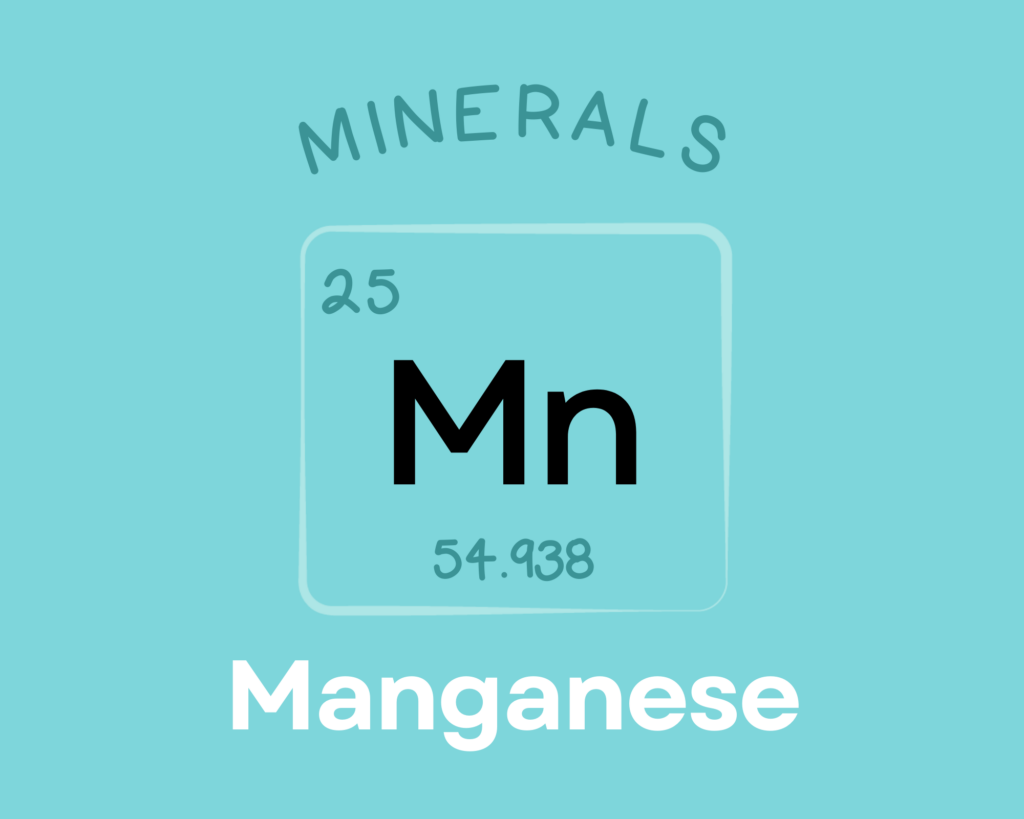 Manganese is an essential mineral that serves as a cofactor and component of numerous enzymes. Through these roles, it's involved in carbohydrate metabolism, amino acid synthesis, gluconeogenesis, detoxification, lipid processing, free radical defense, bone and collagen formation, and wound healing. Although the research so far is limited, some evidence suggests that manganese can protect against osteoporosis and diabetes, and may even be involved in seizure disorders. Learn more about manganese here.
Parsnip Provides 25% DV Vitamin C
Parsnip is a also an excellent source of vitamin C, providing 25% of the daily value per 1-cup serving!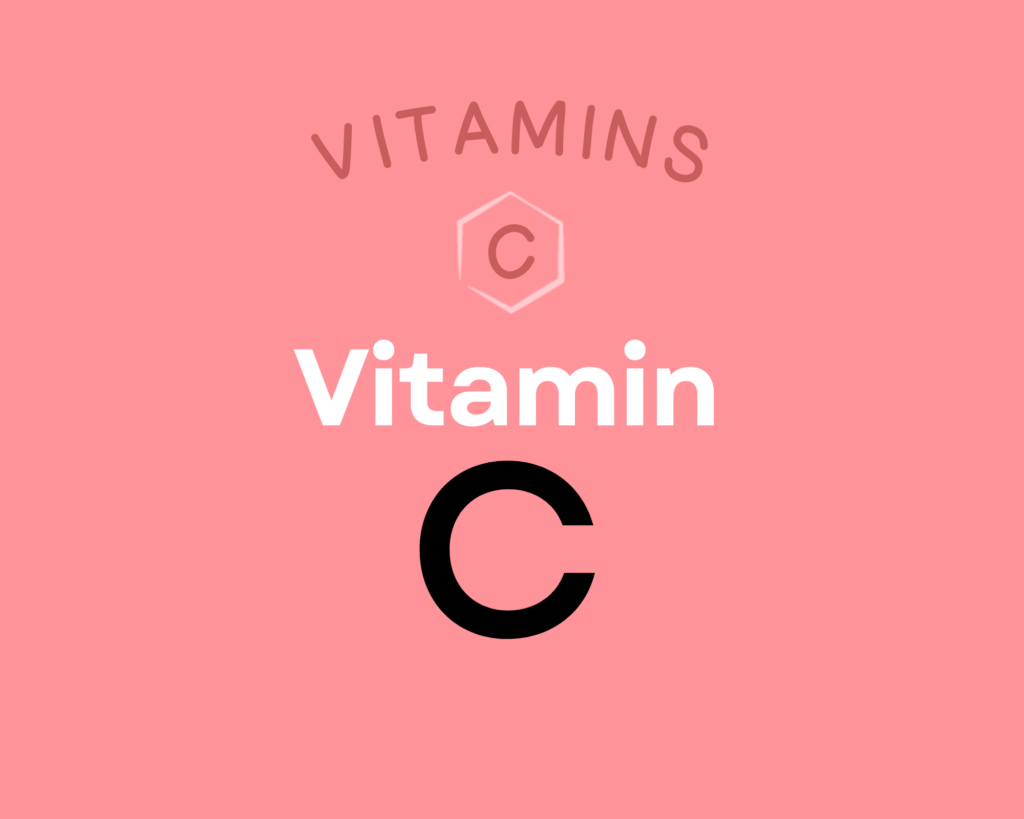 Vitamin C is a water-soluble vitamin that has powerful antioxidant properties (meaning it can help combat oxidative damage from free radicals and reactive oxygen species) and that serves as an enzyme cofactor (meaning it's needed for enzymes to do their job, for example vitamin C is necessary for collagen synthesis, which is essential for bones, joints, teeth, blood vessels, skin and eyes) and playing important roles in immune system and skin health. Higher intakes of vitamin C are linked to reduced risk of heart disease, some forms of cancer, type 2 diabetes, cataracts, age-related macular degeneration, and gout. Vitamin C can also help regulate the stress response and reduce anxiety, and there's preliminary evidence that it may also help prevent Alzheimer's disease. Learn more about vitamin C here.
Parsnip Provides 25% DV Vitamin K
Parsnip is an excellent source of vitamin K, providing 25% of the daily value per 1-cup serving!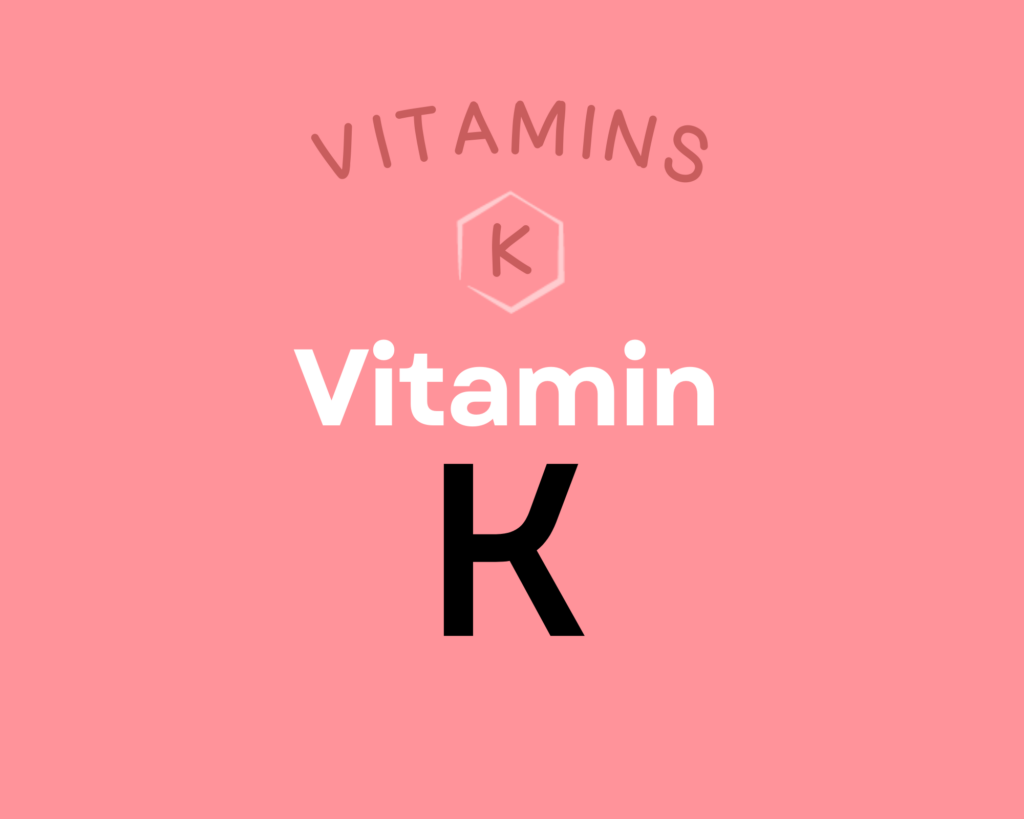 Vitamin K is actually a group of fat-soluble vitamins with a similar molecular structure, existing as K1, multiple isoforms of K2, and the synthetic form K3. This nutrient plays a vital role in coagulation, due to serving as a cofactor for proteins needed for blood clotting; it's also essential for bone metabolism, cellular function, and the prevention of soft tissue calcification. Getting enough vitamin K2 can help protect against cardiovascular disease, may improve bone mineral density and skeletal health, and may even support endocrine function and brain health; there's also some limited evidence it has anti-cancer and anti-inflammatory properties. Learn more about vitamin K here.
Parsnip Provides 6.5 g of Fiber
Parsnip is also high in fiber, providing 6.5 g of dietary fiber per 1-cup serving!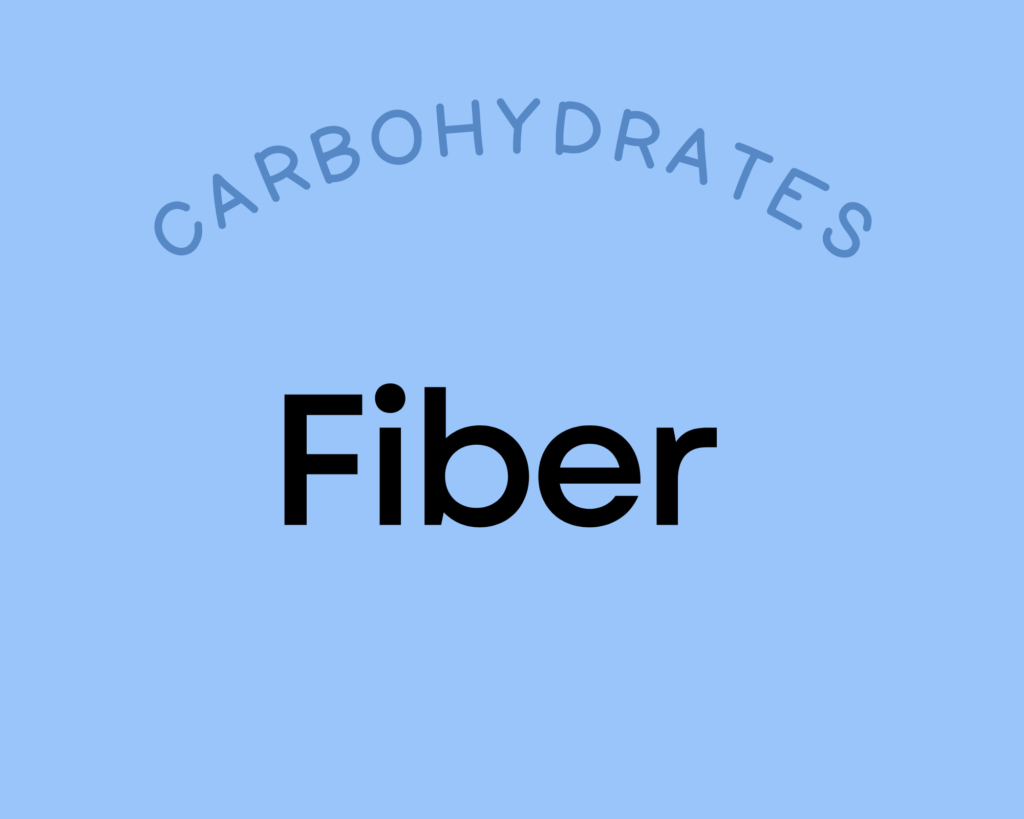 Fiber serves as substrate for the trillions of microbes that inhabit our digestive tracts, collectively referred to as the gut microbiome. Through their metabolism of fiber, these resident microbes benefit us in a whole host of ways, including aiding digestion, vitamin production, detoxification, regulation of cholesterol metabolism, providing resistance to pathogens, immune regulation, neurotransmitter regulation, regulation of gene expression, and more! In fact, every human cell is impacted by the activities of our gut microbes. A healthy gut microbial community is essential for our health. And, the converse is also true: An aberrant gut microbiome has been linked to conditions as wide-ranging as cancer, obesity, diabetes, cardiovascular disease, anxiety, depression, neurodegenerative diseases, autism, autoimmune disease, ulcers, IBD, liver disease, gout, PCOS, osteoporosis, systemic infections, allergies, asthma, and more!
Fiber has other benefits, like regulating peristalsis of the intestines (the rhythmic motion of muscles around the intestines that pushes food through the digestive tract), stimulating the release of the suppression of the hunger hormone ghrelin (so we feel more full), and slowing the absorption of simple sugars into the bloodstream to regulate blood sugar levels and avoid the excess production of insulin. Fiber also binds to various substances in the digestive tract (like hormones, bile salts, cholesterol, and toxins) and, depending on the type of fiber, can facilitate either elimination or reabsorption (for the purpose of recycling, which is an important normal function for many substances like bile salts and cholesterol), both of which can be extremely beneficial—if not essential—for human health.
The recommended dietary intake for fiber is 14 grams per 1000 kcal, which translates to 28 grams of fiber, if you eat a 2,000 calorie per day diet. However, there are many studies showing greater benefits from even higher levels of intake. Lear more about fiber here.
Parsnip Provides 22% DV Vitamin B9 (Folate)
Parsnip is also an excellent source of vitamin B9 (folate), providing 22% of the daily value per 1-cup serving!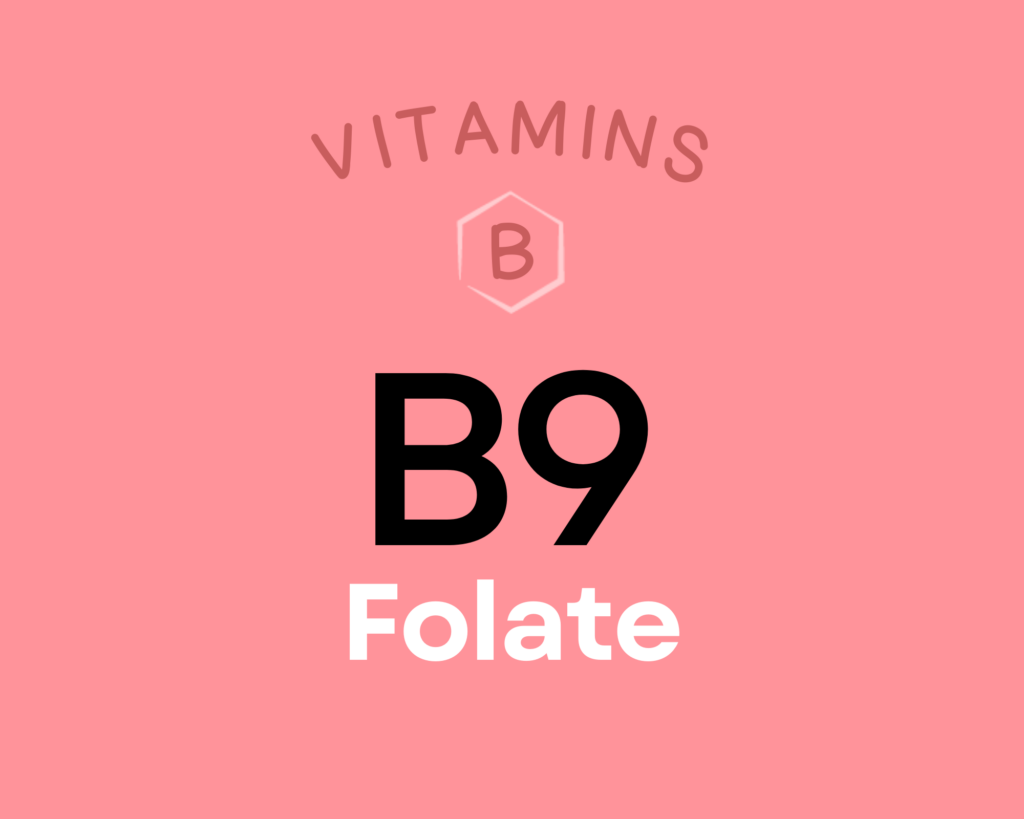 Vitamin B9 (folate) is an essential B vitamin that plays roles in blood cell production, the formation of genetic material (including DNA), and cell growth and function. It's particularly important during pregnancy, when folate demands increase due to the rapid creation of new cells and DNA. Along with helping protect against fetal development problems, folate can support cardiovascular health, potentially protect against certain cancers, and reduce the risk of cognitive and neurological disorders later in life. Learn more about vitamin B9 here.
Want to know the top 500 most nutrient-dense foods?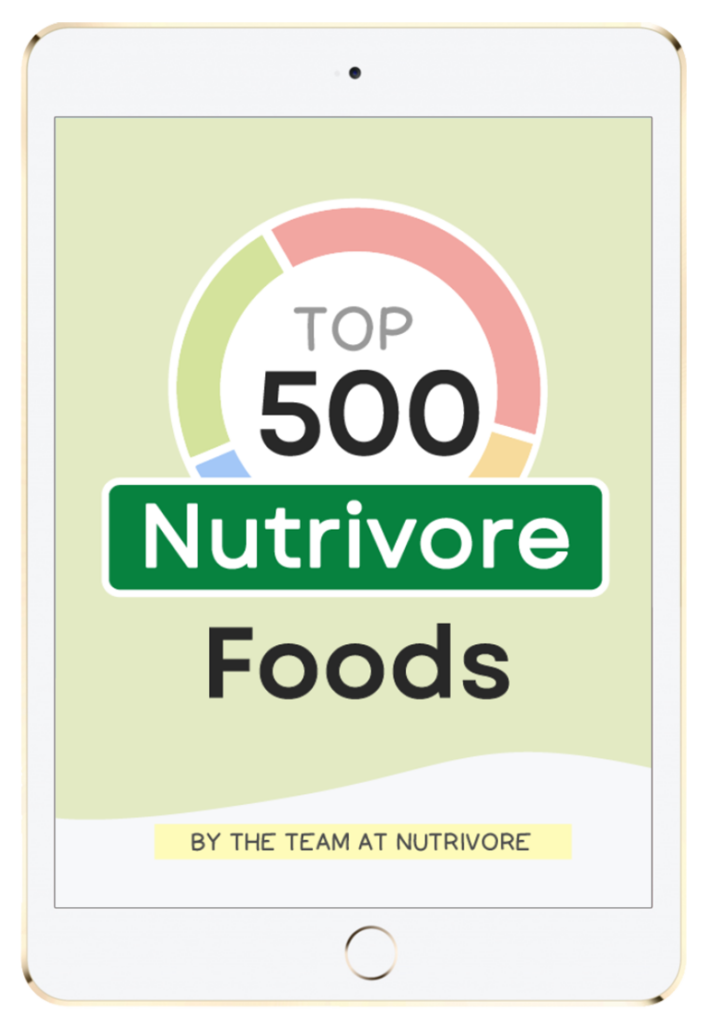 Top 500 Nutrivore Foods
The Top 500 Nutrivore Foods e-book is an amazing reference deck of the top 500 most nutrient-dense foods according to their Nutrivore Score. Think of it as the go-to resource for a super-nerd, to learn more and better understand which foods stand out, and why!
If you are looking for a quick-reference guide to help enhance your diet with nutrients, and dive into the details of your favorite foods, this book is your one-stop-shop!
Buy now for instant digital access.
How Much Parsnip Should We Eat Per Day?
When it comes to nutrient-dense carbs, root veggies are hard to beat!
Every serving of fresh, whole vegetables or fruit we eat daily reduces the risk of all-cause mortality by 5% to 8%, with the greatest risk reduction seen when we consume eight or more servings per day. In fact, consuming 800 grams of vegetables and fruits daily reduces all-cause mortality by 31% compared to eating less than 40 grams daily. A 2017 meta-analysis showed that 2.24 million deaths from cardiovascular disease, 660,000 deaths from cancer, and 7.8 million deaths from all causes could be avoided globally each year if everyone consumed 800 grams of veggies and fruits every day.
Eating vegetables and fruit in abundance lowers risk of cancer, cardiovascular disease, type 2 diabetes, obesity, chronic kidney disease, osteoporosis and bone fragility fractures (including hip fracture), cognitive impairment and dementia (including Alzheimer's disease), neurodegenerative diseases, asthma, allergies, chronic obstructive pulmonary disease, age-related macular degeneration, cataracts, glaucoma, depression, ulcerative colitis and Crohn's disease, rheumatoid arthritis, inflammatory polyarthritis, non-alcoholic fatty liver disease, acne, seborrheic dermatitis, and lowers markers of inflammation. Learn more in Importance of Vegetables and Fruit.
Covering half of your plate with a variety of vegetables (and three quarters of your plate if your starchy food is a root vegetable or winter squash) at each meal is a simple way to easily achieve the goal of 800 grams daily (about 5 to 8 servings depending on the vegetable).
Studies show that, for every 100 grams per day increase in root vegetable intake, there was a 24% reduced risk of all-cause mortality! And, looking at parsnips specifically – they contain polyacetylenes that have been shown to have anti-cancer properties, while also protecting against bacterial and fungal infection, reducing platelet aggregation, being anti-inflammatory, and even affecting serotonin within the body!
It's always best to mix up the veggies you eat day to day (aiming for a wide variety of different vegetables and fruits throughout the week), and parsnips definitely have a place at the table.
Easily track your servings of Nutrivore Foundational Foods!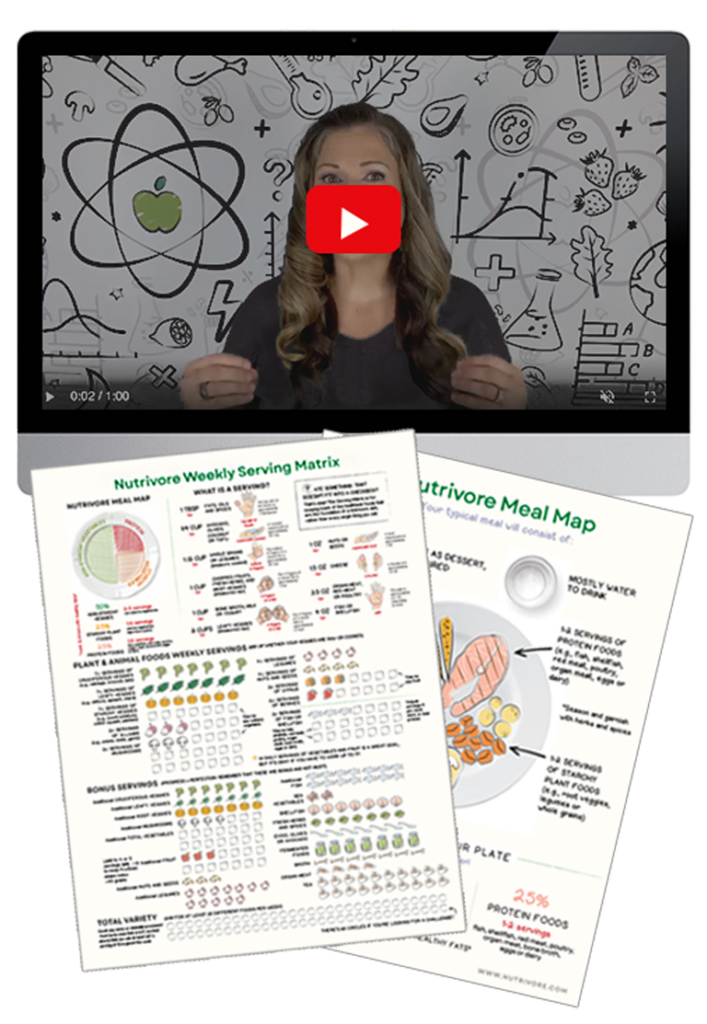 The Nutrivore Weekly Serving Matrix
The Nutrivore Weekly Serving Matrix digital resource is an easy-to-use and flexible weekly checklist designed to help you maximize nutrient-density and meet serving suggestions of Nutrivore foundational foods, all without having to weigh or measure your foods!
Includes a 1-hour video tutorial and downloadable interactive guides.
Buy now for instant digital access.
cITATIONS
Expand to see all scientific references for this article.