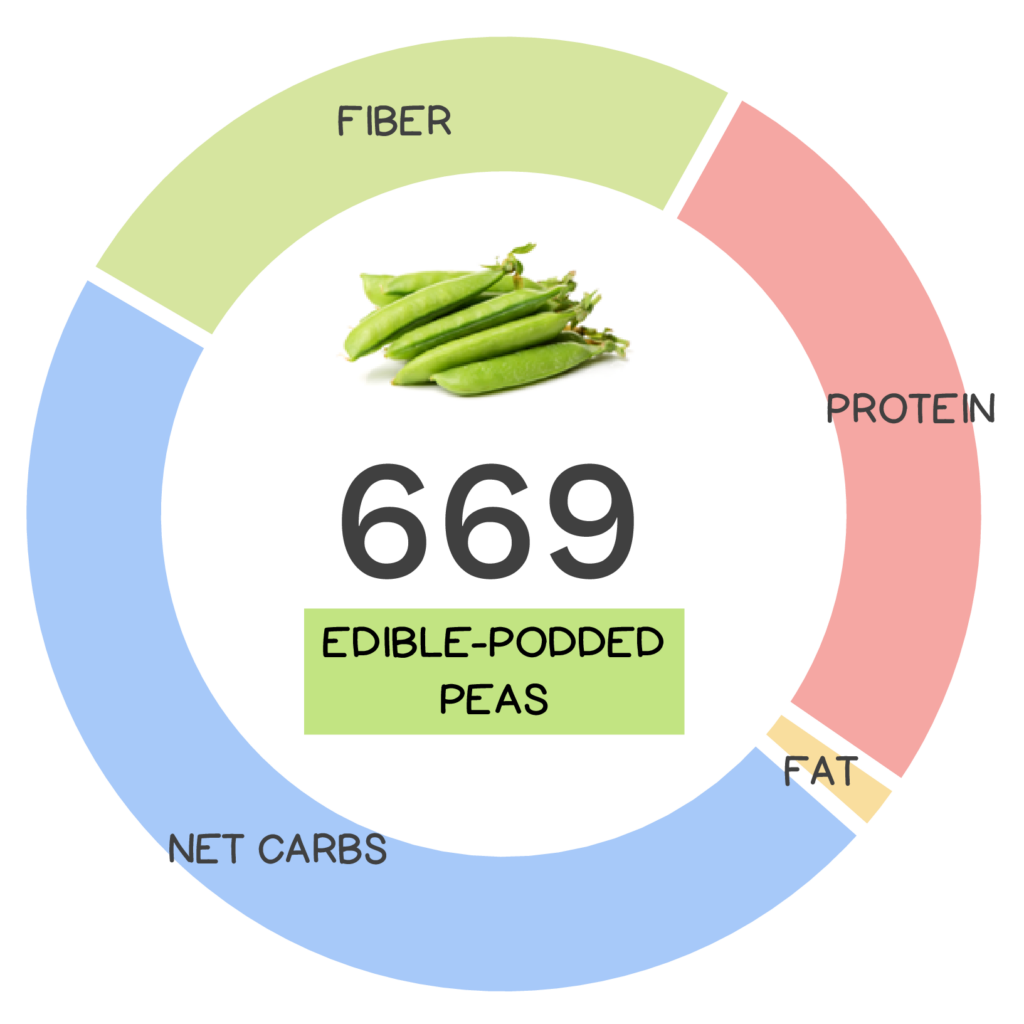 Edible podded peas, are peas that are eaten fresh, pod and all, and include the well-known snow peas with their flat pods and thin walls, and sugar snap peas which have thicker walls and contain full-sized peas – both of which are popular in stir fries and collectively referred to in French as mange-tout which literally translates to "eat-all" (a fitting name indeed!). Though eaten fresh, English peas (also known as sweet peas or garden peas) on the other hand would not fall under this category as they have inedible pods, from which the seeds (aka peas) are removed for consumption. Though snow peas and sugar snap peas are closely related to other legumes such as kidney beans, garbanzo beans, lima beans or black beans, which are harvested after their seeds (called pulses) have matured and dried, they are harvested for their fresh pods which are still soft and unripe (which means they are lower in mineral binding phytates and higher in micronutrients!). If you're on the fence about incorporating them into your diet, that should be enough to convince you to "give peas a chance!"
Peas (Pisum sativum), are technically fruit though they are perceived, prepared and partaken as a culinary vegetable. Although dried peas have a long history and were used by the ancient Egyptians, Greeks, and Romans, the concept of eating fresh garden peas wasn't developed until the Italian Renaissance. A version of snap peas was enjoyed in the 1600s but eventually lost in cultivation–what we now know as sugar snap peas was actually developed in the 1950s and wasn't widely available until the late 1970s!
Pea plants hold an important place in scientific history, as they were key in helping Gregor Mendel demonstrate how specific traits can be inherited – the foundation of modern genetics. He was able to monitor characteristics of pea pants including flower position and color, plant height, pod shape and color, and seed shape and color, after cross-breeding plants, allowing him to establish the idea of dominant and recessive traits. Over the course of his experiments, he grew and examined 28,000 pea plants!
Nutrivore Score for Edible Podded Peas – 669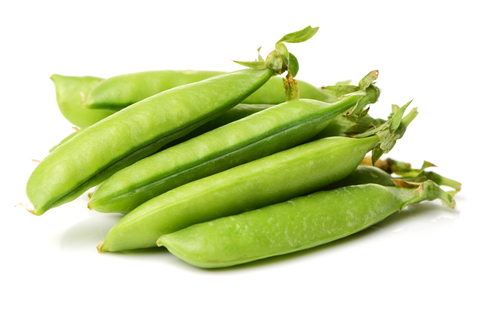 Edible podded peas have a Nutrivore Score of 669, making them a high nutrient-dense food! Plus, they are a low-carb and low-calorie-density food; the calorie count of edible podded peas is 41 calories per cup!
Per serving, edible podded peas are a best source (>50% daily value) of vitamin C; an excellent source (20-50% daily value) of vitamin B7 (biotin) and vitamin K; and a good source (10-20% daily value) of carotenoids, iron, manganese, vitamin B1 (thiamin), vitamin B5 (pantothenic acid), and vitamin B9 (folate).
Want to Know the Top 100 Nutrivore Score Foods?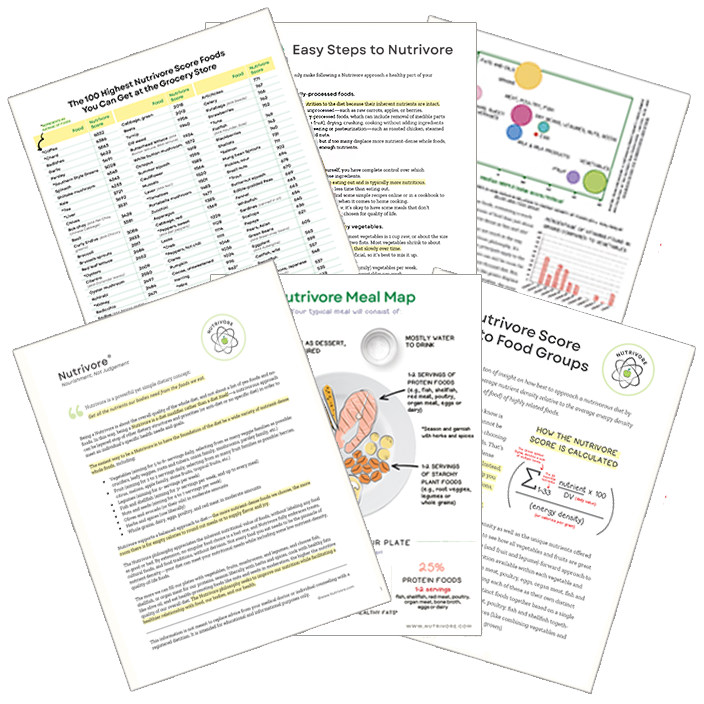 Get it Directly in Your Inbox!
The Nutrivore Newsletter is a weekly email that delivers bite-size fun facts, practical tips, recipes and resources. Sign up now and get 5 free guides directly to your inbox:
Easy Steps to Nutrivore 4-page guide
Nutrivore Foundational Foods 6-page guide
Nutrivore Score Guide to Food Groups 3-page guide
Nutrivore Meal Map
Top 100 Nutrivore Score Foods
Edible Podded Pea Nutrition Facts
One serving of edible podded peas is standardized to 1 cup, chopped or about 98 grams (3.5 ounces), which is roughly equivalent to 30 pea pods. When you cook edible podded peas, they reduce in volume: 1 cup raw edible podded peas is equivalent to a little more than 1/3 cup boiled edible podded peas.
Edible Podded Pea Nutrition Facts Per Serving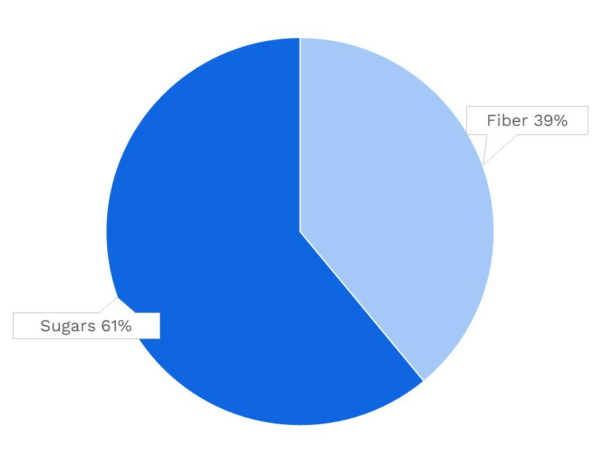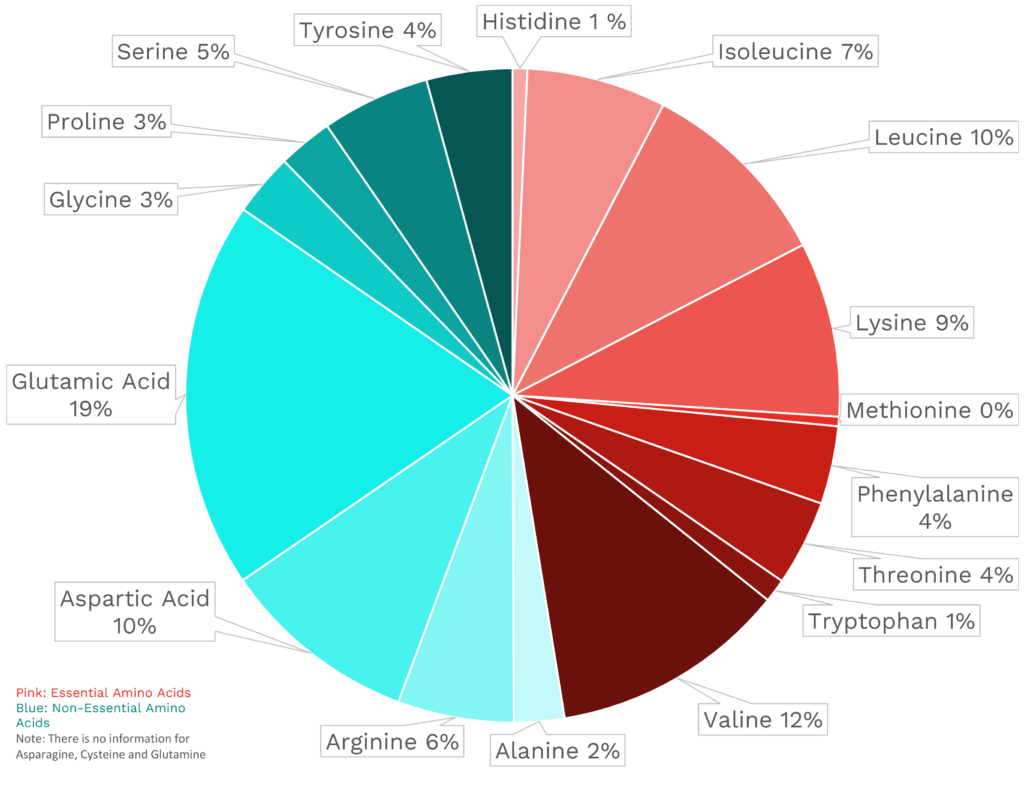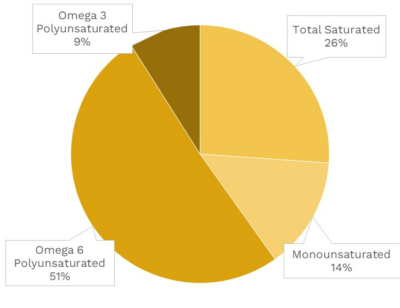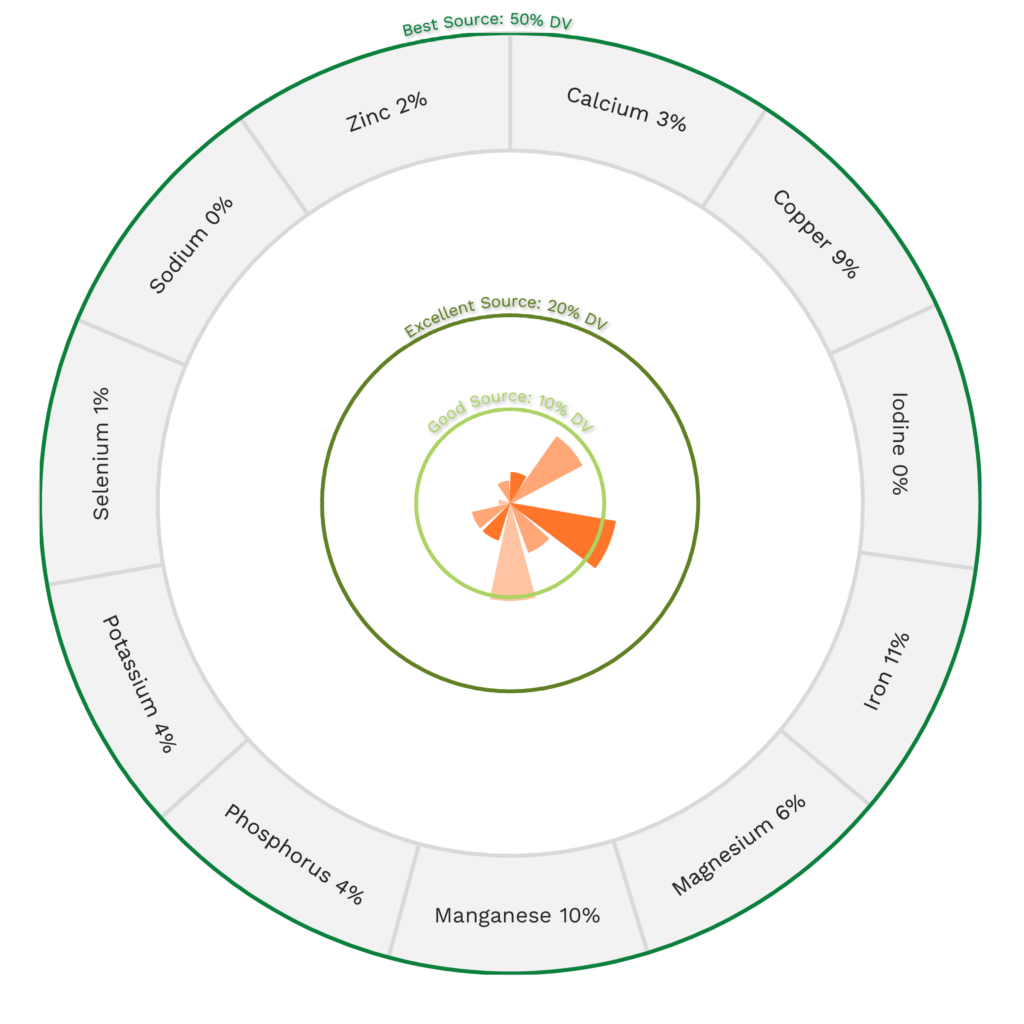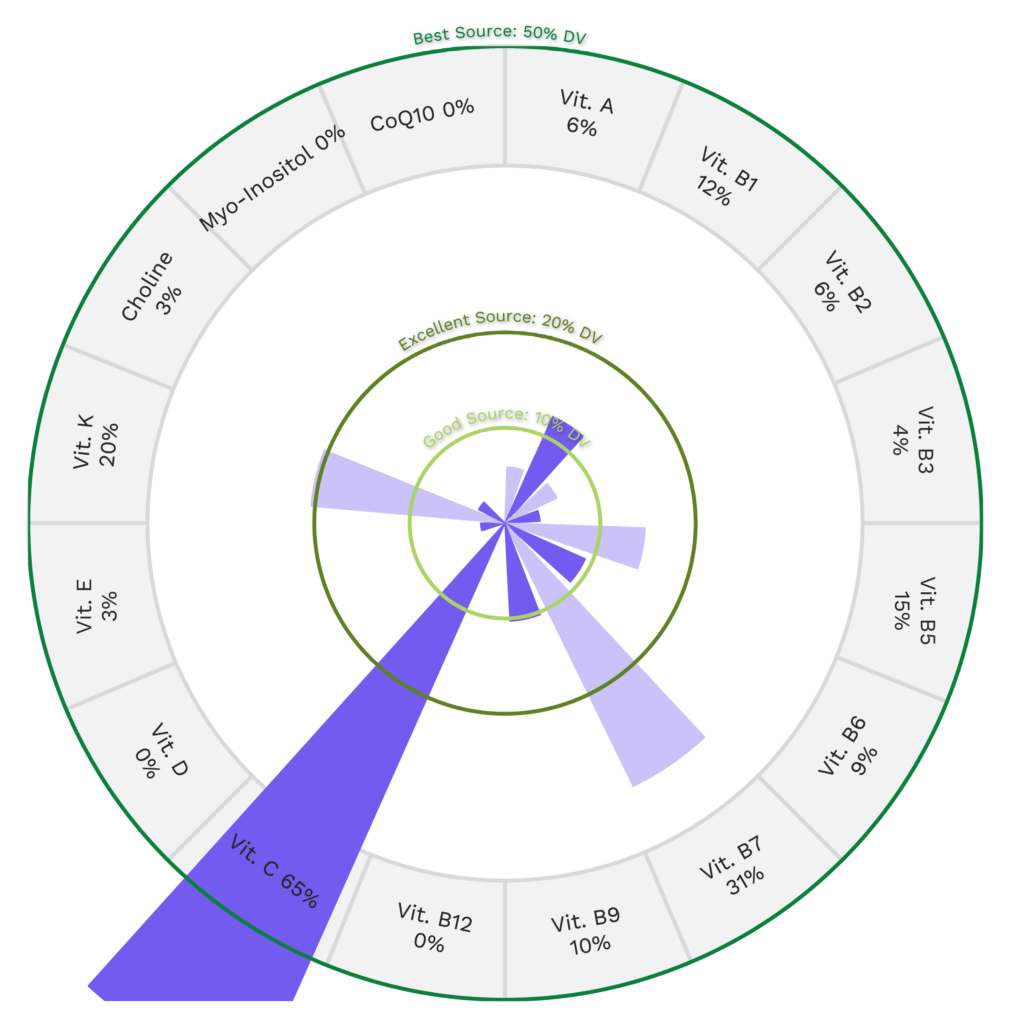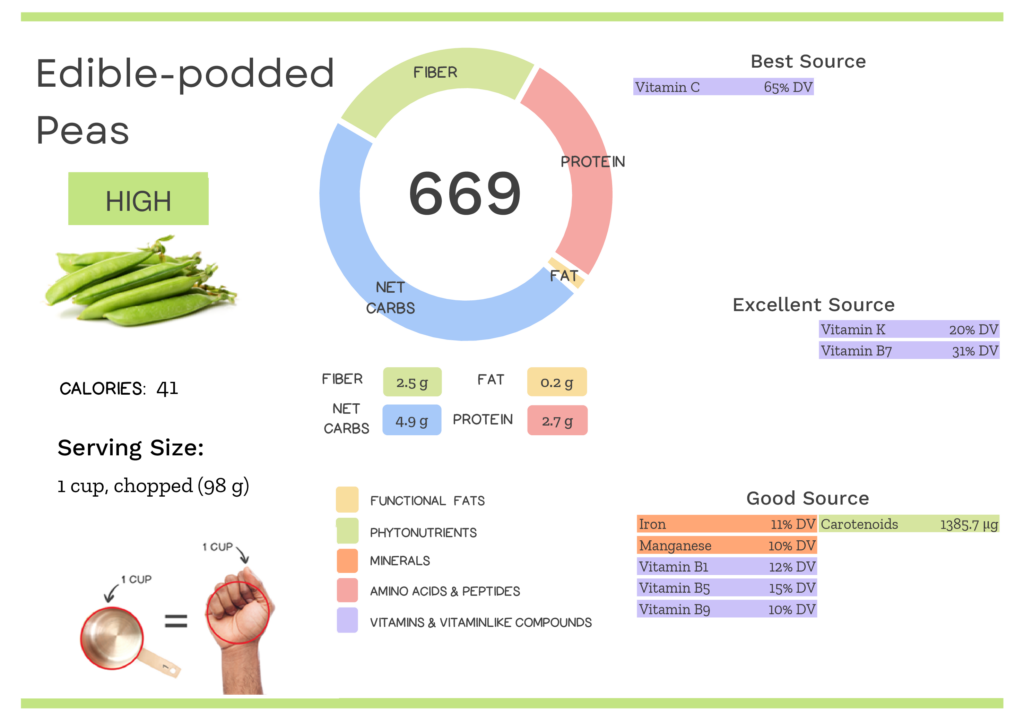 Edible Podded Pea Nutrition Varies With Cooking and Processing
The Nutrivore Score of edible podded peas varies depending on processing and the method of preparation. For instance, frozen peas are conveniently available year-round at the grocery store.
| | NUTRIVORE SCORE |
| --- | --- |
| Edible podded peas, boiled, drained, with salt | 641 |
| Edible podded peas, boiled, drained, without salt | 615 |
| Edible podded peas, frozen, boiled, drained with salt | 535 |
| Edible podded peas, frozen, boiled, drained without salt | 518 |
| Edible podded peas, frozen, unprepared | 543 |
| Edible podded peas, raw | 669 |
Did this info leave you wanting to give "peas" a chance? Maybe your friends will too!
Health Benefits of Edible Podded Pea Nutrients
Let's take a closer look at all of the best and excellent source of nutrients found in a 1-cup serving of edible podded peas and see how they benefit our health.
Edible Podded Peas Provide 65% DV Vitamin C
Edible podded peas are a fantastic source of vitamin C, providing 65% of the daily value per 1-cup serving!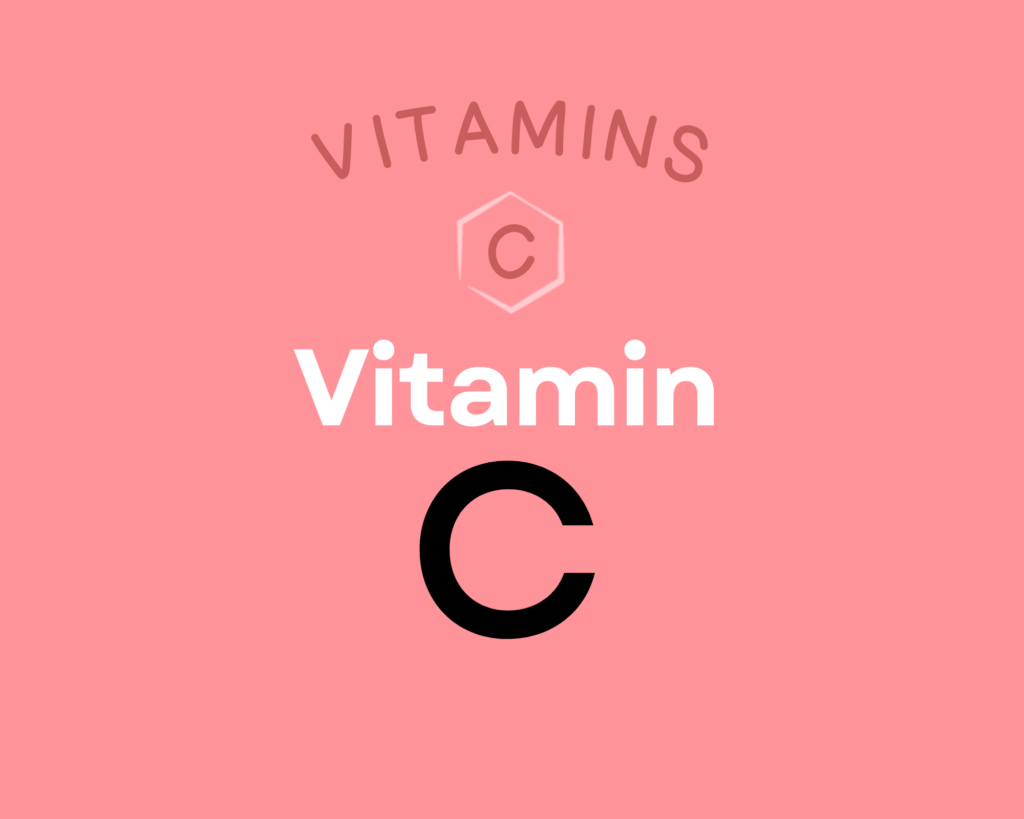 Vitamin C is a water-soluble vitamin that has powerful antioxidant properties (meaning it can help combat oxidative damage from free radicals and reactive oxygen species) and that serves as an enzyme cofactor (meaning it's needed for enzymes to do their job, for example vitamin C is necessary for collagen synthesis, which is essential for bones, joints, teeth, blood vessels, skin and eyes) and playing important roles in immune system and skin health. Higher intakes of vitamin C are linked to reduced risk of heart disease, some forms of cancer, type 2 diabetes, cataracts, age-related macular degeneration, and gout. Vitamin C can also help regulate the stress response and reduce anxiety, and there's preliminary evidence that it may also help prevent Alzheimer's disease. Learn more about vitamin C here.
Edible Podded Peas Provide 31% DV Vitamin B7 (Biotin)
Edible podded peas are an excellent source of vitamin B7 (biotin), providing 31% of the daily value per 1-cup serving!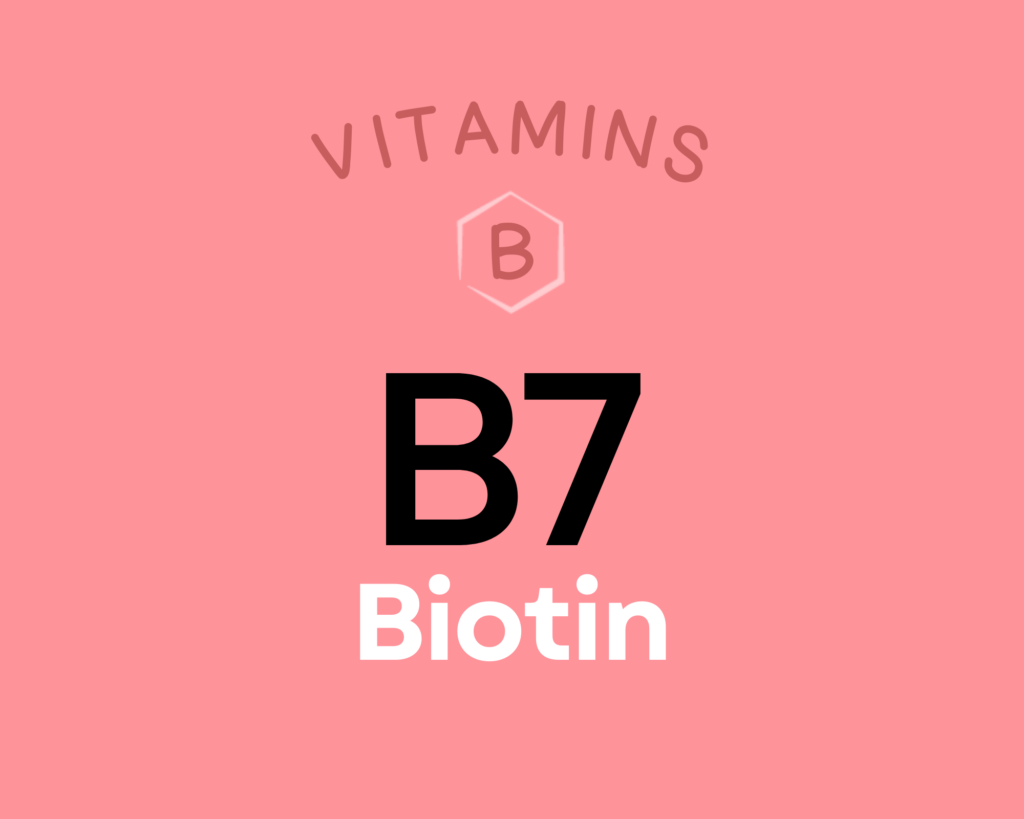 Biotin is a water-soluble B vitamin, also known as vitamin B7. Like other B vitamins, it plays an important role in energy metabolism (serving as a coenzyme for five carboxylase enzymes), neurotransmitter production, cellular function, and the function of various organs. Getting enough biotin can help support healthy nail and hair growth. It's also particularly important during pregnancy, with low intakes increasing the risk of premature delivery and birth defects. There's even some evidence biotin can benefit diabetics and reduce functional disabilities in people with multiple sclerosis. Learn more about biotin here.
Edible Podded Peas Provide 20% DV Vitamin K
Edible podded peas are also an excellent source of vitamin K, providing 20% of the daily value per 1-cup serving!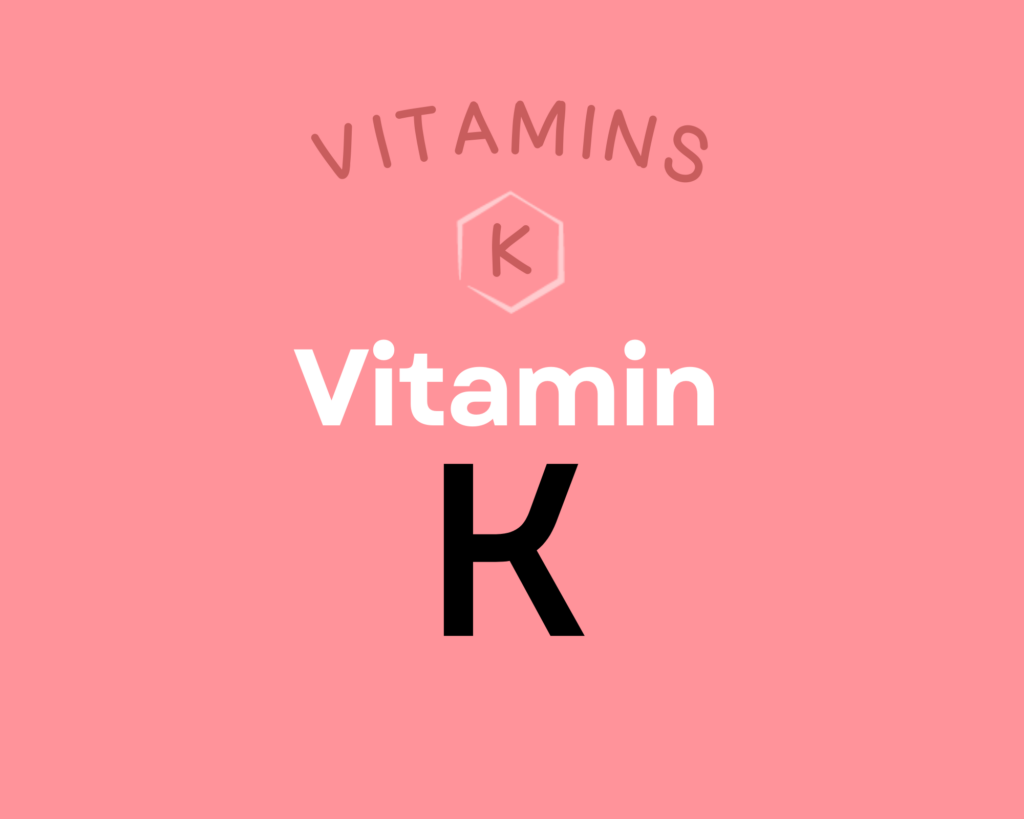 Vitamin K is actually a group of fat-soluble vitamins with a similar molecular structure, existing as K1, multiple isoforms of K2, and the synthetic form K3. This nutrient plays a vital role in coagulation, due to serving as a cofactor for proteins needed for blood clotting; it's also essential for bone metabolism, cellular function, and the prevention of soft tissue calcification. Getting enough vitamin K2 can help protect against cardiovascular disease, may improve bone mineral density and skeletal health, and may even support endocrine function and brain health; there's also some limited evidence it has anti-cancer and anti-inflammatory properties. Learn more about vitamin K here.
Learn What Foods Are the Best Sources of Every Nutrient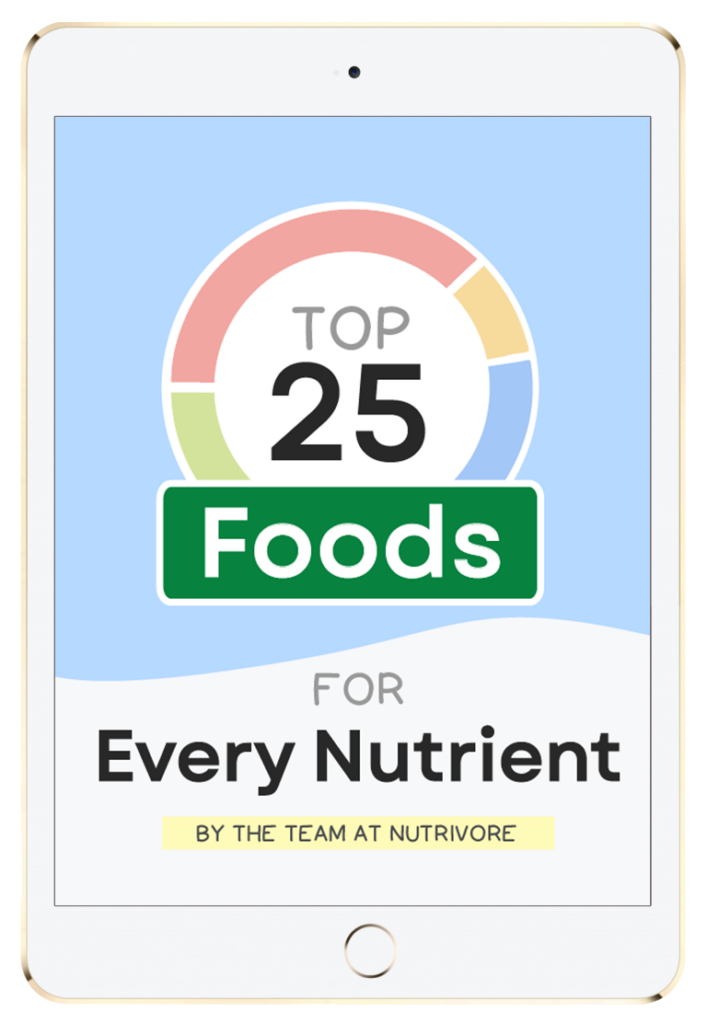 The Top 25 Foods for Every Nutrient
The Top 25 Foods for Every Nutrient e-book is a well-organized, easy-to-use guide to help you choose foods that fit your needs of 42 important nutrients while creating a balanced nutrient-dense diet.
Get two "Top 25" food lists for each nutrient, plus you'll find RDA charts for everyone, informative visuals, fun facts, serving sizes and the 43 foods that are Nutrient Super Stars!
Buy now for instant digital access.
How Much Edible Podded Peas Should We Eat Per Day?
Whether you prefer snow peas or sugar snap peas, including edible podded peas in our diet is a "snap" and great for our health – no strings attached! (Hyuck)
Every serving of fresh, whole vegetables or fruit we eat daily reduces the risk of all-cause mortality by 5% to 8%, with the greatest risk reduction seen when we consume eight or more servings per day. In fact, consuming 800 grams of vegetables and fruits daily reduces all-cause mortality by 31% compared to eating less than 40 grams daily. A 2017 meta-analysis showed that 2.24 million deaths from cardiovascular disease, 660,000 deaths from cancer, and 7.8 million deaths from all causes could be avoided globally each year if everyone consumed 800 grams of veggies and fruits every day.
Eating vegetables and fruit in abundance lowers risk of cancer, cardiovascular disease, type 2 diabetes, obesity, chronic kidney disease, osteoporosis and bone fragility fractures (including hip fracture), cognitive impairment and dementia (including Alzheimer's disease), neurodegenerative diseases, asthma, allergies, chronic obstructive pulmonary disease, age-related macular degeneration, cataracts, glaucoma, depression, ulcerative colitis and Crohn's disease, rheumatoid arthritis, inflammatory polyarthritis, non-alcoholic fatty liver disease, acne, seborrheic dermatitis, and lowers markers of inflammation. Learn more in Importance of Vegetables and Fruit.
Covering half of your plate with a variety of vegetables (and three quarters of your plate if your starchy food is a root vegetable or winter squash) at each meal is a simple way to easily achieve the goal of 800 grams daily (about 5 to 8 servings depending on the vegetable).
One case-control study found that compared to men who ate fresh peas three or fewer times per month, those who ate them at least five times per week had a 65% reduced risk for developing prostate cancer! It's always best to mix up the veggies you eat day to day (aiming for a wide variety of different vegetables and fruits throughout the week), and edible podded peas definitely have a place at the table.
Easily track your servings of Nutrivore Foundational Foods!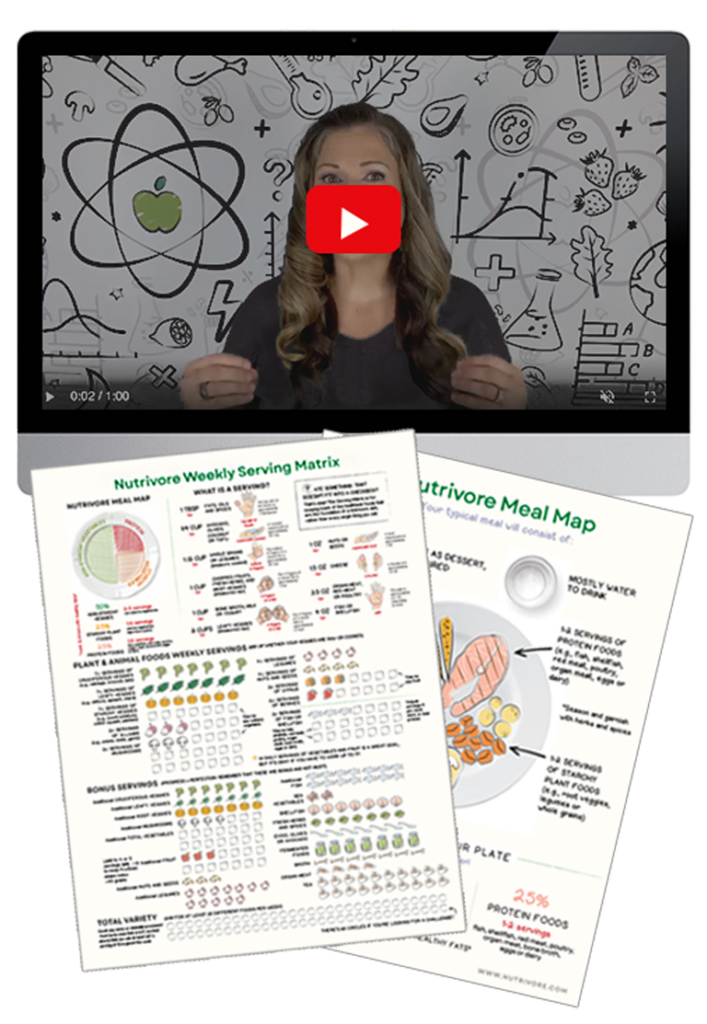 The Nutrivore Weekly Serving Matrix
The Nutrivore Weekly Serving Matrix digital resource is an easy-to-use and flexible weekly checklist designed to help you maximize nutrient-density and meet serving suggestions of Nutrivore foundational foods, all without having to weigh or measure your foods!
Includes a 1-hour video tutorial and downloadable interactive guides.
Buy now for instant digital access.
Citations
Expand to see all scientific references for this article.