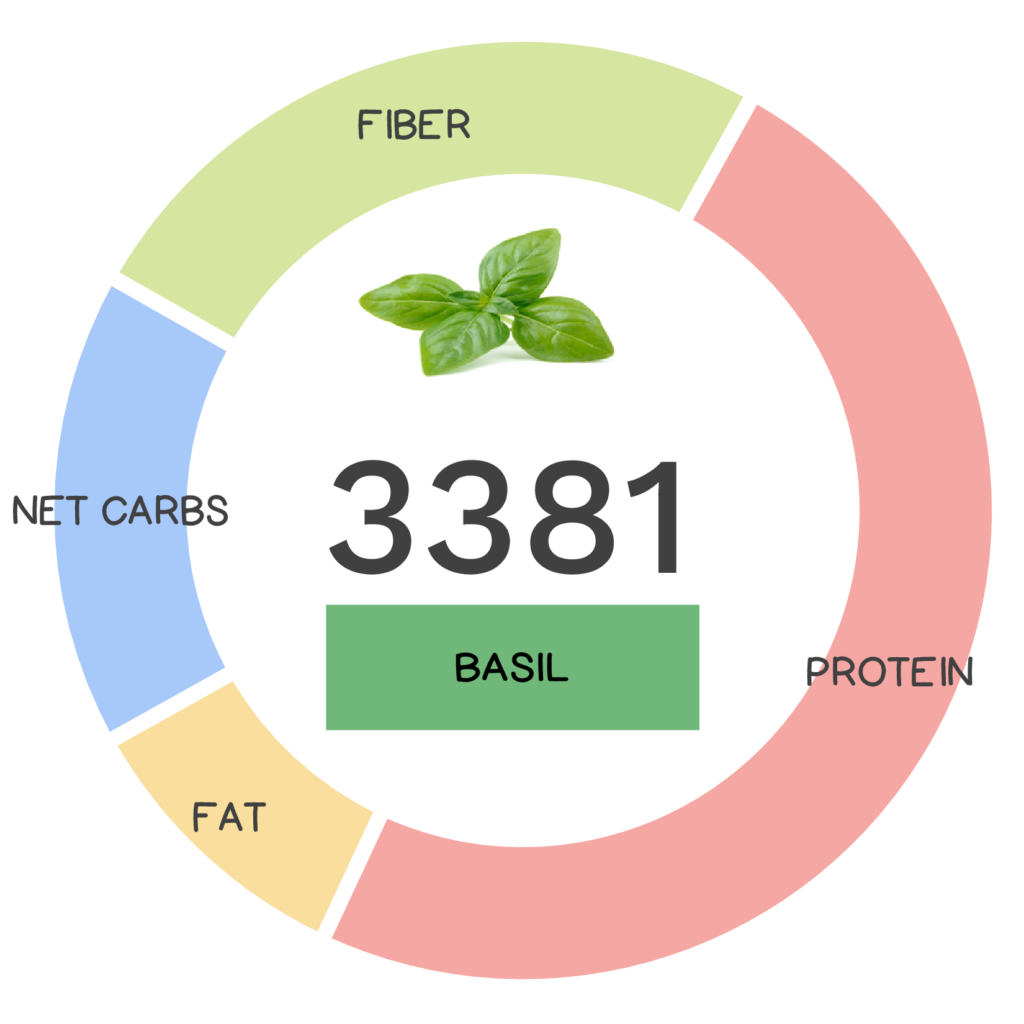 Basil, with its aromatic fragrance, is one of the most commonly used herbs globally; its amazing flavor is prominently featured in Italian cuisine (pesto, anyone?), as well as in Southeast Asian dishes like Thai and Vietnamese. Herbs, in general, have been important to virtually every human culture scrolling back long before recorded history, and even show up on cave paintings in France dating as far back as 25,000 BCE. Ancient Egyptians began writing about herbs by the 28th century BCE, and by 700 BCE, Greek merchants were trading various herbs in markets in Athens – Hippocrates, the "father of medicine," later catalogued 400 different herbs being used at the time! In the days before refrigeration herbs were likely used to disguise the taste of not-so-fresh foods (especially meat): strongly flavored herbs could mask the taste and smell of items that were going bad! Luckily, today we only need them to flavor dishes and when it comes to that, basil is a superstar (you could say it's a "basal" staple in any kitchen!).
This herb is a member of the mint plant family (Lamiaceae) and encompasses scores of species belonging to the genus Ocimum. It is estimated there are 50 to 150 species of basil; however, most culinary basils are cultivars of sweet basil (Ocimum basilicum). Others are cultivars of different basil species, while some are hybrids since cross-breeding readily occurs. Varieties differ in the size and shape of the leaves, but more notably in their scent, which varies due to differences in essential oils contained within the plants. For instance, the most common variety, sweet basil (also known as Genovese basil) has a sweet aroma with notes of clove and anise, Thai basil has a scent of licorice, while lemon basil has a strong lemony smell (no surprise there!).
Basil has been cultivated for more than 4,000 years and it is thought to have originated in India, though there is no clear record of where it was first cultivated. Although it is native to tropical regions from central Africa to Southeast Asia, it has now been globalized. Apart from its culinary uses, throughout history this herb has played a role in cultures worldwide – including being used for embalming mummies in ancient Egypt, as a symbol of mourning in ancient Greece, as a spiritual protector in India, to give strength during religious fasting in Jewish culture, and as an emblem to ward off evil in Crete! It has also featured prominently in many religions and has a strong history in ancient traditional medicines, such as Ayurveda and traditional Chinese medicine. The word 'basil' itself comes from the Greek basileus, meaning "kingly" or "royal plant." Indeed, we feel like royalty when feasting on this fragrant herb!
The Best Support to Build This Important Daily Habit!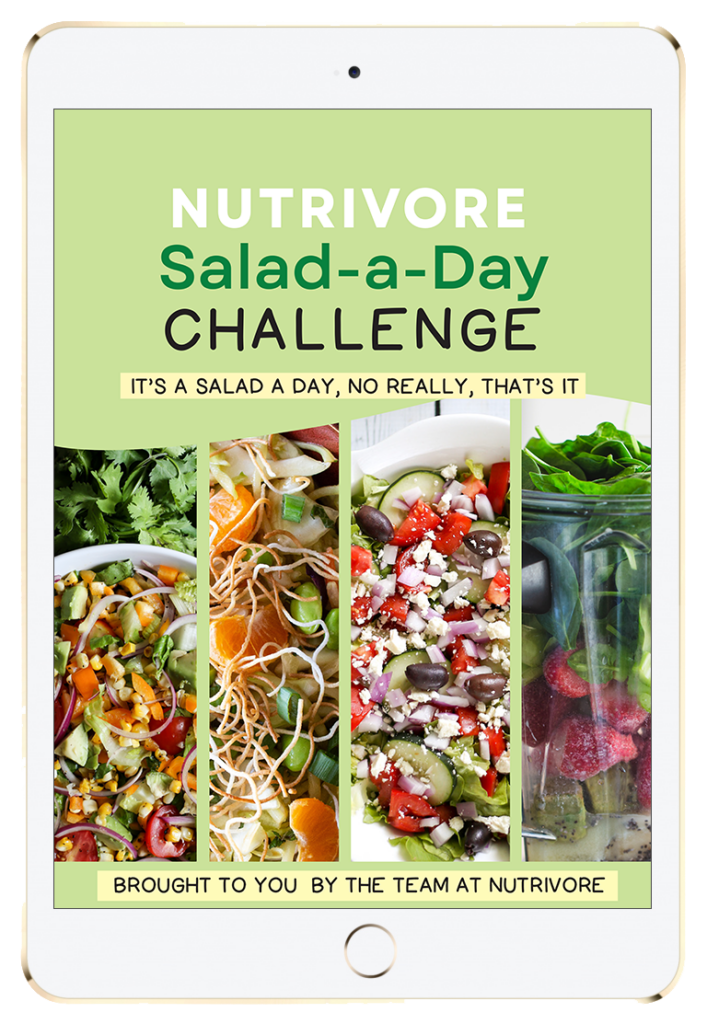 Nutrivore Salad-a-Day Challenge
The Nutrivore Salad-a-Day Challenge e-book explains all the ways a daily salad can improve your health, plus includes a collection of 10 handy visual guides and food lists, like the Nutrivore Salad Matrix.
Plus, you'll find 50+ recipes, including over 30 of our favorite salad recipes plus recipes for delicious dressings and tasty toppers.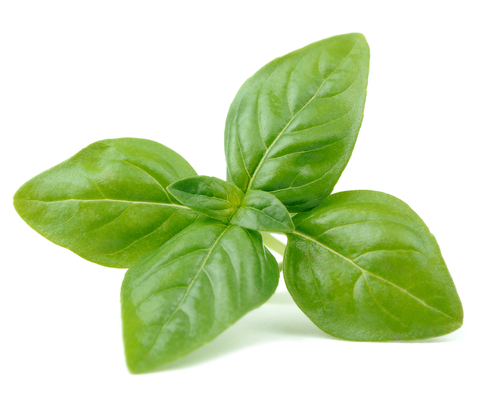 Nutrivore Score for Basil – 3381
Basil has a Nutrivore Score of 3381, which makes it a super nutrient-dense food! Plus, this herb is a low-carb and low-calorie-density food; the calorie count of basil just an astonishing 4 calories per cup!
Per serving, basil is an excellent source (20-50% daily value) of vitamin K.
Want to Know the Top 100 Nutrivore Score Foods?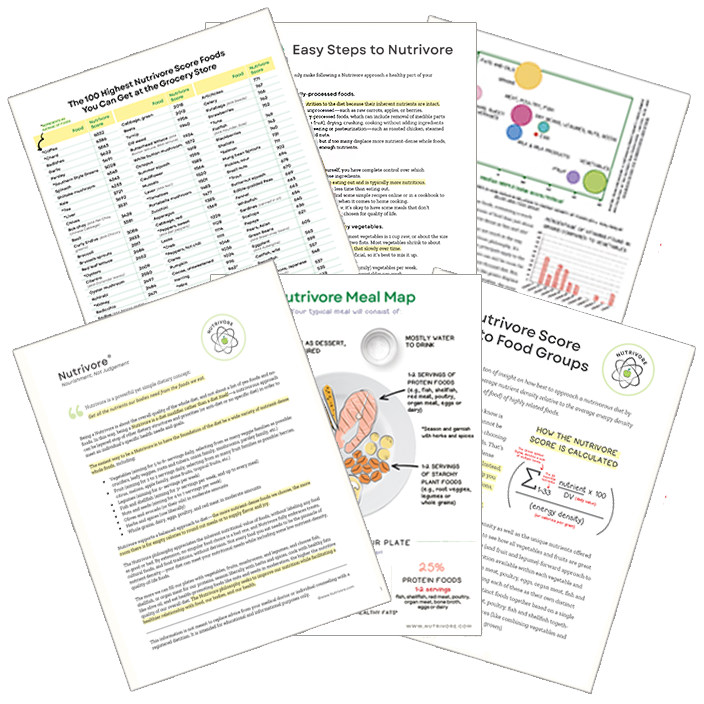 Get it Directly in Your Inbox!
The Nutrivore Newsletter is a weekly email that delivers bite-size fun facts, practical tips, recipes and resources. Sign up now and get 5 free guides directly to your inbox:
Easy Steps to Nutrivore 4-page guide
Nutrivore Foundational Foods 6-page guide
Nutrivore Score Guide to Food Groups 3-page guide
Nutrivore Meal Map
Top 100 Nutrivore Score Foods
Basil Nutrition Facts
One serving of basil is standardized to 1/4 cup of fresh basil, or about 6 grams (0.2 ounces). For herbs, on average, three parts fresh is roughly equivalent to 1 part dried, so if using dried basil: 1 tablespoon fresh basil is equivalent to 1 teaspoon dried basil.
Basil Nutrition Facts Per Serving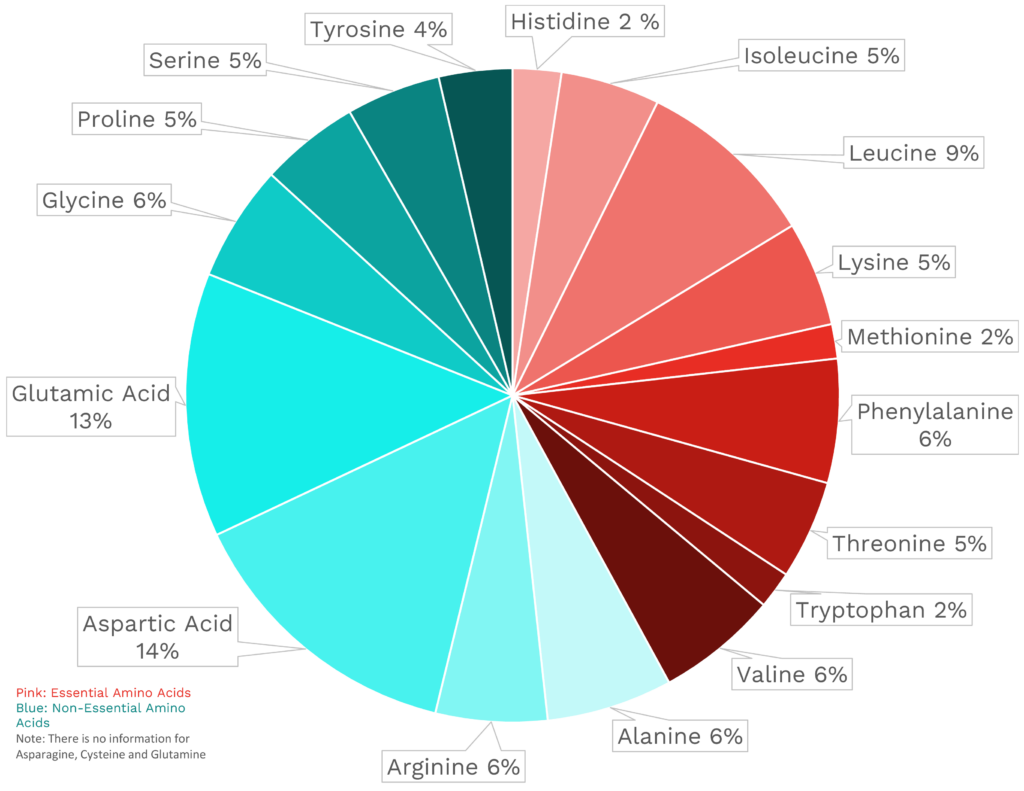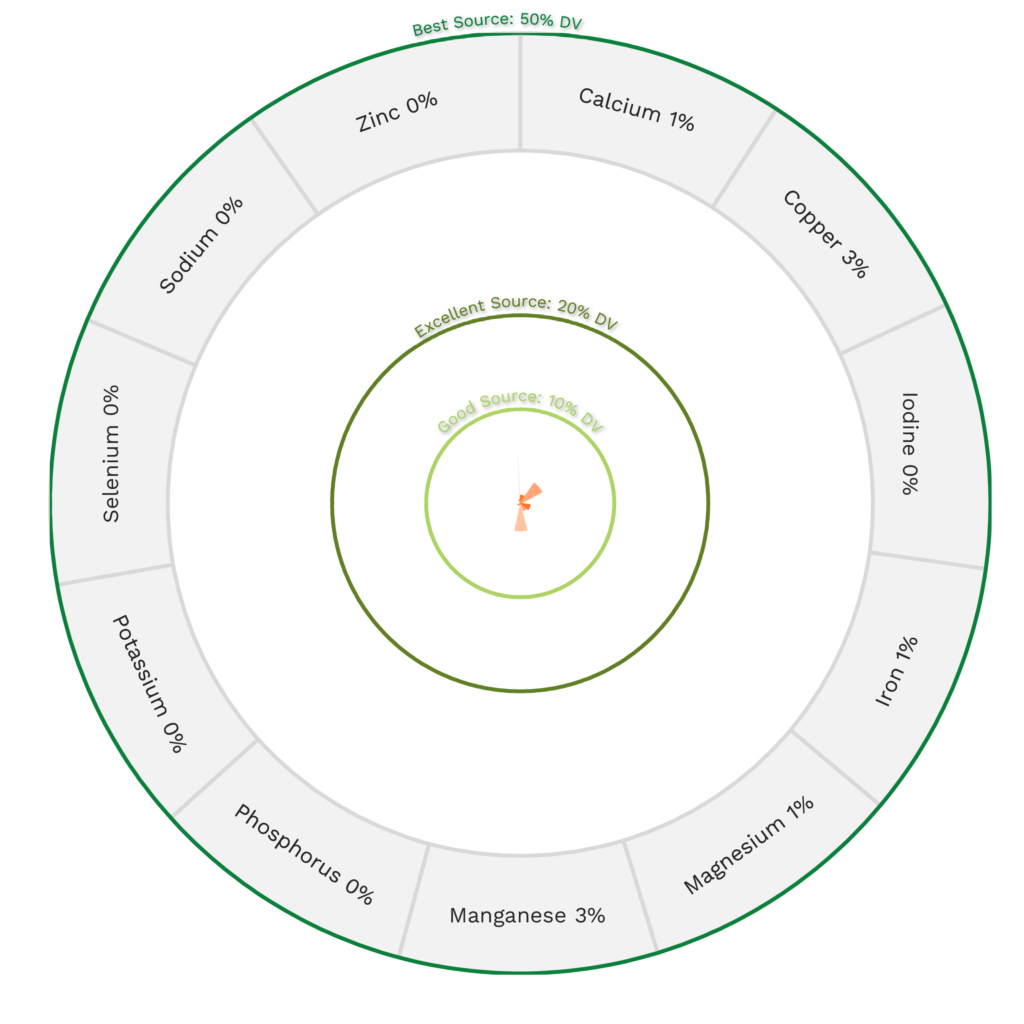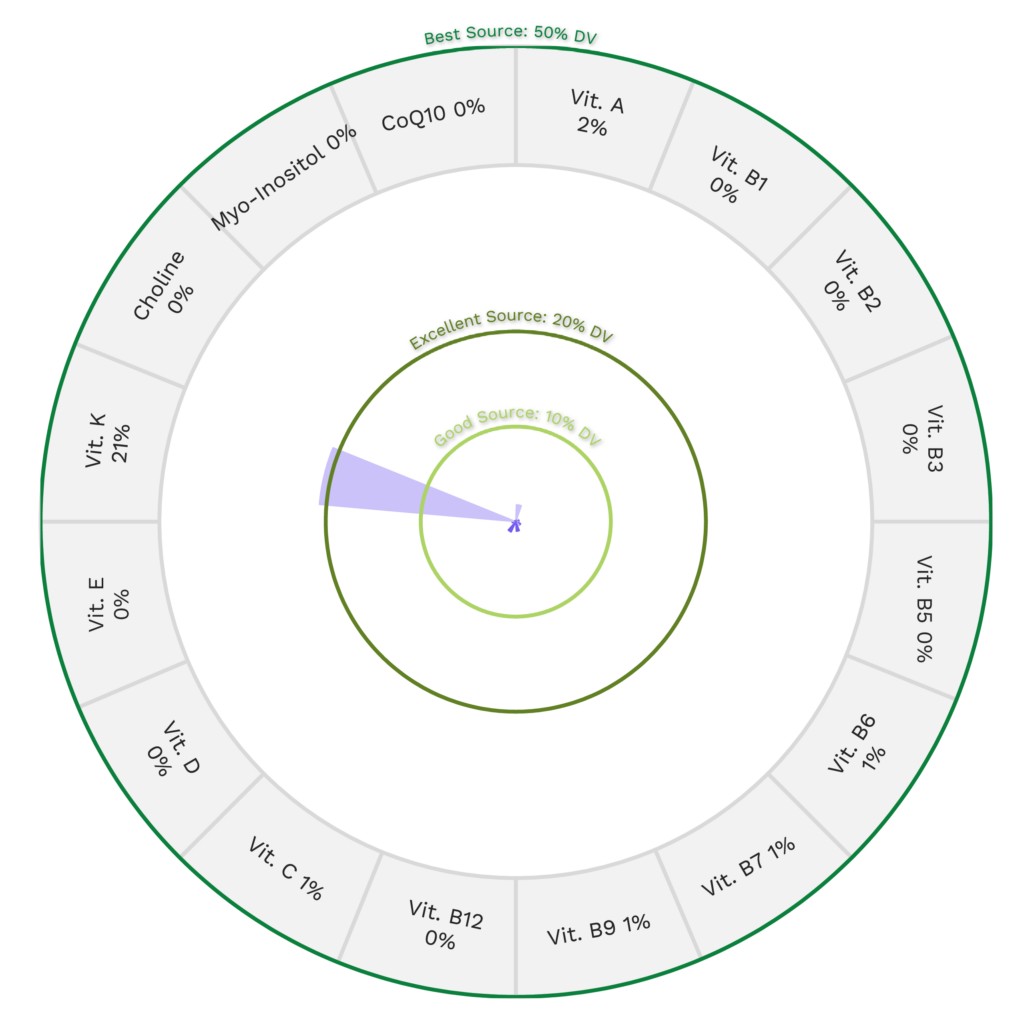 Join the FREE Nutrivore Salad-a-Day Challenge!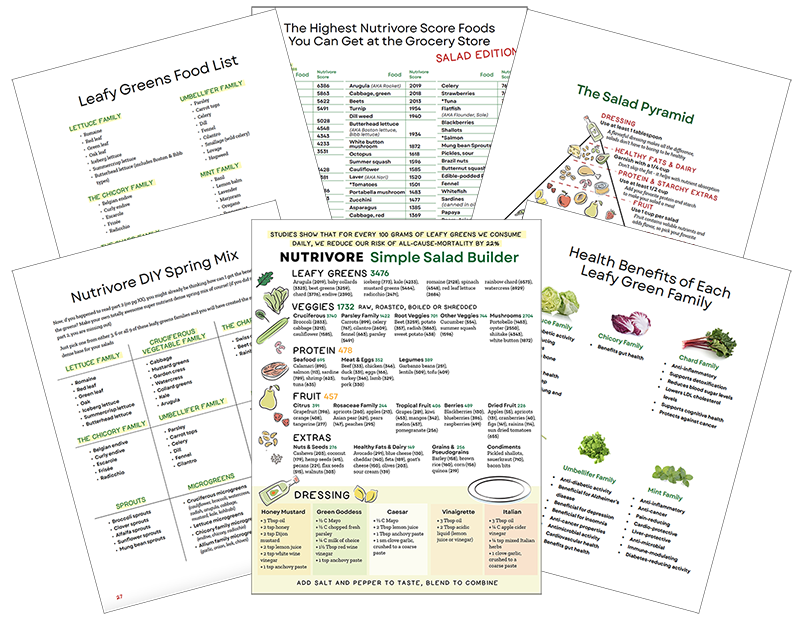 GET 6 FREE GUIDES & 12 RECIPES!
Sign up for the Nutrivore Salad-A-Day Challenge emails to get your hands on 6 easy salad recipes, 6 simple recipes for really fun salad toppers, and 6 epic 1-page downloads:
The Salad Pyramid
Leafy Greens Foods List
Highest Nutrivore Score Foods, Salad Edition!
DIY Spring Mix
Simple Salad Builder
Leafy Greens and their Specific Health Benefits
Basil Nutrition Varies With Processing
The Nutrivore Score for basil varies depending on processing. For instance, dried basil is available year-round for convenience. Even though dried basil has a lower Nutrivore Score than fresh basil, adding dried basil to foods is a simple and easy way to boost the nutrient density of any meal!
| | NUTRIVORE SCORE |
| --- | --- |
| Basil, dried | 2035 |
| Basil, fresh | 3381 |
Impressed by the unbe-LEAF-able nutrition in basil? Maybe your friends will be too!
Health Benefits of Basil Nutrients
Let's take a closer look at all of the best and excellent source of nutrients found in a 1/4-cup serving of basil and see how they benefit our health.
Basil Provides 21% DV Vitamin K
Basil is an excellent source of vitamin K, providing 21% of the daily value per 1/4-cup serving.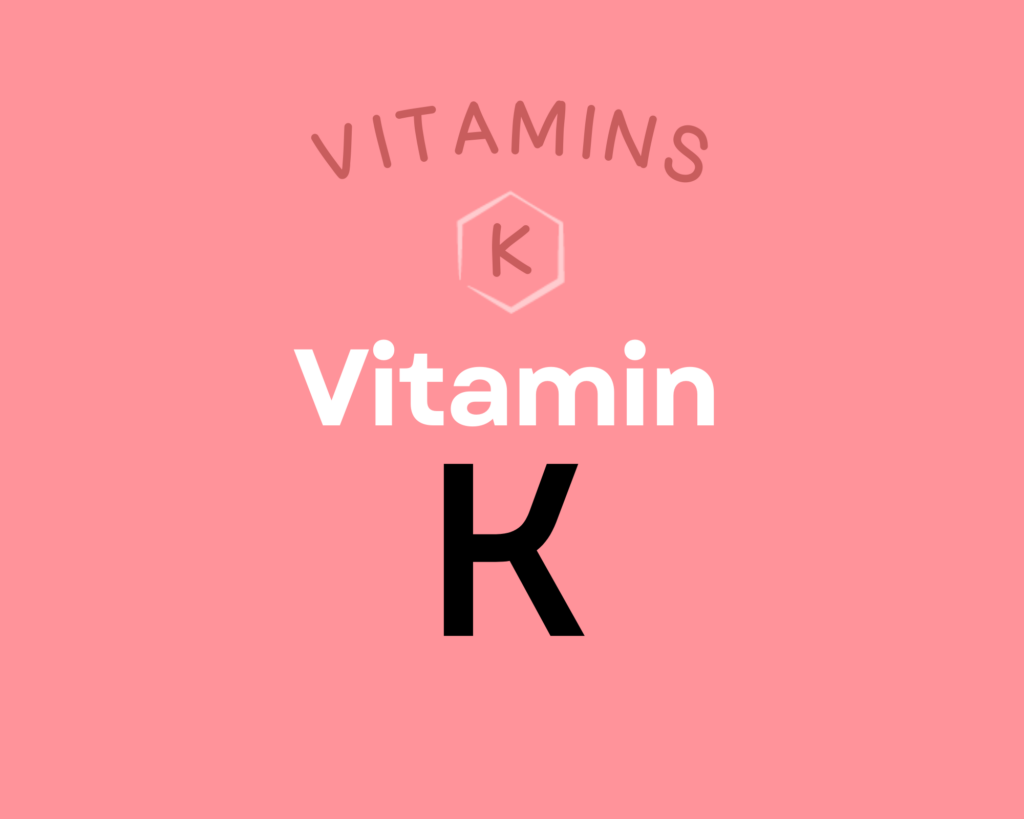 Vitamin K is actually a group of fat-soluble vitamins with a similar molecular structure, existing as K1, multiple isoforms of K2, and the synthetic form K3. This nutrient plays a vital role in coagulation, due to serving as a cofactor for proteins needed for blood clotting; it's also essential for bone metabolism, cellular function, and the prevention of soft tissue calcification. Getting enough vitamin K2 can help protect against cardiovascular disease, may improve bone mineral density and skeletal health, and may even support endocrine function and brain health; there's also some limited evidence it has anti-cancer and anti-inflammatory properties. Learn more about vitamin K here.
Learn What Foods Are the Best Sources of Every Nutrient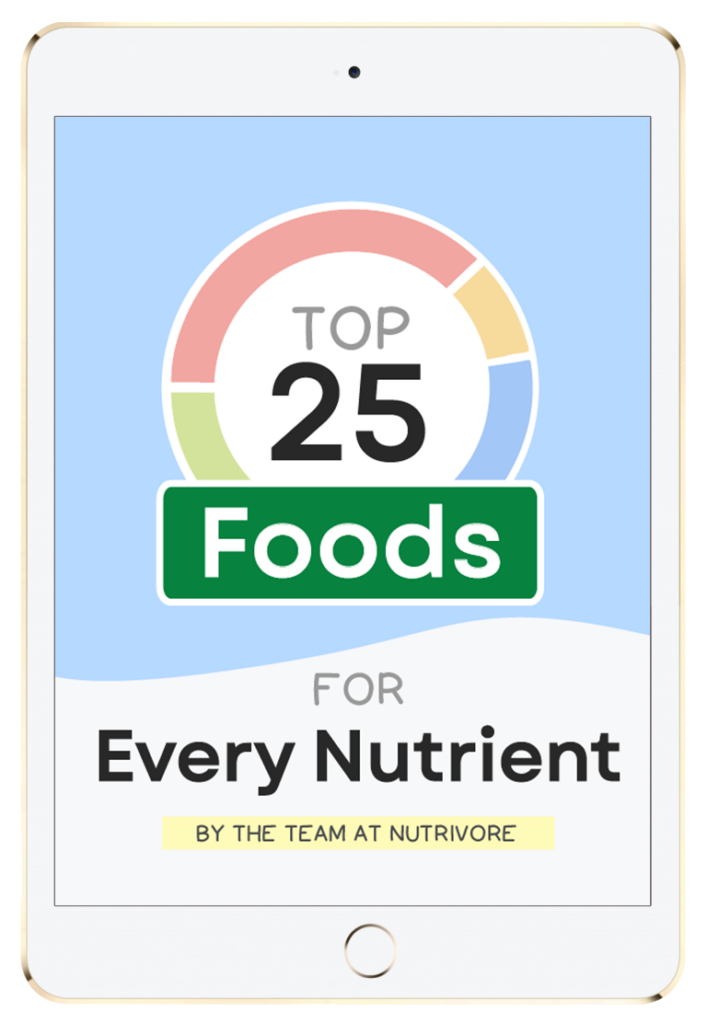 The Top 25 Foods for Every Nutrient
The Top 25 Foods for Every Nutrient e-book is a well-organized, easy-to-use guide to help you choose foods that fit your needs of 42 important nutrients while creating a balanced nutrient-dense diet.
Get two "Top 25" food lists for each nutrient, plus you'll find RDA charts for everyone, informative visuals, fun facts, serving sizes and the 43 foods that are Nutrient Super Stars!
How Much Basil Should We Eat Per Day?
Herbs (like basil) are often solely used as garnish but in actuality provide the perfect opportunity to deliver a health-promoting boost of flavor and nutrients to any dish.
The health benefits attributed to herbs and spices, and particularly their phytonutrient content and volatile oils, are incredibly vast. In general, herbs and spices have been shown to have powerful antioxidant activity, exhibit anti-cancer effects (especially due to polyphenols, terpenes, vanilloids, and organosulfur compounds), reduce inflammation (for example, basil, bay leaves, sage, thyme, licorice, and oregano have been shown to improve cytokine profiles), and reduce cardiovascular disease risk.
There is evidence from human clinical trials showing that adding spices and herbs to our diet can improve serum lipid profiles (HDL cholesterol, LCL cholesterol and triglycerides) as well as glycemic control, blood pressure, inflammation, and oxidative stress. For example, a 2022 study added a mere 6.6 grams per day per 2100 calories of herbs and spices (that's about a teaspoon of seasonings throughout the whole day) to the diets of adults with risk factors for cardiovascular disease, with a crossover design comparing to a 3.3 grams of herbs and spices phase as well as a <0.5 grams herbs and spices phase. After four weeks consuming the higher level of herbs and spices, the participants had significant improvements in gut microbiome composition including growth of bacteria associated with reduced cardiovascular disease risk. A 2021 study by the same research group showed reductions in blood pressure after a single day of higher intake of herbs and spices. And a follow-up 2022 study showed reduced markers of inflammation after four weeks of the higher spice intake diet, including reduced fasting plasma IL-6 and postprandial plasma IL-1β, IL-8, and TNF-α. All in all, this makes a compelling case for aiming for a teaspoon of dried herbs and spices (or 1 tablespoon fresh) or more per day added to our meals! Learn more about herbs and spices here.
Since the health benefits attributed to herbs (like basil) are credited to the diverse array of phytonutrients and volatile oils found within different herbs and spices, it is important that we strive for variety when incorporating these foods in our diet. Not only when it comes to herbs, but in general it's always best to mix up the veggies you eat day to day (aiming for a wide variety of different vegetables and fruits throughout the week).
Easily track your servings of Nutrivore Foundational Foods!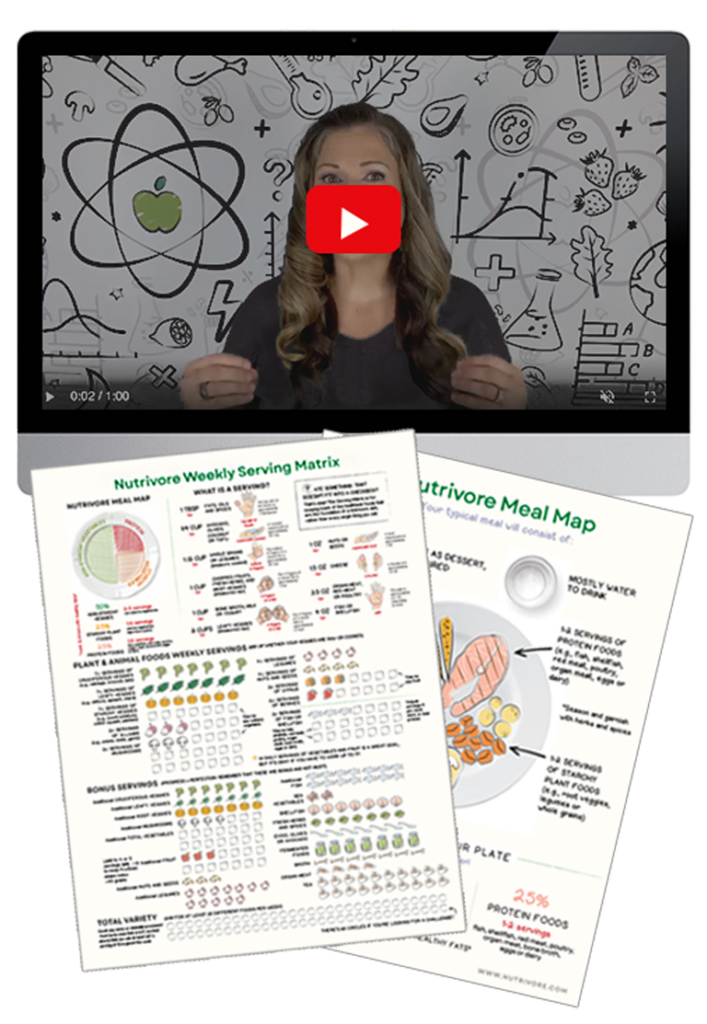 The Nutrivore Weekly Serving Matrix
The Nutrivore Weekly Serving Matrix digital resource is an easy-to-use and flexible weekly checklist designed to help you maximize nutrient-density and meet serving suggestions of Nutrivore foundational foods, all without having to weigh or measure your foods!
Includes a 1-hour video tutorial and downloadable interactive guides.
Citations
Expand to see all scientific references for this article.