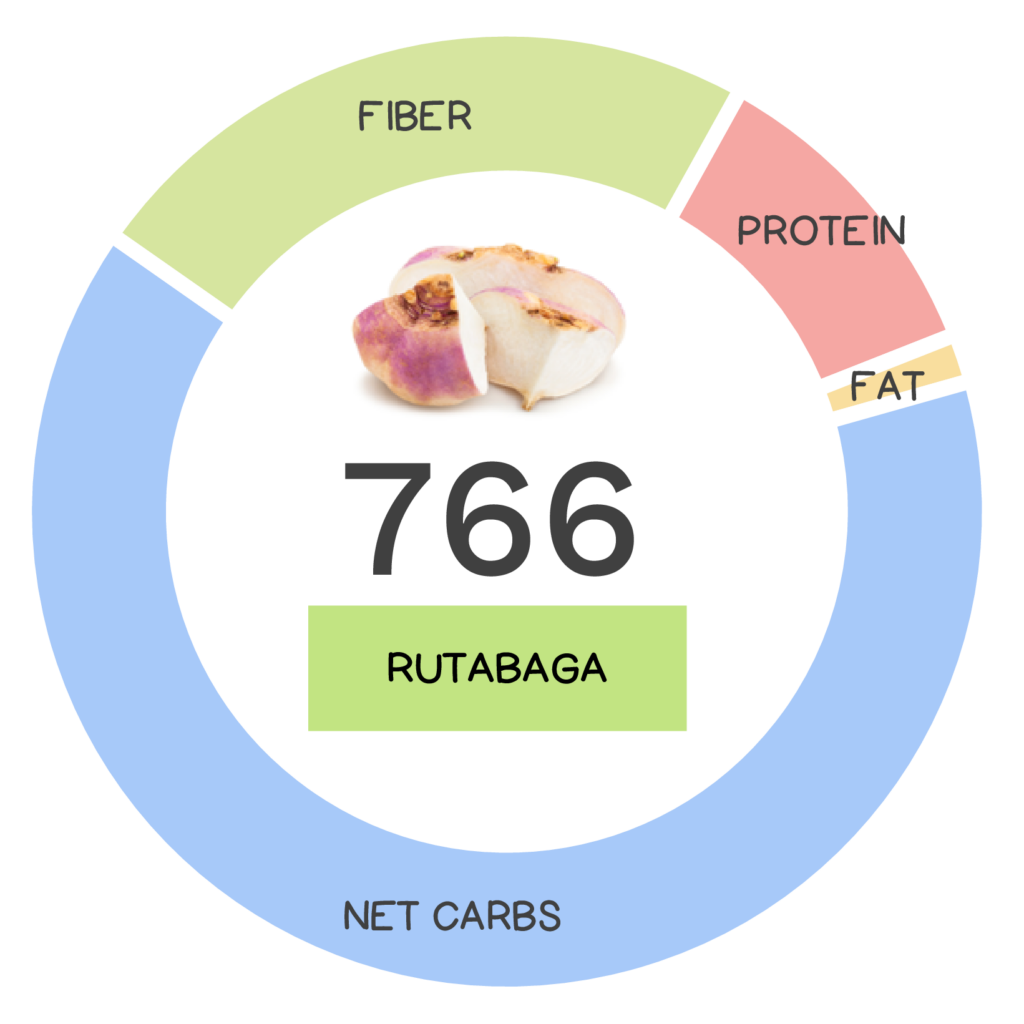 now available for pre-order!
Ditch diet culture and get the most nutrients from your food with the no-guilt, personalized, and exciting new science that will change how you think about food and nourishment, from New York Times bestselling author Dr. Sarah Ballantyne.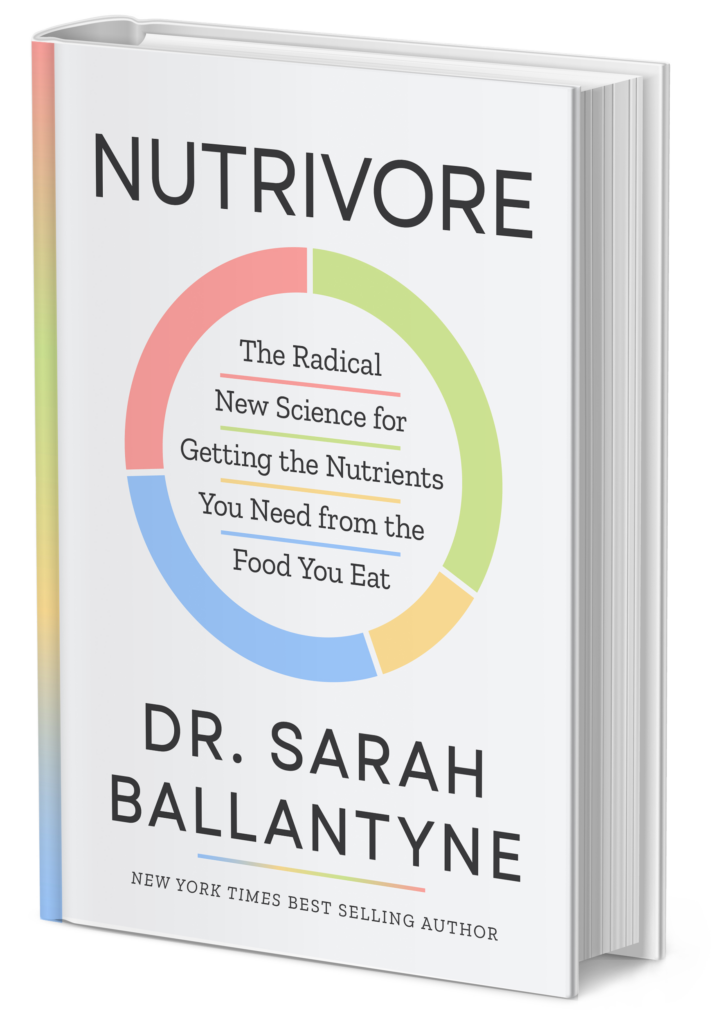 While they may look alike, do not confuse the rutabaga with its cousin, the turnip! This round, purple-coated, yellow-fleshed, sweet-tasting root vegetable, a popular substitute for white potatoes, stands out on its own merits. Depending where you live, this veggie may be known by different names including swede, Swedish turnip, yellow turnip, neep, and just plain turnip (to complicate matters further!). In North America it is commonly known as rutabaga, coming from the Swedish word 'rotabagge' meaning 'root bag' or 'root bunch'. Ironically, in Sweden it goes by an entirely different name where it is called kålrot (literally meaning "cabbage or kale root"). No matter what you call it, this cruciferous veggie is a worthy addition to your diet!
Rutabagas belong to the cruciferous vegetable family, Brassicaceae, which also includes broccoli, Brussels sprouts, cabbage, cauliflower, and kale to name a few. Specifically, they are a form of Brassica napus, which also includes rapeseed (from which canola is derived). This veggie originated as a cross between the turnip and cabbage, though interestingly, this cross seems to have happened naturally in the wild, to the best of our knowledge, originating independently in the 16th century in both Finland and Sweden. They are thought to have been introduced to both England and North America in the early 19th century. Despite the popularity of the root, the greens are also edible, and can be used like any other leafy green, having a mustard-like, peppery flavor.
Unfortunately, this veggie sometimes gets a bad rap through no fault of its own. Historically, there was a negative association with this veggie because it was a staple for the public during the famines and food shortages of World Wars I and II – boiled stew with rutabaga and water as the only ingredients was a common food for many so it's no wonder people shied away from this veggie as soon as they had the opportunity. Combine that with the fact that it was originally farmed as animal fodder, it's not surprising this veggie still lacks popularity in the United States even today. On the flip side, there is a whimsical component to this veggie's history too – in Irish and Scottish tradition the rutabaga was carved into lanterns at Halloween, making it an early version of today's pumpkin jack-o-lanterns. In case you're wondering, the waxy coating found on grocery store rutabagas is added after harvesting to keep them from drying out, so make sure to peel them before "digging in" to this root veggie!
Everything You Need to Know about Cruciferous Veggies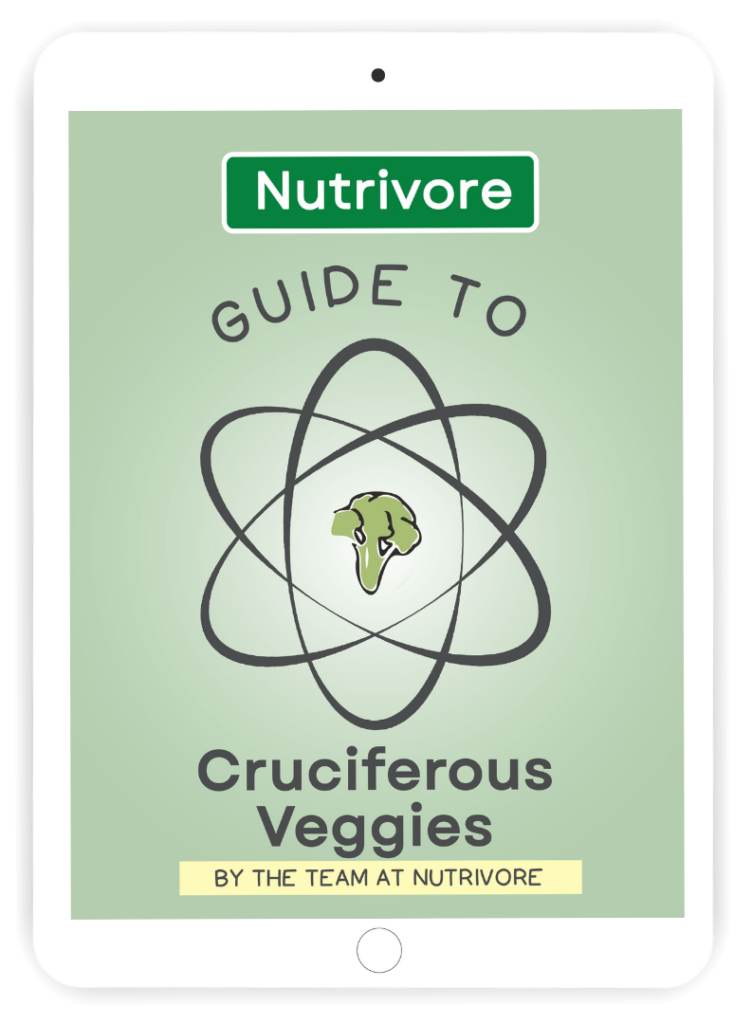 Nutrivore Guide to Cruciferous Veggies
The Nutrivore Guide to Cruciferous Veggies is a practical-focused e-book that explains everything you need to know about cruciferous vegetables so you can reap all the benefits of this foundational food family!
Plus, you'll 12 tasty recipes featuring cruciferous vegetables to help you incorporate more of these awesome veggies into your weekly meal plans!
Buy now for instant digital access.
Nutrivore Score for Rutabaga – 766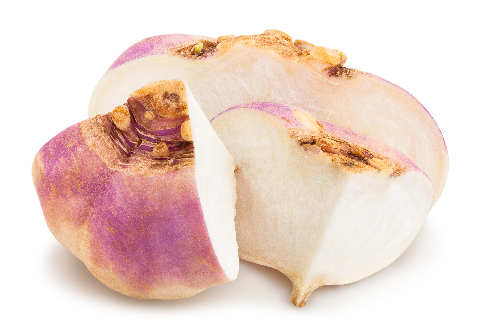 Rutabaga has a Nutrivore Score of 766, making it a high nutrient-dense food! Plus, it is a low-carb and low-calorie-density food; the calorie count of rutabaga is 52 calories per cup!
Per serving, rutabaga is a best source (>50% daily value) of glucosinolates; an excellent source (20-50% daily value) of polyphenols and vitamin C; and a good source (10-20% daily value) of dietary fiber and vitamin B1 (thiamin).
Want to Know the Top 100 Nutrivore Score Foods?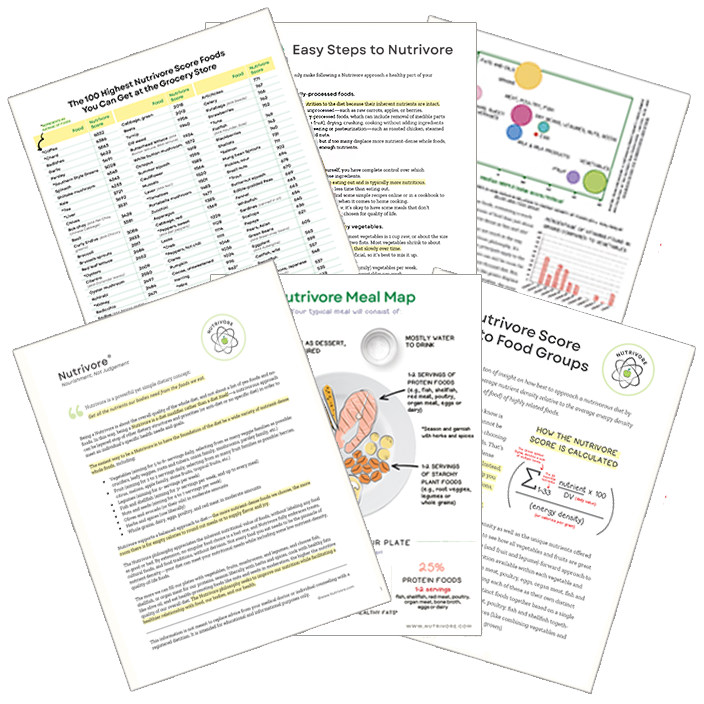 Get it Directly in Your Inbox!
The Nutrivore Newsletter is a weekly email that delivers bite-size fun facts, practical tips, recipes and resources. Sign up now and get 5 free guides directly to your inbox:
Easy Steps to Nutrivore 4-page guide
Nutrivore Foundational Foods 6-page guide
Nutrivore Score Guide to Food Groups 3-page guide
Nutrivore Meal Map
Top 100 Nutrivore Score Foods
Rutabaga Nutrition Facts
One serving of rutabaga is standardized to 1 cup or about 140 grams (4.9 ounces). For reference, a typical small rutabaga weighs 192 grams (~1 1/2 servings), a medium-sized rutabaga weighs 386 grams (~ 2 3/4 servings), while a large rutabaga weighs roughly 772 grams (~5 1/2 servings). When you cook rutabaga, it reduces in volume: 1 cup raw rutabaga is equivalent to a little more than 3/4 cup boiled rutabaga.
Rutabaga Nutrition Facts Per Serving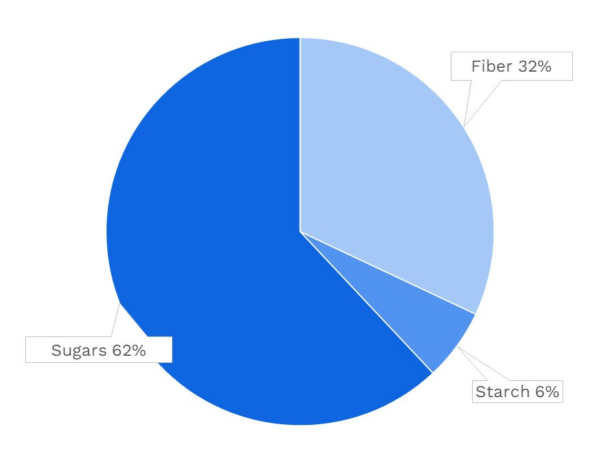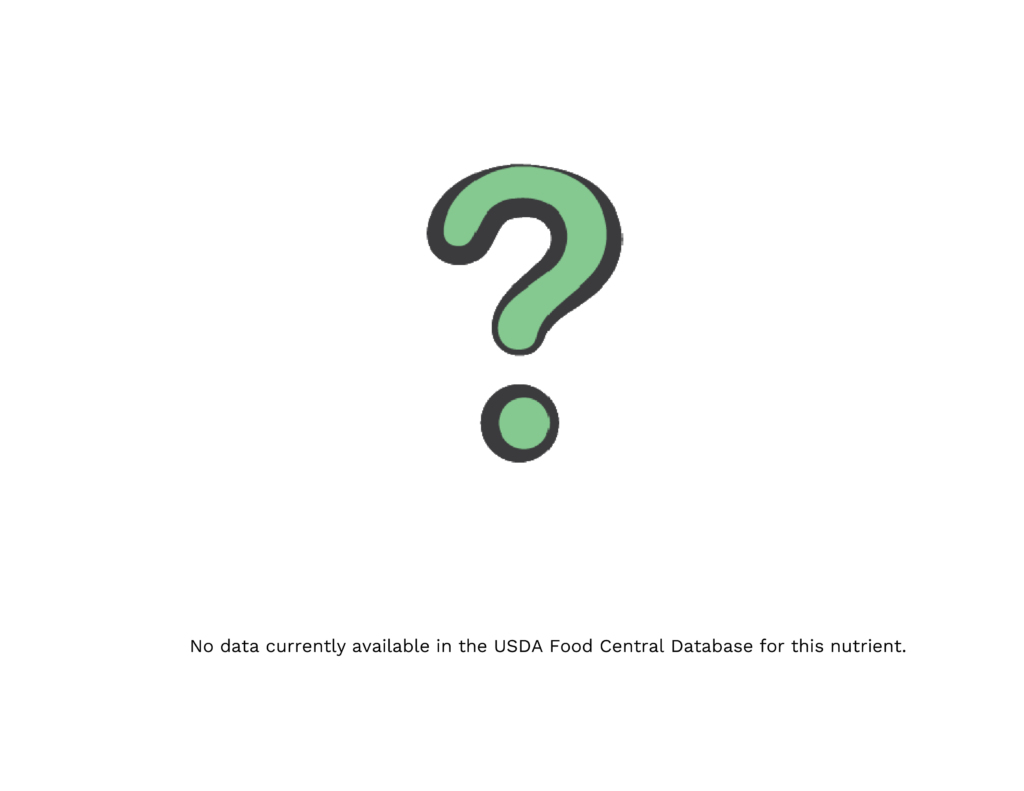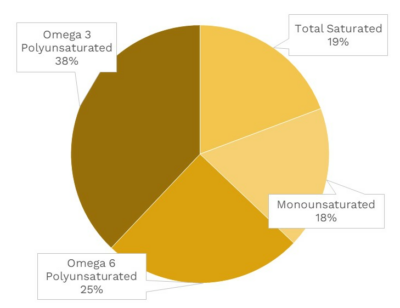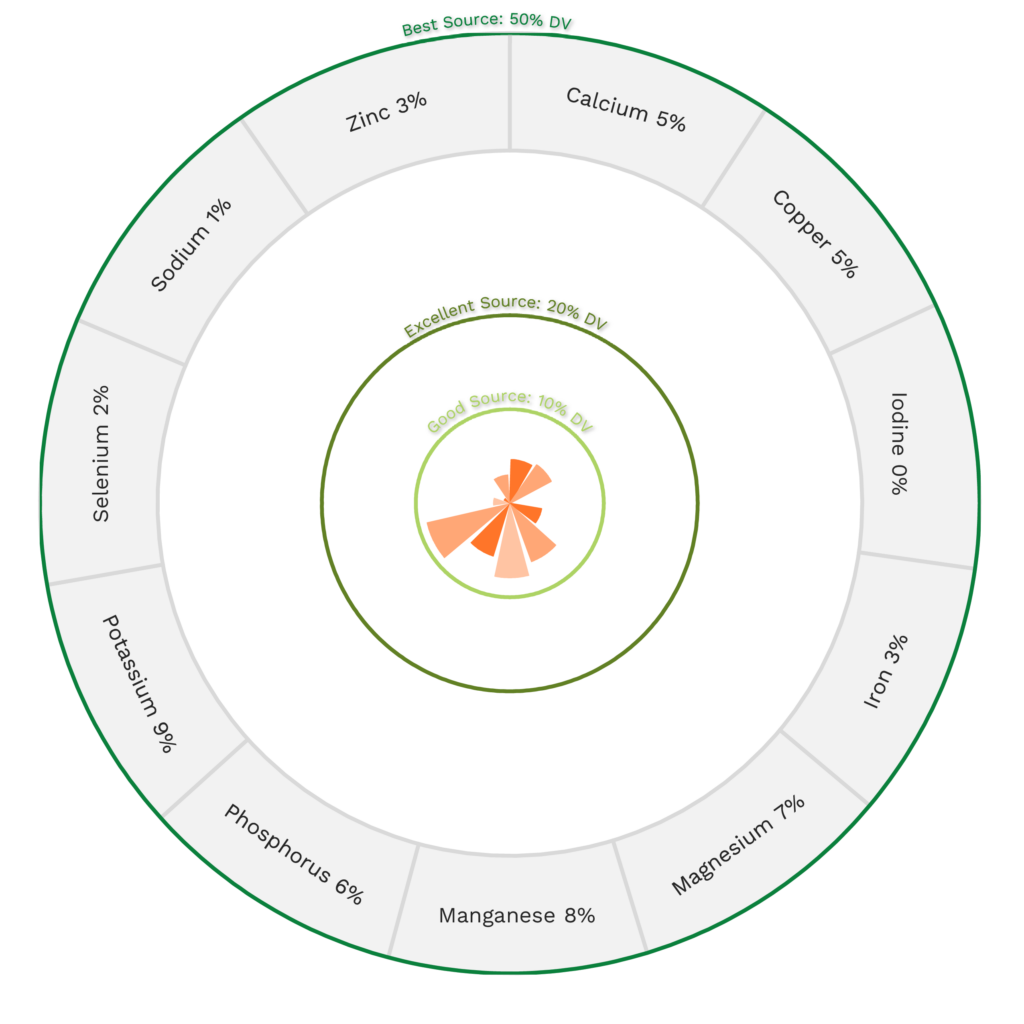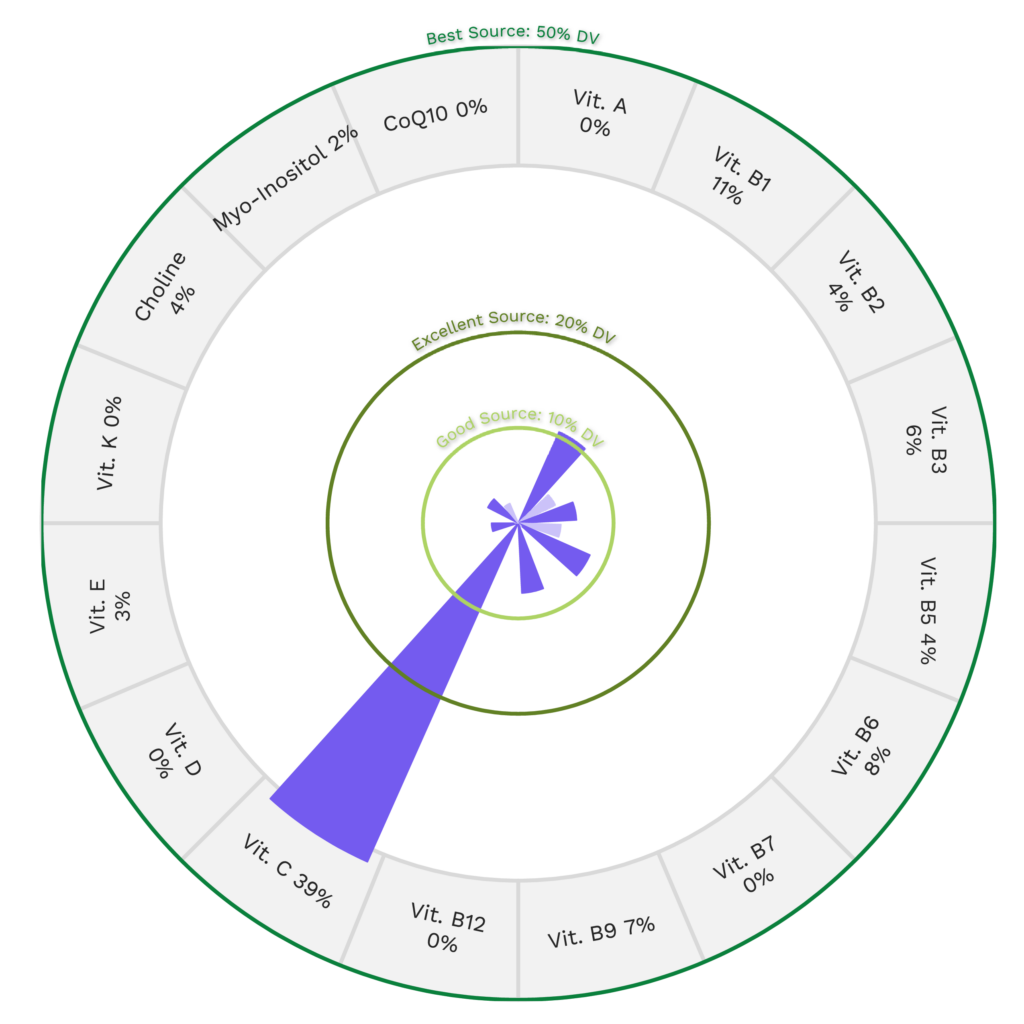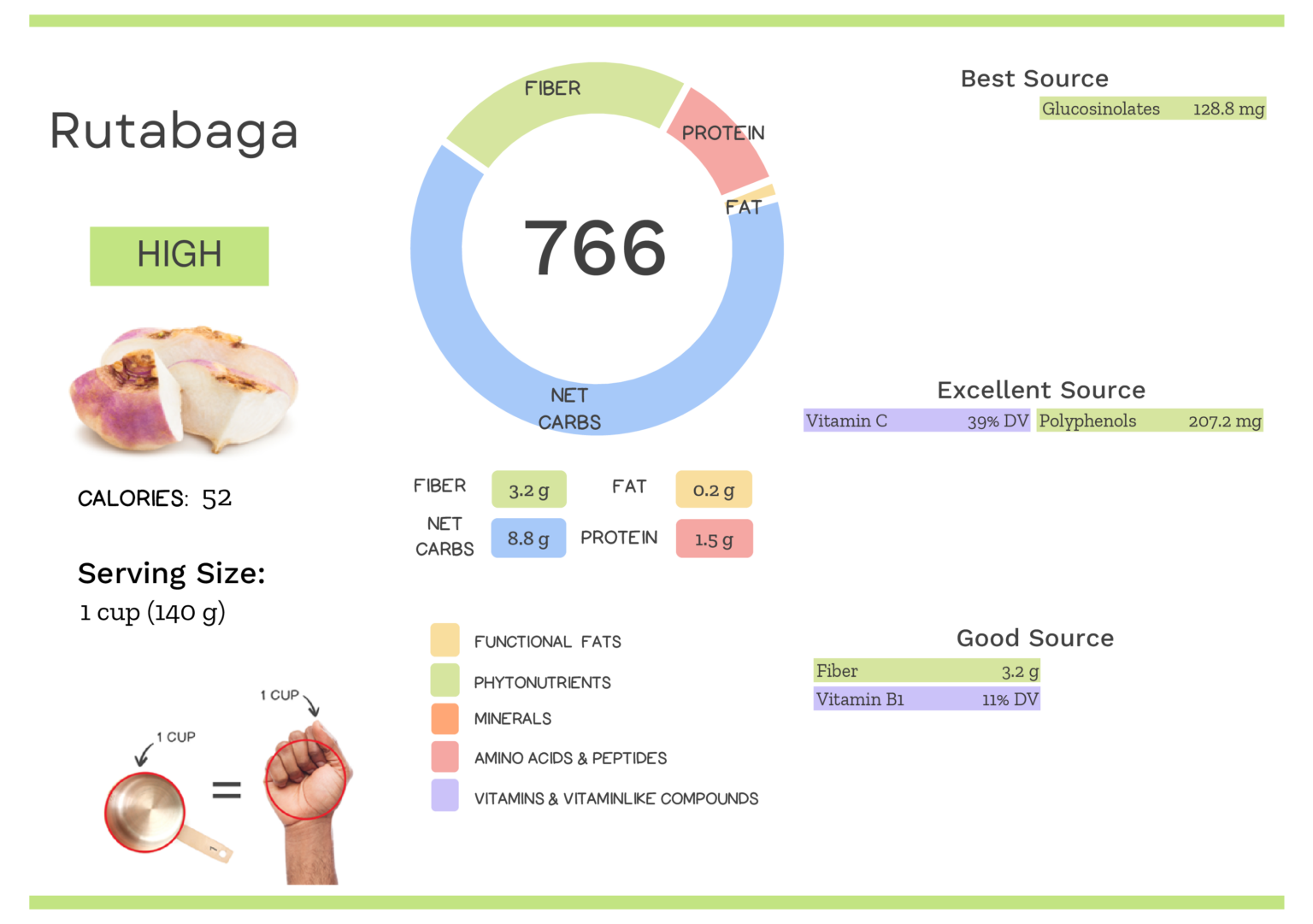 Rutabaga Nutrition Varies With Cooking
The Nutrivore Score of rutabaga varies depending on the method of preparation.
| | NUTRIVORE SCORE |
| --- | --- |
| Rutabaga, cooked, boiled, drained, with salt | 760 |
| Rutabaga, cooked, boiled, drained, without salt | 760 |
| Rutabaga, raw | 766 |
All this nutrition have you "rooting" for rutabaga? Maybe your friends will want to "dig" in too!
Health Benefits of Rutabaga Nutrients
Let's take a closer look at all of the best and excellent source of nutrients found in a 1-cup serving of rutabaga and see how they benefit our health.
Rutabaga Provides 128.8 mg of Glucosinolates
Rutabaga is a fantastic source of glucosinolates, providing an impressive 128.8 mg of glucosinolates per 1-cup serving.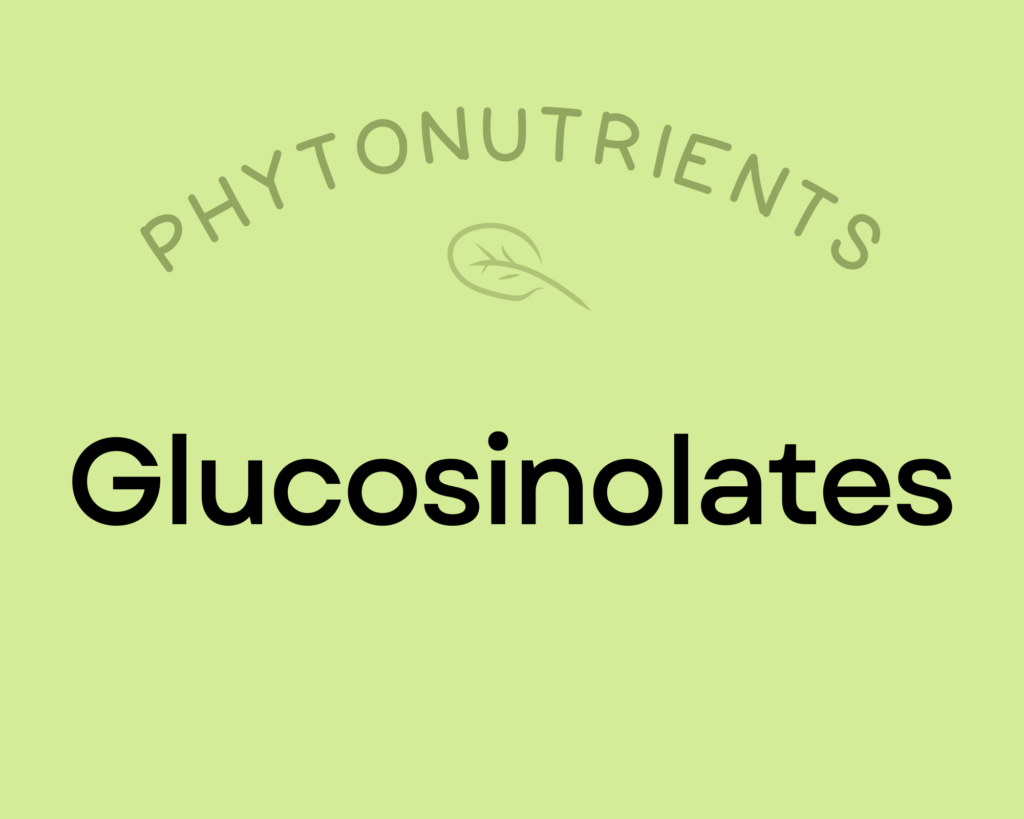 Glucosinolates are well-studied sulfur-containing compounds which break down into bioactive isothiocyanates and indoles when vegetables are damaged (via chewing, cutting, or other processing).
Isothiocyanates (like sulforaphane) are absolute rock stars as far as human health is concerned! Research spanning human epidemiology, animal models, and in vitro experiments show that dietary isothiocyanates are inversely associated with bladder cancer, lung cancer, colon cancer, breast cancer, and pancreatic cancer; some evidence also suggests they may be able to improve ventricular function following heart attacks.
Indoles also have powerful cancer prevention benefits through multiple mechanisms that include modulation of phases I and II detoxification enzymes, regulation of cell cycle arrest, control of cell growth, induction of apoptosis, antioxidant activity, anti-angiogenic effects, and epigenetic regulation. Indole-3-carbinol breaks down into 3,3′-Diindolylmethane (DIM), which is known for its anti-inflammatory, immune system modulating, cancer prevention and estrogen metabolism benefits.
Learn more about glucosinolates here.
Rutabaga Provides 39% DV Vitamin C
Rutabaga is an excellent source of vitamin C, providing 39% of the daily value per 1-cup serving!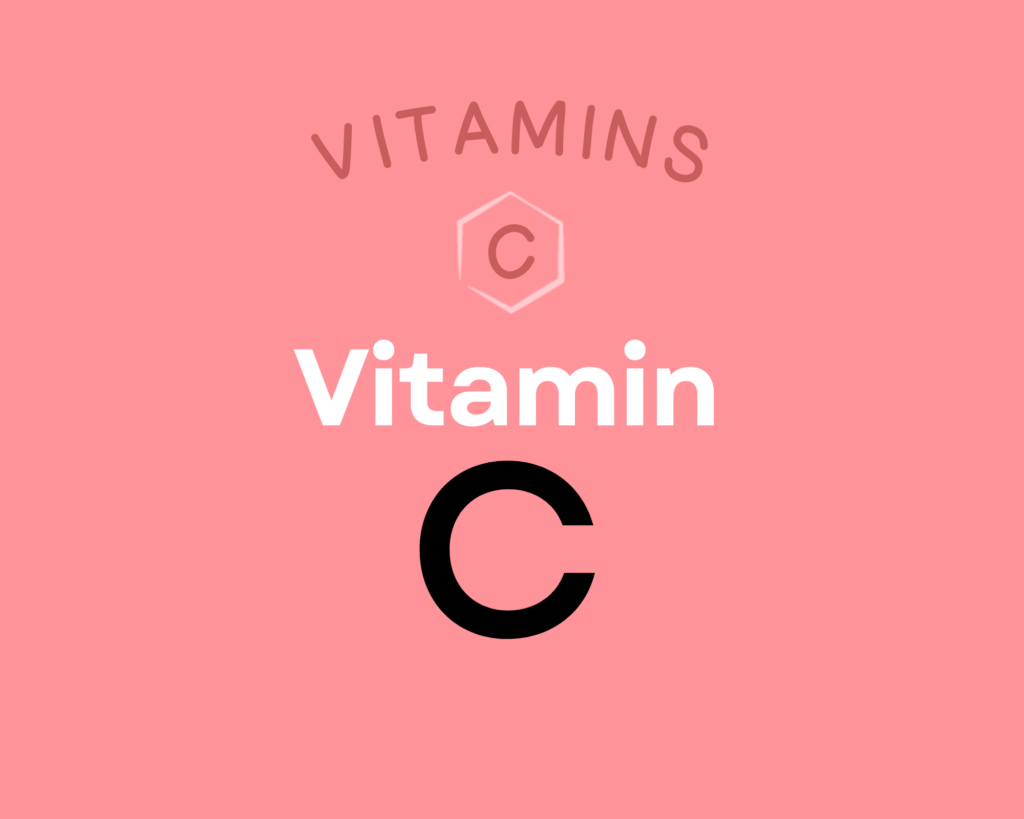 Vitamin C is a water-soluble vitamin that has powerful antioxidant properties (meaning it can help combat oxidative damage from free radicals and reactive oxygen species) and that serves as an enzyme cofactor (meaning it's needed for enzymes to do their job, for example vitamin C is necessary for collagen synthesis, which is essential for bones, joints, teeth, blood vessels, skin and eyes) and playing important roles in immune system and skin health. Higher intakes of vitamin C are linked to reduced risk of heart disease, some forms of cancer, type 2 diabetes, cataracts, age-related macular degeneration, and gout. Vitamin C can also help regulate the stress response and reduce anxiety, and there's preliminary evidence that it may also help prevent Alzheimer's disease. Learn more about vitamin C here.
Rutabaga Provides 207.2 mg of Polyphenols
Rutabaga is also an excellent source of polyphenols, providing 207.2 mg of polyphenols per 1-cup serving!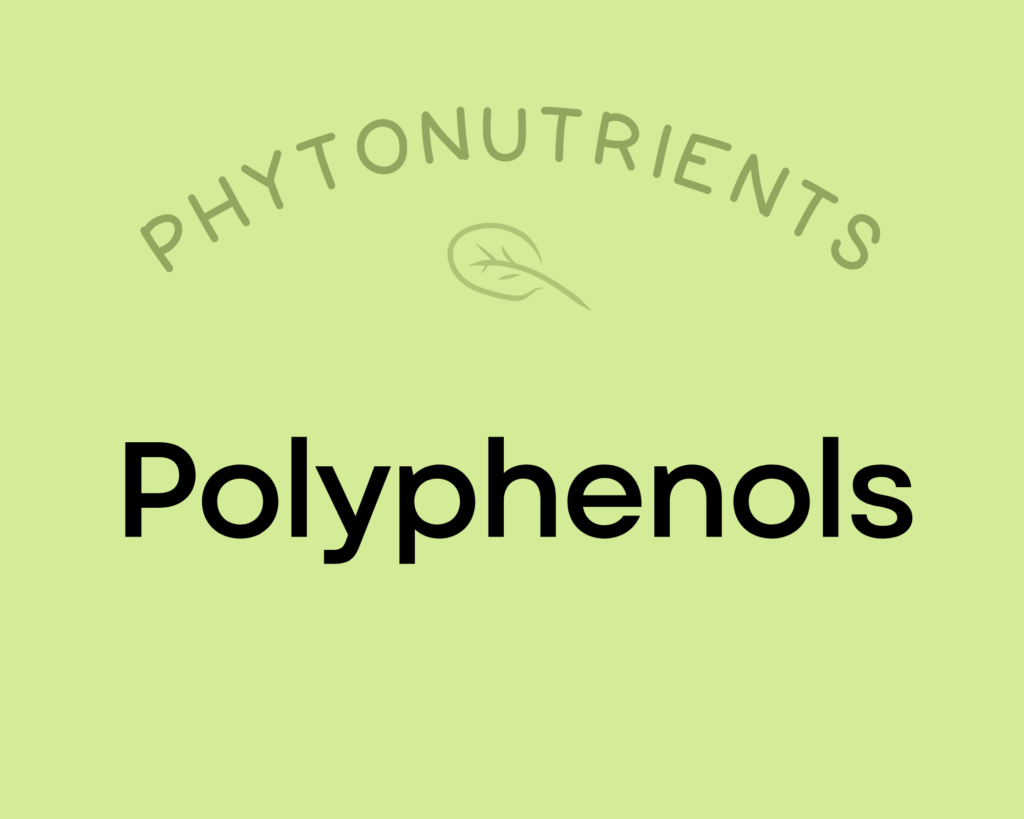 Polyphenols play a huge role in protecting against cancer, heart disease, diabetes, asthma, osteoporosis, neurodegenerative diseases, and other conditions associated with oxidative stress. In fact, a major reason foods like red wine and olive oil (as well as diets rich in both, such as the Mediterranean diet) show up as so beneficial may be due to their high polyphenol content! Along with chronic diseases, supplementing with polyphenols has been shown to protect against infections and reduce the signs of aging. Polyphenols exert their most potent effects by acting as antioxidants—preventing cellular damage by neutralizing hazardous oxygen radicals and improving cellular health as a result (which, in turn, benefits virtually every system in the body). As a result of their antioxidant properties, polyphenols also boost the immune system and protect against both chronic and acute diseases. In addition, polyphenols can help regulate enzyme function, stimulate cell receptors, modulate the functions of inflammatory cells (including T and B lymphocytes, macrophages, platelets, and natural killer cells), alter adhesion molecule expression, affect nerve cells and cardiac muscle cells, and exert antiviral effects. Learn more about polyphenols here.
Learn What Foods Are the Best Sources of Every Nutrient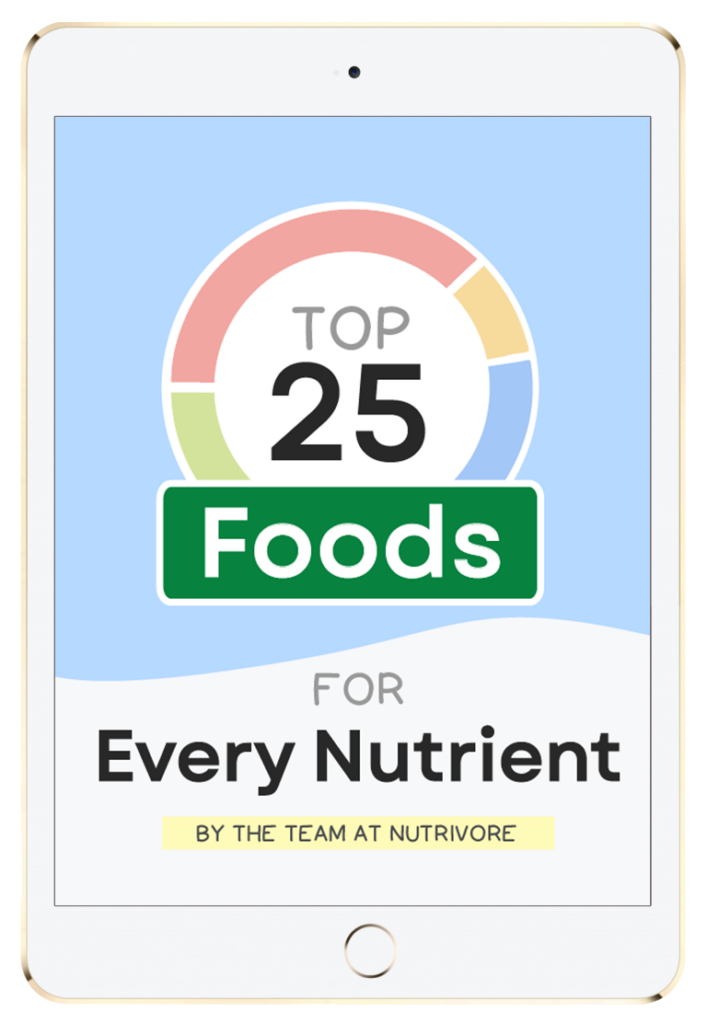 The Top 25 Foods for Every Nutrient
The Top 25 Foods for Every Nutrient e-book is a well-organized, easy-to-use guide to help you choose foods that fit your needs of 42 important nutrients while creating a balanced nutrient-dense diet.
Get two "Top 25" food lists for each nutrient, plus you'll find RDA charts for everyone, informative visuals, fun facts, serving sizes and the 43 foods that are Nutrient Super Stars!
Buy now for instant digital access.
How Much Rutabaga Should We Eat Per Day?
You know the old aphorism, a Brassica vegetable a day keeps the doctor away! Wait, that's not how it goes? It should be!
Every serving of fresh, whole vegetables or fruit we eat daily reduces the risk of all-cause mortality by 5% to 8%, with the greatest risk reduction seen when we consume eight or more servings per day. In fact, consuming 800 grams of vegetables and fruits daily reduces all-cause mortality by 31% compared to eating less than 40 grams daily. A 2017 meta-analysis showed that 2.24 million deaths from cardiovascular disease, 660,000 deaths from cancer, and 7.8 million deaths from all causes could be avoided globally each year if everyone consumed 800 grams of veggies and fruits every day.
Eating vegetables and fruit in abundance lowers risk of cancer, cardiovascular disease, type 2 diabetes, obesity, chronic kidney disease, osteoporosis and bone fragility fractures (including hip fracture), cognitive impairment and dementia (including Alzheimer's disease), neurodegenerative diseases, asthma, allergies, chronic obstructive pulmonary disease, age-related macular degeneration, cataracts, glaucoma, depression, ulcerative colitis and Crohn's disease, rheumatoid arthritis, inflammatory polyarthritis, non-alcoholic fatty liver disease, acne, seborrheic dermatitis, and lowers markers of inflammation. Learn more in Importance of Vegetables and Fruit.
Covering half of your plate with a variety of vegetables (and three quarters of your plate if your starchy food is a root vegetable or winter squash) at each meal is a simple way to easily achieve the goal of 800 grams daily (about 5 to 8 servings depending on the vegetable).
Studies show that, for every 100 grams of cruciferous veggies (like rutabagas), we eat daily, all-cause mortality decreases by 24%! In addition, studies also show that, for every 100 grams per day increase in root vegetable intake, there is a 24% reduced risk of all-cause mortality! It's always best to mix up the veggies you eat day to day (aiming for a wide variety of different vegetables and fruits throughout the week), and rutabaga definitely has a place at the table.
Easily track your servings of Nutrivore Foundational Foods!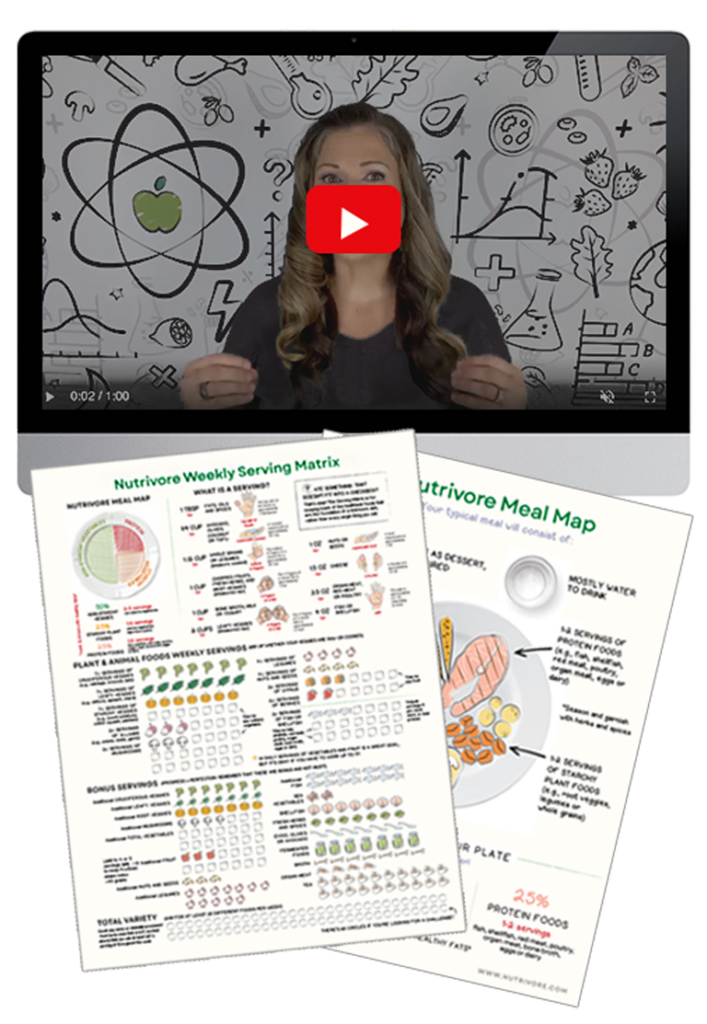 The Nutrivore Weekly Serving Matrix
The Nutrivore Weekly Serving Matrix digital resource is an easy-to-use and flexible weekly checklist designed to help you maximize nutrient-density and meet serving suggestions of Nutrivore foundational foods, all without having to weigh or measure your foods!
Includes a 1-hour video tutorial and downloadable interactive guides.
Buy now for instant digital access.
Citations
Expand to see all scientific references for this article.

Clements RS Jr, Darnell B. Myo-inositol content of common foods: development of a high-myo-inositol diet. Am J Clin Nutr. 1980 Sep;33(9):1954-67. doi: 10.1093/ajcn/33.9.1954. PMID: 7416064.

Frida Food Database. National Food Institute, Technical University of Denmark: Swede, raw

Huang Z, Wang B, Eaves DH, Shikany JM, Pace RD. Total phenolics and antioxidant capacity of indigenous vegetables in the southeast United States: Alabama Collaboration for Cardiovascular Equality Project. Int J Food Sci Nutr. 2009 Mar;60(2):100-8. doi: 10.1080/09637480701605715. PMID: 17886092. Forma

McNaughton SA, Marks GC. Development of a food composition database for the estimation of dietary intakes of glucosinolates, the biologically active constituents of cruciferous vegetables. Br J Nutr. 2003 Sep;90(3):687-97. doi: 10.1079/bjn2003917. PMID: 13129476.

Piironen V, Toivo J, Puupponen-Pimia R, Lamp AM. Plant sterols in vegetables, fruits and berries. Journal of the Science of Food and Agriculture. 2003. Vol 83(4):330-337. doi:10.1002/jsfa.1316

USDA Food Central Database: Rutabagas, raw

Watanabe T, Kioka M, Fukushima A, Morimoto M, Sawamura H. Biotin content table of select foods and biotin intake in Japanese. Int J Anal Bio-Sci. 2014. Vol 2(4):109-125.