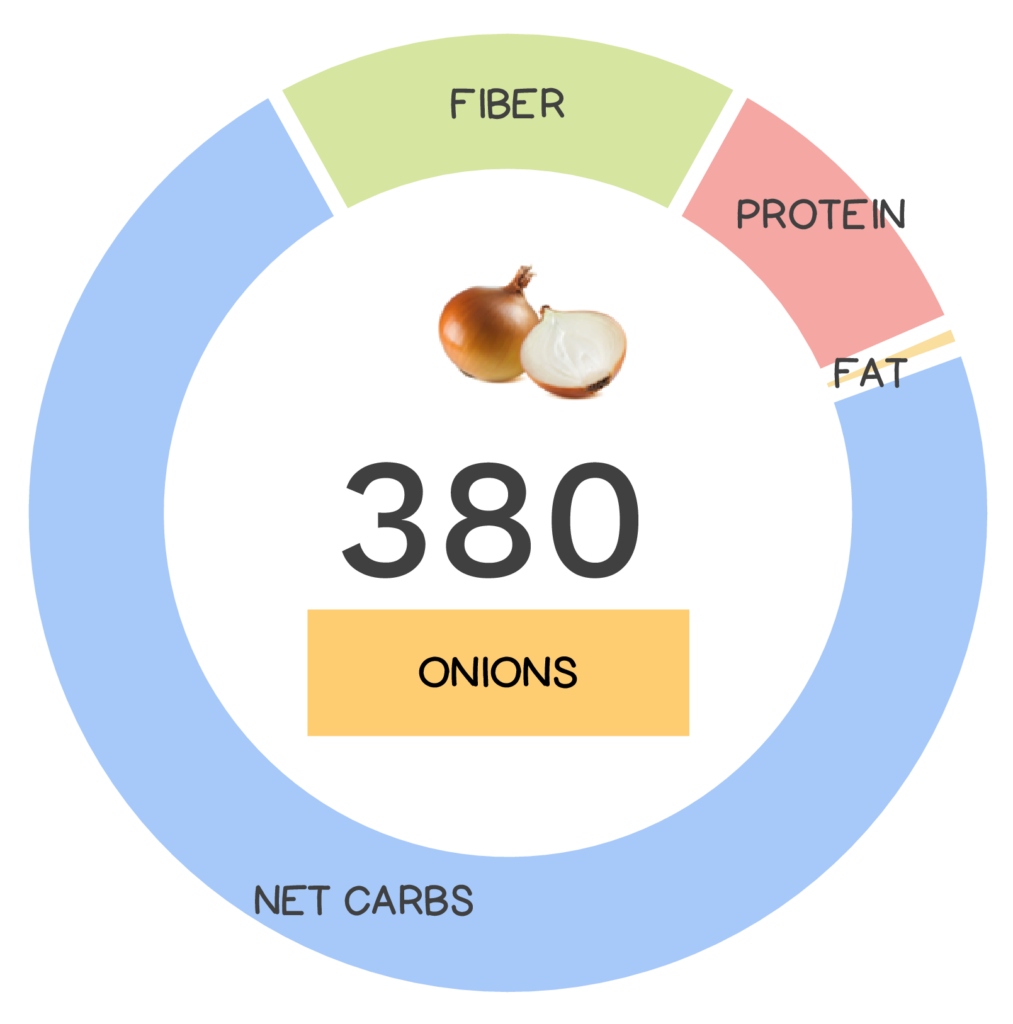 Nothing adds more flavor to dishes than onions, which are grown all around the world because of their diversity and unique taste. This veggie comes in a wide range of shapes and colors, ranging from numerous shades of green to brown, yellow, white, red and deep purple. The options seem limitless. In fact, onions (Allium cepa) are the widest-cultivated member of the Allium family (also known as the onion family!), which includes over 900 different species, although the ones we're most likely to see on a dinner plate are garlic, leeks, chives, scallions, and shallots. The word "onion" is derived from the Latin word 'unio' which means 'single or one' because the onion plant produces a single bulb and the word "allium" is believed to derive from the Greek ἀλέω (or aleo), which means "avoid," and refers to the potent odor of these vegetables! (Indeed, alliums contain an enzyme called alliinase that produces volatile sulfur compounds when their plant tissue gets damaged, leading to their characteristic aroma and taste. These compounds also help keep the plants safe from pests!)
now available for pre-order!
Ditch diet culture and get the most nutrients from your food with the no-guilt, personalized, and exciting new science that will change how you think about food and nourishment, from New York Times bestselling author Dr. Sarah Ballantyne.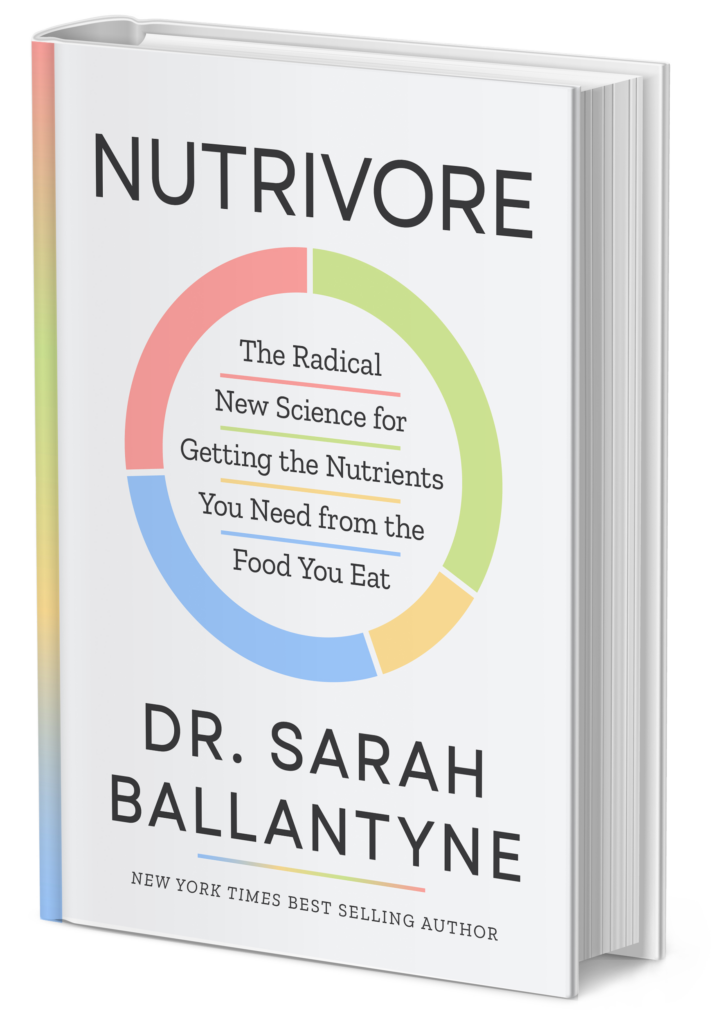 Historically, the geographic origin of onion is uncertain, though domestication likely took place in Southwest or Central Asia. Onions have been a part of the human diet since the Bronze Age (archaeologists have found traces of them in settlements dating back to 5,000 BC!), and ever since then, they've played an important role in various cultures. For instance, Ancient Greeks used to eat pounds of onions in preparation for Olympic competitions, and Ancient Egyptians considered onions to symbolize eternity, due to their concentric rings and spherical shape (onions were even buried alongside Pharaohs in their tombs; King Ramses IV was even entombed with onions in his eye sockets!). Since onions are so easily grown and stored, they were a staple food in their native lands for many years; one example is that workers who built the Egyptian pyramids seem to have lived off of stipends of radishes and onions. Onions were not only consumed as food but were also part of religious practices and were traditionally used in the treatment of various ailments. By the Middle Ages onions were one of the fundamental ingredients in many cuisines in most parts of the world. They were brought to North America by the first European settlers, only to discover the plant already in wide use by Native Americans!
Although this veggie is considered to be among the oldest known vegetables, it is still widely popular. Today it is the third most essential crop after potato and tomato and is grown commercially in more than 170 countries. In the US, Americans consume an average of 20 pounds of onions per year – making them one of the top 3 best selling fresh veggies in this country!
Everything You Need to Know About Alliums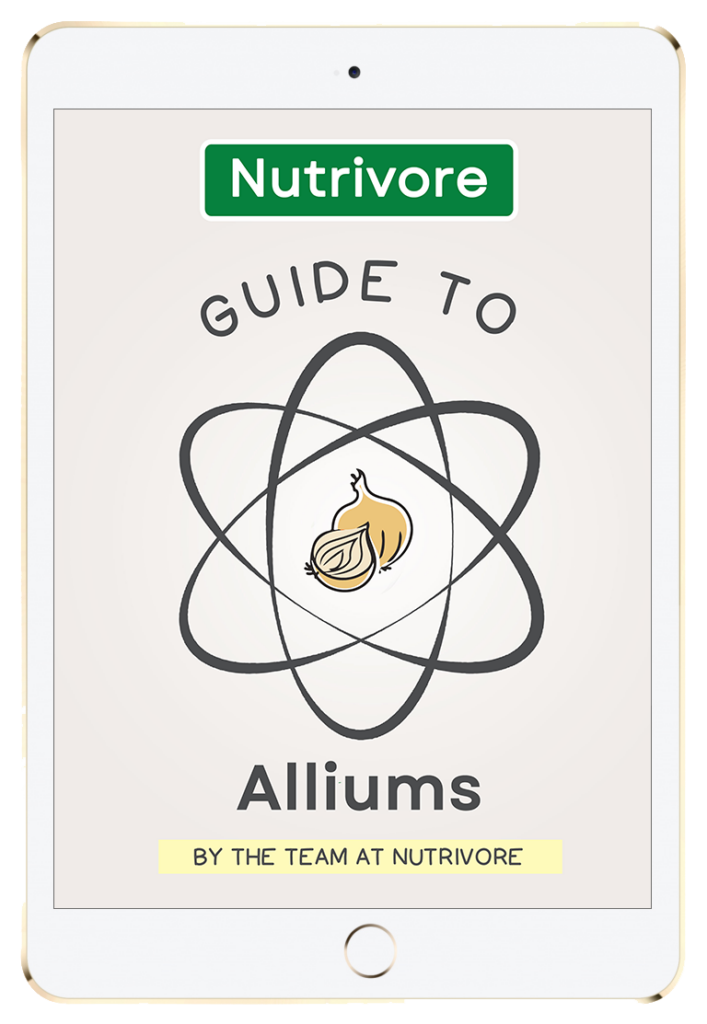 Nutrivore Guide to Alliums
The Nutrivore Guide to Alliums e-book explains everything you need to know about the onion family of vegetables and gives you a dozen awesome recipes to reap all the benefits of this foundational food family!
For December 2023, this e-book is exclusive to Patreon! Plus, you'll gain exclusive access to the monthly Nutrivore Podcast, the entire, browsable Nutrivore Score database, and you can ask me all your Nutrivore questions directly! Sign up now and also get 5 free Nutrivore guides as a welcome gift! Win-win!
Nutrivore Score for Onion – 380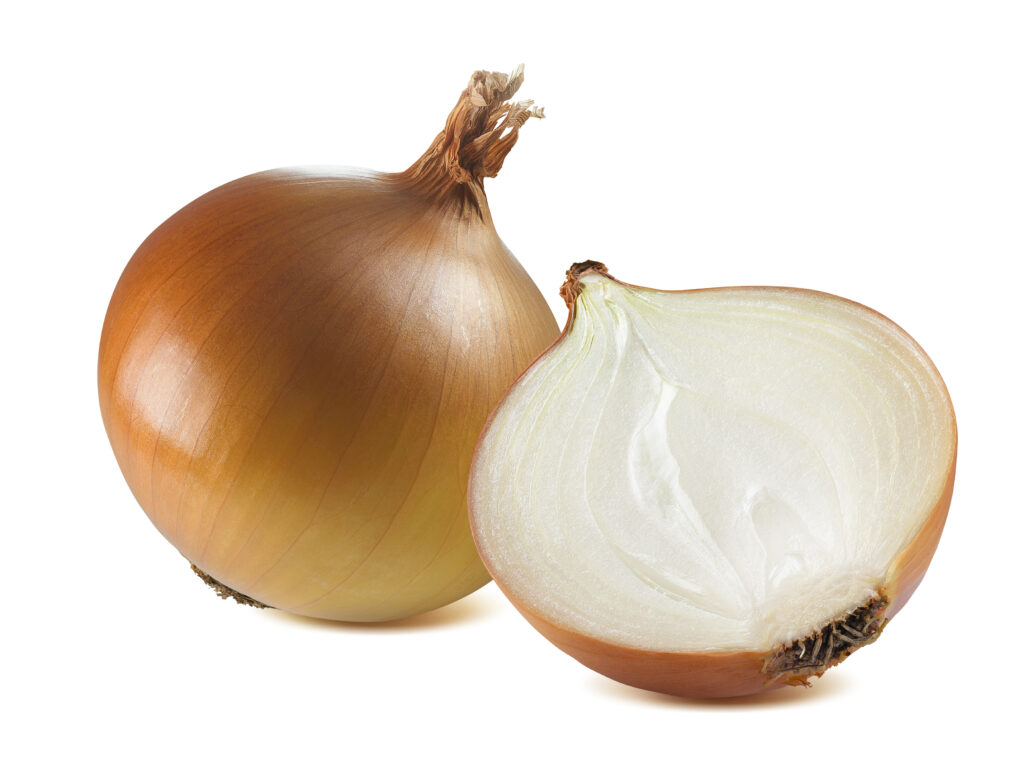 Onion has a Nutrivore Score of 380, making it a medium nutrient-dense food! Plus, it is a low-carb and low-calorie-density food; the calorie count of onion is 46 calories per cup!
Per serving, onion is a best source (>50% daily value) of thiosulfinates; an excellent source (20-50% daily value) of polyphenols; and a good source (10-20% daily value) of vitamin B7 (biotin).
Want to Know the Top 100 Nutrivore Score Foods?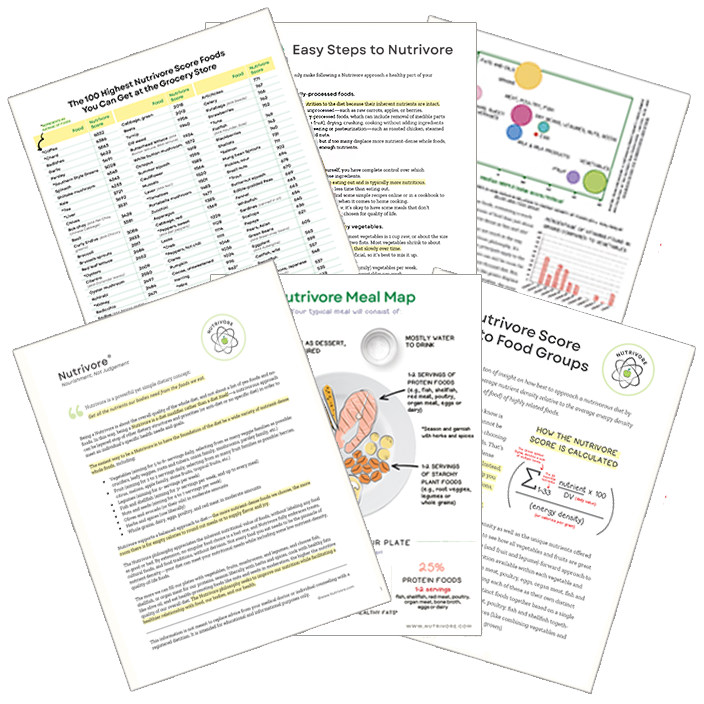 Get it Directly in Your Inbox!
The Nutrivore Newsletter is a weekly email that delivers bite-size fun facts, practical tips, recipes and resources. Sign up now and get 5 free guides directly to your inbox:
Easy Steps to Nutrivore 4-page guide
Nutrivore Foundational Foods 6-page guide
Nutrivore Score Guide to Food Groups 3-page guide
Nutrivore Meal Map
Top 100 Nutrivore Score Foods
Onion Nutrition Facts
One serving of onion is standardized to 1 cup, sliced or about 115 grams (4.1 ounces). A typical medium-sized onion (2 1/2 inch diameter) weighs 110 grams, which means: one serving of onion is roughly equivalent to 1 medium-sized onion (2 1/2 inch diameter) or 1 1/2 small onions or 3/4 of a large onion. When you cook onion, it reduces in volume: 1 cup raw onion is roughly equivalent to a little more than 1/2 cup boiled onion.
Onion Nutrition Facts Per Serving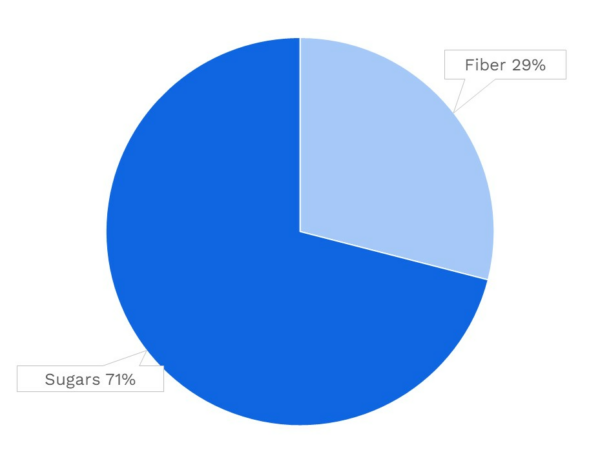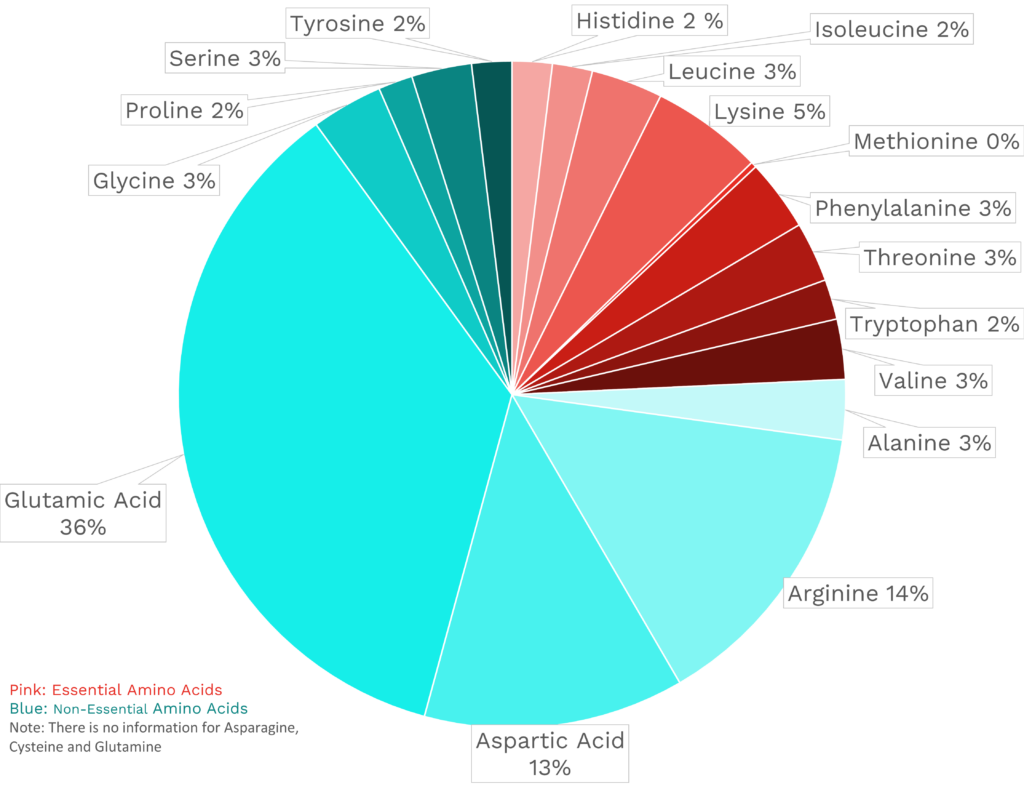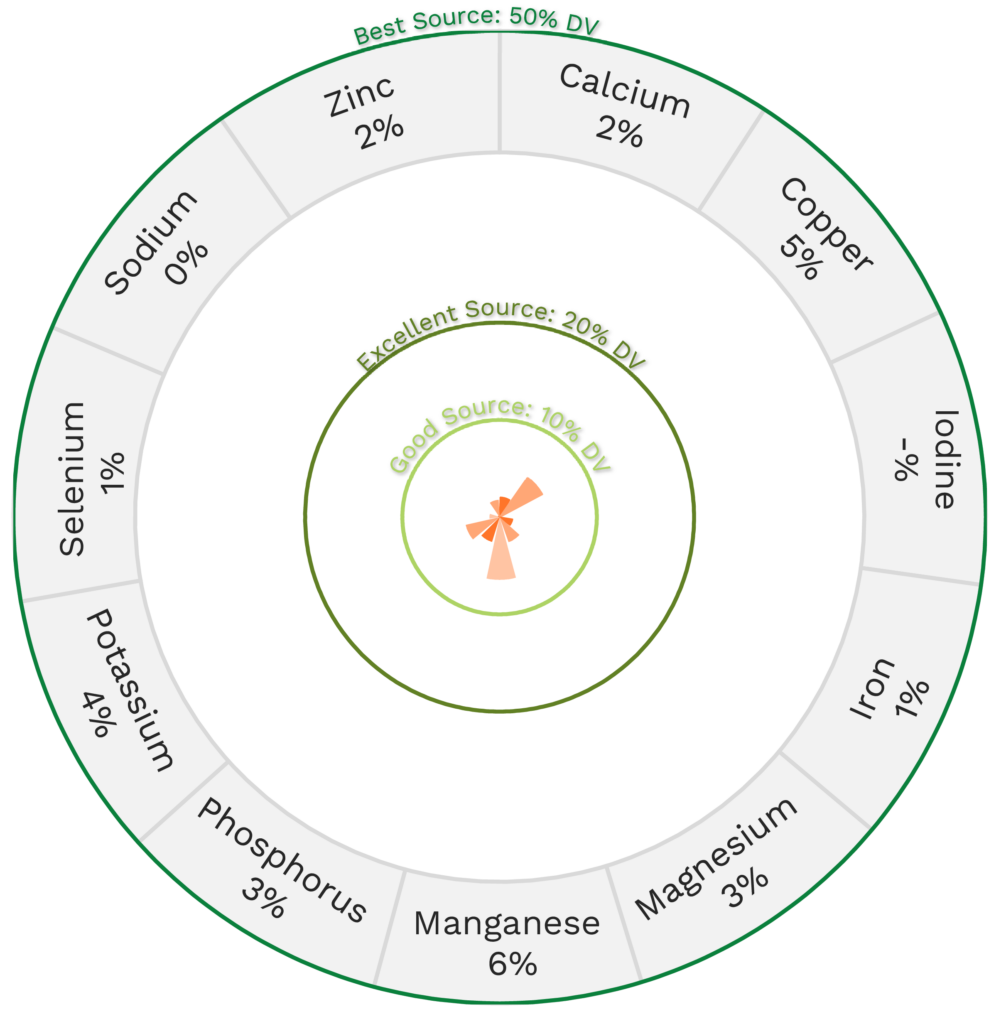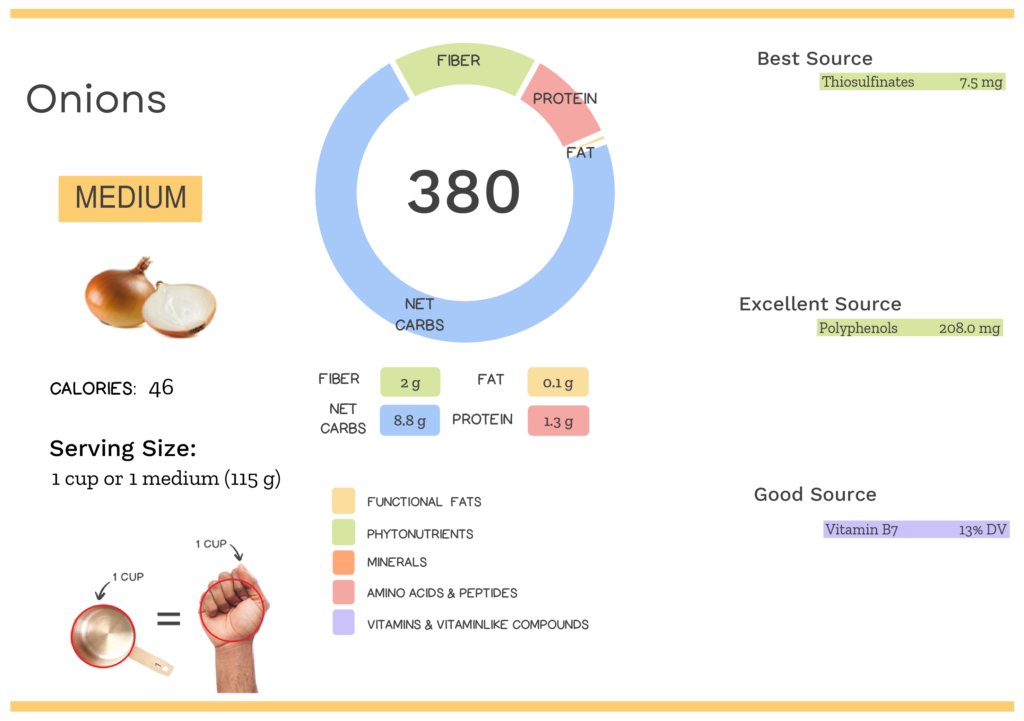 Onion Nutrition Varies With Cooking and Processing
The nutrient content of onion varies based on processing and method of preparation, which means Nutrivore Scores also vary. Both freezing and heating impact the nutrients in onion, as does the method of cooking. Changes associated with these process can be both positive and negative, which suggests that onion is best consumed both raw and cooked in various ways in order to maximize health benefits. In addition to fresh onions, frozen and canned onions are convenient options, as are dehydrated onion flakes and onion powder, which provide an easy way to boost flavor and nutrient density to many foods.
| | NUTRIVORE SCORE |
| --- | --- |
| Onion flakes, dehydrated | 392 |
| Onion powder | 348 |
| Onions, canned, solids and liquids | 498 |
| Onions, cooked, boiled, drained, with salt | 378 |
| Onions, cooked, boiled, drained, without salt | 371 |
| Onions, frozen, chopped, cooked, boiled, drained, with salt | 380 |
| Onions, frozen, chopped, cooked, boiled, drained, without salt | 370 |
| Onions, frozen, chopped, unprepared | 381 |
| Onions, frozen, whole, cooked, boiled, drained, with salt | 377 |
| Onions, frozen, whole, cooked, boiled, drained, without salt | 366 |
| Onions, frozen, whole, unprepared | 399 |
| Onions, raw | 380 |
Onion Nutrition Varies With Variety
There are numerous varieties of onions differing in color (brown, green, red/purple, white, and yellow), shape, flavor, and phytonutrient content which means their Nutrivore Scores also vary. Including as many of these varieties as we can in our diet is a great way to maximize all the benefits onions have to offer.
| | NUTRIVORE SCORE |
| --- | --- |
| Green onions, raw | 2097 |
| Onions, raw | 380 |
| Scallions or spring onions (includes tops and bulbs), raw | 1932 |
| Sweet onions, raw | 1701 |
| Welsh onions | 1704 |
1Nutrivore Score may be higher since 10 to 25% of data is missing.
Does all the nutrition in onion have you crying tears of joy? Maybe your friends will too!
Health Benefits of Onion Nutrients
Let's take a closer look at all of the best and excellent source of nutrients found in a 1-cup serving of onion and see how they benefit our health.
Onion Provides 7.5 mg of Thiosulfinates
Onion is a best source of thiosulfinates, providing 7.5 mg of thiosulfinates per 1-cup serving!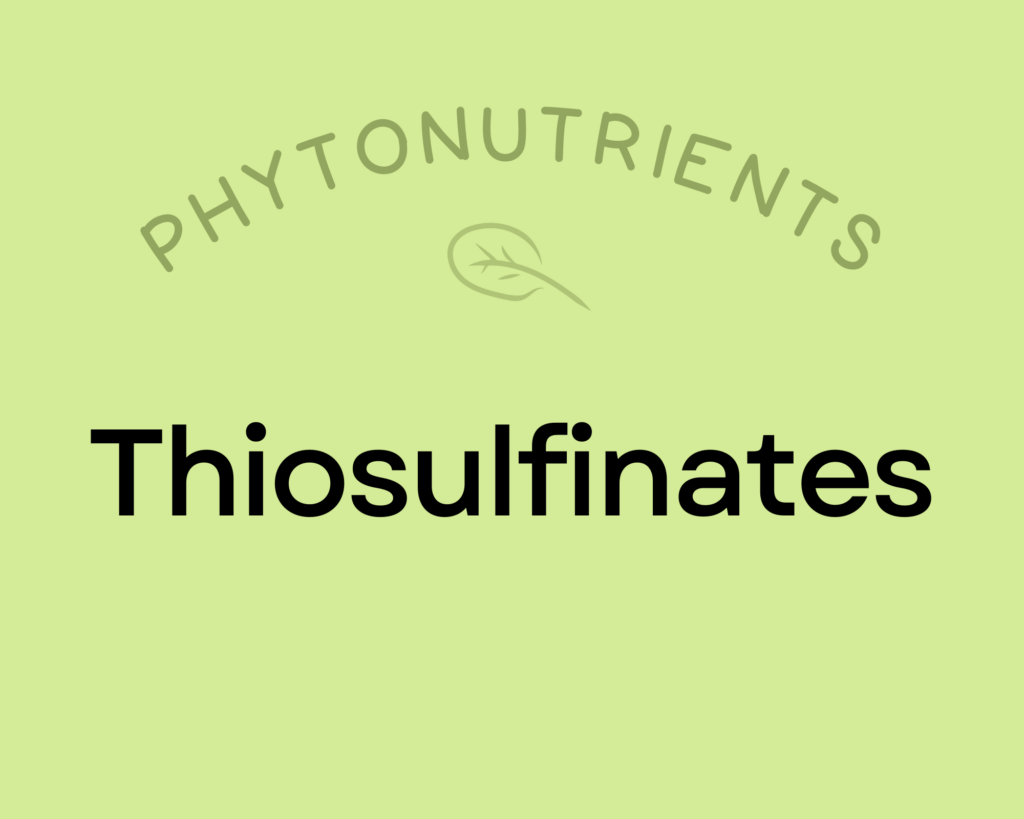 Thiosulfinates are the compounds responsible for the distinctive pungent flavor of allium vegetables (such as onions, garlic, shallots, and leeks). Thiosulfinates provide diverse beneficial effects, including powerful anticancer properties as well as antioxidant, anti-inflammatory, and antithrombotic effects. In general, thiosulfinates exert their effects by modulating important enzymes (like the cytochrome P450 superfamily and glutathione S-transferases) that help detoxify carcinogens and prevent DNA adducts from forming. Learn more about thiosulfinates here.
Onion Provides 208.0 mg of Polyphenols
Onion is an excellent source of polyphenols, providing 208.0 mg of polyphenols per 1-cup serving!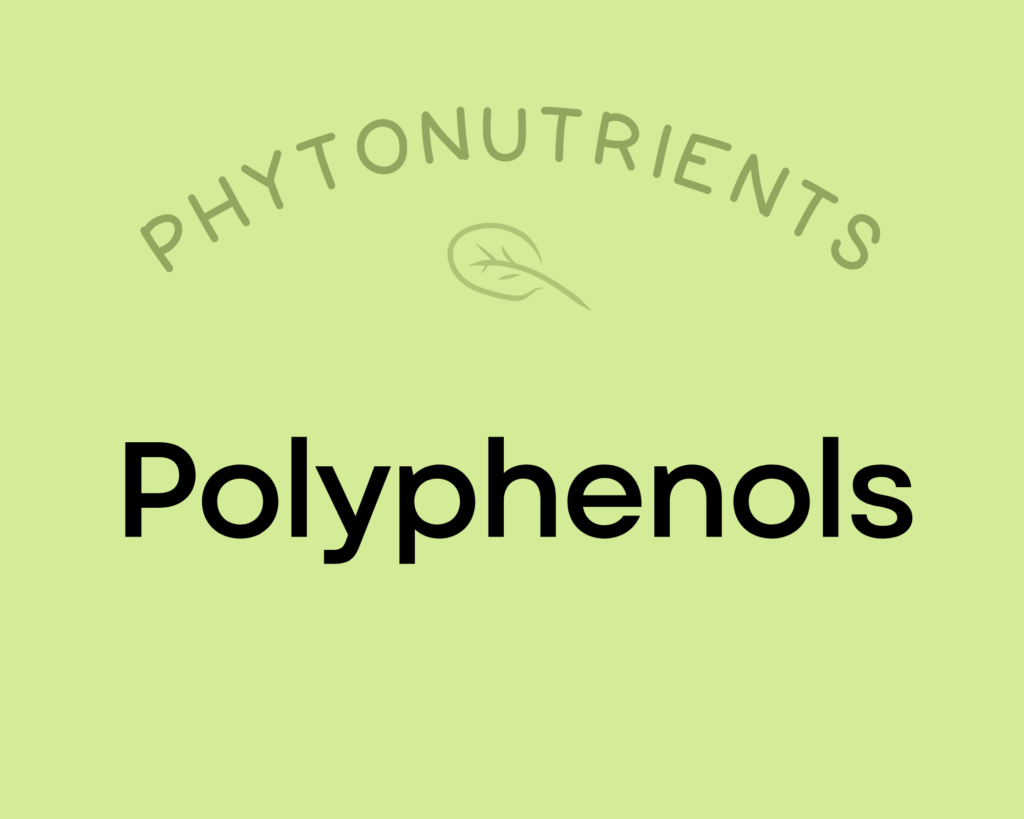 Polyphenols play a huge role in protecting against cancer, heart disease, diabetes, asthma, osteoporosis, neurodegenerative diseases, and other conditions associated with oxidative stress. In fact, a major reason foods like red wine and olive oil (as well as diets rich in both, such as the Mediterranean diet) show up as so beneficial may be due to their high polyphenol content! Along with chronic diseases, supplementing with polyphenols has been shown to protect against infections and reduce the signs of aging. Polyphenols exert their most potent effects by acting as antioxidants—preventing cellular damage by neutralizing hazardous oxygen radicals and improving cellular health as a result (which, in turn, benefits virtually every system in the body). As a result of their antioxidant properties, polyphenols also boost the immune system and protect against both chronic and acute diseases. In addition, polyphenols can help regulate enzyme function, stimulate cell receptors, modulate the functions of inflammatory cells (including T and B lymphocytes, macrophages, platelets, and natural killer cells), alter adhesion molecule expression, affect nerve cells and cardiac muscle cells, and exert antiviral effects. Learn more about polyphenols here.
Learn What Foods Are the Best Sources of Every Nutrient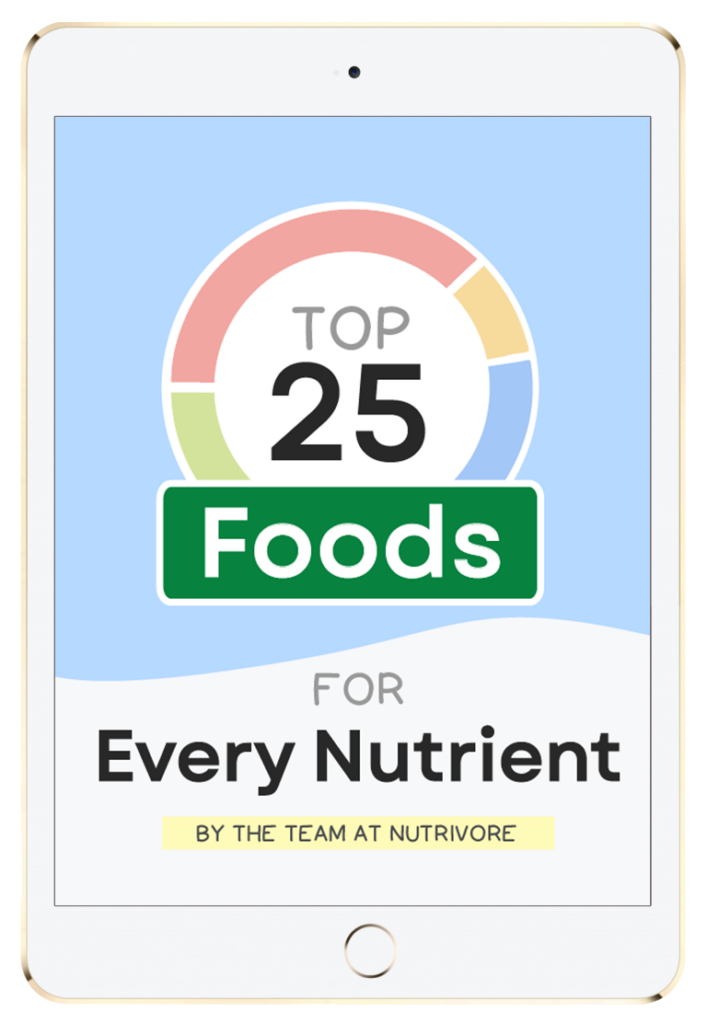 The Top 25 Foods for Every Nutrient
The Top 25 Foods for Every Nutrient e-book is a well-organized, easy-to-use guide to help you choose foods that fit your needs of 42 important nutrients while creating a balanced nutrient-dense diet.
Get two "Top 25" food lists for each nutrient, plus you'll find RDA charts for everyone, informative visuals, fun facts, serving sizes and the 43 foods that are Nutrient Super Stars!
Buy now for instant digital access.
How Much Onion Should We Eat Per Day?
Not only do members of the allium family (like onions) offer a unique and irreplaceable flavor for our food, they're also fantastic for supporting whole-body health!
Every serving of fresh, whole vegetables or fruit we eat daily reduces the risk of all-cause mortality by 5% to 8%, with the greatest risk reduction seen when we consume eight or more servings per day. In fact, consuming 800 grams of vegetables and fruits daily reduces all-cause mortality by 31% compared to eating less than 40 grams daily. A 2017 meta-analysis showed that 2.24 million deaths from cardiovascular disease, 660,000 deaths from cancer, and 7.8 million deaths from all causes could be avoided globally each year if everyone consumed 800 grams of veggies and fruits every day.
Eating vegetables and fruit in abundance lowers risk of cancer, cardiovascular disease, type 2 diabetes, obesity, chronic kidney disease, osteoporosis and bone fragility fractures (including hip fracture), cognitive impairment and dementia (including Alzheimer's disease), neurodegenerative diseases, asthma, allergies, chronic obstructive pulmonary disease, age-related macular degeneration, cataracts, glaucoma, depression, ulcerative colitis and Crohn's disease, rheumatoid arthritis, inflammatory polyarthritis, non-alcoholic fatty liver disease, acne, seborrheic dermatitis, and lowers markers of inflammation. Learn more in Importance of Vegetables and Fruit.
Covering half of your plate with a variety of vegetables (and three quarters of your plate if your starchy food is a root vegetable or winter squash) at each meal is a simple way to easily achieve the goal of 800 grams daily (about 5 to 8 servings depending on the vegetable).
Studies show that, overall consumption of allium vegetables (like onion), is linked with improved cardiovascular health and lower risk of cancer. In fact, a variety of studies have shown allium vegetable consumption is associated with a lower risk of: colorectal cancer (up to 22% lower risk), endometrial cancer (up to a 24% lower risk; 59% lower risk in premenopausal women), gastric cancer (up to a 46% lower risk), ovarian cancer (up to an 21% lower risk), prostate cancer (up to a 49% lower risk), and upper aerodigestive tract cancer [including oral cavity, pharynx, larynx, & esophagus] (up to a 21% lower risk).
It's always best to mix up the veggies you eat day to day (aiming for a wide variety of different vegetables and fruits throughout the week), and onion definitely has a place at the table.
Easily track your servings of Nutrivore Foundational Foods!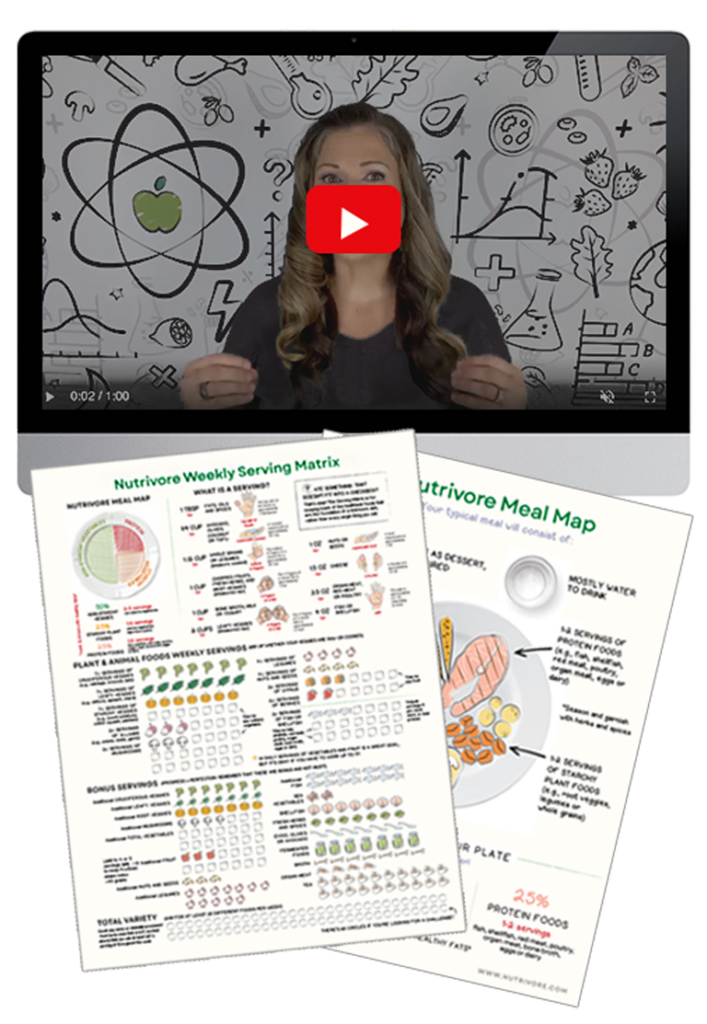 The Nutrivore Weekly Serving Matrix
The Nutrivore Weekly Serving Matrix digital resource is an easy-to-use and flexible weekly checklist designed to help you maximize nutrient-density and meet serving suggestions of Nutrivore foundational foods, all without having to weigh or measure your foods!
Includes a 1-hour video tutorial and downloadable interactive guides.
Buy now for instant digital access.
cITATIONS
Expand to see all scientific references for this article.