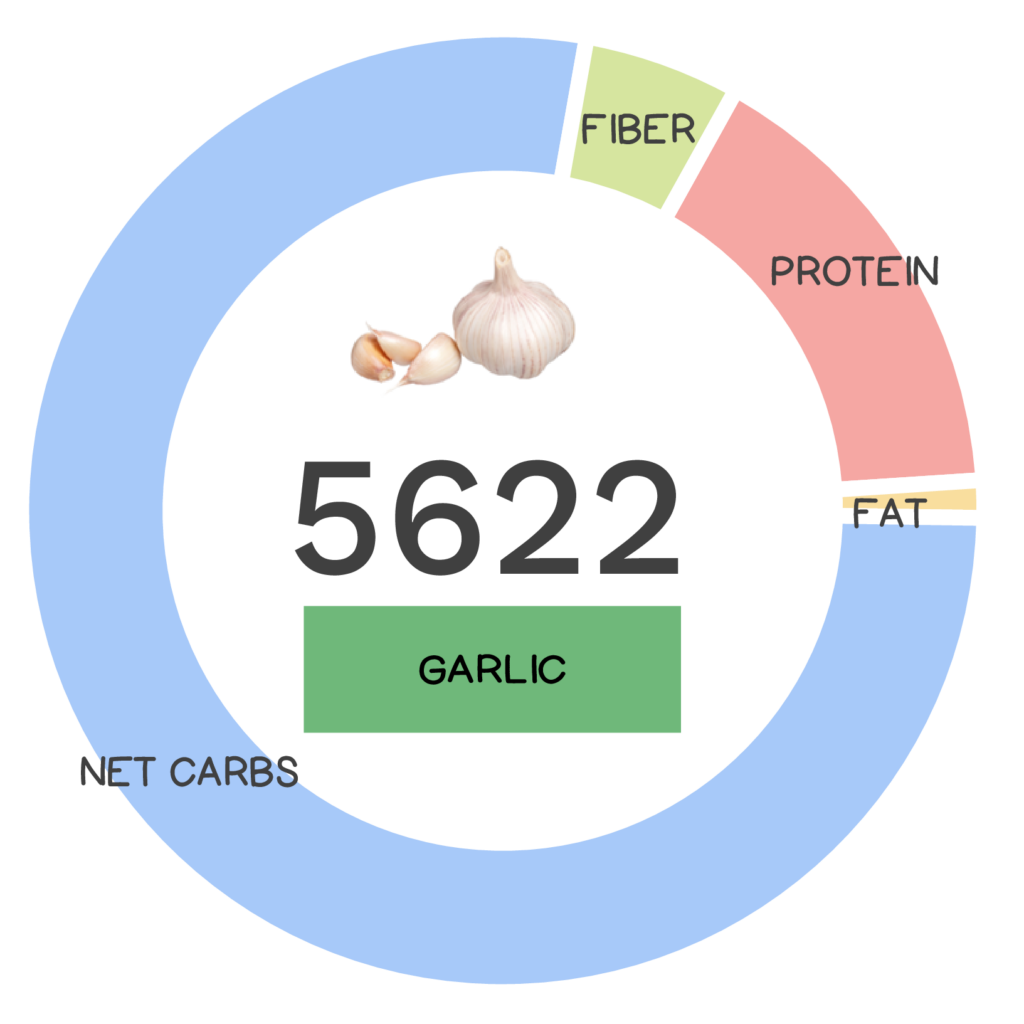 Hated by vampires, but generally loved by the rest of us, garlic is incredibly useful in the kitchen, adding flavor to all sorts of dishes. It's also inexpensive and grows just about everywhere – if planted at the proper time and depth, it can even grow as far north as Alaska! That's what I call universal!
Garlic (Allium sativa) is a member of the Allium family (also known as the onion family), which includes over 900 different species, including onions (duh!), leeks, chives, scallions, and shallots. The word "allium" is believed to derive from the Greek ἀλέω (or aleo), which means "avoid," and refers to the potent odor of these vegetables! Indeed, alliums contain an enzyme called alliinase that produces volatile sulfur compounds when their plant tissue gets damaged, leading to their characteristic aroma and taste. These compounds help keep the plants safe from pests but unfortunately also contribute to 'garlic breath' and even garlic-smelling sweat which can persist for days after consuming large amounts of this veggie, and may lead to 'avoidance' by others. In fact, due to its strong odor, garlic is sometimes unflatteringly referred to as the "stinking rose!"
Garlic has been used for over 7,000 years, originating in Central Asia but quickly becoming popular in the Mediterranean region as well, where it was used both as food and as traditional medicine. Modern scientific interest in garlic's medicinal benefits was inspired by Louis Pasteur, who recorded the antibacterial properties of this food in 1858. Garlic was even used as an antiseptic to prevent gangrene in World Wars I and II due to these potent antimicrobial effects! There's seemingly nothing this veggie can't do.
Everything You Need to Jump into Nutrivore TODAY!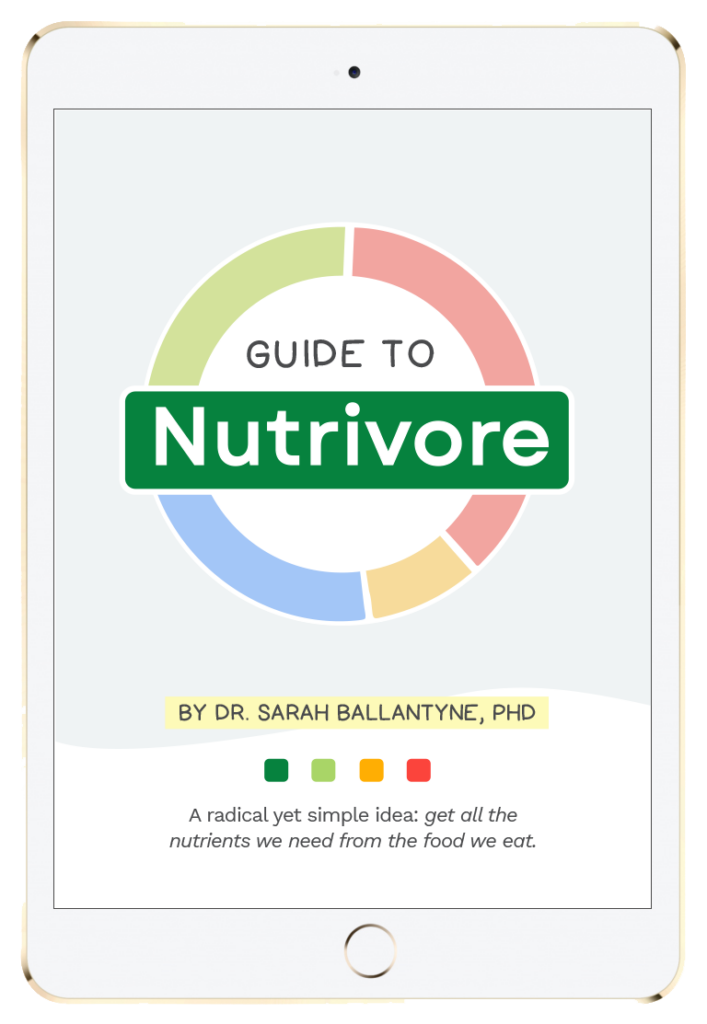 Guide to Nutrivore
The Guide to Nutrivore e-book explains why and how to eat a Nutrivore diet, introduces the Nutrivore Score, gives a comprehensive tour of the full range of essential and important nutrients!
Plus, you'll find the Top 100 Nutrivore Score Foods, analysis of food groups, practical tips to increase the nutrient density of your diet, and look-up tables for the Nutrivore Score of over 700 foods.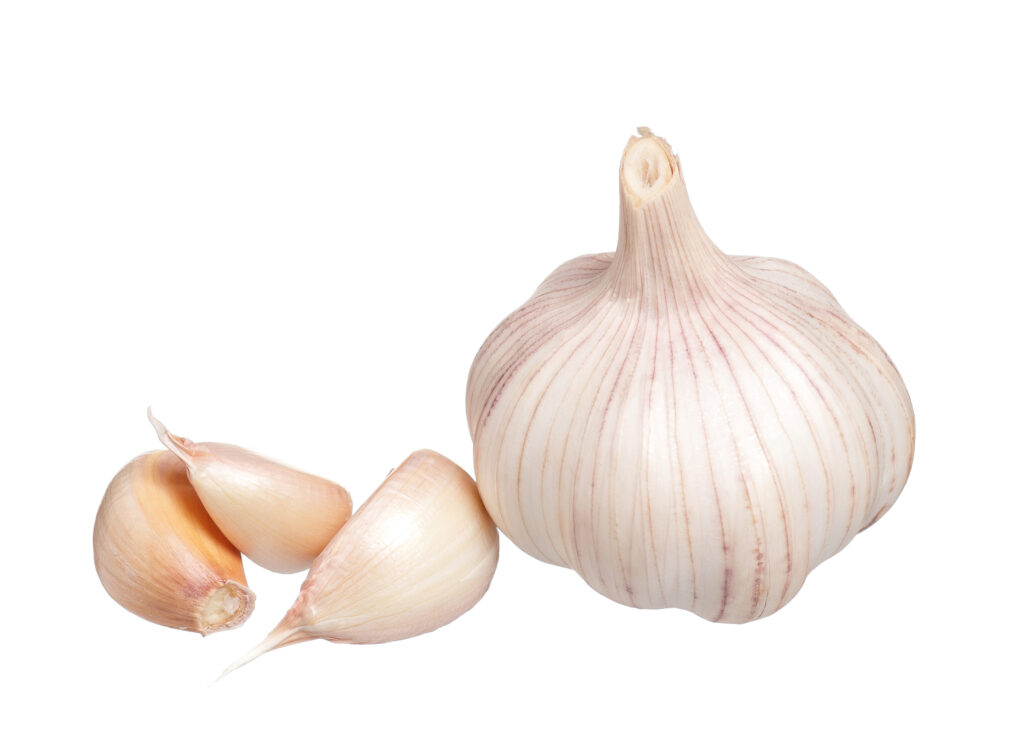 Nutrivore Score for Garlic – 5622
Garlic has a Nutrivore Score of 5622, making it one of the most nutrient-dense foods on the planet! Plus, based on the amount typically consumed in one sitting, it is a low-carb and low-calorie food; the calorie count of garlic is just 13 calories per tablespoon (or 4.5 calories per clove)!
Per serving, garlic is a best source (>50% daily value) of thiosulfinates.
Want to Know the Top 100 Nutrivore Score Foods?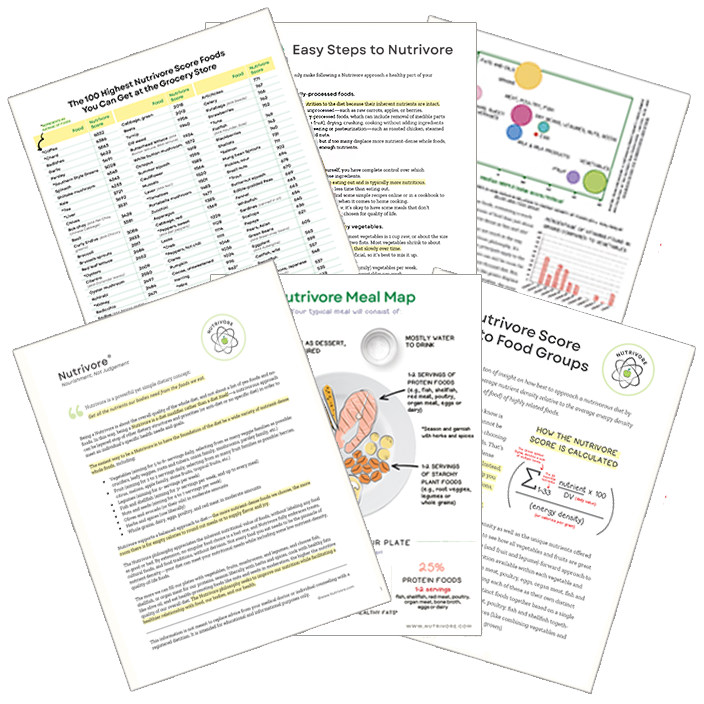 Get it Directly in Your Inbox!
The Nutrivore Newsletter is a weekly email that delivers bite-size fun facts, practical tips, recipes and resources. Sign up now and get 5 free guides directly to your inbox:
Easy Steps to Nutrivore 4-page guide
Nutrivore Foundational Foods 6-page guide
Nutrivore Score Guide to Food Groups 3-page guide
Nutrivore Meal Map
Top 100 Nutrivore Score Foods
Garlic Nutrition Facts
One serving of garlic is standardized to 1 tablespoon of garlic, or about 8.5 grams (0.3 ounces). For reference, a typical clove of garlic weighs 3 grams, which means: one serving of garlic is roughly equivalent to 3 cloves of garlic. When you cook garlic, the volume remains relatively consistent: 1 tablespoon raw garlic is roughly equivalent to 1 tablespoon cooked garlic.
garlic Nutrition Facts per Serving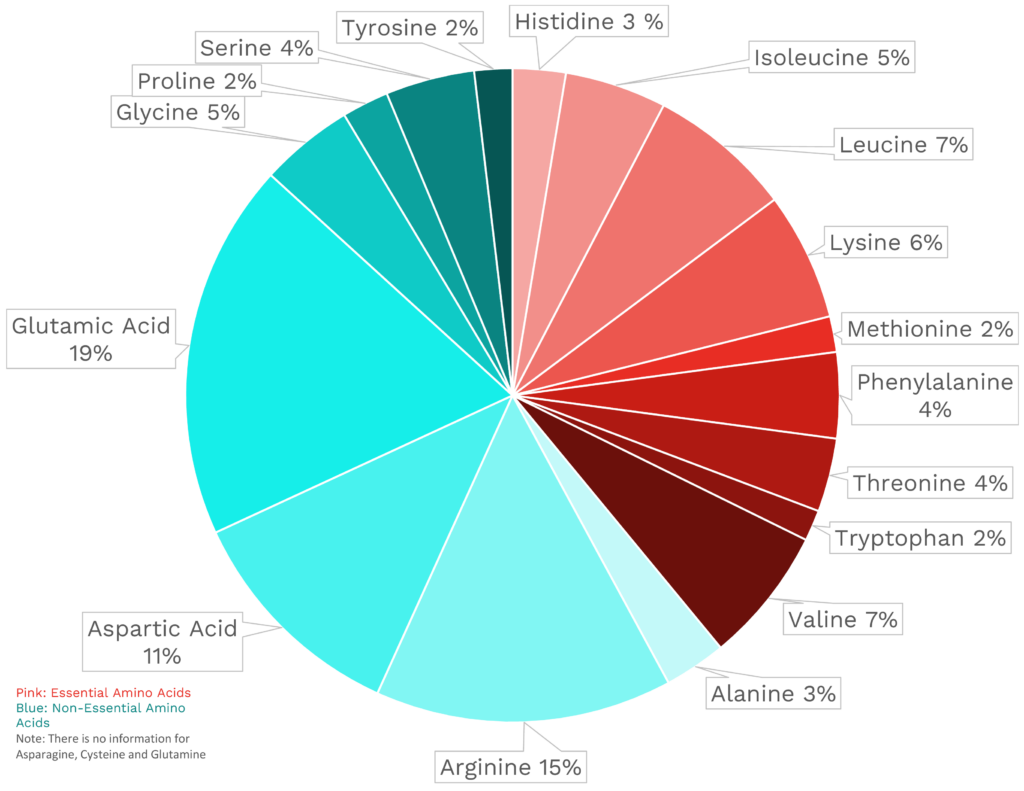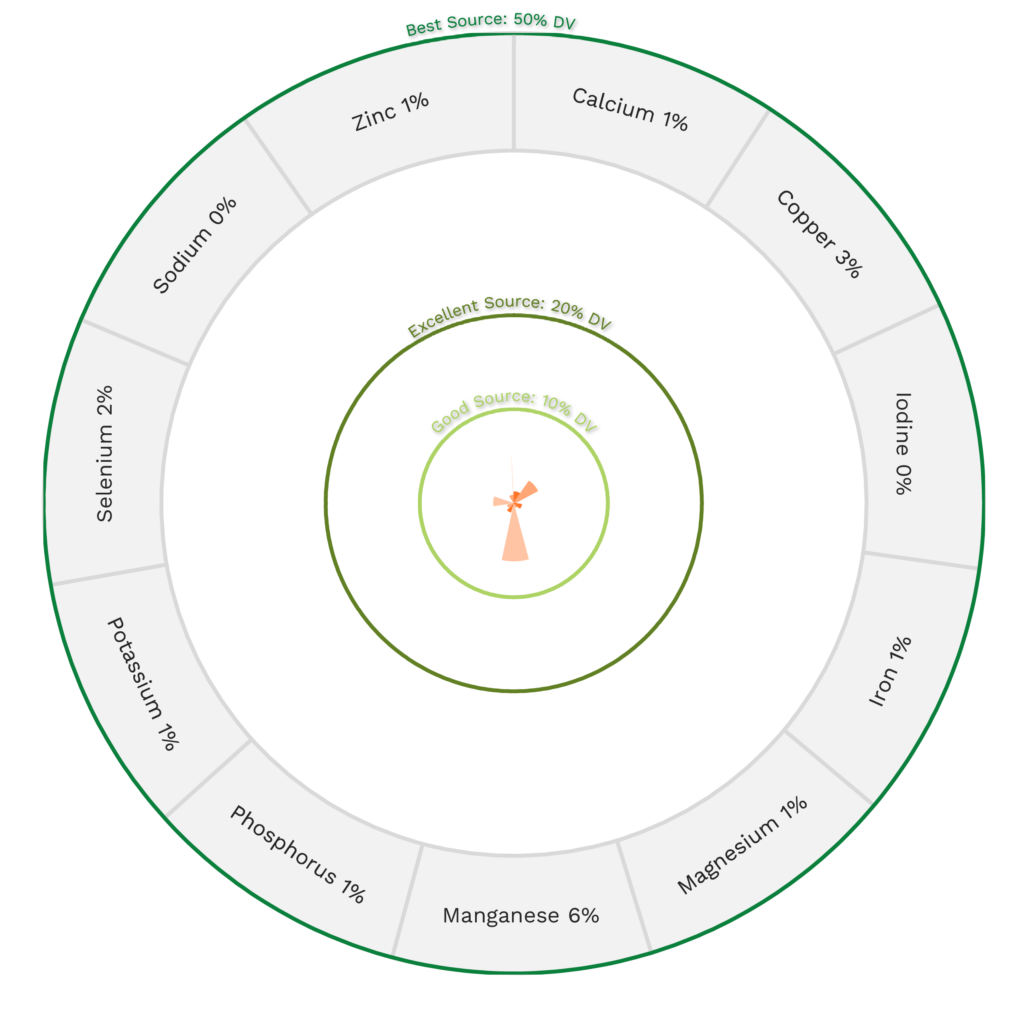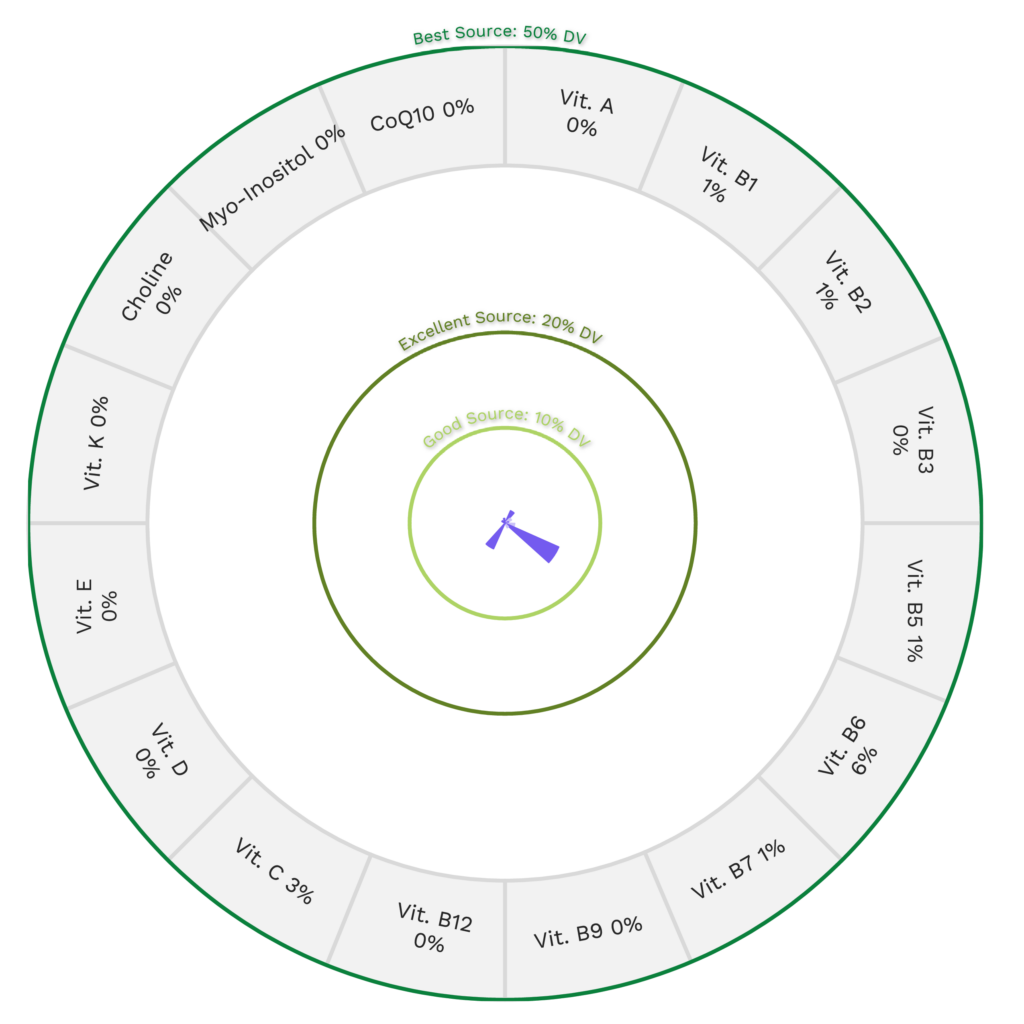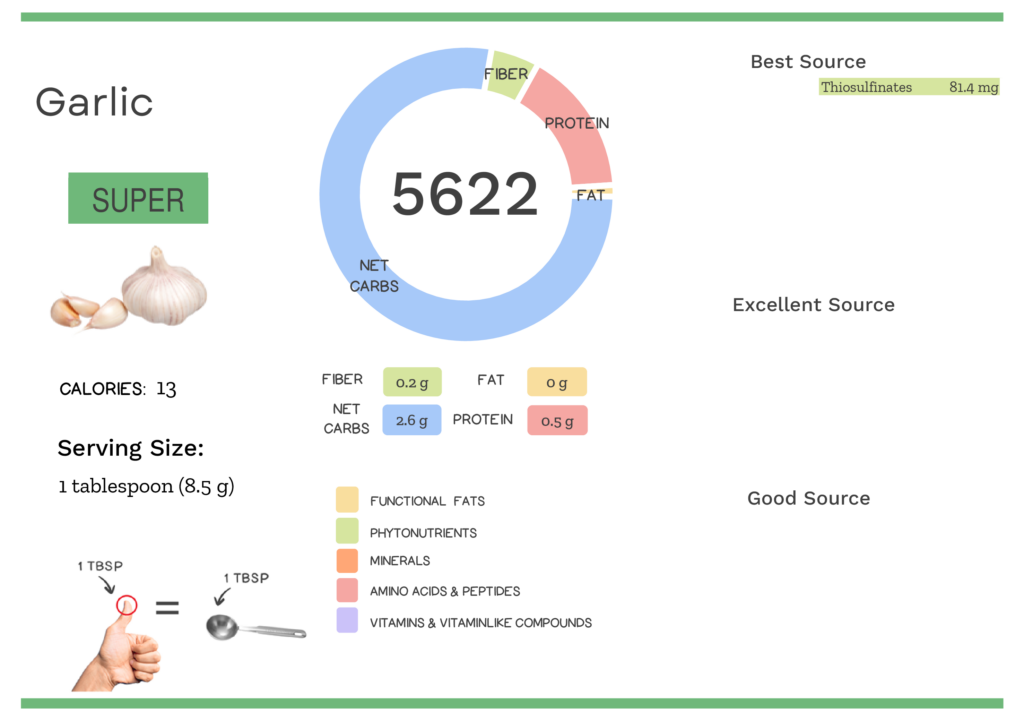 Garlic Nutrition Varies With Processing
The Nutrivore Score for garlic varies depending on processing. For example, garlic powder is a spice prepared from dehydrated fresh garlic that has been powdered. Garlic powder is a convenient option to have on hand to both boost food flavor and nutrient density!
| | NUTRIVORE SCORE |
| --- | --- |
| Garlic powder | 5529 |
| Garlic, raw | 5622 |
Excited to learn all the reasons why not to avoid garlic? Maybe your friends will be too!
Health Benefits of Garlic Nutrients
Let's take a closer look at all of the best and excellent source of nutrients found in a 1-tablespoon serving of garlic and see how they benefit our health.
Garlic Provides 81.4 mg of Thiosulfinates
Garlic is a very valuable source of phytonutrients, being an especially rich source of well-studied sulfur-containing compounds called thiosulfinates, which are responsible for the distinctive pungent flavor of allium vegetables (such as garlic, onions, shallots, and leeks). Interestingly, thiosulfinates aren't even formed until the vegetables are damaged (via chewing, cutting, or other processing).
Amazingly, garlic provides a whopping 81.4 mg of thiosulfinates per tablespoon!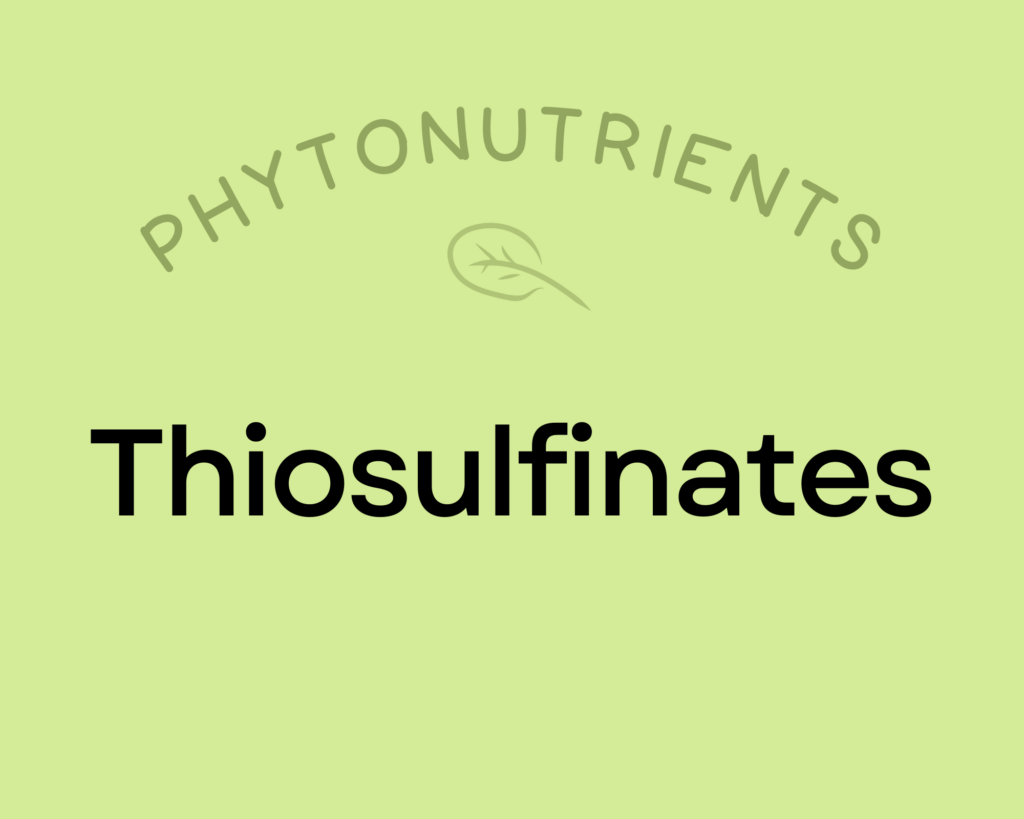 Thiosulfinates are the compounds responsible for the distinctive pungent flavor of allium vegetables (such as onions, garlic, shallots, and leeks). Thiosulfinates provide diverse beneficial effects, including powerful anticancer properties as well as antioxidant, anti-inflammatory, and antithrombotic effects. In general, thiosulfinates exert their effects by modulating important enzymes (like the cytochrome P450 superfamily and glutathione S-transferases) that help detoxify carcinogens and prevent DNA adducts from forming. Learn more about thiosulfinates here.
Learn What Foods Are the Best Sources of Every Nutrient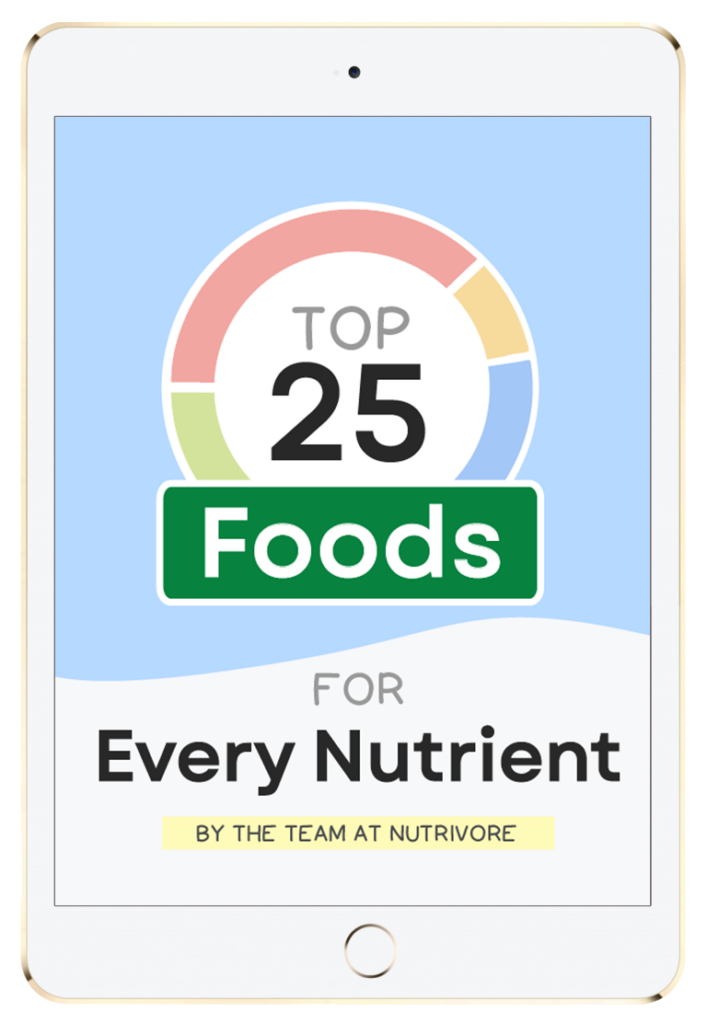 The Top 25 Foods for Every Nutrient
The Top 25 Foods for Every Nutrient e-book is a well-organized, easy-to-use guide to help you choose foods that fit your needs of 42 important nutrients while creating a balanced nutrient-dense diet.
Get two "Top 25" food lists for each nutrient, plus you'll find RDA charts for everyone, informative visuals, fun facts, serving sizes and the 43 foods that are Nutrient Super Stars!
How Much Garlic Should We Eat per Day?
Not only do members of the allium family (like garlic) offer a unique and irreplaceable flavor for our food, they're also fantastic for supporting whole-body health!
Every serving of fresh, whole vegetables or fruit we eat daily reduces the risk of all-cause mortality by 5% to 8%, with the greatest risk reduction seen when we consume eight or more servings per day. In fact, consuming 800 grams of vegetables and fruits daily reduces all-cause mortality by 31% compared to eating less than 40 grams daily. A 2017 meta-analysis showed that 2.24 million deaths from cardiovascular disease, 660,000 deaths from cancer, and 7.8 million deaths from all causes could be avoided globally each year if everyone consumed 800 grams of veggies and fruits every day.
Eating vegetables and fruit in abundance lowers risk of cancer, cardiovascular disease, type 2 diabetes, obesity, chronic kidney disease, osteoporosis and bone fragility fractures (including hip fracture), cognitive impairment and dementia (including Alzheimer's disease), neurodegenerative diseases, asthma, allergies, chronic obstructive pulmonary disease, age-related macular degeneration, cataracts, glaucoma, depression, ulcerative colitis and Crohn's disease, rheumatoid arthritis, inflammatory polyarthritis, non-alcoholic fatty liver disease, acne, seborrheic dermatitis, and lowers markers of inflammation. Learn more in Importance of Vegetables and Fruit.
Covering half of your plate with a variety of vegetables (and three quarters of your plate if your starchy food is a root vegetable or winter squash) at each meal is a simple way to easily achieve the goal of 800 grams daily (about 5 to 8 servings depending on the vegetable).
Studies show that, overall consumption of allium vegetables (like garlic), is linked with improved cardiovascular health and lower risk of cancer. In fact, a variety of studies have shown allium vegetable consumption is associated with a lower risk of: colorectal cancer (up to 22% lower risk), endometrial cancer (up to a 24% lower risk; 59% lower risk in premenopausal women), gastric cancer (up to a 46% lower risk), ovarian cancer (up to an 21% lower risk), prostate cancer (up to a 49% lower risk), and upper aerodigestive tract cancer [including oral cavity, pharynx, larynx, & esophagus] (up to a 21% lower risk).
It's always best to mix up the veggies you eat day to day (aiming for a wide variety of different vegetables and fruits throughout the week), and garlic definitely has a place at the table.
Easily track your servings of Nutrivore Foundational Foods!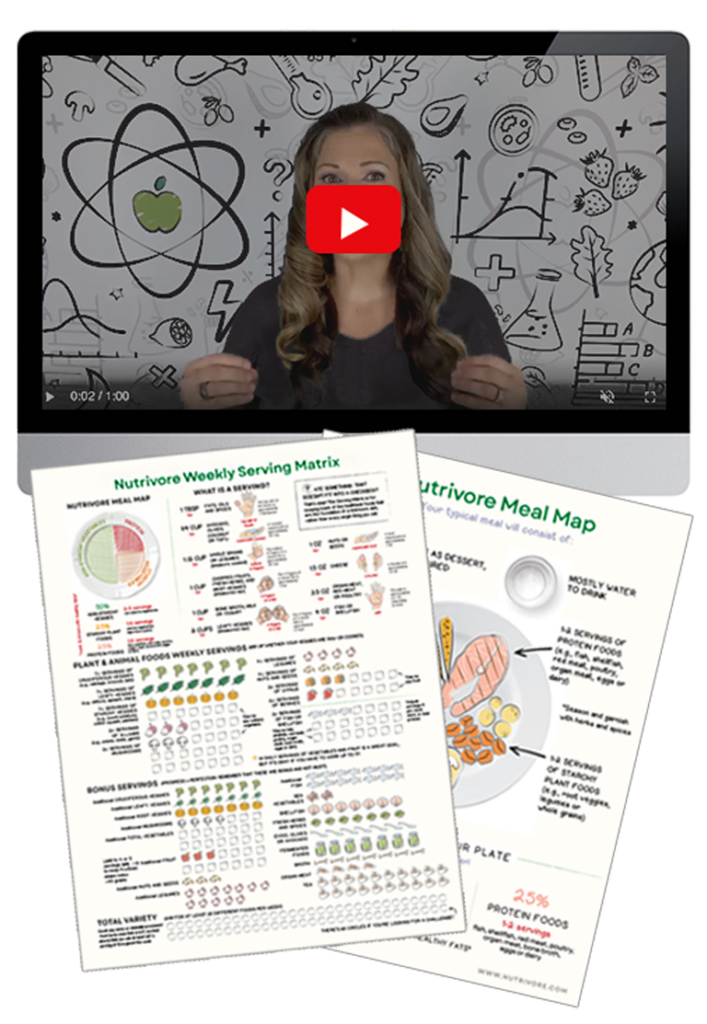 The Nutrivore Weekly Serving Matrix
The Nutrivore Weekly Serving Matrix digital resource is an easy-to-use and flexible weekly checklist designed to help you maximize nutrient-density and meet serving suggestions of Nutrivore foundational foods, all without having to weigh or measure your foods!
Includes a 1-hour video tutorial and downloadable interactive guides.
Citations
Expand to see all scientific references for this article.