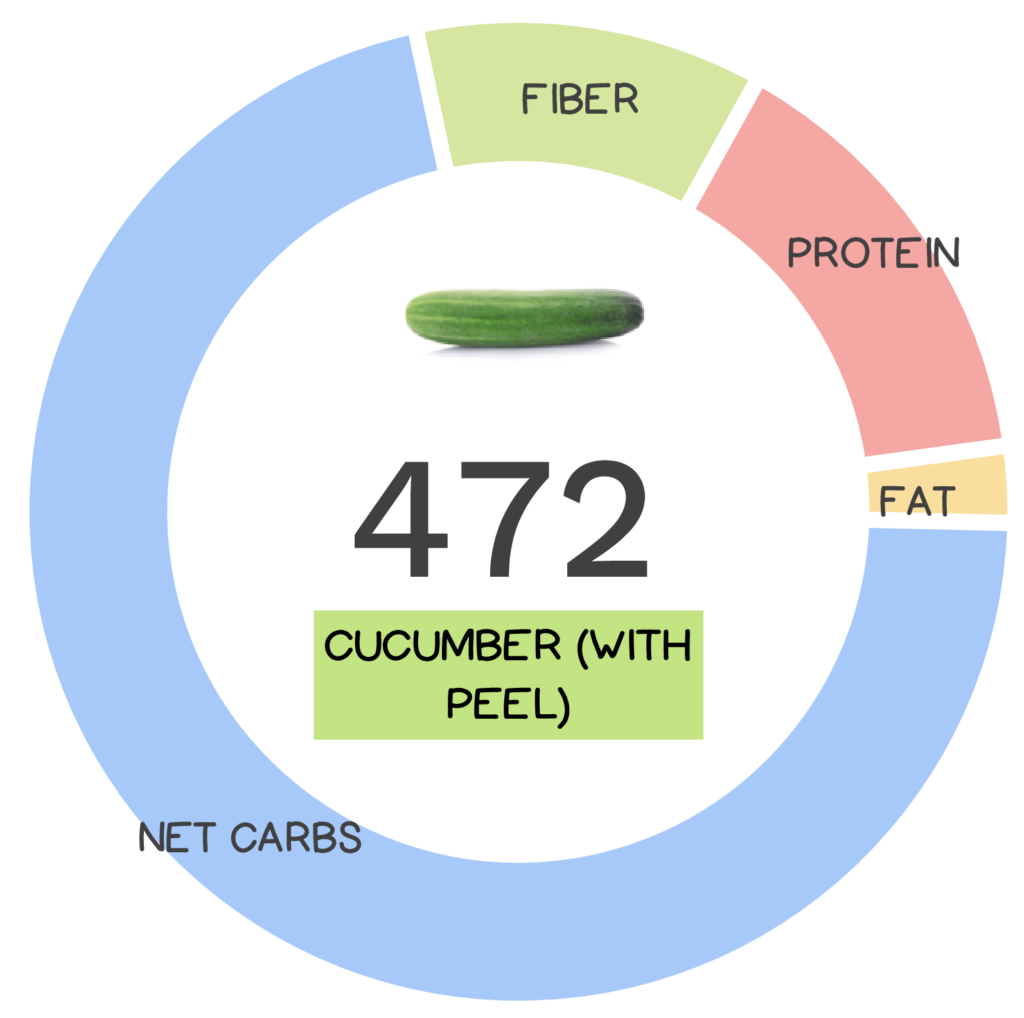 Not only are cucumbers a thirst-quenching snack (after all, they are 95% water!), but they also make for a refreshing treat. Ever hear the saying "cool as a cucumber?" It isn't just word-play. The inside of the cucumber can actually be up to 20 degrees cooler than the surrounding air, so it is in fact literally "cooling!" If you think that's "cool", keep reading to learn more about this "chill" veggie.
Cucumber, Cucumis sativus, is a very well-known plant in the gourd family, Curcurbitaceae (other members include squash, melon, pumpkin, and zucchini). In botanical terms, the cucumber is classified as a pepo which is a type of botanical berry with a hard outer rind and no internal divisions. However, like tomatoes, this cylindrical fruit, is perceived, prepared, and eaten as a vegetable in culinary preparations and comes in multiple varieties that include slicing, pickling, and burpless. The cucumber has been cultivated for at least 3,000 years, having originated in India and later spread throughout Europe by the Greeks or Romans. In fact, the Roman emperor Tiberius was so fond of cucumbers that the Romans used artificial growing methods (akin to our modern greenhouse systems) to make this vegetable available year-round and is purported to have cucumbers on his table daily! And, Charlemagne (aka Charles the Great) was reputed to have grown cucumbers in the royal gardens of Italy. By the mid-16th century cucumbers had made their way to North America, via explorers like Columbus. Today, the cucumber is one of the most popular "vegetables" around the world and is widely-cultivated – more than 84 million tons yearly! Per capita Americans consume approximately 8 pounds of cucumbers every year.
In addition to enjoying this fruit in its fresh form, throughout history cucumbers have also been well-loved 'pickled'. In fact, pickles have been around for thousands of years, rumored to be one of Cleopatra's prized beauty secrets and mentioned in the Bible and in Shakespeare's writings. Initially, fermentation was a necessary practice to preserve food for long-term storage, especially important during cold-winter months and long sea voyages where fresh produce was not readily available. Today, despite the invention of refrigerators, pickles are still enjoyed as a delicious food and for their probiotic benefits.
Nutrivore Score for Cucumber – 472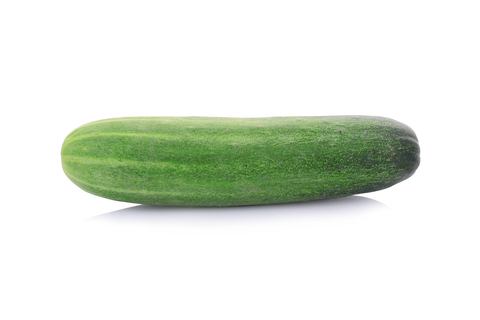 Cucumber (with peel) has a Nutrivore Score of 472, making it a high nutrient-dense food! Plus, it is a low-carb and low-calorie-density food; the calorie count of cucumber (with peel) is only 16 calories per cup!
Per serving, cucumber (with peel) is a good source (10-20% daily value) of vitamin K.
Want to Know the Top 100 Nutrivore Score Foods?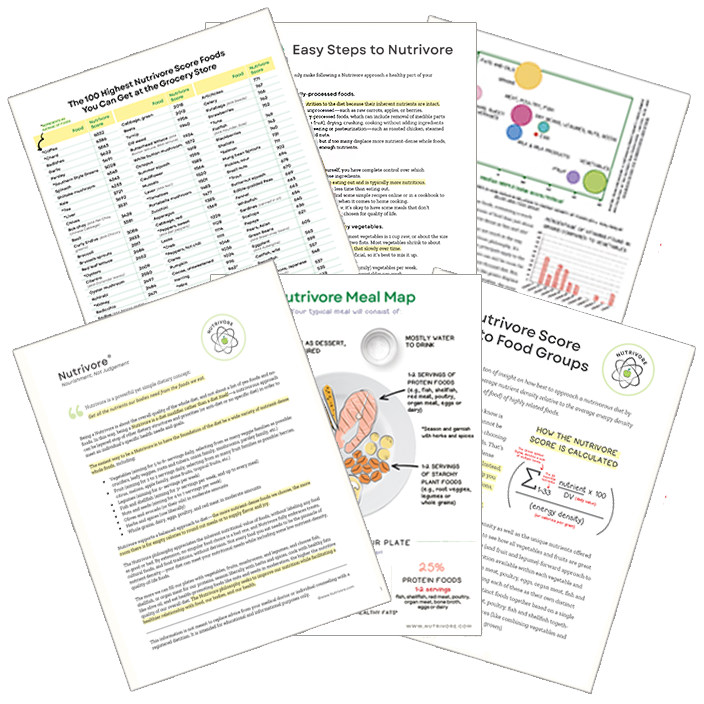 Get it Directly in Your Inbox!
The Nutrivore Newsletter is a weekly email that delivers bite-size fun facts, practical tips, recipes and resources. Sign up now and get 5 free guides directly to your inbox:
Easy Steps to Nutrivore 4-page guide
Nutrivore Foundational Foods 6-page guide
Nutrivore Score Guide to Food Groups 3-page guide
Nutrivore Meal Map
Top 100 Nutrivore Score Foods
Cucumber Nutrition Facts
One serving of cucumber (with peel) is standardized to 1 cup, slices or about 104 grams (3.7 ounces). A typical cucumber (8 1/4 inches long) weighs 301 grams which means: one cucumber (8 1/4 inches long) is equivalent to a little less than 3 servings of cucumber.
Cucumber (With Peel) Nutrition Facts Per Serving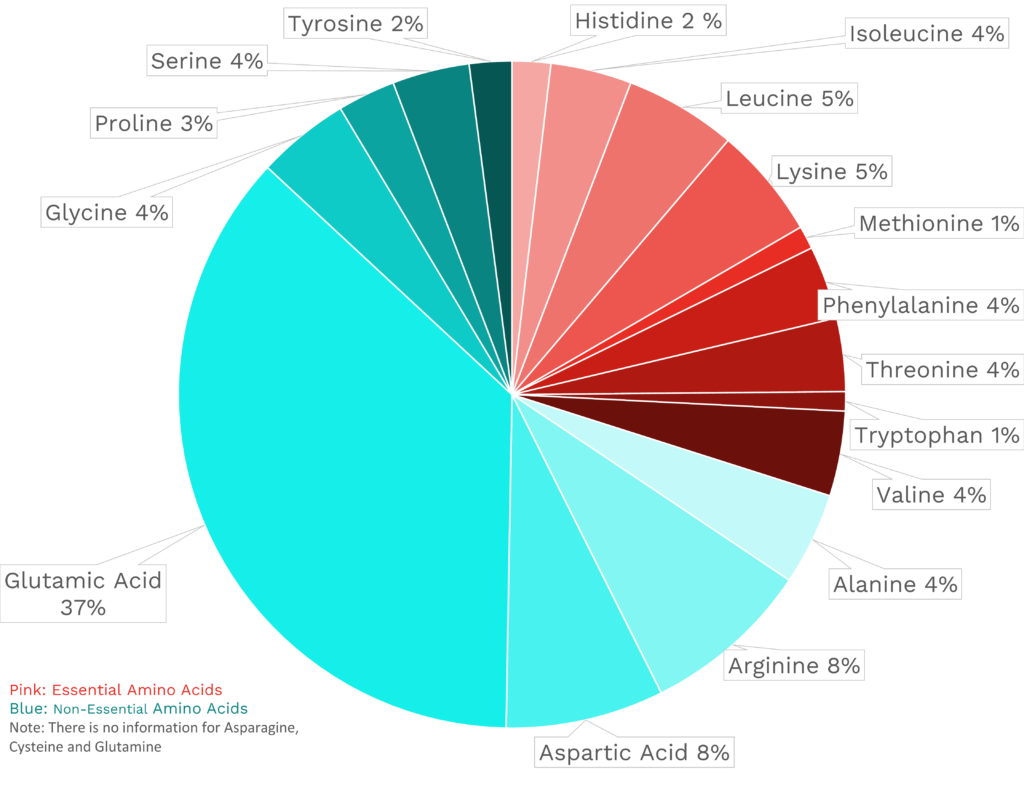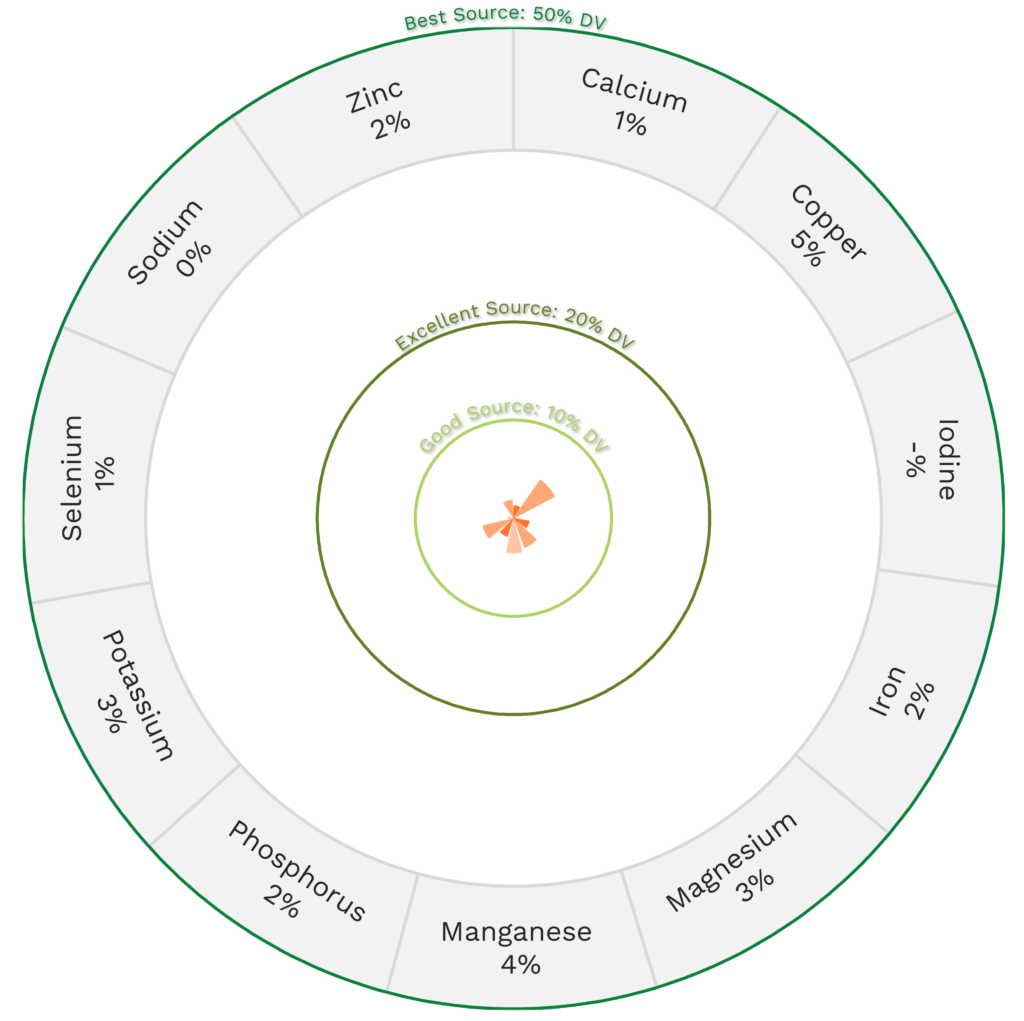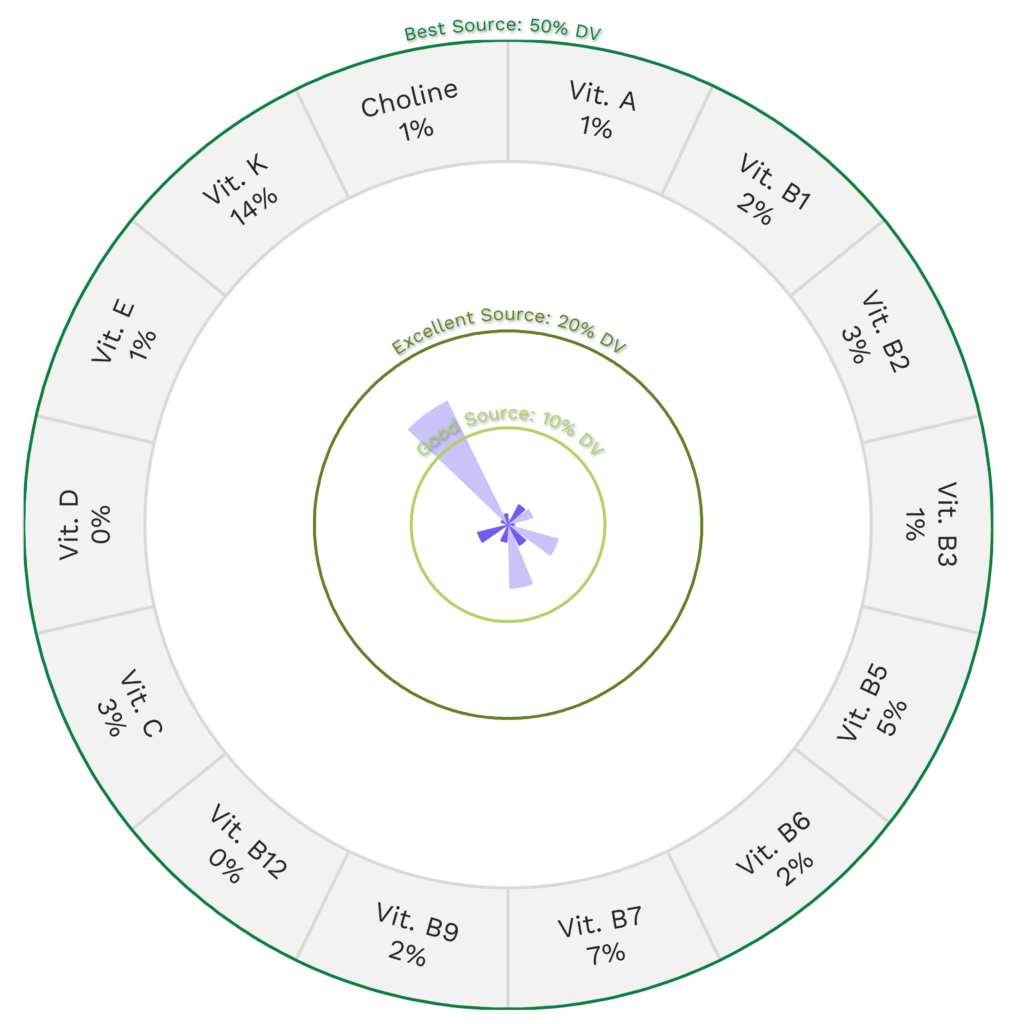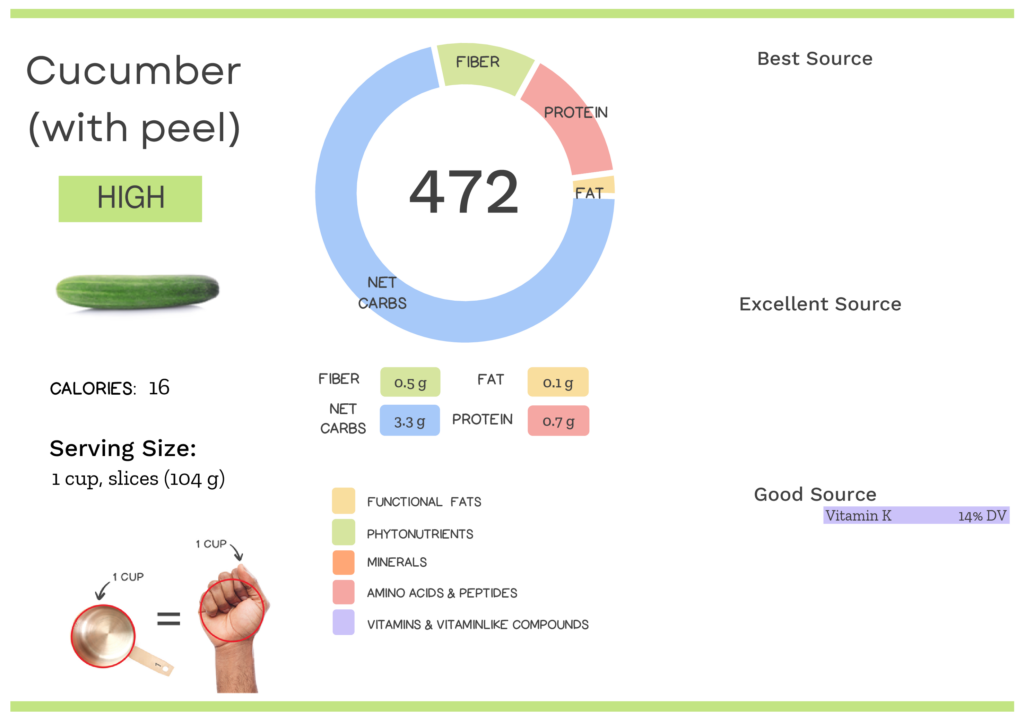 Cucumber Nutrition Varies With Processing
The Nutrivore Score of cucumbers varies based on how they have been processed. For instance, pickling is a very popular way to preserve and consume cucumbers all year long! For maximum health benefits, choose naturally fermented pickles which are full of important probiotics and amazing for gut health.
| | NUTRIVORE SCORE |
| --- | --- |
| Cucumber, peeled, raw | 554 |
| Cucumber, with peel, raw | 472 |
| Pickles, sour | 702 |
| Pickles, dill or kosher dill | 593 |
| Pickles, sweet (includes bread and butter pickles) | 107 |
Did you "relish" learning about all of the nutrition in cucumber? Maybe your friends will too!
How Much Cucumber Should We Eat Per Day?
Cucumbers are crunchy, thirst-quenching, refreshing, low in calories and high in taste! While they may seem unassuming, don't underestimate all the health benefits this fruit-turned vegetable has to offer. When it comes right down to it, they are kind of a big "dill"!
Every serving of fresh, whole vegetables or fruit we eat daily reduces the risk of all-cause mortality by 5% to 8%, with the greatest risk reduction seen when we consume eight or more servings per day. In fact, consuming 800 grams of vegetables and fruits daily reduces all-cause mortality by 31% compared to eating less than 40 grams daily. A 2017 meta-analysis showed that 2.24 million deaths from cardiovascular disease, 660,000 deaths from cancer, and 7.8 million deaths from all causes could be avoided globally each year if everyone consumed 800 grams of veggies and fruits every day.
Eating vegetables and fruit in abundance lowers risk of cancer, cardiovascular disease, type 2 diabetes, obesity, chronic kidney disease, osteoporosis and bone fragility fractures (including hip fracture), cognitive impairment and dementia (including Alzheimer's disease), neurodegenerative diseases, asthma, allergies, chronic obstructive pulmonary disease, age-related macular degeneration, cataracts, glaucoma, depression, ulcerative colitis and Crohn's disease, rheumatoid arthritis, inflammatory polyarthritis, non-alcoholic fatty liver disease, acne, seborrheic dermatitis, and lowers markers of inflammation. Learn more in Importance of Vegetables and Fruit.
Covering half of your plate with a variety of vegetables (and three quarters of your plate if your starchy food is a root vegetable or winter squash) at each meal is a simple way to easily achieve the goal of 800 grams daily (about 5 to 8 servings depending on the vegetable).
Not only does the high-water content of cucumber help boost hydration, eating cucumbers results in an overall improvement to general health including being great for skin health, protecting against oxidative stress and ulcers, and helping to reduce blood sugar and lipid levels.
Just remember, it's always best to mix up the veggies you eat day to day (aiming for a wide variety of different vegetables and fruits throughout the week), and cucumber definitely has a place at the table.
Easily track your servings of Nutrivore Foundational Foods!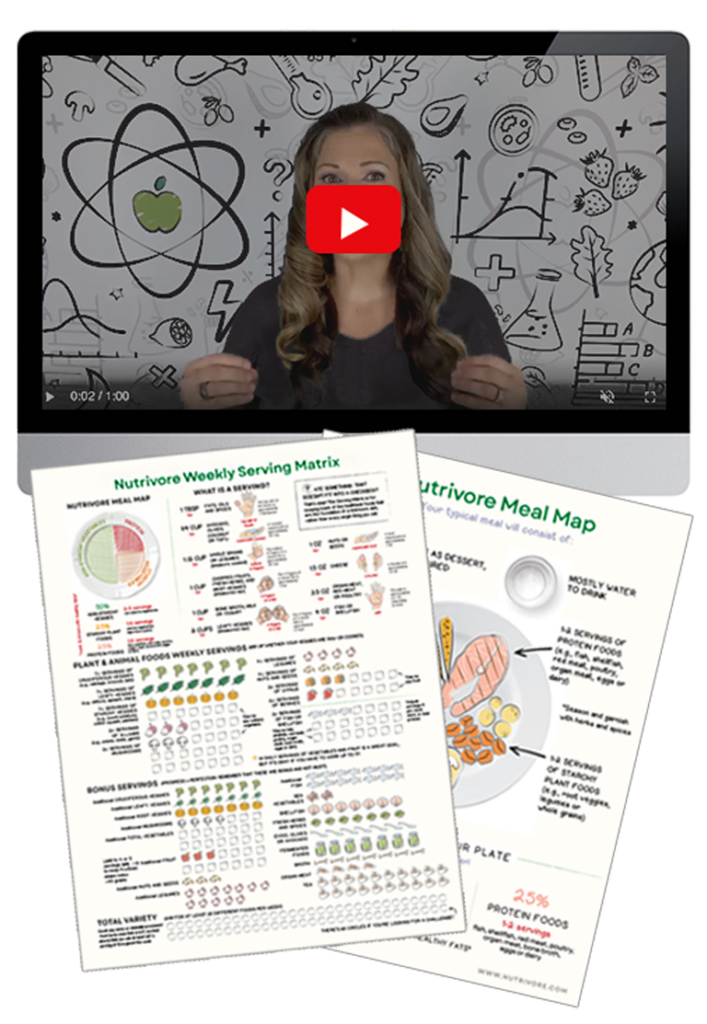 The Nutrivore Weekly Serving Matrix
The Nutrivore Weekly Serving Matrix digital resource is an easy-to-use and flexible weekly checklist designed to help you maximize nutrient-density and meet serving suggestions of Nutrivore foundational foods, all without having to weigh or measure your foods!
Includes a 1-hour video tutorial and downloadable interactive guides.
cITATIONS
Expand to see all scientific references for this article.