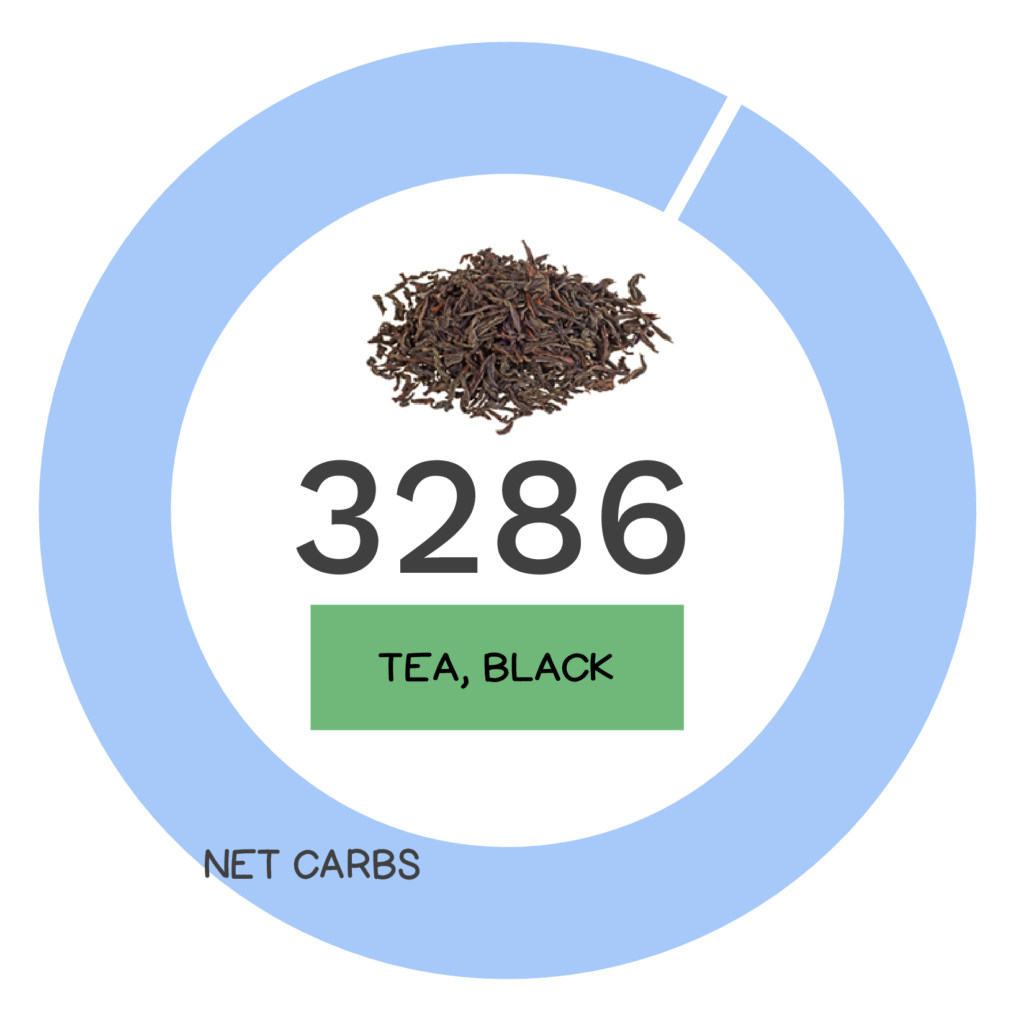 Tea is one of the most well-loved and versatile beverages available, which is probably why this phytonutrient-rich drink is the second most consumed beverage in the world, after water! A hot cup of tea can help us kickstart a sleepy morning, keep us company on a cold winter day or provide the perfect opportunity to bring us together with family and friends – tea party and tea ceremonies! Fortunately, it just so happens that tea is as health promoting as it is delicious.
Tea has its origins dating back at least 4,000 years to China and Southeast Asia, where it was used medicinally and as a recreational drink. From there, the popularity of tea spread world-wide, first to Korea, Japan and Vietnam before being introduced to Europe during the 16th century, though it wasn't until the late 19th century when tea was affordable enough to become an everyday beverage for all levels of society.
"True" tea—opposed to herbal infusions we sometimes call tea (such as chamomile tea or rooibos tea)—is made by pouring hot water over leaves of the Camellia sinensis plant, an evergreen shrub native to China and Southeast Asia and cultivated across the world in tropical and subtropical regions. (Amazingly, it takes roughly 2,000 leaves to create one pound of finished tea!) As soon as the leaves are picked, they begin to wilt and oxidize (via the plant's intracellular enzymes) unless immediately dried. As the leaves oxidize, their chlorophyl breaks down, and they turn progressively darker – a process which can be stopped by heating. That means that depending on how the leaves are harvested and processed, we end up with one of five different types of tea including white, green, oolong, black, or pu-erh tea, which can then undergo additional processing such as blending, flavoring, scenting and decaffeination.
Black tea is wilted, sometimes crushed, and fully oxidized. The leaves are repeatedly rolled and oxidized many times over the course of hours or even days. It is sometimes also referred to as red tea because of the coloring of the leaves. Black tea also originated in China. It is generally stronger tasting, retains its flavor longer, and is brewed at higher temperatures as compared to green tea. Examples include Darjeeling from India and Ceylon from Sri Lanka. Popular black tea blends include Earl grey tea and English breakfast tea.
In general, tea is available loose-leaf (for use with strainers, tea balls etc.), compressed (such as in tea bricks, which at one time served as currency in Mongolia, Tibet and Siberia in the 19th century), as instant tea, or in tea bags (a revolutionary idea developed in the 1900s which allowed for single serve consumption). And, though it's synonymous with British culture (where 63% of people drink tea daily, averaging 2+ cups per day), on a per-capita basis Turkey is actually the top consumer of tea (where people drink over 10 cups daily!), Ireland is second, followed by Iran, and finishing off the podium in fourth place is the United Kingdom. In the US, 80% of tea is consumed as iced tea, but regardless of whether you like it hot, cold, black, with milk, sugar or lemon, this beverage "steeped" in tradition is "infused" with health benefits galore!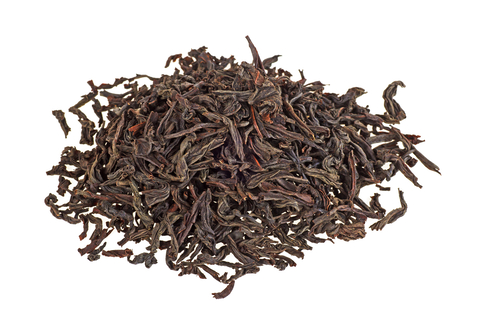 Nutrivore Score for Black Tea – 3286
Black tea has a Nutrivore Score of 3286, making it a super nutrient-dense food (beverage)! Plus, it is a low-carb and low-calorie-density beverage; amazingly the calorie count of black tea is just 2 calories per cup!
Per serving, black tea is an excellent source (20-50% daily value) of manganese and polyphenols.
Want to Know the Top 100 Nutrivore Score Foods?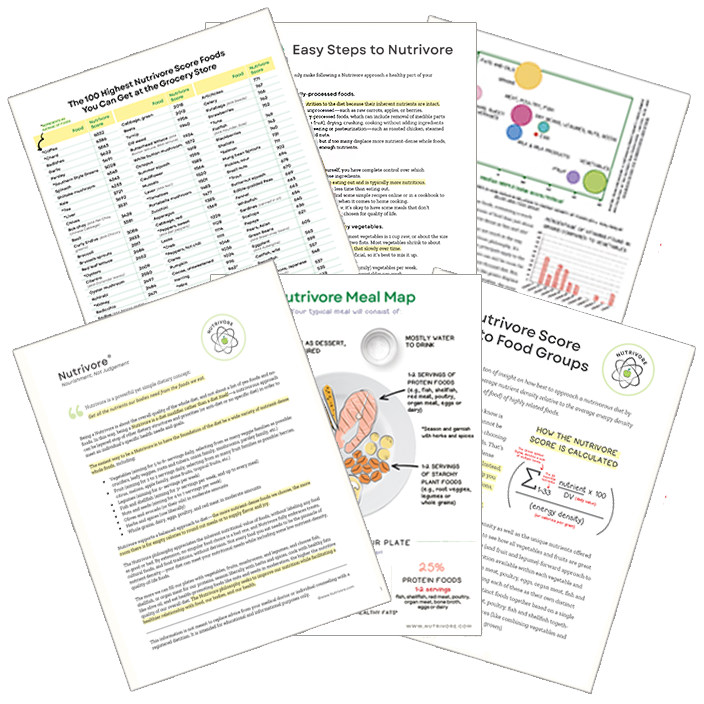 Get it Directly in Your Inbox!
The Nutrivore Newsletter is a weekly email that delivers bite-size fun facts, practical tips, recipes and resources. Sign up now and get 5 free guides directly to your inbox:
Easy Steps to Nutrivore 4-page guide
Nutrivore Foundational Foods 6-page guide
Nutrivore Score Guide to Food Groups 3-page guide
Nutrivore Meal Map
Top 100 Nutrivore Score Foods
Black Tea Nutrition Facts
One serving of black tea is standardized to 1 cup or about 237 grams (8.4 ounces).
Black Tea Nutrition Facts Per Serving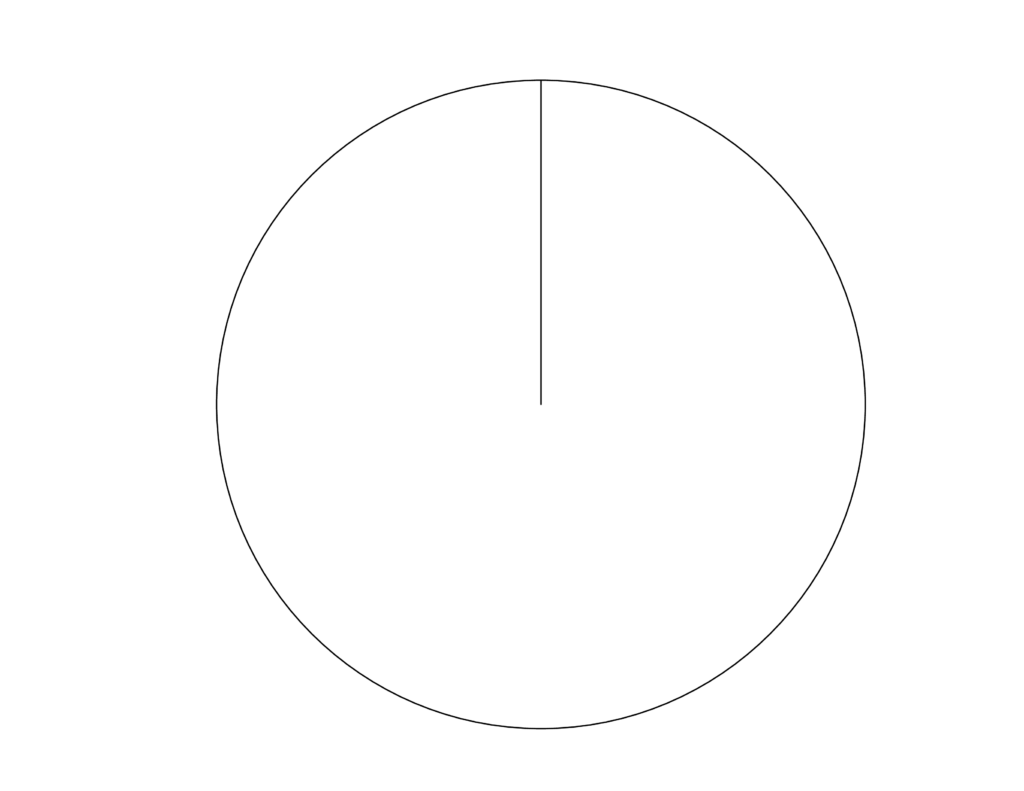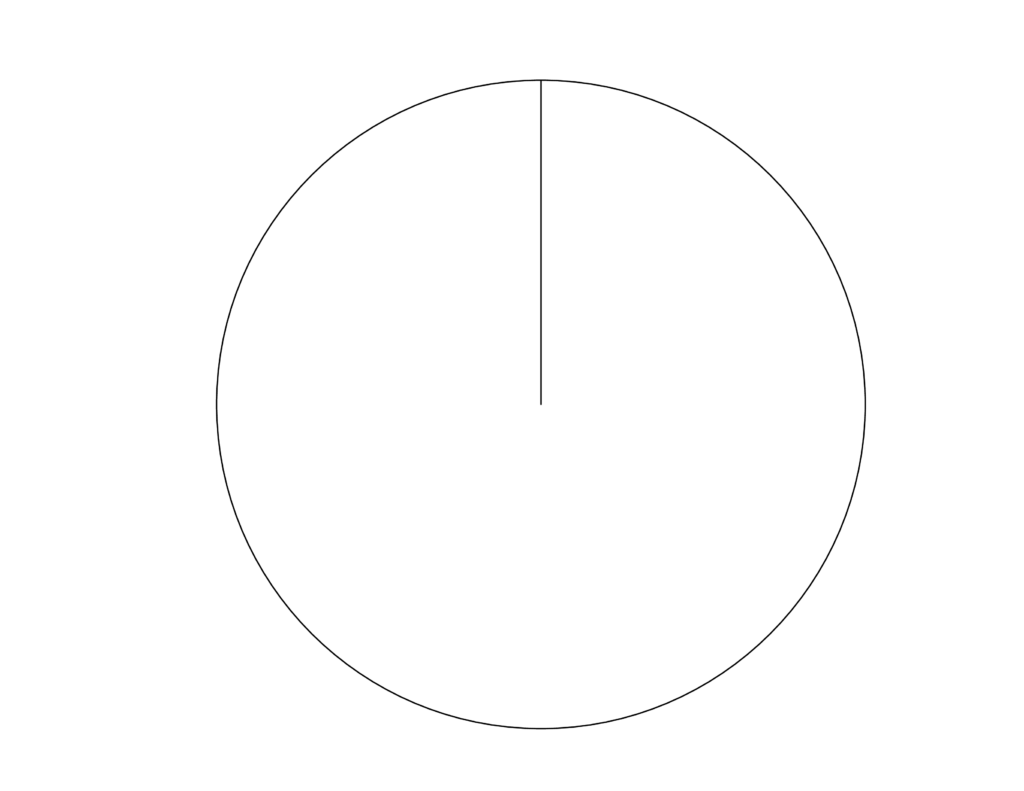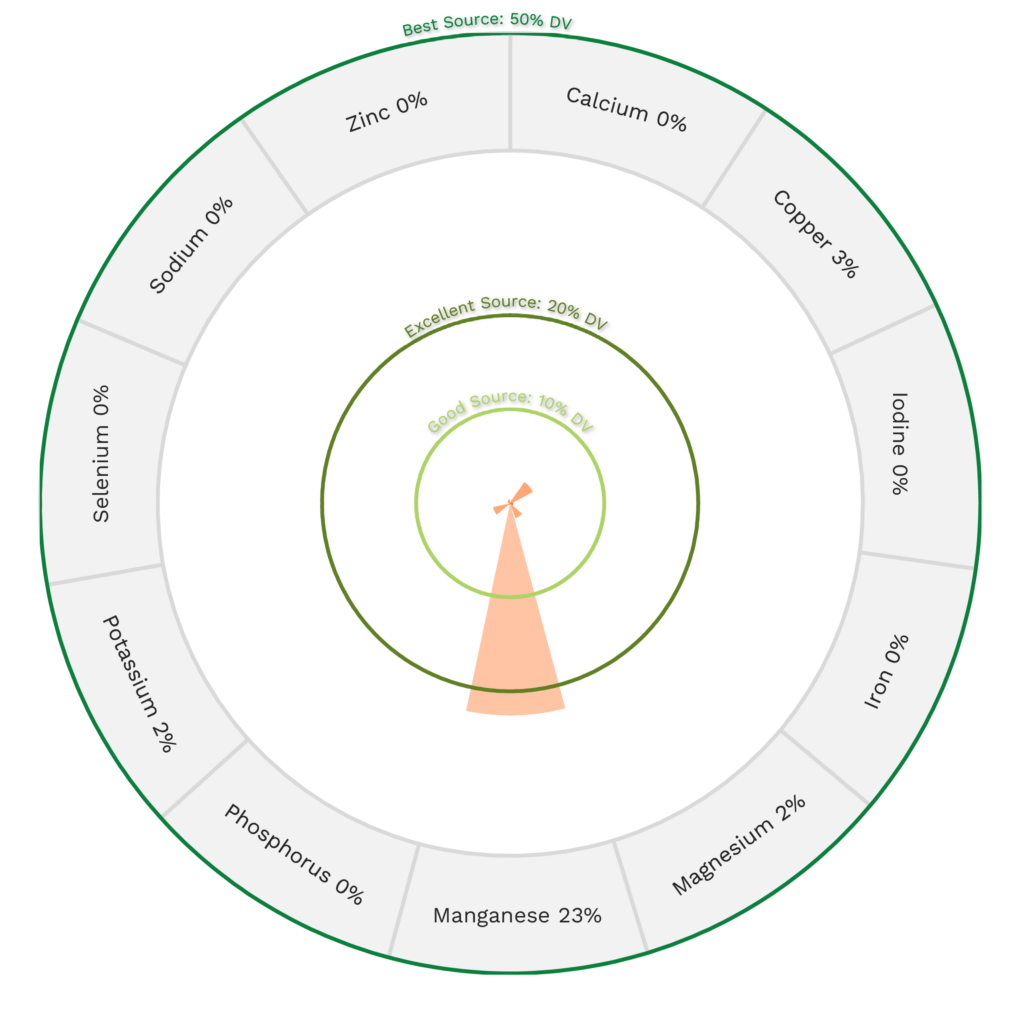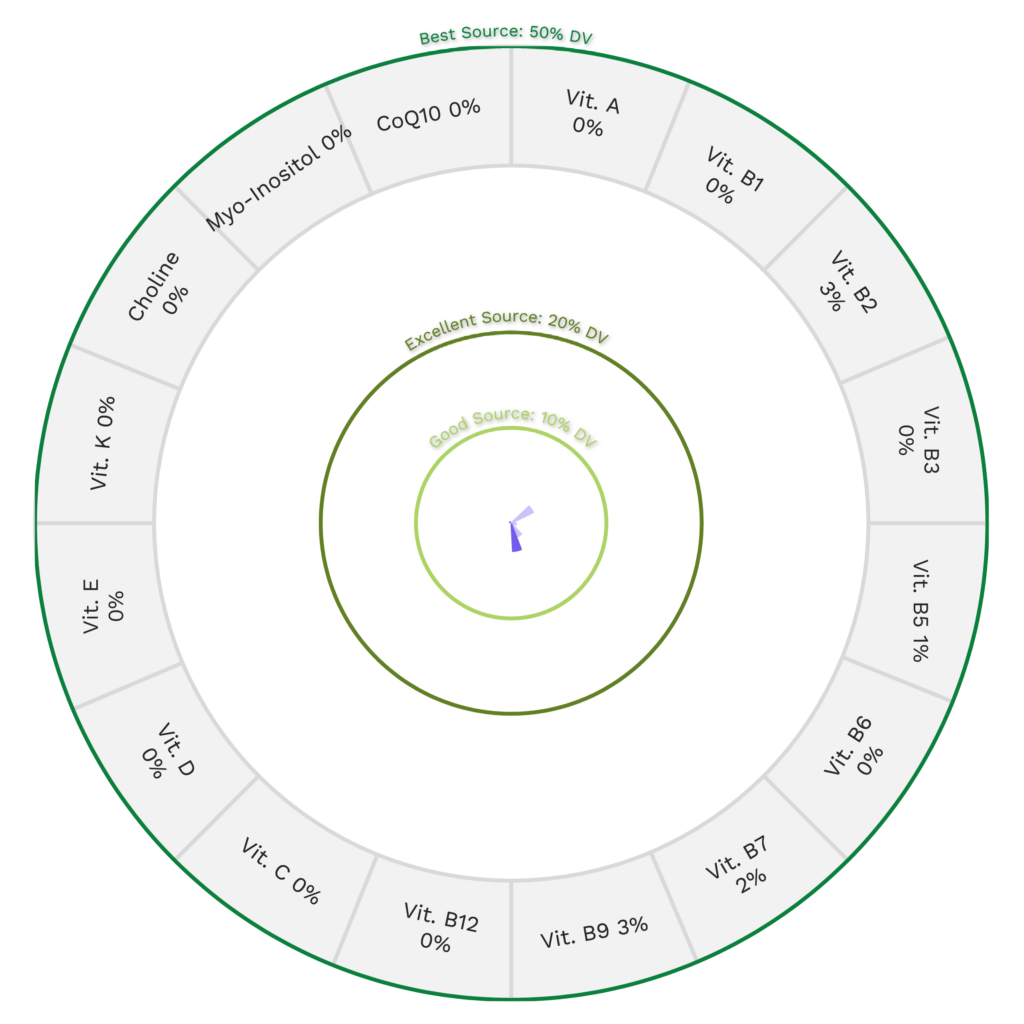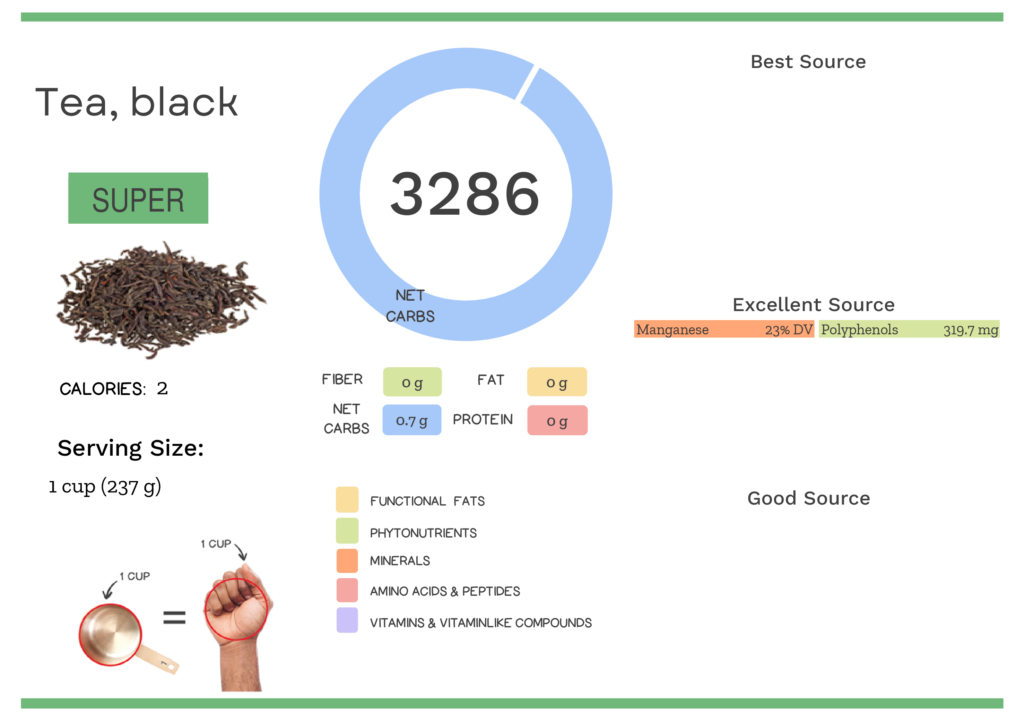 Tea Nutrition Varies With Variety, Processing and Preparation
There are countless ways to enjoy a cuppa and each choice impacts the overall nutrition of this popular beverage. The Nutrivore Score of tea varies depending on tea variety, processing and method of preparation. For instance, "true" tea, made from the leaves of the Camellia sinensis plant, varies greatly depending on how the leaves are harvested and processed – resulting in one of five different types of tea: black, green, oolong, pu-erh, or white. Then there are herbal "teas", which are actually prepared from infusions of herbs, spices, or other plant materials. The method of preparation also influences the final product – for instance, steep time and brew temperature impact phytonutrient levels in tea. Lastly, tea may be enjoyed caffeinated or decaffeinated, hot, cold, black, with milk, sugar or lemon –all of which have an impact on the nutrient density of this popular beverage!
Surprised tea is "infused" with so much nutrition? Maybe your friends will be too!
Health Benefits of Black Tea Nutrients
Let's take a closer look at all of the best and excellent source of nutrients found in a 1-cup serving of black tea and see how they benefit our health.
Black Tea Provides 319.7 mg of Polyphenols
Black tea is an excellent source of polyphenols, providing 319.7 mg of polyphenols per 1-cup serving! Most notably black tea is rich in theaflavins.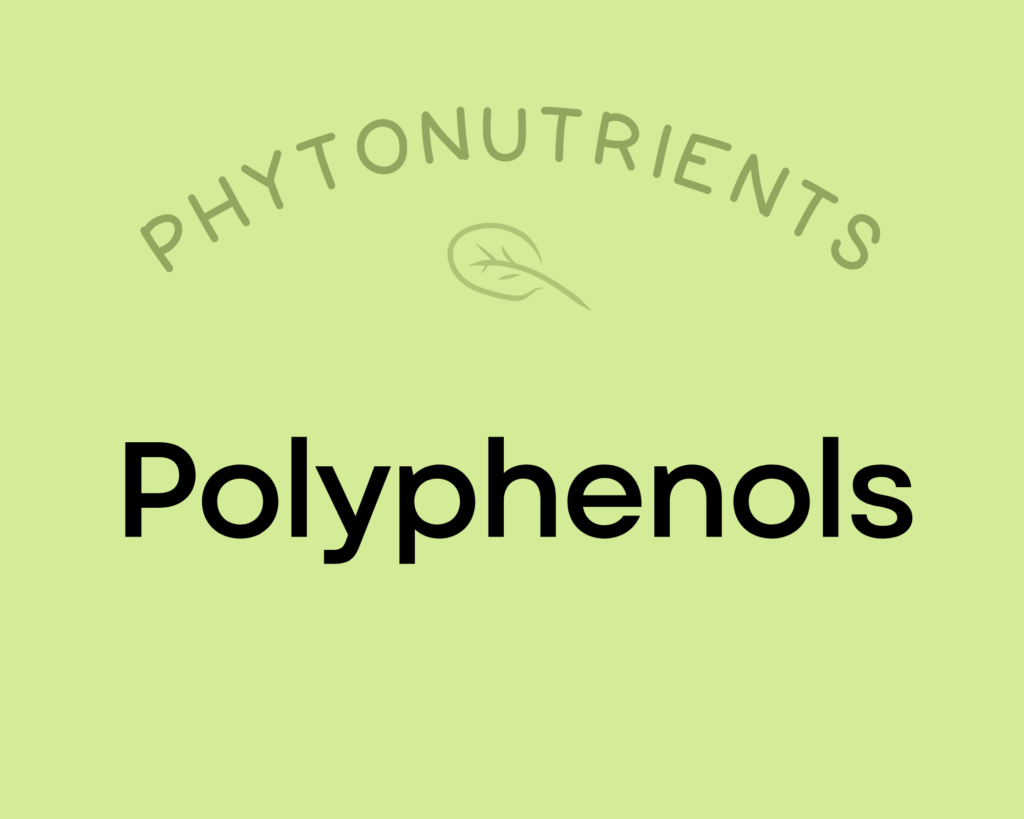 Polyphenols play a huge role in protecting against cancer, heart disease, diabetes, asthma, osteoporosis, neurodegenerative diseases, and other conditions associated with oxidative stress. In fact, a major reason foods like red wine and olive oil (as well as diets rich in both, such as the Mediterranean diet) show up as so beneficial may be due to their high polyphenol content! Along with chronic diseases, supplementing with polyphenols has been shown to protect against infections and reduce the signs of aging. Polyphenols exert their most potent effects by acting as antioxidants—preventing cellular damage by neutralizing hazardous oxygen radicals and improving cellular health as a result (which, in turn, benefits virtually every system in the body). As a result of their antioxidant properties, polyphenols also boost the immune system and protect against both chronic and acute diseases. In addition, polyphenols can help regulate enzyme function, stimulate cell receptors, modulate the functions of inflammatory cells (including T and B lymphocytes, macrophages, platelets, and natural killer cells), alter adhesion molecule expression, affect nerve cells and cardiac muscle cells, and exert antiviral effects. Learn more about polyphenols here.
Black Tea Provides 23% DV Manganese
Black tea is also an excellent source of manganese, providing 23% of the daily value per 1-cup serving!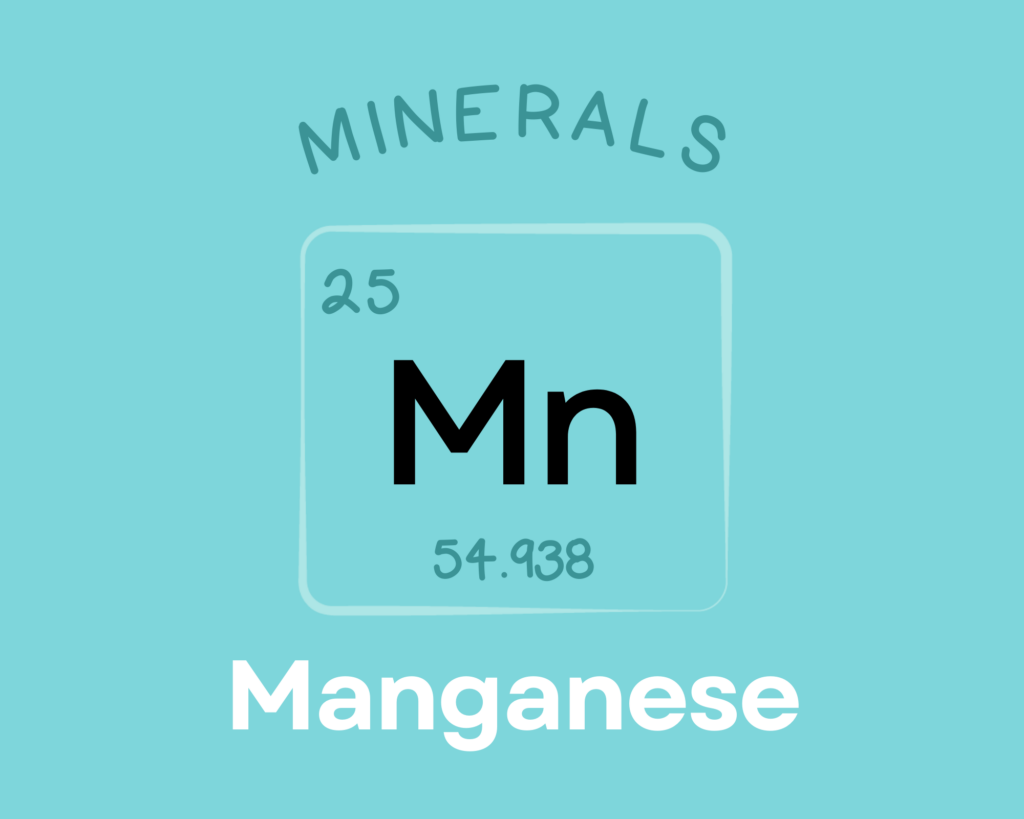 Manganese is an essential mineral that serves as a cofactor and component of numerous enzymes. Through these roles, it's involved in carbohydrate metabolism, amino acid synthesis, gluconeogenesis, detoxification, lipid processing, free radical defense, bone and collagen formation, and wound healing. Although the research so far is limited, some evidence suggests that manganese can protect against osteoporosis and diabetes, and may even be involved in seizure disorders. Learn more about manganese here.
Learn What Foods Are the Best Sources of Every Nutrient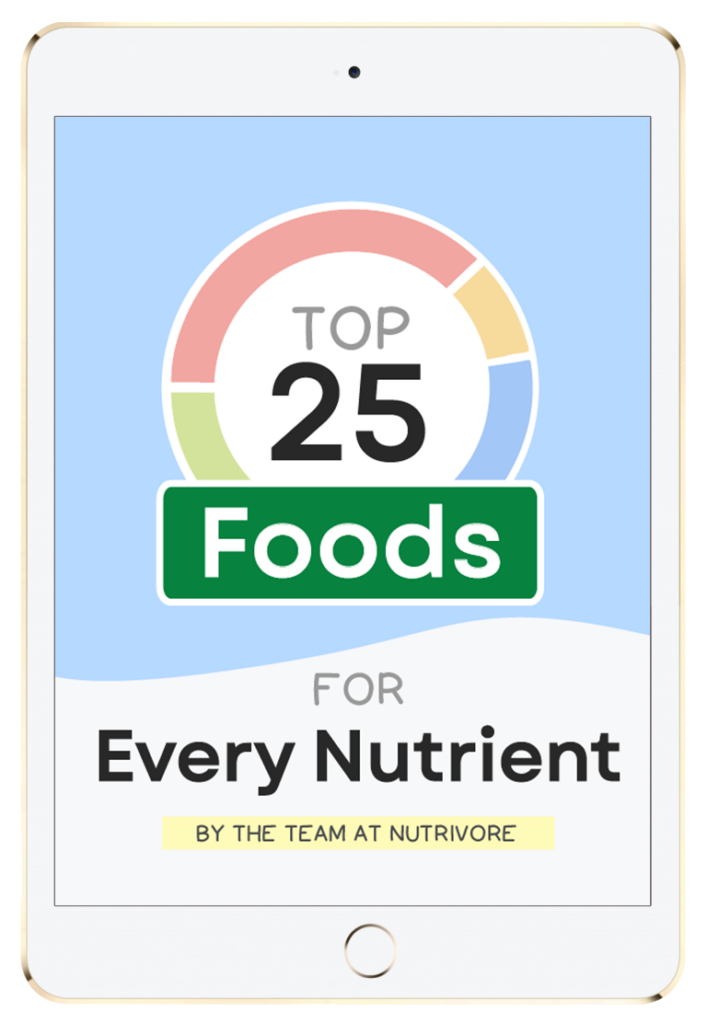 The Top 25 Foods for Every Nutrient
The Top 25 Foods for Every Nutrient e-book is a well-organized, easy-to-use guide to help you choose foods that fit your needs of 42 important nutrients while creating a balanced nutrient-dense diet.
Get two "Top 25" food lists for each nutrient, plus you'll find RDA charts for everyone, informative visuals, fun facts, serving sizes and the 43 foods that are Nutrient Super Stars!
How Much Tea Should We Drink Per Day?
Tea is one of the most versatile and well-loved beverages world-wide and it just so happens that it is just as health-promoting as it is delicious!
A variety of clinical trials show that drinking two or three cups of tea (white, green, oolong and black) per day reduces cardiovascular disease risk, reduces risk of some forms of cancer, improves bone mineral density, reduces risk of liver disease, reduces risk of type 2 diabetes, and reduces risk of depression! There's even emerging evidence that drinking tea daily can reverse age-related cognitive decline and even reduce risk of kidney stones! These benefits are thanks to the high antioxidant polyphenol content of green and black tea (and some herbal teas too!). In fact, a 2022 study out of the UK showed that drinking tea (3 to 6 cups per day) reduces all-cause mortality by about 20%.
Easily track your servings of Nutrivore Foundational Foods!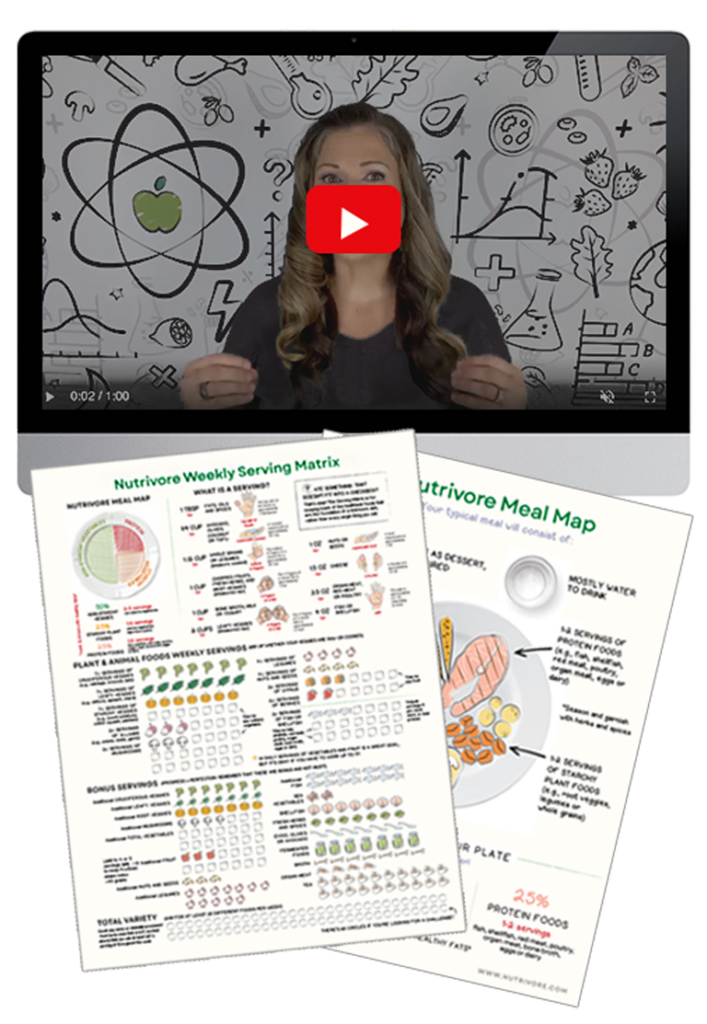 The Nutrivore Weekly Serving Matrix
The Nutrivore Weekly Serving Matrix digital resource is an easy-to-use and flexible weekly checklist designed to help you maximize nutrient-density and meet serving suggestions of Nutrivore foundational foods, all without having to weigh or measure your foods!
Includes a 1-hour video tutorial and downloadable interactive guides.
Citations
Expand to see all scientific references for this article.

Clements RS Jr, Darnell B. Myo-inositol content of common foods: development of a high-myo-inositol diet. Am J Clin Nutr. 1980 Sep;33(9):1954-67. doi: 10.1093/ajcn/33.9.1954. PMID: 7416064.

Fineli Finnish Food Composition Database: Tea

Phenol-Explorer: Tea [Black], infusion

USDA Food Central Database: Beverages, tea, black, brewed, prepared with tap water

Watanabe T, Kioka M, Fukushima A, Morimoto M, Sawamura H. Biotin content table of select foods and biotin intake in Japanese. Int J Anal Bio-Sci. 2014. Vol 2(4):109-125.