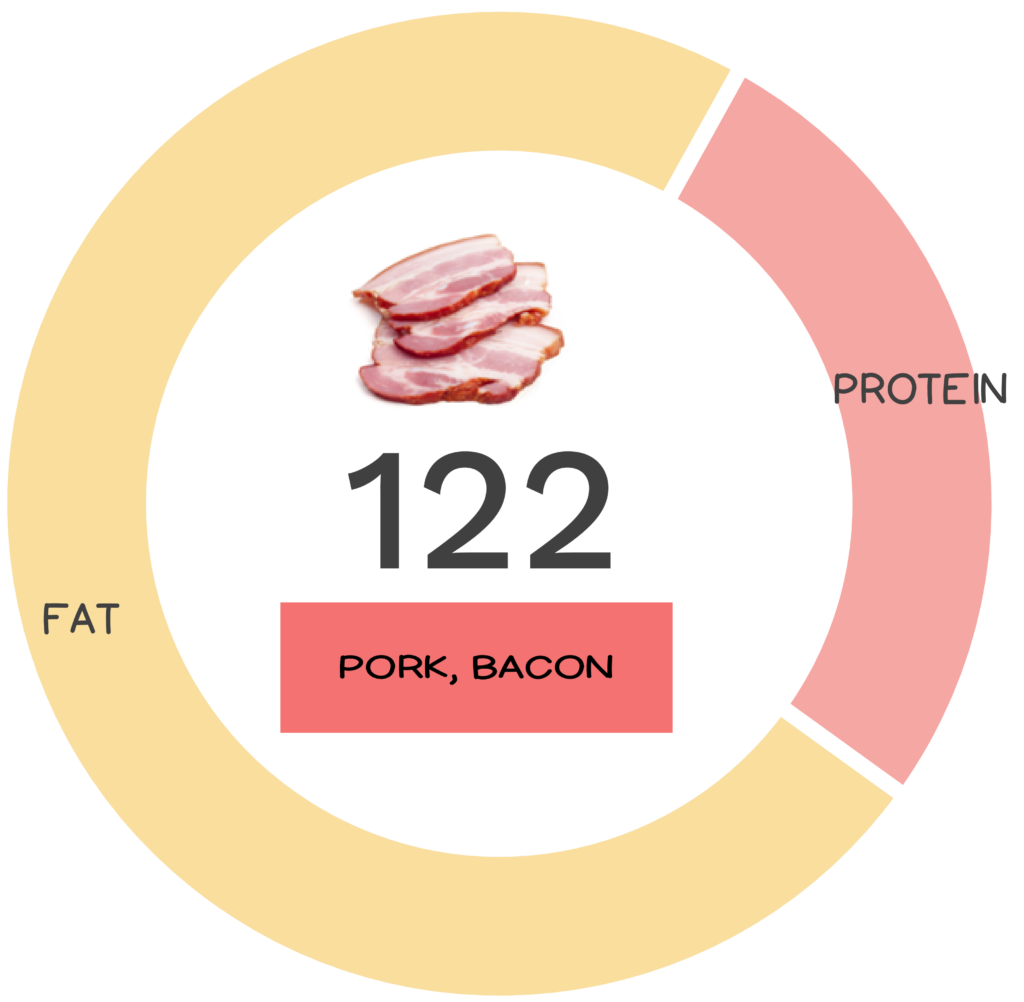 "Pork. The other white meat." Well, not really! In actuality, the nutritional definition of red meat is any meat that contains more of the iron-rich protein myoglobin than white meat, with white meat defined as any non-dark meat from poultry or fish. Yes, even though you may have heard pork described as "the other white meat", scientifically speaking it's really red. This misnomer came from a clever ad campaign in the 1980s designed to associate pork with what consumers considered healthier meats such as chicken and turkey. Guess you could say the slogan is "hogwash", though for many this misconception prevails to this day!
now available for pre-order!
Ditch diet culture and get the most nutrients from your food with the no-guilt, personalized, and exciting new science that will change how you think about food and nourishment, from New York Times bestselling author Dr. Sarah Ballantyne.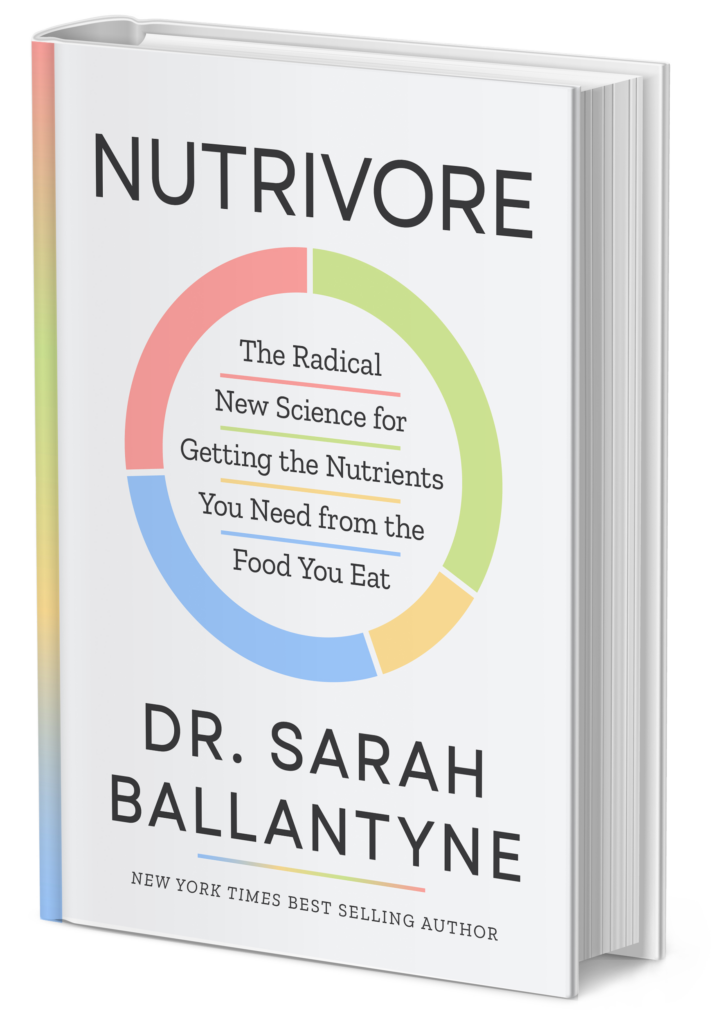 Pork refers to meat from domestic pig, with domestication occurring around 13,000 BC in Mesopotamia. Today, it is the most widely consumed meat in the world, followed by chicken, and beef. In part this can be attributed to its popularity in China, which is responsible for roughly half of all consumption. In fact, in China it's so important that the country has developed a "strategic pork reserve" to stabilize prices when supplies run low. On the flip side, pork is prohibited in some religions and cultures and is considered a non-kosher food.
In addition to consuming various cuts of cooked fresh pork in the form of chops, loin, ribs, roast, shoulder, or ground, this meat is also enjoyed cured in various ways, such as bacon, ham, hot dogs, or sausage to name a few. Prior to refrigeration, curing was useful as a means of preserving the meat, but today it is still carried out simply because of the taste. I mean who doesn't love bacon? And, if you're wondering why pork is so often paired with apples, there is actually a reason. Before the advent of factory farms, pigs were slaughtered in autumn, after fattening throughout the summer – which just happens to coincide with apple season! (Yum!)
Bacon is a type of salt-cured pork. It is generally prepared from the fatback, the sides, or the belly of the pig. These cuts are then cured using salt, either in a brine (with water) or via dry packing. Then, the fresh bacon is dried for weeks or months, and the final product may be boiled or smoked before becoming available for purchase. All this effort is definitely worth it! Aside from its popularity as a quintessential breakfast food, there are so many other ways to enjoy bacon as part of any meal!
Nutrivore Score for Bacon – 122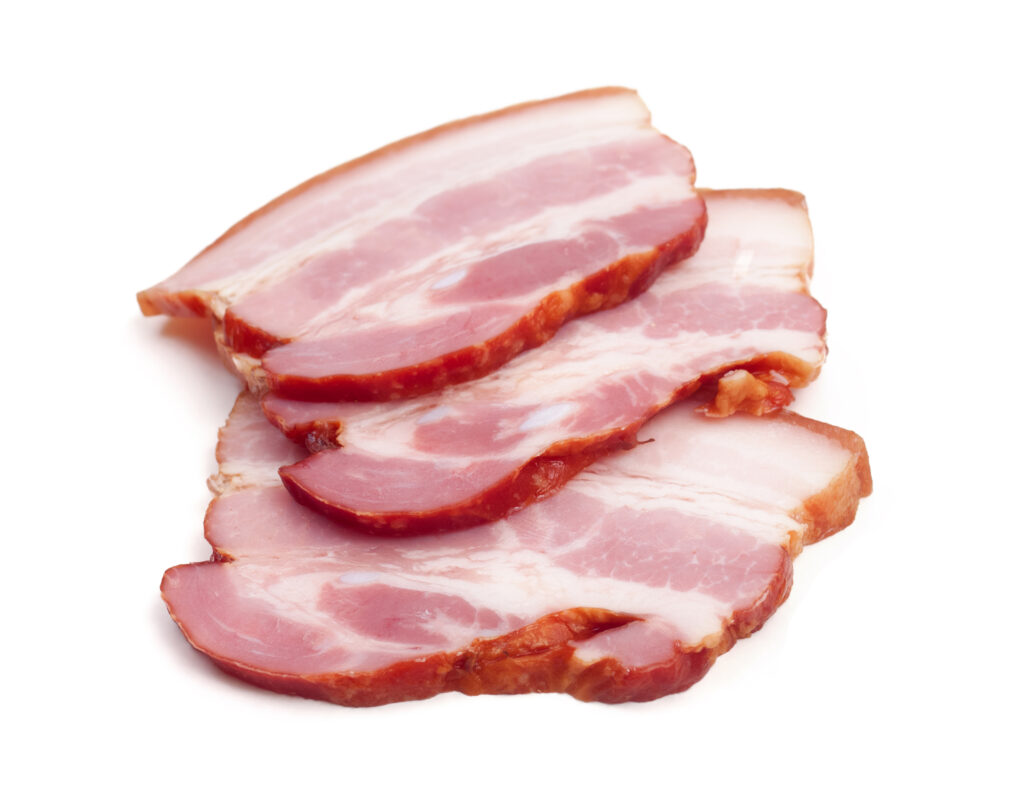 Bacon has a Nutrivore Score of 122, making it a low nutrient-dense food. Plus, it is a low-carb food; bacon has 0 grams of net carbs per 3.5-ounce serving.
Per serving, bacon is a best source (>50% daily value) of coQ10 and monounsaturated fatty acids (MUFA); an excellent source (20-50% daily value) of linoleic acid, protein, selenium, taurine, vitamin B1 (thiamin), vitamin B3 (niacin), vitamin B7 (biotin), and vitamin B12 (cobalamin); and a good source (10-20% daily value) of alpha-linolenic acid (ALA), conjugated linoleic acid (CLA), phosphorus, vitamin B5 (pantothenic acid), vitamin B6 (pyridoxine), vitamin E, and zinc.
Want to Know the Top 100 Nutrivore Score Foods?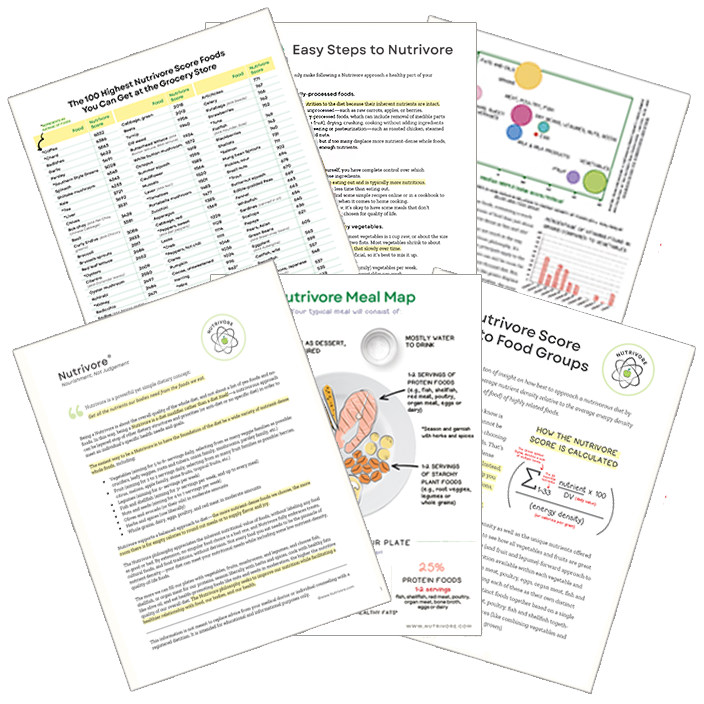 Get it Directly in Your Inbox!
The Nutrivore Newsletter is a weekly email that delivers bite-size fun facts, practical tips, recipes and resources. Sign up now and get 5 free guides directly to your inbox:
Easy Steps to Nutrivore 4-page guide
Nutrivore Foundational Foods 6-page guide
Nutrivore Score Guide to Food Groups 3-page guide
Nutrivore Meal Map
Top 100 Nutrivore Score Foods
Bacon Nutrition Facts
One serving of bacon is standardized to 100 grams (3.5 ounces), which is roughly equivalent to 3.5 slices of bacon. When you cook bacon, it reduces in volume by 20 to 30%, depending on cooking technique: 100 grams of raw bacon is equivalent to 83 grams of microwaved or pan-fried bacon and is equivalent to 72 grams of baked bacon.
Bacon Nutrition Facts Per Serving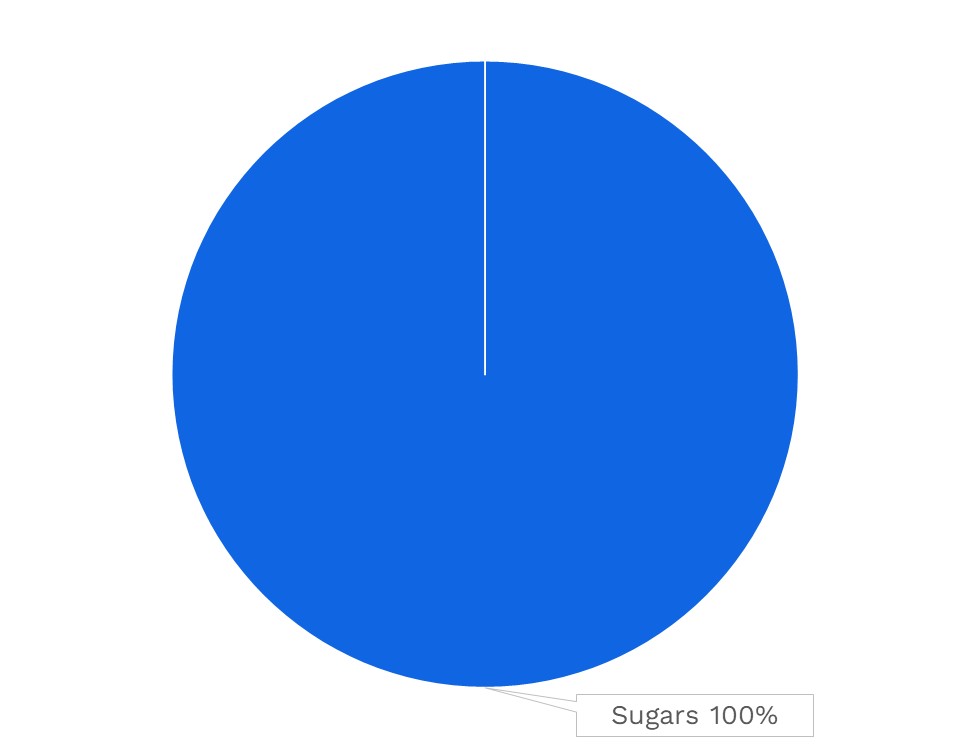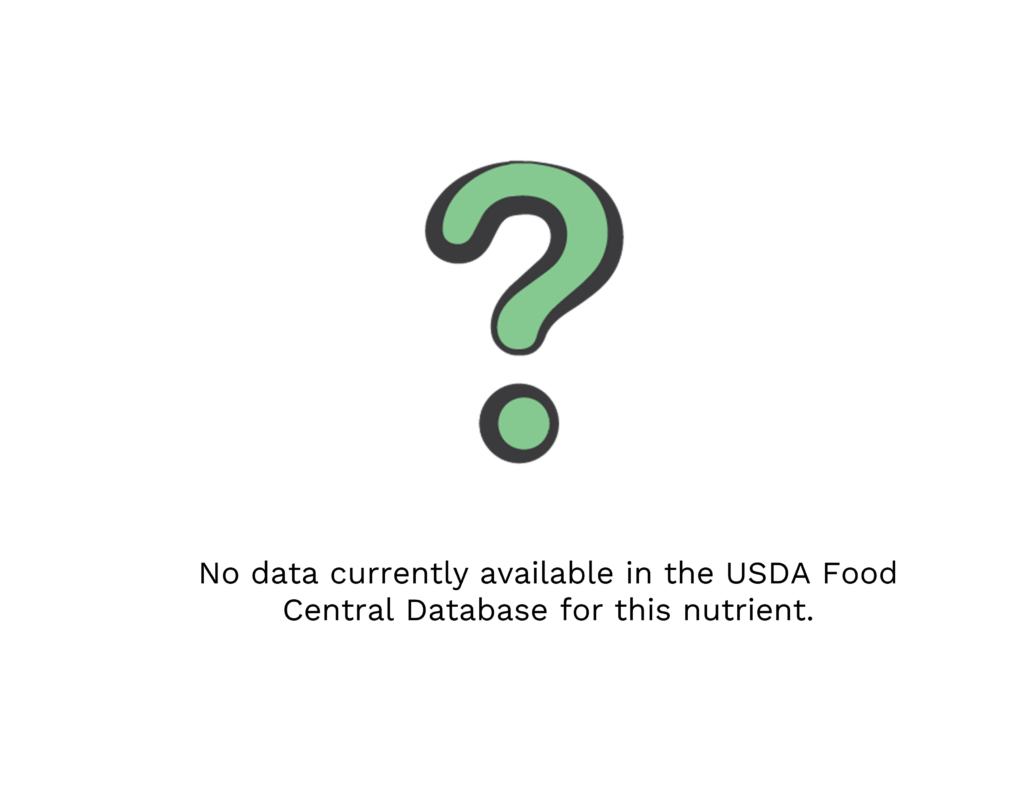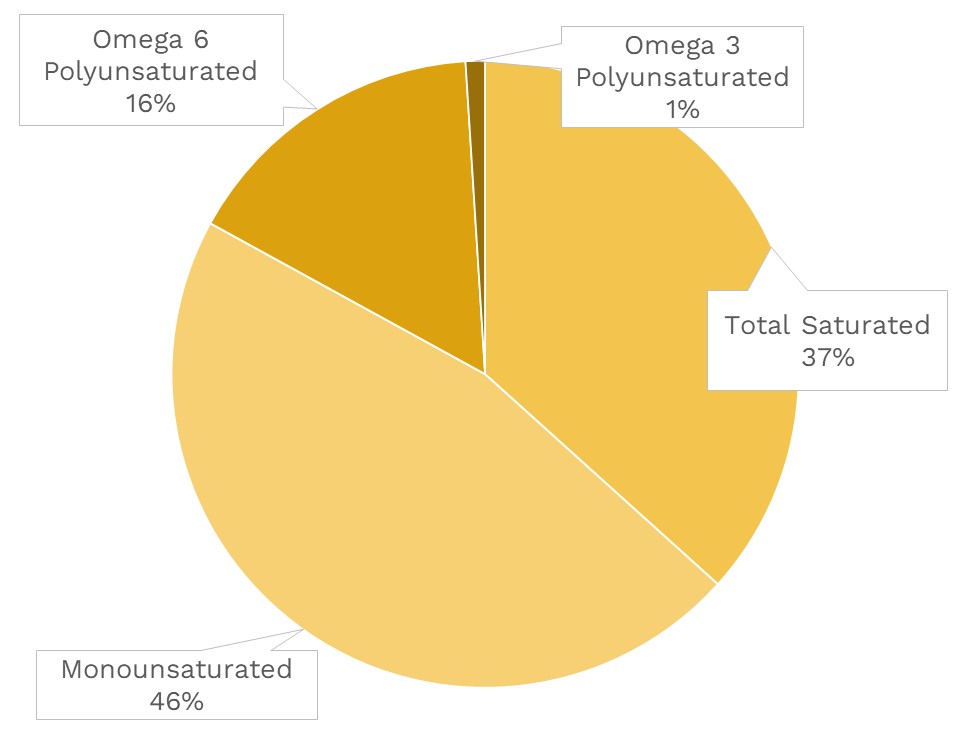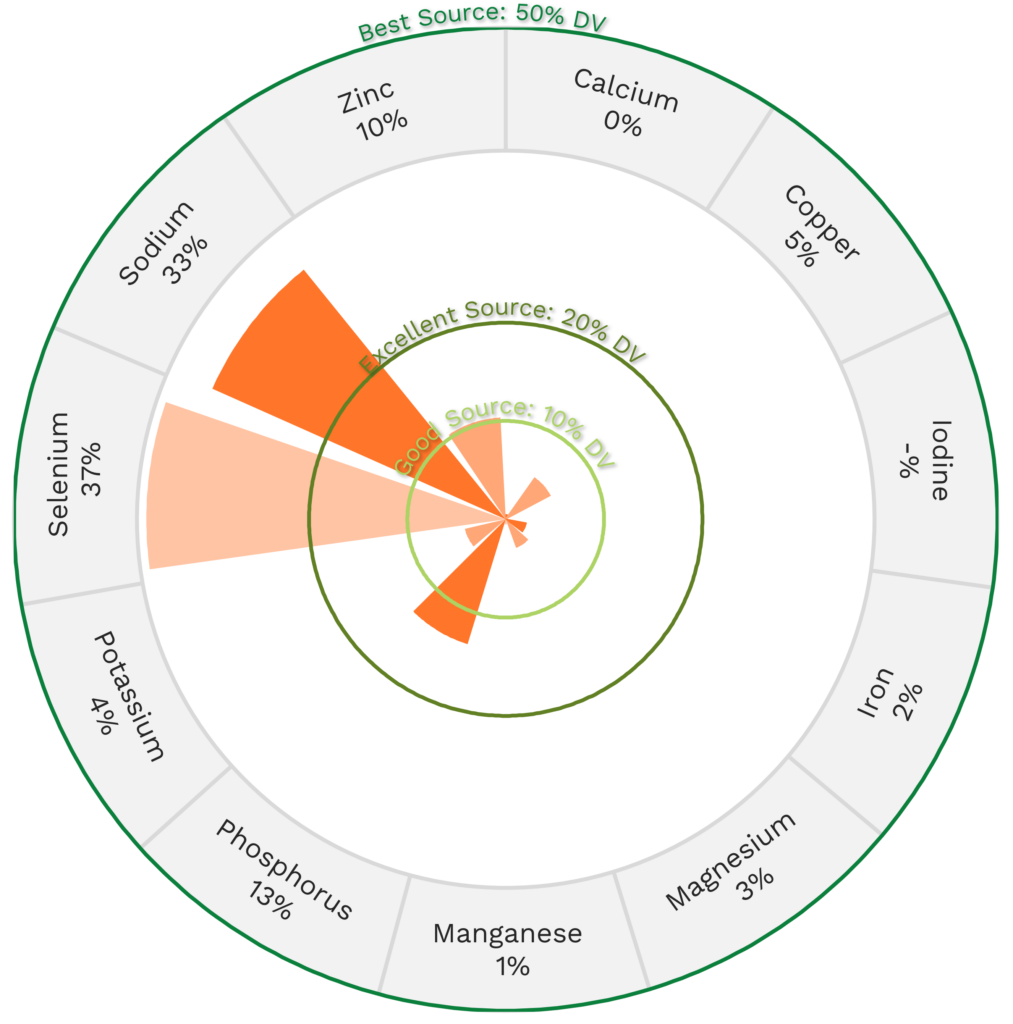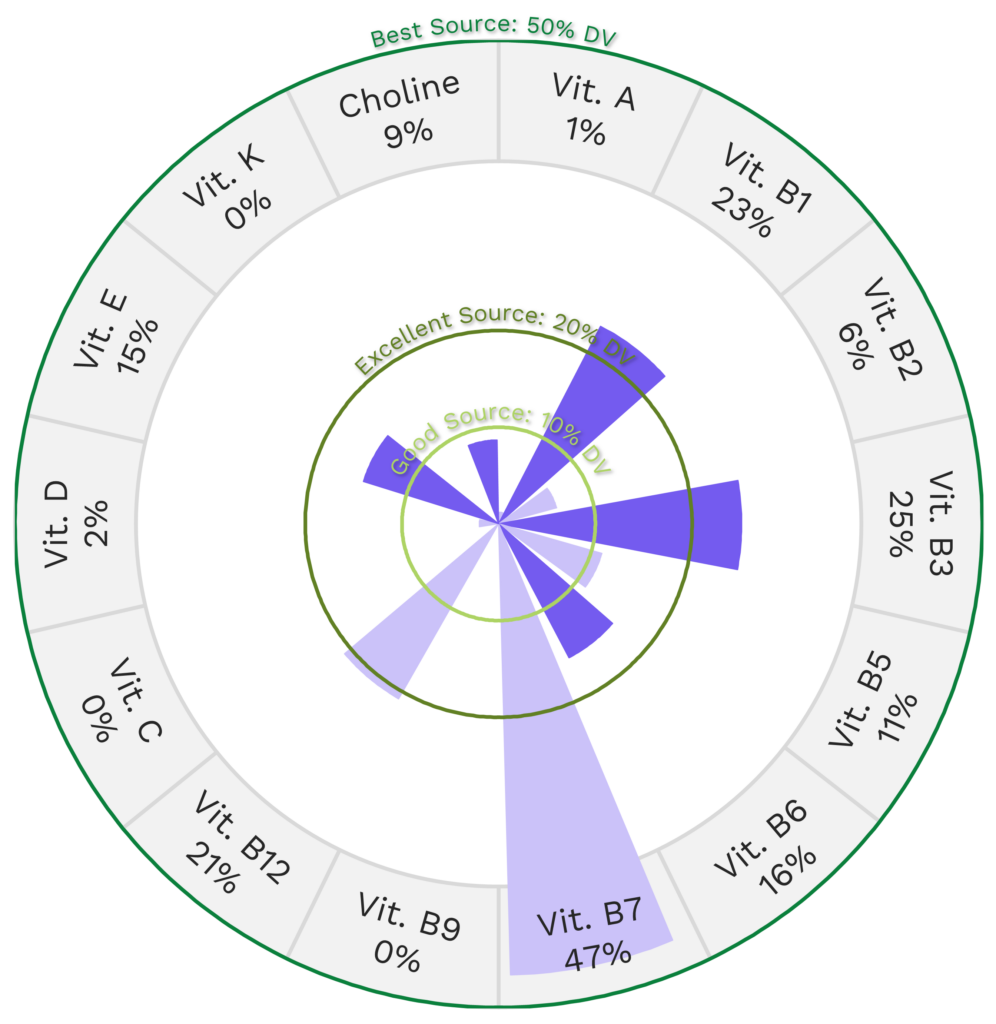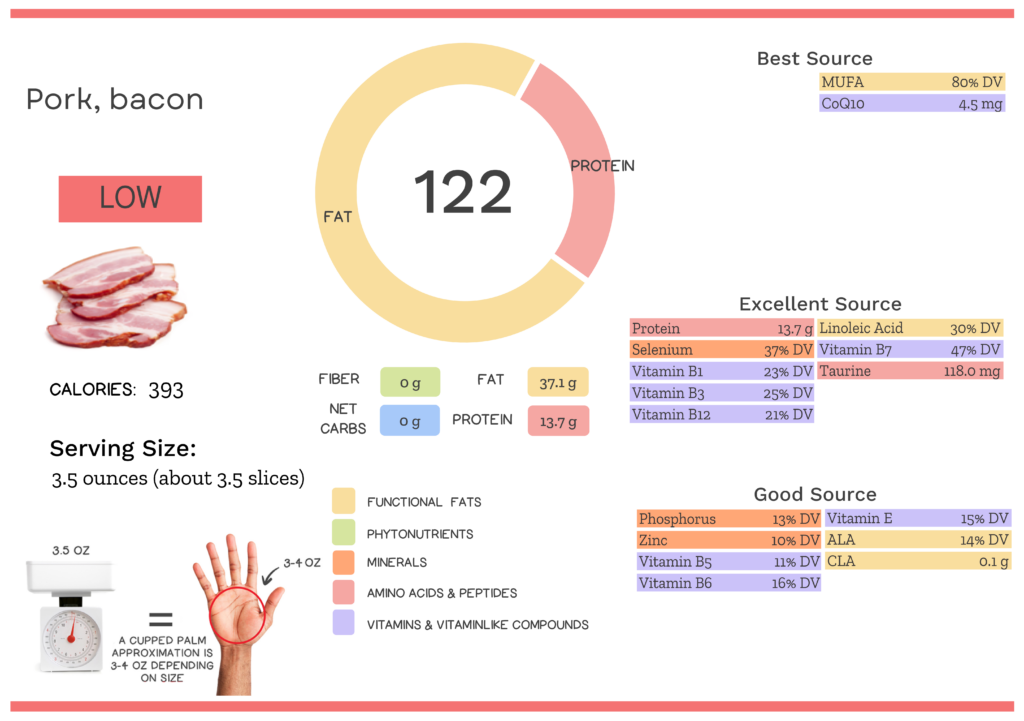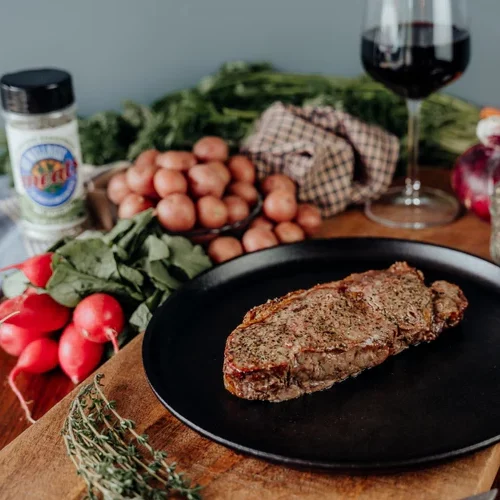 Quality Meat and Seafood
100% grass-fed and finished beef, bison and lamb
100% pasture-raised pork, chicken, duck and turkey
Wild-caught seafood
Raised on regenerative family farms
​​Fast delivery from our farms to your door
Bacon Nutrition Varies With Cooking
Bacon is a popular ingredient in the kitchen and can be prepared in numerous ways, resulting in different flavors and Nutrivore Scores.
| | NUTRIVORE SCORE |
| --- | --- |
| Bacon, cooked, baked | 151 |
| Bacon, cooked, microwaved | 174 |
| Bacon, cooked, pan-fried | 169 |
| Bacon, unprepared | 122 |
Bacon Nutrition Varies With Type
There are many types of bacon, varying in flavor, texture, and Nutrivore Score.
| | NUTRIVORE SCORE |
| --- | --- |
| Bacon, unprepared | 122 |
| Canadian bacon, unprepared | 415 |
| Turkey bacon, unprepared | 157 |
Pork Nutrition Varies With Processing
The Nutrivore Score of pork differs based on processing. Within any animal, vitamin and mineral content vary, which means nutrient density varies between cuts of meat. Butchering therefore has a huge impact on the Nutrivore Score of different cuts of pork, of which there are many! Especially significant is the difference between organ meat and 'muscle' meat. Not only does the portion of the animal being consumed affect the nutrient profile, but also important is the fat content.
| | NUTRIVORE SCORE |
| --- | --- |
| Pork, bacon, unprepared | 122 |
| Pork, ground, raw | 186 |
| Pork heart, raw | 977 |
| Pork kidney, raw | 1650 |
| Pork leg (ham), whole, separable lean only, raw | 329 |
| Pork liver, raw | 2483 |
| Pork loin, back ribs, bone-in, lean only, raw | 280 |
| Pork loin, center loin (chops), bone-in, separable lean only, raw | 324 |
| Pork loin, sirloin, chops or roasts, boneless, separable lean only, raw | 352 |
| Pork loin, whole, separable lean and fat, raw | 222 |
| Pork loin, whole, separable lean only, raw | 315 |
| Pork shoulder, whole, separable lean only, raw | 332 |
| Pork, spareribs, separable lean and fat, raw | 143 |
| Pork tenderloin, separable lean only, raw | 425 |
| Pork tongue | 211 |
Surprised bacon has sow many nutrients? Maybe your friends will be too!
Health Benefits of Bacon Nutrients
Let's take a closer look at all of the best and excellent source of nutrients found in a 3.5-ounce serving of bacon and see how they benefit our health.
Bacon Provides 80% DV Monounsaturated Fatty Acids (MUFA)
Bacon is a best source of monounsaturated fatty acids (MUFA), providing 80% of the daily value per 3.5-ounce serving! Note that bacon is not associated with cardiovascular health benefits like other sources of monounsaturated fats, however.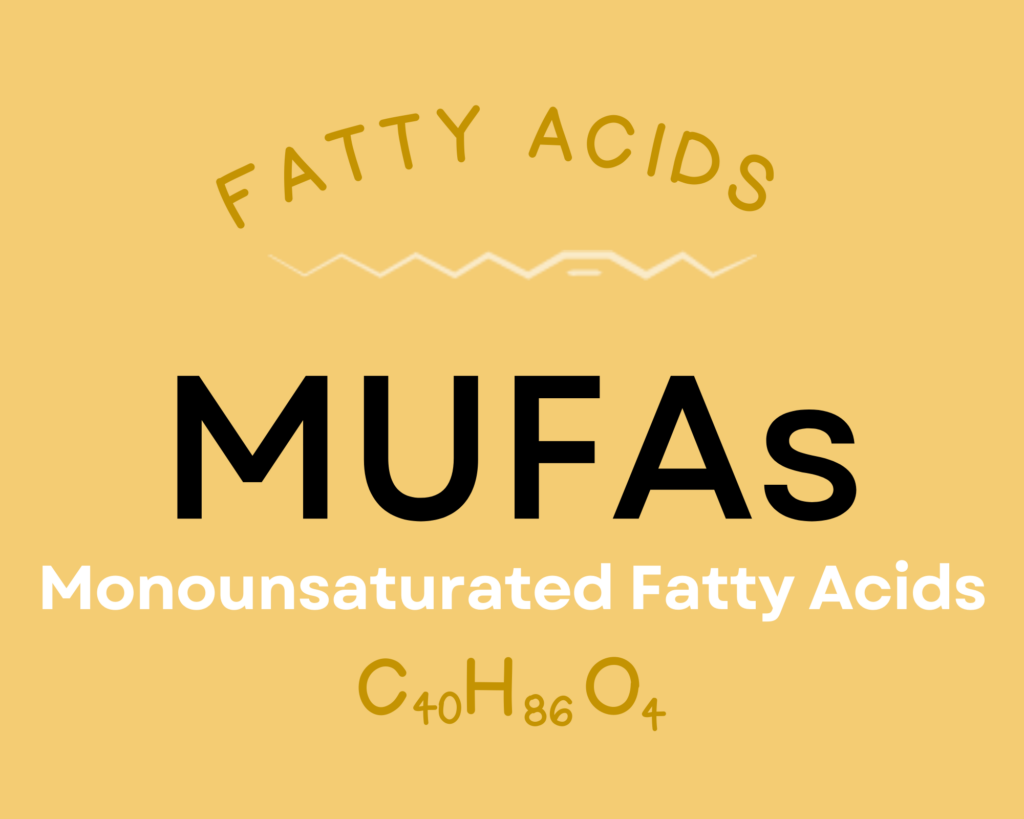 Monounsaturated fatty acids (MUFA), the most abundant of which is oleic acid, play an important role in cellular function due to its presence in phospholipids in cell membranes. Oleic acid is beneficial for cardiovascular health—both in reducing risk factors like high blood pressure, cholesterol, triglycerides, inflammation, and oxidative stress, and in reducing actual cardiovascular disease incidence and events. Oleic acid has even demonstrated anti-cancer activity, with an ability to inhibit the progression, proliferation, and metastasis of several types of cancer cells. Research shows this fat could benefit body weight regulation and obesity through its effects on energy metabolism and lipogenesis. In fact, human trials show that enriching diets with oleic acid leads to decreases in central obesity, abdominal fat, body weight, and food intake, while also possibly increasing energy expenditure! Oleic acid also possesses some benefits for diabetics—influencing genes and pathways involved in insulin signaling and glucose metabolism, as well as helping protect against some complications of diabetes, like diabetic retinopathy and atherosclerosis. Learn more about oleic acid here.
Bacon Provides 4.5 mg of CoQ10
Bacon is also a best source of coQ10, providing 4.5 mg of coQ10 per 3.5-ounce serving!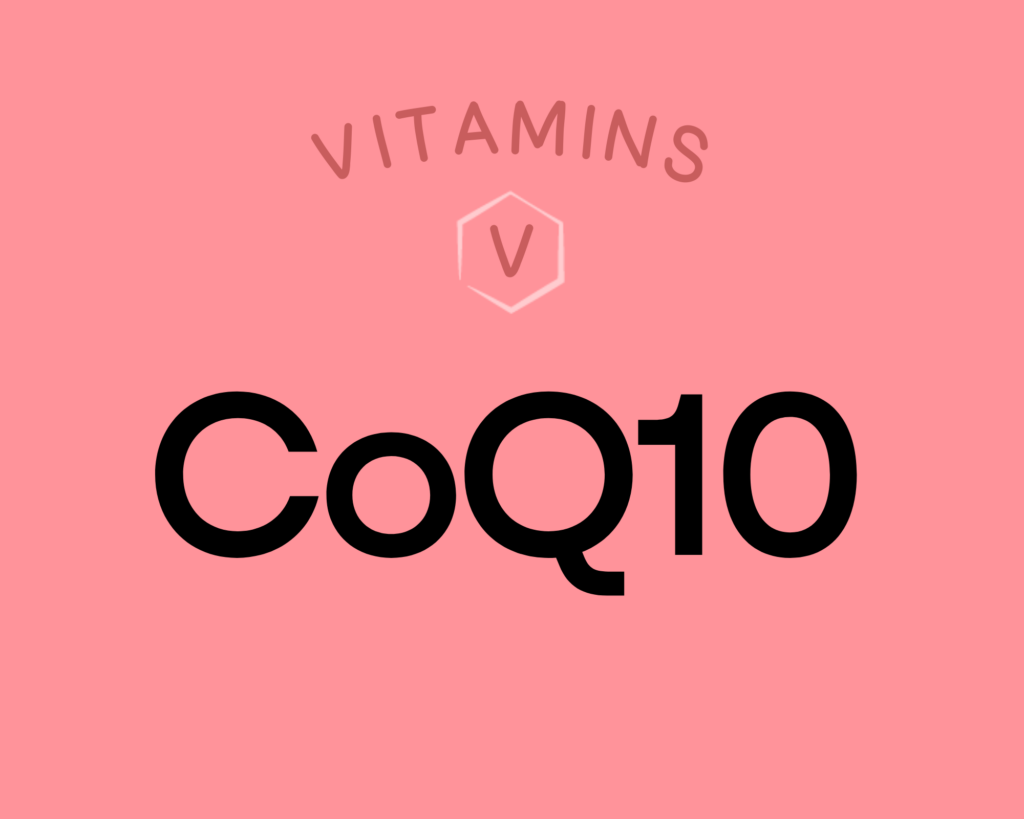 Ubiquinone is the oxidized form and ubiquinol is the reduced, more bioavailable form of the vitaminlike compound coenzyme Q10 (coQ10). CoQ10 is a potent antioxidant and a cofactor in the electron transport chain for the production of ATP. It may be helpful in treating or preventing heart and blood vessel conditions, diabetes, gum disease, muscular dystrophy, chronic fatigue syndrome, and breast cancer. Sources include beef, pork, mackerel, yellowtail fish, and chicken; it's also found in smaller amounts in vegetables like broccoli and herbs like parsley.
Bacon Provides 47% DV Vitamin B7 (Biotin)
Bacon is an excellent source of vitamin B7 (biotin), providing 47% of the daily value per 3.5-ounce serving!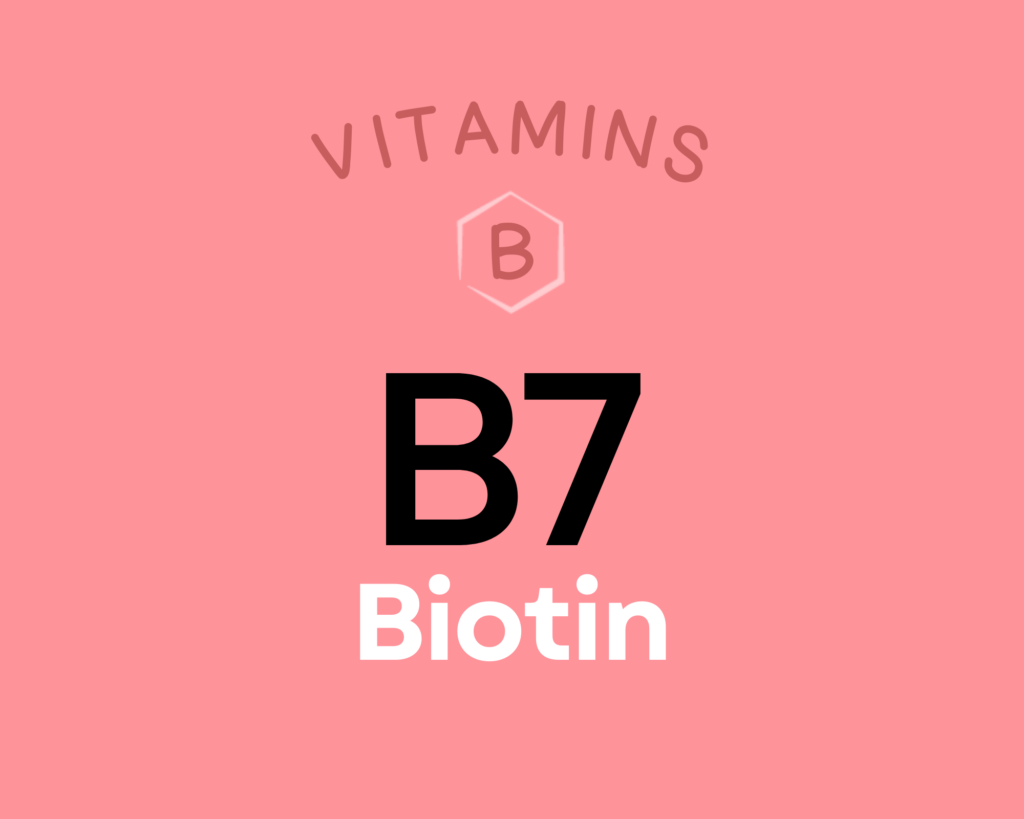 Biotin is a water-soluble B vitamin, also known as vitamin B7. Like other B vitamins, it plays an important role in energy metabolism (serving as a coenzyme for five carboxylase enzymes), neurotransmitter production, cellular function, and the function of various organs. Getting enough biotin can help support healthy nail and hair growth. It's also particularly important during pregnancy, with low intakes increasing the risk of premature delivery and birth defects. There's even some evidence biotin can benefit diabetics and reduce functional disabilities in people with multiple sclerosis. Learn more about biotin here.
Bacon Provides 37% DV Selenium
Bacon is also an excellent source of selenium, providing 37% of the daily value per 3.5-ounce serving!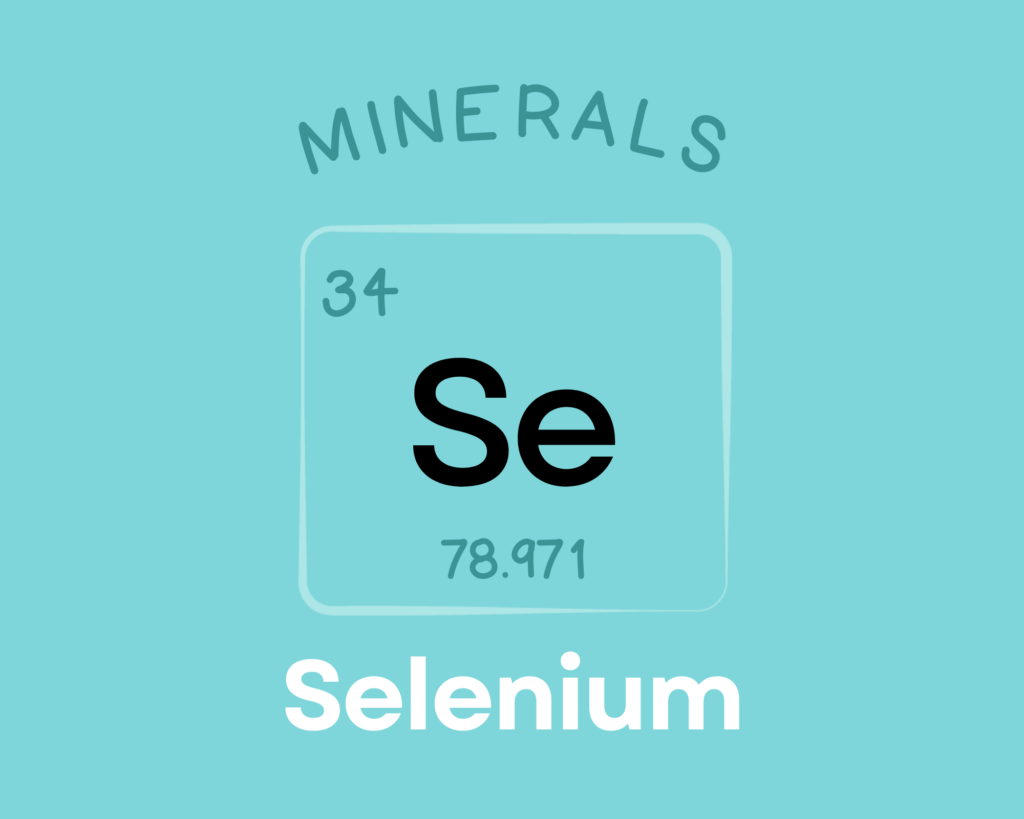 Selenium is a trace mineral needed by all mammals to sustain life. It serves as a component of the non-proteinogenic amino acids selenocysteine and selenomethionine, and also helps form over two dozen selenoproteins involved in reproduction, thyroid hormone metabolism, antioxidant defense, DNA synthesis, and immunity. Observational research suggests selenium could play a protective role against cancer, heart disease, asthma, and inflammatory bowel disease, although human trials have generally been lacking or contradictory. There's also evidence that selenium can play a preventative role in asthma and inflammatory bowel disease, while also reducing mortality in patients with sepsis. Learn more about selenium here.
Bacon Provides 30% DV Linoleic Acid
Bacon is an excellent source of linoleic acid, providing 30% of the daily value per 3.5-ounce serving!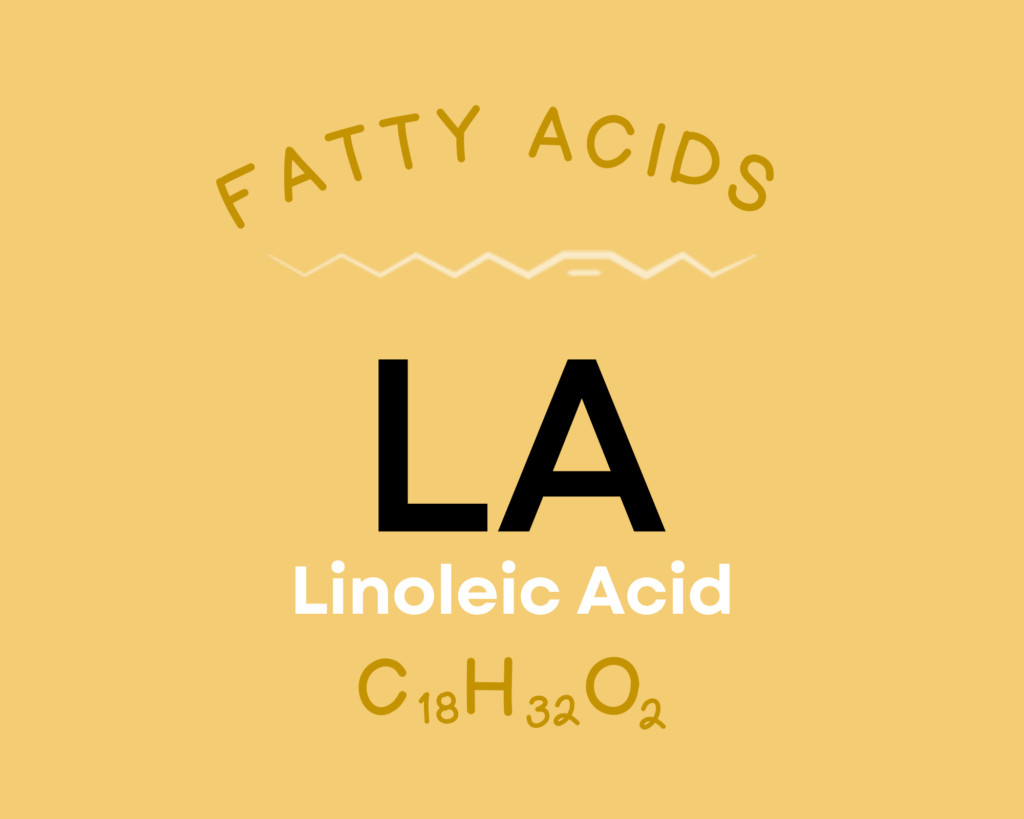 Linoleic acid is the only essential omega-6 fatty acid. Along with being required for human growth and development, it serves as a structural component of cell membranes, plays a role in maintaining skin health and integrity, and is a precursor for bioactive lipid mediators. Although linoleic acid can lower LDL cholesterol levels, research hasn't consistently shown any protective effect against heart disease. Likewise, there's mixed evidence (some showing benefit, some showing harm) for the effects of linoleic acid on cancer. Higher intakes have also been associated with depression and obesity, although it may have a protective effect against diabetes. Learn more here.
Bacon Provides 118.0 mg of Taurine
Bacon is also an excellent source of taurine, providing 118.0 mg of taurine per 3.5-ounce serving!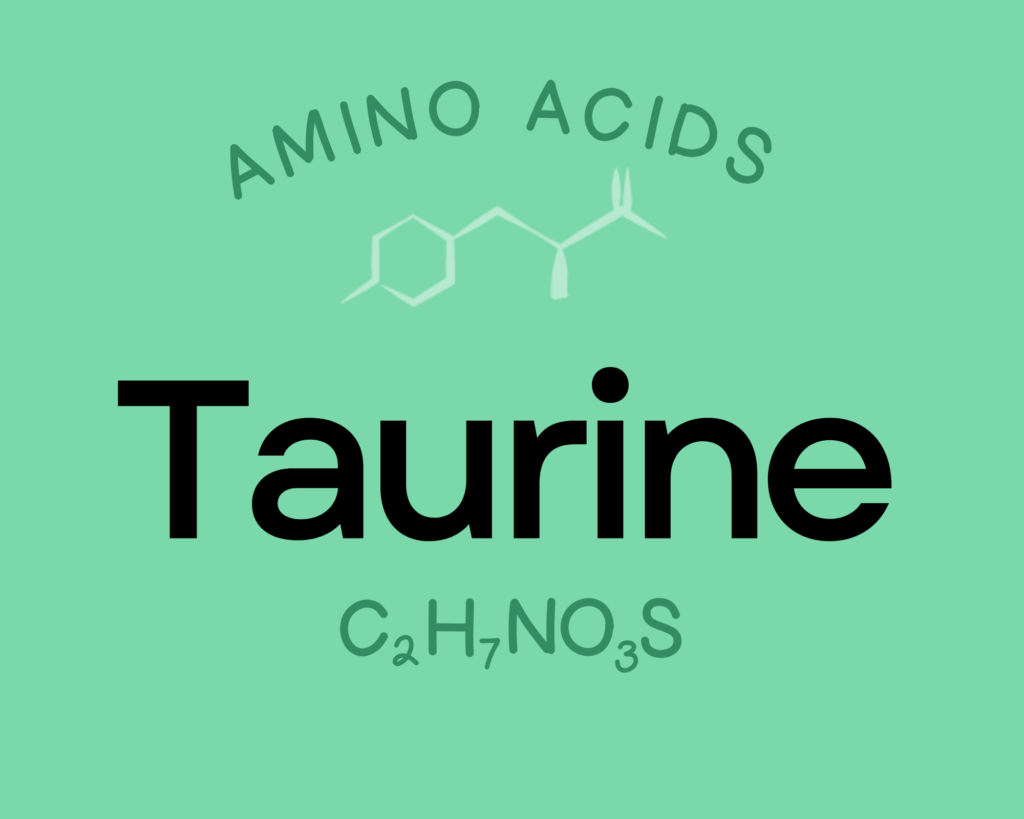 Taurine is a non-proteinogenic amino sulfonic acid that supports neurological development, serves as a major component of bile (which helps to digest fats), and plays a role in water and mineral regulation within the blood (including through membrane stabilization and calcium signaling). Taurine also regulates the immune system and serves as an important antioxidant, and it plays a role in cardiovascular function and the development of skeletal muscle.
Bacon Provides 13.7 g of Protein
Bacon is an excellent source of protein, providing 13.7 g of protein per 3.5-ounce serving!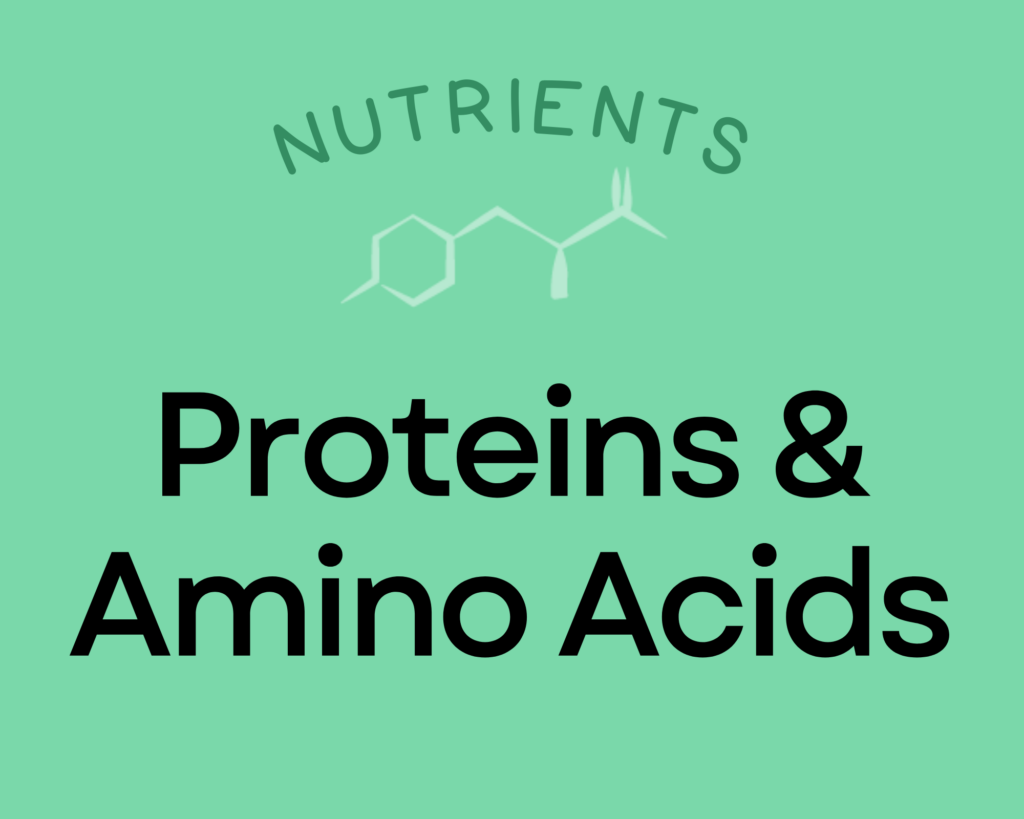 Proteins are the molecules that actually perform most of the various functions of life. In addition to being major structural components of cells and tissues, they have incredibly diverse roles from driving chemical reactions (e.g., enzymes) to signaling (e.g., some types of hormones) to transporting and storing nutrients. Dietary protein is necessary to supply the amino acid building blocks for all of the proteins in our bodies. The recommended daily allowance of protein is 0.36 grams per pound body weight (0.8 grams per kilogram of body weight). That amounts to 56 grams for a 150-pound person. However, it's important to emphasize that this number is considered a minimum daily allotment, and there is no established upper limit. In fact, many studies have evaluated diets containing three to four times more protein than this minimum and proven benefits to weight management, body composition, hormone regulation, and cardiovascular health. These studies suggest that an optimal protein intake for most people is probably in the range of 1.2 to 1.8 grams per kilogram bodyweight (82 to 122 grams for that same 150-pound person), and that people who are very active may see the best results at even higher intake. Learn more about protein and amino acids here.
Bacon Provides 25% DV Vitamin B3 (Niacin)
Bacon is also an excellent source of vitamin B3 (niacin), providing 25% of the daily value per 3.5-ounce serving!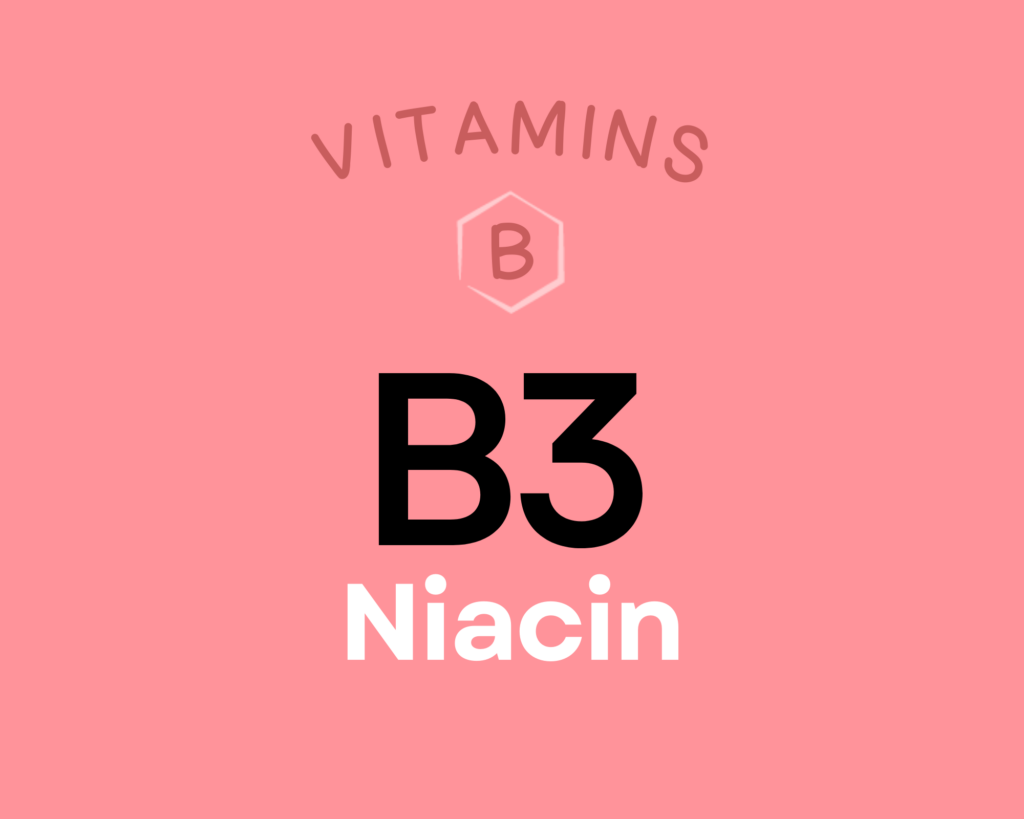 Niacin is a water-soluble B complex vitamin (vitamin B3) that's needed to produce two very important coenzymes: nicotinamide adenine dinucleotide (NAD) and nicotinamide adenine dinucleotide phosphate (NADP). NAD and NADP are needed for over 400 enzymes involved in DNA repair, fatty acid synthesis, antioxidant systems, detoxification, and hormone synthesis, as well as the breakdown of fat, carbohydrate, protein, and alcohol. Niacin has therapeutic potential for cardiovascular disease and hyperlipidemia, and may also be protective against cancer and type 1 diabetes. Some research suggests it could benefit health outcomes for patients with HIV or schizophrenia as well. Learn more about niacin here.
Bacon Provides 23% DV Vitamin B1 (Thiamin)
Bacon is an excellent source of vitamin B1 (thiamin), providing 23% of the daily value per 3.5-ounce serving!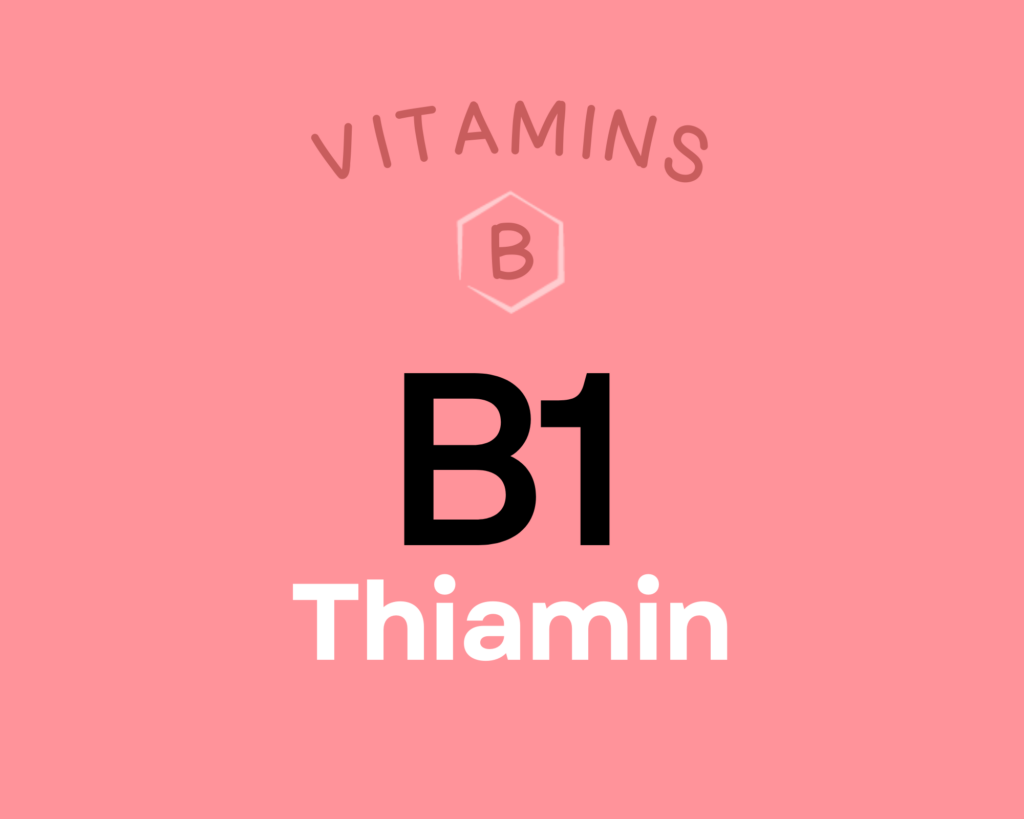 Thiamin (sometimes spelled thiamine, and also called vitamin B1) is a water-soluble vitamin. In its active form of thiamin pyrophosphate, it serves as a cofactor for a variety of enzymes involved in carbohydrate and amino acid metabolism, RNA and DNA production, and generating energy for the Krebs cycle. Research suggests vitamin B1 could help prevent blood sugar and insulin increases in people with disordered glucose metabolism, reduce the risk of cataracts, and improve health and mortality outcomes in patients with sepsis. Because aggressive tumors have high thiamin demands, it's uncertain whether supplementing with thiamin while having cancer is beneficial due to preventing deficiency, or harmful due to providing more fuel for tumor growth. Insufficient thiamin may increase the risk of Alzheimer's disease, and when chronic, leads to a deficiency disease called beriberi. Learn more about vitamin B1 here.
Bacon Provides 21% DV Vitamin B12 (Cobalamin)
Bacon is also an excellent source of vitamin B12 (cobalamin), providing 21% of the daily value per 3.5-ounce serving!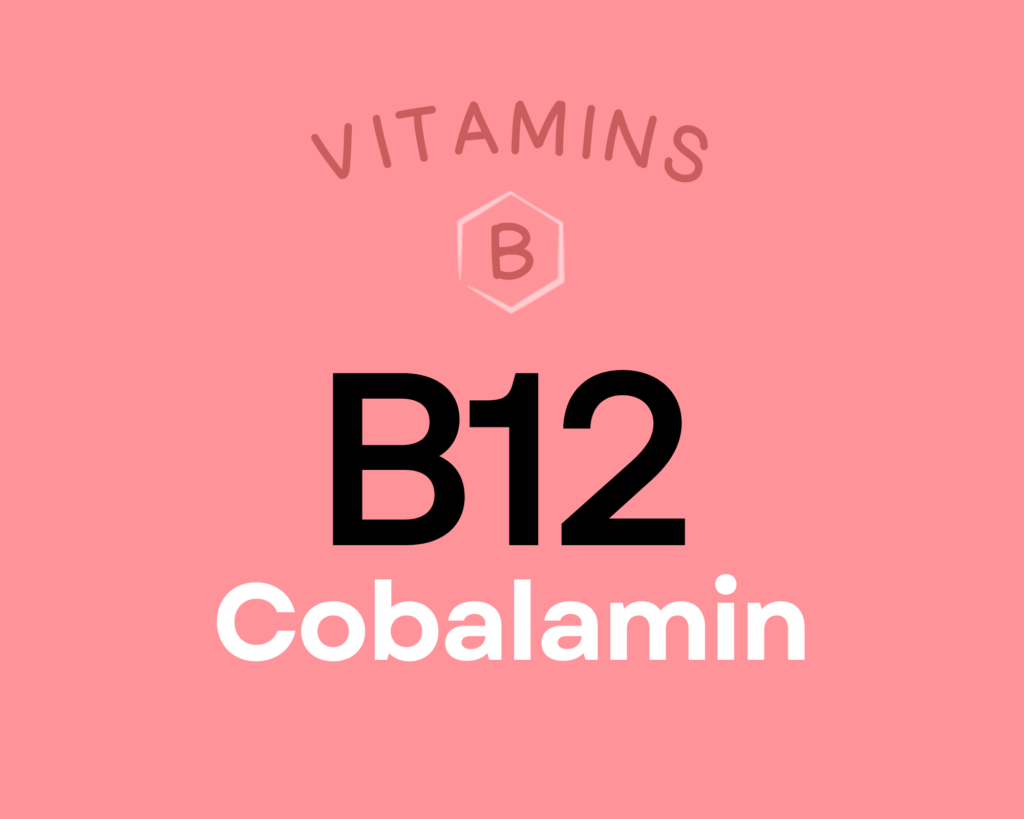 Vitamin B12 (cobalamin) is a water-soluble vitamin that serves as a cofactor for enzymes involved in energy metabolism, red blood cell production, DNA synthesis, neurotransmitter production, nervous system health, and folate metabolism. As a result of these roles, vitamin B12 is vital for maintaining brain and nervous system health, and may have a protective effect against dementia, Alzheimer's disease, and depression. There's also some evidence vitamin B12 may be cancer-protective, possibly through supporting folate metabolism (which then assists in repairing DNA damage). Learn more about vitamin B12 here.
Learn What Foods Are the Best Sources of Every Nutrient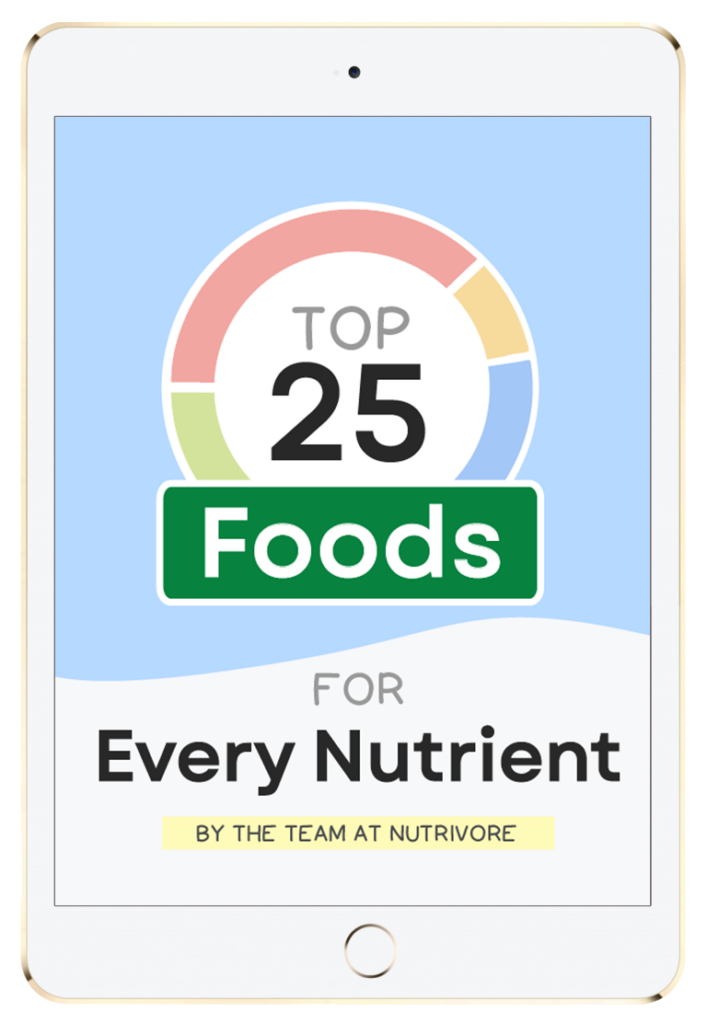 The Top 25 Foods for Every Nutrient
The Top 25 Foods for Every Nutrient e-book is a well-organized, easy-to-use guide to help you choose foods that fit your needs of 42 important nutrients while creating a balanced nutrient-dense diet.
Get two "Top 25" food lists for each nutrient, plus you'll find RDA charts for everyone, informative visuals, fun facts, serving sizes and the 43 foods that are Nutrient Super Stars!
Buy now for instant digital access.
How Much Bacon Should We Eat Per Day?
As a processed meat, bacon is best consumed in moderation. Fortunately, it packs so much flavor that a little goes a long way!
Processed meats encompass a range of meat products that undergo preservation methods like smoking, curing, salting, or the addition of preservatives. Common examples include ham, pastrami, salami, sausages, bacon, and hot dogs. These processes extend the shelf life of the meat products and enhance their flavor.
Numerous observational studies have linked high consumption of processed meat to an increased risk of cancer—particularly colon, breast, liver, and lung cancers—cardiovascular disease and type 2 diabetes. The associations between processed meat and cancer or cardiovascular disease may be an example of what's called the healthy user bias. The idea is that people who eat less processed meat also have a lot of other health-promoting behaviors, like eating more vegetables, not smoking, and being physically active. Because processed meat has been demonized for so long, people who make a lot of day-to-day choices geared at improving their long-term health, tend not to eat very much of it. While studies perform advanced statistical analyses to try to account for as many of these other factors as possible, there's typically a residual effect—it's impossible to account for every confounding variable.
While more studies are needed to understand the link between processed meat consumption and health, the current state of evidence is that it's best to eat processed meat in moderation. A 2011 study makes a compelling case for staying below 50 grams (1 3/4 ounces) daily.
Easily track your servings of Nutrivore Foundational Foods!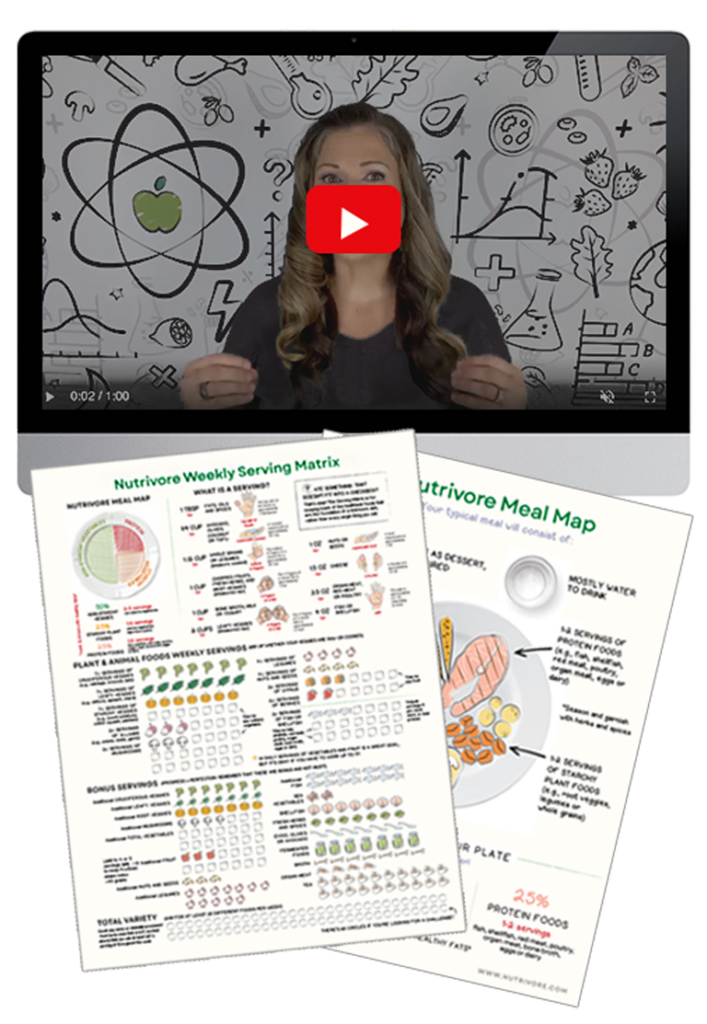 The Nutrivore Weekly Serving Matrix
The Nutrivore Weekly Serving Matrix digital resource is an easy-to-use and flexible weekly checklist designed to help you maximize nutrient-density and meet serving suggestions of Nutrivore foundational foods, all without having to weigh or measure your foods!
Includes a 1-hour video tutorial and downloadable interactive guides.
Buy now for instant digital access.
cITATIONS
Expand to see all scientific references for this article.