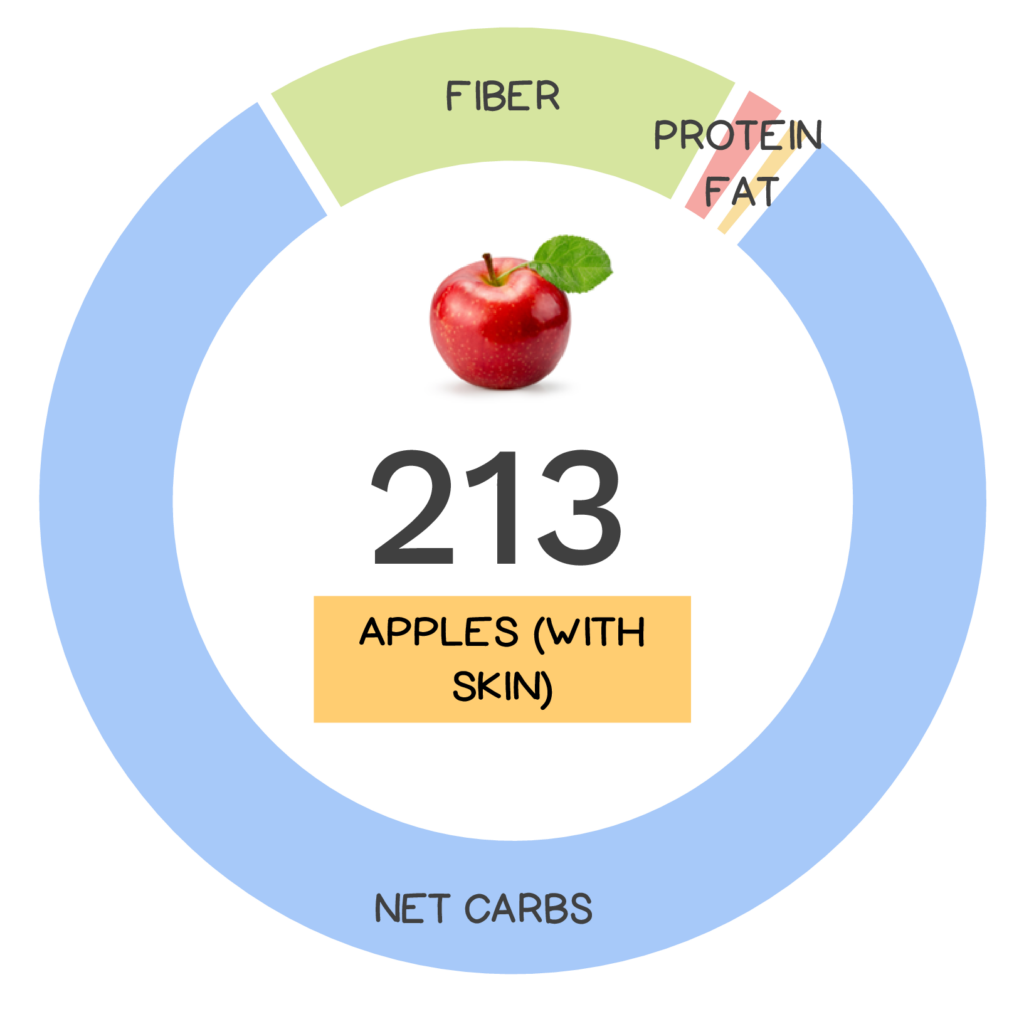 Apples are one of the most popular fruits enjoyed world-wide and for good reason. They are cheap, readily available, extremely portable and did I mention, absolutely delicious? The crunch and taste experienced when digging into a freshly picked apple is love 'at first bite'! And, with so many varieties, there is bound to be an apple to satisfy every taste bud – you'll never get bored of this fruit! Synonymous with Autumn, apples are as much a part of the season as falling leaves and cooler weather and are as American as well, 'apple pie'!
now available for pre-order!
Ditch diet culture and get the most nutrients from your food with the no-guilt, personalized, and exciting new science that will change how you think about food and nourishment, from New York Times bestselling author Dr. Sarah Ballantyne.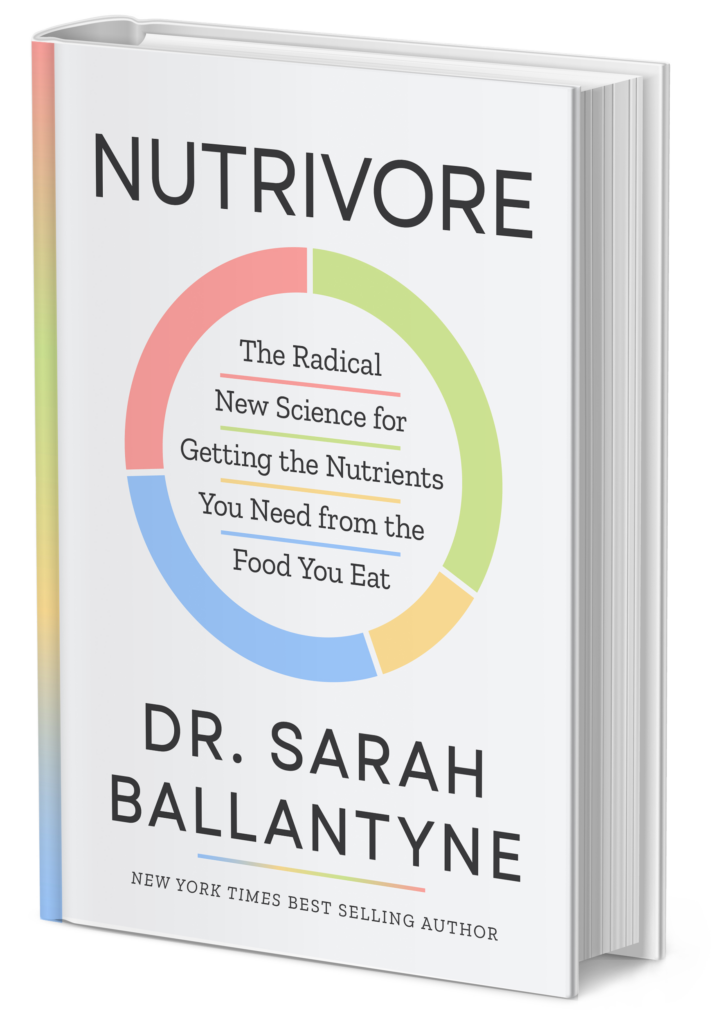 Apples (Malus domestica) belong to the sub-family Pomoideae within the plant family Rosaceae (AKA the rose family – that's right, apples are related to roses!) Apples are classified as "pomes" – a type of fruit with a tough core containing several small seeds and a fleshy, edible outer layer (like pears). This fruit originated in Central Asia, where they were first domesticated between 4,000 and 10,000 years ago; there are now over 8,000 varieties of apples grown throughout the world (in fact, there are more varieties of apples than of any other fruit!), with 80 million tons of apples produced world-wide per year. Apples have been depicted in art, especially as religious symbols (think forbidden fruit), for nearly as long as they have been cultivated. In Ancient Greece, to throw an apple at someone was to symbolically declare one's love; and subsequently, to catch it was to show one's acceptance of that love! The only apples native to North America are crab apples. The apples we are familiar with today were actually introduced to North America by European colonists in the 17th century, with the first apple orchard in North America planted in Boston. The rest is history – today the US is the second largest producer of apples world-wide (after China)! And, apples are the most consumed fresh fruit in the US – representing 12.5% of all consumed fruits world-wide!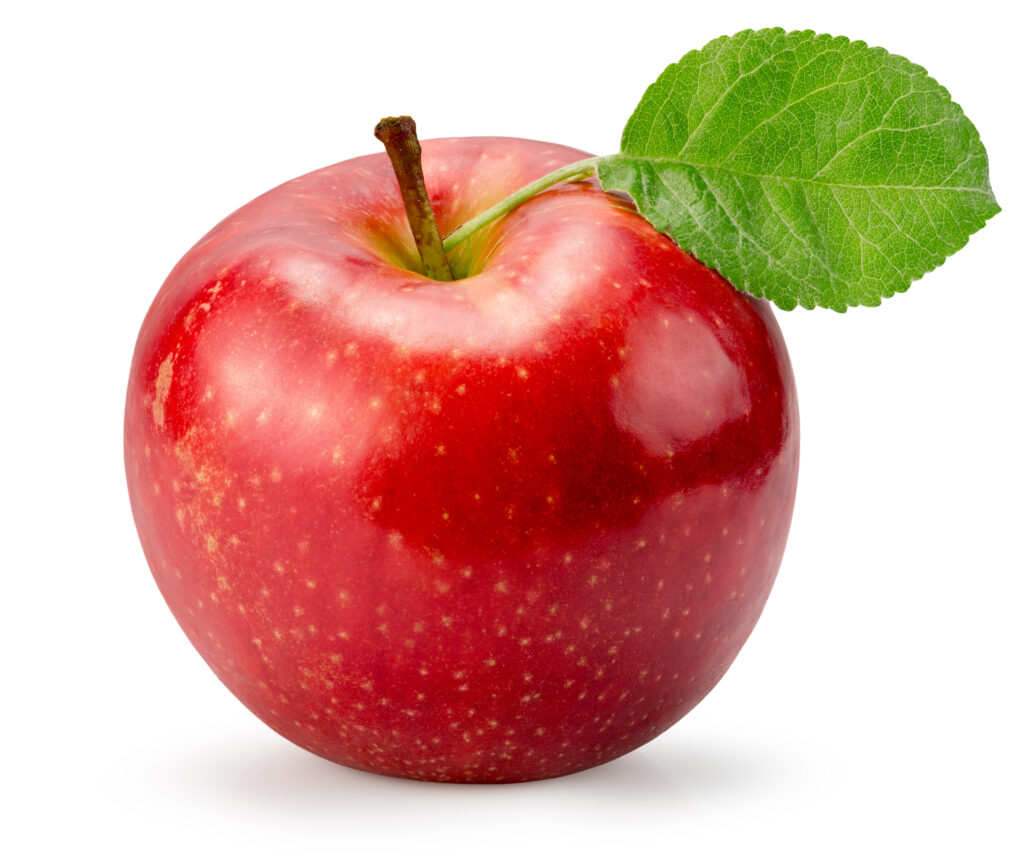 Nutrivore Score for Apple – 213
Apples (with skin) have a Nutrivore Score of 213, making them a medium nutrient-dense food! Plus, they are a low-carb and low-calorie-density food; the calorie count of apples (with skin) is 65 calories per cup!
Per serving, apples (with skin) are a best source (>50% daily value) of polyphenols; and a good source (10-20% daily value) of dietary fiber and vitamin B7 (biotin).
Want to Know the Top 100 Nutrivore Score Foods?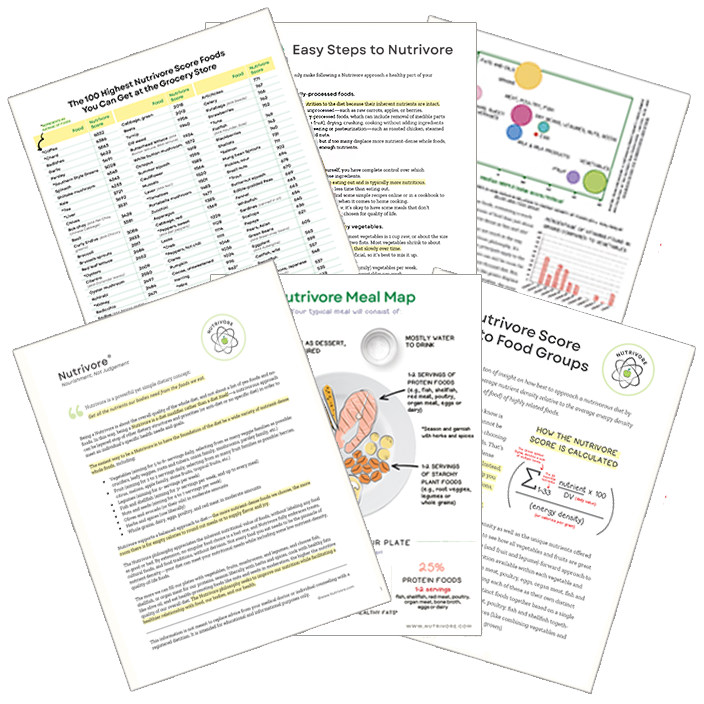 Get it Directly in Your Inbox!
The Nutrivore Newsletter is a weekly email that delivers bite-size fun facts, practical tips, recipes and resources. Sign up now and get 5 free guides directly to your inbox:
Easy Steps to Nutrivore 4-page guide
Nutrivore Foundational Foods 6-page guide
Nutrivore Score Guide to Food Groups 3-page guide
Nutrivore Meal Map
Top 100 Nutrivore Score Foods
Apple Nutrition Facts
One serving of apple is standardized to 1 cup, chopped or about 125 grams (4.4 ounces). A typical small apple (2 3/4″ diameter) weighs 132 grams, which is roughly equivalent to 1 serving of apple.
Apple (with skin) Nutrition Facts Per Serving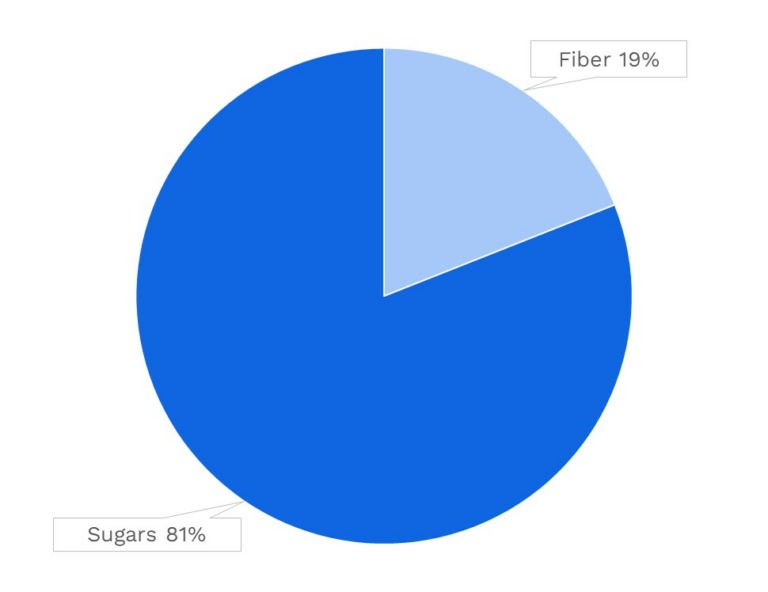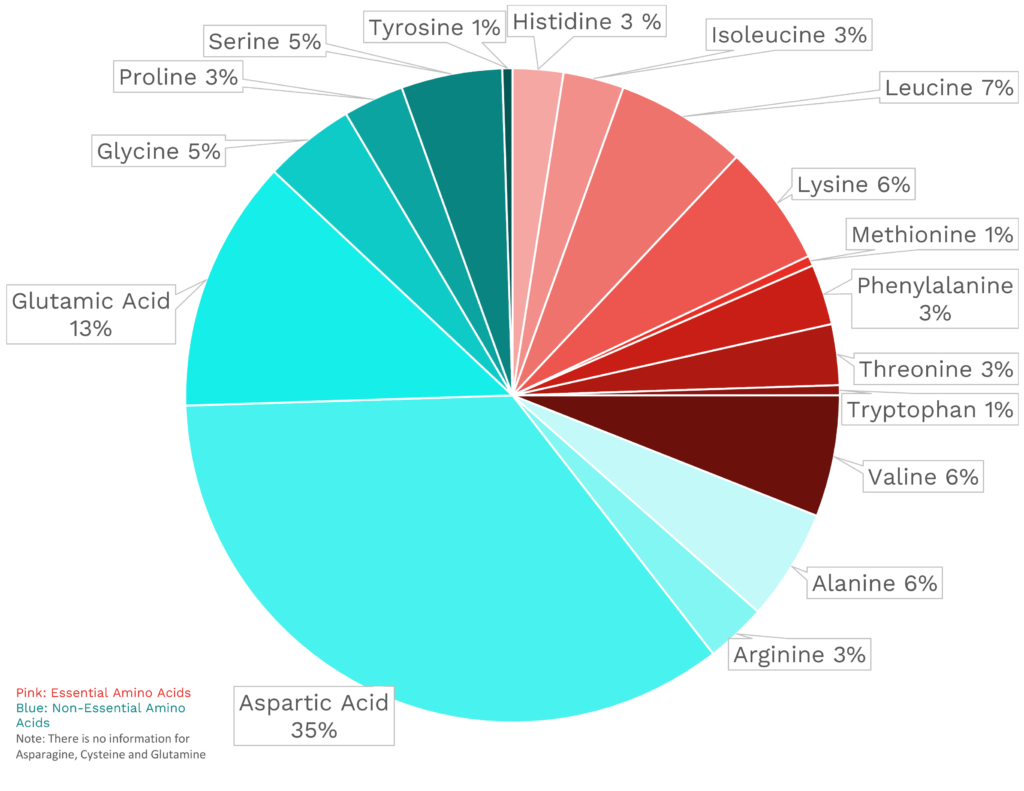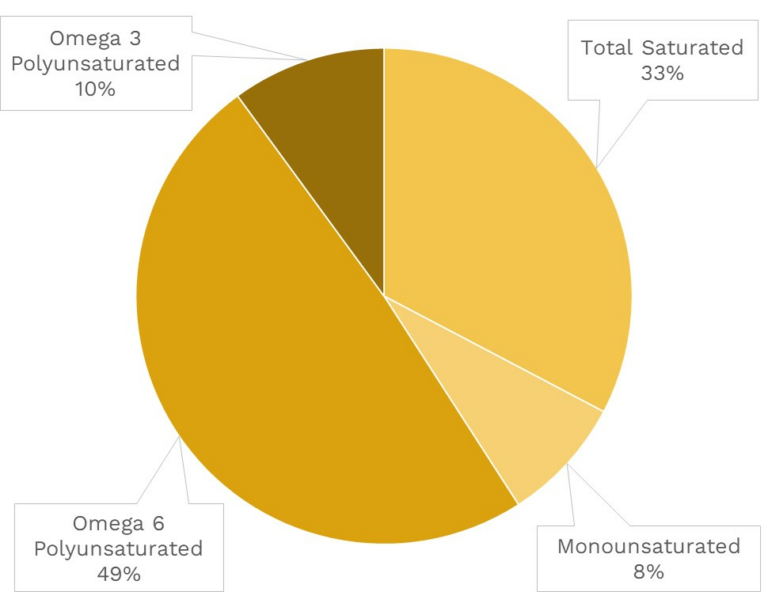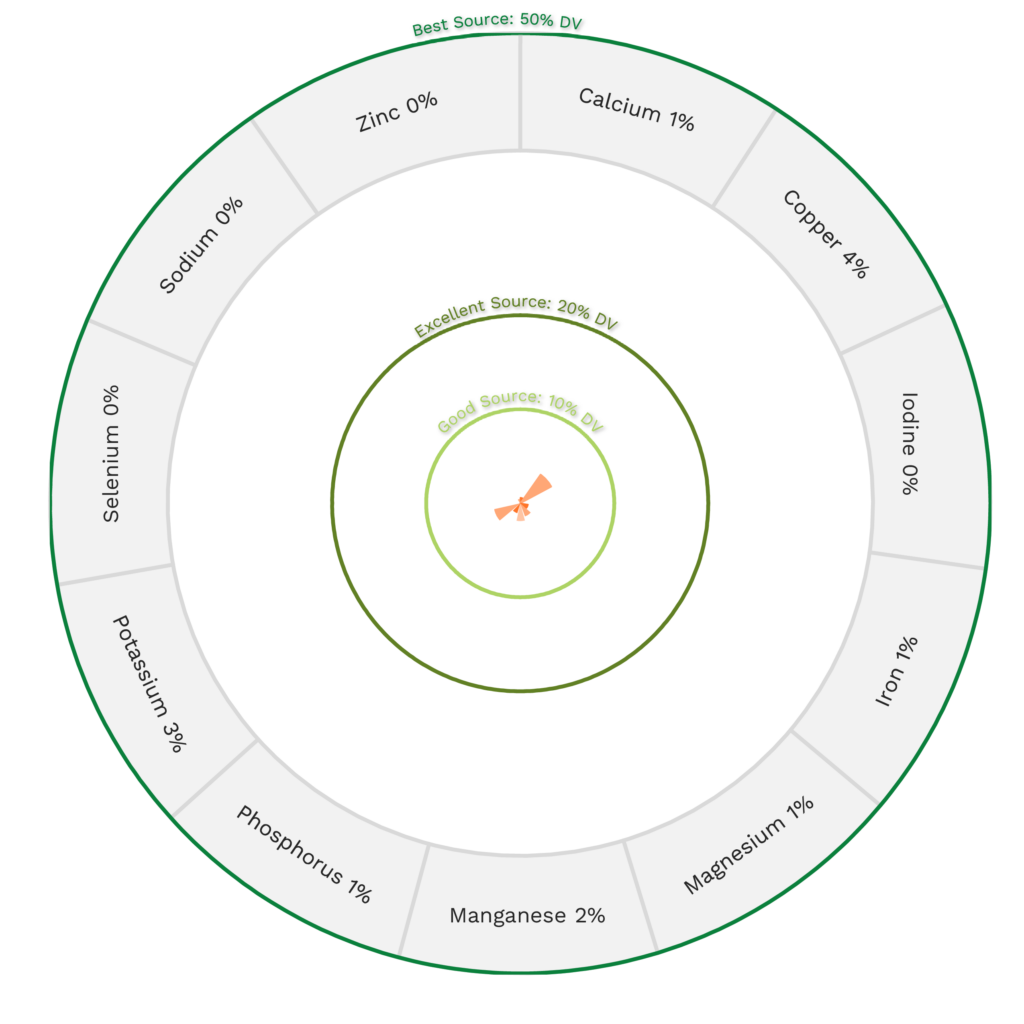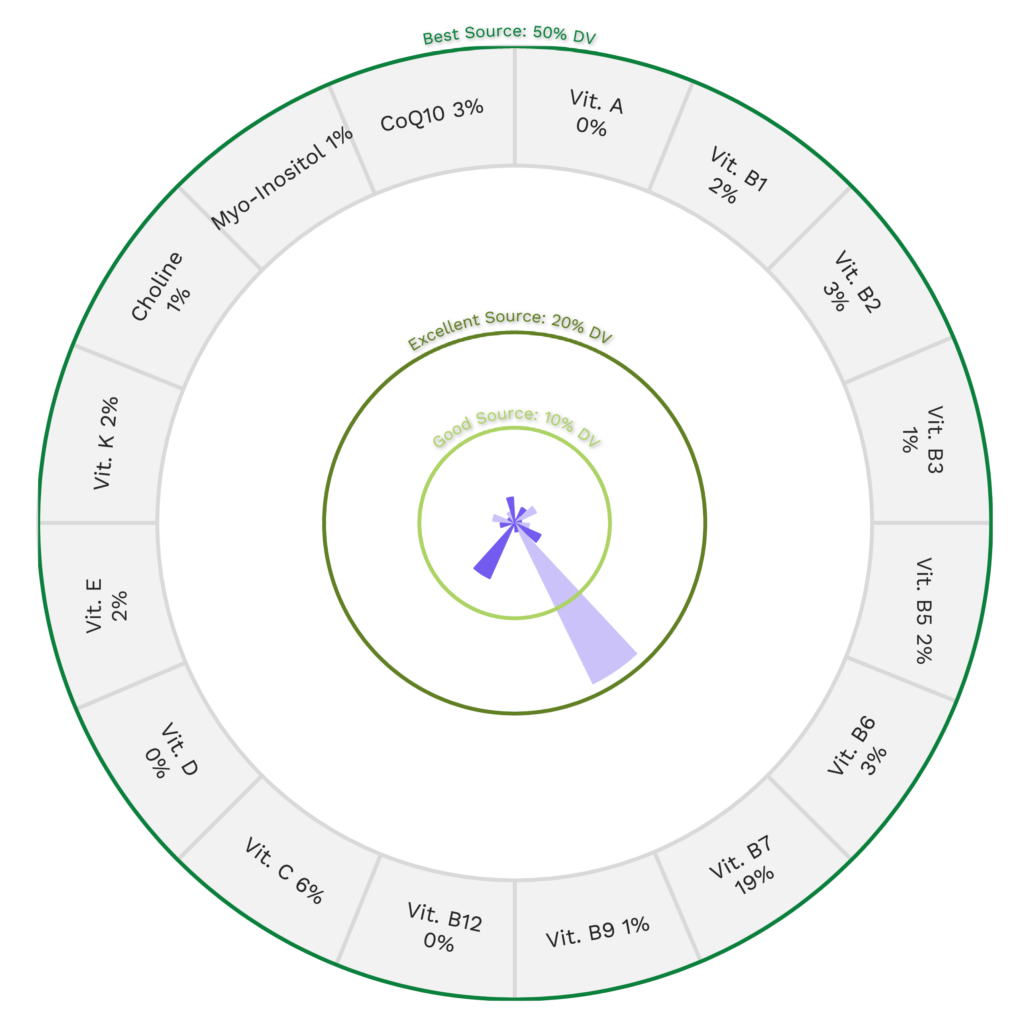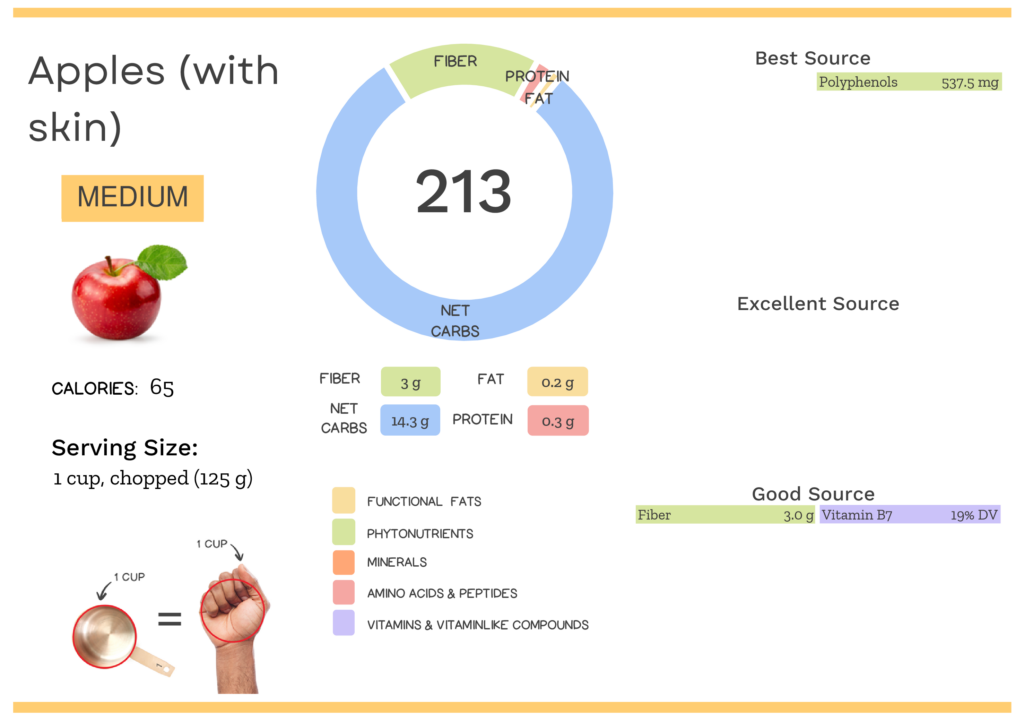 Apple Nutrition Varies With Variety
Worldwide there are more than 8,000 known cultivars (cultivated varieties) of apples to explore! To put that into perspective, if you ate a different variety of apple every single day, it would take you almost 22 years before you'd be ready to repeat the cycle. Wow! These varieties vary with respect to acidity, color, firmness, flavor, size, sugar content and nutrient profile which means their Nutrivore Scores also vary. While sufficient data isn't available to calculate scores for all types, the science is clear on the benefits to be gained from incorporating different cultivars into our diet. Apple varieties have very different polyphenol profiles and promote the growth of different gut bacteria, which means the more kinds of apples we incorporate into our diet, the more health benefits to be gained!
| | NUTRIVORE SCORE |
| --- | --- |
| Apple, with skin, raw | 213 |
| Crabapple, raw | 2412 |
| Fuji apple, with skin, raw | 131 |
| Gala apple, with skin, raw | 141 |
| Golden Delicious, with skin, raw | 141 |
| Granny Smith, with skin, raw | 204 |
| Red Delicious, with skin, raw | 140 |
2Nutrivore Score is likely higher since 25 to 50% of data is missing.
Apple Nutrition Varies With Cooking and Processing
The Nutrivore Score of apples varies depending on the method of preparation and processing. For instance, studies repeatedly show that the phytonutrient content of apple peel is significantly higher than that of apple flesh, in addition to the peel being high in fiber which means that peeled apples (and apple juice) are less nutrient-dense than whole apples with skin. Applesauce, and dehydrated, dried, and frozen apples are other forms of this fruit that are conveniently available when fresh apples aren't an option, though these also tend to be peeled which lowers their nutrient density. Even still, no matter how you "slice" it, apples are a great option!
| | NUTRIVORE SCORE |
| --- | --- |
| Apple, dehydrated, sulfured, uncooked | 54 |
| Apple, dried, sulfured, uncooked | 55 |
| Apple, with skin, raw | 213 |
| Apple, without skin, raw | 641 |
| Apple, without skin, cooked, boiled | 65 |
| Apple, without skin, cooked, microwaved | 69 |
| Apple juice, canned or bottled, unsweetened, without added ascorbic acid | 69 |
| Applesauce, canned, unsweetened, without added ascorbic acid | 64 |
1Nutrivore Score may be higher since 10 to 25% of data is missing.
Did you find this info "ap-peel-ing"? Maybe your friends will too!
Health Benefits of Apple Nutrients
Let's take a closer look at all of the best and excellent source of nutrients found in a 1-cup serving of apples and see how they benefit our health.
Apples Provide 537.5 mg of Polyphenols
Apples are an outstanding source of polyphenols, providing 537.5 mg of polyphenols per 1-cup serving!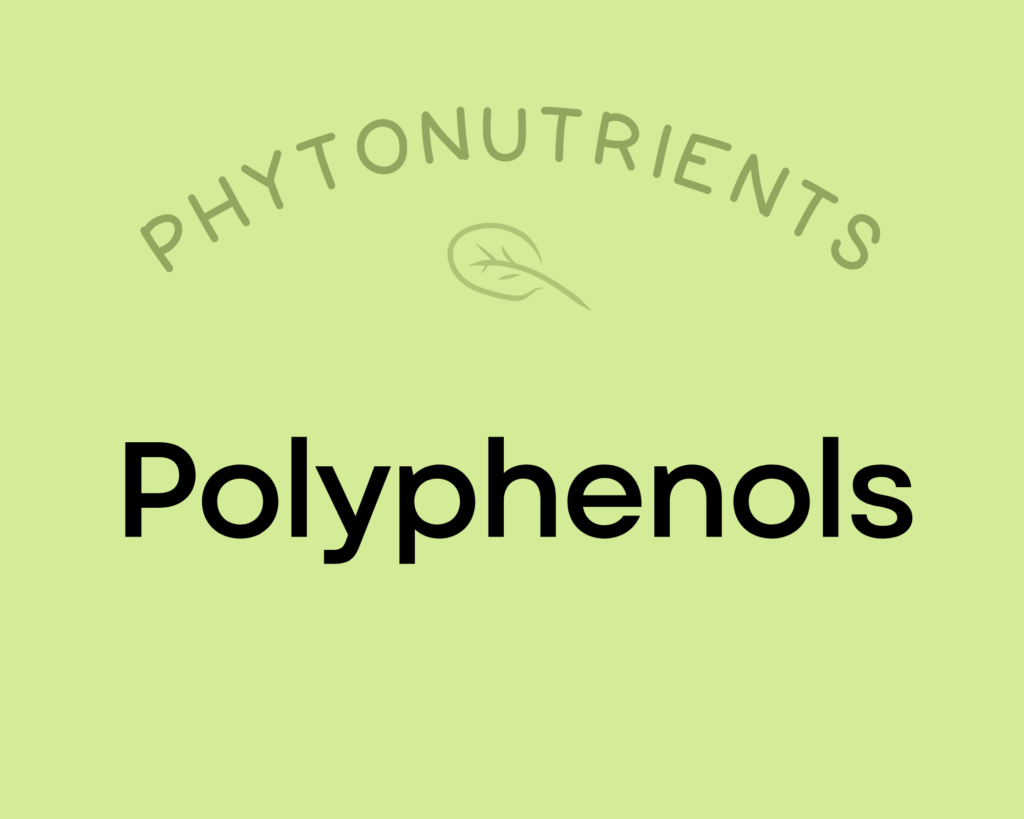 Polyphenols play a huge role in protecting against cancer, heart disease, diabetes, asthma, osteoporosis, neurodegenerative diseases, and other conditions associated with oxidative stress. In fact, a major reason foods like red wine and olive oil (as well as diets rich in both, such as the Mediterranean diet) show up as so beneficial may be due to their high polyphenol content! Along with chronic diseases, supplementing with polyphenols has been shown to protect against infections and reduce the signs of aging. Polyphenols exert their most potent effects by acting as antioxidants—preventing cellular damage by neutralizing hazardous oxygen radicals and improving cellular health as a result (which, in turn, benefits virtually every system in the body). As a result of their antioxidant properties, polyphenols also boost the immune system and protect against both chronic and acute diseases. In addition, polyphenols can help regulate enzyme function, stimulate cell receptors, modulate the functions of inflammatory cells (including T and B lymphocytes, macrophages, platelets, and natural killer cells), alter adhesion molecule expression, affect nerve cells and cardiac muscle cells, and exert antiviral effects. Learn more about polyphenols here.
Learn What Foods Are the Best Sources of Every Nutrient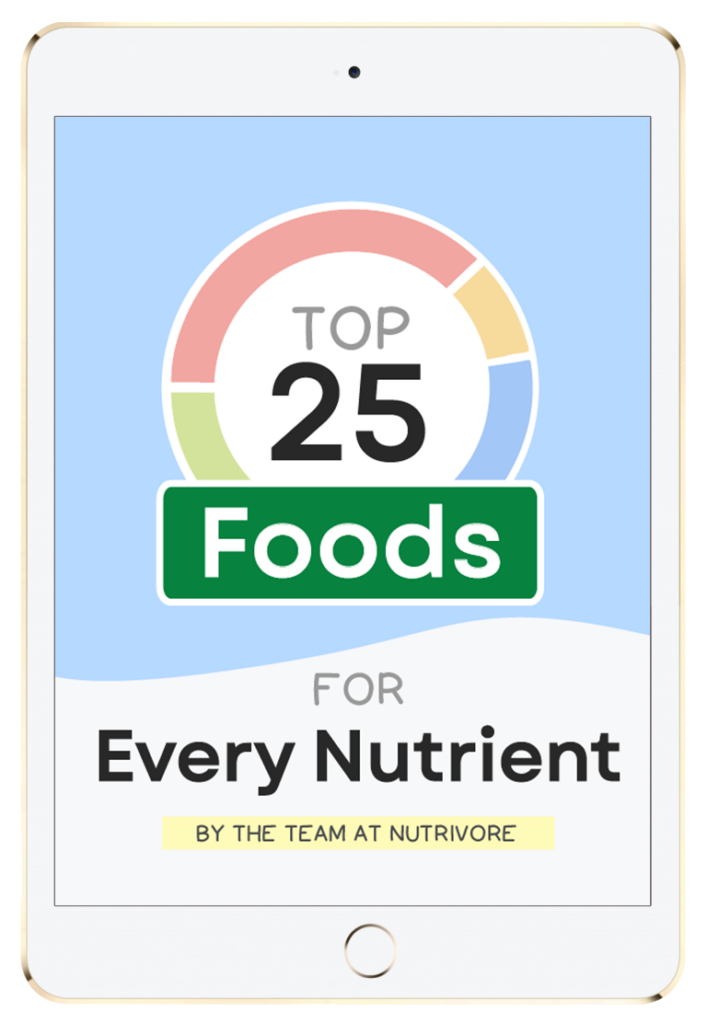 The Top 25 Foods for Every Nutrient
The Top 25 Foods for Every Nutrient e-book is a well-organized, easy-to-use guide to help you choose foods that fit your needs of 42 important nutrients while creating a balanced nutrient-dense diet.
Get two "Top 25" food lists for each nutrient, plus you'll find RDA charts for everyone, informative visuals, fun facts, serving sizes and the 43 foods that are Nutrient Super Stars!
Buy now for instant digital access.
How Much Apple Should We Eat Per Day?
"An apple a day keeps the doctor away" or so the saying goes!
Consuming 800 grams of vegetables and fruits daily reduces all-cause mortality by 31% compared to eating less than 40 grams daily. A 2017 systemic review and meta-analysis looked at how all-cause mortality was impacted by varying intakes of 12 different food groups: whole grains and cereals, refined grains and cereals, vegetables, fruits, nuts, legumes, eggs, dairy products, fish, red meat, processed meat, and sugar-sweetened beverages. This analysis revealed non-linear relationships between how much of a particular food group we eat and how it impacts our health. While the results revealed no upper limit to the benefits of vegetable intake, the sweet spot for fruit intake was 300 grams daily. Intakes of fruit over 400 grams per day were not as beneficial as 300 grams, but the good news is that even intakes of 600 grams of fruits per day was superior to no fruit at all! This sweet spot for fruit intake translates to 2 to 3 servings of fruit daily.
Thus, a good rule of thumb is to aim for at least 500 to 600 grams of vegetables (5 to 8 servings, depending on the vegetable, and as much as you want above that) and about 300 grams of fruit (2 to 3 servings, depending on the fruit) per day. Fruit makes a convenient snack, a healthy dessert, a whimsical addition to salads, and a sophisticated flavoring agent in the form of salsas, jams, and chutneys. A serving is standardized to 1 cup chopped for raw vegetables and fruits (typically translates to 1/2 cup to 2/3 cup once cooked). Learn more in Importance of Vegetables and Fruit
A 2019 paper showed that all-cause mortality decreases by 20% for every 100 grams of apples consumed daily and a 2020 paper showed that an apple a day reduces all-cause mortality by 14%!
It's always best to mix up the fruits and veggies you eat day to day (aiming for a wide variety of different vegetables and fruits throughout the week), and apples definitely have a place at the table.
Easily track your servings of Nutrivore Foundational Foods!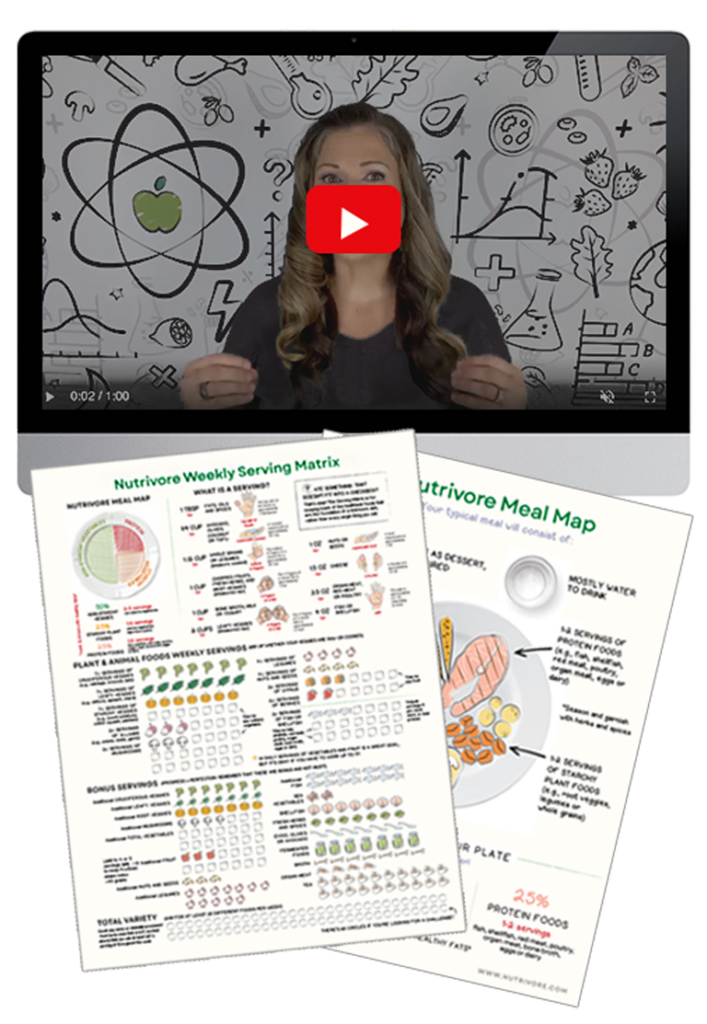 The Nutrivore Weekly Serving Matrix
The Nutrivore Weekly Serving Matrix digital resource is an easy-to-use and flexible weekly checklist designed to help you maximize nutrient-density and meet serving suggestions of Nutrivore foundational foods, all without having to weigh or measure your foods!
Includes a 1-hour video tutorial and downloadable interactive guides.
Buy now for instant digital access.
cITATIONS
Expand to see all scientific references for this article.