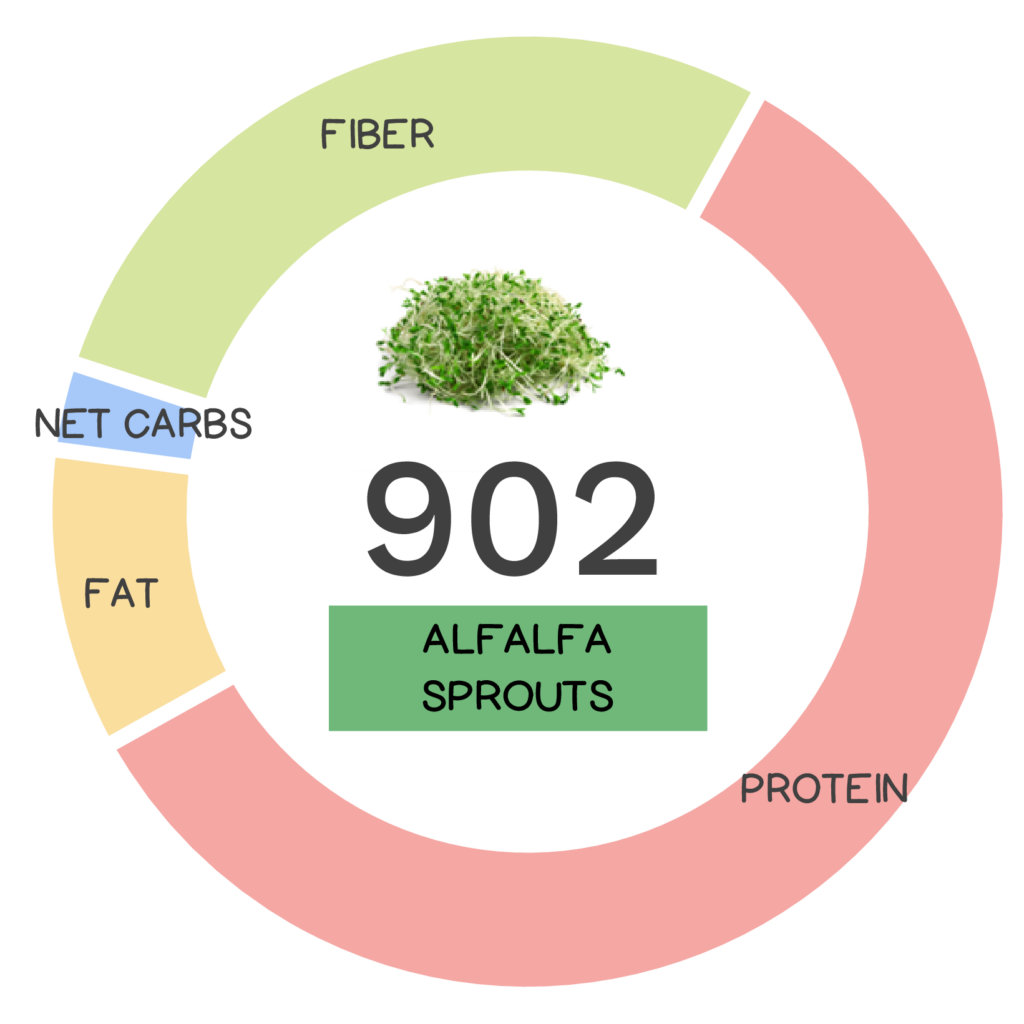 Alfalfa – it's great for the environment, improves soil quality, and is essential for numerous animals, but is it possible this legume could be beneficial for people too? The answer is a resounding yes! Worldwide, alfalfa sprouts are one of the most popularly consumed sprouts – they are delicious, easy to grow, inexpensive, versatile and most importantly, nutrient dense!
Alfalfa (Medicago sativa) is the most commonly grown member of the legume (or Fabaceae) family, which includes beans, lentils and peas. Also called lucerne in many parts of the world, it is best known as a forage crop and has been used to feed animals since ancient Greek and Roman times. It's believed to have originated somewhere in Asia and was first cultivated in Iran. In fact, the name alfalfa is believed to come from the Arabic saying "al-fac-facah" meaning "the father of all foods" – an ode to its high nutritional value and importance. It wasn't widely grown in the United States until the 1800s but today is one of the country's top crops with respect to acreage and value – used for grazing, hay, silage, green manure and as a cover crop.
When it comes to human consumption, we won't be found grazing or chomping on hay, however alfalfa sprouts are popular in salads and sandwiches plus so much more (though raw unsprouted alfalfa is toxic to primates including humans). Alfalfa sprouts are actually the immature shoots of the alfalfa plant, and are the only part of the plant consumed (the full-grown leaves are bitter). Germinating or sprouting the seeds is a fairly simple process, requiring few items and a short period of time. In the end the tiny brown seeds sprout slender white shoots with small leaves ranging in color from yellow to dark green, which provide a delightful crunch and mild, but nutty-esque flavor which is a favorite in vegetarian and Indian cuisine. Though they have a long history of medicinal use and have been consumed in Asia and Europe for centuries, North Americans did not "sprout" an interest in them until much more recently when they began gaining popularity in the 1970s. Like other sprouts, contaminated alfalfa sprouts have been linked to pathogenic outbreaks but don't "bale" on them, just make sure to exercise caution when handling this "veggie" before digging in.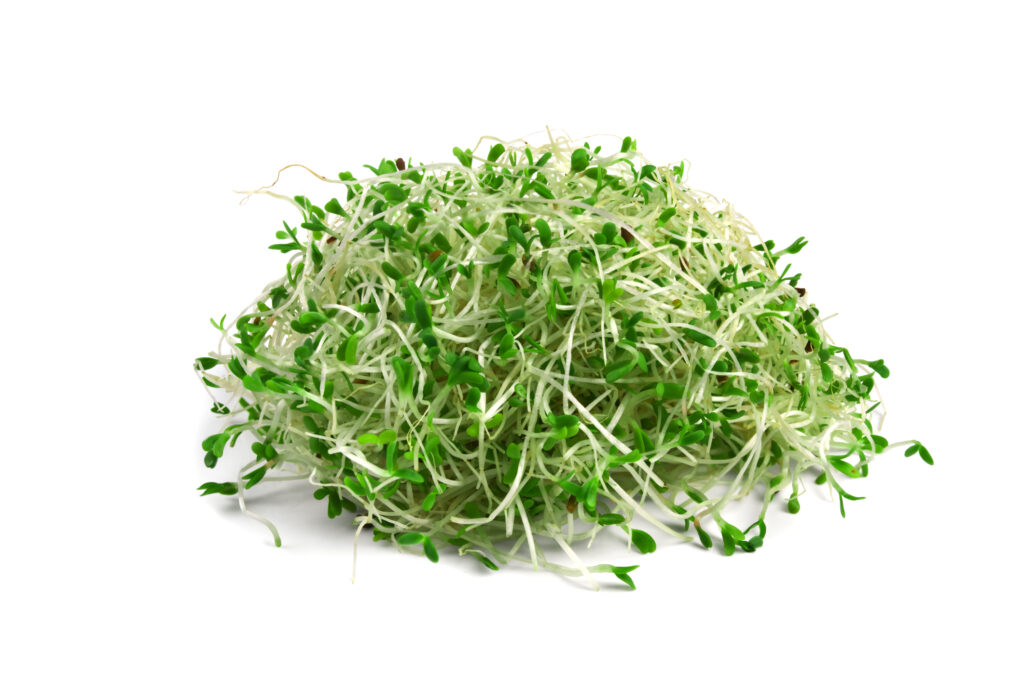 Nutrivore Score for Alfalfa Sprouts – 902
Alfalfa sprouts have a Nutrivore Score of 902, making them a super nutrient-dense food! Plus, they are a low-carb and low-calorie-density food; amazingly the calorie count of alfalfa sprouts is just 8 calories per cup!
Want to Know the Top 100 Nutrivore Score Foods?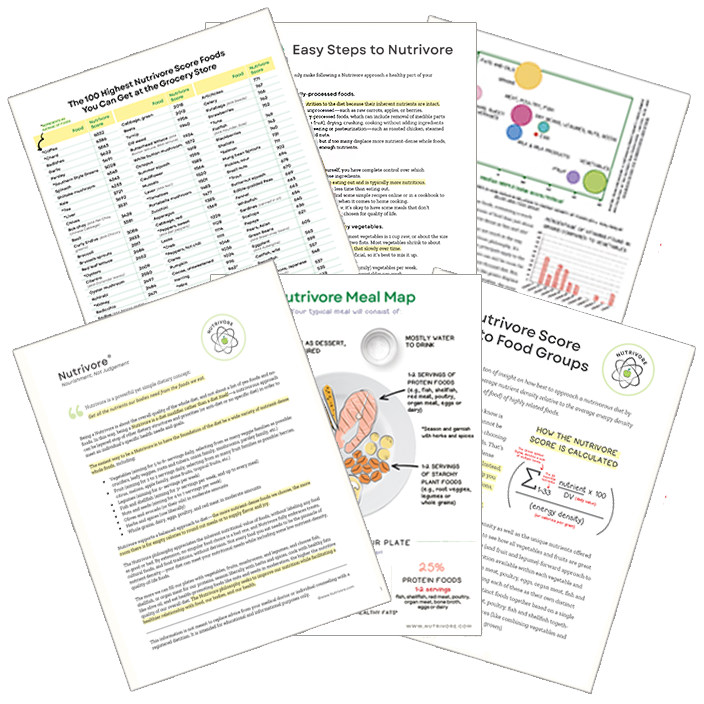 Get it Directly in Your Inbox!
The Nutrivore Newsletter is a weekly email that delivers bite-size fun facts, practical tips, recipes and resources. Sign up now and get 5 free guides directly to your inbox:
Easy Steps to Nutrivore 4-page guide
Nutrivore Foundational Foods 6-page guide
Nutrivore Score Guide to Food Groups 3-page guide
Nutrivore Meal Map
Top 100 Nutrivore Score Foods
Alfalfa Sprout Nutrition Facts
One serving of alfalfa sprouts is standardized to 1 cup or about 33 grams (1.2 ounces).
Alfalfa Sprout Nutrition Facts Per Serving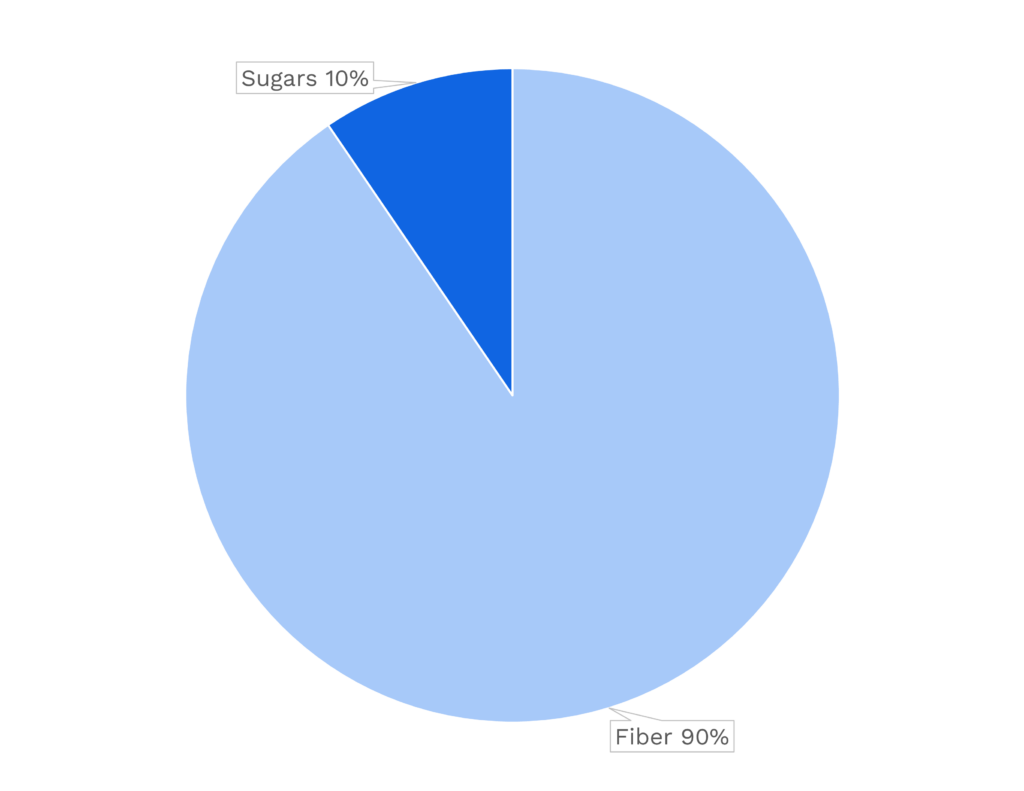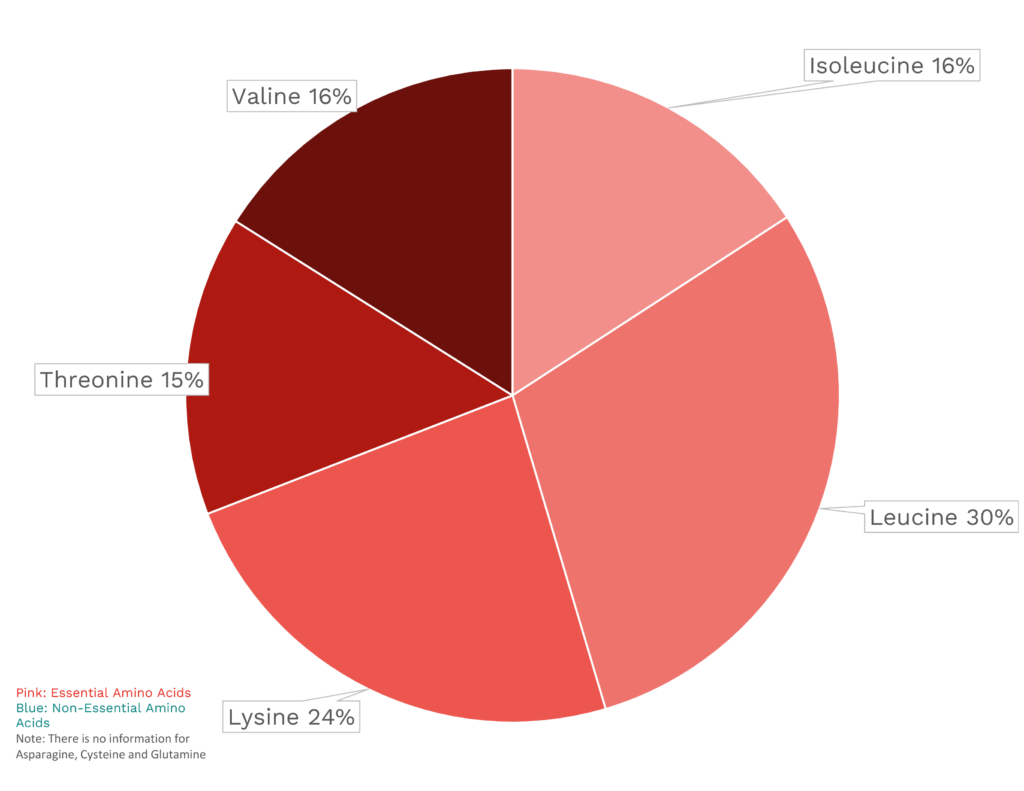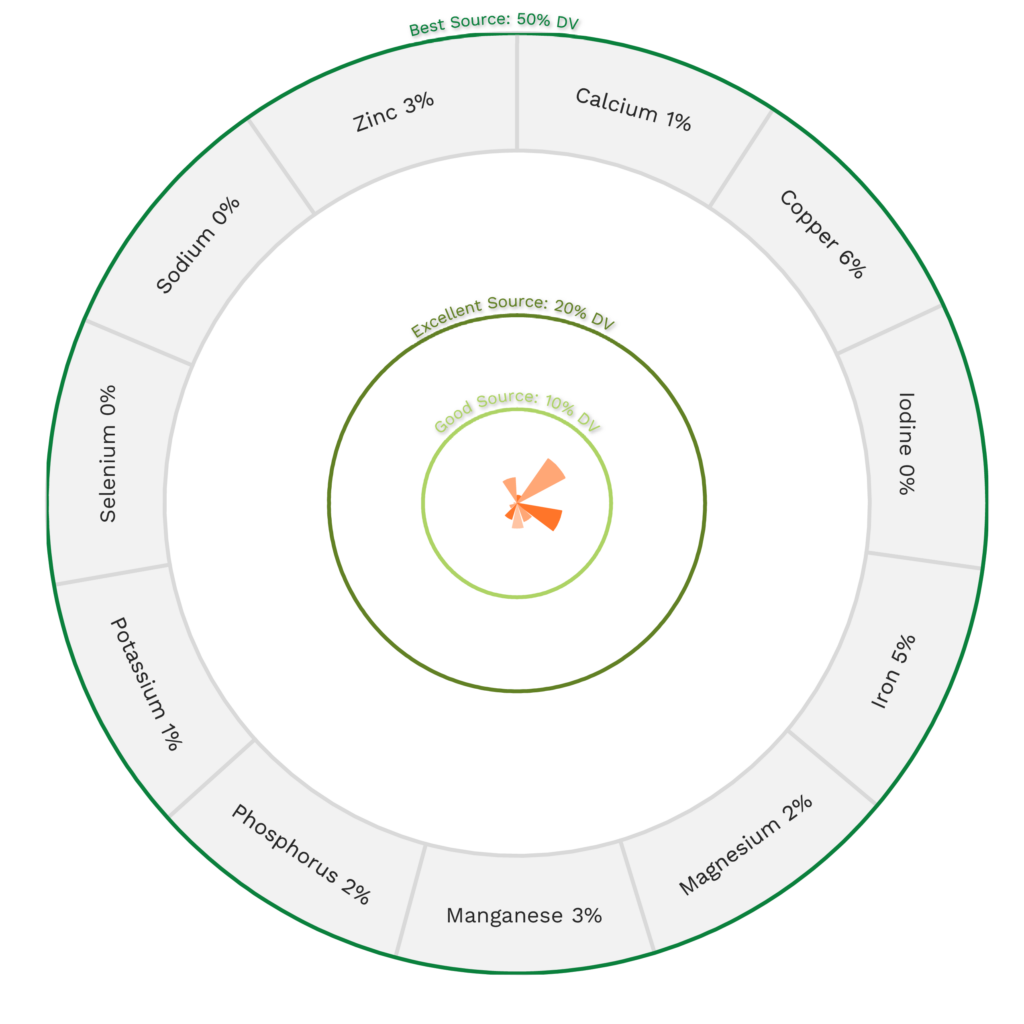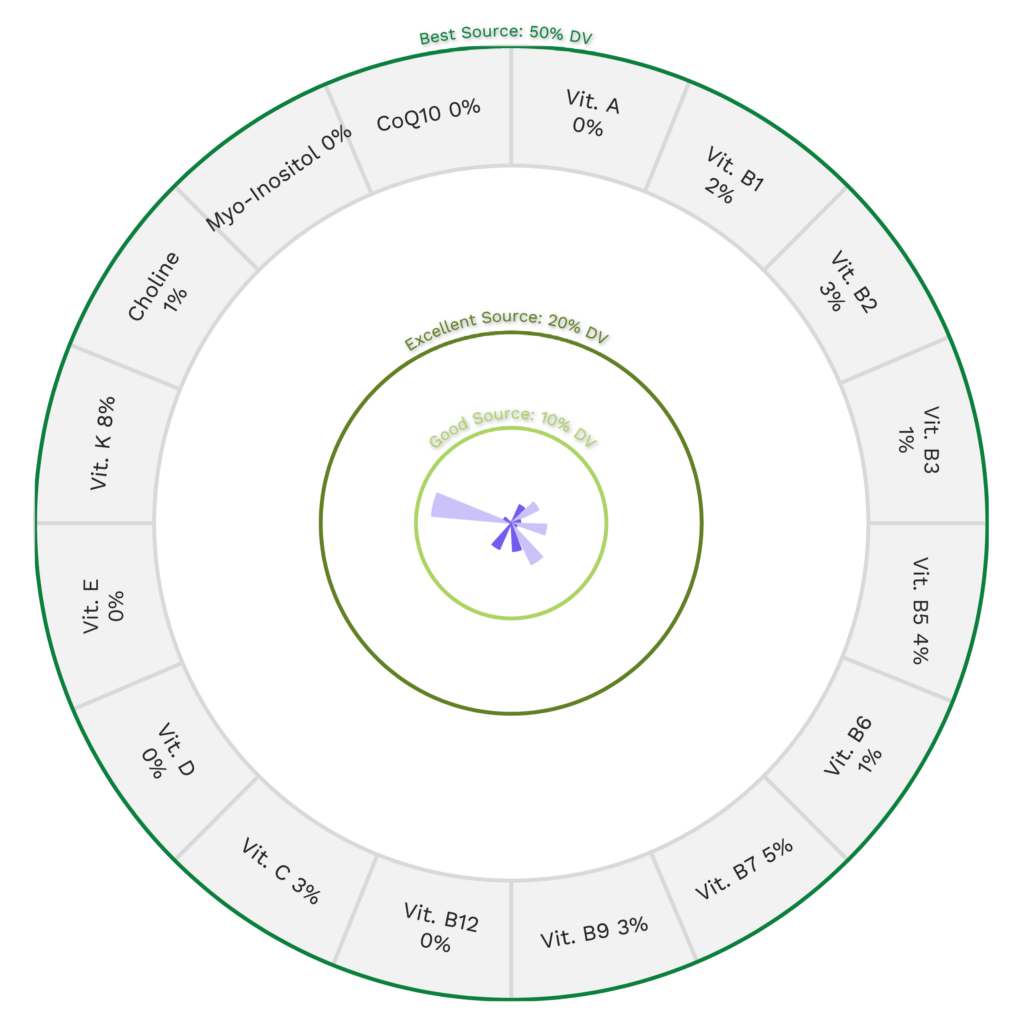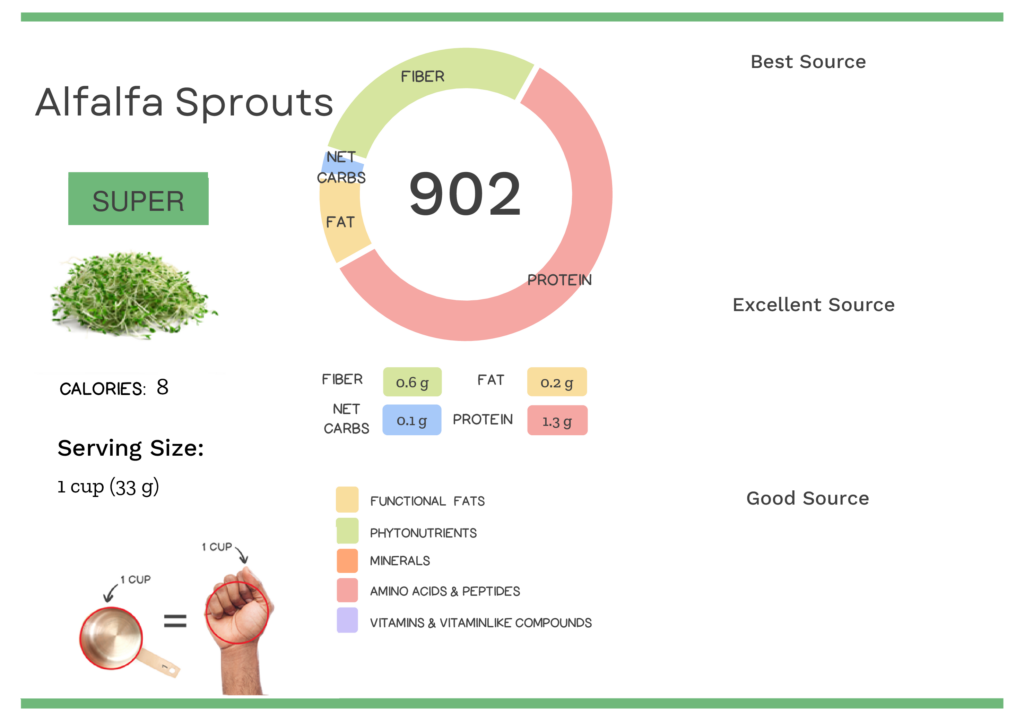 Have you "sprouted" an interest in alfalfa? Maybe your friends will too!
How Much Alfalfa Sprouts Should We Eat Per Day?
Not only are sprouts delicious, easy to grow, inexpensive, and versatile – they are jam-packed with nutrition too!
Every serving of fresh, whole vegetables or fruit we eat daily reduces the risk of all-cause mortality by 5% to 8%, with the greatest risk reduction seen when we consume eight or more servings per day. In fact, consuming 800 grams of vegetables and fruits daily reduces all-cause mortality by 31% compared to eating less than 40 grams daily. A 2017 meta-analysis showed that 2.24 million deaths from cardiovascular disease, 660,000 deaths from cancer, and 7.8 million deaths from all causes could be avoided globally each year if everyone consumed 800 grams of veggies and fruits every day.
Eating vegetables and fruit in abundance lowers risk of cancer, cardiovascular disease, type 2 diabetes, obesity, chronic kidney disease, osteoporosis and bone fragility fractures (including hip fracture), cognitive impairment and dementia (including Alzheimer's disease), neurodegenerative diseases, asthma, allergies, chronic obstructive pulmonary disease, age-related macular degeneration, cataracts, glaucoma, depression, ulcerative colitis and Crohn's disease, rheumatoid arthritis, inflammatory polyarthritis, non-alcoholic fatty liver disease, acne, seborrheic dermatitis, and lowers markers of inflammation. Learn more in Importance of Vegetables and Fruit.
Covering half of your plate with a variety of vegetables (and three quarters of your plate if your starchy food is a root vegetable or winter squash) at each meal is a simple way to easily achieve the goal of 800 grams daily (about 5 to 8 servings depending on the vegetable).
It's always best to mix up the veggies you eat day to day (aiming for a wide variety of different vegetables and fruits throughout the week), and alfalfa sprouts definitely have a place at the table.
Easily track your servings of Nutrivore Foundational Foods!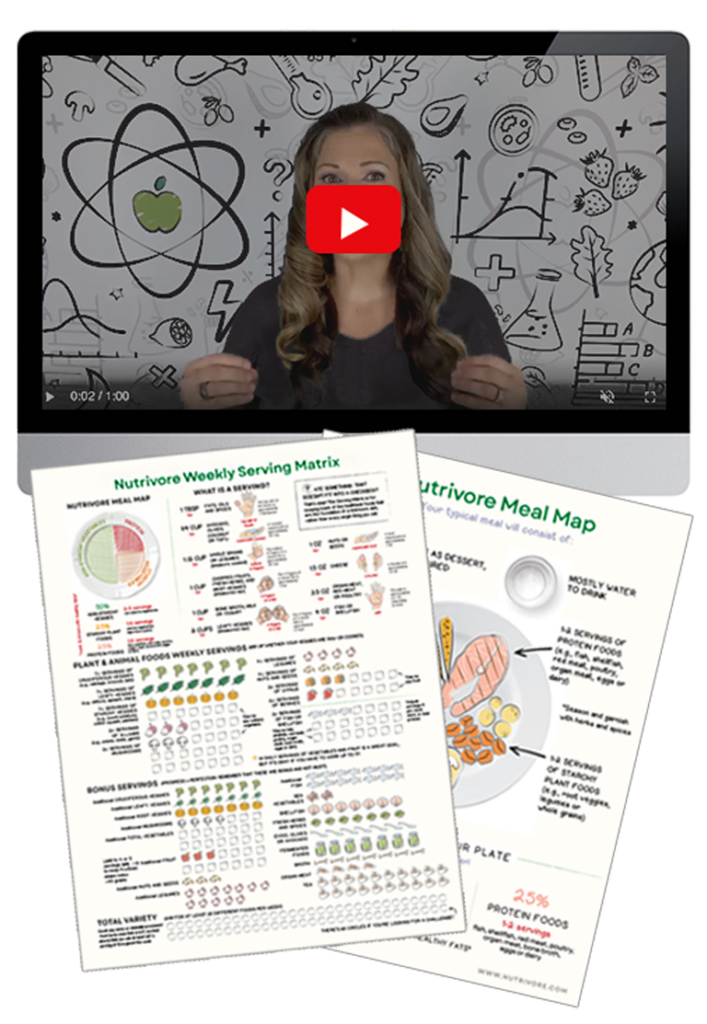 The Nutrivore Weekly Serving Matrix
The Nutrivore Weekly Serving Matrix digital resource is an easy-to-use and flexible weekly checklist designed to help you maximize nutrient-density and meet serving suggestions of Nutrivore foundational foods, all without having to weigh or measure your foods!
Includes a 1-hour video tutorial and downloadable interactive guides.
Citations
Expand to see all scientific references for this article.