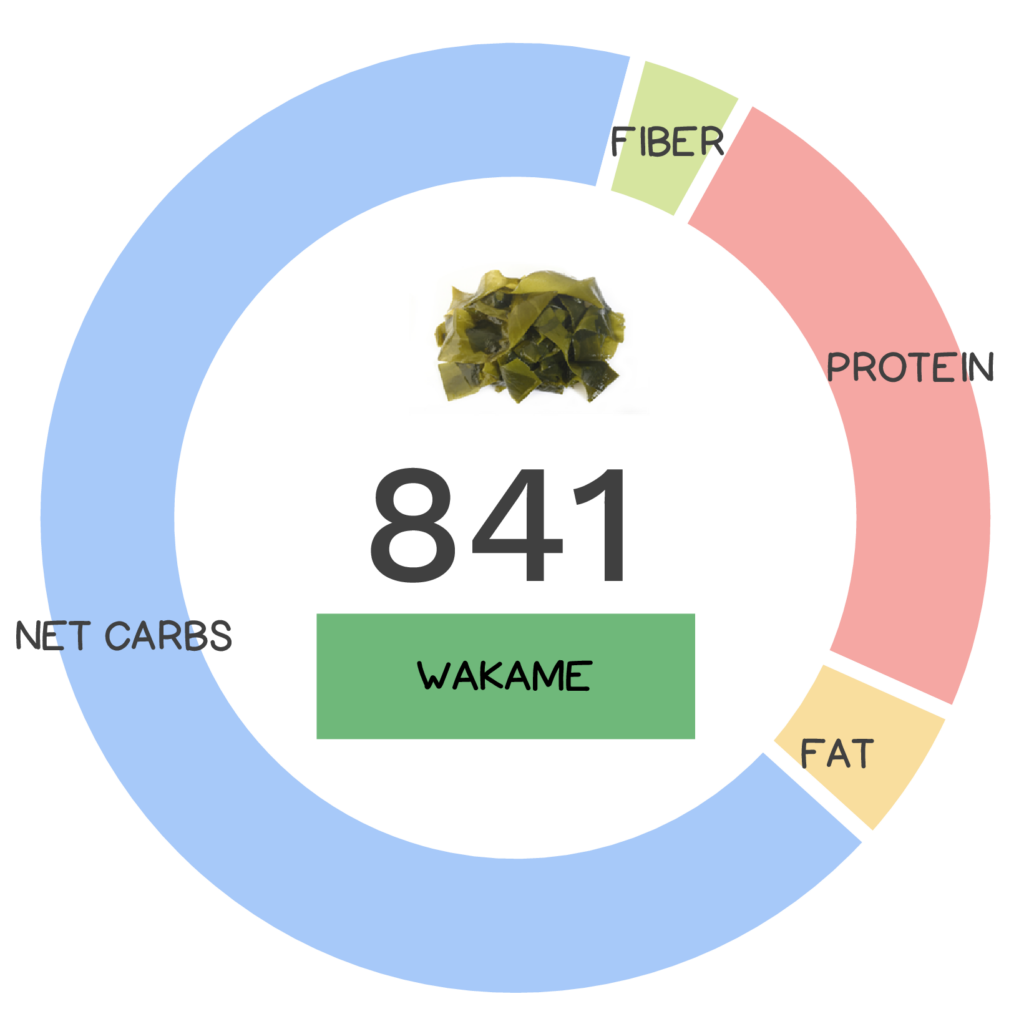 Wakame is one of the most widely known types of edible seaweeds. Although it is not necessarily a common ingredient in most Western households, you've probably had it (even if you think you haven't!), since it's a key ingredient in seaweed salad and miso soup. Available dried or salted, this sea vegetable is a key ingredient in Asian cuisine.
now available for pre-order!
Ditch diet culture and get the most nutrients from your food with the no-guilt, personalized, and exciting new science that will change how you think about food and nourishment, from New York Times bestselling author Dr. Sarah Ballantyne.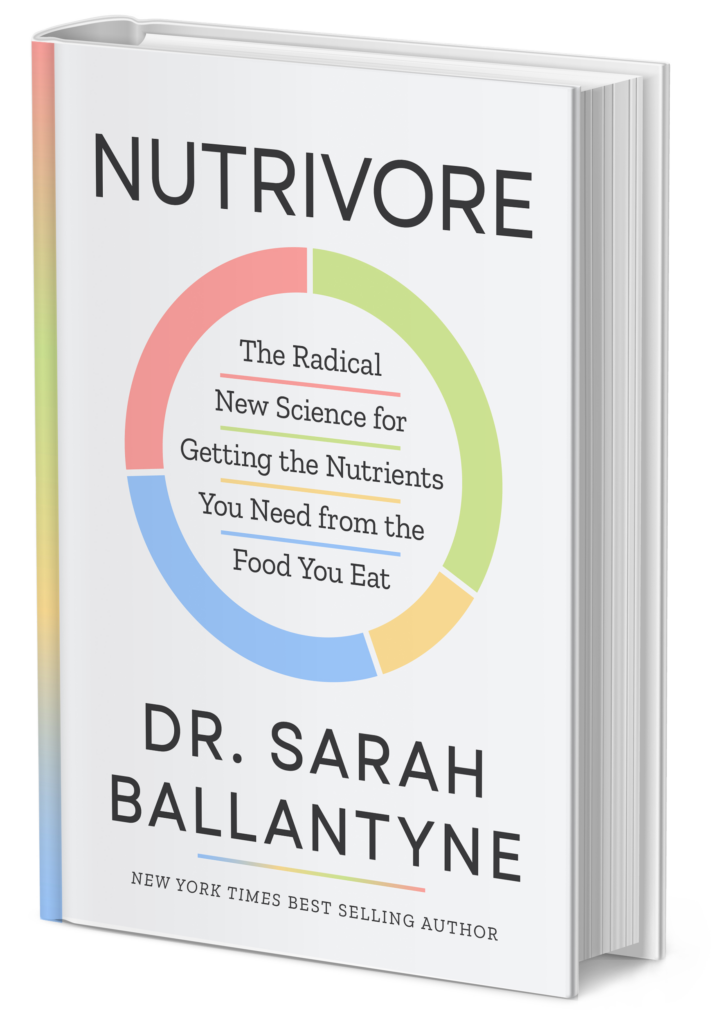 Sea vegetables consist of edible plants and algae that grow in or near the ocean. Not only are these foods incredibly tasty, they're also one of the most unique and nutritious foods on the planet! They've been consumed for thousands of years in coastal areas like China, Korea, and Japan (where seaweed residue has been found in clay pots dating back to 3000 BC!). In fact, in one of Japan's earliest legal codes (the Taiho Code of in the 8th century AD), they were even legislated to be an acceptable form of tax payment! Sea vegetables include items like sea beans and sea purslane (types of flowering succulents) and the more familiar edible seaweeds – all of which have different nutritional profiles (read – try them all!) Most of us are familiar with nori that wraps sushi rolls, which is a type of red algae (also dulse and Irish moss) but there are also green algae (e.g., sea lettuce) and brown algae which includes different types of kelp.
Kelp are large, leafy, brown algae that form dense under-water forests anchored close to the shore and despite how they look, they are not in fact plants (they don't have roots, leaves or stems to transport nutrients!). Kelp have been around for anywhere between 5 to 23 million years. Wakame (Undaria pinnatifida) is native to coastlines of the northwest Pacific Ocean (such as China, Korea, Japan, and Russia). This kelp has been a part of the human diet and used medicinally for thousands of years. Japanese and Korean farmers have been cultivating it for centuries, and both countries are still leading consumers and producers today. In Japanese, the name wakame literally translates to 'young seaweed,' though in English it is also sometimes referred to as 'sea mustard,' probably because it resembles mustard greens when cooked (though they taste nothing alike!) Wakame is dark green, with a subtly sweet, yet distinctive umami flavor and satiny texture. It is most commonly found in salads and soups and in Korea it's even considered a traditional birthday food!
Wakame didn't become popular in US until the 1960s, when it became available in its dried form, imported from Japan. In this form, wakame is typically sold in shriveled up strips that need to be rehydrated in water prior to use. It may require an extra step but with the added benefit of expansion – a little goes a long way! This kelp is also used topically in beauty treatments so feel free to cover yourself with it inside and out! However, caution is required! Since it is highly fertile, wakame is considered one of the top 100 worst globally invasive species. It is now found in temperature regions around the world including Argentina, Australia, Mexico, New Zealand, United States and many European countries, where it is responsible for out-competing native species and subsequently impacting local biodiversity.
Nutrivore Score for Wakame – 841
Wakame has a Nutrivore Score of 841, making it a super nutrient-dense food! Plus, it is a low-carb and low-calorie-density food; the calorie count of wakame is just 36 calories per cup!
Per serving, wakame is a best source (>50% daily value) of EPA+DHA and iodine; an excellent source (20-50% daily value) of copper, magnesium, manganese, and vitamin B9 (folate); and a good source (10-20% daily value) of iron, vitamin B2 (riboflavin), vitamin B5 (pantothenic acid), and vitamin B7 (biotin).
Want to Know the Top 100 Nutrivore Score Foods?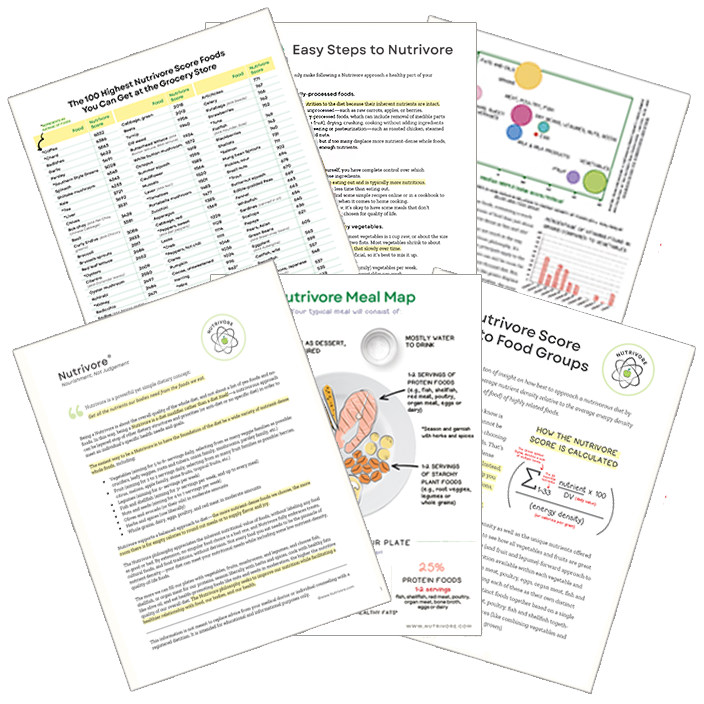 Get it Directly in Your Inbox!
The Nutrivore Newsletter is a weekly email that delivers bite-size fun facts, practical tips, recipes and resources. Sign up now and get 5 free guides directly to your inbox:
Easy Steps to Nutrivore 4-page guide
Nutrivore Foundational Foods 6-page guide
Nutrivore Score Guide to Food Groups 3-page guide
Nutrivore Meal Map
Top 100 Nutrivore Score Foods
Wakame Nutrition Facts
One serving of wakame is standardized to 1 cup or about 80 grams (2.8 ounces).
Wakame Nutrition Facts Per Serving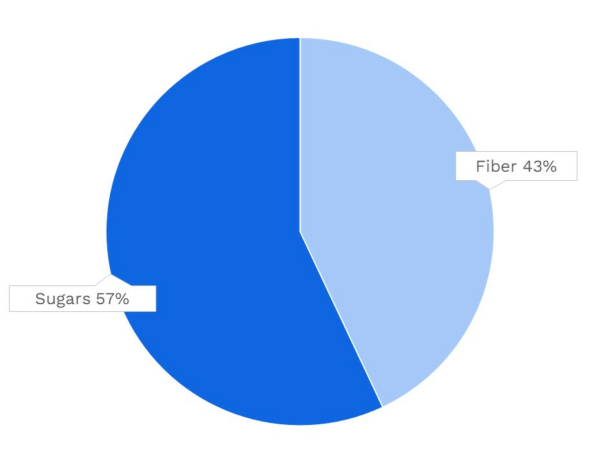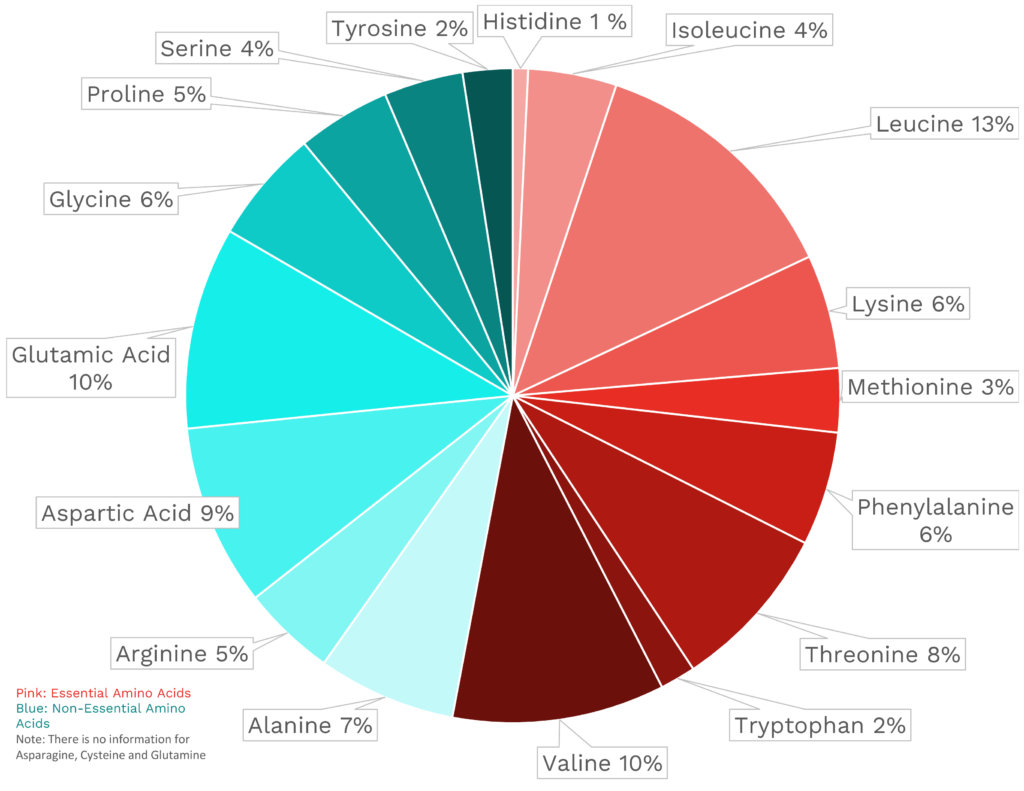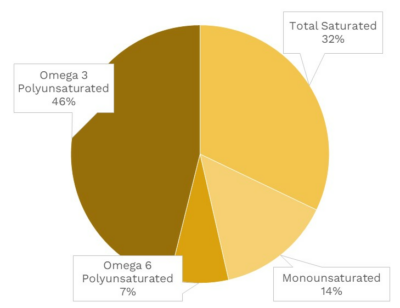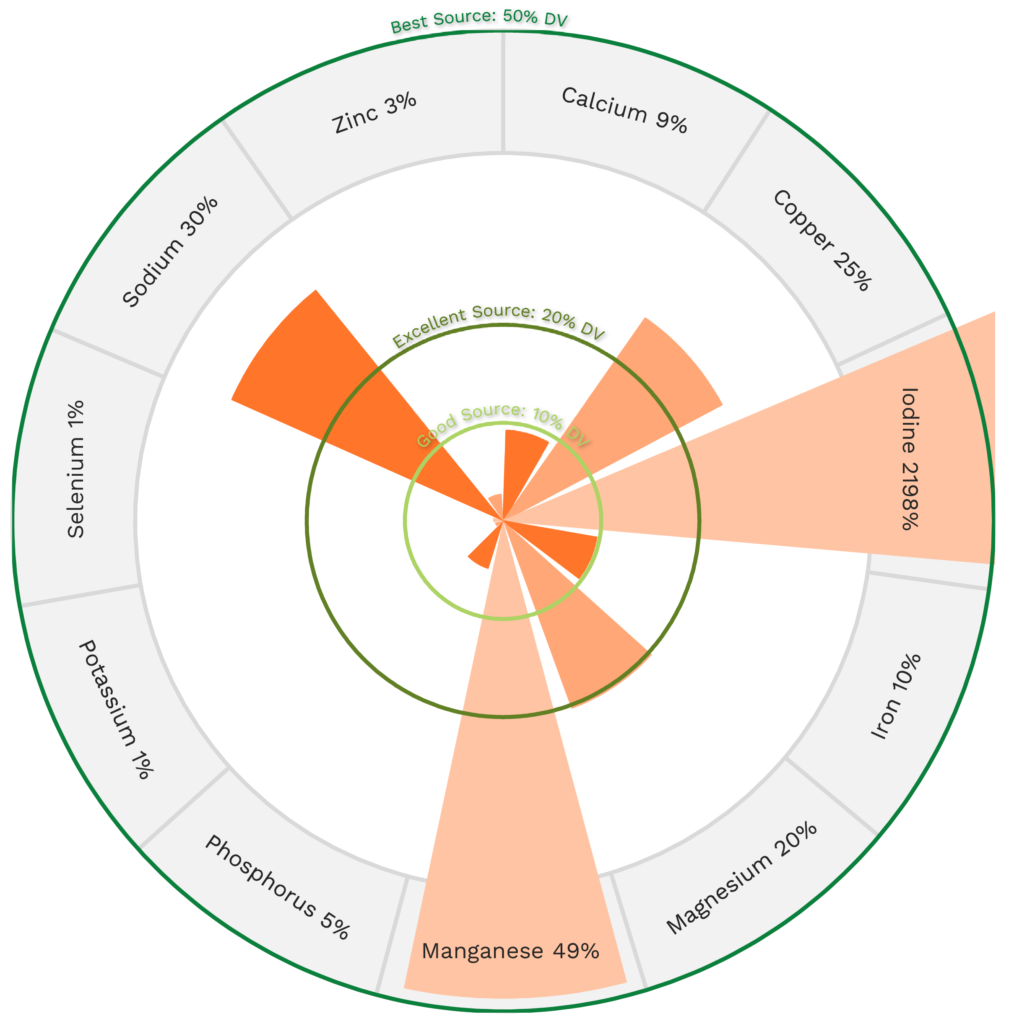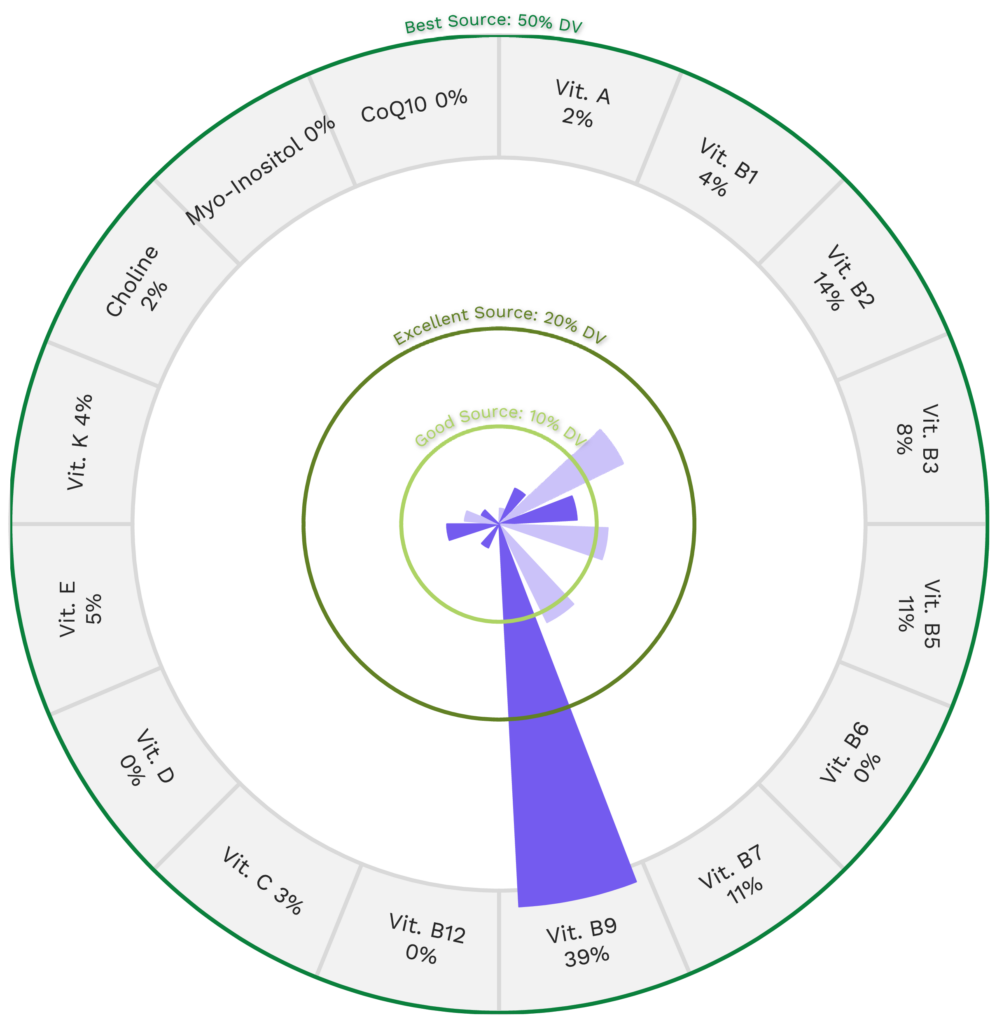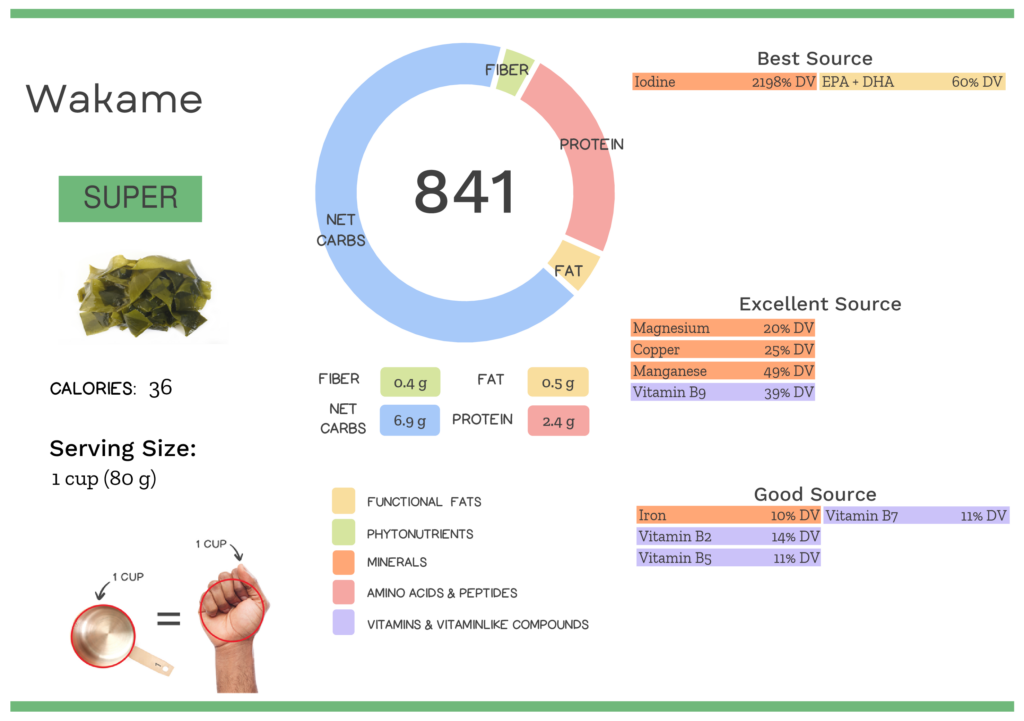 Seaweed Nutrition Varies With Variety
There are many types of edible seaweed, each with their own unique flavor and nutrient profile, which means their Nutrivore Scores vary too. To maximize all the benefits sea vegetables have to offer, try incorporating different types of seaweed into your diet, enjoying these gifts from the sea in whichever way your taste buds prefer!
| | NUTRIVORE SCORE |
| --- | --- |
| Agar, raw | 456 |
| Irishmoss, raw | 602 |
| Kelp, raw | 700 |
| Nori (laver), raw | 1520 |
| Wakame, raw | 841 |
Impressed to "sea" all the nutrition in wakame? Maybe your friends will be interested too!
Health Benefits of Wakame Nutrients
Let's take a closer look at all of the best and excellent source of nutrients found in a 1-cup serving of wakame and see how they benefit our health.
Wakame Provides 2198% DV Iodine
Wakame is a phenomenal source of iodine, providing a whopping 2198% of the daily value per 1-cup serving!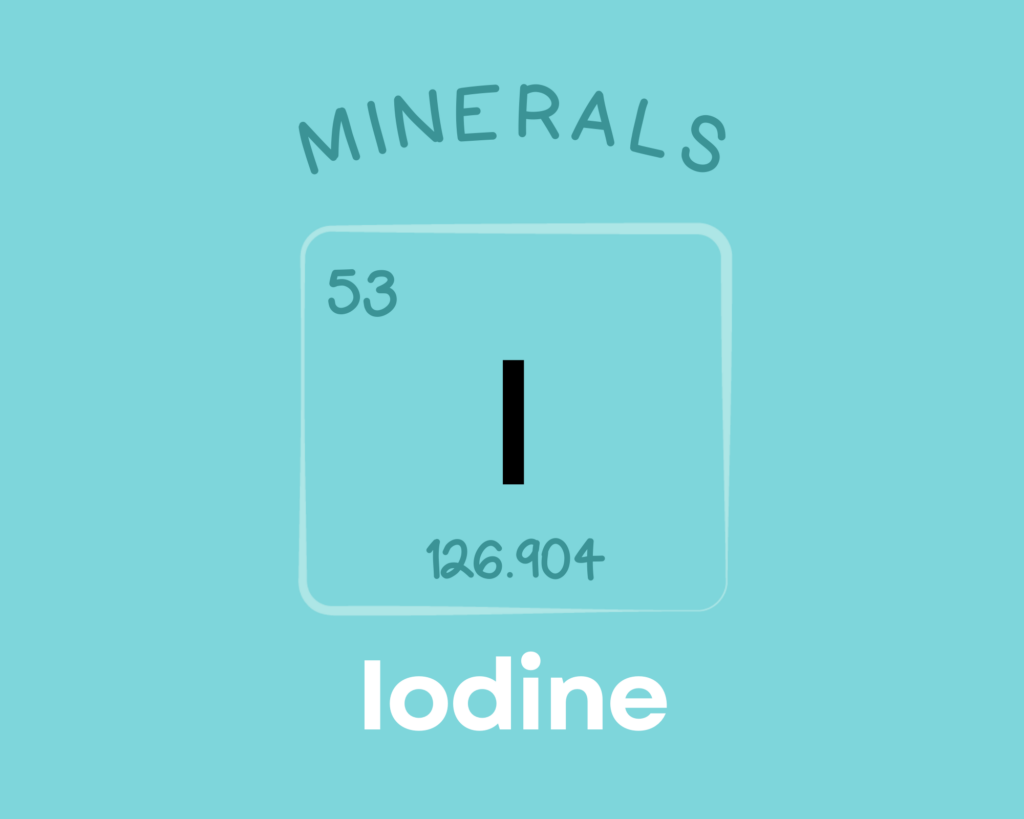 Iodine is a trace mineral that serves as a structural component of thyroid hormones, giving it a major role in thyroid health and function. As a result, it's involved in regulating metabolism, reproductive function, fatty acid release, carbohydrate absorption, growth, and development. Consuming adequate amounts is particularly important during pregnancy (for preventing complications like preeclampsia, preterm delivery, miscarriage, and stillbirth) and during childhood (where it supports central nervous system development). Untreated iodine deficiency can lead to goiter and hypothyroidism. Learn more about iodine here.
Wakame Provides 60% DV EPA+DHA
Wakame is a fantastic source of EPA+DHA, providing 60% of the daily value per 1-cup serving!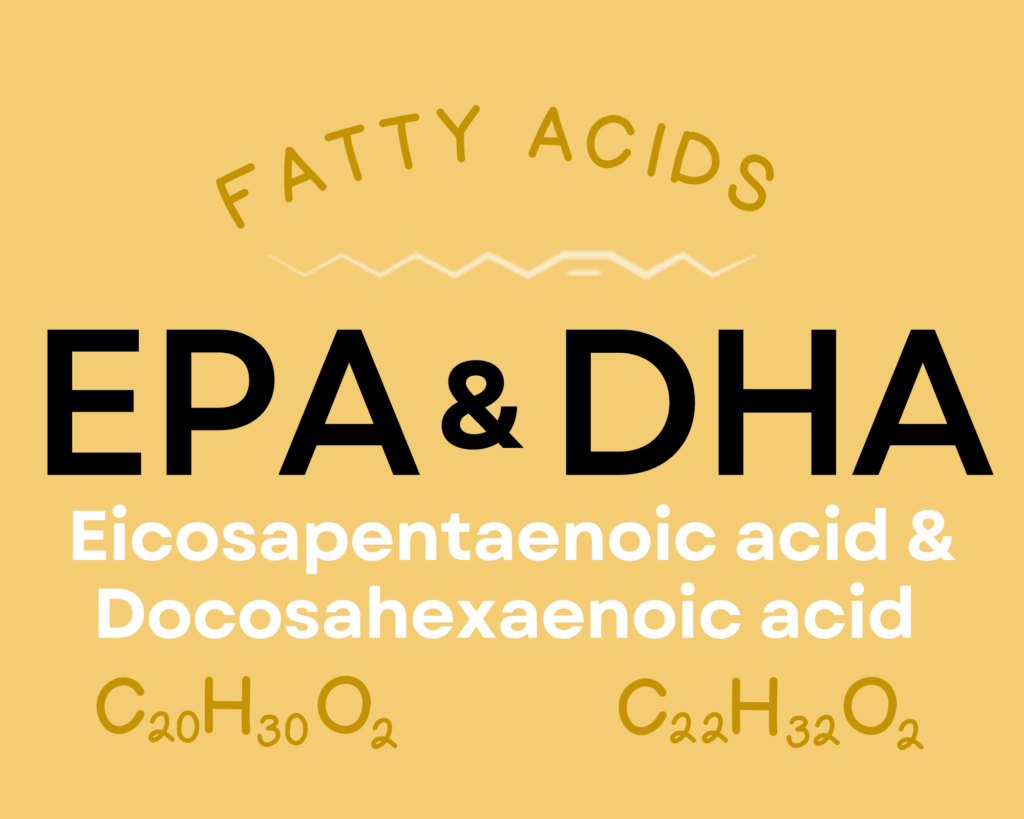 Eicosapentaenoic acid (EPA) and docosahexaenoic acid (DHA) are long-chain omega-3 fats that play important roles in neurological health, immune function, eye health and vision, inflammation, pain signaling, gut health, fetal development, and some aspects of cardiovascular health (like triglyceride levels and blood clotting). They exert many of their effects by helping form chemical messengers called prostaglandins, thromboxanes, and leukotrienes. EPA and DHA also serve as a structural component of the cell membrane, influencing important properties such as membrane fluidity and permeability. Small amounts of them can be synthesized from a shorter-chain omega-3 fat, alpha-linolenic acid (ALA). Learn more about EPA and DHA here.
Wakame Provides 49% DV Manganese
Wakame is an excellent source of manganese, providing 49% of the daily value per 1-cup serving!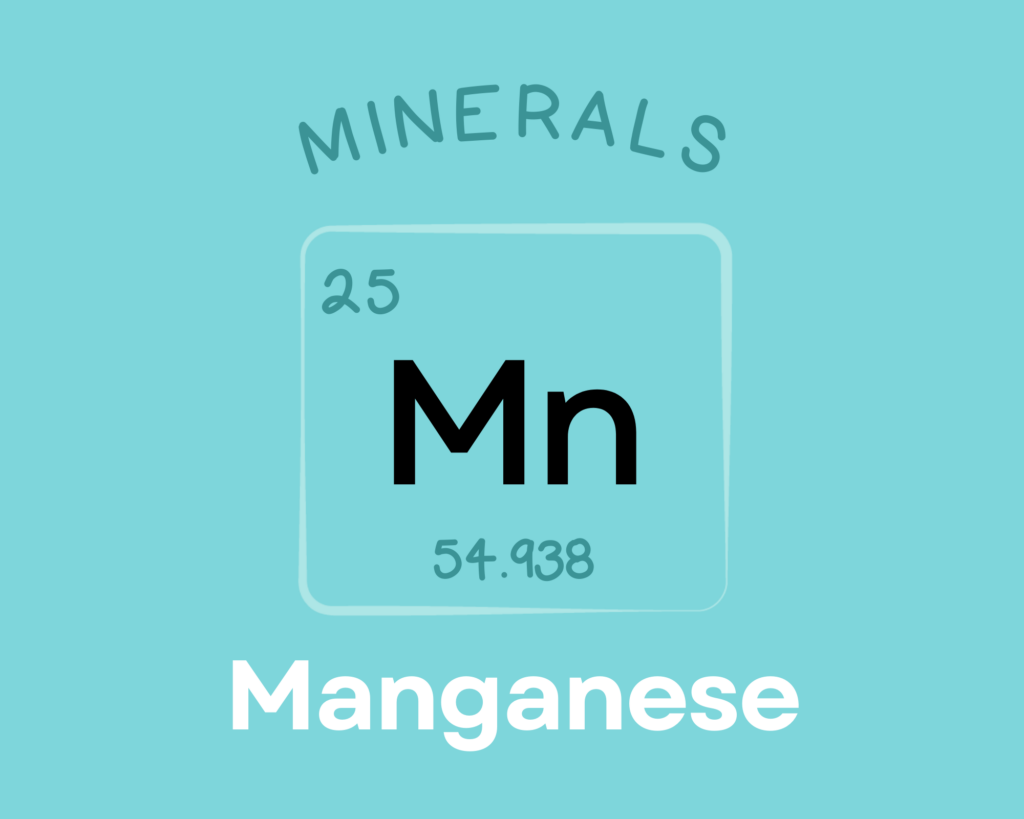 Manganese is an essential mineral that serves as a cofactor and component of numerous enzymes. Through these roles, it's involved in carbohydrate metabolism, amino acid synthesis, gluconeogenesis, detoxification, lipid processing, free radical defense, bone and collagen formation, and wound healing. Although the research so far is limited, some evidence suggests that manganese can protect against osteoporosis and diabetes, and may even be involved in seizure disorders. Learn more about manganese here.
Wakame Provides 39% DV Vitamin B9 (Folate)
Wakame is also an excellent source of vitamin B9 (folate), providing 39% of the daily value per 1-cup serving!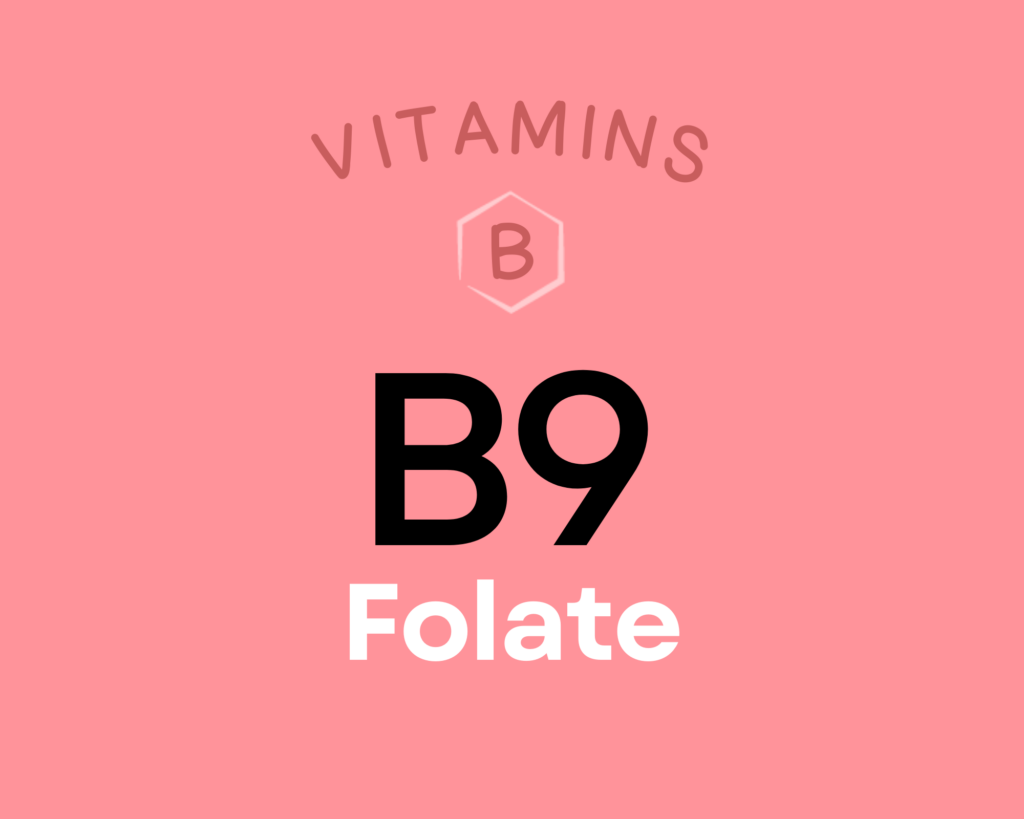 Vitamin B9 (folate) is an essential B vitamin that plays roles in blood cell production, the formation of genetic material (including DNA), and cell growth and function. It's particularly important during pregnancy, when folate demands increase due to the rapid creation of new cells and DNA. Along with helping protect against fetal development problems, folate can support cardiovascular health, potentially protect against certain cancers, and reduce the risk of cognitive and neurological disorders later in life. Learn more about vitamin B9 here.
Wakame Provides 25% DV Copper
Wakame is a great source of copper, providing 25% of the daily value per 1-cup serving!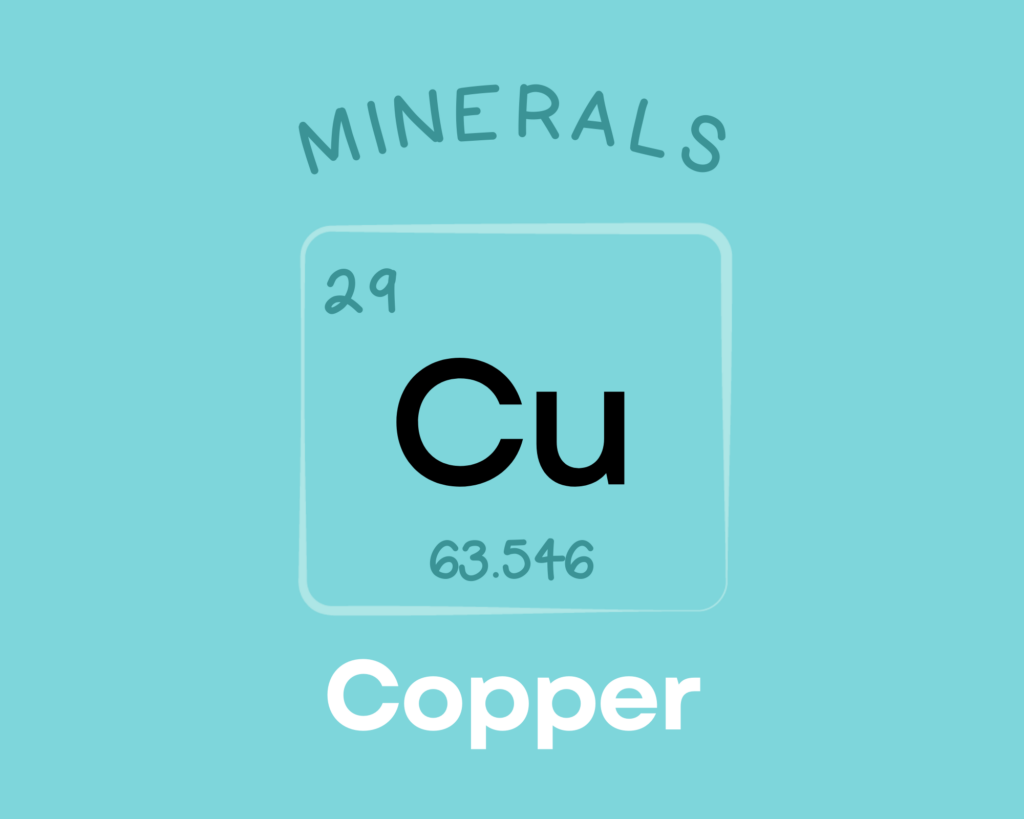 Copper is a trace mineral that's essential for all living organisms. Copper serves as a component of numerous enzymes and proteins in the body, giving it diverse roles in the growth, development, and maintenance of various organs (including the heart and brain), bone, and connective tissue. Copper is also involved in glucose and cholesterol metabolism, helps regulate gene expression, can scavenge free radicals, and is needed for the production of red blood cells. Learn more about copper here.
Wakame Provides 20% DV Magnesium
Wakame is also an excellent source of magnesium, providing 20% of the daily value per 1-cup serving!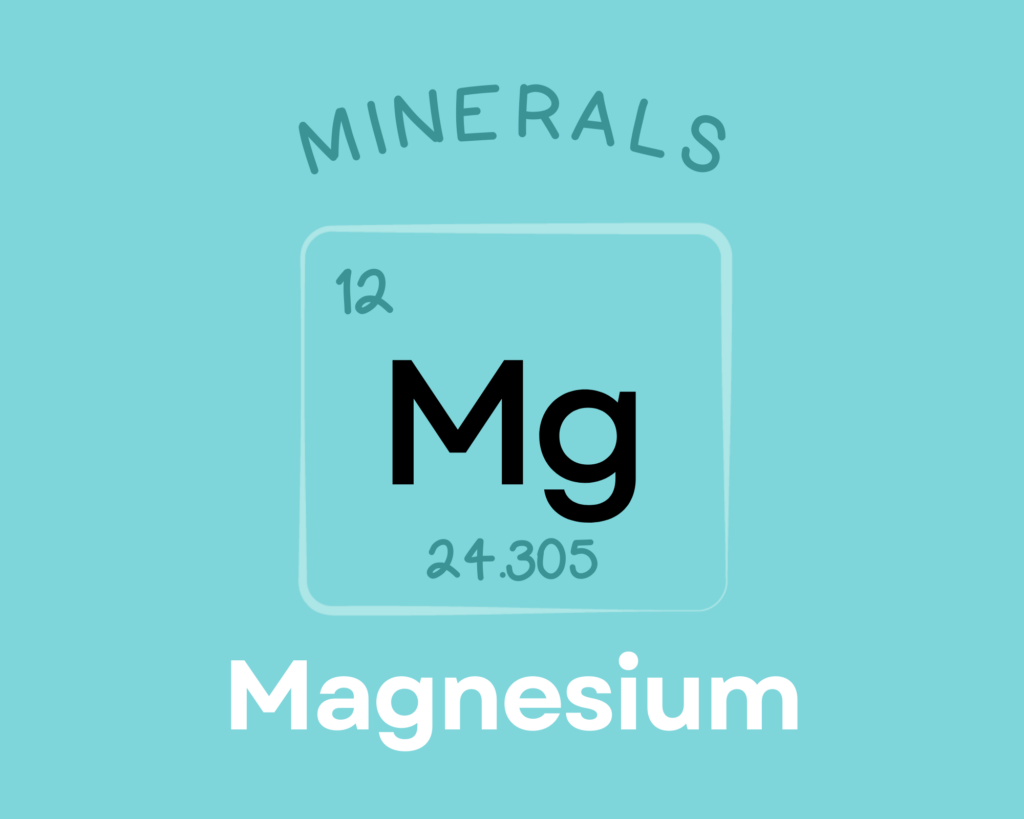 Magnesium is an essential mineral needed by every cell in the body. As an electrolyte, it's important for regulating fluid balance, nerve and muscle function, blood pH, and neurotransmission. It also serves as a cofactor for hundreds of different enzymes, giving it a role over 300 metabolic reactions—including pathways for cell signaling, energy production, protein synthesis, nucleic acid synthesis, and ion transport. Magnesium also has important structural functions in cells and bone tissue. Consuming enough magnesium may help protect against a variety of chronic diseases, including cardiovascular disease, type 2 diabetes, and osteoporosis. Learn more about magnesium here.
Learn What Foods Are the Best Sources of Every Nutrient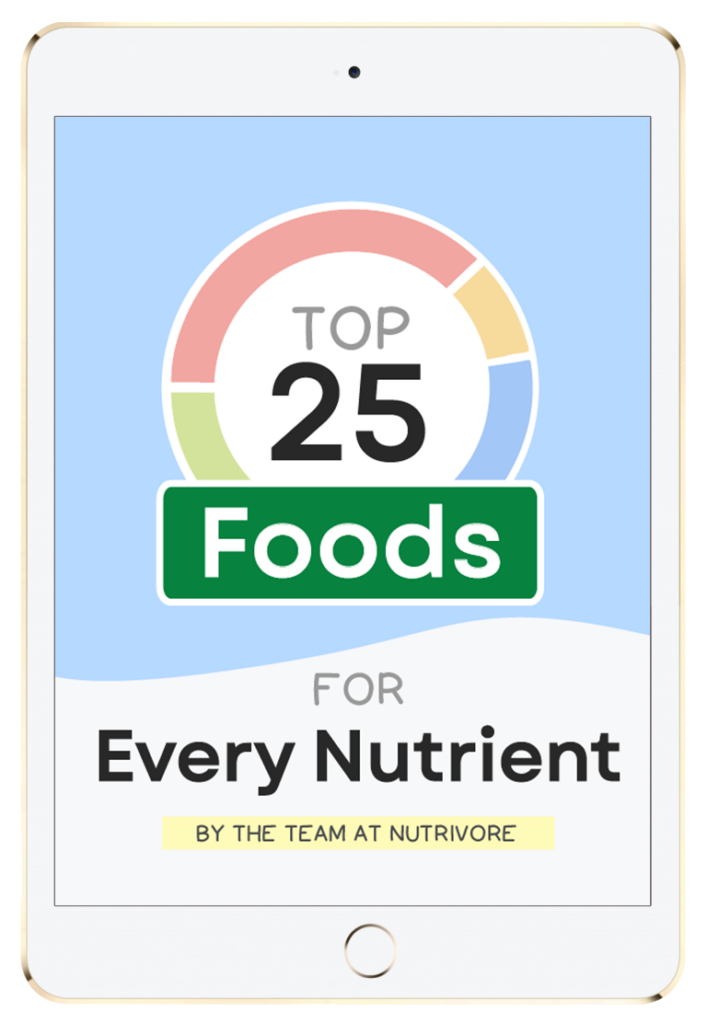 The Top 25 Foods for Every Nutrient
The Top 25 Foods for Every Nutrient e-book is a well-organized, easy-to-use guide to help you choose foods that fit your needs of 42 important nutrients while creating a balanced nutrient-dense diet.
Get two "Top 25" food lists for each nutrient, plus you'll find RDA charts for everyone, informative visuals, fun facts, serving sizes and the 43 foods that are Nutrient Super Stars!
Buy now for instant digital access.
How Much Wakame Should We Eat Per Day?
Sea vegetables are nutritional powerhouses full of health-promoting compounds – in fact they are one of the most unique and nutritious foods on the planet!
Sea vegetables are especially valuable for their unique fiber types (like fucoidans, laminarins, alginates), carotenoids (like fucoxanthin, astaxanthin) and ultra-trace minerals (like vanadium). And, it doesn't take much to deliver a measurable health benefit! A 2020 study showed that eating seaweed almost every day reduced risk of cardiovascular disease by 21% in men and a 20% in women, compared to never eating seaweed. A 2021 study showed that eating more sea vegetables per day reduced risk of all-cause mortality by 6% (the median intake was 6.6. grams daily for males and 9 grams daily for females).
A serving of fresh or rehydrated seaweed is 1-cup (about 15 grams), whereas a serving is 5 grams for dried sea vegetables and 3 grams for sheets (like nori wraps). Some sea vegetables can have very high iodine content (especially kelp like kombu), so it's worth making sure you don't exceed the tolerable upper limit of iodine by overdoing sea vegetables. If you stick with lower iodine content sea vegetables like nori and wakame, a serving or two per day, generally won't exceed the tolerable upper limit of iodine. Learn more about iodine here.
It's always best to mix up the veggies you eat day to day (aiming for a wide variety of different vegetables and fruits throughout the week), and wakame definitely has a place at the table.
Easily track your servings of Nutrivore Foundational Foods!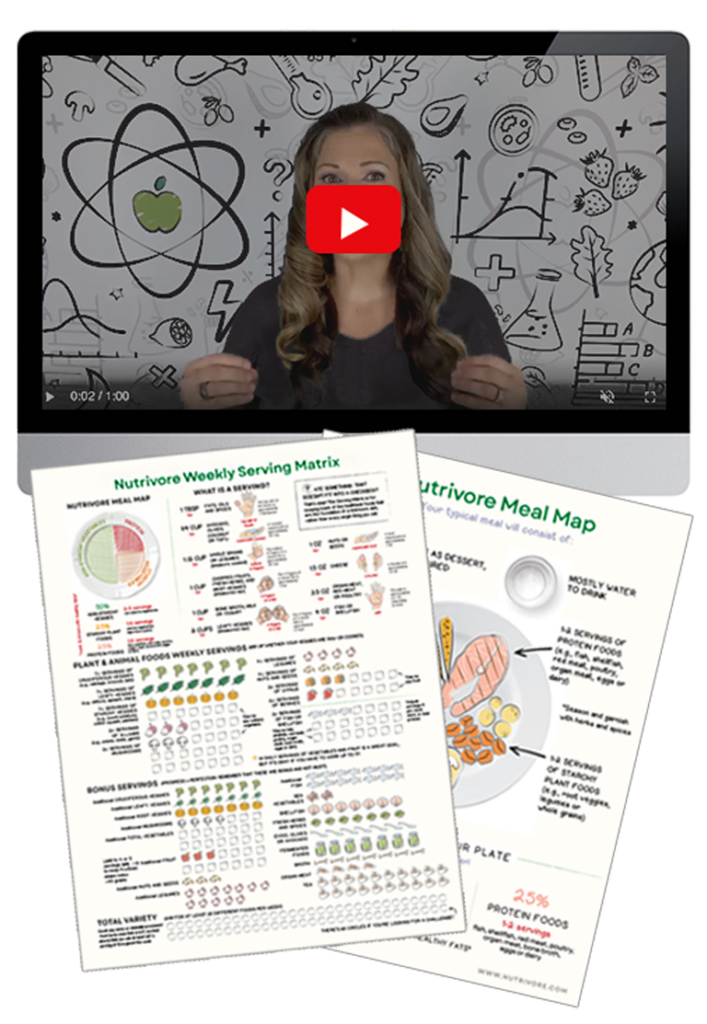 The Nutrivore Weekly Serving Matrix
The Nutrivore Weekly Serving Matrix digital resource is an easy-to-use and flexible weekly checklist designed to help you maximize nutrient-density and meet serving suggestions of Nutrivore foundational foods, all without having to weigh or measure your foods!
Includes a 1-hour video tutorial and downloadable interactive guides.
Buy now for instant digital access.
cITATIONS
Expand to see all scientific references for this article.