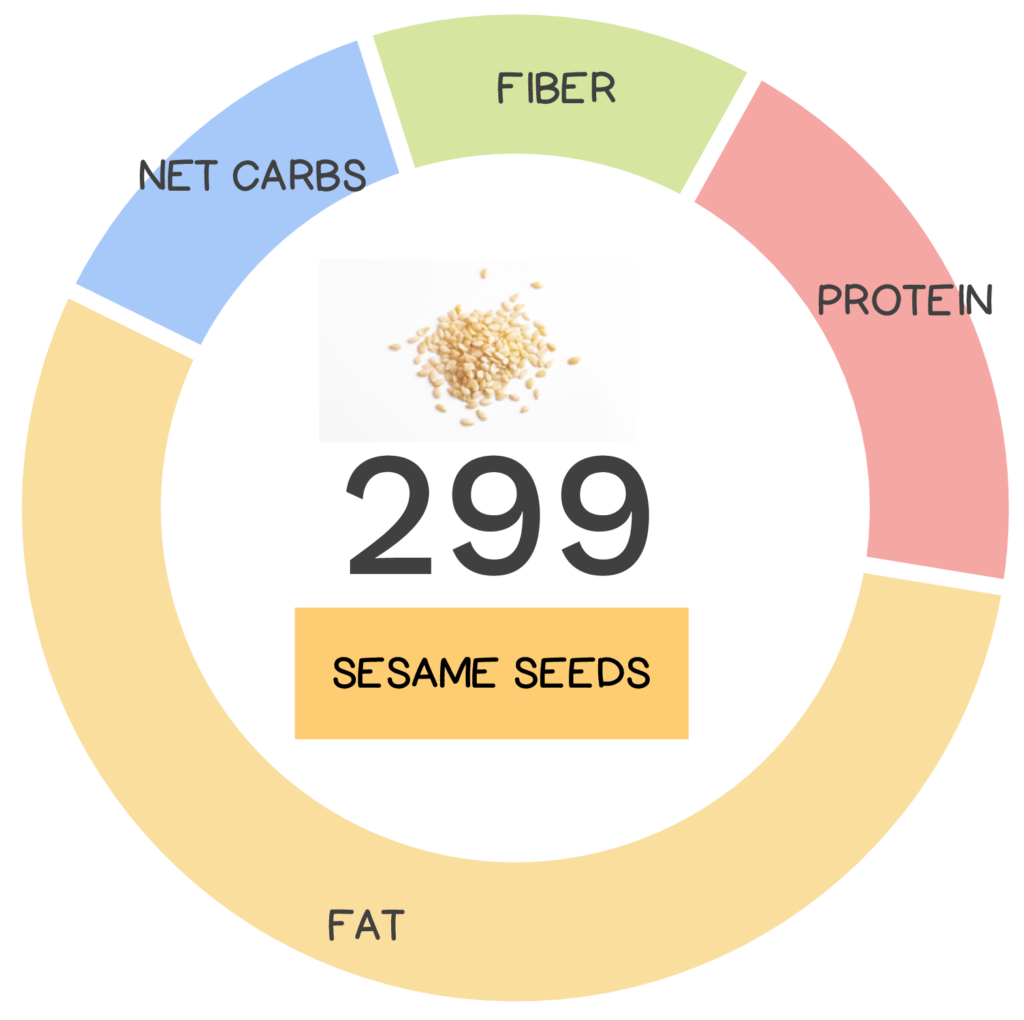 More than just a topping on bagels and buns, sesame seeds are popular in both sweet and savory dishes in cuisines around the world, especially as an Asian condiment sprinkled over salads, soups and stir-fries and in Middle Eastern cuisine, where the seeds are ground to make tahini. With a rich, nutty, slightly sweet flavor, that is enhanced with toasting, these crunchy, tiny little seeds are also packed with nutrition!
The sesame plant (Sesamum indicum), which originated in India and was domesticated over 5,000 years ago for its edible seeds, is actually considered the oldest oilseed crop on record. Interestingly, the seeds grow in pods that burst open when ripe (Open sesame!), though non-bursting varieties have been developed to aid with mechanical harvesting. Sesame, was and is, an important staple crop because of its heat and drought tolerance which allows it to grow where many other crops fail, earning it the title of 'survivor crop'. Egyptians called it 'sesemt' and valued it as a medicinal drug with baskets of sesame uncovered in the grave of King Tutankhamen. Today it is widely-grown in tropical regions around the world as a high-value cash-crop. Leading producers of sesame include Sudan, Myanmar, and India and world-wide production approximates 6 million tonnes!
These tiny, egg-shaped seeds are available in a variety of colors including off-white (most common), black, brown, gold, gray, tan, and reddish. Lighter colored seeds have a delicate flavor and are popular in Western countries, West Asia and India, while darker colored seeds have a stronger flavor and are popular in China and Southeast Asia. Sesame has one of the highest oil contents of any known seed, with sesame seed oil being a popular ingredient in Asian and Middle Eastern cooking, especially in China, India, and Japan. These seeds can also be made into a paste which works as a peanut butter substitute and the byproduct from oil production is even used as animal feed. To say this tiny seed is versatile would be an understatement!
Everything You Need to Jump into Nutrivore TODAY!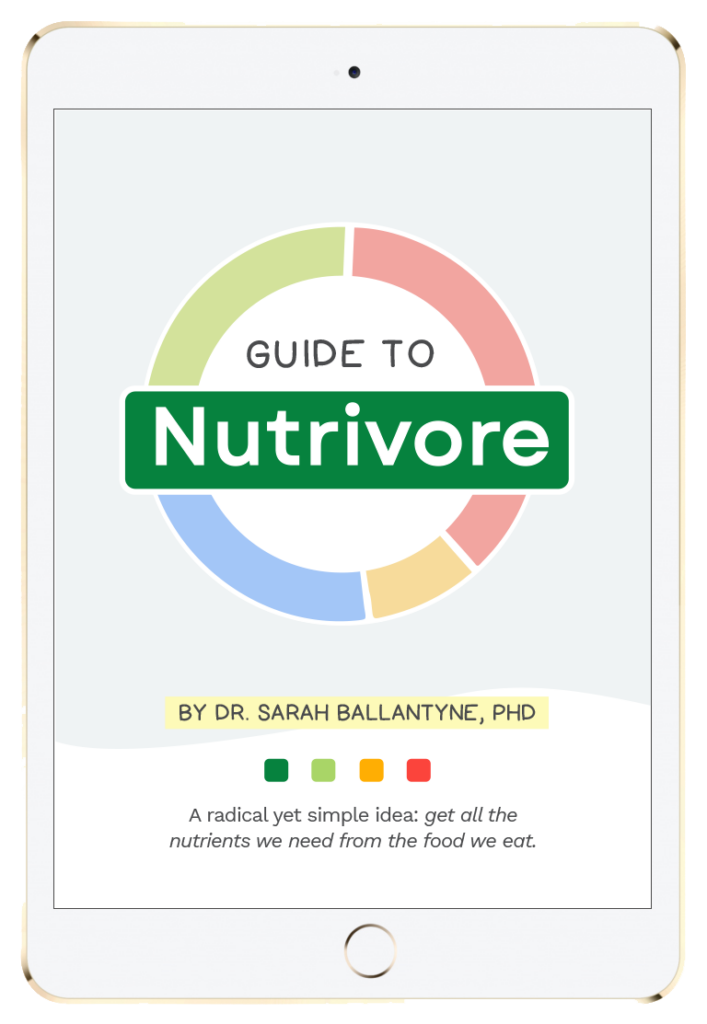 Guide to Nutrivore
The Guide to Nutrivore e-book explains why and how to eat a Nutrivore diet, introduces the Nutrivore Score, gives a comprehensive tour of the full range of essential and important nutrients!
Plus, you'll find the Top 100 Nutrivore Score Foods, analysis of food groups, practical tips to increase the nutrient density of your diet, and look-up tables for the Nutrivore Score of over 700 foods.
Nutrivore Score for Sesame Seeds – 299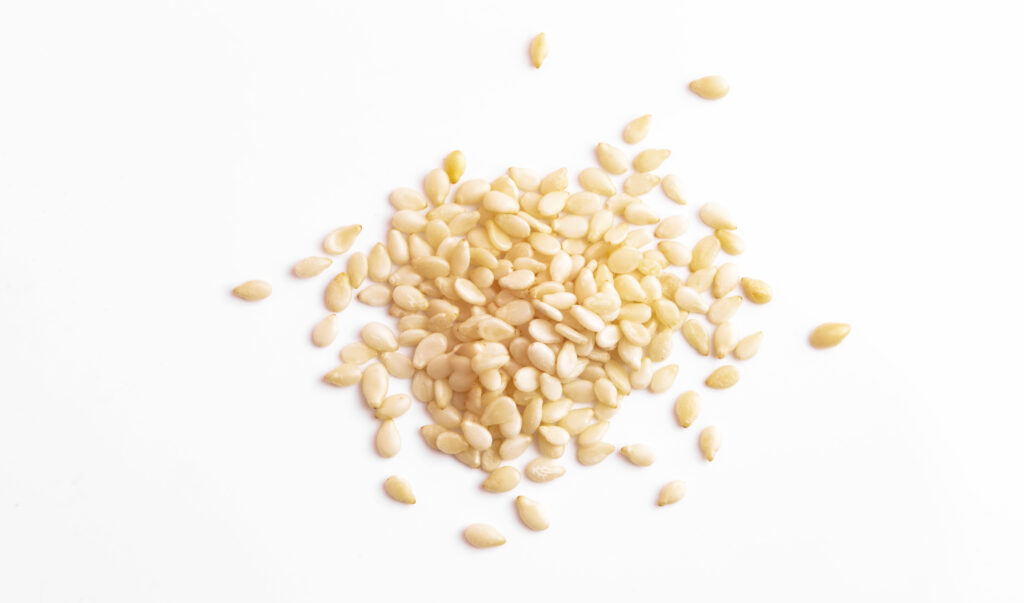 Sesame seeds have a Nutrivore Score of 299, making them a medium nutrient-dense food! Plus, they are a low-carb food; sesame seeds have 3.3 grams of net carbs per 1-ounce serving!
Per serving, sesame seeds are a best source (>50% daily value) of copper; an excellent source (20-50% daily value) of calcium, iron, linoleic acid, magnesium, manganese, monounsaturated fatty acids (MUFA), polyphenols, and zinc; and a good source (10-20% daily value) of coQ10, dietary fiber, phosphorus, protein, selenium, vitamin B1 (thiamin), vitamin B6 (pyridoxine), and vitamin B7 (biotin).
Want to Know the Top 100 Nutrivore Score Foods?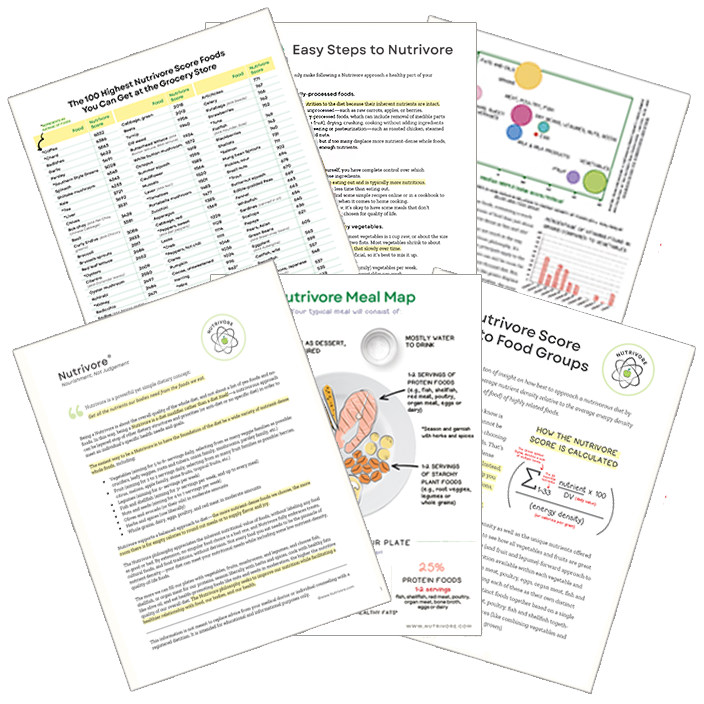 Get it Directly in Your Inbox!
The Nutrivore Newsletter is a weekly email that delivers bite-size fun facts, practical tips, recipes and resources. Sign up now and get 5 free guides directly to your inbox:
Easy Steps to Nutrivore 4-page guide
Nutrivore Foundational Foods 6-page guide
Nutrivore Score Guide to Food Groups 3-page guide
Nutrivore Meal Map
Top 100 Nutrivore Score Foods
Sesame Seed Nutrition Facts
One serving of sesame seeds (whole and dried) is standardized to 28 grams (1 ounce). To put this in perspective: one serving of whole sesame seeds, dried is roughly equivalent to 1/5 cup whole sesame seeds.
Sesame Seed Nutrition Facts Per Serving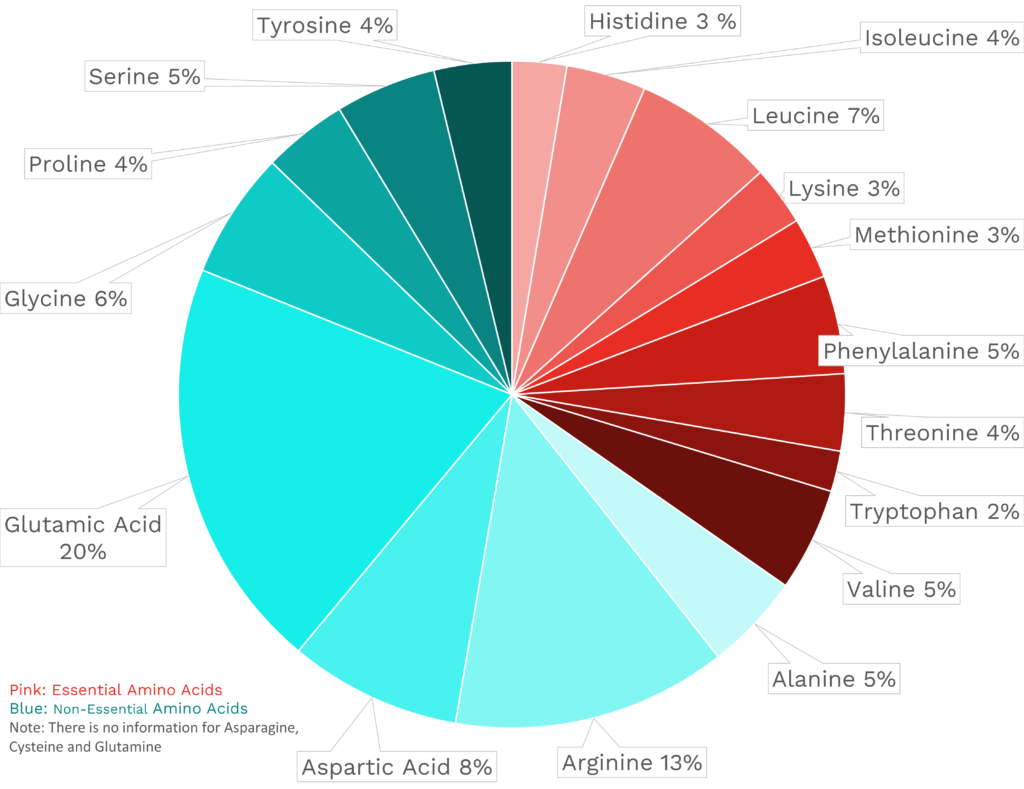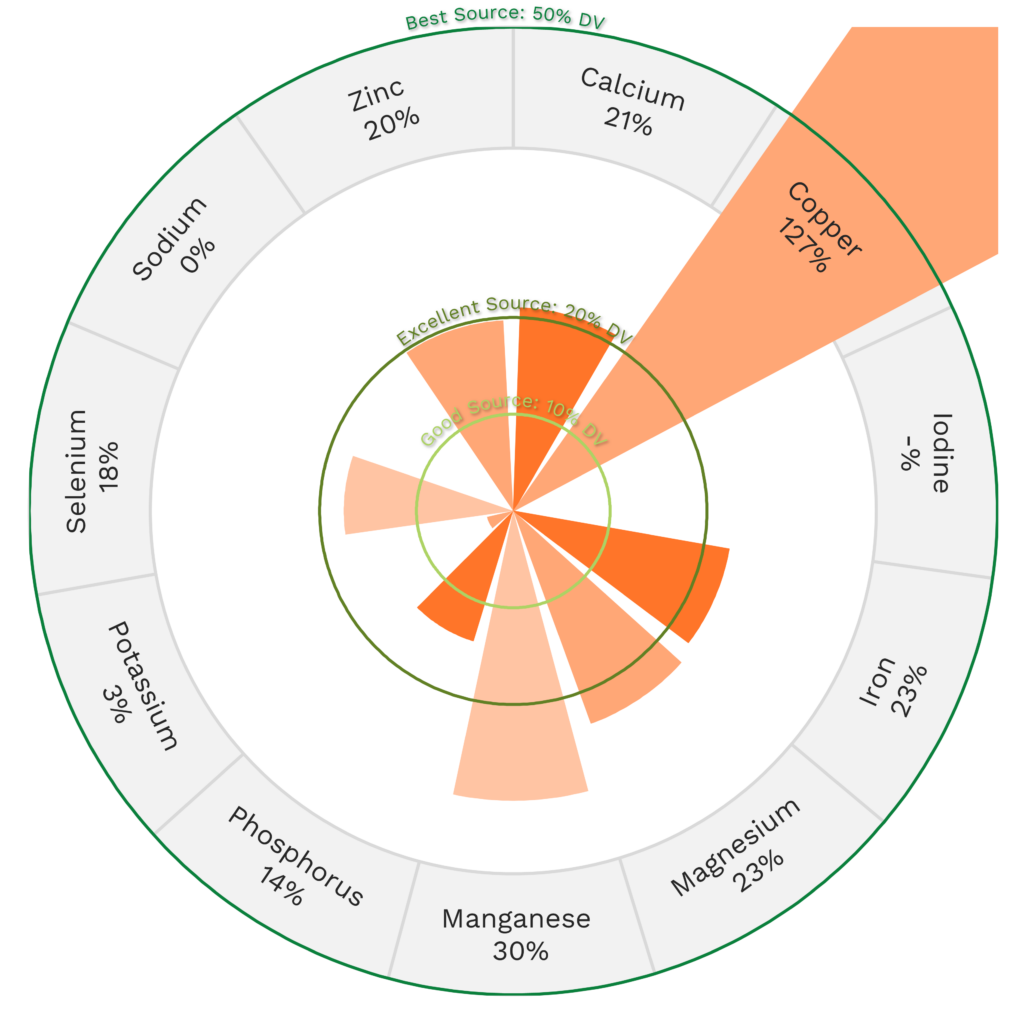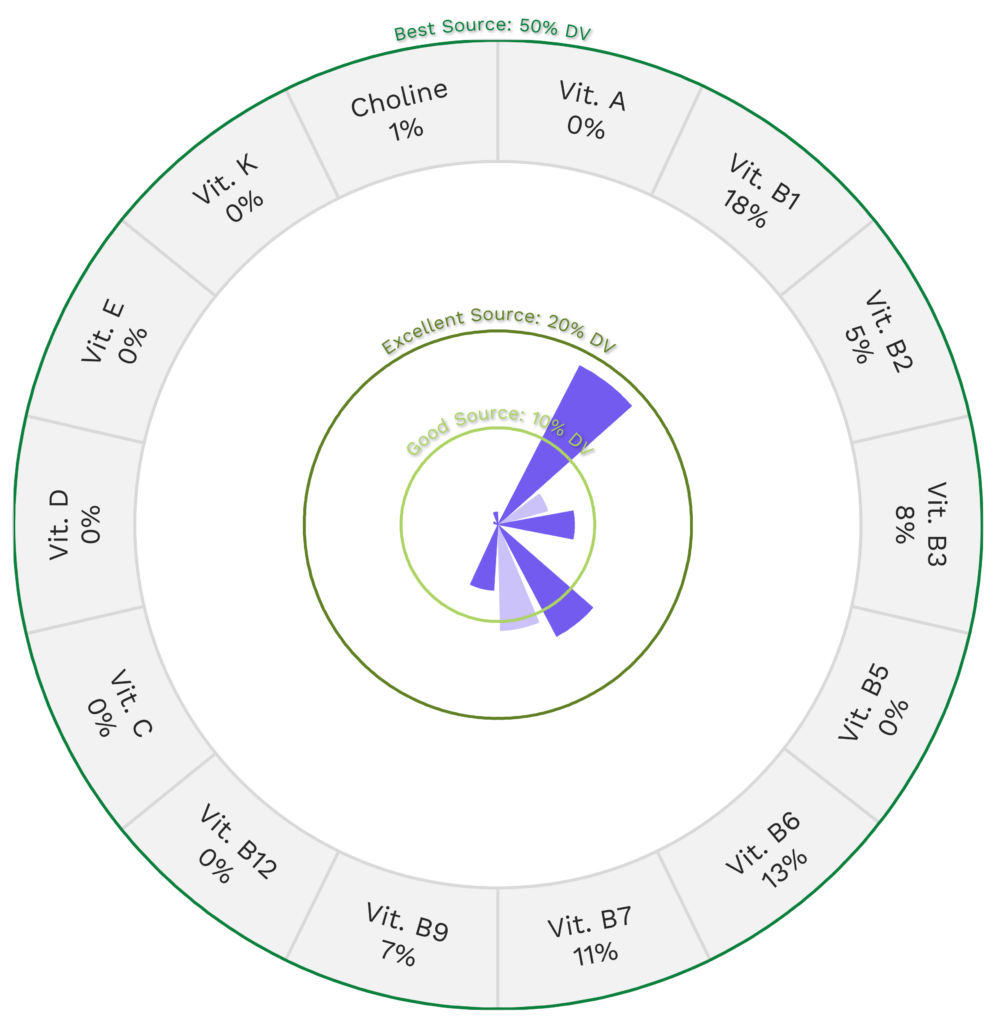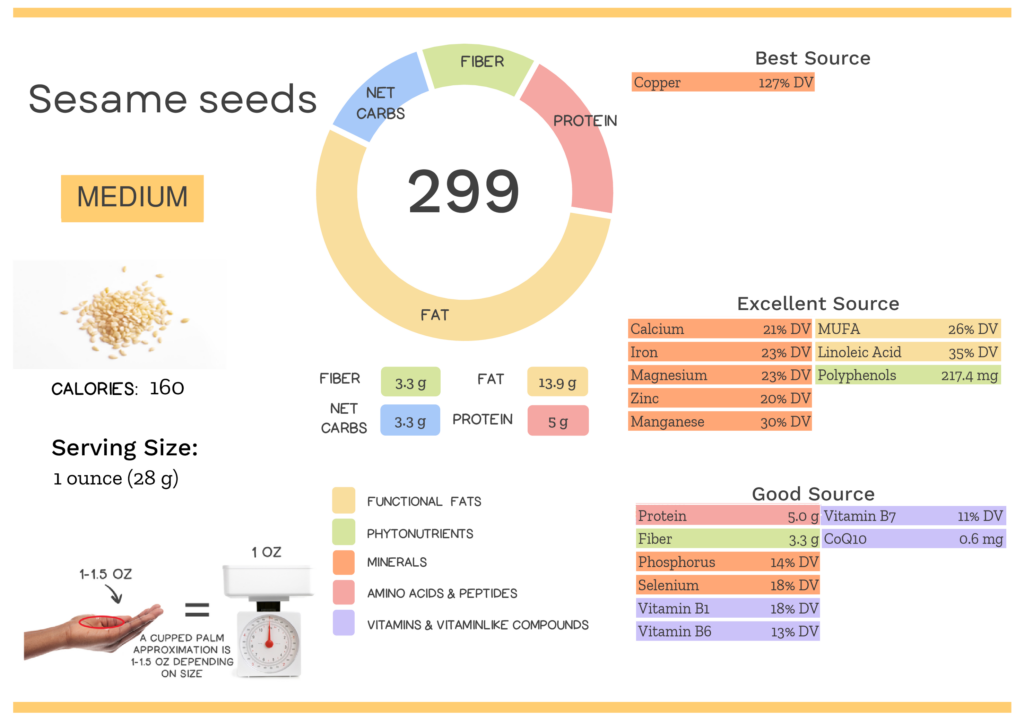 Sesame Seed Nutrition Varies With Cooking and Processing
The Nutrivore Score of sesame seeds varies depending on cooking and processing. This seed is available in a variety of colors, with and without the exterior hull (decorticated), and is enjoyed plain or toasted, which enhances its flavor. Sesame seeds are ground to prepare tahini, which is a traditional Middle Eastern condiment, and are made into a paste which works as a peanut butter substitute, while sesame oil is also a popular ingredient in Asian cuisine.
| | NUTRIVORE SCORE |
| --- | --- |
| Sesame oil, salad or cooking | 127 |
| Sesame seed butter, paste | 289 |
| Sesame seed butter, tahini, from raw and stone ground kernels | 2011 |
| Sesame seed butter, tahini, from roasted and toasted kernels (most common type) | 212 |
| Sesame seed butter, tahini, from unroasted kernels (non-chemically removed seed coat) | 2121 |
| Sesame seed butter, tahini, type of kernels unspecified | 1911 |
| Sesame seed kernels, dried (decorticated) | 173 |
| Sesame seed kernels, toasted, with salt added (decorticated) | 205 |
| Sesame seed kernels, toasted, without salt added (decorticated) | 205 |
| Sesame seeds, whole, dried | 299 |
| Sesame seeds, whole, roasted and toasted | 271 |
1Nutrivore Score may be higher since 10 to 25% of data is missing.
Did all the nutrition in sesame seeds ex-seed your expectations? Maybe your friends will be impressed too!
Health Benefits of Sesame Seed Nutrients
Let's take a closer look at all of the best and excellent source of nutrients found in a 1-ounce serving of sesame seeds and see how they benefit our health.
Sesame Seeds Provide 127% DV Copper
Sesame seeds are a best source of copper, providing 127% of the daily value per 1-ounce serving!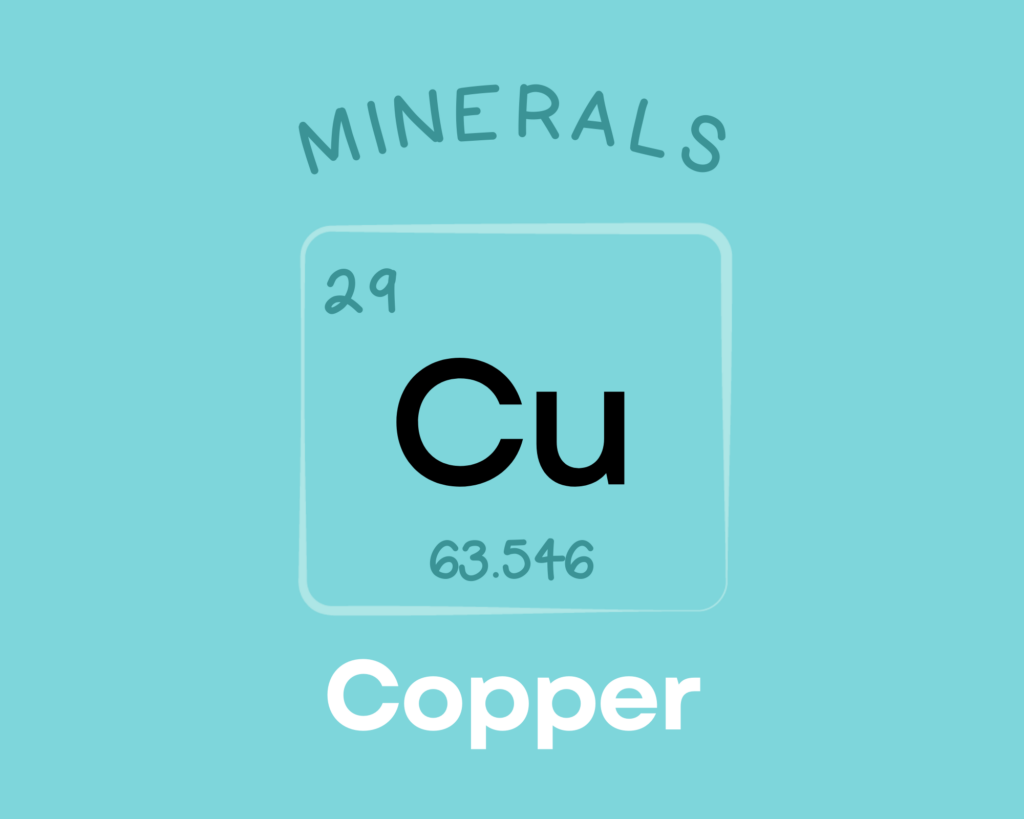 Copper is a trace mineral that's essential for all living organisms. Copper serves as a component of numerous enzymes and proteins in the body, giving it diverse roles in the growth, development, and maintenance of various organs (including the heart and brain), bone, and connective tissue. Copper is also involved in glucose and cholesterol metabolism, helps regulate gene expression, can scavenge free radicals, and is needed for the production of red blood cells. Learn more about copper here.
Sesame Seeds Provide 35% DV Linoleic Acid
Sesame seeds are an excellent source of linoleic acid, providing 35% of the daily value per 1-ounce serving!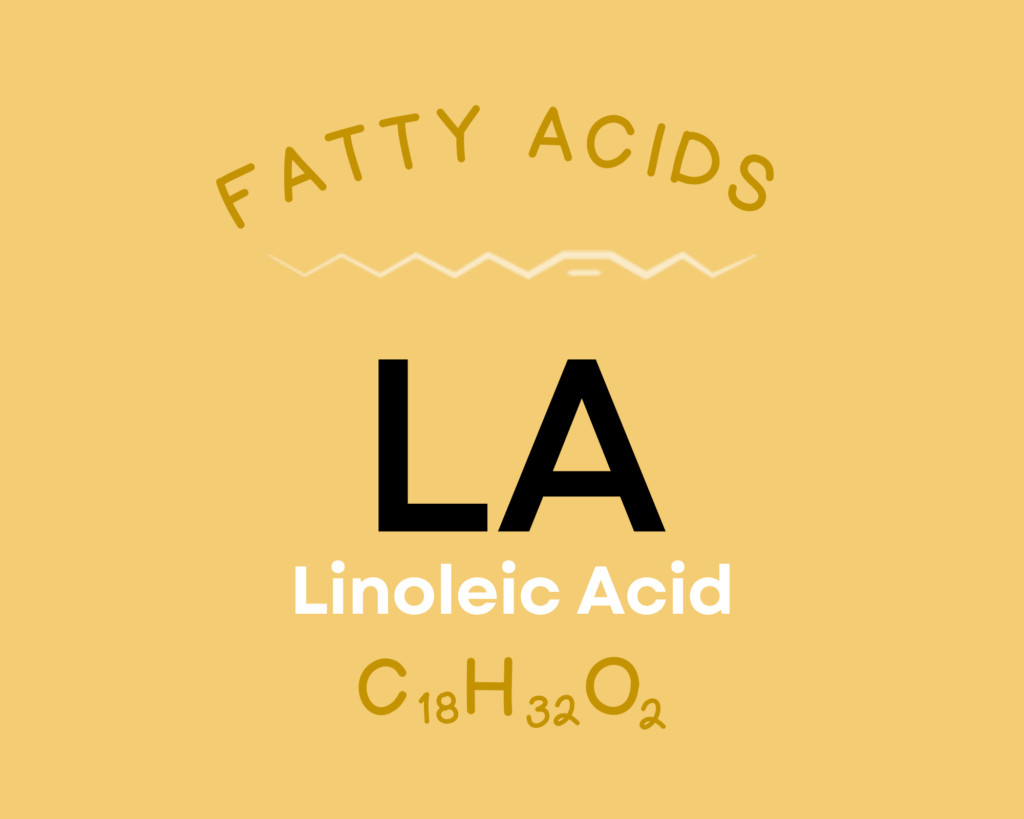 Linoleic acid is the only essential omega-6 fatty acid. Along with being required for human growth and development, it serves as a structural component of cell membranes, plays a role in maintaining skin health and integrity, and is a precursor for bioactive lipid mediators. Although linoleic acid can lower LDL cholesterol levels, research hasn't consistently shown any protective effect against heart disease. Likewise, there's mixed evidence (some showing benefit, some showing harm) for the effects of linoleic acid on cancer. Higher intakes have also been associated with depression and obesity, although it may have a protective effect against diabetes. Learn more here.
Sesame Seeds Provide 30% DV Manganese
Sesame seeds are also an excellent source of manganese, providing 30% of the daily value per 1-ounce serving!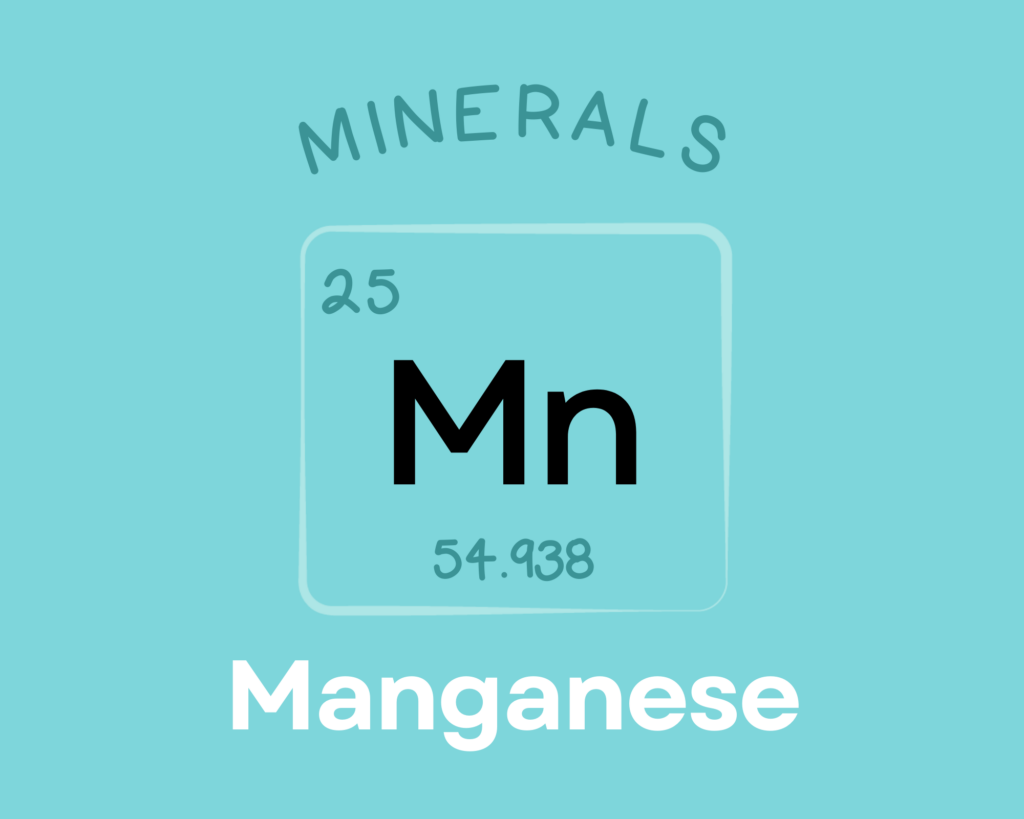 Manganese is an essential mineral that serves as a cofactor and component of numerous enzymes. Through these roles, it's involved in carbohydrate metabolism, amino acid synthesis, gluconeogenesis, detoxification, lipid processing, free radical defense, bone and collagen formation, and wound healing. Although the research so far is limited, some evidence suggests that manganese can protect against osteoporosis and diabetes, and may even be involved in seizure disorders. Learn more about manganese here.
Sesame Seeds Provide 217.4 mg of Polyphenols
Sesame seeds are an excellent source of polyphenols, providing 217.4 mg of polyphenols per 1-ounce serving!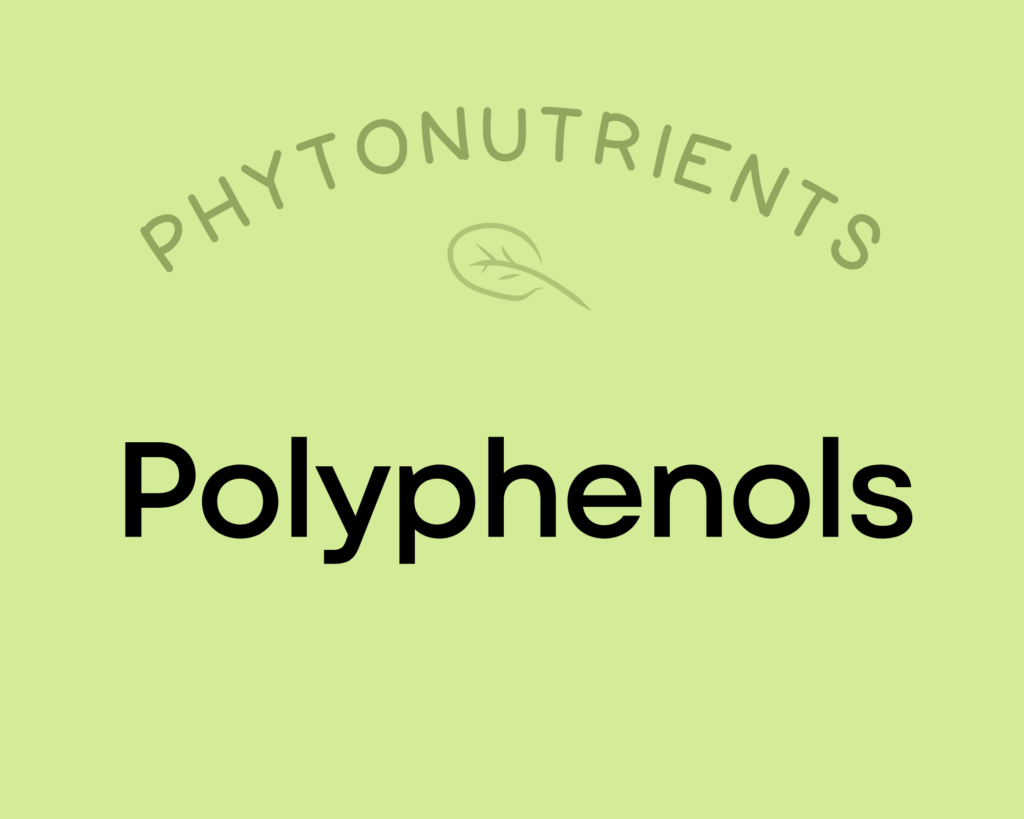 Polyphenols play a huge role in protecting against cancer, heart disease, diabetes, asthma, osteoporosis, neurodegenerative diseases, and other conditions associated with oxidative stress. In fact, a major reason foods like red wine and olive oil (as well as diets rich in both, such as the Mediterranean diet) show up as so beneficial may be due to their high polyphenol content! Along with chronic diseases, supplementing with polyphenols has been shown to protect against infections and reduce the signs of aging. Polyphenols exert their most potent effects by acting as antioxidants—preventing cellular damage by neutralizing hazardous oxygen radicals and improving cellular health as a result (which, in turn, benefits virtually every system in the body). As a result of their antioxidant properties, polyphenols also boost the immune system and protect against both chronic and acute diseases. In addition, polyphenols can help regulate enzyme function, stimulate cell receptors, modulate the functions of inflammatory cells (including T and B lymphocytes, macrophages, platelets, and natural killer cells), alter adhesion molecule expression, affect nerve cells and cardiac muscle cells, and exert antiviral effects. Learn more about polyphenols here.
Sesame Seeds Provide 26% DV Monounsaturated Fatty Acids (MUFA)
Sesame seeds are an excellent source of monounsaturated fatty acids (MUFA), providing 26% of the daily value per 1-ounce serving!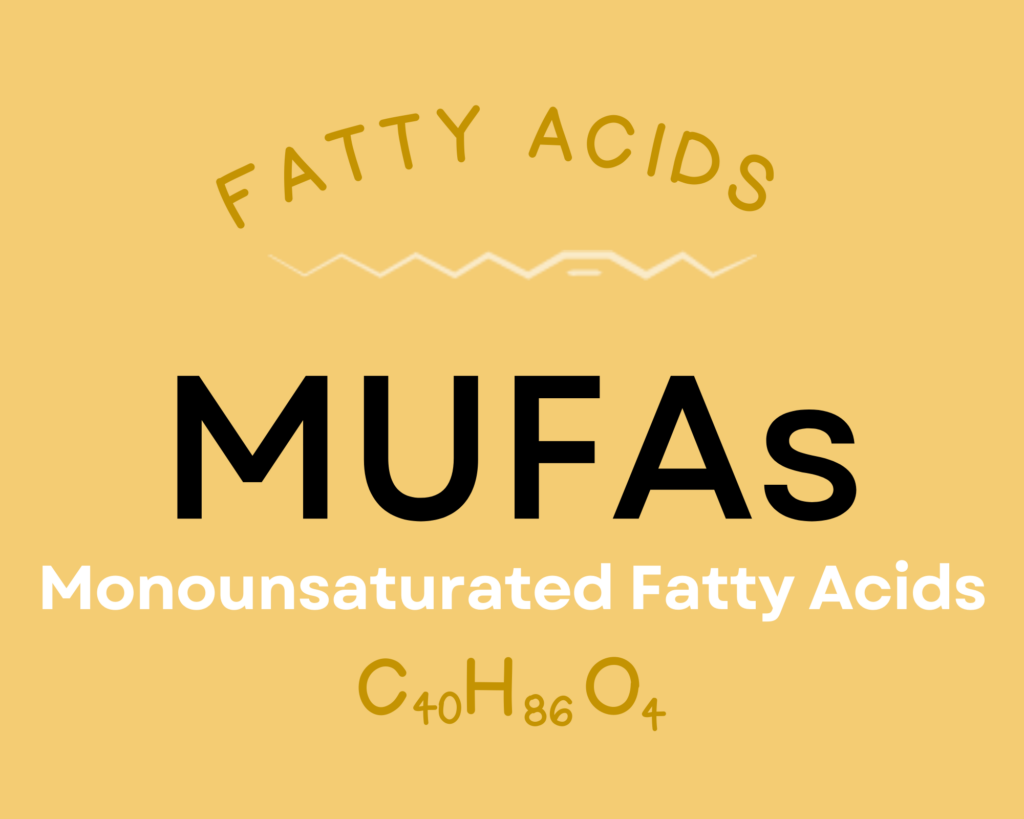 Monounsaturated fatty acids (MUFA), the most abundant of which is oleic acid, play an important role in cellular function due to its presence in phospholipids in cell membranes. Oleic acid is beneficial for cardiovascular health—both in reducing risk factors like high blood pressure, cholesterol, triglycerides, inflammation, and oxidative stress, and in reducing actual cardiovascular disease incidence and events. Oleic acid has even demonstrated anti-cancer activity, with an ability to inhibit the progression, proliferation, and metastasis of several types of cancer cells. Research shows this fat could benefit body weight regulation and obesity through its effects on energy metabolism and lipogenesis. In fact, human trials show that enriching diets with oleic acid leads to decreases in central obesity, abdominal fat, body weight, and food intake, while also possibly increasing energy expenditure! Oleic acid also possesses some benefits for diabetics—influencing genes and pathways involved in insulin signaling and glucose metabolism, as well as helping protect against some complications of diabetes, like diabetic retinopathy and atherosclerosis. Learn more about oleic acid here.
Sesame Seeds Provide 23% DV Iron
Sesame seeds are an excellent source of iron, providing 23% of the daily value per 1-ounce serving!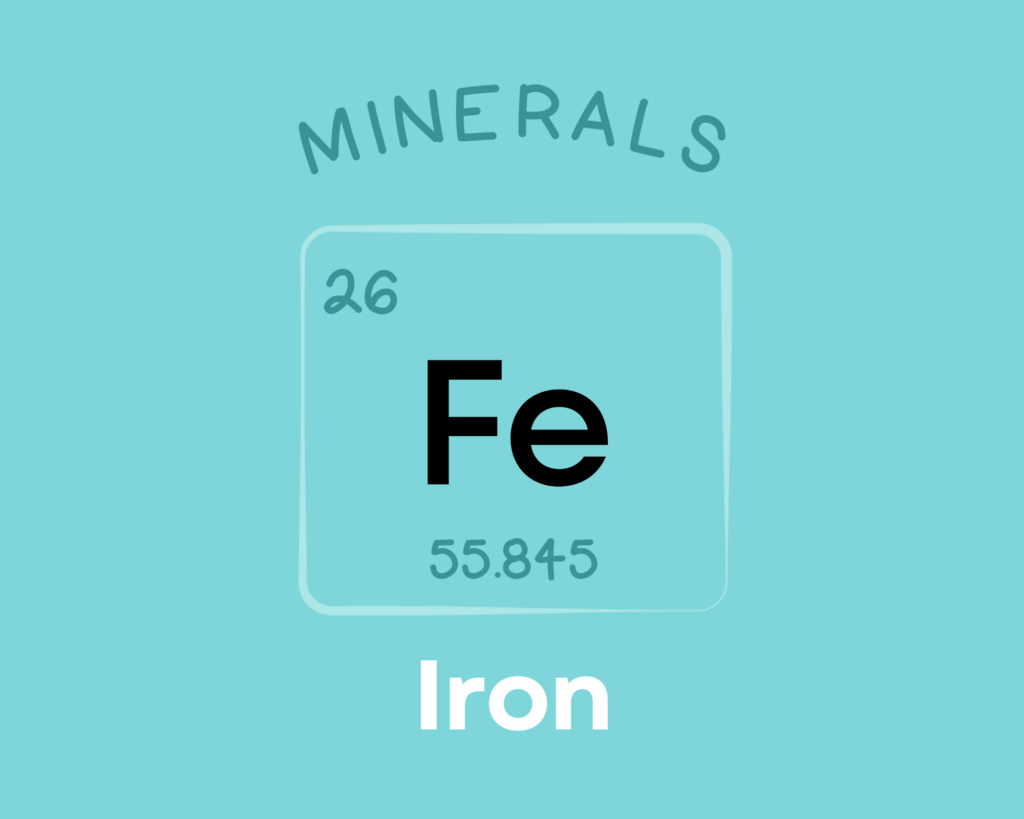 Iron is a mineral required for the metabolism of all living organisms. It's needed for the function of numerous iron-dependent proteins involved in electron transport, energy metabolism, oxygen transport and storage, DNA replication and repair, free radical scavenging, and oxidative processes. It plays an important role in reproductive health, gestation, immunity, and central nervous system development. Learn more about iron here.
Sesame Seeds Provide 23% DV Magnesium
Sesame seeds are also an excellent source of magnesium, providing 23% of the daily value per 1-ounce serving!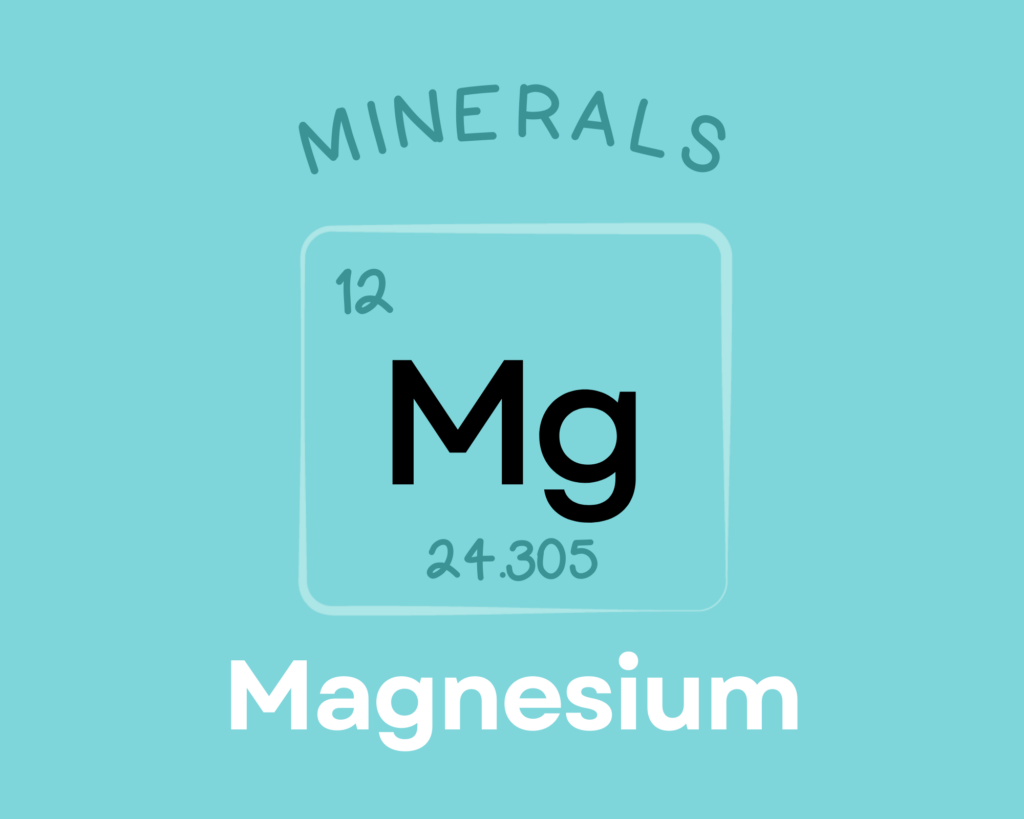 Magnesium is an essential mineral needed by every cell in the body. As an electrolyte, it's important for regulating fluid balance, nerve and muscle function, blood pH, and neurotransmission. It also serves as a cofactor for hundreds of different enzymes, giving it a role over 300 metabolic reactions—including pathways for cell signaling, energy production, protein synthesis, nucleic acid synthesis, and ion transport. Magnesium also has important structural functions in cells and bone tissue. Consuming enough magnesium may help protect against a variety of chronic diseases, including cardiovascular disease, type 2 diabetes, and osteoporosis. Learn more about magnesium here.
Sesame Seeds Provide 21% DV Calcium
Sesame seeds are an excellent source of calcium, providing 21% of the daily value per 1-ounce serving!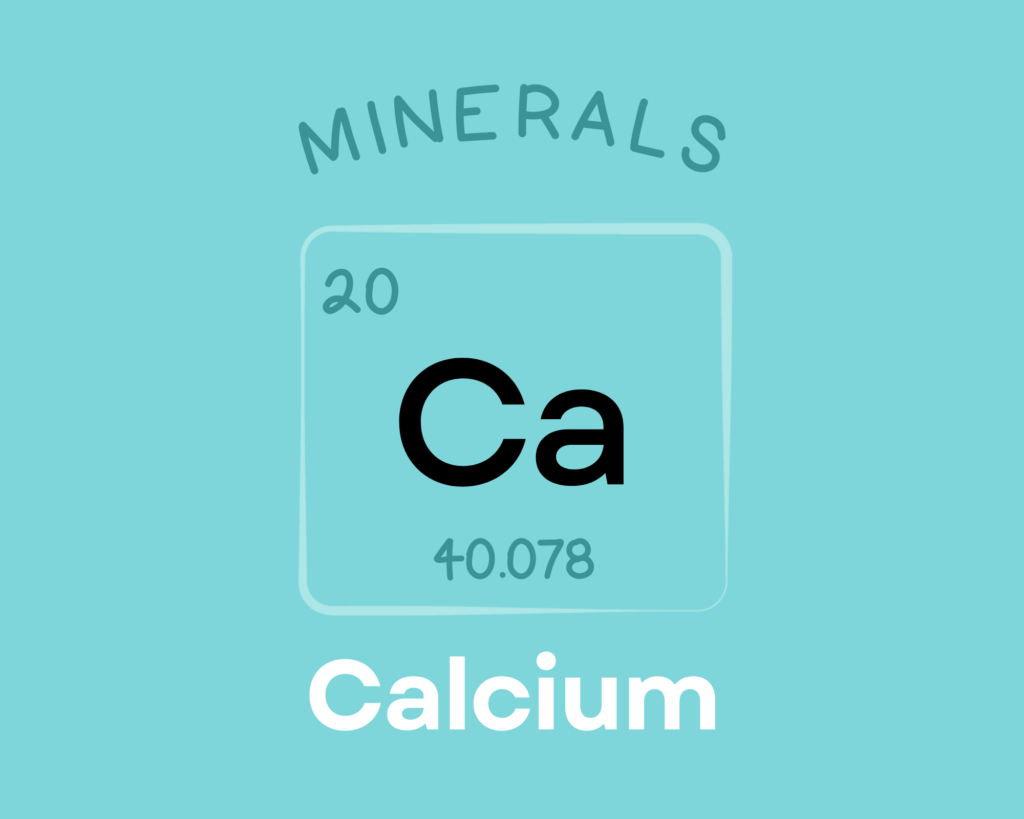 Calcium is a major structural component of bones and teeth, and also serves as an electrolyte—a type of electricity-conducting mineral needed for regulating nerve impulses, muscle contraction (including the heartbeat), blood pH, and fluid balance. Getting enough calcium helps protect against osteoporosis and bone fractures, while also potentially reducing the risk of colorectal cancer, pregnancy-related high blood pressure, and kidney stones. It may even help improve PMS symptoms and assist in body weight regulation! Learn more about calcium here.
Sesame Seeds Provide 20% DV Zinc
Sesame seeds are an excellent source of zinc, providing 20% of the daily value per 1-ounce serving!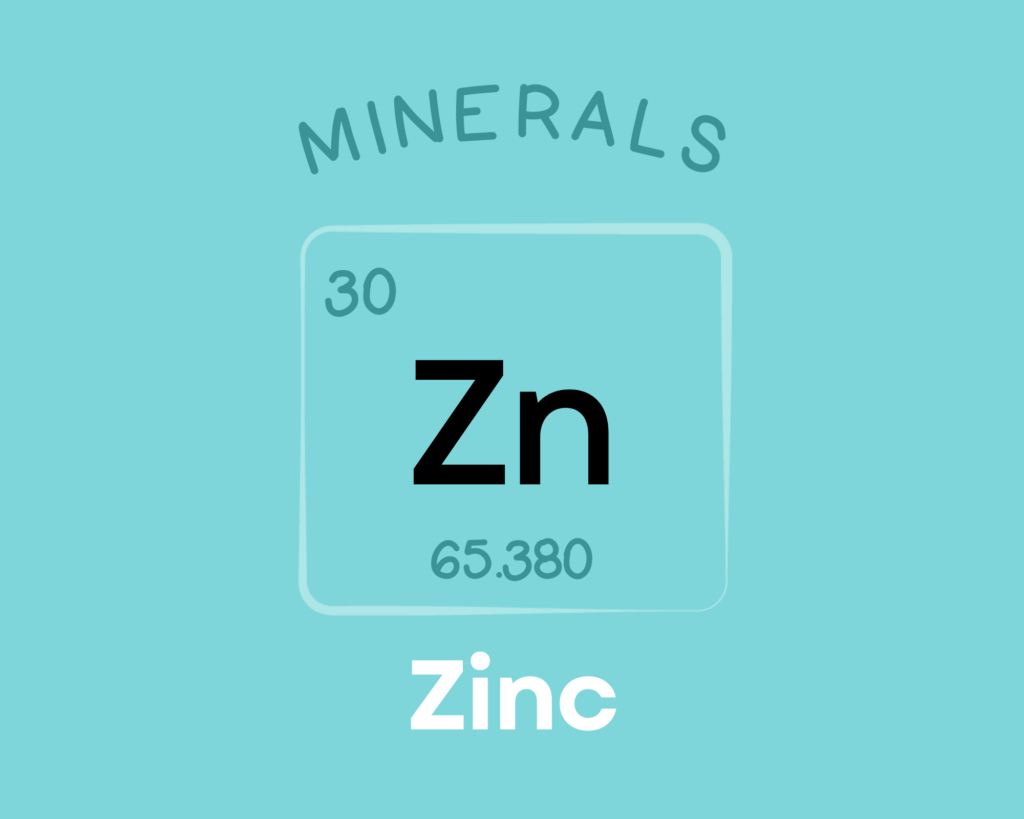 Zinc is an essential trace mineral that serves as a cofactor for over 300 enzymes and 1000 transcription factors, giving it important roles in immune function, sensory organ function, reproduction, gene regulation, DNA synthesis, wound healing, and the metabolism and activity of multiple other nutrients. Research shows it can reduce the duration of the common cold when taken shortly after the onset of illness, and can also benefit immune health in the elderly and among HIV/AIDS patients. Some studies also suggest a protective role of zinc in neurological conditions like Alzheimer's disease and depression. Learn more about zinc here.
Learn What Foods Are the Best Sources of Every Nutrient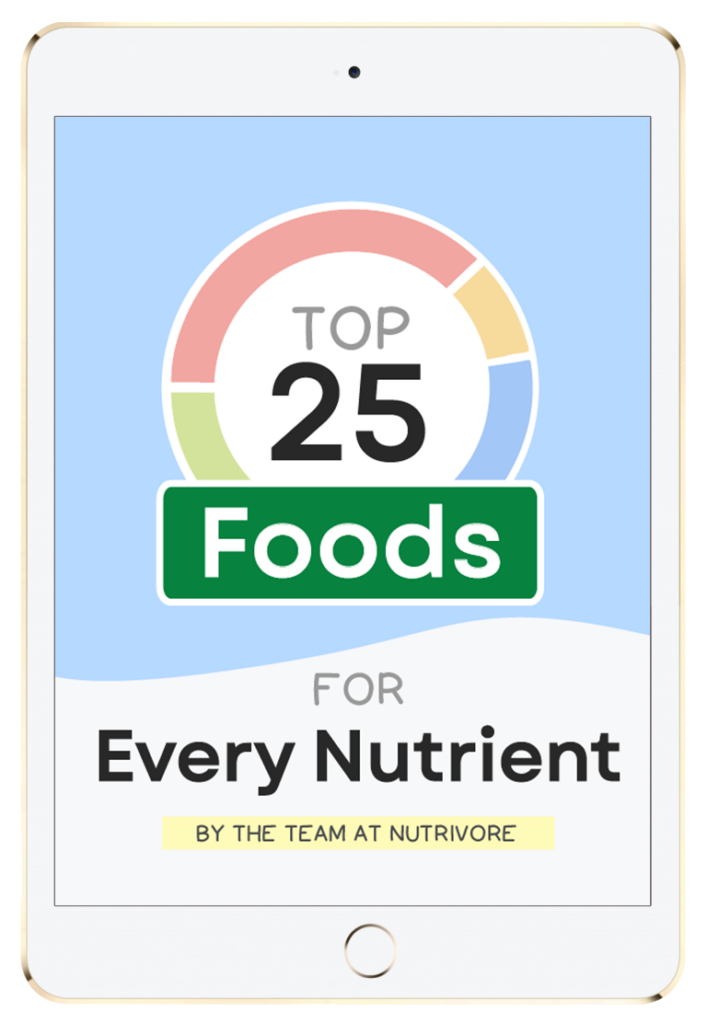 The Top 25 Foods for Every Nutrient
The Top 25 Foods for Every Nutrient e-book is a well-organized, easy-to-use guide to help you choose foods that fit your needs of 42 important nutrients while creating a balanced nutrient-dense diet.
Get two "Top 25" food lists for each nutrient, plus you'll find RDA charts for everyone, informative visuals, fun facts, serving sizes and the 43 foods that are Nutrient Super Stars!
How Much Sesame Seeds Should We Eat Per Day?
Not only do seeds make for a tasty and convenient snack food, all the nutrition found within these tiny nuggets of goodness might just ex-seed your expectations!
Nuts and seeds are some of the most nutritious, whole-food healthy fat sources out there! They have been associated with lower rates of a variety of chronic diseases and all-cause mortality. In a study of adults at high risk of cardiovascular disease, eating more than three servings of nuts per week resulted in a 39% reduced risk of death from all causes. Nut and seed consumption is also associated with lower body mass index, lower waist circumference, and lower occurrence of type 2 diabetes.
In a meta-analysis encompassing 354,933 total participants, one serving of nuts per day was associated with a 27% reduced risk of all-cause mortality and a 39% reduced risk of cardiovascular disease mortality, and the highest nut consumers saw a 14% reduced risk of cancer mortality. Additional research has shown that nut consumption is associated with lower risk of mortality from respiratory diseases (52% reduced risk), neurodegenerative disease (35% reduced risk), infectious disease (75% reduced risk), and kidney disease (73%).
However, there are some compelling reasons not to "go nuts" on nuts (hyuck, see what I did there?). Health benefits of nut and seeds consumption do not continue to increase beyond about 1 ounce (28 grams) per day, and there's some evidence that consuming large amounts of nuts daily can increase disease risk (at least for stroke). That means eating more than a palmful per day won't do us any favors (and may potentially undermine our health). And, nuts should be avoided by people with allergies or sensitivities (in which case, seeds can deliver comparable health benefits).
While not every nut or seed has been extensively studied, we can expect variety to be important. For instance, every nut and seed that has been evaluated in terms of its impact on the gut microbiome shows unique benefits. So again, mix it up as in "mixed nuts!" (Hyuck)
---
Easily track your servings of Nutrivore Foundational Foods!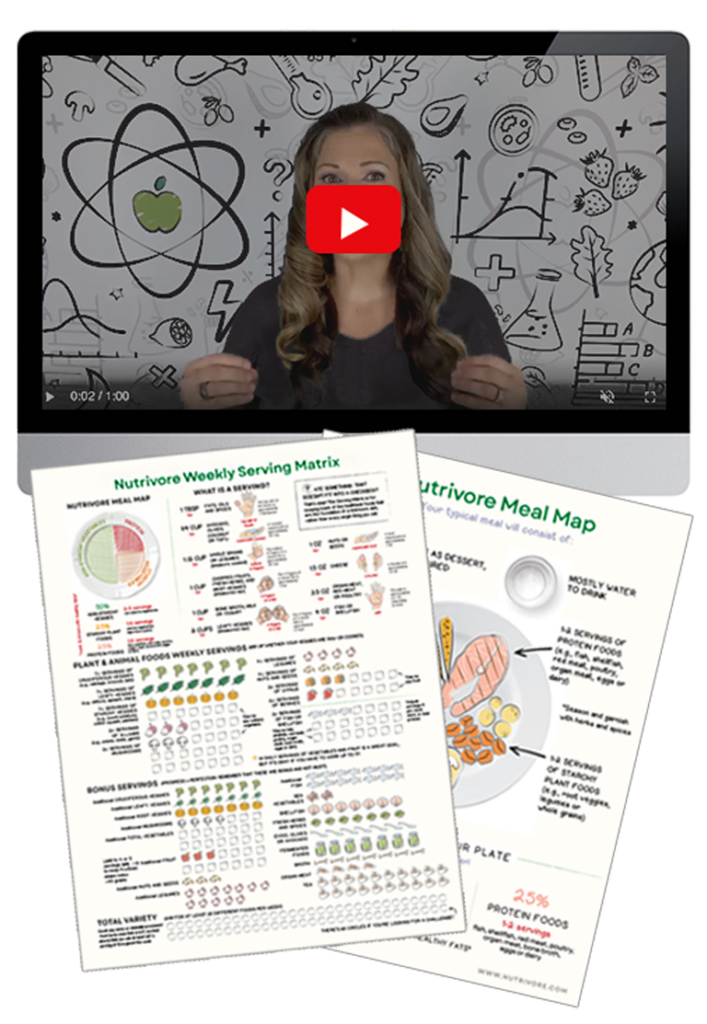 The Nutrivore Weekly Serving Matrix
The Nutrivore Weekly Serving Matrix digital resource is an easy-to-use and flexible weekly checklist designed to help you maximize nutrient-density and meet serving suggestions of Nutrivore foundational foods, all without having to weigh or measure your foods!
Includes a 1-hour video tutorial and downloadable interactive guides.
cITATIONS
Expand to see all scientific references for this article.