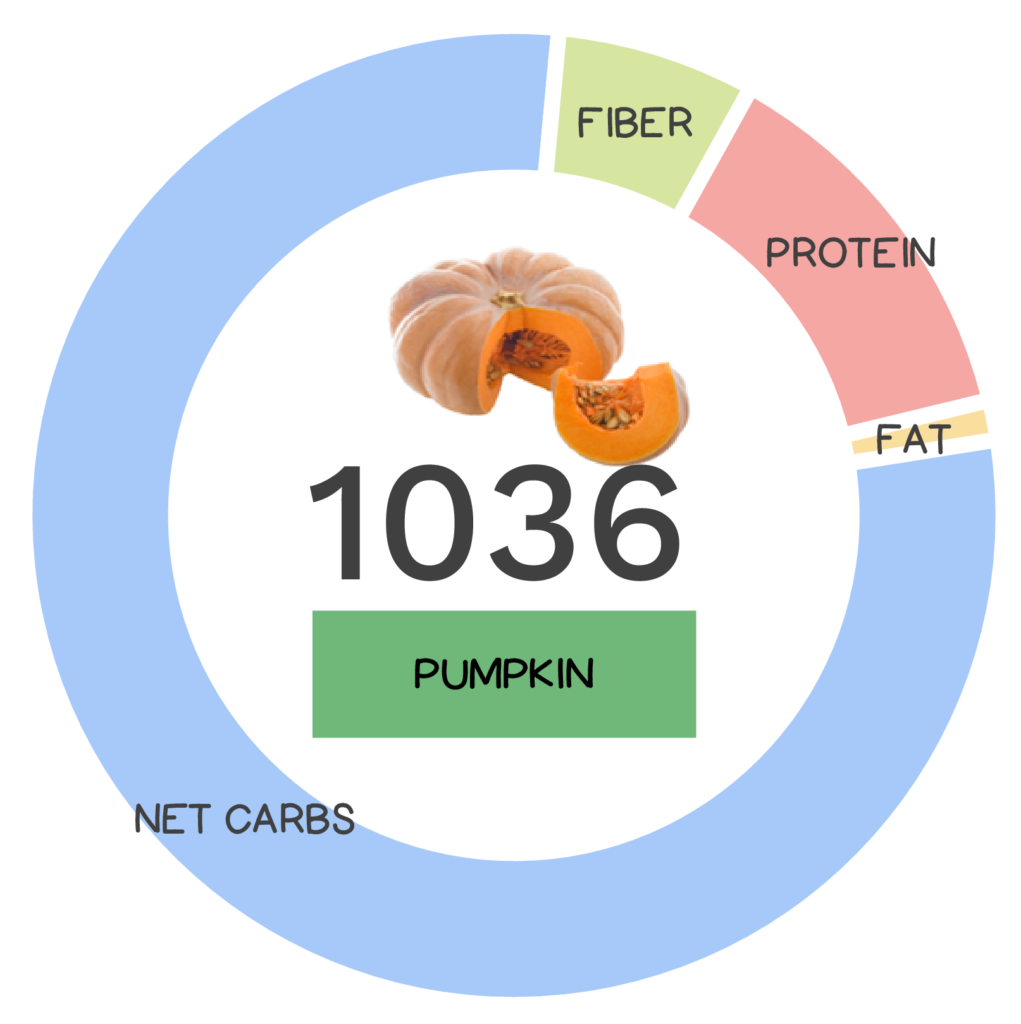 When we think of autumn we picture cooler weather, falling leaves of brilliant colors, Halloween décor and inevitably pumpkins – fields of them ripe for the picking, carved up as Jack-o-Lanterns or baked into pies (my fave!), plus pumpkin spice anything and everything. Synonymous with Thanksgiving and Halloween, not only does this "gourd-geous" veggie provide beautiful Autumn décor, it works well in sweet desserts while also pairing nicely with savory dishes. Guess that means we should all "carve" out some time to put pumpkin on the menu! (Hyuck)
now available for pre-order!
Ditch diet culture and get the most nutrients from your food with the no-guilt, personalized, and exciting new science that will change how you think about food and nourishment, from New York Times bestselling author Dr. Sarah Ballantyne.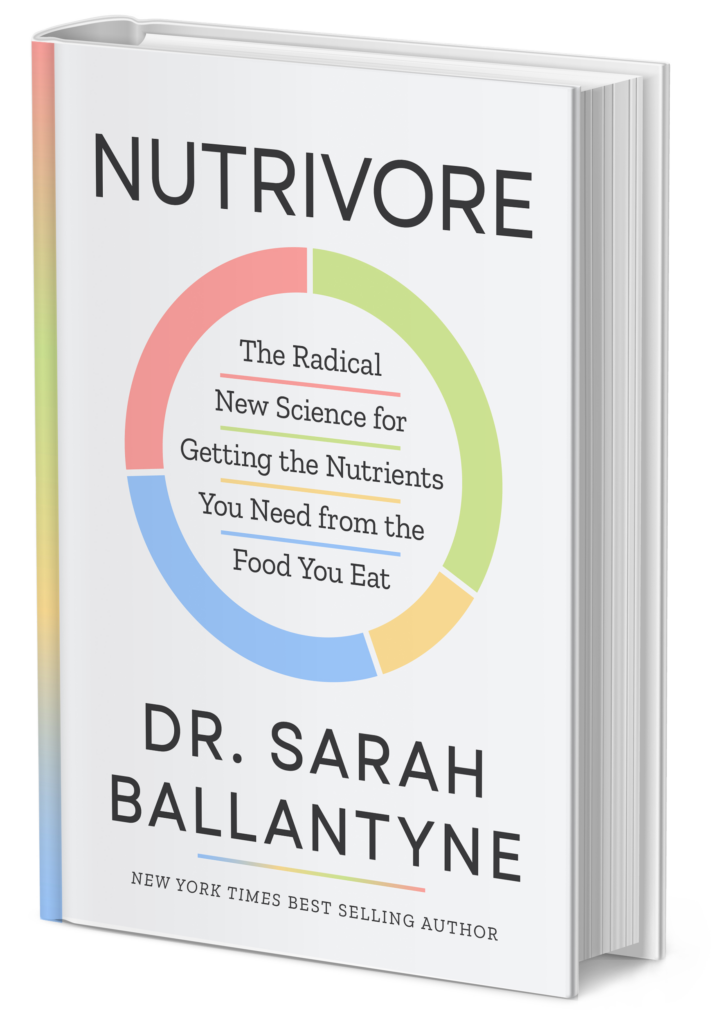 Interestingly, the word pumpkin has no actual scientific meaning and can be used interchangeably with 'squash' and 'winter squash'. Depending on where you live in the world, it means different things. For instance, in North America we associate the word pumpkin with round orange varieties but in Australia and New Zealand pumpkin refers to all winter squash. In actuality, pumpkins are a type of winter squash, which is actually a generic term used for a group of squash varieties from the genus Cucurbita that grow through the summer and are harvested in the fall when they've reached full maturation, in which the skin hardens into a tough rind and the seeds have fully developed, so that they can be stored for months into the winter (hence the name). Conversely, summer squash, from the same family, are ripe during the summer, and are harvested when immature, as is the case for zucchini. This group of veggies includes a number of colorful, tasty, uniquely shaped cultivars belonging to the species Cucurbita maxima, Curcubita pepo, and Curcubita moschata, all of which are native to the Western Hemisphere. In fact, winter squash happen to be one of the oldest known crops: seeds dating back 12,000 years have been found in cave sites in Ecuador. Specifically, pumpkins are considered one of the oldest domesticated plants, dating back as early as 7,000 to 5,500 BC in Mexico! Today, they are one of the most popular crops in the United States.
Pumpkins tend to be round with smooth, slightly ribbed skin, ranging in color most often deep yellow to bright orange. They vary in size with some varieties, known as giant pumpkins, growing to extraordinary extremes, the largest recorded coming from Italy and weighing in at an astounding 2,703 lbs (1226 kg) – that's a lot of pie! They are extremely versatile – aside from the flesh, you can also eat pumpkin flowers, leaves, sprouts, and seeds, and even the skin is edible dehydrated and roasted into pumpkin crisps! Let's just say this veggie is the complete package! And, recreationally pumpkins are versatile as well. They are not just for carving, "pumpkin chunkin" is a competition where pumpkins are hurled long distances using various mechanical methods such as air cannons, catapults, slingshots, and trebuchets! Guess that would result in a lot of "smashing pumpkins". (Hyuck)
Everything You Need to Know about Root Veggies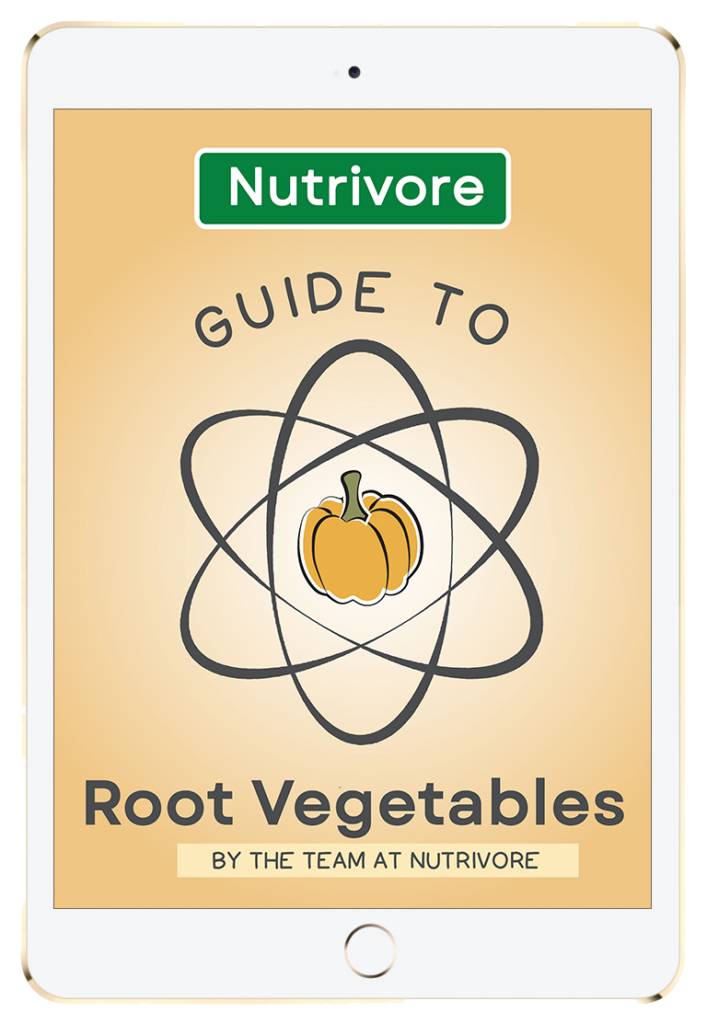 Nutrivore Guide to Root Vegetables
The Nutrivore Guide to Root Vegetables is a practical-focused e-book that explains everything you need to know about root veggies so you can reap all the benefits of this foundational food family!
Plus, you'll 12 tasty recipes featuring root vegetables to help you incorporate more of these awesome veggies into your weekly meal plans!
Buy now for instant digital access.
Nutrivore Score for Pumpkin – 1036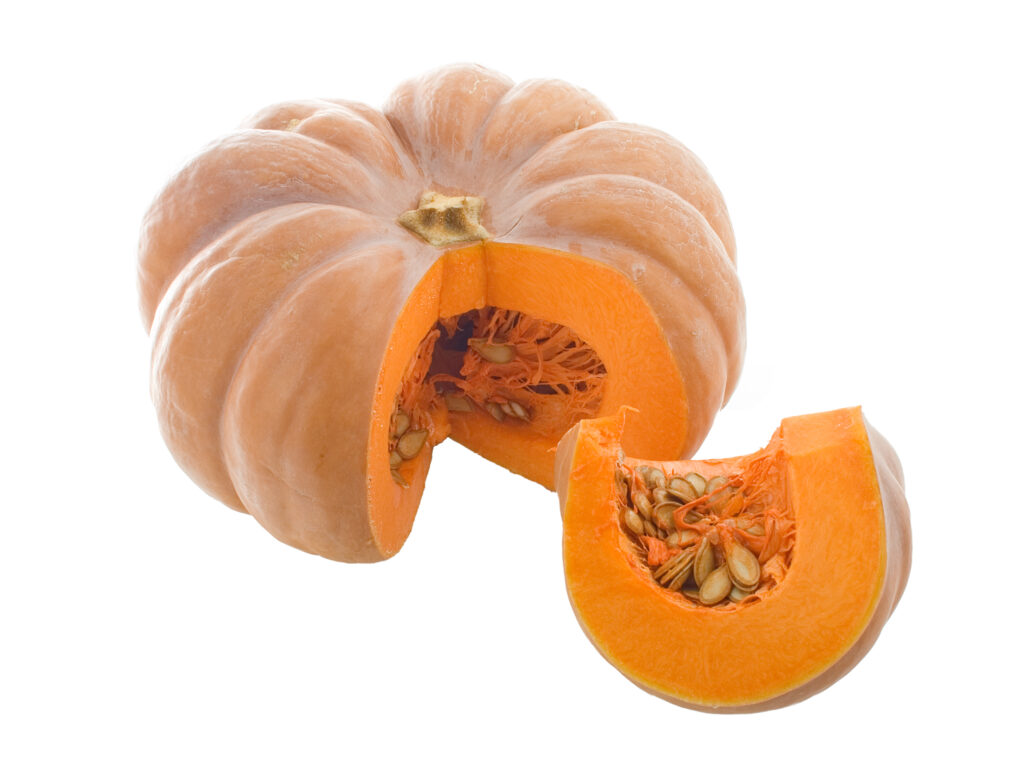 Pumpkin has a Nutrivore Score of 1036, making it a super nutrient-dense food! Plus, it is a low-carb and low-calorie-density food; the calorie count of pumpkin is 30 calories per cup!
Per serving, pumpkin is a best source (>50% daily value) of carotenoids and vitamin A; an excellent source (20-50% daily value) of polyphenols; and a good source (10-20% daily value) of copper, vitamin B2 (riboflavin), and vitamin C.
Want to Know the Top 100 Nutrivore Score Foods?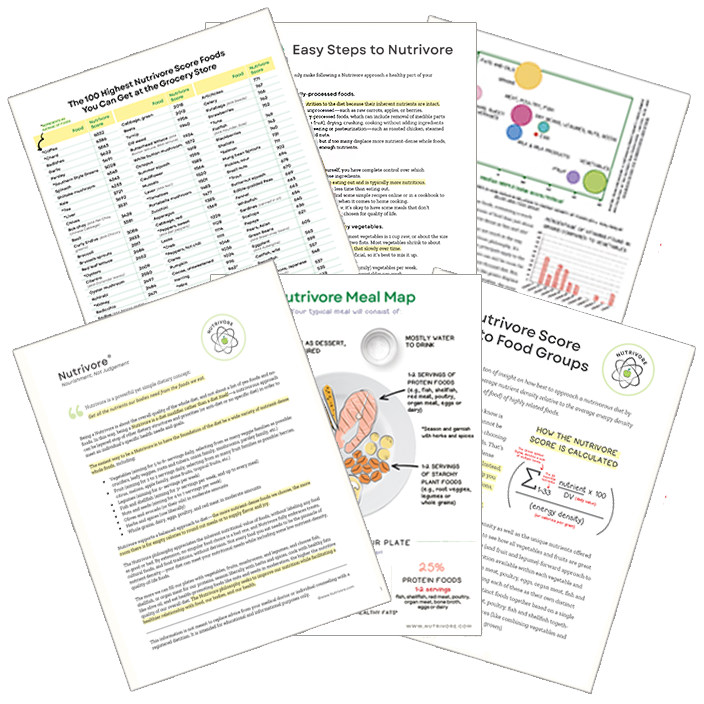 Get it Directly in Your Inbox!
The Nutrivore Newsletter is a weekly email that delivers bite-size fun facts, practical tips, recipes and resources. Sign up now and get 5 free guides directly to your inbox:
Easy Steps to Nutrivore 4-page guide
Nutrivore Foundational Foods 6-page guide
Nutrivore Score Guide to Food Groups 3-page guide
Nutrivore Meal Map
Top 100 Nutrivore Score Foods
Pumpkin Nutrition Facts
One serving of pumpkin is standardized to 1 cup, 1 inch cubes, or about 116 grams (4.1 ounces). When you cook pumpkin, it reduces in volume: 1 cup raw pumpkin is roughly equivalent to a little under 1/2 cup boiled pumpkin (mashed).
Pumpkin Nutrition Facts Per Serving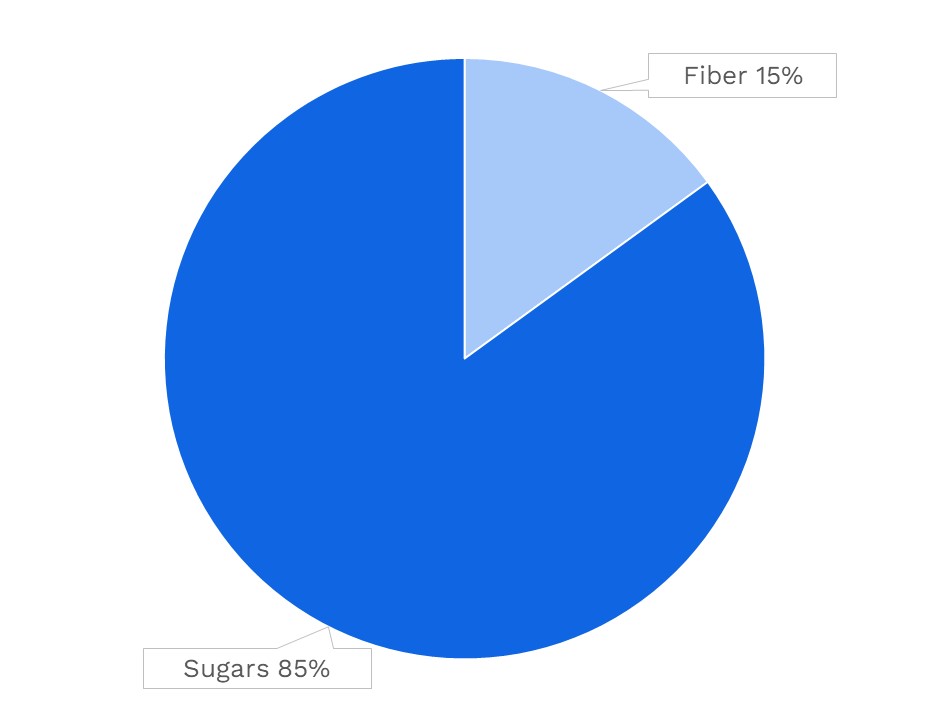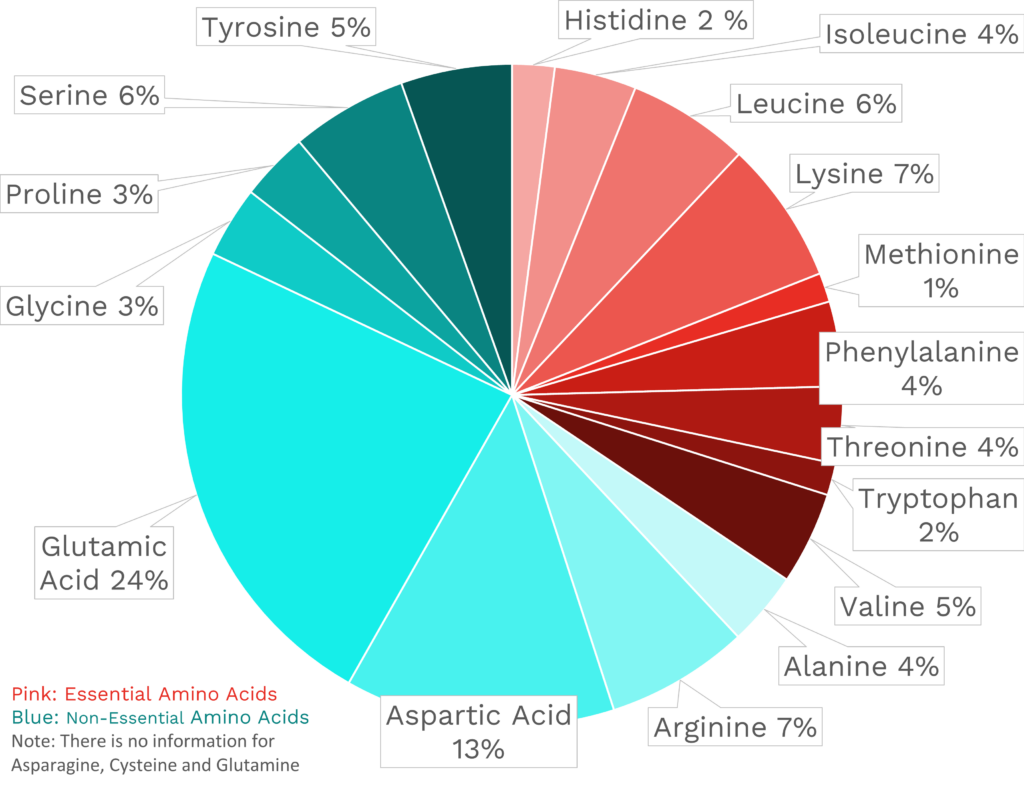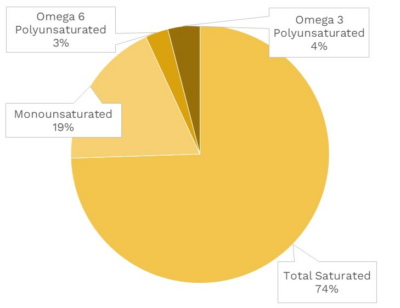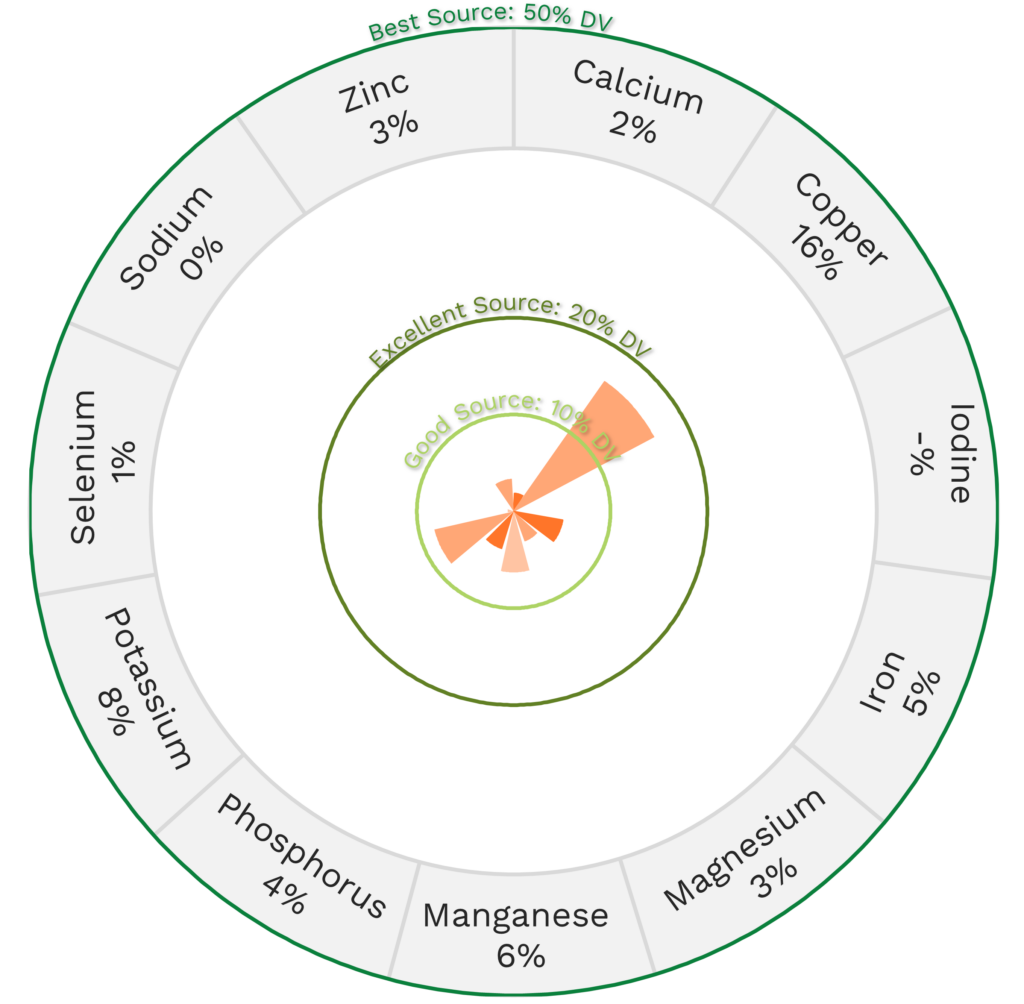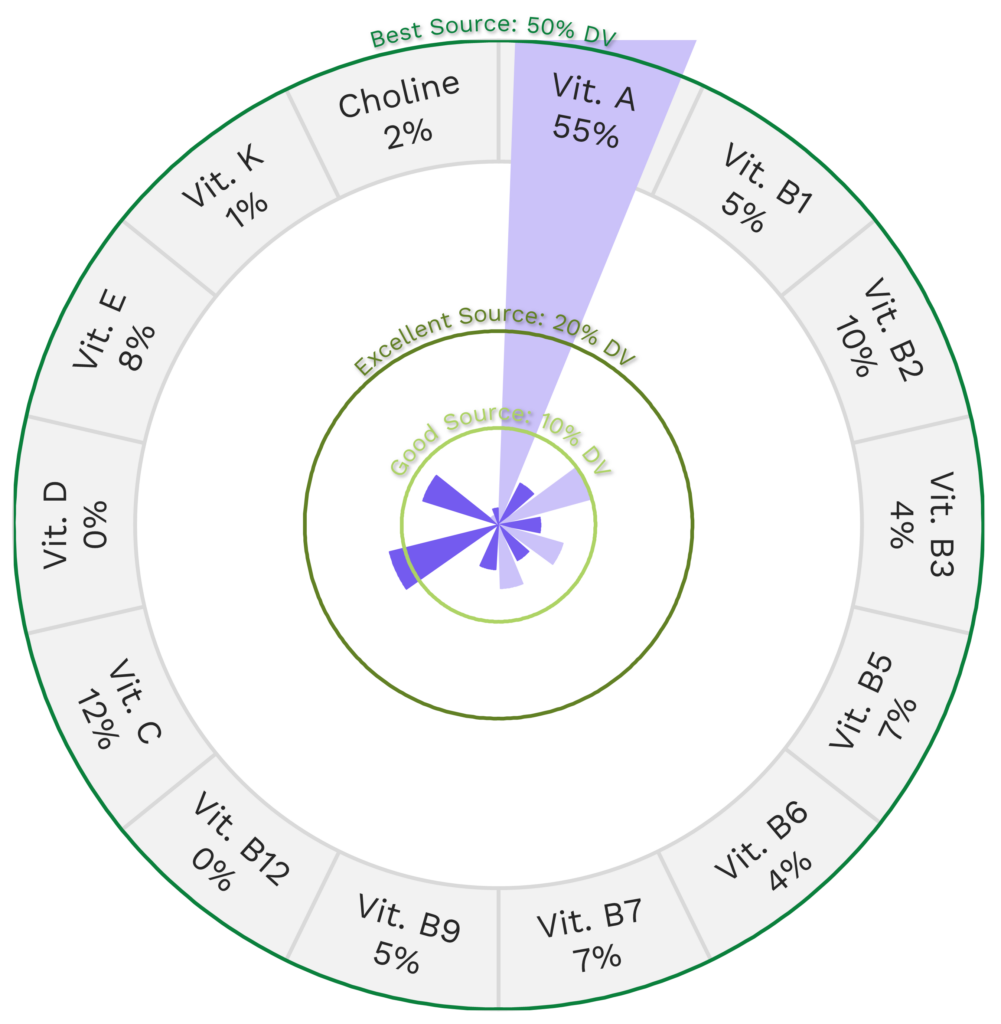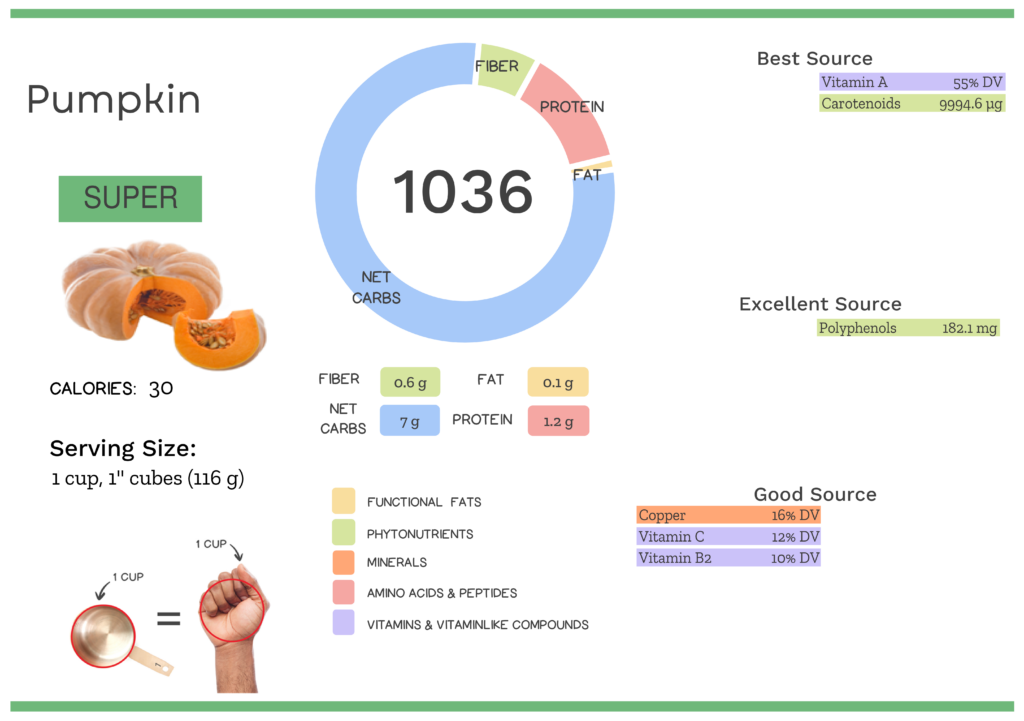 Pumpkin Nutrition Varies With Cooking and Processing
The Nutrivore Score of pumpkin varies based on method of preparation and processing. Fresh pumpkin can be found during the fall and winter months, but canned pumpkin is available year-round at many grocery stores.
| | NUTRIVORE SCORE |
| --- | --- |
| Pumpkin, canned, with salt | 1066 |
| Pumpkin, canned, without salt | 1066 |
| Pumpkin, cooked, boiled, drained, with salt | 1032 |
| Pumpkin, cooked, boiled, drained, without salt | 941 |
| Pumpkin flesh, raw | 1036 |
Pumpkin Nutrition Varies With Plant Component
Pumpkin is a versatile plant with multiple edible parts (in fact, you can pretty much eat all of them). Of course the Nutrivore Score will vary widely based on which part of the plant is being consumed as each component has its own unique nutritional benefits!
1Nutrivore Score may be higher since 10 to 25% of data is missing.
Were you caught "off-gourd" by all the nutrients in pumpkin? Maybe your friends will be too!
Health Benefits of Pumpkin Nutrients
Let's take a closer look at all of the best and excellent source of nutrients found in a 1-cup serving of pumpkin and see how they benefit our health.
Pumpkin Provides 9994.6 μg of Carotenoids
Pumpkin is a best source of carotenoids, providing 9994.6 μg of carotenoids per 1-cup serving!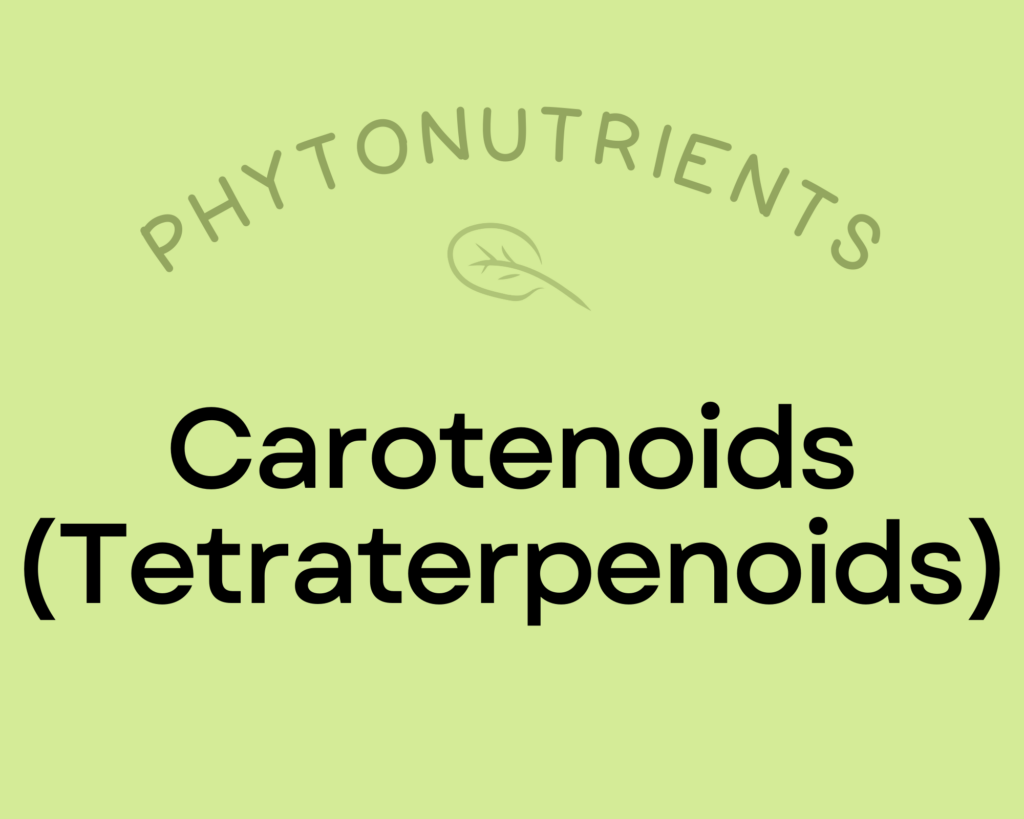 Carotenoids are a diverse group of phytonutrients that are responsible for giving fruits and vegetables vibrant red, orange, and yellow pigmentation. They were one of the earliest phytonutrients ever investigated by scientists (with research dating back to the 1800s!). Across studies, eating foods high in carotenoids appears to reduce the risk of head and neck cancers, supports vision health (particularly age-related eye diseases), may protect against metabolic syndrome and diabetes, and can reduce inflammation. Carotenoids have strong antioxidant properties, and help facilitate communication between cells by promoting the synthesis of connexin proteins, which create gap junctions in cell membranes that allow small molecules to be exchanged (which is part of how cells "talk" to each other!). Consuming carotenoids with fat significantly increases their absorption. Learn more about carotenoids here.
Pumpkin Provides 55% DV Vitamin A
Pumpkin is also a best source of vitamin A, providing 55% of the daily value per 1-cup serving!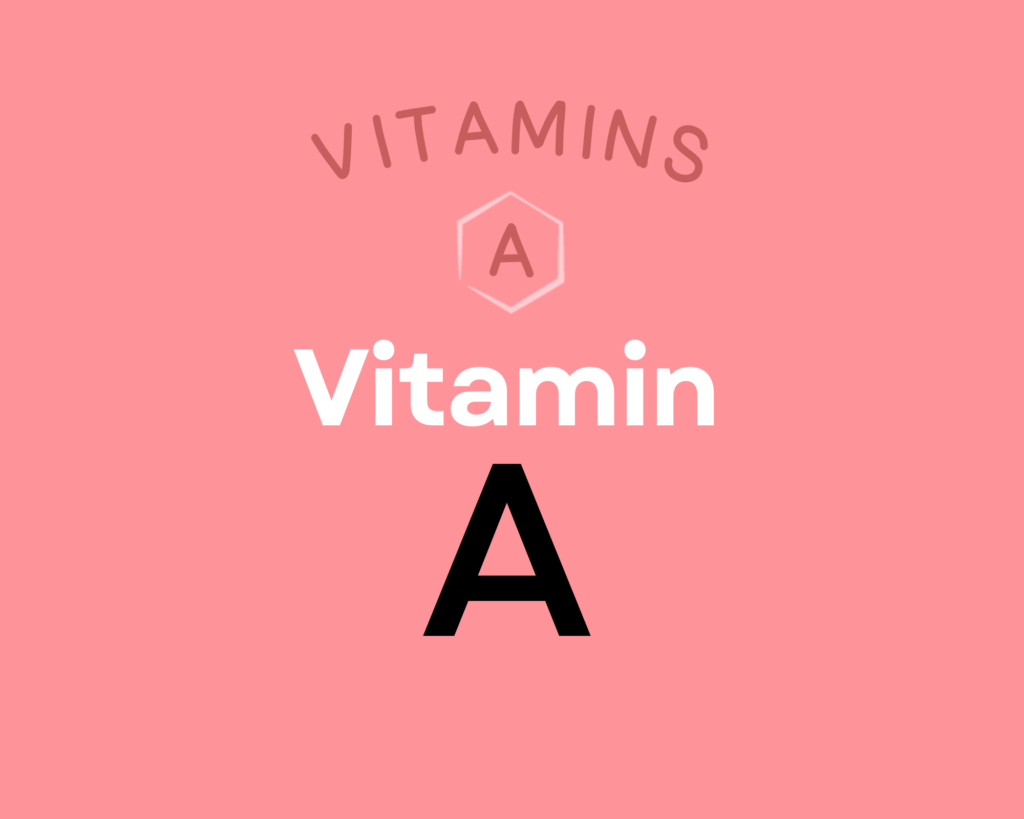 Vitamin A is actually a group of fat-soluble retinoids with vitamin A activity in the body. This nutrient is essential for a number of physiological functions—particularly vision, reproduction, thyroid health, immunity, and cellular communication. Getting enough vitamin A helps protect against some vision disorders (like night blindness and macular degeneration), supports a healthy menstrual cycle and sperm production, reduces infection risk, and allows for proper growth and development from the fetal years through childhood. Learn more about vitamin A here.
Pumpkin Provides 182.1 mg of Polyphenols
Pumpkin is an excellent source of polyphenols, providing 1821.1 mg of polyphenols per 1-cup serving!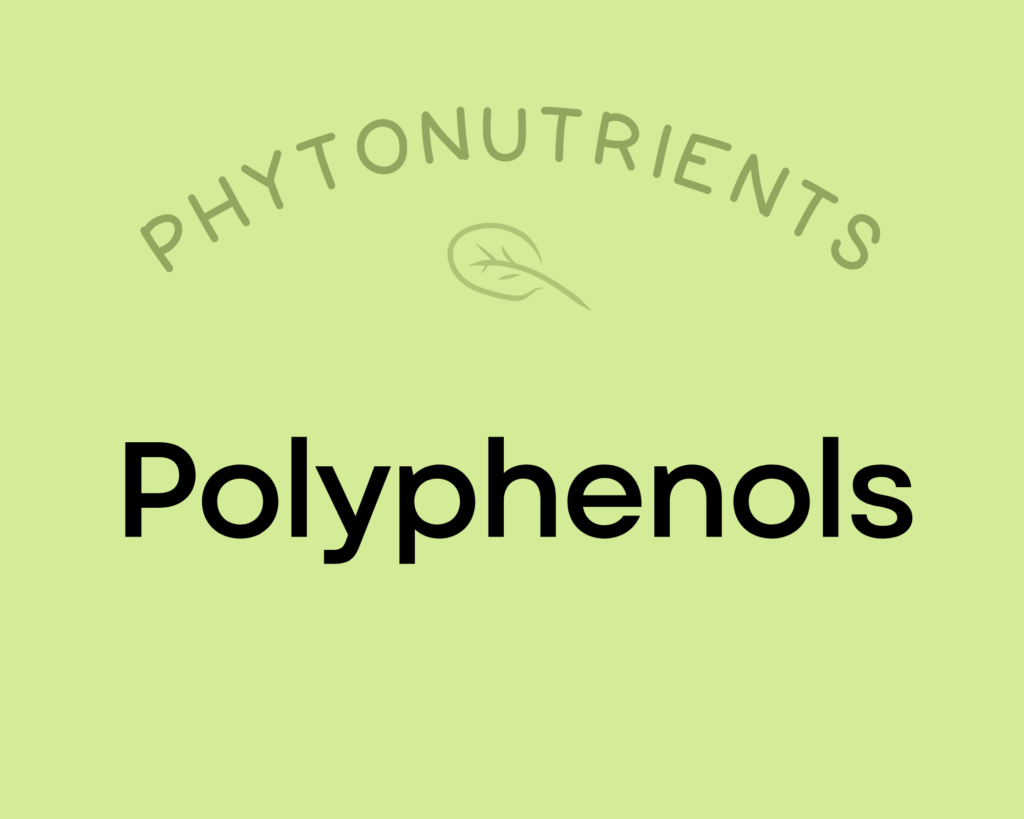 Polyphenols play a huge role in protecting against cancer, heart disease, diabetes, asthma, osteoporosis, neurodegenerative diseases, and other conditions associated with oxidative stress. In fact, a major reason foods like red wine and olive oil (as well as diets rich in both, such as the Mediterranean diet) show up as so beneficial may be due to their high polyphenol content! Along with chronic diseases, supplementing with polyphenols has been shown to protect against infections and reduce the signs of aging. Polyphenols exert their most potent effects by acting as antioxidants—preventing cellular damage by neutralizing hazardous oxygen radicals and improving cellular health as a result (which, in turn, benefits virtually every system in the body). As a result of their antioxidant properties, polyphenols also boost the immune system and protect against both chronic and acute diseases. In addition, polyphenols can help regulate enzyme function, stimulate cell receptors, modulate the functions of inflammatory cells (including T and B lymphocytes, macrophages, platelets, and natural killer cells), alter adhesion molecule expression, affect nerve cells and cardiac muscle cells, and exert antiviral effects. Learn more about polyphenols here.
Learn What Foods Are the Best Sources of Every Nutrient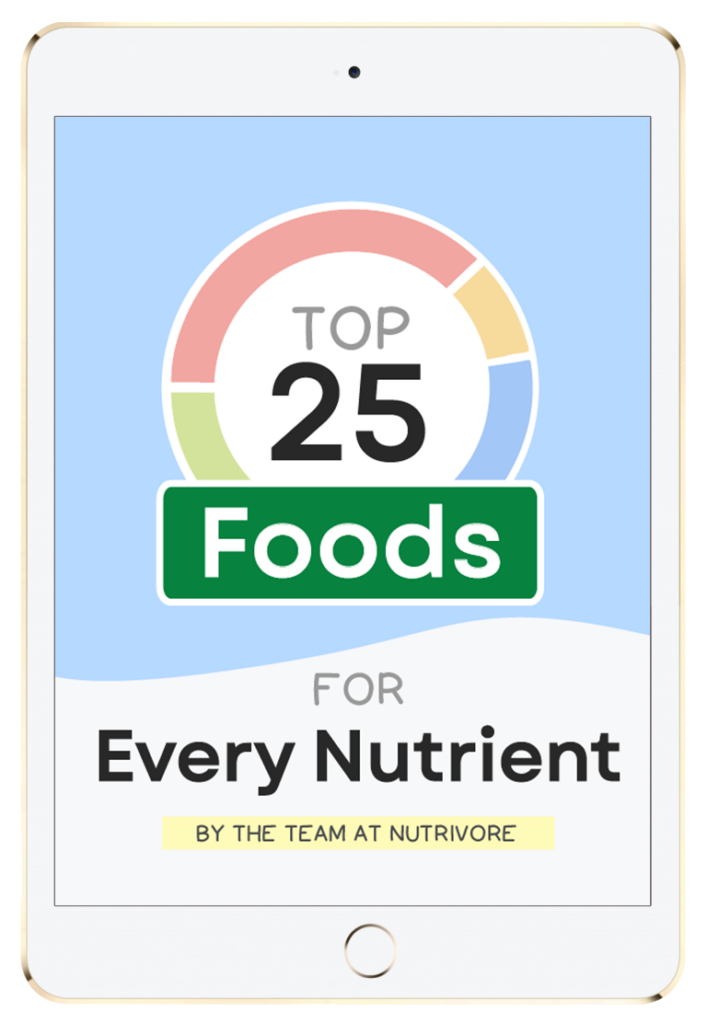 The Top 25 Foods for Every Nutrient
The Top 25 Foods for Every Nutrient e-book is a well-organized, easy-to-use guide to help you choose foods that fit your needs of 42 important nutrients while creating a balanced nutrient-dense diet.
Get two "Top 25" food lists for each nutrient, plus you'll find RDA charts for everyone, informative visuals, fun facts, serving sizes and the 43 foods that are Nutrient Super Stars!
Buy now for instant digital access.
How Much Pumpkin Should We Eat Per Day?
Not only are winter squash "gourd-geous" to look at, these colorful veggies make great additions to casseroles, soups, stews, and other dishes that benefit from their hearty texture.
Every serving of fresh, whole vegetables or fruit we eat daily reduces the risk of all-cause mortality by 5% to 8%, with the greatest risk reduction seen when we consume eight or more servings per day. In fact, consuming 800 grams of vegetables and fruits daily reduces all-cause mortality by 31% compared to eating less than 40 grams daily. A 2017 meta-analysis showed that 2.24 million deaths from cardiovascular disease, 660,000 deaths from cancer, and 7.8 million deaths from all causes could be avoided globally each year if everyone consumed 800 grams of veggies and fruits every day.
Eating vegetables and fruit in abundance lowers risk of cancer, cardiovascular disease, type 2 diabetes, obesity, chronic kidney disease, osteoporosis and bone fragility fractures (including hip fracture), cognitive impairment and dementia (including Alzheimer's disease), neurodegenerative diseases, asthma, allergies, chronic obstructive pulmonary disease, age-related macular degeneration, cataracts, glaucoma, depression, ulcerative colitis and Crohn's disease, rheumatoid arthritis, inflammatory polyarthritis, non-alcoholic fatty liver disease, acne, seborrheic dermatitis, and lowers markers of inflammation. Learn more in Importance of Vegetables and Fruit.
Covering half of your plate with a variety of vegetables (and three quarters of your plate if your starchy food is a root vegetable or winter squash) at each meal is a simple way to easily achieve the goal of 800 grams daily (about 5 to 8 servings depending on the vegetable).
Studies with pumpkin polysaccharide in diabetic rats have shown improvements in gut health and insulin tolerance, increases in HDL cholesterol and reductions in total cholesterol, LDL cholesterol, and blood sugar levels.
It's always best to mix up the veggies you eat day to day (aiming for a wide variety of different vegetables and fruits throughout the week), and pumpkin definitely has a place at the table.
Easily track your servings of Nutrivore Foundational Foods!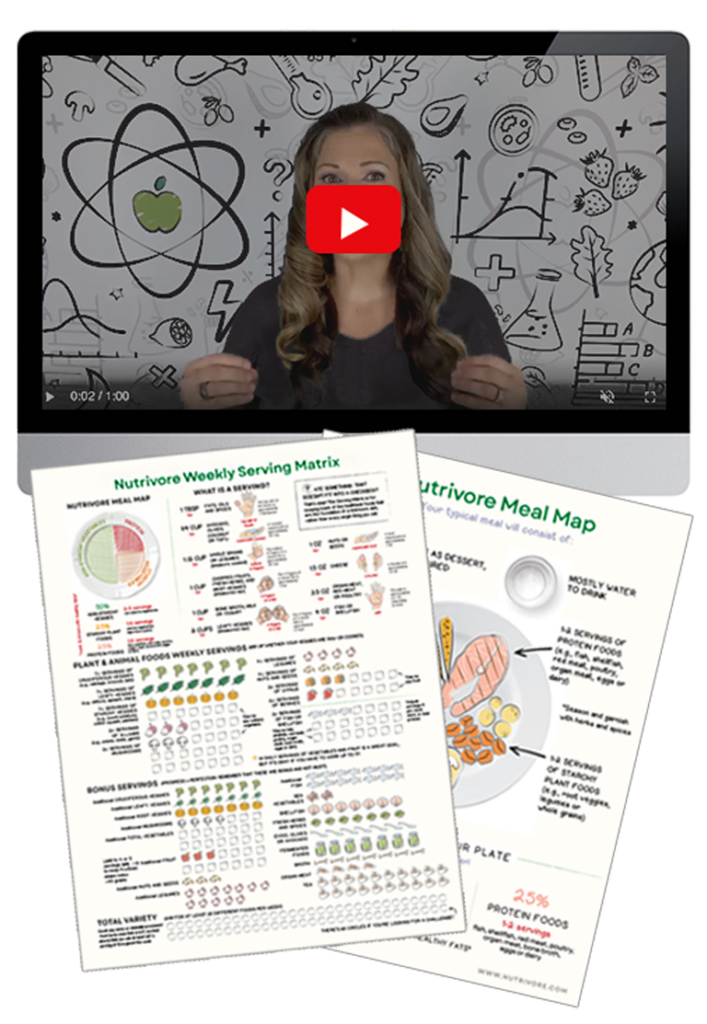 The Nutrivore Weekly Serving Matrix
The Nutrivore Weekly Serving Matrix digital resource is an easy-to-use and flexible weekly checklist designed to help you maximize nutrient-density and meet serving suggestions of Nutrivore foundational foods, all without having to weigh or measure your foods!
Includes a 1-hour video tutorial and downloadable interactive guides.
Buy now for instant digital access.
cITATIONS
Expand to see all scientific references for this article.