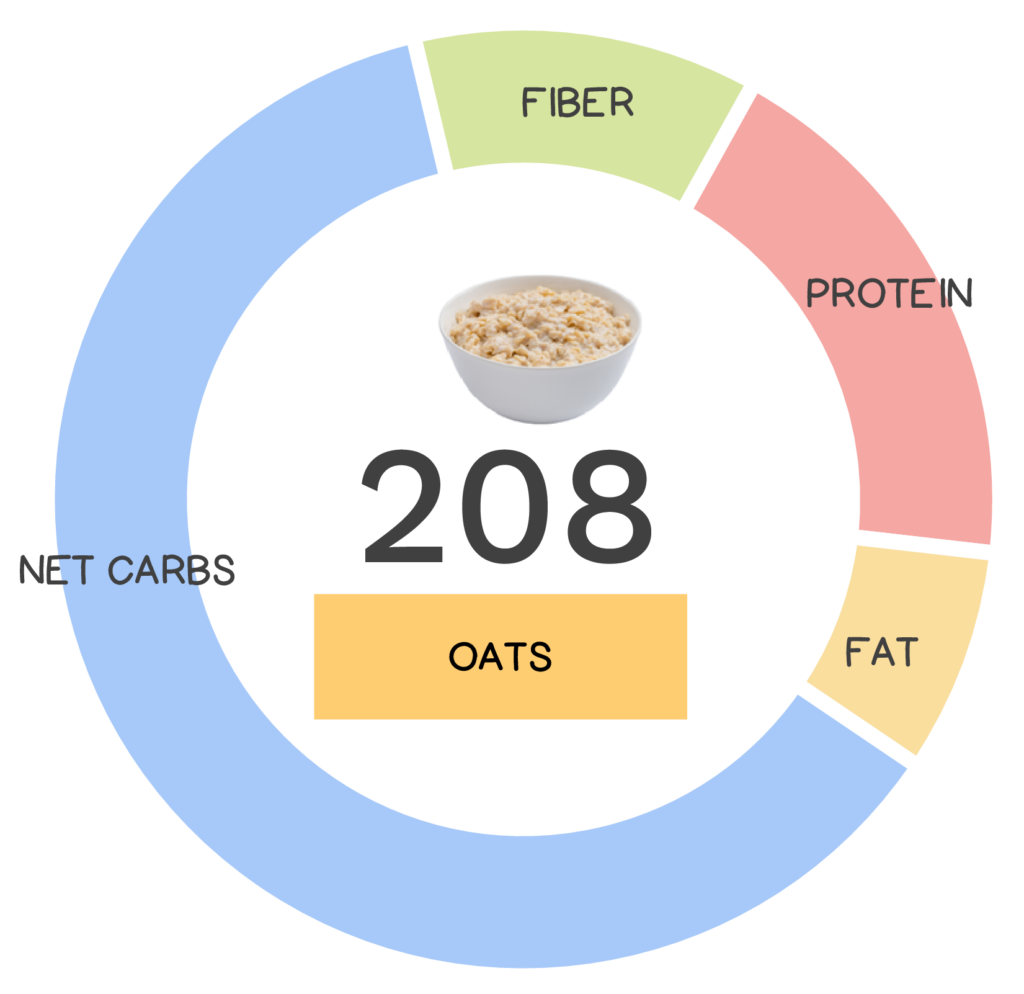 When it comes to grains, oats are in a league all their own. They are inexpensive, easily accessible, and versatile, working well with both sweet and savory ingredients. Oatmeal is a breakfast staple, while oats are a popular ingredient in many baked goods, form a part of other popular foods such as muesli and granola, can be made into oat flour, oat milk or beer! Oats can even be useful outside of our bodies topically to soothe skin conditions such as sunburn, psoriasis, poison ivy, and eczema. All this in addition to being packed with micronutrients and unique fiber. What's "n-oat" to love? I'd say it's positively "oat-standing!"
now available for pre-order!
Ditch diet culture and get the most nutrients from your food with the no-guilt, personalized, and exciting new science that will change how you think about food and nourishment, from New York Times bestselling author Dr. Sarah Ballantyne.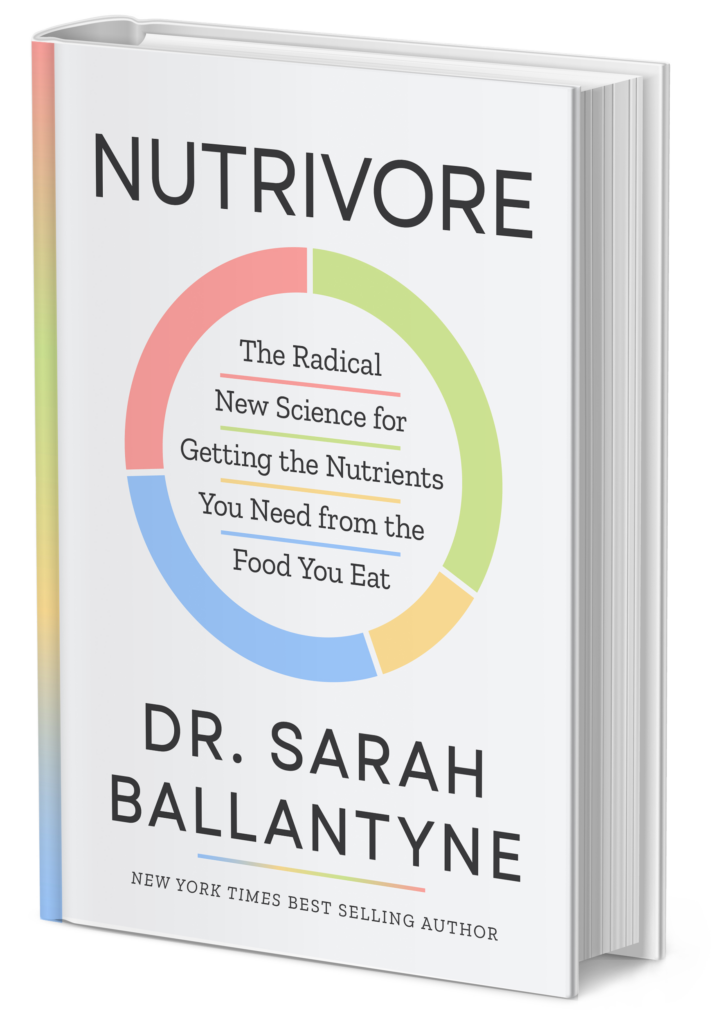 Oats are considered grains which are the edible fruits or seeds of grasses (family Poaceae or Gramineae), with oats being the seeds of grass from the Avena genus in the Poaceae family. They are one of the earliest cultivated cereals – tracing back 9,000 years to China and grow best in temperate regions, including areas with cool, wet summers, doing well even as far north as Iceland! World-wide leaders in oat production include Russia and Canada, with the majority of oats produced being used for livestock feed.
When harvested, the seeds of the oat plant are protected by an inedible outer coating called a hull; once the hull is removed the grain is referred to as a groat. This groat can be eaten as is or processed further to create a variety of products including rolled oats (steamed and flattened with a roller into flakes), instant oats (steamed for longer, rolled thinner, and cut into smaller pieces), and steel-cut oats (groats cut into 3 or 4 pieces with a sharp steel blade), as popular examples. Each type of oat will vary with respect to cooking time, flavor, texture, as well as how it is optimally consumed. And, even though the words oatmeal and porridge are often used interchangeably, there is a difference. Porridge can be made from a variety of whole grains, cereal or legumes, and oatmeal is made only of oats (either flattened, ground, or rolled). That being said, steel cut oats are known as porridge in many European countries and other parts of the world, while in Canada and the US they are referred to as oatmeal.
Quaker, a brand synonymous with oats, was the first company to register for a breakfast cereal trademark in 1877, consisting of a "figure of a man in 'Quaker garb'". Later in 1922 they introduced Quaker Quick Oats as a convenience product and in 1966 quaker instant oatmeal was launched, with the first flavored version coming along later in 1970 – maple & brown sugar!
Nutrivore Score for Oats – 208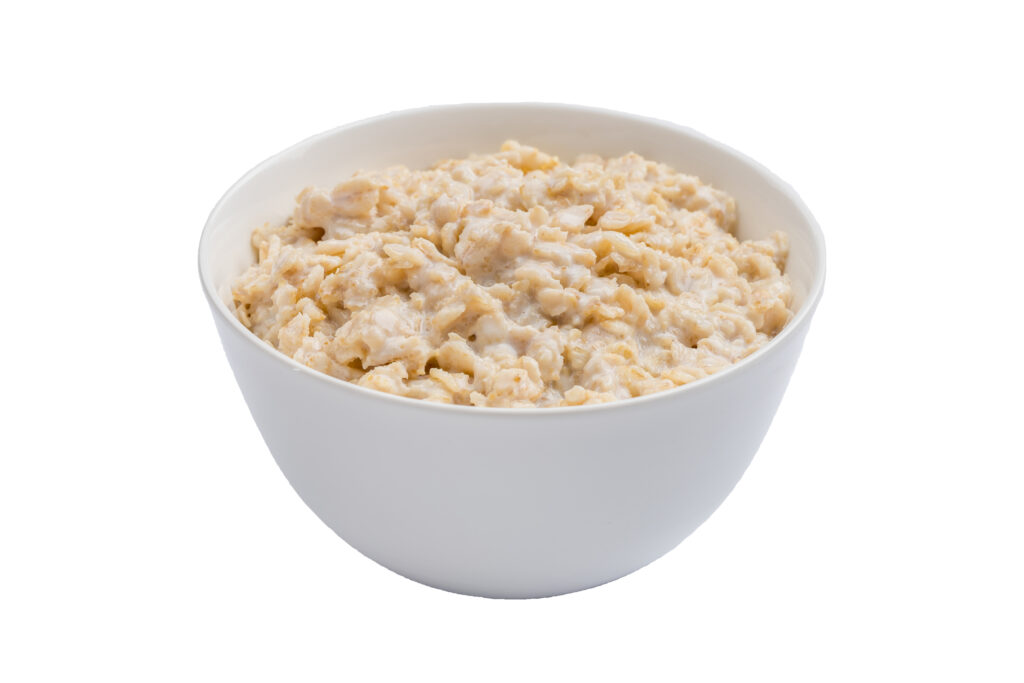 Oats have a Nutrivore Score of 208, making them a medium nutrient-dense food! Plus, they are a low-fat food; oats contain 2.7 grams of total fat per serving!
Per serving, oats are a best source (>50% daily value) of manganese; an excellent source (20-50% daily value) of copper, vitamin B1 (thiamin), and vitamin B7 (biotin); and a good source (10-20% daily value) of dietary fiber, iron, magnesium, phosphorus, protein, vitamin B5 (pantothenic acid), and zinc.
Want to Know the Top 100 Nutrivore Score Foods?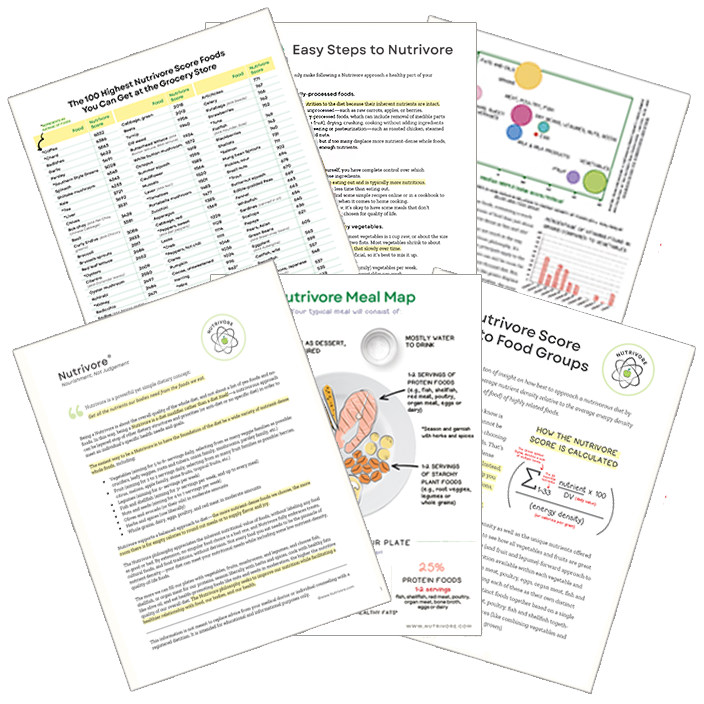 Get it Directly in Your Inbox!
The Nutrivore Newsletter is a weekly email that delivers bite-size fun facts, practical tips, recipes and resources. Sign up now and get 5 free guides directly to your inbox:
Easy Steps to Nutrivore 4-page guide
Nutrivore Foundational Foods 6-page guide
Nutrivore Score Guide to Food Groups 3-page guide
Nutrivore Meal Map
Top 100 Nutrivore Score Foods
Oat Nutrition Facts
One serving of uncooked oats is standardized to 1/4 cup or about 39 grams (1.4 ounces). When you cook oats, they increase in volume: 1/4 cup raw oats is roughly equivalent to 1/2 cup cooked oats.
Oat Nutrition Facts Per Serving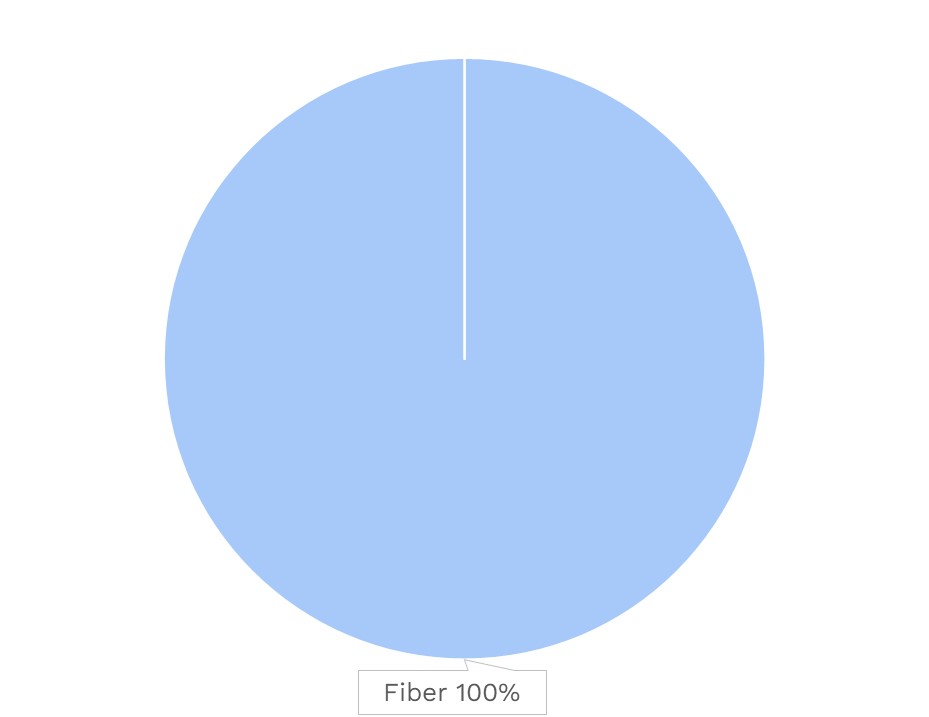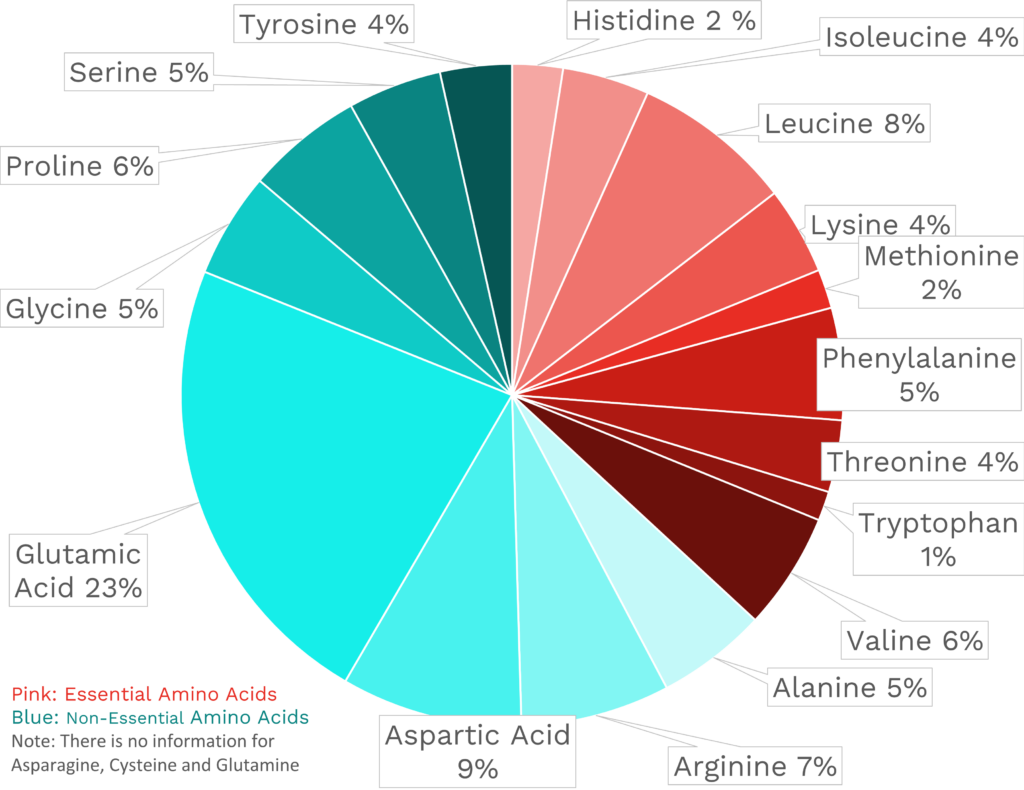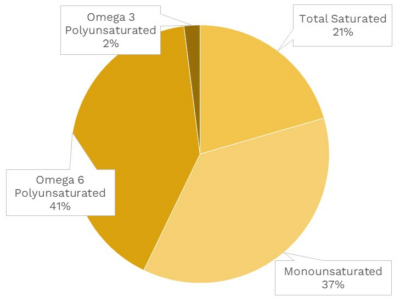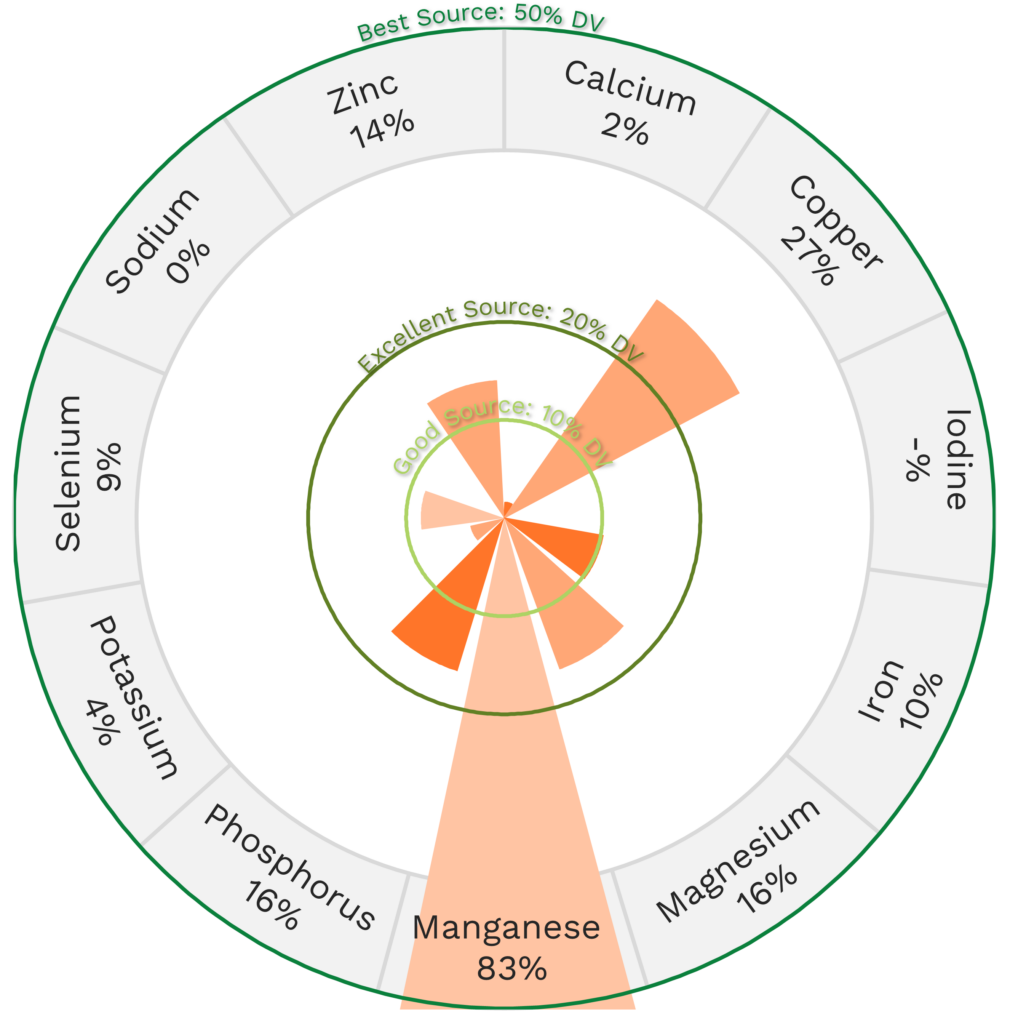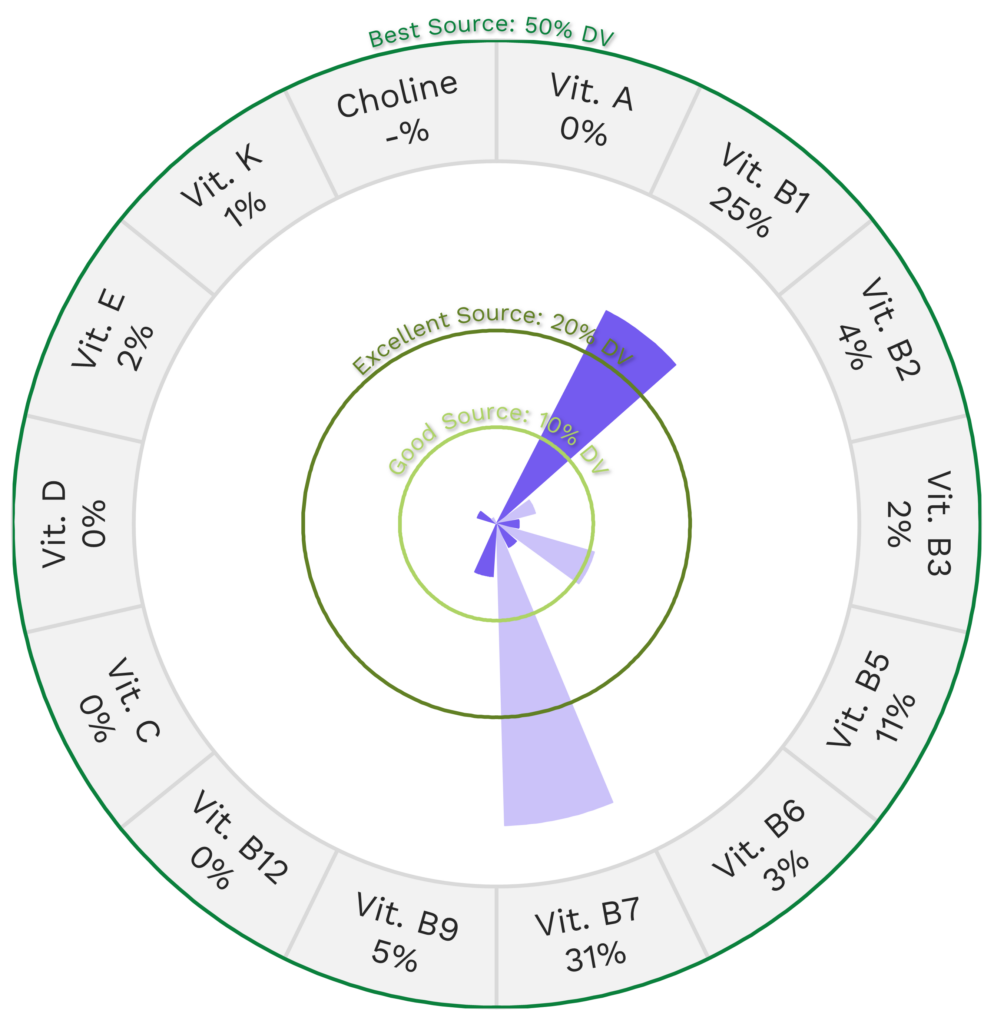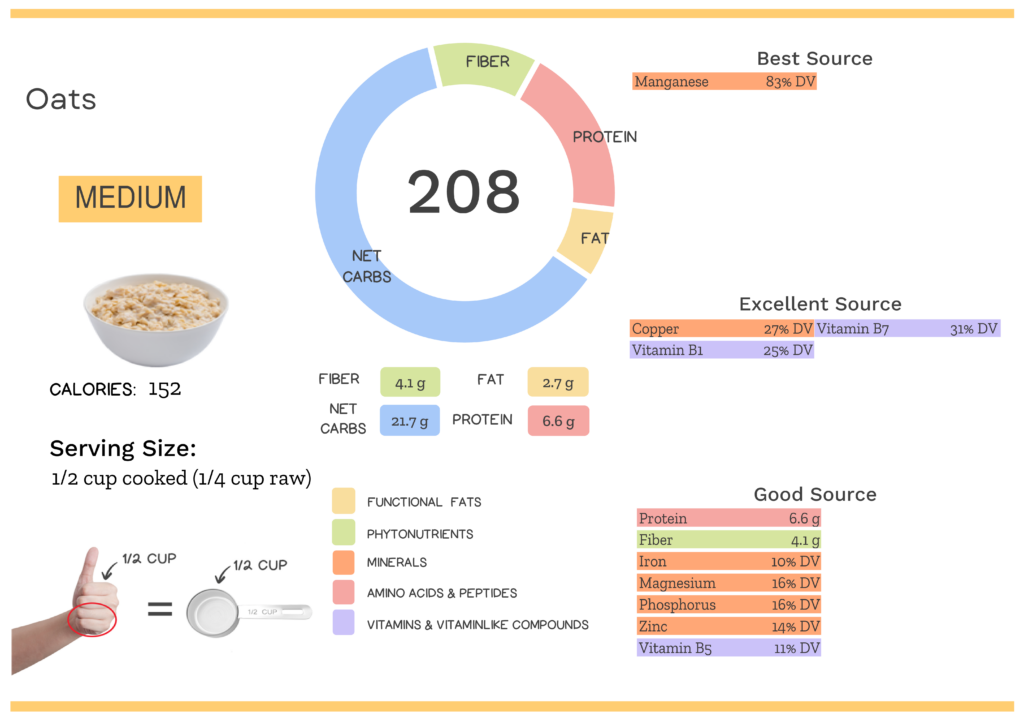 Oat Nutrition Varies With Cooking and Processing
Oats can be processed and prepared in numerous ways, impacting their cooking time, flavor, texture, and nutrient profile, which means their Nutrivore Scores also vary.
| | NUTRIVORE SCORE |
| --- | --- |
| Cereals, oats, regular and quick, not fortified, dry | 155 |
| Cereals, oats, regular and quick, unenriched, cooked with water (includes boiling and microwaving), without salt | 159 |
| Cereals, oats, regular and quick and instant, unenriched, cooked with water (includes boiling and microwaving), with salt | 1571 |
| Oats, raw | 208 |
1Nutrivore Score may be higher since 10 to 25% of data is missing.
Did you find all the nutrition in this grain oat-standing? Maybe your friends will too!
Health Benefits of Oat Nutrients
Let's take a closer look at all of the best and excellent source of nutrients found in a 1/4-cup raw serving of oats and see how they benefit our health.
Oats Provide 83% DV Manganese
Oats are a best source of manganese, providing 83% of the daily value per 1/4-cup raw serving!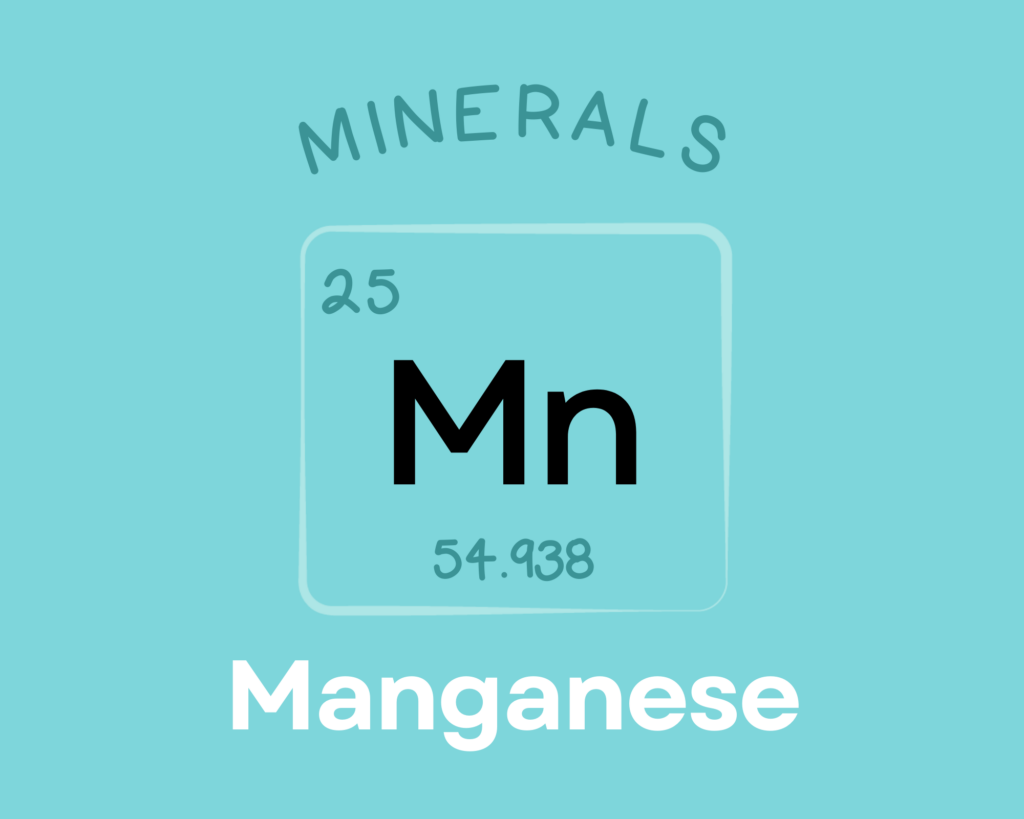 Manganese is an essential mineral that serves as a cofactor and component of numerous enzymes. Through these roles, it's involved in carbohydrate metabolism, amino acid synthesis, gluconeogenesis, detoxification, lipid processing, free radical defense, bone and collagen formation, and wound healing. Although the research so far is limited, some evidence suggests that manganese can protect against osteoporosis and diabetes, and may even be involved in seizure disorders. Learn more about manganese here.
Oats Provide 31% DV Vitamin B7 (Biotin)
Oats are an excellent source of vitamin B7 (biotin), providing 31% of the daily value per 1/4-cup raw serving!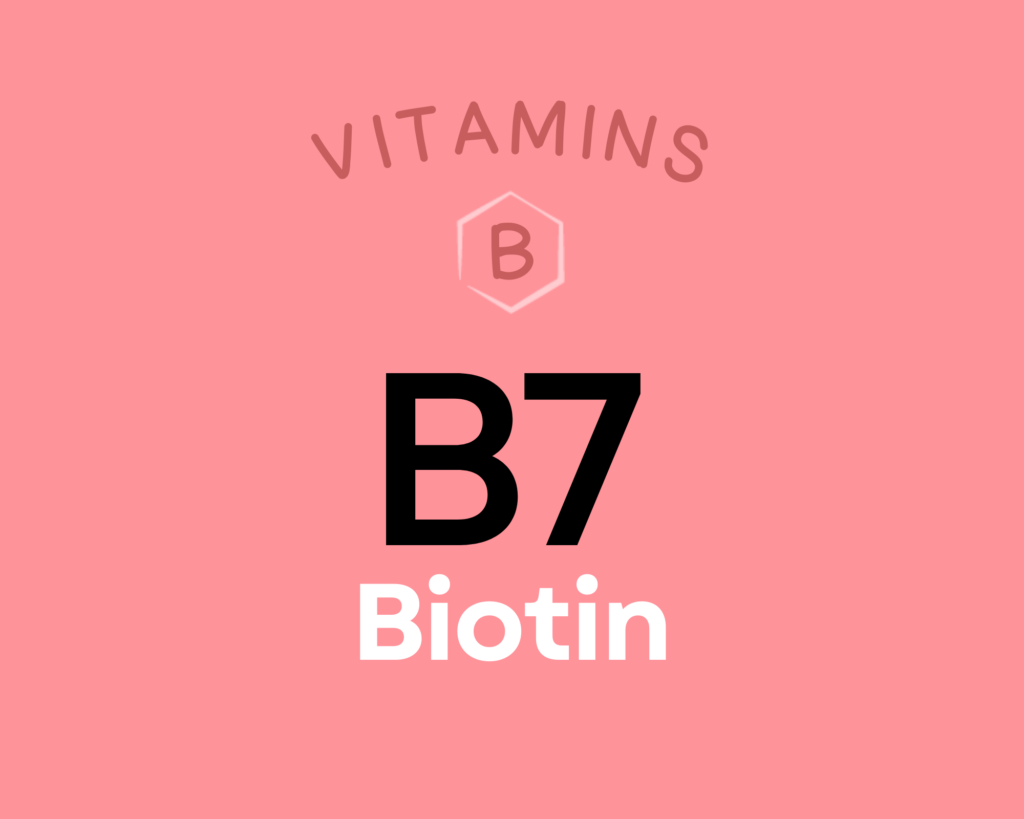 Biotin is a water-soluble B vitamin, also known as vitamin B7. Like other B vitamins, it plays an important role in energy metabolism (serving as a coenzyme for five carboxylase enzymes), neurotransmitter production, cellular function, and the function of various organs. Getting enough biotin can help support healthy nail and hair growth. It's also particularly important during pregnancy, with low intakes increasing the risk of premature delivery and birth defects. There's even some evidence biotin can benefit diabetics and reduce functional disabilities in people with multiple sclerosis. Learn more about biotin here.
Oats Provide 27% DV Copper
Oats are also an excellent source of copper, providing 27% of the daily value per 1/4-cup raw serving!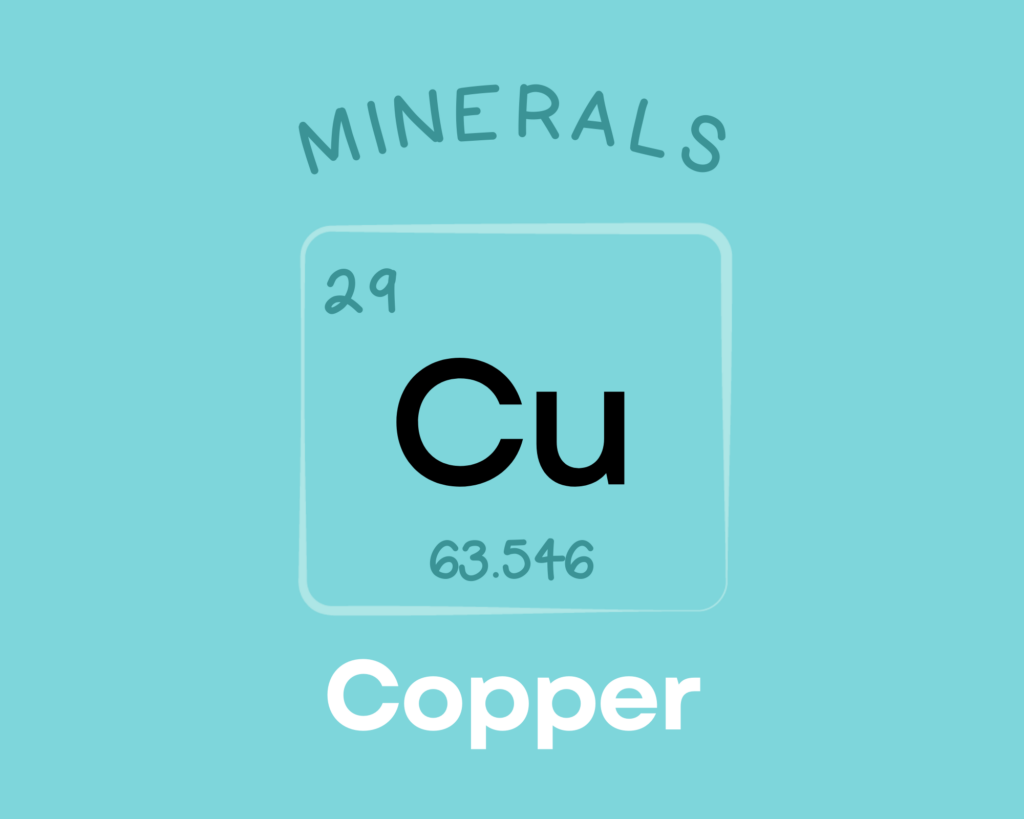 Copper is a trace mineral that's essential for all living organisms. Copper serves as a component of numerous enzymes and proteins in the body, giving it diverse roles in the growth, development, and maintenance of various organs (including the heart and brain), bone, and connective tissue. Copper is also involved in glucose and cholesterol metabolism, helps regulate gene expression, can scavenge free radicals, and is needed for the production of red blood cells. Learn more about copper here.
Oats Provide 25% DV Vitamin B1 (Thiamin)
Oats are an excellent source of vitamin B1 (thiamin), providing 25% of the daily value per 1/4-cup raw serving!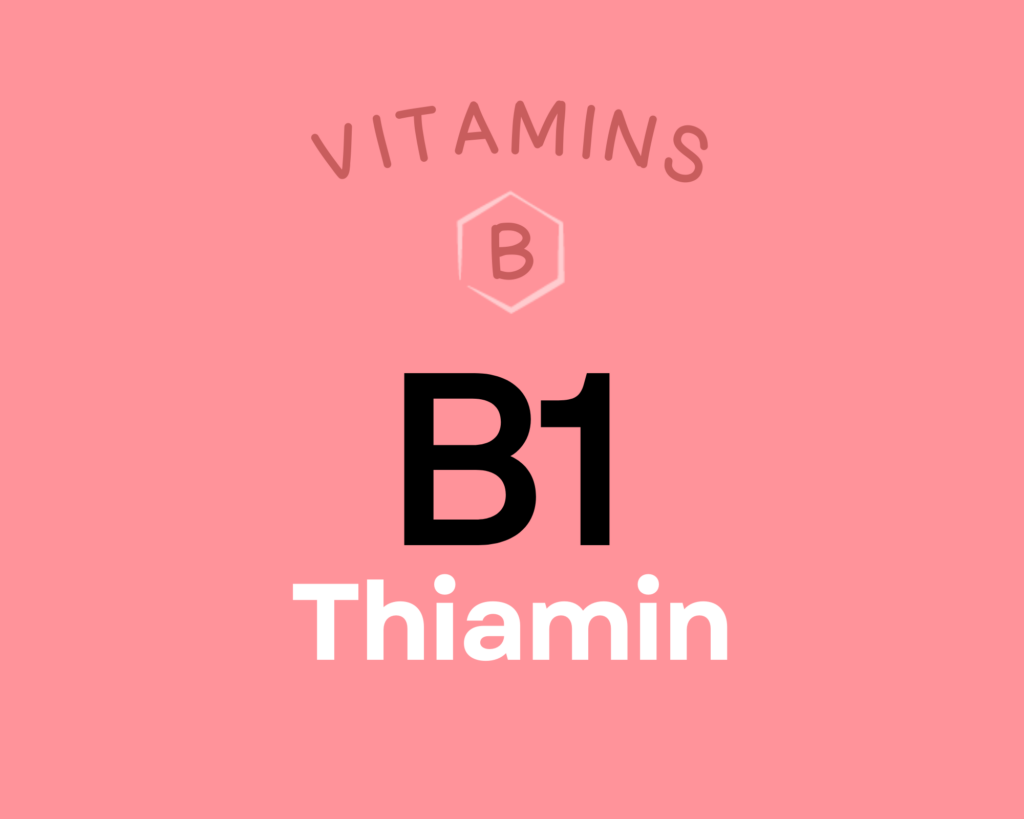 Thiamin (sometimes spelled thiamine, and also called vitamin B1) is a water-soluble vitamin. In its active form of thiamin pyrophosphate, it serves as a cofactor for a variety of enzymes involved in carbohydrate and amino acid metabolism, RNA and DNA production, and generating energy for the Krebs cycle. Research suggests vitamin B1 could help prevent blood sugar and insulin increases in people with disordered glucose metabolism, reduce the risk of cataracts, and improve health and mortality outcomes in patients with sepsis. Because aggressive tumors have high thiamin demands, it's uncertain whether supplementing with thiamin while having cancer is beneficial due to preventing deficiency, or harmful due to providing more fuel for tumor growth. Insufficient thiamin may increase the risk of Alzheimer's disease, and when chronic, leads to a deficiency disease called beriberi. Learn more about vitamin B1 here.
Learn What Foods Are the Best Sources of Every Nutrient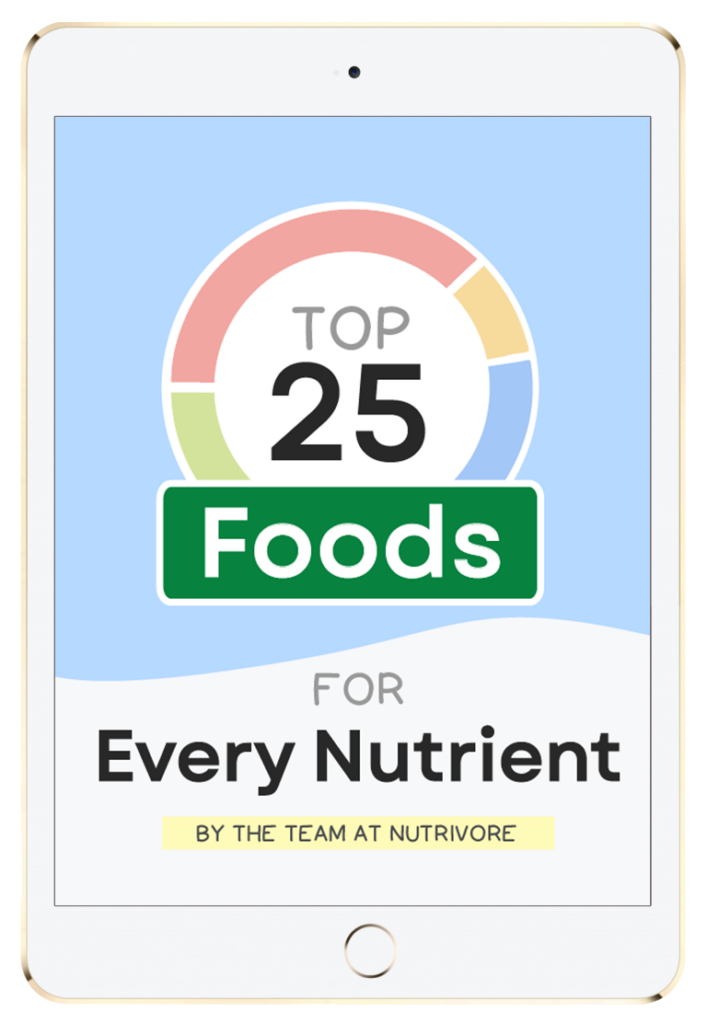 The Top 25 Foods for Every Nutrient
The Top 25 Foods for Every Nutrient e-book is a well-organized, easy-to-use guide to help you choose foods that fit your needs of 42 important nutrients while creating a balanced nutrient-dense diet.
Get two "Top 25" food lists for each nutrient, plus you'll find RDA charts for everyone, informative visuals, fun facts, serving sizes and the 43 foods that are Nutrient Super Stars!
Buy now for instant digital access.
How Much Oats Should We Eat Per Day?
Grains and pseudograins, especially in their whole form, are a nutritionally valuable concentrated source of fiber, which is responsible for most of their health benefits.
The health benefits attributed to fiber are numerous. Diets rich in fiber reduce the risk of many cancers (especially colorectal cancer, but also liver, pancreas, and others) and cardiovascular disease, as well as lower inflammation overall. Prospective studies have confirmed that the higher our intake of fiber, the lower our inflammation (as measured by C-reactive protein). In fact, a recent study showed that the only dietary factor that correlated with incidence of ischemic cardiovascular disease is low fiber intake (not saturated fat!); the more fiber we eat, the lower our risk. If someone has kidney disease, a high-fiber diet reduces their risk of mortality. If someone has diabetes, a high-fiber diet reduces their risk of mortality. A high fiber intake can even reduce the chances of dying from an infection.
Many of the health benefits attributed to fruits, vegetables, nuts, legumes, and whole grains are due to the way the fiber in these foods impact the gut microbiota. However, fiber has other effects, too, like regulating peristalsis of the intestines (the rhythmic motion of muscles around the intestines that pushes food through the digestive tract), stimulating the release of the suppression of the hunger hormone ghrelin (so we feel more full), and slowing the absorption of simple sugars into the bloodstream to regulate blood sugar levels and avoid the excess production of insulin. Fiber also binds to various substances in the digestive tract (like hormones, bile salts, cholesterol, and toxins) and, depending on the type of fiber, can facilitate either elimination or reabsorption (for the purpose of recycling, which is an important normal function for many substances like bile salts and cholesterol), both of which can be extremely beneficial—if not essential—for human health.
Based on all of these benefits, the recommended dietary intake for fiber is 14 grams per 1000 kcal, which translates to 28 grams of fiber, if you eat a 2,000 calorie per day diet. However, there are many studies showing greater benefits from even higher levels of intake. Learn more about fiber here.
Research has shown that oatmeal can be protective against a variety of health conditions. Over 50 human studies have demonstrated that oats have cholesterol-lowering properties, reducing both total and LDL cholesterol by up to 23% and in over a dozen studies, oat consumption has been shown to improve levels of both fasting and post-meal blood sugar and insulin. Plus, a review of observational studies found high oat intake is associated with a 10% reduction in cancer risk!
Easily track your servings of Nutrivore Foundational Foods!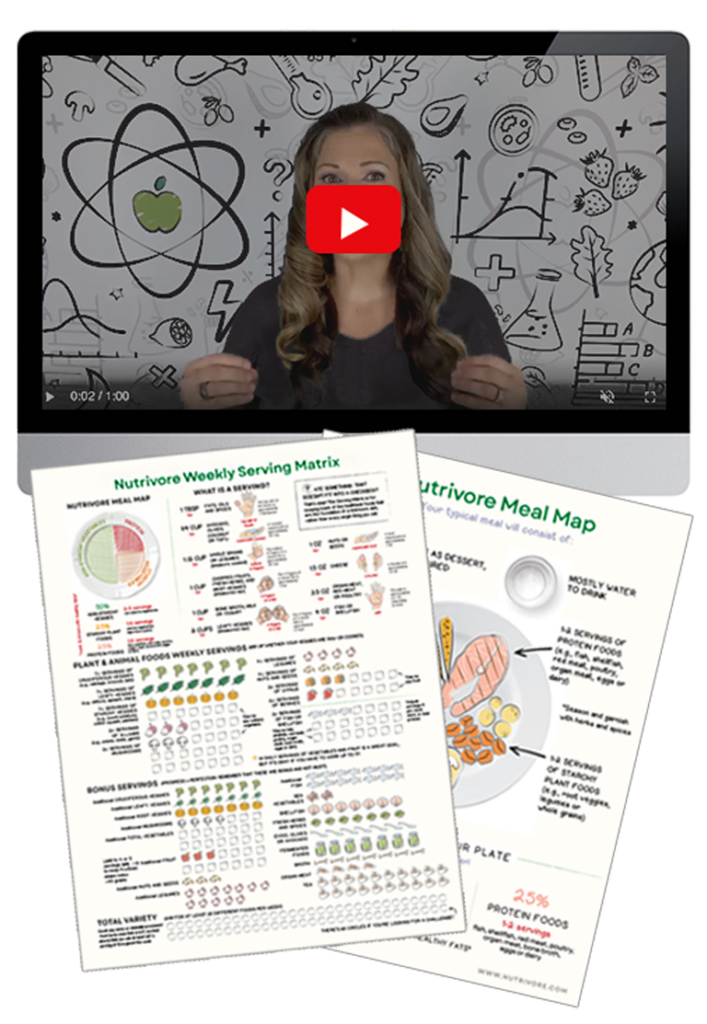 The Nutrivore Weekly Serving Matrix
The Nutrivore Weekly Serving Matrix digital resource is an easy-to-use and flexible weekly checklist designed to help you maximize nutrient-density and meet serving suggestions of Nutrivore foundational foods, all without having to weigh or measure your foods!
Includes a 1-hour video tutorial and downloadable interactive guides.
Buy now for instant digital access.
cITATIONS
Expand to see all scientific references for this article.

Clements RS Jr, Darnell B. Myo-inositol content of common foods: development of a high-myo-inositol diet. Am J Clin Nutr. 1980 Sep;33(9):1954-67. doi: 10.1093/ajcn/33.9.1954. PMID: 7416064.

Ey J, Schömig E, Taubert D. Dietary sources and antioxidant effects of ergothioneine. J Agric Food Chem. 2007 Aug 8;55(16):6466-74. doi: 10.1021/jf071328f. Epub 2007 Jul 6. PMID: 17616140.

Fineli Finnish Food Composition Database: Oats, Rolled, Oat Flakes

Malgorzata EZ, Witkowska AM. Antioxidant Potential and Polyphenol Content of Selected Food. International Journal of Food Properties. 2011. Vol 14(2):300-308. doi: 10.1080/10942910903176584

Ryan D, Kendall M, Robards K. Bioactivity of oats as it relates to cardiovascular disease. Nutrition research reviews. 2008. Vol 20 (2):147-62. 10.1017/S0954422407782884.

USDA Food Central Database: Oats (Includes foods for USDA's Food Distribution Program)

Watanabe T, Kioka M, Fukushima A, Morimoto M, Sawamura H. Biotin content table of select foods and biotin intake in Japanese. Int J Anal Bio-Sci. 2014. Vol 2(4):109-125.