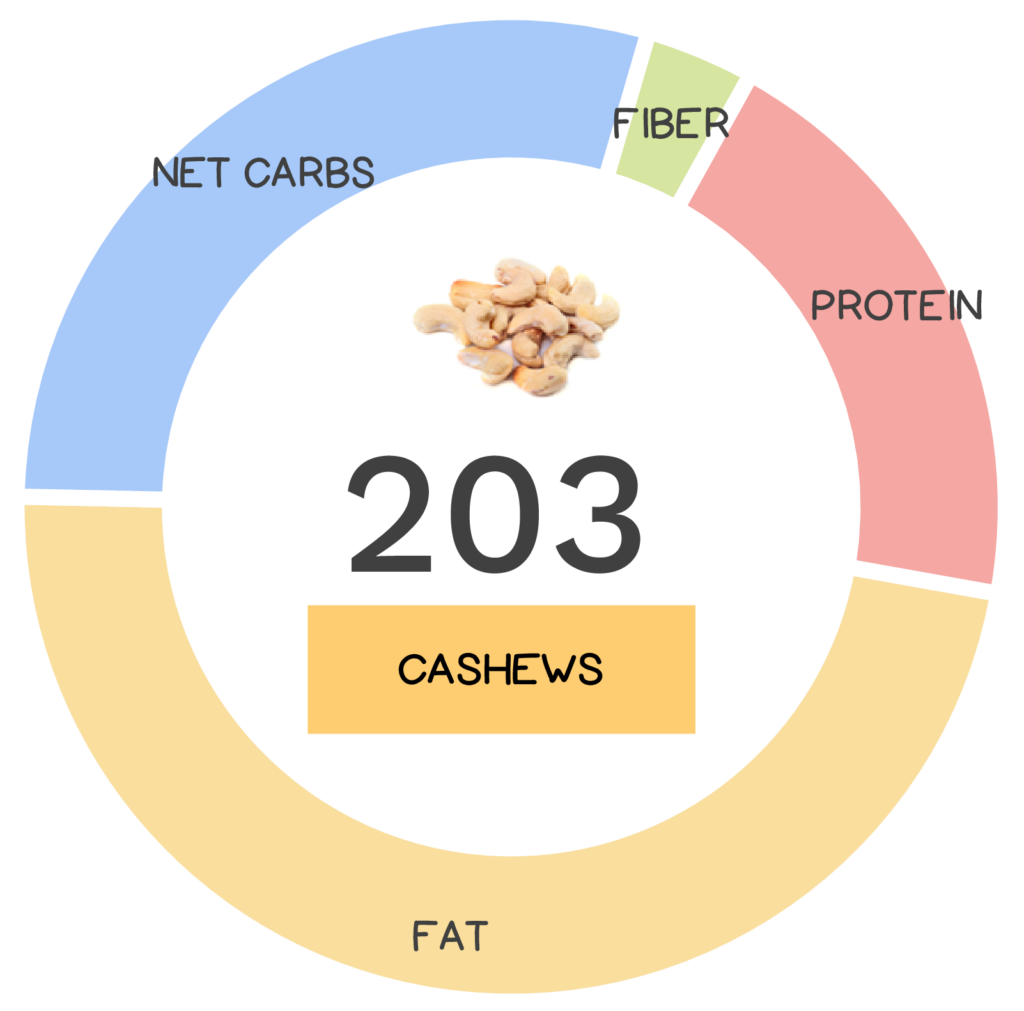 Cashews are delicious, soft "nuts" enjoyed as a common snack food and popular in Asian cuisine (cashew nut chicken anyone?) In light of their unique macronutrient ratios, which gives them a creamy texture when blended, they are incredibly versatile and can also be used as a plant-based alternative to dairy products such as milk and cheese.
Cashews are related to pistachios, mangoes, and poison ivy, and come from the fruit-bearing cashew tree, Anacardium occidentale, which is a tropical evergreen. This tree was originally native to Brazil and Venezuela, but was distributed throughout the world by Portuguese explorers and is now cultivated around the globe, with top producing countries including India, Ivory Coast and Vietnam.
Technically, cashews aren't nuts in the botanical sense of the word, but are in fact seeds of the tree, which grow in a very unique fashion. The tree produces what is known as a cashew apple – at the end of the apple is found a kidney shaped drupe or stone fruit, housing a single seed encased within its shell – the cashew "nut"! Since the seed develops on the outside of the fruit, the cashew apple is considered a false fruit. (You have to see it to believe it!) The shell surrounding the seed contains a potent skin irritant similar to that found in its relative, poison ivy (and the reason why cashew nuts are sold without their shells). The brightly colored yellow or red cashew apple, which is technically the swollen stem of the cashew fruit, is also edible as a fresh "fruit." However, most of us aren't likely to ever have an opportunity to try it, seeing as it is highly perishable. However, it can be cooked in various ways, made into preserves, used in fruit juice and in several countries is fermented to produce various types of alcohol. (Nuts, right?) Speaking of nutty, belief it or "nut", the largest cashew tree in the world is located in Brazil and spans an astounding 81,000 square feet (roughly the size of 70 regular sized cashew trees!), producing approximately 60,000 fruit each year and estimated to be over a thousand years old!
Everything You Need to Jump into Nutrivore TODAY!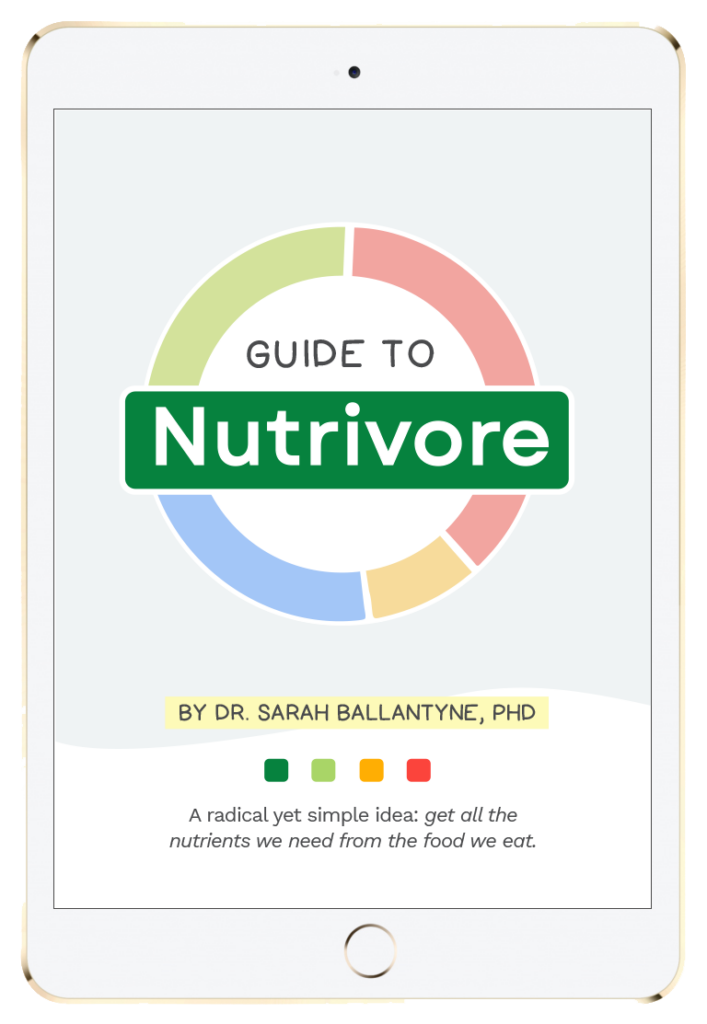 Guide to Nutrivore
The Guide to Nutrivore e-book explains why and how to eat a Nutrivore diet, introduces the Nutrivore Score, gives a comprehensive tour of the full range of essential and important nutrients!
Plus, you'll find the Top 100 Nutrivore Score Foods, analysis of food groups, practical tips to increase the nutrient density of your diet, and look-up tables for the Nutrivore Score of over 700 foods.
Nutrivore Score for Cashews – 203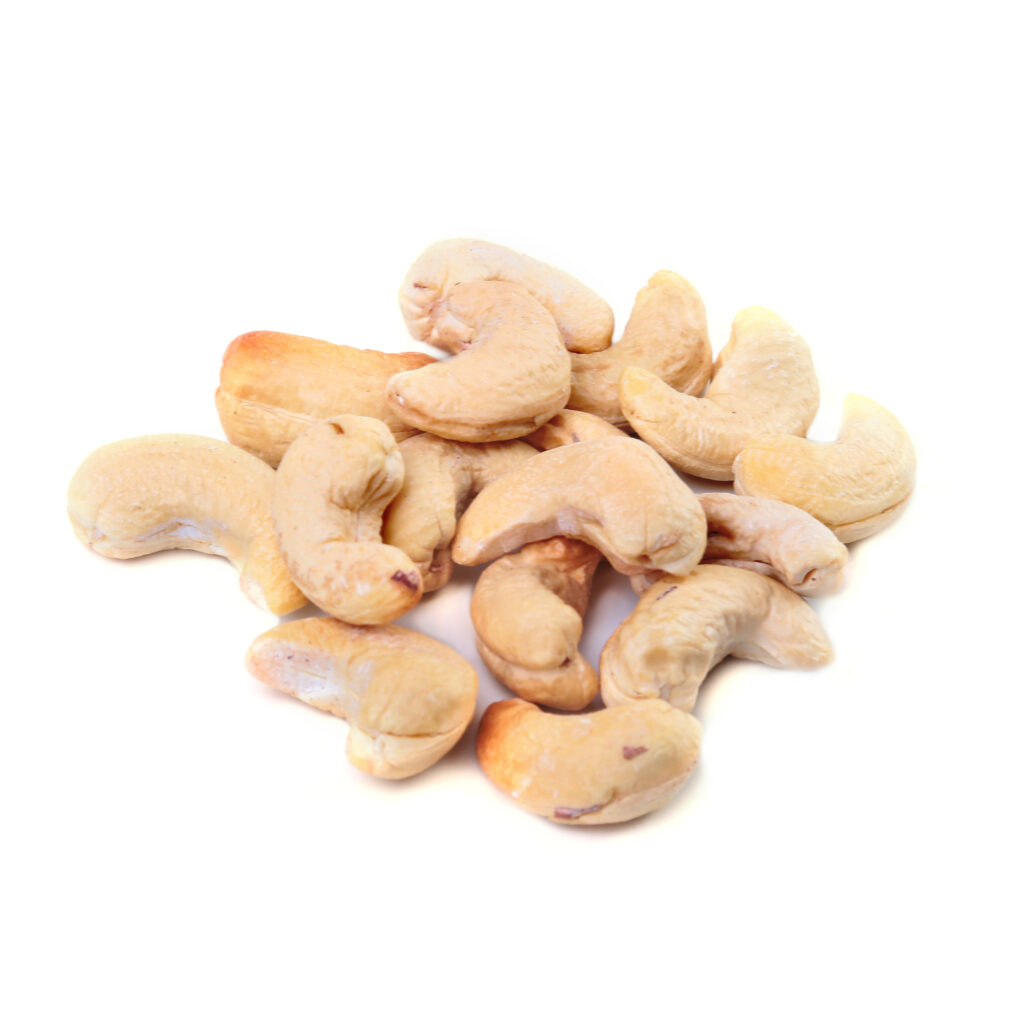 Cashews have a Nutrivore Score of 203, making them a medium nutrient-dense food! Plus, they are a low-carb food; cashews have 7.5 grams of net carbs per 1-ounce serving!
Per serving, cashews are a best source (>50% daily value) of copper; an excellent source (20-50% daily value) of manganese and monounsaturated fatty acids (MUFA); and a good source (10-20% daily value) of iron, linoleic acid, magnesium, phosphorus, polyphenols, protein, selenium, vitamin B1 (thiamin), vitamin B7 (biotin), vitamin E, and zinc.
Want to Know the Top 100 Nutrivore Score Foods?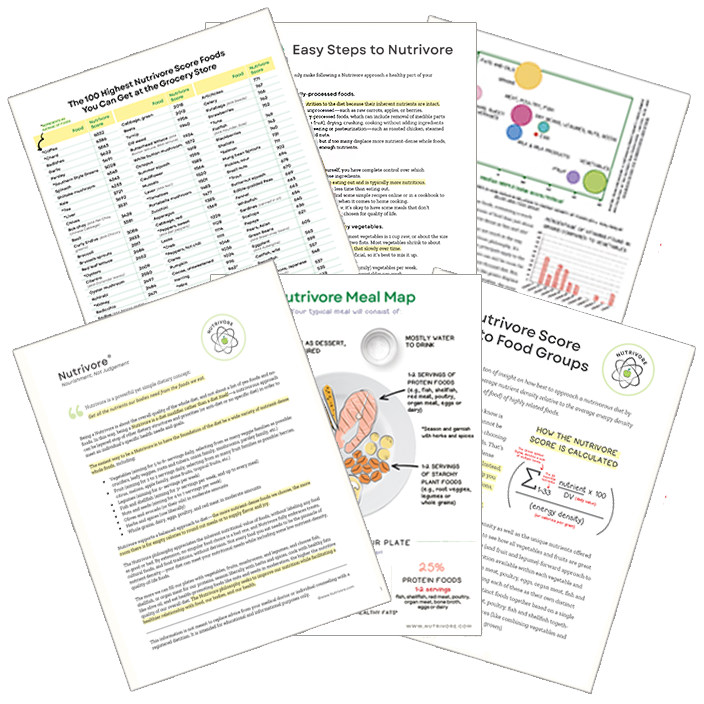 Get it Directly in Your Inbox!
The Nutrivore Newsletter is a weekly email that delivers bite-size fun facts, practical tips, recipes and resources. Sign up now and get 5 free guides directly to your inbox:
Easy Steps to Nutrivore 4-page guide
Nutrivore Foundational Foods 6-page guide
Nutrivore Score Guide to Food Groups 3-page guide
Nutrivore Meal Map
Top 100 Nutrivore Score Foods
Cashew Nutrition Facts
One serving of cashews is standardized to 1 ounce or about 28 grams. To put this in perspective: one serving of cashews roughly equates to a palmful of nuts.
Cashew Nutrition Facts Per Serving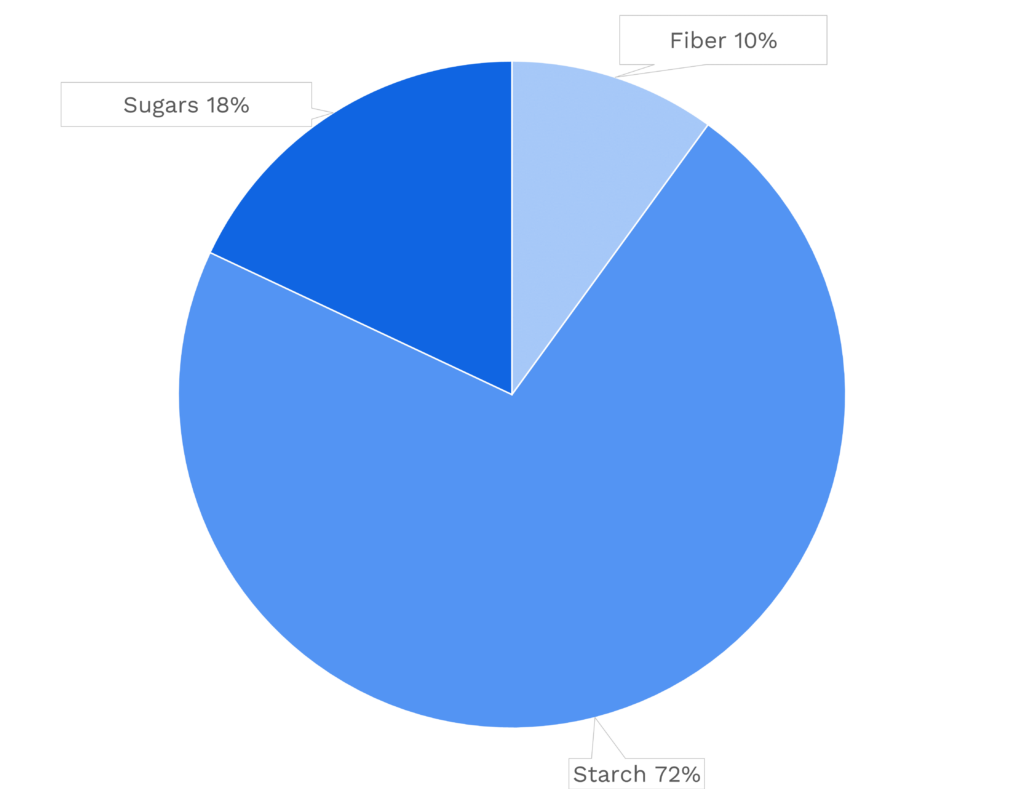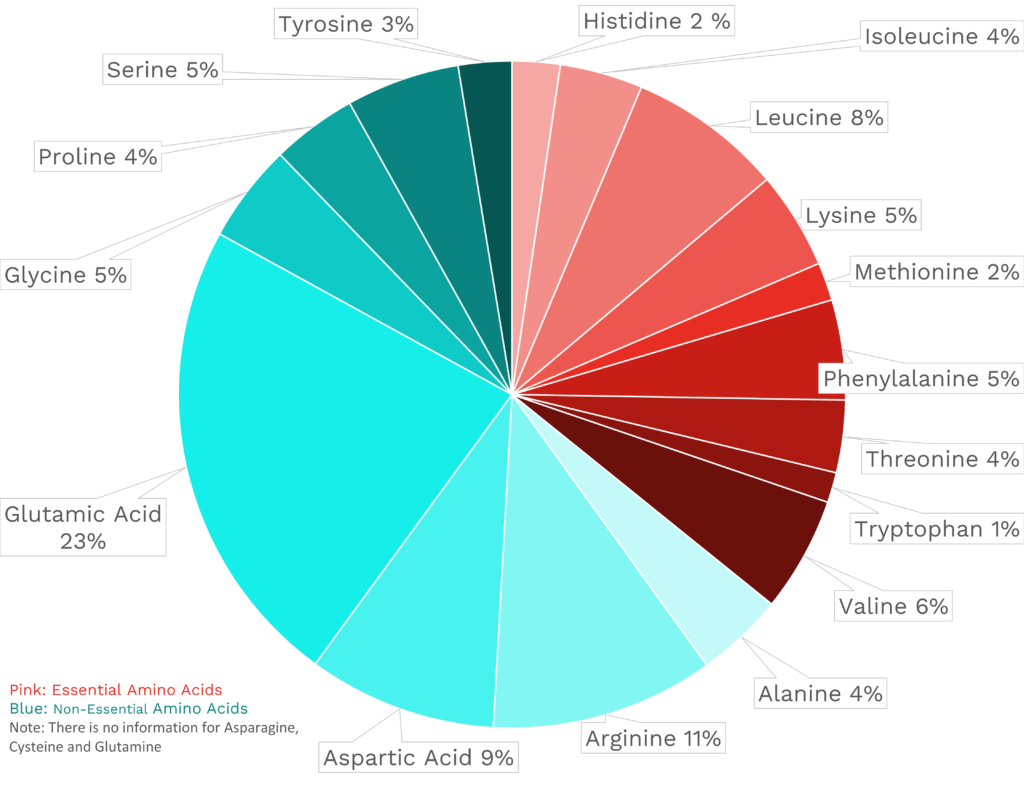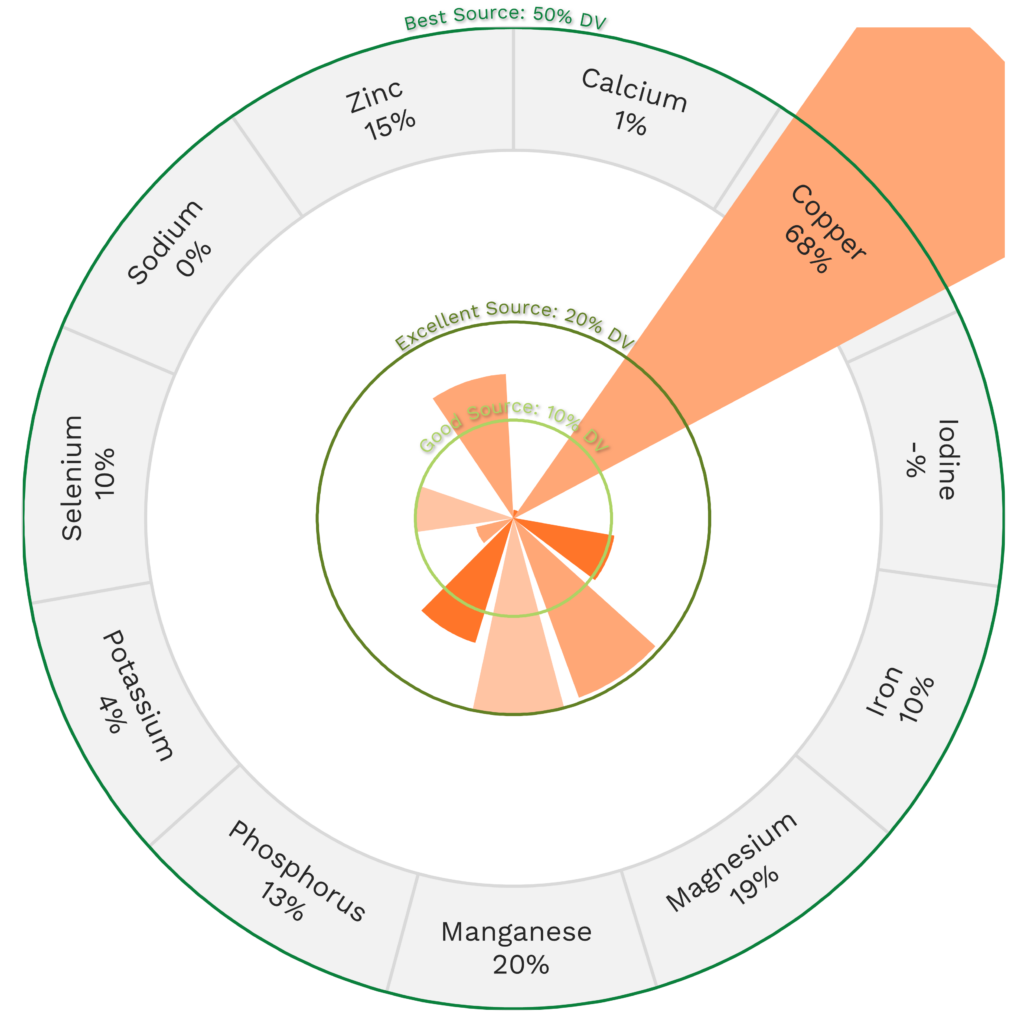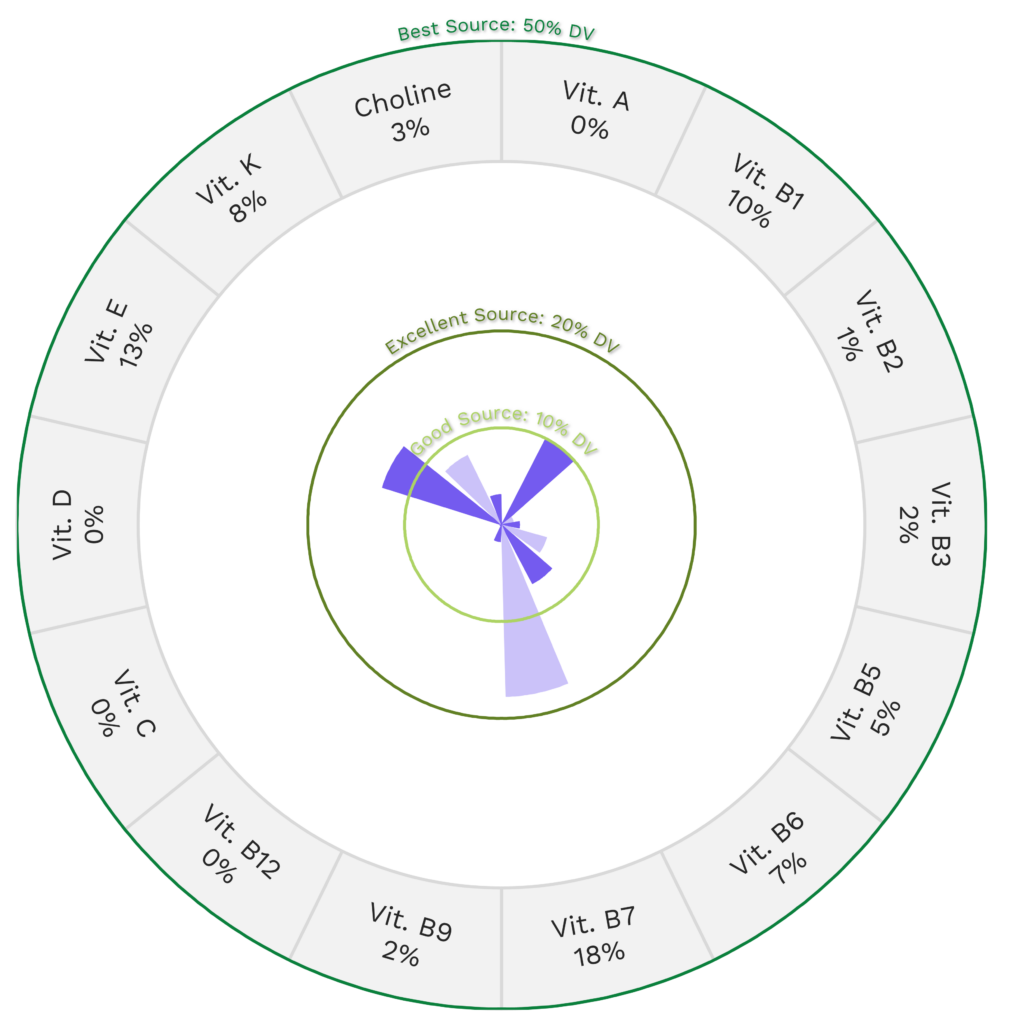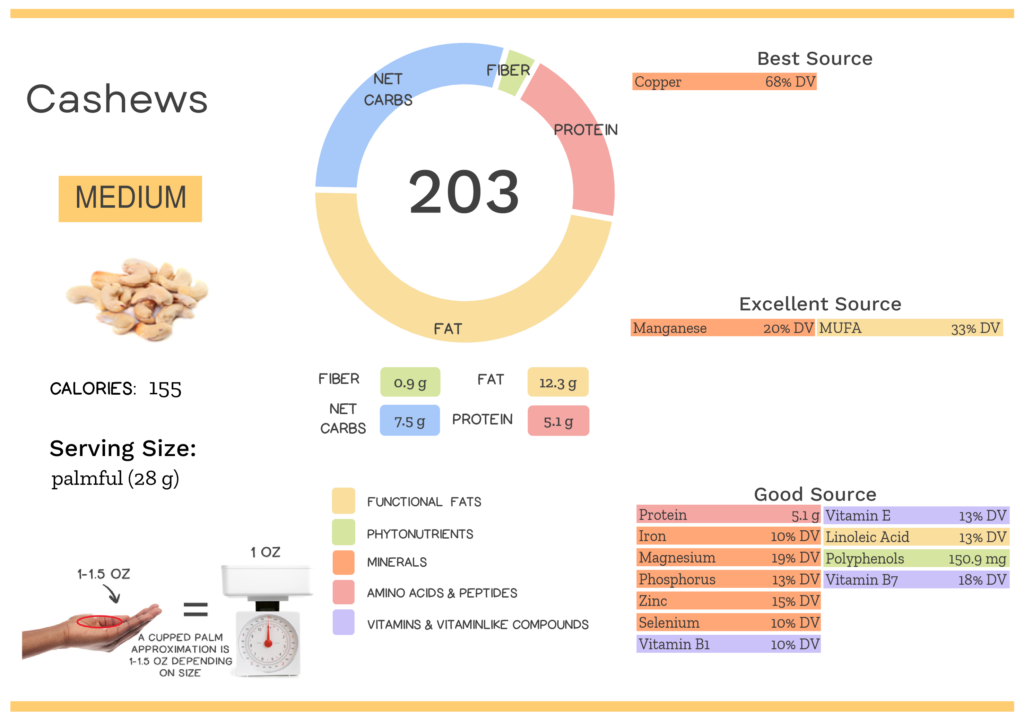 Cashew Nutrition Varies With Processing
The Nutrivore Score of cashews varies depending on processing.
| | NUTRIVORE SCORE |
| --- | --- |
| Cashew butter, plain, with salt added | 160 |
| Cashew butter, plain, without salt added | 182 |
| Cashew nuts, raw | 203 |
| Cashew nuts, dry roasted, with salt added | 181 |
| Cashew nuts, dry roasted, without salt added | 181 |
| Cashew nuts, oil roasted, with salt added | 191 |
| Cashew nuts, oil roasted, without salt added | 191 |
Impressed by all the NUT-rition in cashews? Maybe your friends will be too!
Health Benefits of Cashew Nutrients
Let's take a closer look at all of the best and excellent source of nutrients found in a 1-ounce serving of cashews and see how they benefit our health.
Cashews Provide 68% DV Copper
Cashews are a best source of copper, providing 68% of the daily value per 1-ounce serving!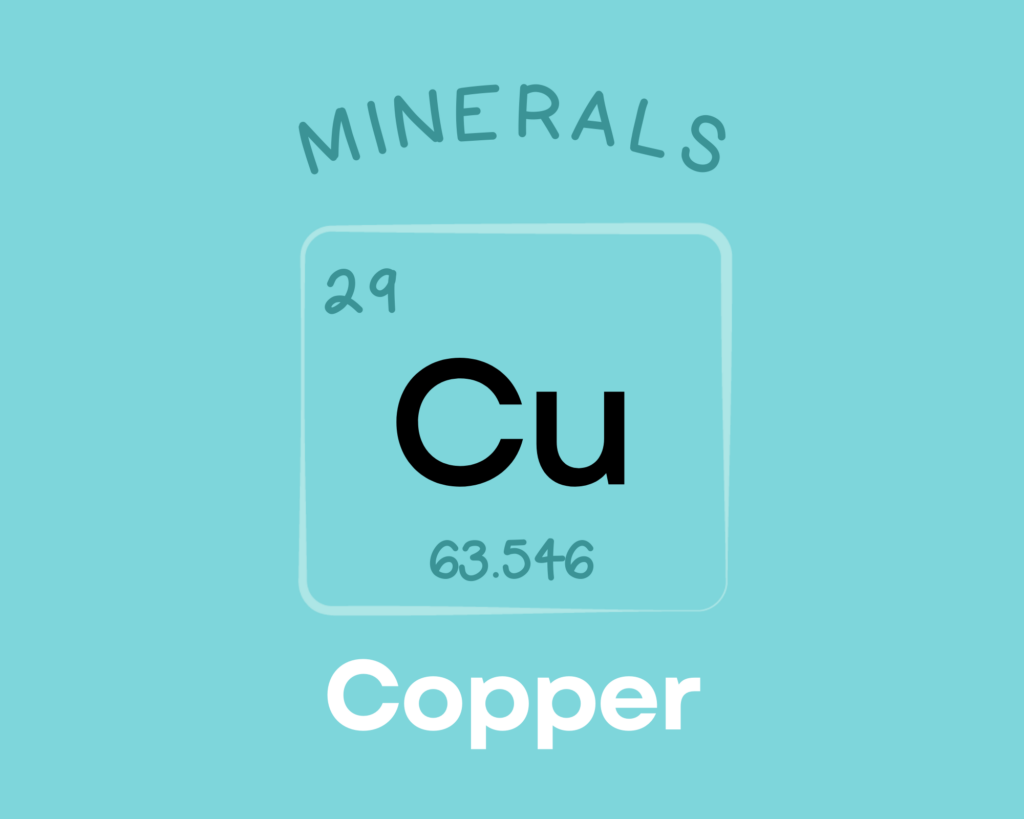 Copper is a trace mineral that's essential for all living organisms. Copper serves as a component of numerous enzymes and proteins in the body, giving it diverse roles in the growth, development, and maintenance of various organs (including the heart and brain), bone, and connective tissue. Copper is also involved in glucose and cholesterol metabolism, helps regulate gene expression, can scavenge free radicals, and is needed for the production of red blood cells. Learn more about copper here.
Cashews Provide 33% DV Monounsaturated Fatty Acids (MUFA)
Cashews are an excellent source of monounsaturated fatty acids (MUFA), providing 33% of the daily value per 1-ounce serving!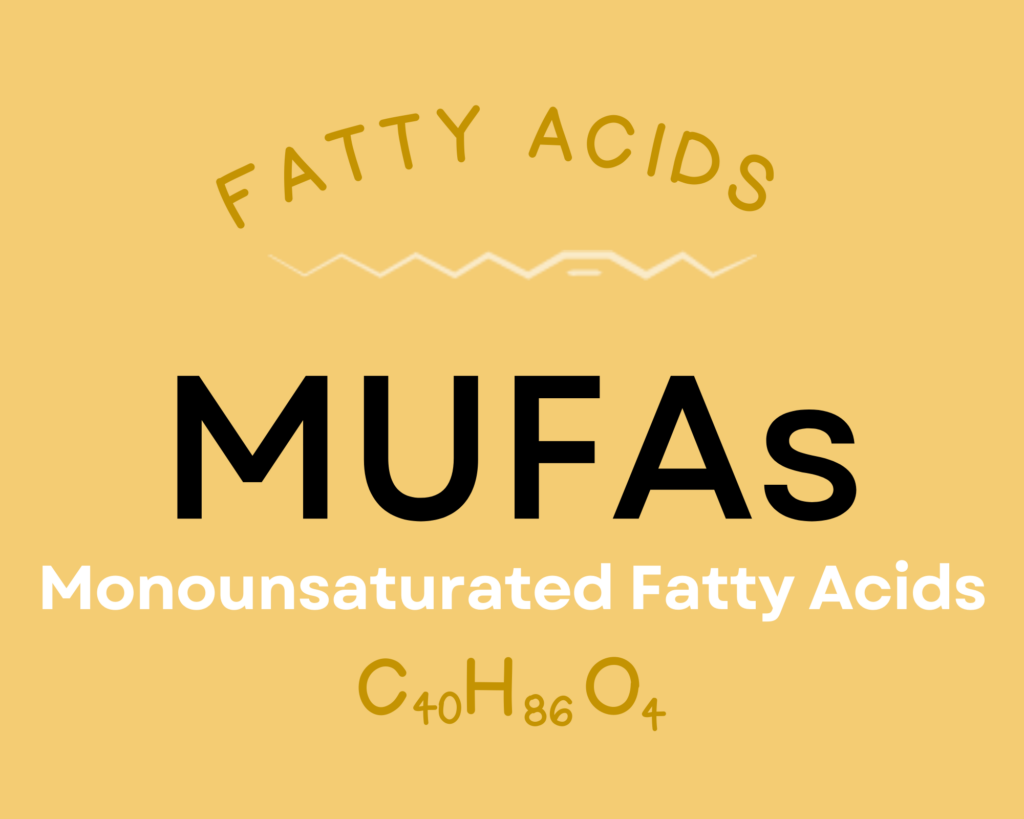 Monounsaturated fatty acids (MUFA), the most abundant of which is oleic acid, play an important role in cellular function due to its presence in phospholipids in cell membranes. Oleic acid is beneficial for cardiovascular health—both in reducing risk factors like high blood pressure, cholesterol, triglycerides, inflammation, and oxidative stress, and in reducing actual cardiovascular disease incidence and events. Oleic acid has even demonstrated anti-cancer activity, with an ability to inhibit the progression, proliferation, and metastasis of several types of cancer cells. Research shows this fat could benefit body weight regulation and obesity through its effects on energy metabolism and lipogenesis. In fact, human trials show that enriching diets with oleic acid leads to decreases in central obesity, abdominal fat, body weight, and food intake, while also possibly increasing energy expenditure! Oleic acid also possesses some benefits for diabetics—influencing genes and pathways involved in insulin signaling and glucose metabolism, as well as helping protect against some complications of diabetes, like diabetic retinopathy and atherosclerosis. Learn more about oleic acid here.
Cashews Provide 20% DV Manganese
Cashews are also an excellent source of manganese, providing 20% of the daily value per 1-ounce serving!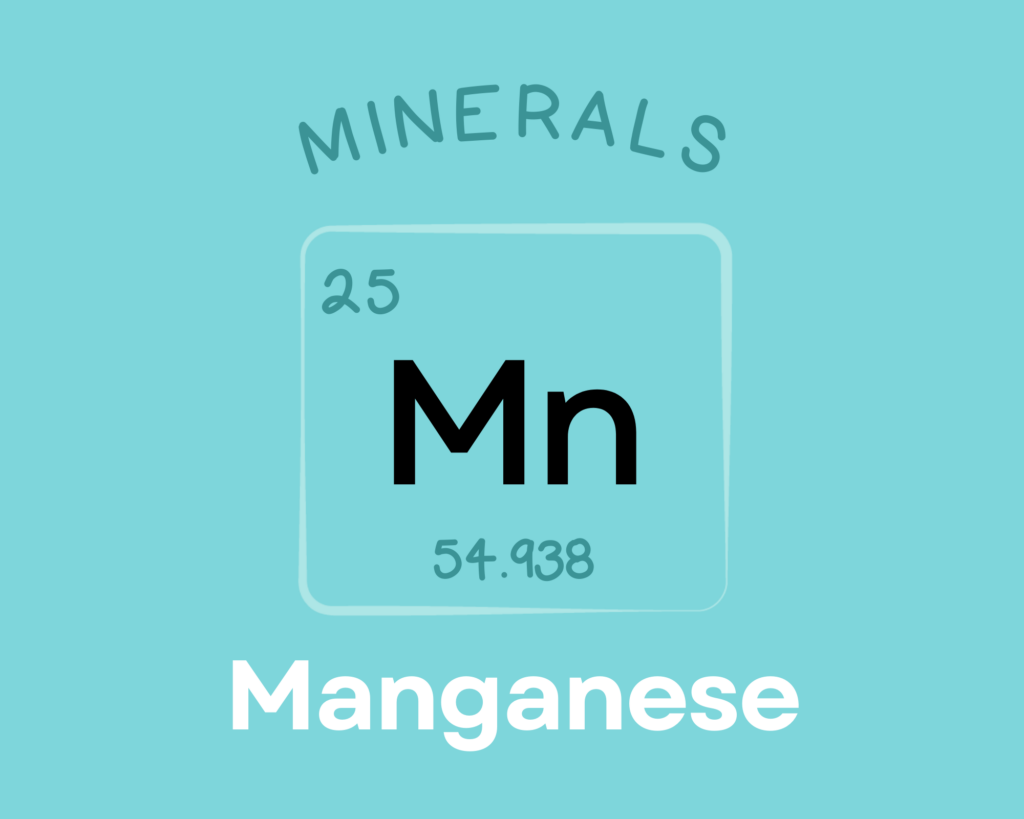 Manganese is an essential mineral that serves as a cofactor and component of numerous enzymes. Through these roles, it's involved in carbohydrate metabolism, amino acid synthesis, gluconeogenesis, detoxification, lipid processing, free radical defense, bone and collagen formation, and wound healing. Although the research so far is limited, some evidence suggests that manganese can protect against osteoporosis and diabetes, and may even be involved in seizure disorders. Learn more about manganese here.
Learn What Foods Are the Best Sources of Every Nutrient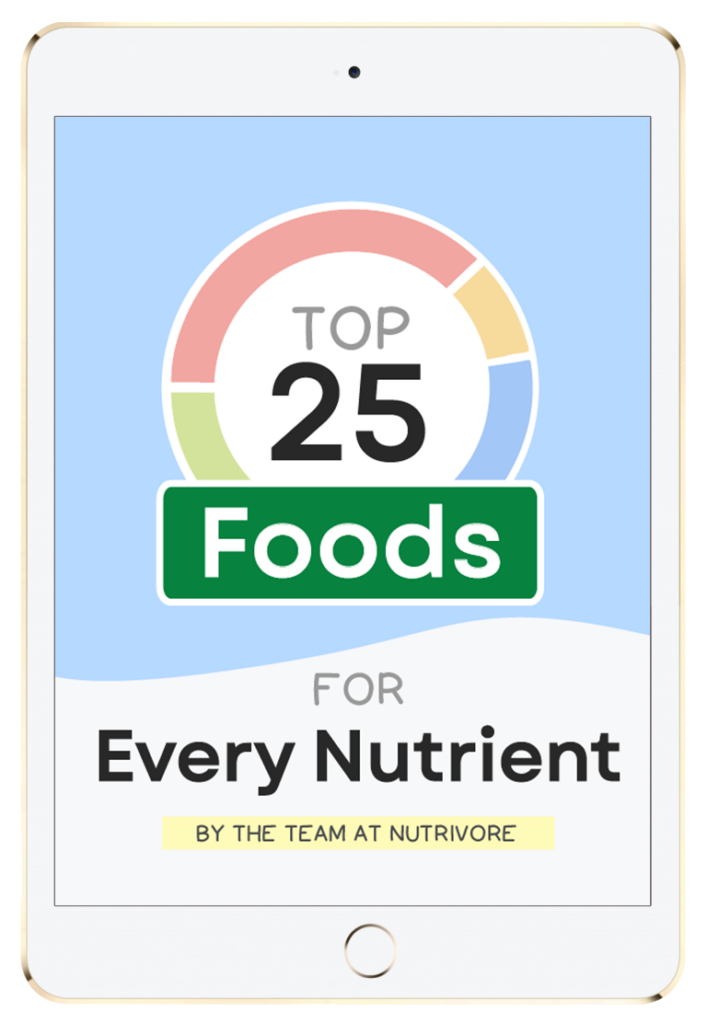 The Top 25 Foods for Every Nutrient
The Top 25 Foods for Every Nutrient e-book is a well-organized, easy-to-use guide to help you choose foods that fit your needs of 42 important nutrients while creating a balanced nutrient-dense diet.
Get two "Top 25" food lists for each nutrient, plus you'll find RDA charts for everyone, informative visuals, fun facts, serving sizes and the 43 foods that are Nutrient Super Stars!
How Much Cashews Should We Eat Per Day?
Not only do nuts make for a convenient snack food, eating nuts is also associated with a wide range of health benefits! As they say, you can't spell nutritious without 'nut' (if they don't say that, they should!)
Nuts and seeds are some of the most nutritious, whole-food healthy fat sources out there! They have been associated with lower rates of a variety of chronic diseases and all-cause mortality. In a study of adults at high risk of cardiovascular disease, eating more than three servings of nuts per week resulted in a 39% reduced risk of death from all causes. Nut and seed consumption is also associated with lower body mass index, lower waist circumference, and lower occurrence of type 2 diabetes.
In a meta-analysis encompassing 354,933 total participants, one serving of nuts per day was associated with a 27% reduced risk of all-cause mortality and a 39% reduced risk of cardiovascular disease mortality, and the highest nut consumers saw a 14% reduced risk of cancer mortality. Additional research has shown that nut consumption is associated with lower risk of mortality from respiratory diseases (52% reduced risk), neurodegenerative disease (35% reduced risk), infectious disease (75% reduced risk), and kidney disease (73%).
However, there are some compelling reasons not to "go nuts" on nuts (hyuck, see what I did there?). Health benefits of nut and seeds consumption do not continue to increase beyond about 1 ounce (28 grams) per day, and there's some evidence that consuming large amounts of nuts daily can increase disease risk (at least for stroke). That means eating more than a palmful per day won't do us any favors (and may potentially undermine our health). And, nuts should be avoided by people with allergies or sensitivities (in which case, seeds can deliver comparable health benefits).
While not every nut or seed has been extensively studied, we can expect variety to be important. For instance, every nut and seed that has been evaluated in terms of its impact on the gut microbiome shows unique benefits. So again, mix it up as in "mixed nuts!" (Hyuck)
---
Easily track your servings of Nutrivore Foundational Foods!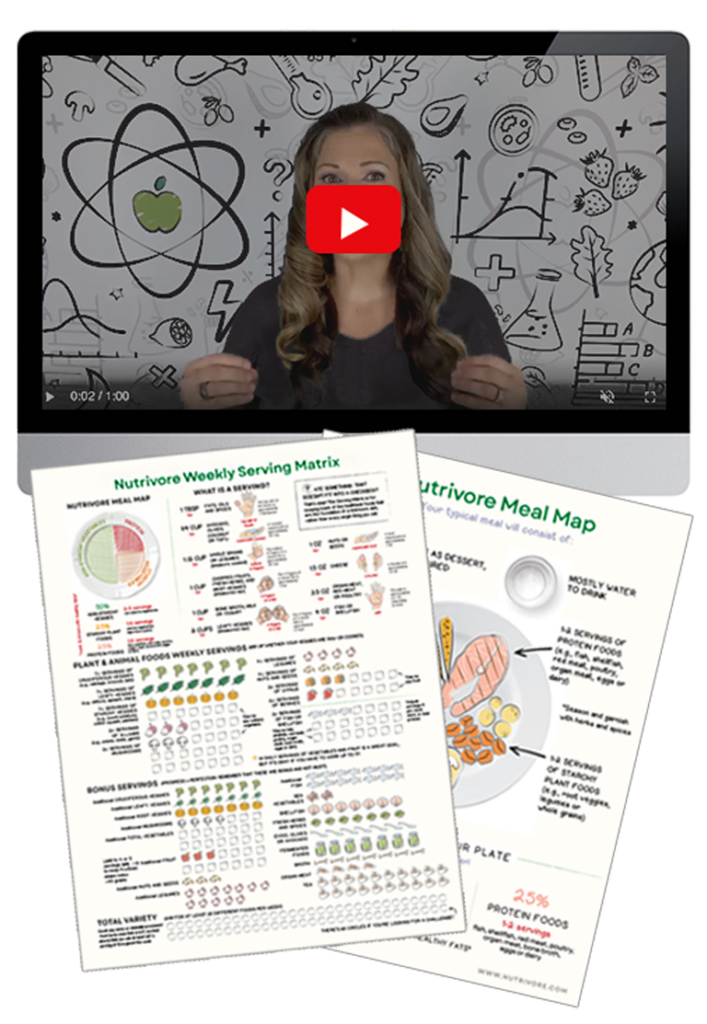 The Nutrivore Weekly Serving Matrix
The Nutrivore Weekly Serving Matrix digital resource is an easy-to-use and flexible weekly checklist designed to help you maximize nutrient-density and meet serving suggestions of Nutrivore foundational foods, all without having to weigh or measure your foods!
Includes a 1-hour video tutorial and downloadable interactive guides.
cITATIONS
Expand to see all scientific references for this article.