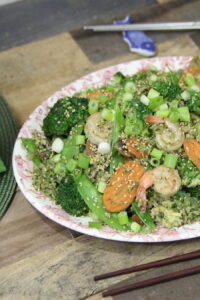 This Egg-Fried Broccoli Rice, which substitutes riced broccoli for actual rice (or the more traditional veggie-based alternative, cauliflower rice), is a delicious way to up your vegetable intake. And when using frozen vegetables, it can be on the table in fifteen minutes, making it a great weeknight meal.
So, why use broccoli in place of rice? A 100-gram serving of broccoli, about 1 cup of florets, contains a whopping 150% of your RDV of vitamin C, 127% of vitamin K, and a good amount (5% to 20%) of vitamins B1, B2, B5, and B6, folate, calcium, magnesium, phosphorous, potassium and manganese—all for only 34 calories! Oh, and that same serving provides 2.6 grams of dietary fiber!
Broccoli is also rich in extremely beneficial phytonutrients, specifically, isothiocyanates, polyphenols (including quercetin and kaempferol), and carotenoids (including lutein and zeaxanthin). These phytonutrients are powerful antioxidants but also have proven antibacterial, antifungal, antitumor, antimutagenic, antiinflammatory, and neuroprotective properties, which is why consuming them is linked to lower risk of chronic disease. Some types of isothiocyanates increase the activity of phase II enzymes (such as quinone reductase and glutamate cysteine ligase) that help remove toxic substances and carcinogens from the body
Thanks to broccoli's high fiber and polyphenol content, it's also a boon to our gut microbiome! Studies show that eating more broccoli can help support a healthy and diverse gut microbial community, supporting the growth of key probiotic strains of bacteria while suppressing the growth of pathogenic ones.
All-in-all, there's some very compelling reasons to increase our consumption of vegetables in general, and broccoli specifically, which brings me back to broccoli rice. It's a super tasty way to up our broccoli intake, swapping it in for white rice or cauliflower rice in all your favorite recipes! As a bonus, it cooks in just a few minutes, making a broccoli rice-based meal, like this Egg-Fried Broccoli Rice, quick and easy even for the most hectic weeknight.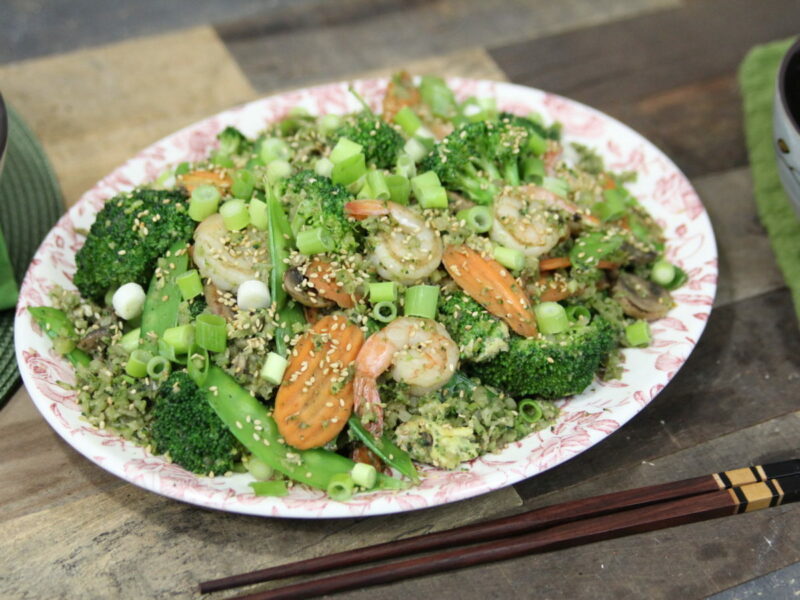 Egg-Fried Broccoli Rice
Instructions
Whisk eggs with 1 teaspoon of sesame oil until frothy. Set aside.

Heat a wok over medium-high heat. Add oil, garlic and ginger and cook, stirring constantly, until fragrant, about 30 seconds.

Add mixed vegetables to wok and cook, stirring constantly, until cooked al dente, about 3 to 4 minutes.

Add prawns and cook, stirring constantly, until heated through, about 2 minutes.

Add the frozen riced broccoli and salt to the wok. Cook, stirring constantly, for 1 minute.

Make a large space in the bottom of the wok by pushing the prawns and veggies up the side. Pour the eggs into the space and let set.

Mix the eggs into the rest of the ingredients. Add remaining 2 teaspoons of sesame oil and coconut aminos and stir to incorporate.

Transfer to a serving dish and garnish with sliced spring onions and sesame seeds.
Nutrition
Nutrition Facts
Egg-Fried Broccoli Rice
Amount per Serving
% Daily Value*
* Percent Daily Values are based on a 2000 calorie diet.
Notes
Keep it simple with frozen stir fry vegetables and pre-riced frozen broccoli. This cuts way down on the prep time for this meal, so you can have dinner on the table in about 15 minutes! If you can't find riced broccoli, make your own by blending 12 oz broccoli florets in a food processor.
You can use shrimp instead of prawns, or switch it up entirely by using chicken. You can also up the protein of this dish by using a full pound of prawns instead of 8 ounces.
Share this article: