Recommended Dietary (or Daily) Allowances (RDA) represent the dietary intake level of a specific nutrient considered sufficient to meet the needs of 97.5% of healthy individuals. These RDAs are established by the Food and Nutrition Board of the Institute of Medicine and are calculated based on the estimated average requirement for each nutrient. Some specialists believe this is a gross underestimation of our true biological need, since these levels are generally determined based on symptoms of deficiency rather than amounts needed for optimal health and don't take into account that certain health conditions can increase the need for various nutrients. That's why these values should be considered minimum daily targets.
When there isn't sufficient information to develop an RDA, the Institute of Medicine has instead established a dietary intake level called Adequate Intake (AI) which is an amount believed to ensure nutritional adequacy for everyone in the demographic group.
Still, other nutrients have no established RDA or AI. For these "nonessential" nutrients Team Nutrivore has set Recommended Targets based on review of the scientific literature, established with the aim of providing improvements for overall health and reduction in chronic disease risk.
Upper Limits have been established for many nutrients, however it's important to differentiate upper limit from toxicity. Nutrient toxicity is typically seen only in the context of supplementation and not via dietary intake of whole foods. In practice, this means we generally don't need to worry about the vitamin and mineral upper limits when we're consuming whole foods. However, it's always good practice to speak with your doctor or a nutritionist when it comes to matters of your health and any potential risk from under/over-consumption.
Nutrient Requirements By Group
Now that you understand all of the terminology, wondering how much of each nutrient you should be getting? We've got you covered! You can get all the details on recommended nutrient intake for carbohydrates, fats, minerals, phytonutrients, protein, and vitamins on the page corresponding to your specific age, gender, or situation.
The first step to becoming a Nutrivore is developing for appreciation of nutrients, what they do in the human body, what happens when we don't get enough of them, and what foods are their best sources. The incredible diversity of nutrients and their roles in human biology is truly awesome.
Learn What Foods Are the Best Sources of Every Nutrient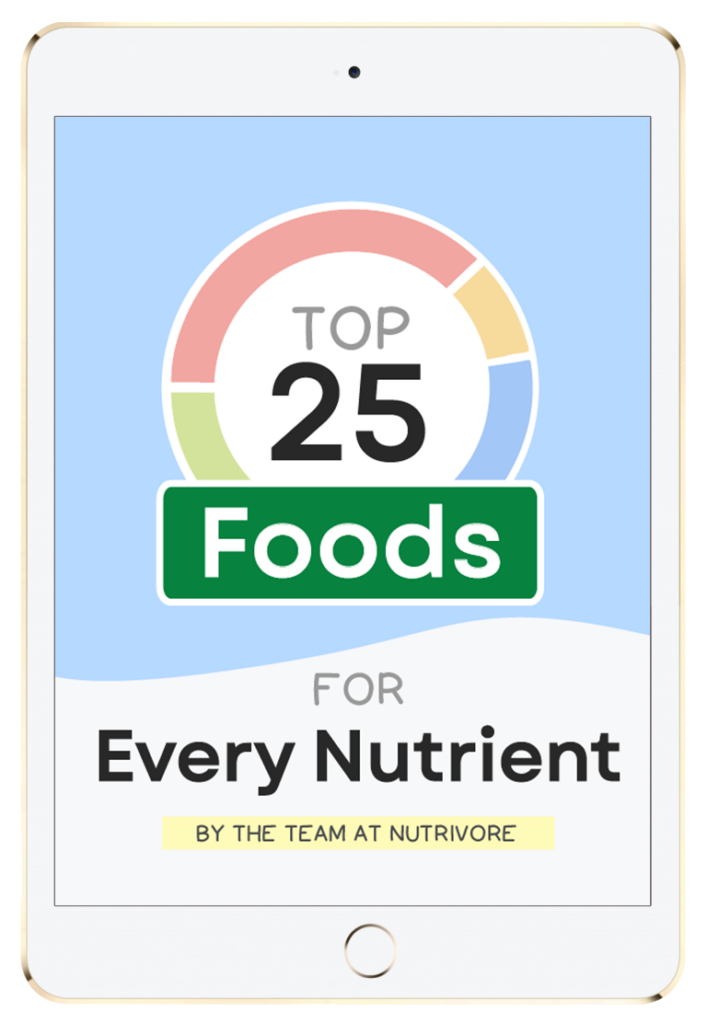 The Top 25 Foods for Every Nutrient
The Top 25 Foods for Every Nutrient e-book is a well-organized, easy-to-use guide to help you choose foods that fit your needs of 42 important nutrients while creating a balanced nutrient-dense diet.
Get two "Top 25" food lists for each nutrient, plus you'll find RDA charts for everyone, informative visuals, fun facts, serving sizes and the 43 foods that are Nutrient Super Stars!