Key Takeaways (expand)

Lysine is one of the nine essential amino acids we must obtain from food, and one of the 20 amino acids used to create protein.
Lysine is needed for the production of carnitine—a nutrient that helps convert fatty acids into energy, as well as lowers cholesterol levels.
Lysine plays an important role in forming collagen, a key component of bones and connective tissue (including tendons, cartilage, and skin).
Lysine is also involved in histone modification, which gives it a major role in the epigenome (the collection of chemical modifications that tell the genome what to do, ultimately regulating gene expression).
Lysine helps the body use calcium, both by enhancing its absorption from the intestines and by increasing its retention in the kidneys.
Uniquely, lysine possesses strong antiviral activity—particularly against herpes simplex virus (HSV), the virus responsible for cold sores and genital herpes.
These anti-viral effects are due to lysine's ability to block the activity of arginine—an amino acid needed for the herpes virus to replicate.
Preliminary studies suggest lysine could block infection of influenza A and SARS-CoV-2 (the virus that causes Covid), but more research is needed.
Some evidence suggests lysine could benefit bone health, likely due to its role in calcium absorption and collagen formation.
Due to promoting cell proliferation and collagen synthesis, lysine is beneficial for wound healing.
Lysine could potentially help improve blood sugar control and benefit diabetes, though more research is needed in humans.
There's also evidence lysine could benefit anxiety, possibly through action on serotonin receptors.
Lysine deficiency can cause connective tissue defects, fragile nails, broken skin, fatigue, hair loss, slow wound healing, reduced growth, and problems with bone metabolism.
Good sources of lysine include protein-rich animal foods such as eggs, red meat poultry, seafood, cheese, and yogurt, as well as soybeans and other legumes.
Lysine (symbol Lys) is one of the nine nutritionally indispensable amino acids, meaning we have to consume it through foods! It was first isolated from milk protein in 1889, by a German biochemist named Ferdinand Heinrich Edmund Drechsel.
Along with serving as a building block for protein synthesis, lysine is needed for proper growth, the production of carnitine, calcium absorption, and collagen formation. It also plays a role in histone modification, making it an important player in the epigenome, and possesses antiviral and anti-anxiety activity.
Dietary sources of lysine include protein-rich animal foods such as eggs, red meat (beef, lamb, and pork), poultry, shellfish, fin fish (especially tuna, salmon, cod, and sardines), cheese (especially parmesan cheese and ricotta), and other dairy products, like yogurt. Soybeans and other legumes are also good sources of lysine, as are spirulina and fenugreek seed.
Everything You Need to Jump into Nutrivore TODAY!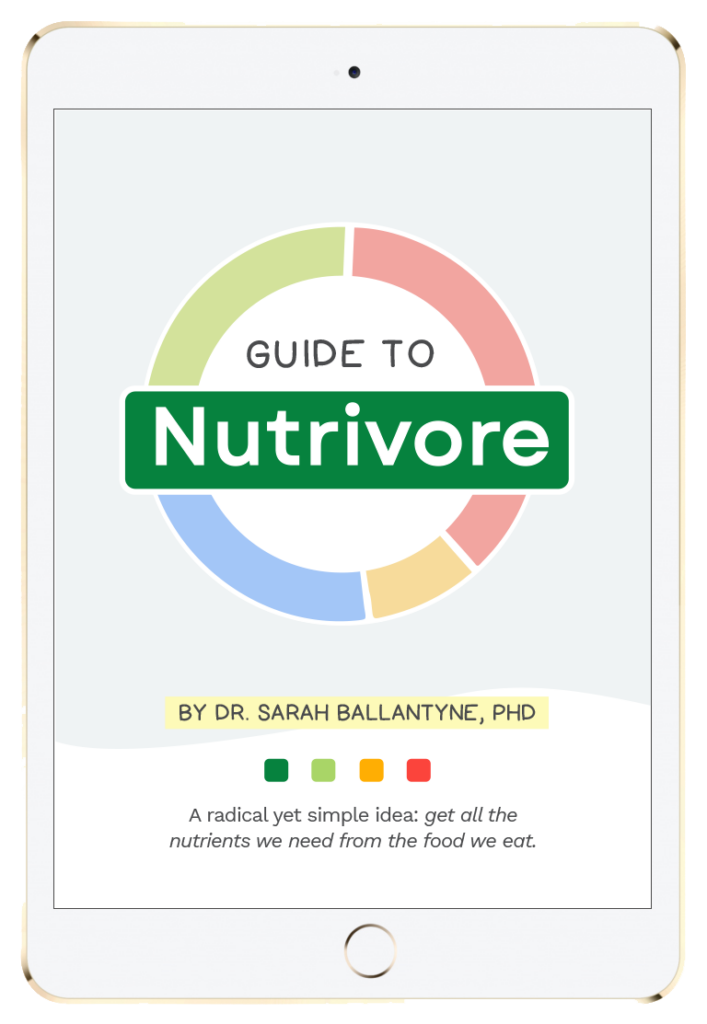 Guide to Nutrivore
The Guide to Nutrivore e-book explains why and how to eat a Nutrivore diet, introduces the Nutrivore Score, gives a comprehensive tour of the full range of essential and important nutrients!
Plus, you'll find the Top 100 Nutrivore Score Foods, analysis of food groups, practical tips to increase the nutrient density of your diet, and look-up tables for the Nutrivore Score of over 700 foods.
Buy now for instant digital access.
The Biological Roles of Lysine
Broadly, amino acids are molecules with the molecular formula of R-CH(NH2)-COOH-NH2, where -NH2 is the basic amino group, COOH is an acidic carboxyl group, and R represents a molecular unit called a side chain. That side chain is unique for each amino acid, and its chemical properties create different classes of amino acids: nonpolar and neutral, polar and neutral, polar and acidic, and polar and basic.
Although hundreds of amino acids exist, only 20 of them are used for what amino acids are arguably most known for: forming the building blocks of proteins. Proteins are not only an essential macronutrient in the human diet; they're molecules that perform most of the various functions of life. In addition to being major structural components of cells and tissues, proteins have incredibly diverse roles that range from driving chemical reactions (e.g., enzymes) to signaling (e.g., some types of hormones) to transporting and storing nutrients. Proteins are synthesized within cells through a two-phase process of transcription and translation, during which amino acids get linked together to form long chains (spanning anywhere from 20 to over 2,000 amino acids in length!).
So, while all proteins are made of amino acids, not all amino acids are used for making proteins! We use the term proteinogenic amino acids to refer specifically to the amino acids that get encoded into our DNA and incorporated into proteins. Meanwhile, non-proteinogenic amino acids do neither of these things (although they still have some very important biological roles!).
Amino acids can be further classified based on whether we can create them in our bodies, or need them from our diet. Essential amino acids are amino acids that can only be obtained from foods; these include histidine, isoleucine, leucine, lysine, methionine, phenylalanine, threonine, tryptophan, and valine. Non-essential amino acids are amino acids our bodies can synthesize metabolically from other molecules; these include alanine, arginine, asparagine, aspartic acid, cysteine, glutamic acid, glutamine, glycine, proline, serine, and tyrosine. And, some amino acids are conditionally essential, meaning our bodies can normally make them, but some circumstances (like illness or stress) can limit their synthesis and create a dietary requirement. These include arginine, cysteine, glutamine, tyrosine, glycine, ornithine, proline, and serine.
Because lysine is essential, we must obtain it from foods in order to meet our body's daily needs. And, as a proteinogenic amino acid, lysine is used to build a number of important proteins! Its side chain consists of a positively charged (polar) group on one end, and a hydrophobic (non-water-soluble) carbon tail on the other, which allows it to participate in forming salt bridges in proteins.
Notably, lysine is needed for the production of carnitine—a nutrient that helps convert fatty acids into energy, as well as lowers cholesterol levels. Lysine undergoes a multi-step methylation process that leads to the production of ε-N-trimethyllysine, which is then released for carnitine synthesis. Once carnitine is formed, it helps helps transport long-chain fatty acids into the mitochondria of cells, where they become oxidized (burned) for energy. Carnitine also helps move toxic compounds out of the mitochondria so that they don't accumulate there. So, by supporting healthy carnitine concentrations in the body, lysine indirectly helps facilitate these effects!
Lysine also plays an important role in forming collagen, a key component of bones and connective tissue (including tendons, cartilage, and skin). More specifically, lysine is involved in the crosslinking among different polypeptides (strings of amino acids) within collagen, which is what creates its tensile strength and stability.
Lysine is also involved in histone modification, which gives it a major role in the epigenome (AKA the collection of chemical modifications that tell the genome what to do, ultimately regulating gene expression). Lysine residues within histones (proteins that provide structural support for chromosomes) are subject to methylation, acetylation, and other modifications carried out by enzymes; these modifications then determine whether genes are activated (turned on) or suppressed (turned off). This gives lysine an indirect role in everything that happens downstream of gene regulation—including cell signaling, immune system function, metabolism, and disease!
Interactions with Other Nutrients
Although lysine doesn't have significant interactions with most other nutrients, two are worth highlighting. For one, lysine helps the body optimally use calcium, both by enhancing its absorption from the intestines and by increasing its retention in the kidneys. And, lysine has an antagonizing relationship with arginine: these two amino acids compete for transport into cells, so a high intake of one tends to inhibit the uptake of the other!
Want to Know ALL the Easy Steps to Nutrivore?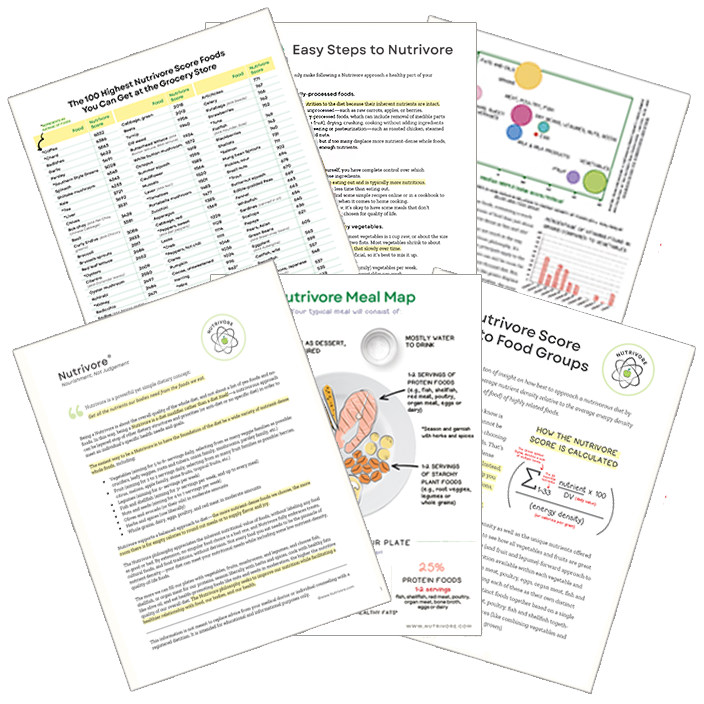 Get it Directly in Your Inbox!
The Nutrivore Newsletter is a weekly email that delivers bite-size fun facts, practical tips, recipes and resources. Sign up now and get 5 free guides directly to your inbox:
Easy Steps to Nutrivore 4-page guide
Nutrivore Foundational Foods 6-page guide
Nutrivore Score Guide to Food Groups 3-page guide
Nutrivore Meal Map
Top 100 Nutrivore Score Foods
Lysine in Health and Disease
Lysine has a number of fascinating benefits for human health—including unique antiviral activity, benefits for bone health, boosting wound healing, improving blood sugar control, and even helping reduce anxiety!
Lysine and Herpes Simplex Virus (HSV)
One of lysine's most unique features is its antiviral activity. In particular, lysine has been studied for a potential role in managing the symptoms of herpes simplex virus (HSV), the virus responsible for cold sores and genital herpes. Human trials suggest that lysine supplements of at least 3 g daily can help reduce the frequency of herpes outbreaks, as well as improve patient's self-reported symptoms; one trial found that blood lysine levels of at least 165 nmoL/mL was associated with a significant decrease in herpes recurrence rates. However, there's less evidence that lysine can reduce the severity or duration of an outbreak once it's started, so its benefits appear mainly prophylactic (preventative) rather than therapeutic (treating an issue that's already occurring)! That being said, few trials exist using mid-range lysine doses (1.2 – 3 g daily) with optimal study methodology (placebo-controlled, randomized, and cross-over), so more research may be needed to improve our understanding of effective doses and durations.
When it comes to HSV, lysine's antiviral effects are due to its ability to block the activity of arginine—an amino acid needed for the herpes virus to replicate. By competitively inhibiting arginine, higher intakes of lysine would be expected to interrupt the formation of herpes capsid proteins (which form the virus shell) and viral DNA, effectively stopping it from reproducing. Some evidence suggests that combining lysine supplements with an arginine-restricted diet could be particularly helpful for HSV, but again, more research is needed!
Lysine and Other Viruses
Lysine has been studied for its role in the replication of other viruses, too—although the research so far has been conducted in vitro and not in living humans. Interestingly, the findings have been mixed: lysine appears capable of blocking the infection of influenza A and SARS-CoV-2 (the virus that causes Covid), but may actually increase the replication and viral load of HIV. So, the effects of lysine differ depending on which virus it's interacting with, as well as which viral components. (Of course, this research is very preliminary, and we would need many more studies to determine how dietary lysine impacts conditions like Covid and HIV/AIDS in real-world settings!)
Lysine and Bone Health
Some research suggests that lysine could benefit bone health—likely due to its role in calcium absorption and retention, as well as in collagen formation. For example, one study found that giving osteoporotic women calcium plus 400 mg of L-lysine (compared to calcium alone) helped reduce the amount of calcium they lost through their urine. In a cell culture study using osteoblasts (cells that form bone tissue), treatment with lysine and arginine led to a significant increase in nitric oxide production (a compound that affects bone cell function), type I collagen synthesis (the main component of bone matrix), and cell proliferation (meaning the osteoclasts were growing and dividing faster). Another experiment showed that culturing fractured bone with lysine and arginine led to faster healing.
Lysine and Wound Healing
Its role in collagen synthesis and cell proliferation also makes lysine beneficial for wound healing. Animal experiments show that lysine becomes active at wound sites and boosts the speed of the repair process, and appears to increase the proliferation of keritanocytes (cells that make up the structural component of skin). And, lysine in the form of lysine hydrochloride (L-lysine HCl) has been shown to improve not only the quality and rate of wound healing, but also helps reduce scar formation. Both oral lysine and topical lysine (in the form of creams) have demonstrated benefit here.
Lysine and Blood Sugar Control
Although more research is needed, lysine may help improve blood sugar control and have potential health benefits for diabetics. Trials of lysine supplementation have shown it can significantly reduce the blood glucose response to ingested sugar, even without impacting insulin use. And, animal studies show that lysine can help reduce blood sugar levels, prevent cataract formation, and ameliorate nephropathy (the deterioration of kidney function) in experimental models of diabetes.
Lysine and Anxiety
Intriguingly, there's even evidence lysine could have benefits for anxiety. In a 2007 double-blind, placebo controlled human trial, one week of supplementation with 2.64 g of L-lysine daily (along with L-arginine) led to a significant decrease in anxiety measures, as well as a reduction in the stress hormones cortisol and chromogranin-A. And, a three-month randomized double-blind study from 2004 found that lysine fortification of staple cereals in Syria resulted in lower cortisol levels, lower sympathetic arousal, and a reduction in chronic anxiety (although some of these effects were gender-specific). Rodent studies have likewise shown that lysine can reduce stress-induced anxiety, evidently by acting as a partial serotonin receptor 4 antagonist—in turn leading to a reduction in serotonin-mediated anxiety.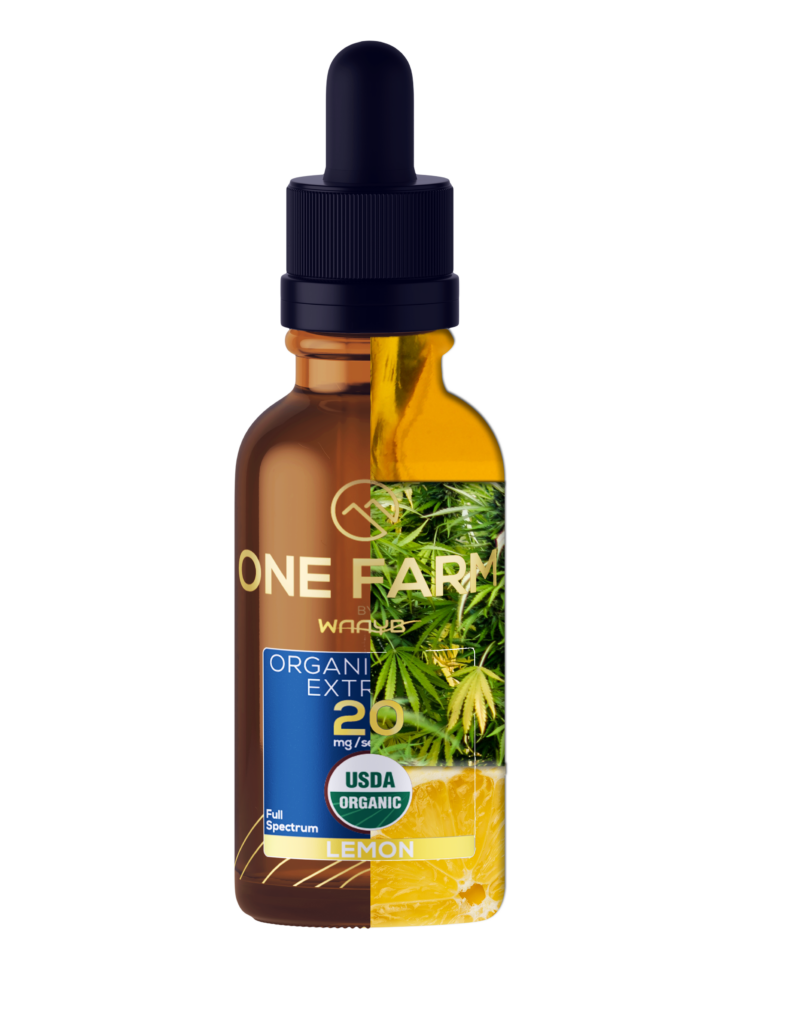 Stressed? CBD May Help
Supports sleep, helps manage stress, reduces inflammation, reduces pain
USDA Organic, 3rd-party tested, full-spectrum hemp extract
Available in lemon, cinnamon, mint and unflavored, all with no harsh hemp aftertaste
Talk to your doctor about whether CBD is right for you, and how much to take
Didn't know lysine was this cool? Maybe your friends will enjoy this too!
Health Effects of Lysine Deficiency
Although most people consume enough lysine through their normal diet, some circumstances—such as engaging in intense athletics, or healing from severe burns—can increase the body's requirements, making dietary insufficiency possible. Likewise, vegans who don't eat beans or legumes can potentially have an insufficient lysine intake, and certain genetic conditions can contribute to lysine deficiency.
When lysine deficiency occurs, it can interrupt a number of biological processes and eventually cause defects in connective tissue, fragile nails, broken skin, fatigue, hair loss, slow wound healing, reduced growth, and problems with bone metabolism. And because lysine deficiency reduces the body's production of carnitine, it can also contribute to impaired fatty acid metabolism.
Problems From Too Much Lysine
No toxicity has been reported from even very high intakes of lysine, and consuming dietary supplements with 3 g (3000 mg) of lysine daily for up to one year is considered safe. However, excessive lysine intake may increase the risk of gallstones and kidney problems, and some people report side effects such as diarrhea, cramps, abdominal pain, and nausea following lysine supplementation. Additionally, due to its competing effects with arginine, people at risk of arginine deficiency (such as from certain intestinal diseases, sepsis, severe burns, physical trauma, sickle cell disease, kidney disease, or recent surgery) should exercise caution when taking lysine supplements. And, be sure to seek medical advice from your healthcare provider before supplementing with lysine while pregnant or breastfeeding; supplementation hasn't been studied well enough in these circumstances to be regarded as safe.
How Much Lysine Do We Need?
Lysine requirements are based on body weight, with the reference dietary intake (RDI) set at 30 mg per kg (or 13.6 mg per pound) of body weight daily for adults; an upper limit of 300 to 400 mg per kg daily is advised. Most people consuming Western diets consume about 40-180 mg per kg daily.
Easily track your servings of Nutrivore Foundational Foods!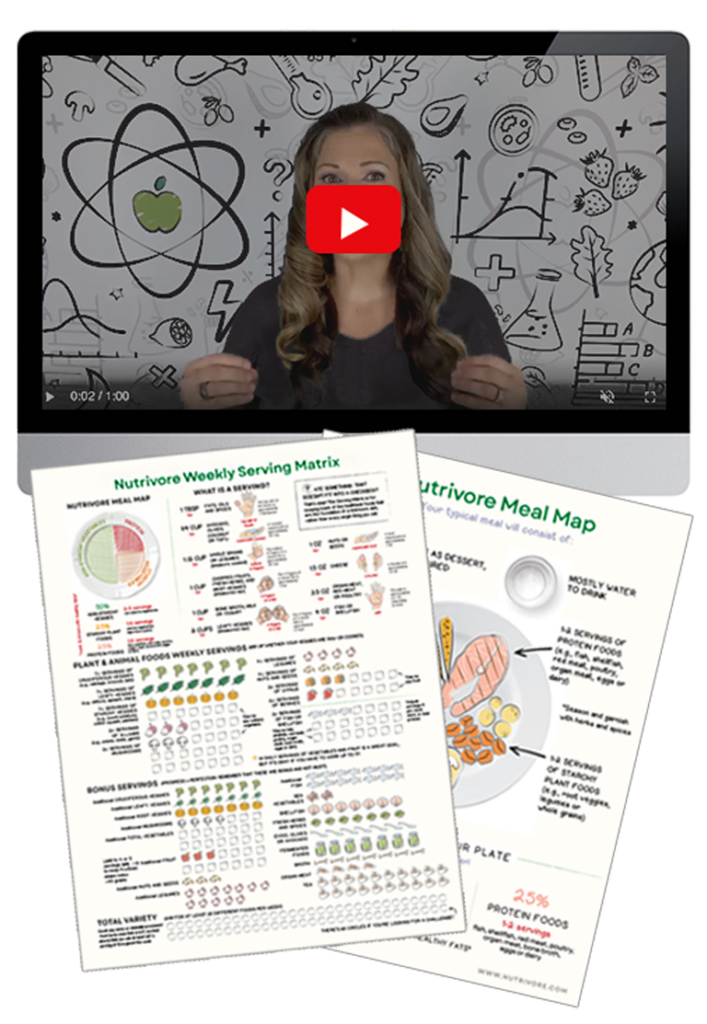 The Nutrivore Weekly Serving Matrix
The Nutrivore Weekly Serving Matrix digital resource is an easy-to-use and flexible weekly checklist designed to help you maximize nutrient-density and meet serving suggestions of Nutrivore foundational foods, all without having to weigh or measure your foods!
Includes a 1-hour video tutorial and downloadable interactive guides.
Buy now for instant digital access.
Citations
Expand to see all scientific references for this article.

Bhat KP, Ümit Kaniskan H, Jin J, Gozani O. Epigenetics and beyond: targeting writers of protein lysine methylation to treat disease. Nat Rev Drug Discov. 2021 Apr;20(4):265-286. doi: 10.1038/s41573-020-00108-x.

Butorov EV. Influence of L-lysine amino acid on the HIV-1 RNA replication in vitro. Antivir Chem Chemother. 2015 Feb;24(1):39-46. doi: 10.1177/2040206614566582.

Civitelli R, Villareal DT, Agnusdei D, Nardi P, Avioli LV, Gennari C. Dietary L-lysine and calcium metabolism in humans. Nutrition. 1992 Nov-Dec;8(6):400-5.

Datta D, Bhinge A, Chandran V. Lysine: Is it worth more? Cytotechnology. 2001 Jul;36(1-3):3-32. doi: 10.1023/A:1014097121364.

Deribe YL, Wild P, Chandrashaker A, Curak J, Schmidt MHH, Kalaidzidis Y, Milutinovic N, Kratchmarova I, Buerkle L, Fetchko MJ, Schmidt P, Kittanakom S, Brown KR, Jurisica I, Blagoev B, Zerial M, Stagljar I, Dikic I. Regulation of epidermal growth factor receptor trafficking by lysine deacetylase HDAC6. Sci Signal. 2009 Dec 22;2(102):ra84. doi: 10.1126/scisignal.2000576.

Fini M, Torricelli P, Giavaresi G, Carpi A, Nicolini A, Giardino R. Effect of L-lysine and L-arginine on primary osteoblast cultures from normal and osteopenic rats. Biomed Pharmacother. 2001 May;55(4):213-20. doi: 10.1016/s0753-3322(01)00054-3.

Frey J, Raby N. Lysine et collagène [Lysine and collagen]. Ann Biol Clin (Paris). 1991;49(1):36-9.

Fürst P. Dietary L-lysine supplementation: a promising nutritional tool in the prophylaxis and treatment of osteoporosis. Nutrition. 1993 Jan-Feb;9(1):71-2.

Griffith RS, DeLong DC, Nelson JD. Relation of arginine-lysine antagonism to herpes simplex growth in tissue culture. Chemotherapy. 1981;27(3):209-13. doi: 10.1159/000237979.

Hayamizu K, Oshima I, Fukuda Z, Kuramochi Y, Nagai Y, Izumo N, Nakano M. Safety assessment of L-lysine oral intake: a systematic review. Amino Acids. 2019 Apr;51(4):647-659. doi: 10.1007/s00726-019-02697-3.

Jezova D, Makatsori A, Smriga M, Morinaga Y, Duncko R. Subchronic treatment with amino acid mixture of L-lysine and L-arginine modifies neuroendocrine activation during psychosocial stress in subjects with high trait anxiety. Nutr Neurosci. 2005 Jun;8(3):155-60. doi: 10.1080/10284150500162937.

Jozi F, Kheiripour N, Taheri MA, Ardjmand A, Ghavipanjeh G, Nasehi Z, Shahaboddin ME. L-Lysine Ameliorates Diabetic Nephropathy in Rats with Streptozotocin-Induced Diabetes Mellitus. Biomed Res Int. 2022 Sep 12;2022:4547312. doi: 10.1155/2022/4547312.

Kalogeropoulou D, LaFave L, Schweim K, Gannon MC, Nuttall FQ. Lysine ingestion markedly attenuates the glucose response to ingested glucose without a change in insulin response. Am J Clin Nutr. 2009 Aug;90(2):314-20. doi: 10.3945/ajcn.2008.27381.

Lewis PN, Guillemette JG, Chan S. Histone accessibility determined by lysine-specific acetylation in chicken erythrocyte nuclei. Eur J Biochem. 1988 Feb 15;172(1):135-45. doi: 10.1111/j.1432-1033.1988.tb13865.x.

Lopez MJ, Mohiuddin SS. Biochemistry, Essential Amino Acids. [Updated 2022 Mar 18]. In: StatPearls [Internet]. Treasure Island (FL): StatPearls Publishing; 2022 Jan.

Mailoo VJ, Rampes S. Lysine for Herpes Simplex Prophylaxis: A Review of the Evidence. Integr Med (Encinitas). 2017 Jun;16(3):42-46.

Matthews DE. Review of Lysine Metabolism with a Focus on Humans. J Nutr. 2020 Oct 1;150(Suppl 1):2548S-2555S. doi: 10.1093/jn/nxaa224.

Melano I, Kuo LL, Lo YC, Sung PW, Tien N, Su WC. Effects of Basic Amino Acids and Their Derivatives on SARS-CoV-2 and Influenza-A Virus Infection. Viruses. 2021 Jul 4;13(7):1301. doi: 10.3390/v13071301.

Pedrazini MC, da Silva MH, Groppo FC. L-lysine: Its antagonism with L-arginine in controlling viral infection. Narrative literature review. Br J Clin Pharmacol. 2022 Nov;88(11):4708-4723. doi: 10.1111/bcp.15444.

Shoulders MD, Raines RT. Collagen structure and stability. Annu Rev Biochem. 2009;78:929-58. doi: 10.1146/annurev.biochem.77.032207.120833.

Smriga M, Ando T, Akutsu M, Furukawa Y, Miwa K, Morinaga Y. Oral treatment with L-lysine and L-arginine reduces anxiety and basal cortisol levels in healthy humans. Biomed Res. 2007 Apr;28(2):85-90. doi: 10.2220/biomedres.28.85.

Smriga M, Ghosh S, Mouneimne Y, Pellett PL, Scrimshaw NS. Lysine fortification reduces anxiety and lessens stress in family members in economically weak communities in Northwest Syria. Proc Natl Acad Sci U S A. 2004 Jun 1;101(22):8285-8. doi: 10.1073/pnas.0402550101.

Smriga M, Torii K. L-Lysine acts like a partial serotonin receptor 4 antagonist and inhibits serotonin-mediated intestinal pathologies and anxiety in rats. Proc Natl Acad Sci U S A. 2003 Dec 23;100(26):15370-5. doi: 10.1073/pnas.2436556100.

Smriga M, Torii K. Prolonged treatment with L-lysine and L-arginine reduces stress-induced anxiety in an elevated plus maze. Nutr Neurosci. 2003 Apr;6(2):125-8. doi: 10.1080/1028415031000079685.

Smith BC, Denu JM. Chemical mechanisms of histone lysine and arginine modifications. Biochim Biophys Acta. 2009 Jan;1789(1):45-57. doi: 10.1016/j.bbagrm.2008.06.005.

Spallotta F, Cencioni C, Straino S, Sbardella G, Castellano S, Capogrossi MC, Martelli F, Gaetano C. Enhancement of lysine acetylation accelerates wound repair. Commun Integr Biol. 2013 Sep 1;6(5):e25466. doi: 10.4161/cib.25466.

Sulochana KN, Punitham R, Ramakrishnan S. Beneficial effect of lysine and amino acids on cataractogenesis in experimental diabetes through possible antiglycation of lens proteins. Exp Eye Res. 1998 Nov;67(5):597-601. doi: 10.1006/exer.1998.0547.

Thein DJ, Hurt WC. Lysine as a prophylactic agent in the treatment of recurrent herpes simplex labialis. Oral Surg Oral Med Oral Pathol. 1984 Dec;58(6):659-66. doi: 10.1016/0030-4220(84)90030-6.

Vaz FM, Wanders RJ. Carnitine biosynthesis in mammals. Biochem J. 2002 Feb 1;361(Pt 3):417-29. doi: 10.1042/0264-6021:3610417.

Yamauchi M, Sricholpech M. Lysine post-translational modifications of collagen. Essays Biochem. 2012;52:113-33. doi: 10.1042/bse0520113.