Liver Pâté is a great way to incorporate organ meat into your diet. Unlike some organ meat sausages and spreads, pâté does still taste a little like liver (the flavor is muted but it's still there). For a less intense liver flavor, use a more mild-flavored liver like chicken liver or calf's liver. But for the highest nutrient content, you'll get more bang for your buck when using beef liver. Beef liver, with a Nutrivore Score of 4021, has a stronger taste, but it also has a better fat profile and is generally more nutrient dense. Chicken liver on the other hand, has a Nutrivore Score of 2502; not too shabby of course, but also not quite as impressive as beef liver.
Liver Pâté is great spread on cucumber slices or celery, plantain chips, or your favorite cracker or crusty bread.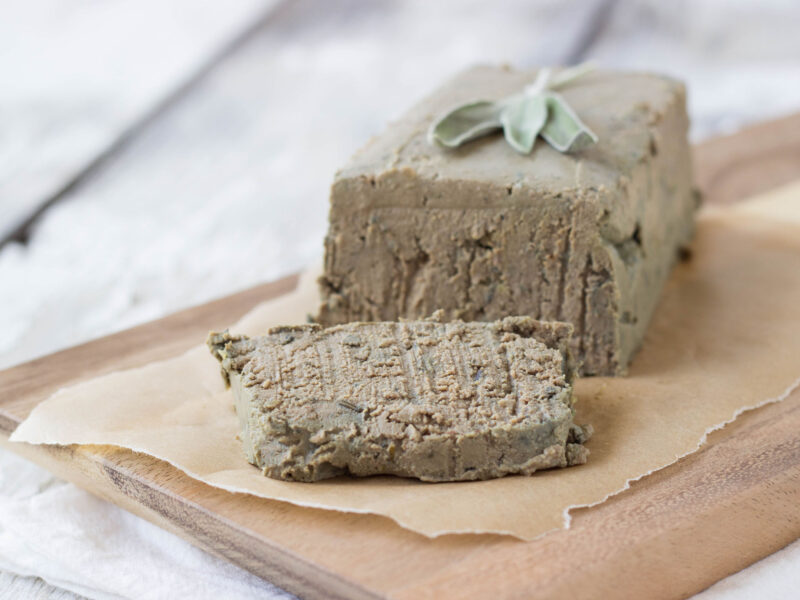 Liver Pâté
Ingredients
1

lb

liver

1

small yellow onion

finely chopped

2

cloves

garlic

6-7

leaves

sage

or 1 Tablespoon dried sage

1

sprig

rosemary

or 2 teaspoon dried rosemary

1

bay leaf

1/3

cup

dry sherry or cognac

¼

teaspoon

salt

to taste

1/8

teaspoon

ground mace

3-4

sprigs

thyme

or 3/4 teaspoon dried thyme

½

cup

cooking fat

tallow, coconut oil, bacon fat, lard, butter
Instructions
If using beef or another large liver, slice liver into 2" chunks and remove any vessels the butcher might have missed.

Line a 7.5″x3.5″ loaf pan with parchment paper.

Heat ¼ cup of your chosen cooking fat in a large skillet over medium high heat.

Add onion, bay leaf, rosemary, thyme, sage, mace and garlic to the pan. Cook, stirring frequently, until onions are well cooked, about 10 minutes.

Add liver to the pan and cook, stirring frequently, until browned on the outside and still pink in the middle, about 3-4 minutes.

Add sherry to pan and bring to boil. Boil 2-3 minutes until you can't smell alcohol in the steam. Remove from heat.

Remove bay leaf, rosemary stem, and thyme stems. Add salt and the remaining cooking fat.

Pour hot liver mixture into a blender or food processor. Pulse until smooth.

Pour into the prepared loaf pan or serving dish of choice. Let cool.

Once it's cool enough to touch, cover with plastic wrap tightly across the entire surface to prevent oxidation.

Refrigerate at least one hour or overnight.
Nutrition
Nutrition Facts
Liver Pâté
Amount per Serving
% Daily Value*
* Percent Daily Values are based on a 2000 calorie diet.
Share this article: