This Cinnamon Butternut Squash and Plantain with Apple is a simple and versatile vegetable dish. I make a version of this often because it's quick to put together and bakes quickly compared to other root vegetables. I love butternut squash, but you could use acorn squash, fresh pumpkin or any other winter squash you can get your hands on (or a mix of a couple of varieties). Good apple varieties for cooking are granny smith, rome beauty, mutsu/crispin and fuji. If you can't find green plantains, simply omit them and add a little more squash and a little more apple. I also love that I can throw it in the oven at whatever temperature my meat is cooking and it seems to always work out. It goes great with pork like this Herb-Crusted Pork Loin. And, what better way to ring in the fall than with these iconic fall flavors!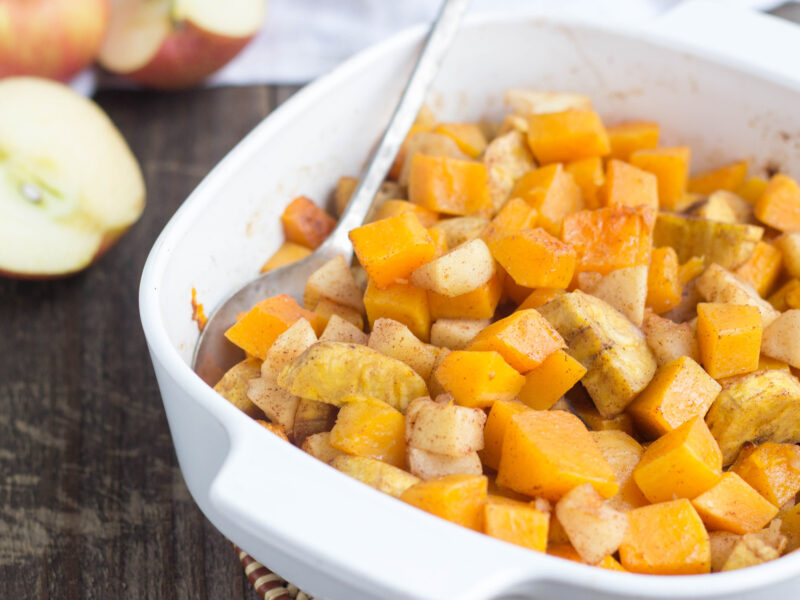 Cinnamon Butternut Squash and Plaintain with Apple
Instructions
Peel and seed squash. Cut into slightly smaller than 1" cubes.

Cut plantain lengthwise in half and remove peel. Cut into ½" thick semi-circles.

Peel and core apples and cut into ½" cubes.

Toss squash, plantain and apple with melted coconut oil and cinnamon. Place in a 9×9" baking dish.

Bake in the oven until tender. At 350F, it takes 30 minutes to cook. At 375F, it takes 20 minutes to cook. At 425F, it takes 10 minutes to cook.
Nutrition
Nutrition Facts
Cinnamon Butternut Squash and Plaintain with Apple
Amount per Serving
% Daily Value*
* Percent Daily Values are based on a 2000 calorie diet.
Share this article: