When me and the family are hungry for barbecue these Barbecue Chicken Thighs with Arugula Pesto is one of our go-to meals. This is one of those recipes we double so we can have the leftover chicken on salads. So, this chicken makes a fantastic summer meal prep recipe. Plus, serving this chicken with arugula pesto is both a fresh flavor burst and a nutrition boost! Arugula is a leafy green loaded with vitamin K and a fantastic source of glucosinolates. To really round out this a meal serve it with The Best Creamy Coleslaw and a Simple Cucumber Salad (both of which you can make ahead of time). As a matter of fact this would be a great party menu—so double the recipes and invite some friends over!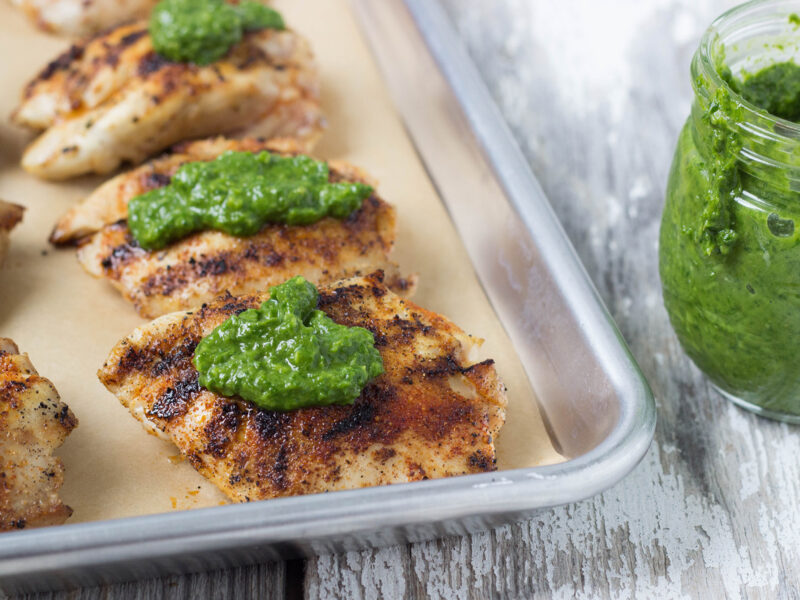 Barbecue Chicken Thighs with Arugula Pesto
Instructions
Preheat the grill on high for seven minutes.

Meanwhile, prepare the chicken seasoning by placing garlic powder, paprika, coriander seed, cumin, black pepper, and salt in a small bowl. Coat the chicken in the dry rub, and wash your hands well.

Clean and oil the grates if necessary. Place the chicken on the hot grill. Cook on medium heat with the lid closed approximately 10 minutes on the first side. Flip and and cook 8 minutes with the lid closed on the second side, or until completely cooked (165 degrees). You may have to adjust your cooking time depending on the heat of your barbecue.

While chicken is grilling on the first side, heat a non-stick skillet or well-seasoned cast iron skillet over medium heat. Add garlic still in the peel to the pan. Stir or shake the pan frequently so the garlic rotates and cooks on all side. Cook until garlic is starting to brown and is feeling fairly soft to touch, about 7-8 minutes.

When the chicken is grilling on the second side, place arugula, olive oil, the peeled garlic, and lemon juice in blender or food processor. Pulse until it's a paste.
Nutrition
Nutrition Facts
Barbecue Chicken Thighs with Arugula Pesto
Amount per Serving
% Daily Value*
* Percent Daily Values are based on a 2000 calorie diet.
Share this article: