I learned the secret recipe to make The Best Creamy Coleslaw while working at a restaurant. When I was 15 years old, I worked over the summer in a British-style Fish & Chips place. This particular restaurant was well-known in the area for having the best batter, the best fries, and the best coleslaw. This coleslaw tastes better the longer it sits, so you can make it well in advance and it's a perfect side dish for a potluck or barbecue. Not only is the coleslaw delicious, green cabbage is a top scoring nutrient-dense food.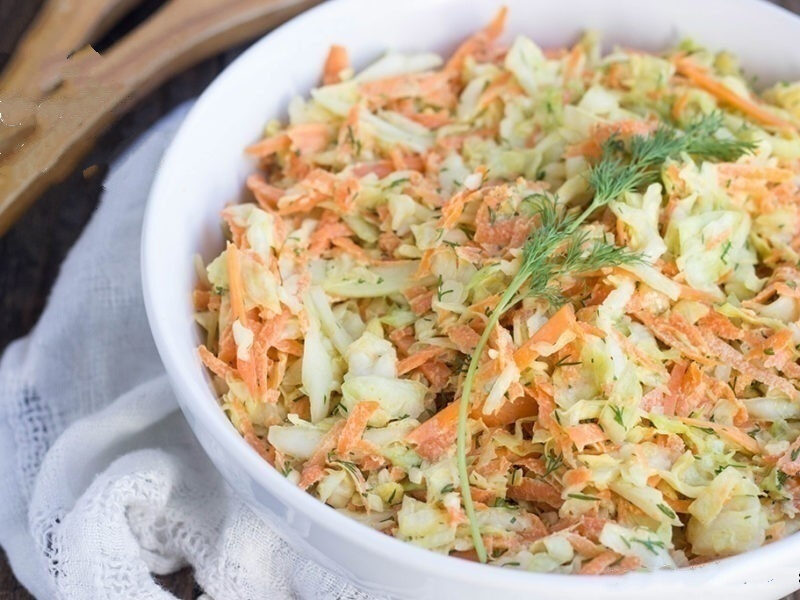 The Best Creamy Coleslaw
Ingredients
Instructions
Slice the cabbage as thinly as possible. Toss with salt and let sit in a colander in your sink for at least 1 hour and up to 3 hours; salt a little longer if your cabbage is not sliced as thinly.

Rinse the cabbage extremely thoroughly. Taste it to make sure you rinsed all the salt off. Drain or dry in a Salad Spinner.

Grate carrots with a coarse Grater, or alternatively julienne the carrots very finely and salt with the cabbage and combine with cabbage in a large bowl.

Chop dill very finely (the ¼ cup measurement is after chopping).
Nutrition
Nutrition Facts
The Best Creamy Coleslaw
Amount per Serving
% Daily Value*
* Percent Daily Values are based on a 2000 calorie diet.
Share this article: