This Simple Cucumber Salad has a refreshing flavor that is delicious beside any protein—from poached fish to grilled lamb chops. It keeps very well so it's still tasty as leftovers the next day. And, it has a perfect flavor to bring to a barbecue! Cucumber, with peel, has a Nutrivore Score of 472, which makes it a high nutrient-dense food! Plus, it's also a good source of vitamin K. You can learn all about the humble cucumber in this article.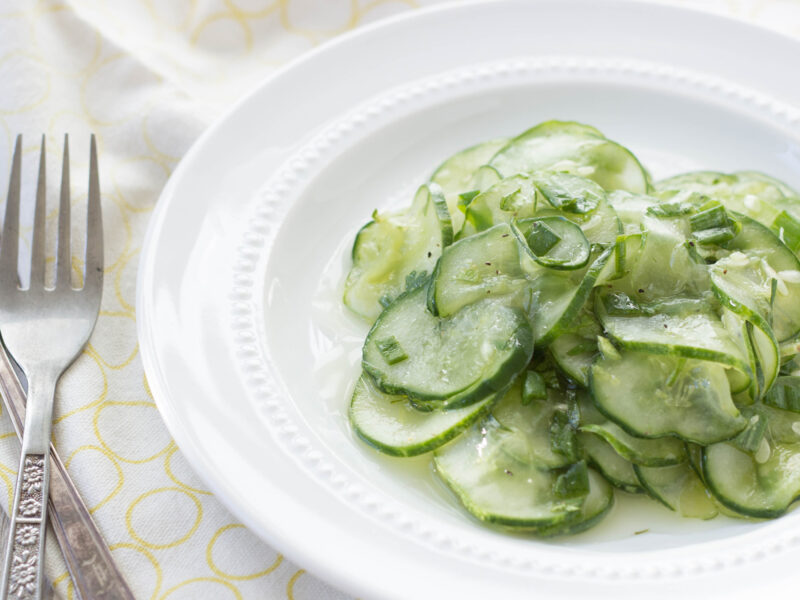 Simple Cucumber Salad
Instructions
Slice cucumber very finely (I like to use my Mandoline Slicer set to 1/8" thick). Sprinkle liberally with salt and let sit in a colander in your sink for 1 hour.

Rinse cucumber thoroughly (taste a piece to make sure you've rinsed all the salt off). Let the cucumber slices drain on paper towels or a clean tea towel to dry completely.

Slice green onions. Finely chop cilantro. Finely zest lemon. Combine onions, cilantro, lemon juice, lemon zest, olive oil and cracked pepper and stir to combine.

Pour dressing over the cucumber, stir to incorporate and serve! You can refrigerate this salad for several hours up to overnight; simply give it a stir to redistribute the dressing before serving.
Nutrition
Nutrition Facts
Simple Cucumber Salad
Amount per Serving
% Daily Value*
* Percent Daily Values are based on a 2000 calorie diet.
Share this article: