This seaweed salad with avocado and mango has become a family favorite and it's an easy way to introduce sea vegetables to your family. My preference is to use a 6-ounce bag of Mixed Sea Vegetables from Sea Tangle (available from Amazon and Thrive Market), since it's a lovely combination of several sea vegetables, some not easy to buy individually.
Seaweeds are some of the most nutrient-dense vegetables available. They are rich sources of a variety of essential minerals, including iodine, calcium, iron, copper, magnesium, manganese, molybdenum, phosphorus, potassium, selenium, vanadium, and zinc (in addition to about four dozen more trace minerals known to be essential for health). Seaweed is high in carotenoids (antioxidant phytochemicals that are also precursers to Vitamin A), vitamin C, vitamin E, vitamin K and vitamins B1, B2, B3, B5 and B6. These sea vegetables are also one of the few plant sources of the long-chain omega-3 fat DHA. Seaweed intake is known to reduce cancer risk, reduce inflammation, reduce cardiovascular disease risk, promote overall vascular health, and seaweed even has some antiviral properties. See why kelp and wakami are so amazing!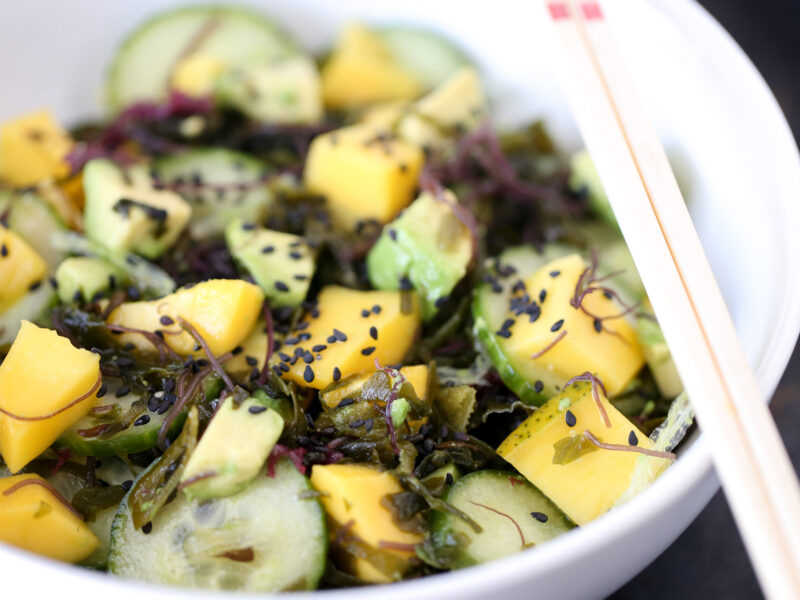 Avocado Mango Seaweed Salad
Ingredients
1

6-oz bag

sea vegetables

rehydrated

1/2

whole

English cucumber

thinly sliced

1/2

teaspooon

honey

3

tablespoons

lemon juice

fresh

2

tablespoons

olive oil

1

tablespoon

toasted sesame seed oil

1

tablespoon

sesame seeds

2

whole

avocados

diced in 1/2 inch pieces

1

whole

mango

diced in 1/2 inch pieces
Instructions
Rehydrate seaweed according to package directions. Rinse well and drain completely in a sieve.

Thinly slice cucumber using the finest setting on a mandoline slicer (or as thin as you possibly can with a sharp knife).

Combine cucumber and rehydrated seaweed in medium bowl.

Combine honey, lemon juice, olive oil, and sesame oil, and add to cucumber and seaweed mixture. Toss to coat.

Add sesame seeds, avocado and mango and gently toss to combine. Serve immediately.
Nutrition
Nutrition Facts
Avocado Mango Seaweed Salad
Amount per Serving
% Daily Value*
* Percent Daily Values are based on a 2000 calorie diet.
Share this article: