This Strawberry-Basil Salad with Toasted Pecans is the perfect salad to enjoy when summer basil is in full bloom. Strawberries are also available in abundance during the same time. Many people are familiar with the classic tomato-basil combination. However, the strawberry-basil combination is another delicious yet lesser known combination. Basil has a Nutrivore Score of 3381, which makes it a super nutrient-dense food! It's particularly high in beneficial phytonutrients and vitamin K. Lucky for us it's one of those herbs we can find pretty much year round, so we have the opportunity to eat this salad throughout extended seasons.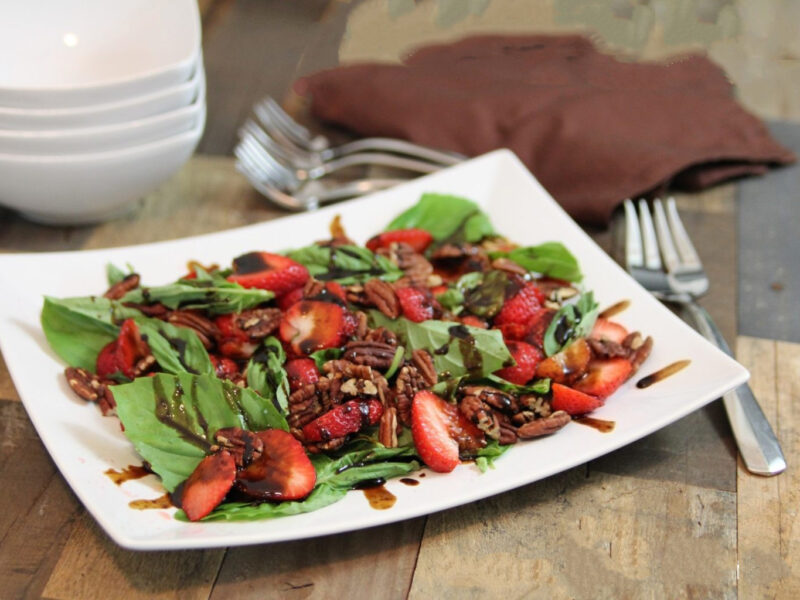 Strawberry-Basil Salad with Toasted Pecans
Ingredients
1

cup

pecan halves

raw

2

tablespoons

balsamic vinegar

2

tablespoons

olive oil

2

teaspoons

Dijon mustard

2

cups

stawberries

sliced

2

cups

fresh basil
Instructions
Preheat oven to 375 degrees. Place pecans on a rimmed baking sheet or in an oven-safe skillet. Toast in the oven for 6-7 minutes, until fragrant. Remove them from oven and let the pecans cool to room temperature on a small plate.

Whisk or blend balsamic vinegar, olive oil and mustard together in a medium bowl.

Add basil leaves and sliced strawberries to the dressing and toss together. Divide the salad into individual servings and top with toasted pecans.
Nutrition
Nutrition Facts
Strawberry-Basil Salad with Toasted Pecans
Amount per Serving
% Daily Value*
* Percent Daily Values are based on a 2000 calorie diet.
Notes
Assemble salad just before serving. You can make the dressing, slice strawberries, and toast pecans ahead, however, don't combine everything until you're about to serve. This salad is best enjoyed right when you make it and doesn't do great as leftovers.
Share this article: