"Spatchcock" is a funny sounding word dating back to the 1700s. It refers to a chicken (or other fowl) that is split open and cooked flat (as opposed to stuffed and/or simply roasted whole). We love this cooking technique because the chicken cooks evenly and the breast meat turns out tender and juicy. The skin is that perfect crispy-meets-caramelized texture. Plus, the quick cooking time is amazingly convenient, so you can even make it on a weeknight. A 5-pound chicken would normally take 1 hour and 40 minutes to roast. But, it only takes 45 minutes once spatchcocked, for about the same amount of prep time. We know it can seem a bit intimidating to spatchcock a chicken for this recipe. However, it's pretty easy to do with poultry shears. Or, you can definitely ask your butcher to do it for you. Either way, be sure to save the backbone and the rest of the carcass for homemade chicken bone broth!
Try serving this Greek-Seasoned Spatchock Chicken (Nutrivore Score: 181) with Mashed Cauliflower (Nutrivore Score: 2291) and Wilted Spinach Salad with Almonds and Cranberries (Nutrivore Score: 499) for a well-balanced meal with a total Nutrivore Score of 2,971.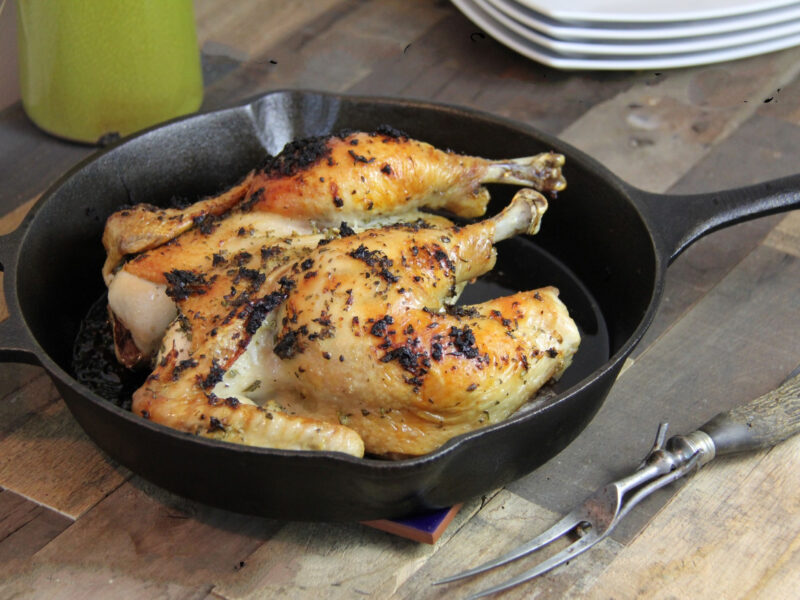 Greek-Seasoned Spatchcock Chicken
Ingredients
Instructions
Prepare the seasoning rub. Mix crushed garlic, lemon zest, lemon juice, chopped oregano, chopped thyme, chopped rosemary, salt and 1 tablespoon of avocado oil.

Rub 1 tablespoon of avocado oil over the bottom of a cast-iron or stainless steel skillet (10″ or bigger will fit most chickens).

Using poultry sheers, cut along the right side of the chicken's backbone (so you're cutting through the ribs and not the vertebrae) all the way down the spine. Repeat down the left side to entirely remove the backbone. Turn chicken over (back to breast-side up) and open up to begin to lie flat. You can more thoroughly flatten the chicken by pulling up on one side while pushing down on the other (this breaks the ribs so the chicken will like flat).

Place chicken skin-side-up inside prepared skillet. Pat dry with paper towel. Rub seasoning slurry all over skin side of chicken.

Roast for 45 minutes. Let rest 10 minutes in pan before serving.
Nutrition
Nutrition Facts
Greek-Seasoned Spatchcock Chicken
Amount per Serving
% Daily Value*
* Percent Daily Values are based on a 2000 calorie diet.
Share this article: