Mashed cauliflower is a classic mashed potato substitute. It's very satisfying, and since cauliflower is a cruciferous vegetable, it's also very healthy! There are countless variations possible. This one is quite simple. So, you can always dress it up with whatever herbs and spices you like, or even some grass-fed butter. Here we used the whole head of cauliflower, except the outer green leaves. Which means you can cut up the stem and heart and throw it into the pot too. Depending on what you have in the refrigerator, you could also add a little rutabaga or cabbage heart to the pot.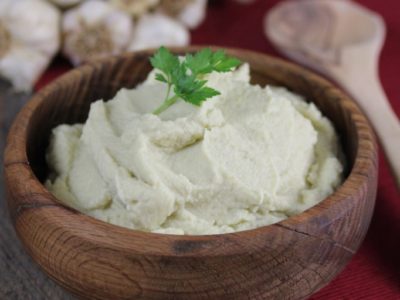 Mashed Cauliflower
Instructions
Place pot with broth and cauliflower on the stove. Cover and bring to a boil over high heat.

Reduce heat to low and simmer for 20 minutes.

Add cloves of garlic to the pot and simmer 10 more minutes until cauliflower is very soft.

Drain. Using an immersion blender or food processor, blend cauliflower to form a thick puree and season to taste.
Nutrition
Nutrition Facts
Mashed Cauliflower
Amount per Serving
% Daily Value*
* Percent Daily Values are based on a 2000 calorie diet.
Share this article: