This Wilted Spinach Salad with Almonds and Cranberries is a satisfying combination of bitter and sweet. Specifically, the sweetened dried cranberries are a great counterpoint to the bitter spinach and kale. It is an excellent accompaniment to chicken or turkey. You can use sweetened or unsweetened dried cranberries, depending on how much you like tart flavors. I also usually double this recipe and cook it in my wok instead of a frying pan, but I also love leftovers!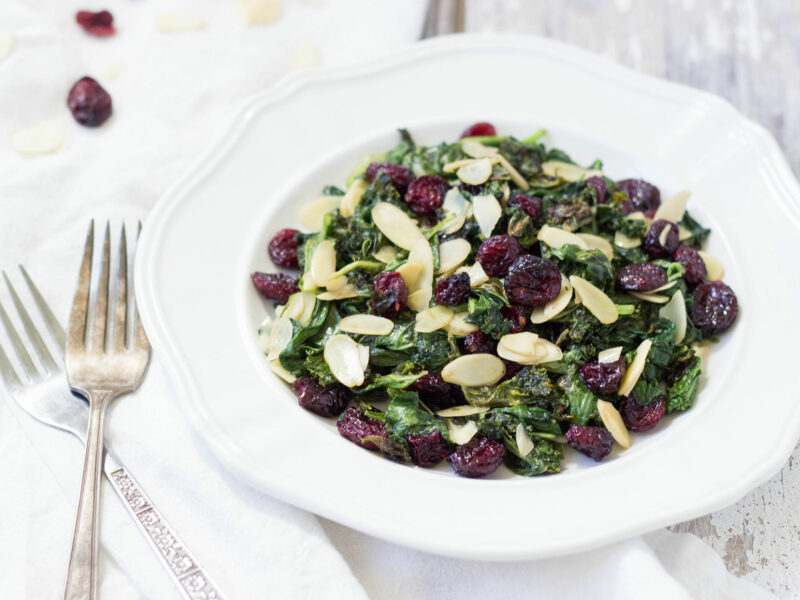 Wilted Spinach Salad with Almonds and Cranberries
Ingredients
Instructions
Heat coconut oil in a skillet over medium-high heat.

Add kale with 1 tablespoon water. Cook, stirring frequently, until kale has softened, about 3-4 minutes.

Add cranberries and continue to cook 2-3 more minutes.

Add spinach. If the kale is starting to stick, also add another tablespoon of water. Stir and cook until spinach is wilted. Stir in almonds and add salt to taste.
Nutrition
Nutrition Facts
Wilted Spinach Salad with
Almonds
and Cranberries
Amount per Serving
% Daily Value*
* Percent Daily Values are based on a 2000 calorie diet.
Share this article: