This family recipe dates back to my great-great-Grandmother, who was "Nana" to her grandchildren, great-grandchildren, and great-great-grandchildren and something of a legend in my family as she was a formidable, caring and selfless woman. I never met Nana, but my Great Uncle Alex passed her famous Rhubarb Coffee Cake recipe down to my mom, who passed it on to me.
We always had rhubarb growing in the garden (as did every member of my family who had a garden!) so the seasonal flavor of rhubarb was a staple of my childhood. My mom used to make jams, chutneys, rhubarb meringue pie, and this coffee cake, and I loved them all! This was one of the very unique recipes my mom made for company when rhubarb was in season. This is a more nutrient-dense version of my Mom's recipe. First, I swapped honey for sugar and reduced the amount of sweetness. Second, I opted for cassava flour which has a Nutrivore Score of 224 instead of regular flour which has a Nutrivore Score of 66. With these swaps, the coffee cake is still absolutely delicious, is gluten and grain free, and also more nutrient-dense.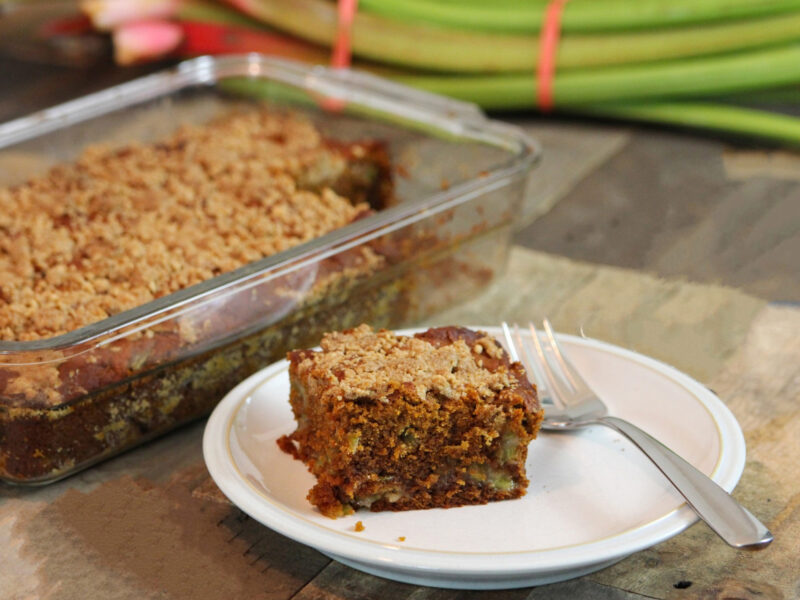 Gluten-Free Rhubarb Coffee Cake
Ingredients
1/2

cup

lard

(or your favorite solid oil)

3/4

cup

honey

1

large

egg

3/4

cup

cream

(or your favorite non-dairy cream)

1

tablespoon

apple cider vinegar

2

teaspoons

baking soda

1 2/3

cups

cassava flour

(or your favorite flour or flour blend)

1/2

teaspoon

allspice

1/2

teaspoon

cardamom

1/2

teaspoons

salt

3

cups

rhubarb

finely diced

2

tablespoons

butter

(or your favorite solid oil)

2

tablespoons

sugar

(maple sugar, brown sugar, or your favorite granulated sugar)

1/2

teaspoons

cinnamon

1/4

cup

flour

(or a grain-free flour alternative, or your favorite gluten free flour blend)

1/2

cup

pecans

chopped (optional)
Instructions
Preheat oven to 325F. Grease a 7"x10" or an 8"x8" baking dish with lard, coconut oil, or ghee.

Add lard, honey and egg to the bowl of a standing mixer. With whisk attachment at medium speed, cream together until light and fluffy, about 3-4 minutes.

Meanwhile, combine apple cider vinegar and coconut cream (tip: add vinegar to the bottom of a measuring cup and then pour in cream to the ¾ cup line). Add 1 tsp baking soda and let sit for 2 minutes. (Caution: it will froth and expand, so use at least a 2 cup size measuring cup or do this step in a mixing bowl.)

Combine flour, spices, remaining baking soda and salt.

With mixer on low, add thirds of flour mixture and cream mixture, alternately. Once fully incorporated, remove whisk attachment and fold in rhubarb by hand.

Pour batter into prepared baking dish.

Make the crumb topping. Combine butter, sugar, cinnamon and flour in a small bowl. With your fingers, gently drop crumbs onto the surface of the cake batter, breaking up any bigger pieces as you go.

Sprinkle chopped pecans over the top of the cake, if using.

Put in the oven. Set a timer for 10 minutes.

After 10 minutes, increase oven temperature to 350F. Cook for a further 50 minutes.

Remove from oven and let cool before serving.
Nutrition
Nutrition Facts
Gluten-Free Rhubarb Coffee Cake
Amount per Serving
% Daily Value*
* Percent Daily Values are based on a 2000 calorie diet.
Share this article: