This Roasted Butternut Squash is so simple to prepare. Plus, it's almost like having a built-in dessert on your plate because it is so tasty—both sweet and savory! It gets this little bit of crisp on the outside, yet sweet and soft in the middle. The coconut oil is a nice compliment and good to use due to it's high smoke point, but feel free to use tallow, lard, or even bacon fat for a different flavor. The combination of thyme and butternut squash is classic for good reason! Herbs and spices bring more than flavor to our dishes. They are packed with diverse health benefits.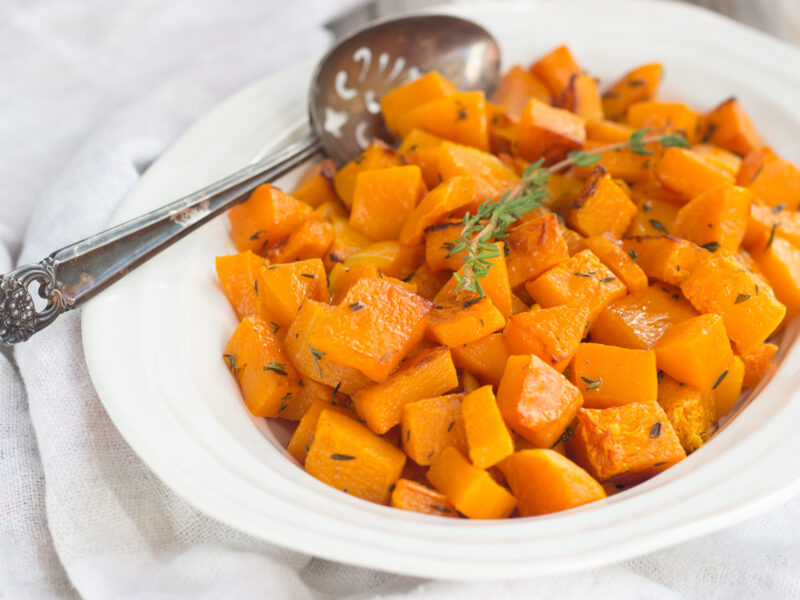 Roasted Butternut Squash
Instructions
Preheat oven to 425F. Line a baking sheet with parchment.

Melt coconut oil. Toss with butternut squash and thyme. Spread out onto prepared baking sheet.

Place squash in oven. Bake for 30-35 minutes, until slightly browned and tender. Shake pan (and flip squash chunks if necessary) every ten minutes during baking to ensure even browning.
Nutrition
Nutrition Facts
Roasted Butternut Squash
Amount per Serving
% Daily Value*
* Percent Daily Values are based on a 2000 calorie diet.
Share this article: