Heart of palm is a lesser known, and highly underrated vegetable. It is harvested from the inner core and bud of some palm trees, and it has a mild flavor, thus making it a great base for many recipes, including this Heart of Palm Linguini with Clam Sauce recipe.
Heart of palm is very nutrient dense, with a Nutrivore Score of 545 for raw hearts of palm and 707 for canned. It is also great for the gut microbiome. Specifically, heart of palm increase levels of acetate and propionate, two important short chain fatty acids, and it possesses antimicrobial properties against certain pathogenic bacteria. Additionally, heart of palm may reduce oxidative damage due to its high content of antioxidant polyphenols.
If you've never tried heart of palm before, this Heart of Palm Linguini with Clam Sauce is a great place to start! Simply grab a can or package of heart of palm linguini or spaghetti, a can of chopped clams, plus a few additional ingredients you likely already have on hand and you can have this recipe on the table in under 30 minutes!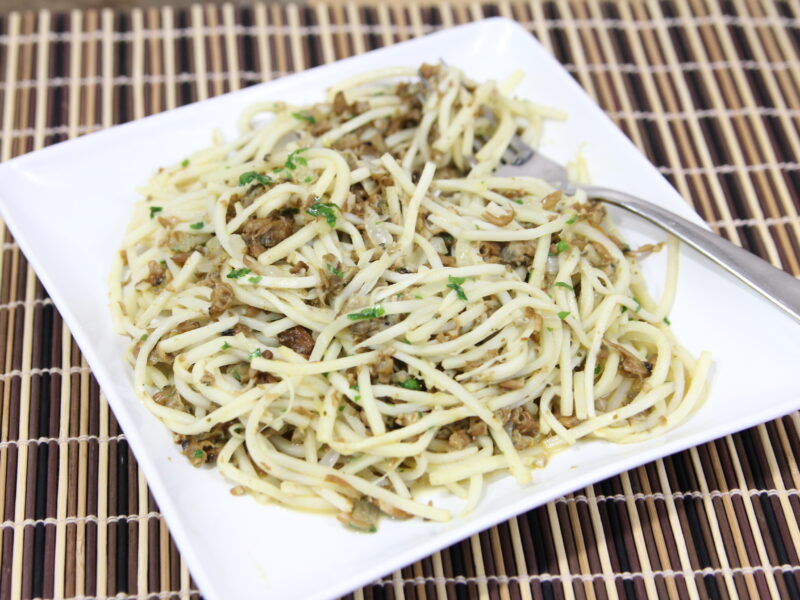 Heart of Palm Linguini with Clam Sauce
Instructions
Drain heart of palm linguini, rinse thoroughly, and set aside.

Drain clams but reserve liquid. Set aside

Heat olive oil over medium-high heat in a skillet. Add chopped onion and sauté for 4 to 5 minutes, until soft and aromatic. Add garlic and cook for an additional minute.

Add chopped clams and clam liquid. Bring to a boil and then reduce heat to maintain a rapid simmer. Simmer until liquid has reduced by more than half (pan should have very little liquid), about 5 minutes.

Add salt, pepper and parsley. Add heart of palm linguini and cook, stirring constantly but gently, until linguini has heated through, about 1 to 2 minutes.
Nutrition
Nutrition Facts
Heart of Palm Linguini with Clam Sauce
Amount per Serving
% Daily Value*
* Percent Daily Values are based on a 2000 calorie diet.
Notes
Meal Suggestion: Serve with your favorite side salad.