Bacon-Basil Zucchini "Pasta" features zucchini as a mock noodle, which has such a lovely flavor for Italian-inspired dishes. However, many different vegetables can be julienned into long strips and steamed, braised or sautéed as mock noodles. And, my kids LOVE them (there's something so satisfying about a long skinny slurpy noodle, especially if it is a carrot noodle, a turnip noodle, or a broccoli stem noodle). My inexpensive mandoline slicer is one of my favorite kitchen tools! It makes so many jobs in the kitchen so much faster. Making Paleo "noodles" out of vegetables is one such job. If you're looking for a mandoline, make sure you get one that can do a fine julienne. This recipe makes enough for 4 hearty side dish portions. Alternately, you could add some grilled steak, prawns or chicken and turn this into a main dish.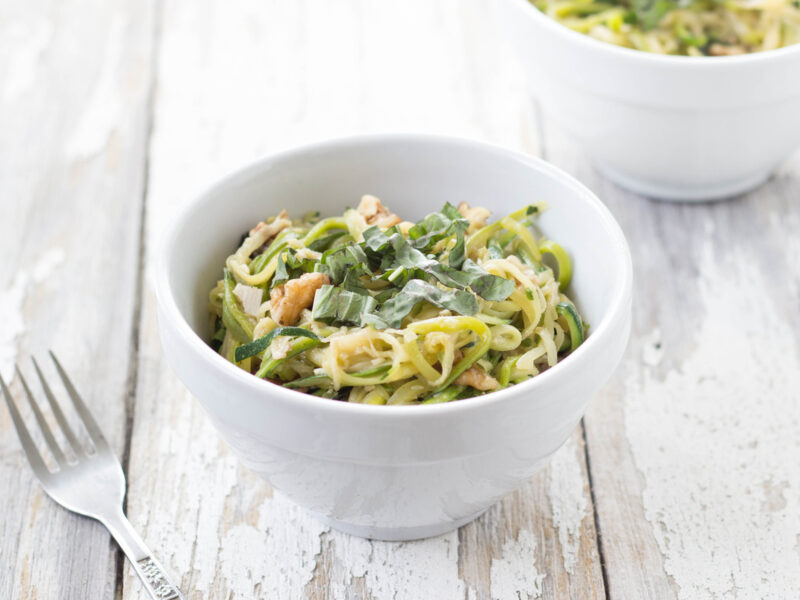 Bacon Basil Zucchini "Pasta"
Instructions
Finely julienne zucchini lengthwise to create long strips of zucchini. Toss with salt in a colander and let sit in the sink for 1 hour.

Rinse the zucchini very, very thoroughly (have a taste to make sure it's not salty at all). Drain on a tea towel or paper towels to get rid of as much moisture as possible.

Heat bacon grease in an oversized frying pan over medium-high heat. Add garlic and zucchini and sauté, stirring frequently until zucchini is cooked "al dente", about 4-5 minutes (should be a very hot pan).

Toss in basil and walnuts (if using) and cook another 2 minutes, stirring a couple of times.
Nutrition
Nutrition Facts
Bacon Basil Zucchini "Pasta"
Amount per Serving
% Daily Value*
* Percent Daily Values are based on a 2000 calorie diet.
Share this article: