Kale is considered a "superfood" for a reason—it has the most nutrients per calorie than just about any vegetable and a Nutrivore Score of 4233! It's packed with incredible amounts of vitamins (over 200% of your recommended daily value of Vitamin A). minerals, and antioxidants, not to mention fiber. In fact, you'd need to eat three heads of iceberg lettuce to get the same nutrition as one cup of chopped kale (but don't completely discount iceberg lettuce either, with a Nutrivore Score of 773!!). And, while I don't think any one veggie is more important than getting a good diversity of vegetable nutrition, it's worth finding a way to work this powerhouse into our diet.
Of course, plenty of people don't like kale. So, what's the solution? Bacon! Sure, bacon gets a bad wrap, but it's actually a good source of vitamins and minerals. Plus, fat from high quality bacon may actually help make some of kale's fabulous nutrition more bioavailable to our bodies. That's a good thing! The beauty of this dish is in its simplicity. Adding garlic and lemon juice ties everything together, so don't skip it!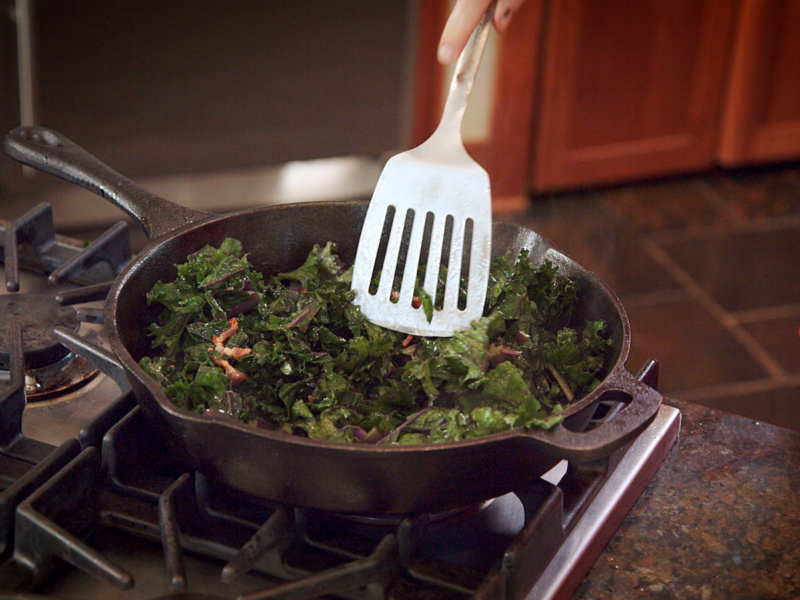 Bacon-Braised Kale
Instructions
Chop the bacon into small pieces and place in a cold skillet. Heat over medium high heat, stirring occasionally, until bacon is crispy. If bacon releases a lot of fat, leave 2-3 tablespoons in the pan and save the rest in the refrigerator for another use.

Add kale and 2 tablespoons broth. Stir and cook until broth evaporates. Add another 2 tablespoons broth and cook, stirring occasionally until broth evaporates. Continue until kale is completely cooked (3-5 minutes).

Add crushed garlic and lemon juice. Stir and cook 1 more minute.
Nutrition
Nutrition Facts
Bacon-Braised Kale
Amount per Serving
% Daily Value*
* Percent Daily Values are based on a 2000 calorie diet.
Share this article: