Basil has a strong history in ancient traditional medicines. Nowadays it is prominently featured in Italian cuisine and Southeast Asian dishes like Thai and Vietnamese. It's is a hardy herb that grows in most climates, so it is relatively easy to grow in an herb garden. But, it's also generally found fresh in the vegetable aisle of the grocery store! Lime basil tastes much like it's name implies, a lime-infused version of basil. Likewise, lemon basil is also very similar. Don't worry if you can't find either of these basil varieties though. Holy basil, Thai basil or regular sweet basil will all work just fine! You can also mix it up and use different varieties of mint, or peppery greens like arugula. Ideally, we add these herbs to dishes to enjoy a punch of amazing flavor and the phytonutrients!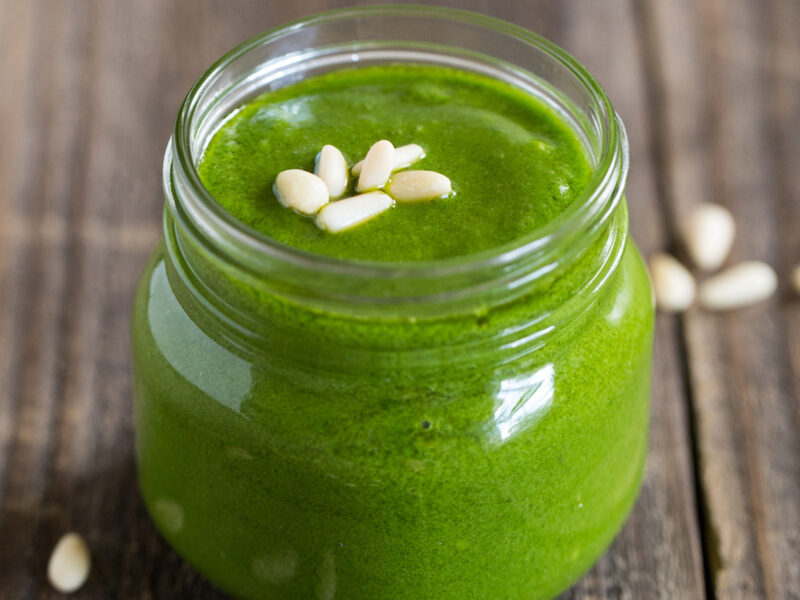 Lime-Basil Pesto
Ingredients
Instructions
Heat a well-seasoned cast iron skillet over medium heat. Add garlic still in the peel to the pan. Stir or shake the pan frequently so the garlic rotates and cooks on all side. Cook until garlic is starting to brown and is feeling fairly soft to touch, about 7-8 minutes.

Remove the garlic from the pan and add the pine nuts. Again, stir or shake the pan frequently so the pine nuts toast on all sides. Cook until starting to brown and become fragrant, about 5-6 minutes.

Remove the pine nuts from the pan and let cool. Peel the now cooled garlic. Place in a blender or food processor with the other ingredients. Pulse until it's a paste.
Nutrition
Nutrition Facts
Lime-Basil Pesto
Amount per Serving
% Daily Value*
* Percent Daily Values are based on a 2000 calorie diet.
Notes
Autoimmune protocol variation: The only part of this recipe that isn't AIP-friendly is the pine nuts in the pesto. Simply omit the pine nuts and reduce the olive oil to 6 Tbsp instead.
Share this article: