Butter-Poached Kohlrabi is a simple yet unexpected way to prepare this vegetable that works as a side dish to just about anything. I think this is particularly nice with fish. If you aren't familiar with kohlrabi, it's a cruciferous vegetable. I have always thought of the flavor as a combination between a cucumber and a radish, although some people describe it as being similar to broccoli stem or even having a mild apple flavor. The trick to kohlrabi is peeling it. You can use a vegetable peeler or a knife. Once you get it started with a knife, you can usually peel down a good piece of the outer rind (this is very similar to peeling broccoli stems). When in doubt, aim on the side of peeling too much rather than too little since that peel can be very tough.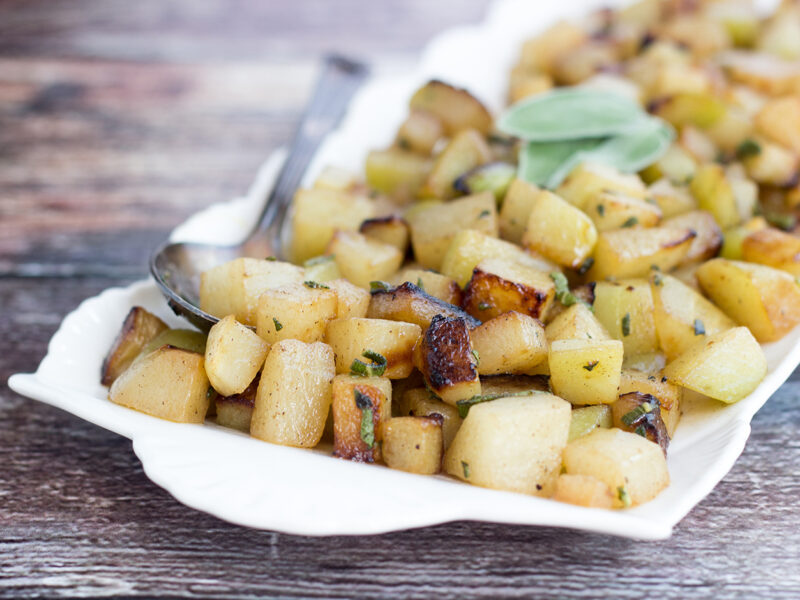 Butter-Poached Kohlrabi
Ingredients
3

medium

kohlrabi

4

tablespoons

butter

1

tablespoon

fresh sage

(or 1 teaspoon dried)

1/4

teaspoon

salt
Instructions
Peel kohlrabi and chop into ½" cubes. Finely chop sage.

Heat butter in a skillet over medium heat. Add kohlrabi and cook, stirring occasionally, until kohlrabi is cooked al dente (about 15 minutes).

Add salt and sage. Stir and cook for 2 more minutes.
Nutrition
Nutrition Facts
Butter-Poached Kohlrabi
Amount per Serving
% Daily Value*
* Percent Daily Values are based on a 2000 calorie diet.
Share this article: