Bacon-Wrapped Spiced Pumpkin can be made with any winter squash that can be cut into 2″ chunks after being peeled and seeded. This recipe was inspired by a recipe challenge for a seasonal appetizer. I love challenges like this because I end up in that wonderfully creative space from where some of my best recipes are born. I also create amazing recipes when I need to use up random ingredients left in my fridge at the end of the week!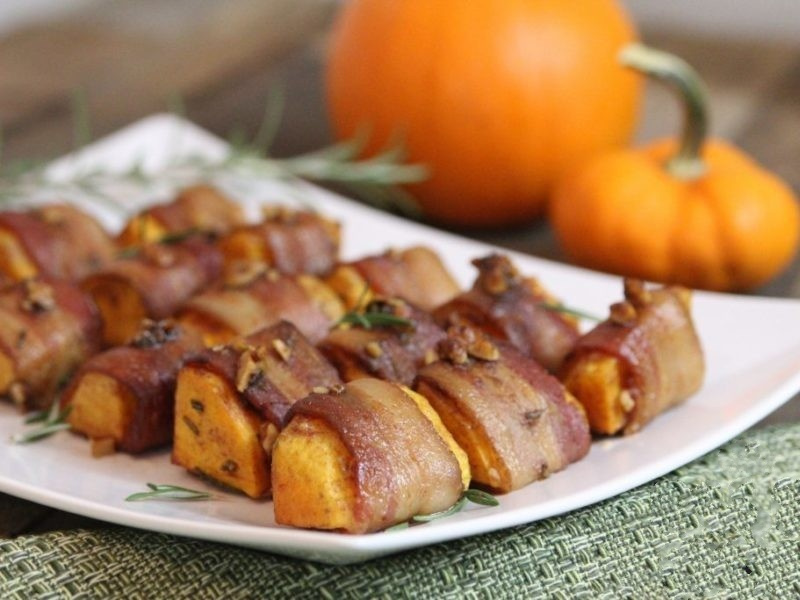 Bacon-Wrapped Spiced Pumpkin
Ingredients
Instructions
Preheat oven to 350F. Place a wire rack (e.g., cooling rack, roasting rack) in a rimmed baking sheet (line your baking sheet with foil to make clean up easier if desired).

In a mixing bowl, toss pumpkin chunks with spices, olive oil, maple syrup and walnuts. Cut bacon slices in half.

Wrap each spiced pumpkin chunk in a half slice of bacon, making sure to have a few walnut pieces wrapped inside the bacon too. Place on the wire rack oriented so that the ends of the bacon slice are on the bottom (this stops them from unraveling while cooking). Repeat with every piece of pumpkin.

Using a spoon, drizzle any remaining spice mixture and walnut pieces from the bottom of your mixing bowl over the top of each bacon-wrapped spiced pumpkin chunk.

Optional: for crispier bacon, broil on high for 2-3 minutes after baking.

Remove from oven and serve! Serving suggestion: drizzle a few drops of maple syrup over each bacon-wrapped spiced pumpkin chunk.
Nutrition
Nutrition Facts
Bacon-Wrapped Spiced Pumpkin
Amount per Serving
% Daily Value*
* Percent Daily Values are based on a 2000 calorie diet.
Share this article: