Table of Contents

[Hide]

[Show]
Approximately 60% of Americans have at least one diet-preventable disease. What does that mean? It means that higher diet quality could have prevented that disease from developing. Right out of the gate, I want to emphasize: it's not your fault. The last five decades of diet culture have perverted the very real challenges we all face to eating a healthy diet—understanding what that even is, affording healthier foods, finding the time to prepare healthier foods, and opting for healthier options over grocery store shelves filled with cheap, convenient, nutrient-poor, hyperpalatable, ultra-processed foods—by equating those challenges to weakness, a character flaw, a misnomer that we are individually to blame for our health problems because we lack the willpower or motivation to make better diet choices. It's simply not true. The causes of poor diet quality are complex, and none of them are your personal failing.
Why do almost all of our diets fall short of meeting our body's nutritional needs? The complex reasons include: ultra-processed and hyperpalatable foods displacing more nutritionally valuable options; dietary guidelines historically focusing on nutritionally underwhelming foods; and, weight-loss and fad diets propelling diet myths, healthism, and restrictive eating patterns. Basically, it's harder than ever to choose healthy foods, and most people are confused about which foods those even are.
Most diets and medical providers focus on the dietary excesses that increase risk for chronic and infections disease—excess calories, excess added sugars, excess sodium, and excess saturated fats—but the much stronger link between diet choices and diet-preventable disease is what's lacking in these same diets: nutrients. While our food system produces approximately 6,000 calories per person per day, almost all Americans routinely consume inadequate amounts of essential vitamins and minerals.
Almost everyone has dietary shortfalls of essential nutrients, which increases risk for chronic disease, including type 2 diabetes, cancer, cardiovascular disease, asthma, chronic kidney disease, neurodegenerative diseases like Alzheimer's disease, and infection.
In addition, about one third of Americans are at risk of nutrient deficiency, resulting in diseases of malnutrition like anemia, scurvy, rickets and night blindness.
now available for pre-order!
Ditch diet culture and get the most nutrients from your food with the no-guilt, personalized, and exciting new science that will change how you think about food and nourishment, from New York Times bestselling author Dr. Sarah Ballantyne.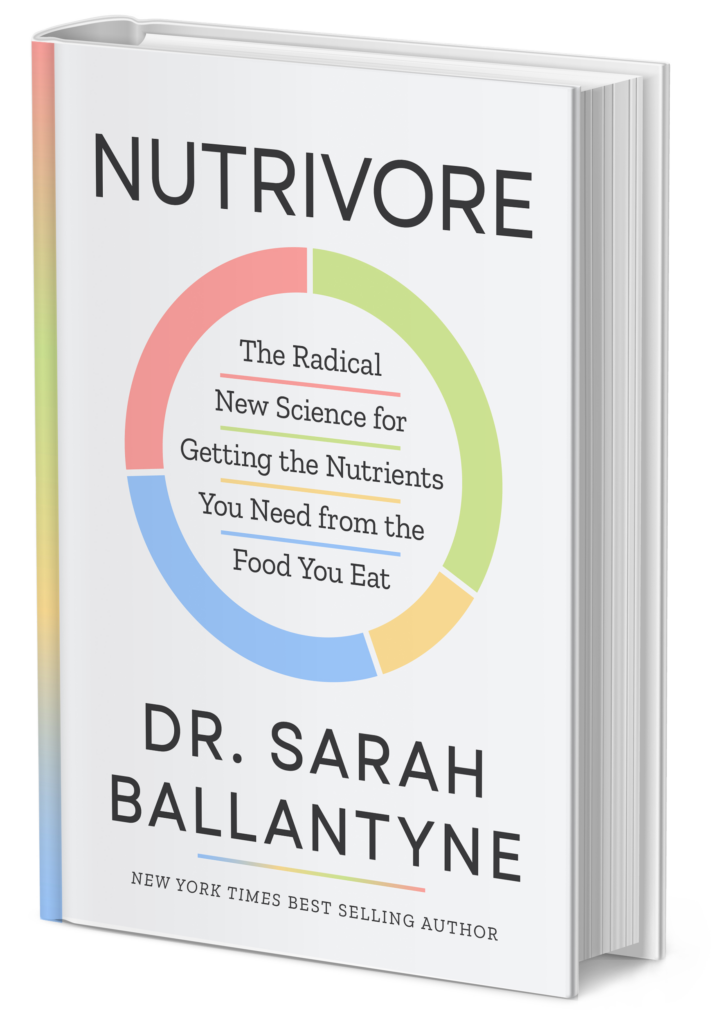 Scientific studies continue to identify nutrient insufficiency as a major underlying driver of chronic disease. This isn't as simple as diseases of nutrient deficiency, like scurvy where deficiency in vitamin C results in fatigue, depression, and connective tissue defects resulting in gingivitis, petechiae (pinpoint spots caused by bleeding under the skin that can look like a rash), rashes, internal bleeding, and/or impaired wound healing.
Instead, a collection of insufficiencies mean that biological systems in the human body don't have the nutritional resources they need to function optimally. Over time, the strain this puts on that biological system gradually increases the risk for chronic diseases of that biological system. For example, deficiencies of vitamins and minerals involved in glucose metabolism and insulin signaling (which include vitamin D, chromium, biotin, vitamin B1, and vitamin C) have been theorized to underlie type 2 diabetes.
And while cardiovascular disease, diabetes and obesity are generally recognized to be preventable chronic illnesses caused, at least in large part, by poor diet and lifestyle, they're hardly the only chronic illnesses that can be prevented and/or mitigated by improvement in diet quality and lifestyle. In fact, increased intake of a wide range of specific nutrients is linked to decreased chronic disease risk across the board.
To better understand how a Nutrivore approach can reduce risk for chronic disease, let's look at the nutrient insufficiencies linked to increased risk for health problems.
Type 2 Diabetes
Type 2 diabetes is a condition in which the pancreas doesn't produce enough insulin and/or cells in the body are not fully responsive to the insulin produced (a.k.a. insulin resistance), resulting in chronically elevated blood sugar levels. Symptoms include thirst, frequent urination, hunger, weight gain or weight loss, fatigue, blurred vision and poor would healing. Complications of type 2 diabetes include blindness, chronic kidney disease, peripheral neuropathy (nerve damage in limbs), skin ulcers, and deep vein thrombosis and other cardiovascular diseases.
Over the past few decades, type 2 diabetes has reached epidemic proportions, skyrocketing from 108 million people worldwide in 1980 to over 422 million people today (according to the most recent World Health Organization data). That includes 29 million people with type 2 diabetes in the United States alone, which is 9.3% of the entire US population (yes, almost one out of ten people in America have diabetes!), and it is estimated that 8 million Americans are living with undiagnosed diabetes. And, if we think about all the additional cases of pre-diabetes and metabolic syndrome out there, those numbers shoot up even higher. In fact, pre-diabetes is estimated to affect an additional 87 million Americans.
While high refined carbohydrate intake is often blamed for type 2 diabetes, there is emerging evidence that deficiencies or insufficiencies in vitamins and minerals involved in glucose metabolism and insulin signaling underlie this pathology.
Risk of type 2 diabetes decreases with increased intake of:
Vitamin B3 (Niacin)
Vitamin B6
Vitamin B9 (folate)
Vitamin B12
Vitamin D
Chromium
Calcium
Magnesium
Zinc
Inositol
Alpha-lipoic acid
Omega-3 fats
Carnitine
Fiber
Cardiovascular Disease
Cardiovascular disease is actually a group of diseases affecting your heart and blood vessels, including but not limited to: coronary artery disease, congestive heart failure, arrhythmia, stroke (ischemic stroke and hemorrhagic stroke), peripheral artery disease, deep vein thrombosis, pulmonary embolism, and aortic aneurism. Symptoms vary depending on the specific cardiovascular disease, and many can have no symptoms or vague symptoms until the moment they are life threatening. Congenital heart diseases are not linked to diet and lifestyle, and are instead structural defects that have been present since birth.
Cardiovascular disease affects approximately 84 million Americans, with 610,000 annual deaths just due to heart disease, and 140,000 annual deaths due to stroke risk. Every day, about 2,200 Americans die from cardiovascular disease (one person every 40 seconds!), and by the year 2030, over 23.6 million people are expected to die annually from one of these conditions.
Deficiencies or insufficiencies of nutrients required for cardiovascular function have been linked to increased risk of cardiovascular disease.
Risk for cardiovascular disease is substantially decreased by increasing intake of:
Vitamin B2 (Riboflavin)
Vitamin B3 (Niacin)
Vitamin B6
Vitamin B9 (Folate)
Vitamin B12
Vitamin C
Vitamin D
Vitamin E
Potassium
Magnesium
Lycopene
Quercetin
L-carnitine
Omega-3 fats
Monounsaturated fats
Polyphenols
Resveratrol
Everything You Need to Jump into Nutrivore TODAY!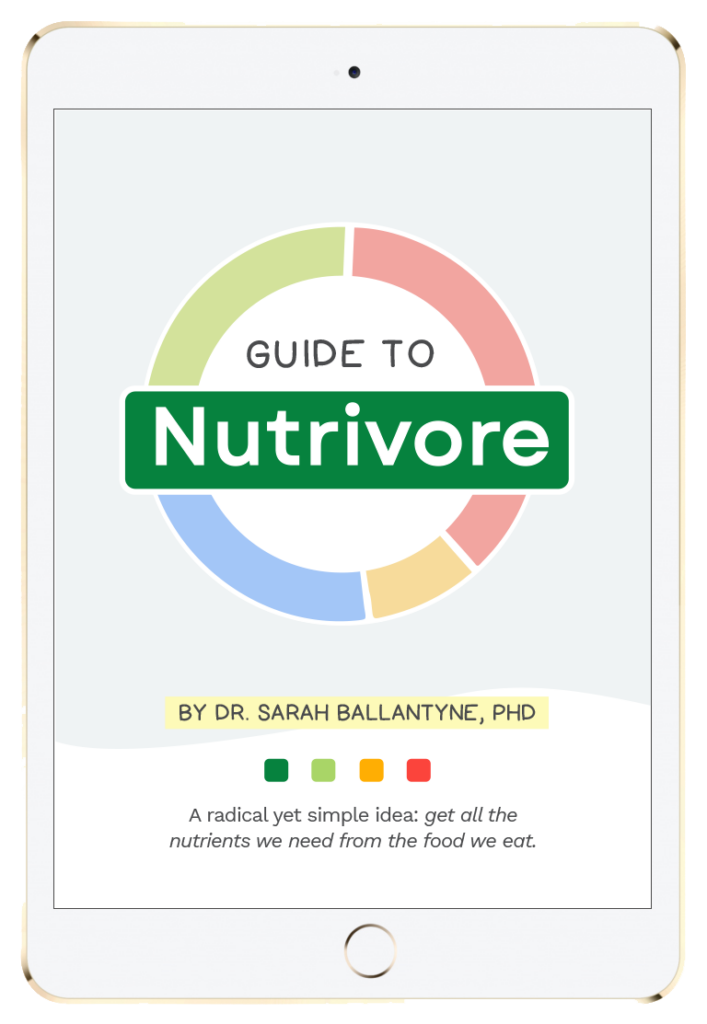 Guide to Nutrivore
The Guide to Nutrivore e-book explains why and how to eat a Nutrivore diet, introduces the Nutrivore Score, gives a comprehensive tour of the full range of essential and important nutrients!
Plus, you'll find the Top 100 Nutrivore Score Foods, analysis of food groups, practical tips to increase the nutrient density of your diet, and look-up tables for the Nutrivore Score of over 700 foods.
Buy now for instant digital access.
Obesity
Obesity is defined as having a BMI greater than 30 (certainly, a flawed measurement and poor metric of health), which is associated with increased risk for heart disease, type 2 diabetes, nonalcoholic fatty liver disease, and cancer. However, in this case, the same diet and lifestyle risk factors that increase risk for these chronic conditions, increase risk for obesity, i.e., obesity itself is not the risk factor.
There's evidence that micronutrient deficiencies could be contributing to weight gain. The rationale is twofold: first, certain deficiencies are much more common among obese people (for example, vitamin D and vitamin B1 deficiency), and second, vitamin and mineral supplements have been shown to improve appetite regulation and (in some studies) increase body fat loss to a clinically relevant degree.
In fact, risk of obesity decreases with increased intake of:
Vitamin A
Vitamin B1
Vitamin B3
Vitamin B5
Vitamin B6
Vitamin B7 (Biotin)
Iron
L-carnitine
Creatine
Vitamin D
Asthma
The percentage of the U.S. population with asthma increased from 3.1% in 1980 to 5.5% in 1996 and 7.3% in 2001 to 8.4% in 2010.
Asthma risk decreases with increased intake of:
Vitamin A
Vitamin C
Vitamin D
Vitamin E
Choline
Potassium
Magnesium
Selenium
Zinc
Omega-3 fats
Fiber
Carotenoids
Flavonoids
Want to know the top 25 foods for this awesome nutrient?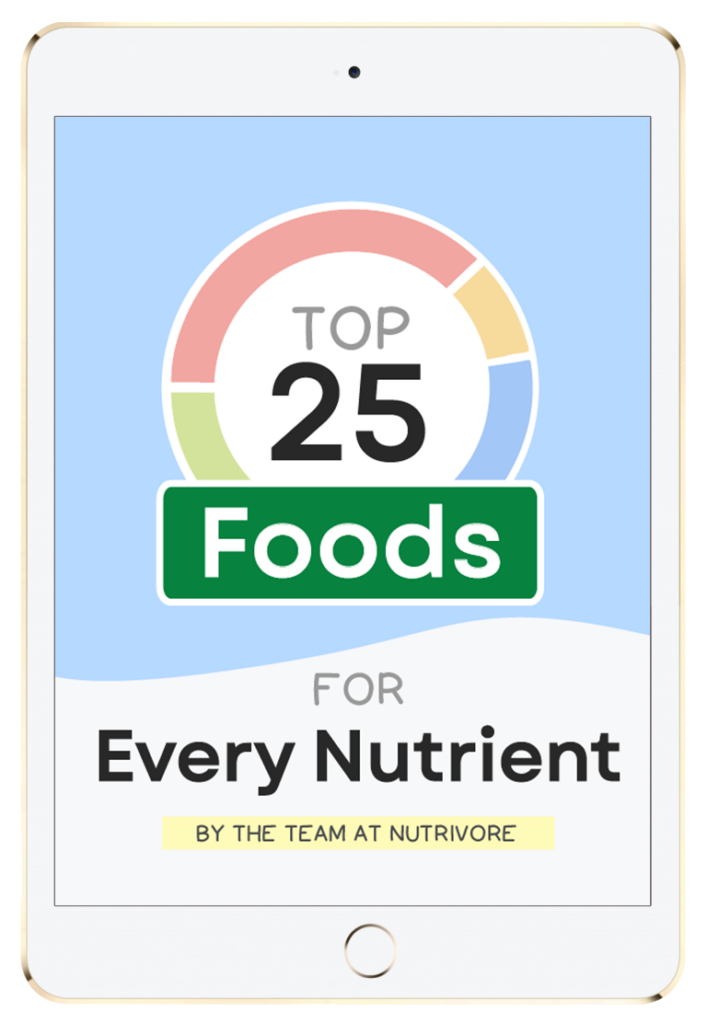 The Top 25 Foods for Every Nutrient
The Top 25 Foods for Every Nutrient e-book is a well-organized, easy-to-use guide to help you choose foods that fit your needs of 42 important nutrients while creating a balanced nutrient-dense diet.
Get two "Top 25" food lists for each nutrient, plus you'll find RDA charts for everyone, informative visuals, fun facts, serving sizes and the 43 foods that are Nutrient Super Stars!
Buy now for instant digital access.
Alzheimer's Disease
Alzheimer's disease affects approximately 6 million Americans and is the 6th leading cause of death, with 1 in 3 seniors dying with Alzheimer's or another form of dementia.
Alzheimer's disease risk decreases with increased intake of:
Vitamin A
Vitamin B2
Vitamin B6
Vitamin B9
Vitamin B12
Vitamin D
Vitamin E
Magnesium
Selenium
Zinc
Polyphenols
Omega-3 fats
Chronic Kidney Disease
Chronic kidney disease affects about 14% of the American population, with older people at much greater risk—for example, prevalence is only about 4% for people in their 30s compared to 47% for people over 70—and is the 9th leading cause of death in the United States. Chronic kidney disease is a condition in which there is gradual and progressive loss of kidney function. The two main causes of chronic kidney disease are diabetes and high blood pressure, which are responsible for up to two-thirds of the cases.
Chronic kidney disease risk decreases with increased intake of:
Vitamin B1
Vitamin B2
Vitamin B3
Vitamin B5
Vitamin B6
Vitamin B9
Vitamin B12
Biotin
Vitamin C
Vitamin D
Potassium
Calcium
Phosphorus
Magnesium
Polyphenols
Autoimmune Disease
Autoimmune diseases affect an estimated 60 million Americans, and is among the top 10 causes of death. There are more than one hundred confirmed autoimmune diseases and many more diseases that are suspected of having autoimmune origins. The root cause of all autoimmune diseases is the same: the immune system, which is supposed to protect us from invading microorganisms, turns against us and attacks our proteins, cells, and tissues instead. Which proteins, cells, and tissues are attacked determines the autoimmune disease and its symptoms. In Hashimoto's thyroiditis, the thyroid gland is attacked. In rheumatoid arthritis, the tissues of your joints are attacked. In psoriasis, proteins within the layers of cells that make up your skin are attacked.
Autoimmune disease risk decreases with increased intakes of:
Vitamin A
Vitamin D
Vitamin E
Vitamin K2
Vitamin B6
Vitamin B9
Vitamin B12
Vitamin C
Zinc
Selenium
Iodine
Iron
Magnesium
Copper
Phytonutrients
Omega-3 fats
Osteoporosis
Osteoporosis affects approximately 10 million Americans over the age of 50, and a further 34 million older Americans have low bone mass (osteopenia). And brittle bones in our later years is a major mortality risk. For example, 1 in 5 people who fracture a hip die within 6 months (and if you extend that time frame to 1 year, it's even worse, 1 in 4 die). Keeping our bones healthy can greatly improve our health in old age, but it comes in handy at any time of life! Our bones provide structure to our bodies, anchor our muscles for movement, protect our organs, and store calcium and other minerals for us.
Osteoporosis risk decreases with increasing intake of:
Calcium
Copper
Magnesium
Manganese
Potassium
Vitamin A
Vitamin D
Vitamin K
Carotenoids
Polyphenols
Glucosinolates
Fiber
Cancer
And finally, cancer affects approximately 15 million Americans with 595,000 annual deaths. Cancer risk is substantially decreased by increasing intake of plant phytonutrients (especially polyphenols, glucosinolates and thiosulfinates), fiber, zinc, omega-3 fatty acids, selenium, and vitamin D.
Infection
Nutrients insufficiencies are also linked to increased susceptibility to infectious disease because the immune system requires many nutrients in order to work effectively. For example, vitamin A is needed for proper functioning of a host of immune cells (i.e., natural killer cells, macrophages, neutrophils, lymphocytes, and more!).
Risk of infectious disease decreases with increased intakes of:
Additionally, vitamin C supplementation has been shown to decrease the duration of upper respiratory tract infections (while not decreasing risk of contracting the infection in the first place). Other immune health nutrients include selenium, copper, manganese, iron, and B vitamins (especially B6, B9 and B12), but while deficiency in any of these can increase susceptibility to infection, supplementation has either yielded mixed and context-dependent results (worsening outcomes for some and improving outcomes for others) or null effects in clinical trials.
Take-Home Message
Clearly, focusing on nutrient sufficiency is extremely important when establishing a framework for healthy eating, and addressing the current epidemics of chronic illnesses in America and other Western countries. Yes, among our best tools for warding off preventable chronic illness is Nutrivore!
Help me to keep building Nutrivore.com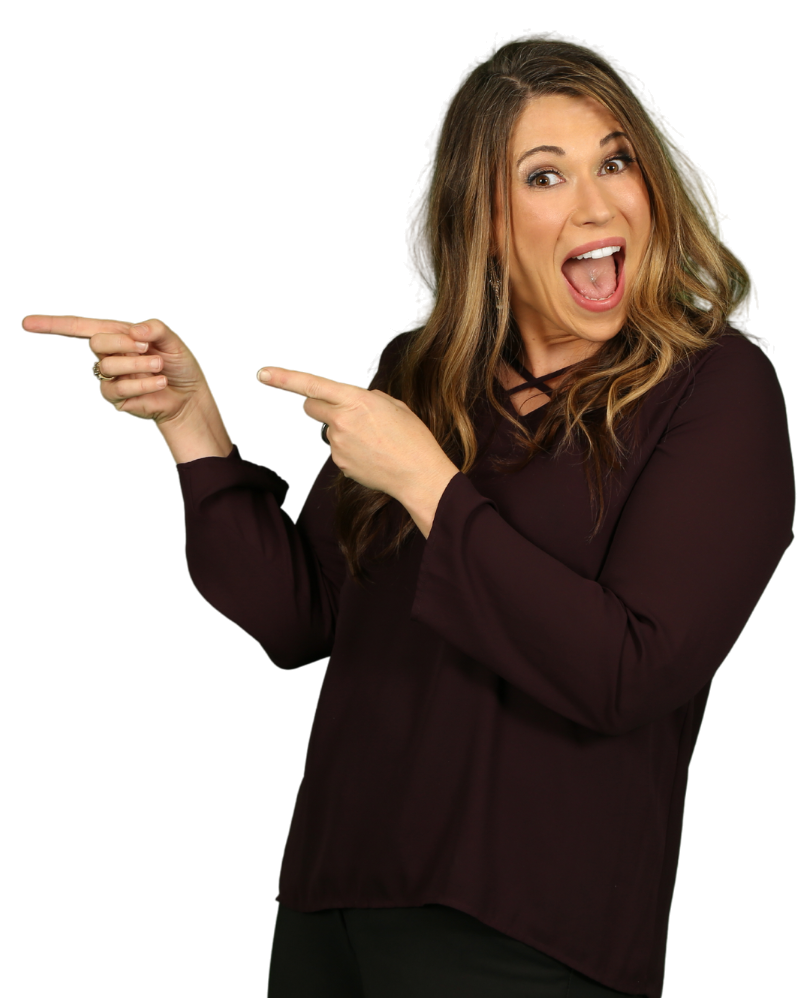 This is such a fascinating topic and I'm working on writing a more in-depth version of this article. If you're enjoying the content my team and I have created thus far and would like to see more, you can support our efforts to keep building out this site by joining the Nutrivore community on Patreon!
Plus, you'll gain exclusive access to the monthly Nutrivore Podcast, a NEW e-book every single month on a Nutrivore foundational food group, including 12 recipes, plus the entire, browsable Nutrivore Score database, and you can ask me all your Nutrivore questions directly! Sign up now and also get 5 free Nutrivore guides as a welcome gift! Win-win!