Let's talk about canned tuna for a minute…. Affordable, readily available, easy to work with, versatile, and popular in mainstream dishes (like the tuna salad collard wraps recipe we're going to get to in a minute), canned tuna makes for a great gateway fish for those hesitant to "dip their toe" in the waters of seafood cuisine. All that and it's nutritious too – providing one of the few dietary sources of vitamin D in our modern food supply! You just can't beat the convenience, cost and nutrient density of canned tuna!
There are many types of tuna, each with their own unique taste and nutrient profile, which means the Nutrivore Scores also vary. In the United States, skipjack tuna, which has a Nutrivore Score of 645, accounts for over 70% of canned tuna! Cans labeled as 'light tuna' often contain skipjack, but also a mix of other species including yellowfin, big-eye and tongol. Cans labeled 'white tuna' contain only albacore. Nutrivore scores for canned tuna also vary depending on processing and the method of preparation. For example, white tuna canned in water has a Nutrivore Score of 544 versus white tuna canned in oil which has a Nutrivore Score of 318. For this tuna salad recipe, feel free to use whatever canned tuna you prefer. You can maximize all the benefits tuna has to offer by incorporating different types into your diet.
And sure, you could serve this tuna salad the conventional way – between two slices of bread – and there is nothing wrong with that! But, served wrapped in a collard leaf, you're not only getting the additional flavor and crunch that collard greens provide, but you're also getting additional nutrients. Collard greens have a Nutrivore Score of 3323, which makes them a super nutrient-dense food! Collard greens are a particularly good source of vitamin K, glucosinolates, and carotenoids, as well as containing good amounts of vitamin C, vitamin A, folate, and more!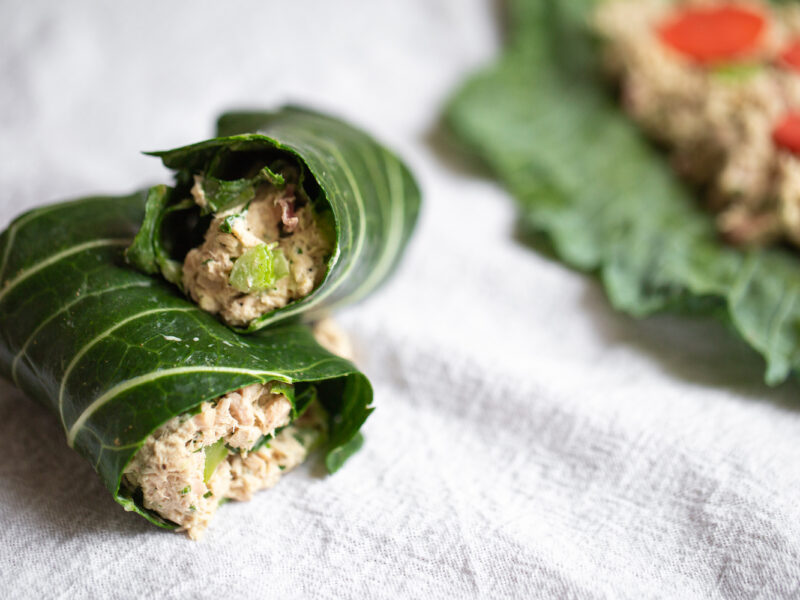 Tuna Salad Collard Wraps
Ingredients
½

bunch

collard greens

about 3-4 leaves

2

cans

tuna

drained

3

tablespoons

chopped red onion

2

stalks

celery

chopped

¼

cup

chopped fresh herbs

dill, parsley, etc

1/4

cup

mayo

Juice from ½ lemon

1

teaspoon

Dijon mustard

2-3

tablespoons

diced pickles or cucumber

Splash of pickle juice

optional

Salt and pepper to taste
Instructions
Rinse the collard leaves to clean them and then lay them flat to dry.

With a small paring knife, remove the part of the stem that extends beyond the leaves. Shave the thicker parts of the stem that remain by running the knife perpendicular to the stem in order to make the leaf flat.

Add remaining ingredients except pickled radishes to a large bowl and stir to combine.

Add the tuna salad to the middle of each leaf. Top with pickled radishes. Fold the top and bottom edges in and then roll like a burrito, making sure all the filling stays inside.

Cut in half and serve.
Nutrition
Nutrition Facts
Tuna Salad Collard Wraps
Amount per Serving
% Daily Value*
* Percent Daily Values are based on a 2000 calorie diet.
Notes
Do you prefer a more traditional sandwich over a wrap? That's great! But don't skip the collard leaves! Use the collard leaves as you would lettuce in your sandwich to get the additional nutrients (and delicious crunch!) from this cruciferous veggie.
Share this article: